List of Hobbies and Interests to Put on a Resume in 2023
Should you put interests and hobbies on a resume? Learn the answer to this question, and pick up 5 tips that will help you do it right.
—What are your hobbies and interests?
—Err… I like traveling and walks on the beach…
Many experts will tell you that you should never list hobbies and interests on a resume. But what if I told you there are times when you should?
Listing hobbies and interests on your resume might be just the thing that helps you land an interview, but you have to do it right. Read on and find out how some passion examples you include on your resume can boost your chances of impressing the recruiter.
This article will show you:
When you should include personal activities.
What are some hobbies to put on a resume.
How to add interests to your resume to make it more interesting.
Want to save time and have your resume ready in 5 minutes? Try our resume builder. It's fast and easy to use. Plus, you'll get ready-made content to add with one click. See 20+ resume templates and create your resume here.
Sample resume made with our builder—See more resume examples here.
There are other additional information worth putting on your resume:
1
Why Put a List of Hobbies and Interests on a Resume?
What are interests?
Interests are subjects that fascinate you and want to learn more about. Interests are usually more about learning and discovering ideas, concepts, and knowledge like history, animal behavior, or even pop culture.
For example, if your interest is history, going to museums would be your hobby.
So what are hobbies?
A hobby is an activity done for fun. Hobbies are done during your time off, not professionally and typically done for no pay. Hobbies include collecting things like stamps or Americana, engaging creative and artistic endeavors, playing sports, or exploring ideas and knowledge.
Notice a pattern?
That's right: hobbies and interests are typically done for fun, for free, and don't contribute to the proverbial bottom line. And that's why in most cases focusing too much on what you do outside of work is not advised. However—
Adding a personal interests and hobbies section is often seen as irrelevant and unprofessional. Yet, the culture is changing.
A lot of companies are no longer looking for mere minions to sit and drink coffee and answer phones all day. They want them to fit in with their culture, so they need something more than just work experience. Take a look at this: Google hires people who are open and playful. If you want to work at Google, you should tailor your resume so that your best hobbies match their work culture.
On the other hand, if you are applying to a buttoned-up accounting firm, you might want to skip putting hobbies in your resume altogether.
Candidate discretion is advised—to borrow from a TV disclaimer.
2
Here's What Your Hobbies and Interests Say About You
Most of the hobbies and interests you put on your resume will say something about you to the hiring manager. You can use them to (1) resonate with the interviewer, (2) give them an ice-breaker question, (3) signal character traits they might be looking for.
But here's the problem—
According to Zety's analysis of 133,000 resumes, the most commonly mentioned passtime activities were, you guessed it, watching movies, listening to music, reading books, and travel. Hiring managers have seen these hobbies a million times... and truly don't care. (And neither would you if you were looking for a date.)
Selecting activities for your resume is about choosing what aspects of your personality you want to emphasize and communicate.
See the list below—
Examples of top 15 best hobbies and personal interests to put on a resume:
Volunteering and community involvement
There's a reason we're mentioning volunteering first—data shows that 82% of managers would rather hire someone with volunteering experience. Volunteering shows a lot of initiative and strong morals. It also teaches organizational and leadership skills.
Writing
Communication is the heart of every organisation. Writing novels or publishing scientific papers give a clear representation of your written communication skills.
Blogging
Blogging, just as any kind of writing, proves you have communication and writing skills. Data shows communication is the most important skill for people entering the workforce.
Podcasting
The podcast format has become incredibly popular. Podcasting allows to demonstrate you have industry expertize, know how build an audience (marketing skills) and connect with thought leaders (networking and research skills). It's a good way to improve organizational skills, too.
Marketing
The percentage of US adults who use social media increased from 5% in 2005 to 79% in 2019. The rise of social media has created such new job professions as a social media manager, content creator, or SEO specialist. If you've ever made a Facebook page that drew engaged audience or owned an Instagram profile with a stable number of followers, it will definitely make a good impression on the recruiter.
Learning languages
Speaking English might not be enough if you're planning on developing your career. The three fastest-emerging languages of global consumers are Russian, Hindi, and Japanese. Studies have found a correlation between learning languages and problem-solving abilities, intelligence, and memory skills.
Photography
Photography is so much more than just taking pictures. It develops conceptual skills and technical expertise, but also teaches how to collaborate with others.
Travel
Curiosity, courage, and self-organization. Traveling can prove you're not afraid of stepping outside your comfort zone and learning new things. And flexibility and adaptability are among the most important workplace personal traits.
Sports
It doesn't matter what sport you do. Exercising in general develops self-discipline, patience, and helps bounce back from disappointment. Team sports create opportunities to improve leadership, communication, and interpersonal skills, too.
Yoga
You might say yoga is a type of sport, but it's much more than stretching. It also involves concentrating on breathing and is a great way to relax your mind. And data shows a relaxed employee is less likely to leave their job.
Dance
Dancing isn't just fun. It's a social activity that teaches collaboration skills. It also boosts cognitive performance and helps to unwind.
Art
Hundreds of jobs require creativity skills. Imagination and inventiveness are also parts of critical-thinking skills. And research revealed that 93% of employers value critical thinking over the candidate's undergraduate degree.
Reading
It doesn't matter if it's romance books that you read. Reading shows you follow your passions. It also prevents cognitive decline and reduces stress. And helps maintain work-life balance.
Making music
Making music is good for your brain. You might find it surprising, but research shows learning how to play instruments fosters math and science ability. It also helps improve your mental performance (making you better able to concentrate) and memory.
Listening to music
Listening to music lowers stress and elevates your mood. It strengthens learning and memory abilities, too. In the ever-changing corporate world being able to learn new things on a daily basis is a top employability skill (especially in the rise of AI).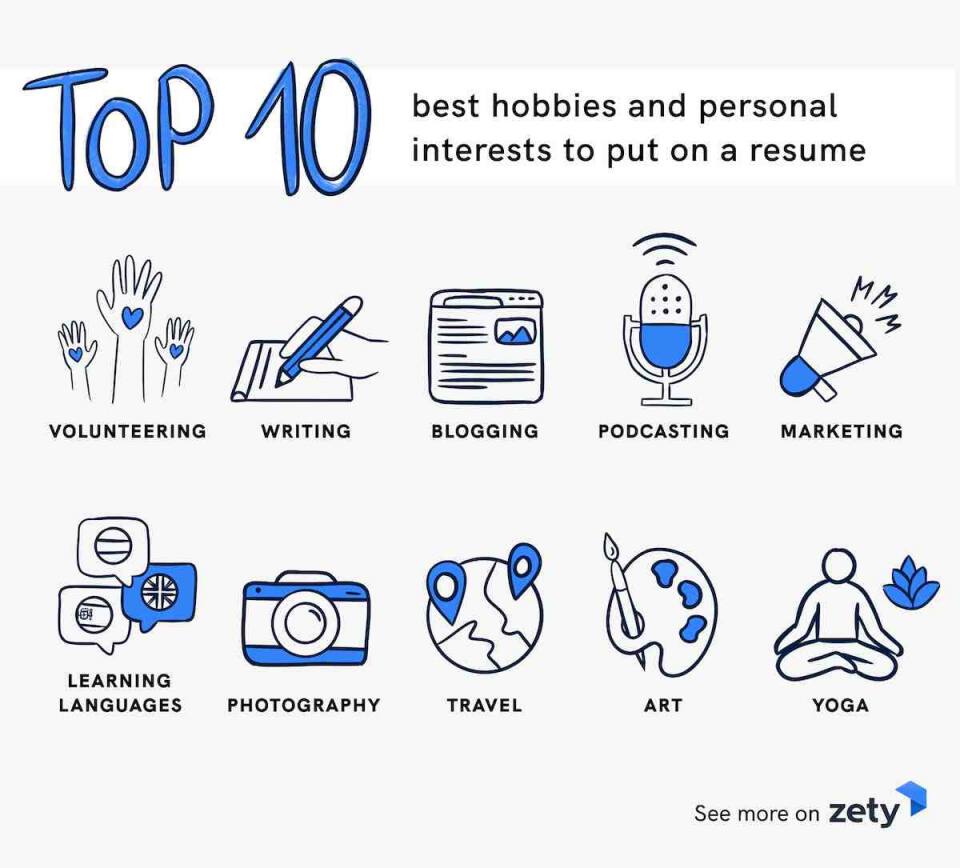 The list above is more or less sorted by how appropriate listing them on a resume is. The last four, though? Skip them unless you can be more specific and know for a fact that they'll resonate with the hiring team.
Your resume should give insight into your soft and hard skills in the first place. And that's what they really want to see through your hobbies and interests. Have a look yourself:
Top Soft and Hard Skills to Read From Resume Hobbies & Personal Interests
| Hobby & Personal Interest | Top Soft Skill | Top Hard Skill |
| --- | --- | --- |
| Volunteering | Initiative | Public Relations |
| Writing | Creativity | Text editor |
| Blogging | Communication | Content Management Software |
| Podcasting | Public speaking | Voice emission |
| Marketing | Data analysis | Search Engine Optimization |
| Learning languages | Problem-solving | Lateral thinking |
| Photography | Attention to detail | Adobe Photoshop |
| Travel | Organization | Foreign languages |
| Sports | Sportsmanship | Work ethic |
| Yoga | Perseverance | Focus |
| Dance | Collaboration | Memory |
| Art | Adaptability | Cultural sensitivity |
| Reading | Critical thinking | Research |
| Music | Self-discipline | Composition |
Here's what we mean—
Be specific with resume hobbies to attract the hiring manager.
Let's be honest, if you boil down your passions into a single word, they become a yawn fest. Listening to music, reading books, and watching movies? Saying you like these is like saying you like to breathe. Here's what to do instead—
How to List Hobbies and Interests on a Resume
1. Find what specifically you enjoy about that hobby.
2. Focus on it's unique aspects.
3. Don't feel obliged to be too creative.
4. Create a separate section under a "Hobbies" or "Hobbies & Interests" heading.
5. List up to 5 personal interests.
6. Don't list anything generic.
Take Shanice, for example. She's applying for a junior position with an advertising agency. She noticed the company is laid-back and a bit geeky—at least juding by a photo she saw on the about us page. The team seems to love Rick and Morty. She does too! There you go, immediate connection.
Then there's Mike. He likes reading books, sure, but his favorite writer is Wang Shuo. He could mention that on his resume: Reading books by Wang Shuo. Who is Wang Shuo, you ask? Bam—immediate conversation starter.
And Peggy—she's played basketball since high school and noticed strong teamwork skills in the job ad. Now she can use her passion to signal that she's a team player—quite literally!
Quirky hobbies like origami, calligraphy, amateur astronomy or breadmaking can stand out. But some will stand out for all the wrong reasons (think: amateur taxidermy or collecting photographs of famous killers).
Also, be careful and don't try to game the system—
If you're applying for a job in marketing, don't say it's your hobby. (And don't double-down by saying Confessions of an Advertising Man is your favorite book ever.) If you're a developer, don't try to squeeze coding, programming, and computer science into your hobby section, and so on. It will look desparate and become a distraction.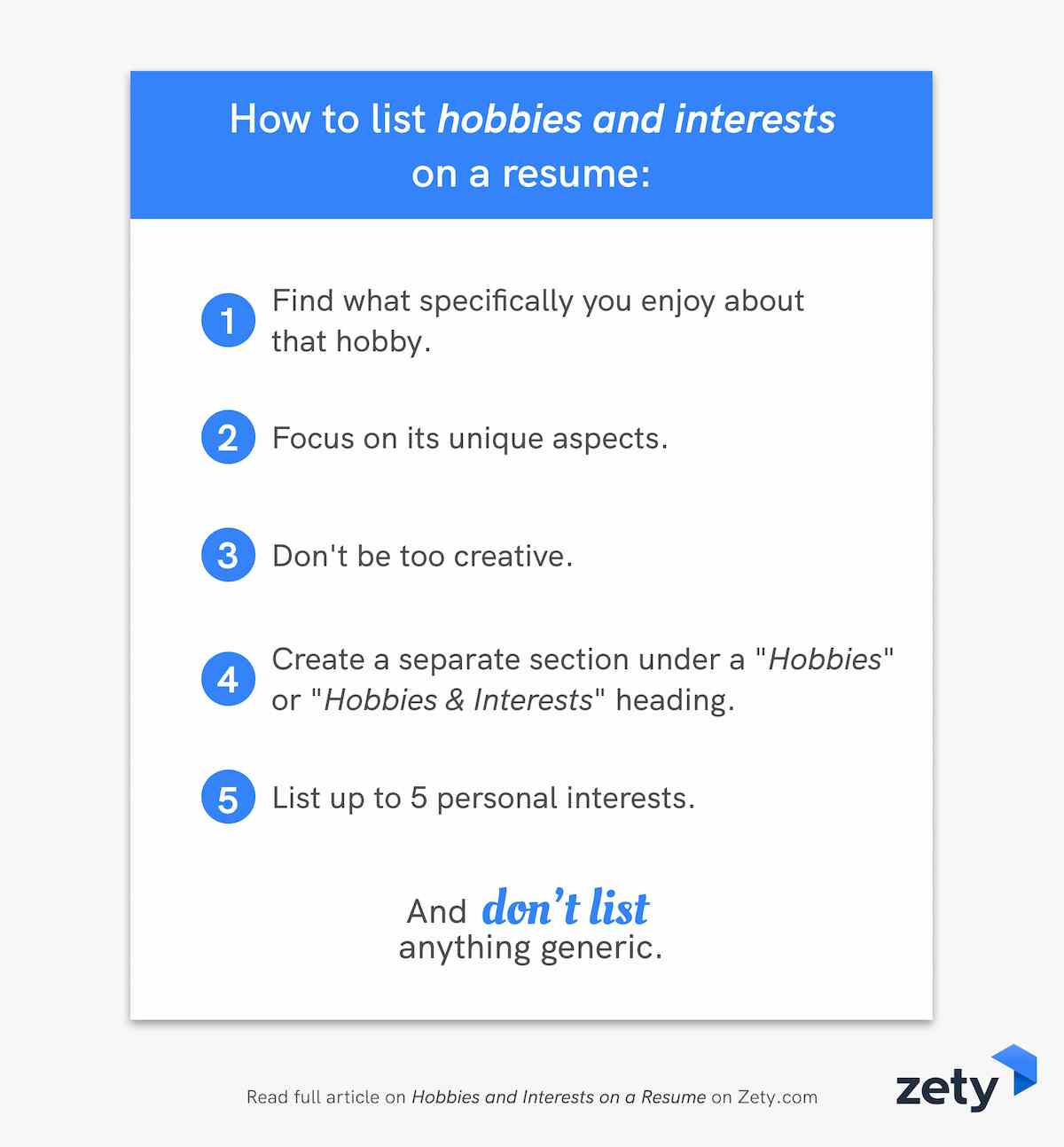 Pro Tip: If you want to save time and find out how to write a resume for your profession, take a look at our guides and examples of resumes for different jobs.
When making a resume in our builder, drag & drop bullet points, skills, and auto-fill the boring stuff. Spell check? Check. Start building a professional resume template here for free.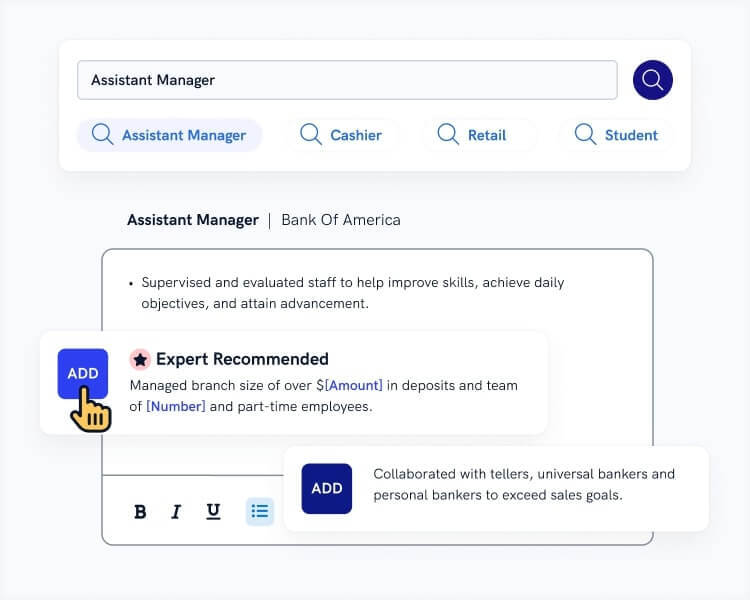 When you're done, our online resume builder will score your resume and our resume checker will tell you exactly how to make it better.
3
How to Find the Right Passions for a Resume
1. Research the company
You should always start by researching the company. Do they have a particular work culture? Would they find a unique hobbies and interests section on your resume valuable?
Where should you look to find out what to put in your personal interests and hobbies section?
1. Start with the job description. Most job offers will have a list of traits that companies wish the new employee to have.
2. Second, take a quick look around their website. Especially pay attention to any employee profiles.
3. Next, check social media accounts (LinkedIn/Twitter/Facebook).
4. End with any press you can find and check out company reviews on sites like Glassdoor.
Make sure you also pay attention to the skills that will be useful for the new position. What are the best skills to put on a resume? Read our guide: What Skills to Put on a Resume? [Examples+ 6 Tips]
2. Choose your resume interests wisely
When you choose activities, try to match them to desired personality traits.
For example:
If the job requires you to be "outgoing and a good team player," sports are good hobbies to mention on your resume.
Leave out the bit where you like to sit alone in sweatpants knitting.
| right | wrong |
| --- | --- |
| Basketball (Team sport exhibiting both qualities.) | Stamp Collecting (Introverted, individualistic activity.) |
At the same time, do try to choose a variety of activities.
By providing a variety of unique activities, you can show that you are:
First, flexible enough to be comfortable in a lot of different situations.
Second, relatable to a range of different people.
Both are important, especially if you are applying for a client-facing position.
Need more tips on how to use the information from the job description to quickly tailor your resume? Read our guide with an infographic: 6 Proven Tips on How to Tailor Your Resume to the Job Description
3. Use passions to highlight your skills and traits
You can also select examples of good hobbies for a resume that fill in gaps in your skill set.
Meet Jack.
Jack has gaps in his skill set because he's only had a handful of internships in the past.
Now, Jack is applying for a position as a graphic designer.
It might be a good idea for Jack to prove he has an eye for visuals by choosing relevant hobbies to list on his resume.
For example: Photography.
Choosing a related hobby reinforces the fact that Jack has the skills necessary for the job.
Also, Jack has done enough research to know that the company hires family-oriented and entrepreneurial employees.
So, he's decided to write about how he is an occasional freelance photographer for weddings.
Be like Jack.
Take your resume to the next level by matching your list of hobbies to the work culture of your chosen company.
And if you want to save time on formatting and write a great resume and cover letter in a few minutes, check out our resume builder.
The tool will give you loads of useful tips for every section of your resume. Take a look at some our 18 resume templates: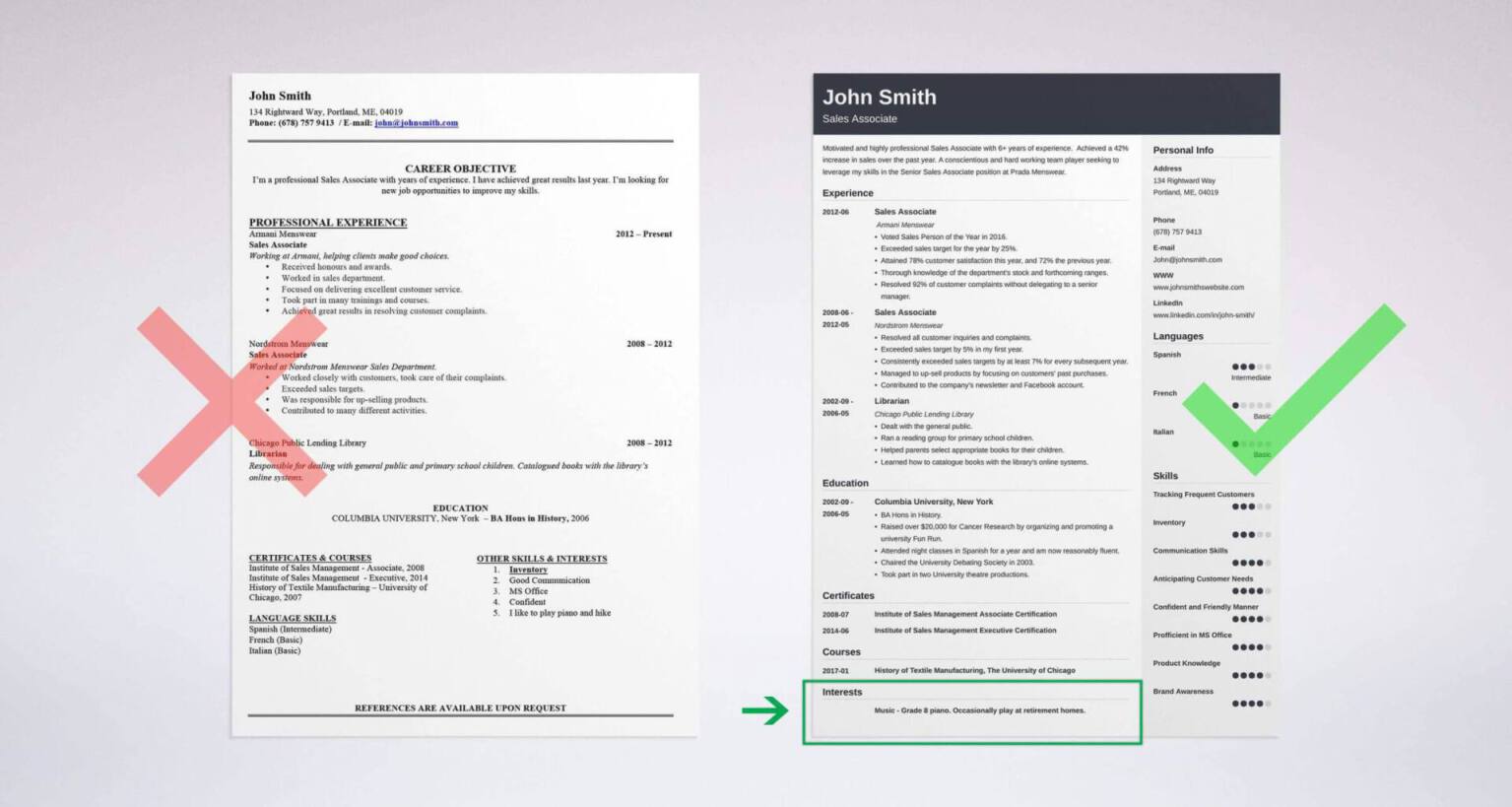 Sample resume templates from our resume builder - Get more resume templates here.
4. Push down your personal activities to the bottom
Your resume needs to be short and relevant, and so does your list of hobbies.
A good rule of thumb is to make sure your resume doesn't exceed two pages (read more). To keep it short, only include two or three relevant resume hobbies.
If you need to make cuts, your list of hobbies and interests should be the first things to go.
You may feel tempted to list your best hobbies in a resume:
Football, reading, traveling.
Don't!
It's more effective if you provide a brief, specific description:
I teach ballet classes three time a week for children with disabilities.
I volunteer at my local soup kitchen on weekends.
I enjoy playing chess, and I started a chess club for the elderly in my community.
Adding a list of interests and hobbies at the bottom of the page is a great way to end your resume. And it may help you make an impression on the recruiter.
If you want to know how to start your resume with a bang, read our guides about resume summaries or resume objectives. They include a lot of actionable examples that you can quickly use to write a perfect opening for your resume.
3
Three Rules About Hobbies and Interests for Resume
Be specific:
Reading is not a unique interest. Reading complicated Russian novels is more specific. List some of your favorite authors. It will also help a recruiter remember you.
| right | wrong |
| --- | --- |
| Reading complicated Russian novels. | Reading |
Be honest:
Stay away from using examples of hobbies for a resume that aren't true to you. It could come back to haunt you.
If you put "opera buff" as a resume hobby, then you better have season tickets.
It won't be fun when the recruiter turns out to be an Offenbach enthusiast, and it comes out that the closest you've ever been to a stage was the one time you watched Phantom of the Opera on Netflix.
| right | wrong |
| --- | --- |
| Watching Broadway Musicals. | Opera Buff |
Keep your level of weird low:
It is one thing to be unique, but be careful not to cross the line into the Twilight Zone. It's okay to volunteer at an animal shelter, but we all know what cat hoarding implies. The golden rule of dinner parties is also applicable for examples of interests to mention on a resume:
Always avoid politics, religion, or sex.
Why?
This is an easy way to alienate someone whose views are different from yours.
Remember, you want to be relatable and likable.
| right | wrong |
| --- | --- |
| I volunteer at my local animal shelter. | I collect cats compulsively. |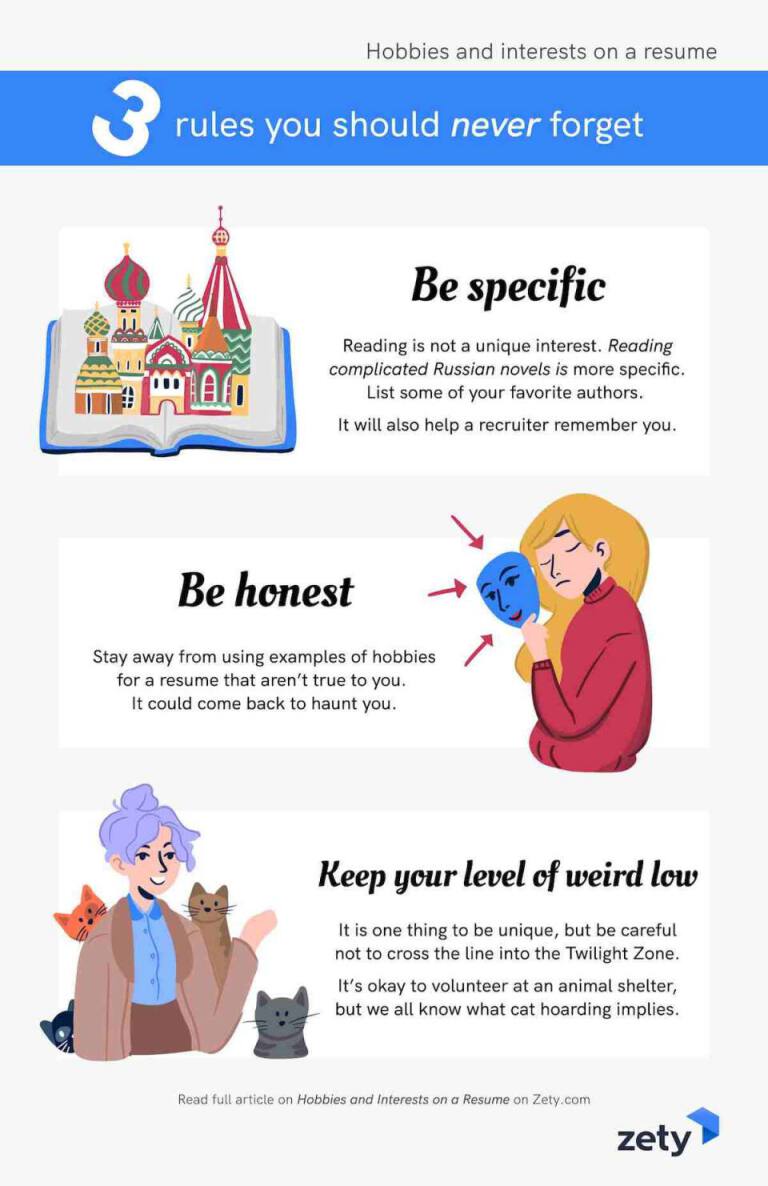 If you need more tips on how to make a resume, read our complete list of 42 resume tips. We divided all the tips into quick 2, 5 or 30-minute fixes: 42 Amazing Resume Tips That You Can Use in 30 Minutes [Examples]
4
How Putting Examples of Interests and Hobbies on a Resume Benefits You
Adding a unique resume interests and hobbies section has hidden benefits.
Recruiters, searching for candidates, shuffle through hundreds of resumes looking for the right people.
It is important for the interviewer to be able to create a full image of an applicant.
A list of interests on a resume can help you stand out from the crowd. They can also make you more attractive and memorable to your potential employer.
You are a champion cupcake decorator. That will stick with a recruiter and get your foot in the door before someone else.
It also works in reverse:
If you know who will be conducting your interview, put on your Sherlock cap and do some snooping. Find out if you have personal interests in common with them by checking their LinkedIn profile.
Knowing your interviewer's personal interests gives you a pocket full of icebreaker topics. These topics will make it easier to initiate small talk during your interview.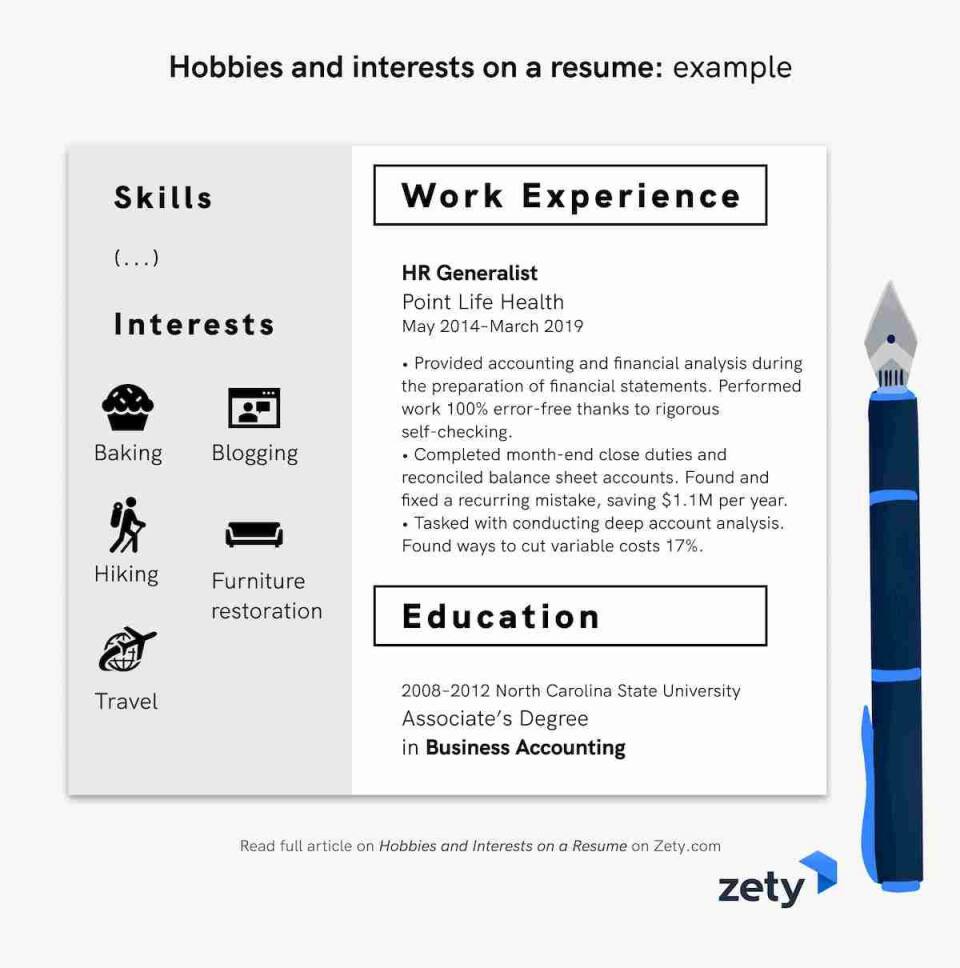 Pro Tip: Be sure to optimize your LinkedIn (read more) profile by adding your best hobbies and interests there as well.
Plus, a great cover letter that matches your resume will give you an advantage over other candidates. You can write it in our cover letter builder here. Here's what it may look like: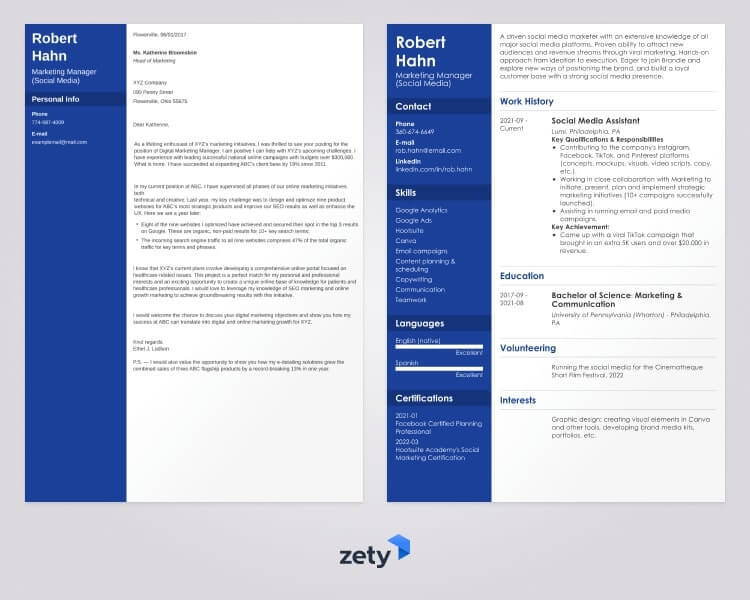 See more cover letter templates and start writing.
Key Takeaway
Just like in dating, listing personal interests should be done with caution and for a reason. You want them to resonate, reflect the company culture, and become a conversation starter for all the right reasons. You can use your personal interests to signal character traits, but it's a bit of a long shot. In the end, the most important aspect of the perfect resume is it's relevance to the job on hand. Learn how to build a professional resume here.
About Zety's Editorial Process
This article has been reviewed by our editorial team to make sure it follows Zety's editorial guidelines. We're committed to sharing our expertise and giving you trustworthy career advice tailored to your needs. High-quality content is what brings over 40 million readers to our site every year. But we don't stop there. Our team conducts original research to understand the job market better, and we pride ourselves on being quoted by top universities and prime media outlets from around the world.
Sources
Frequently Asked Questions about Hobbies and Interests on a Resume
What are personal interests?
Personal interests are activities enjoyed in a person's free time. They can include hobbies, sports, artistic expression, leisure activities, volunteering, cultural activities, spiritual practices, traditional activities, learning pursuits, and personal development.
Common personal interests include:
Crafts, such as sewing, embroidery, scrapbooking
Cooking and baking
Sports and fitness activities
Dance, such as Latin, ballet, hip-hop
Art
Photography
Film
Literature, including novels and non-fiction books
Martial arts
Music, including playing instruments and attending concerts
Board games
Blogging
Video games
Travel
Employers often ask candidates about their personal interests to get a better understanding of their character. Listing personal interests on a resume can be beneficial for the candidate, as long as the included list of hobbies and interests is related to their profession. For example, a software developer's resume may list interests such as writing reviews of video games or recording tutorials for beginner programmers.
As candidates from Gen Z expect a good work-life balance, their personal interests also matter to them more than they mattered to previous generations of workers. Having personal interests can also contribute to better mental wellbeing, managing stress, being less afraid of retirement.
What are examples of hobbies?
There are countless types of hobbies a person can pursue in their free time. They can be divided into several categories, such as: sports, creative activities, art, self-development, group activities, collecting, outdoor activities, music, food, games and puzzles, literature, travel, and more.
Examples of Hobbies: Art
Creating art
Visiting museums and galleries
Artists' biographies
Purchasing art
Reviewing exhibitions
Examples of Hobbies: Collecting
Stamps
Coins
Postcards
Seashells
Rocks and minerals
Fridge magnets
Travel souvenirs
Vintage items
Designer clothing or accessories
Dolls
Examples of Hobbies: Food
World cuisines
Baking
Diets
Food blogging
Culinary tourism
Reviewing restaurants
Food photography
Wine tasting
Examples of Hobbies: Creative Activities
Embroidery
Knitting
Sewing
Drawing
Painting
Sketching
Woodwork
Scrapbooking
Photography
Writing
Blogging
Dancing
Macramé
Crocheting
Pottery
Sculpting
Singing
Acting
Film
Examples of Hobbies: Games and Puzzles
Chess
Board games
Video games
Poker
Card games
Jigsaw puzzles
Sudoku
Crosswords
Mobile games
Scrabble
Arcade games
Examples of Hobbies: Group Activities
Volunteering
Clubbing
Paintball
Bowling
Bar crawls
Trivia nights
Pub quizzes
Escape rooms
Examples of Hobbies: Literature
Reading books
Writing stories
Writing book reviews
Writers' biographies
Book clubs
Comic books
Examples of Hobbies: Music
Listening to music
Playing instruments
Concerts
Reviewing music albums
Singing
Examples of Hobbies: Outdoor Activities
Camping
Hiking
Trekking
Climbing
Gardening
Going on walks
Mushroom picking
Foraging
Horseback riding
Outdoor photography
Fishing
Sailing
Kayaking
Birdwatching
Examples of Hobbies: Self-Development
Cooking classes
Online courses
Language classes
Self-help books
Journaling
TED talks
Examples of Hobbies: Sports
Football
Basketball
Hockey
Running
Skiing
Cycling
Gymnastics
Yoga
CrossFit
Weightlifting
Swimming
Tennis
Table tennis
Baseball
Boxing
Martial arts
Golf
Archery
Examples of Hobbies: Travel
Sightseeing
Camping
Cruising
Off-road driving
Backpacking
Travel blogging
Writing hotel reviews
Agritourism
Motorcycle touring
Scuba diving
If you want to include hobbies on your resume, try to mention the ones which are relevant to your profession. This way, they can boost your application! For example, if you're writing a line cook resume, mention hobbies such as food blogging, reviewing restaurants, attending cooking classes, and so on. According to our 2021 resume trend study, the top 5 interests listed on resumes include reading, blogging, traveling, music, and sports. This means that mentioning a more specific and unique hobby can make you stand out from other applicants.
What hobbies should I put on a resume?
All the information in your resume must be relevant to the job you want. When choosing hobbies to include in your job application, pick the ones that match your profession. Some hiring managers use the information about interests in the resume as conversation starters to break the ice. But don't try to impress the recruiter too much with fancy personal interests! And, of course, don't lie on your resume. Remember that the hiring manager may ask you to elaborate on the hobbies you included. If you write that you love learning languages, but in fact, you haven't moved beyond beginner level in any of them, it won't work to your advantage. This may result in a job hunting nightmare for you—but it will be your fault!
Should you add hobbies to a resume?
The short answer is: yes!
The long answer: it depends. First, check if you have enough space left in your job application. Remember that a resume should fit on one page only. It may seem like a lot of space, but in reality, it's not. It might be more important to list other additional resume sections, such as certifications and licenses, or language skills. But if you have enough space to add a list of interests—then go for it!
Hobbies on resume can show a different aspect of your personality than the other sections. They prove that you also have a life beyond work, and you possess additional skills apart from the ones you use for your job. Of course, remember to include only those hobbies that are relevant to the job you're pursuing. For example, if you're writing a hair stylist resume, you can mention interests such as running a beauty blog, writing reviews of cosmetic products, and following fashion trends.