Give us 7 minutes and you'll learn how to write a job-winning HR resume. But think about this first—
Writing a Human Resources resume is like making a cake for a baker, or singing for Taylor Swift.
You are really on the spot.
Worse, of the 136,000 HR jobs in the U.S., most are high-pressure, high-turnover positions, for call centers or retail.
Very few are with the Googles, the Nissans, or the Twitters of the world. You know, the jobs with on-site fitness centers or free massages at lunch.
To get those jobs, you need to stand out amid the outstanding.
This guide will show you:
A Human Resources resume example better than 9 out of 10 others.
How to write a Human Resources resume that gets more interviews.
Tips and examples of how to put skills and achievements on a Human Resources manager resume.
How to describe your experience on a resume for Human Resources to get any position you want.
Here's a sample resume for a human resources specialist made using our resume builder.
Want to save time and have your resume ready in 5 minutes? Try our resume builder. It's fast and easy to use. Plus, you'll get tips and right vs. wrong examples while writing your resume. See +20 resume templates and create your resume here.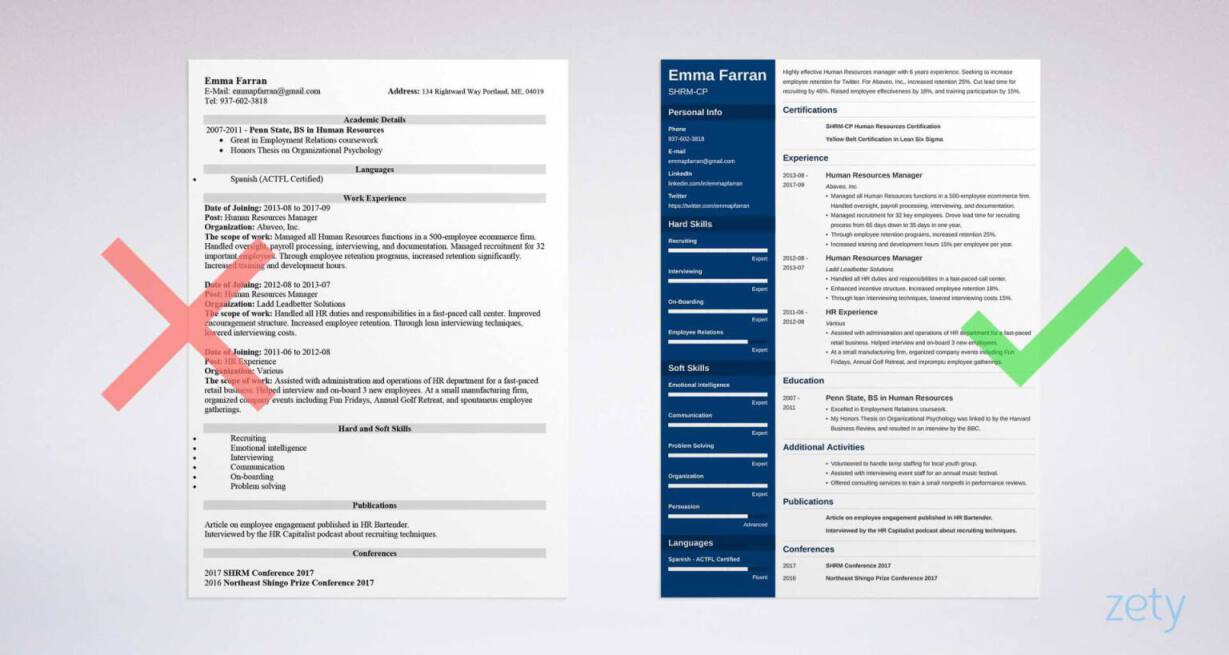 Human Resources Resume Example - See +20 resume templates and create your resume here.
Want to focus on seeking out talent as good as you? Switch over to: Recruiter Resume: Sample & Complete Writing Guide [20+ Examples]
1
What's the Best Format for a Human Resources Resume?
Picture a business owner. We'll call her Anna.
She's got a copy of First, Break All the Rules and a mug that says, "Boss."
She's also got 300+ Human Resources specialist resumes to read through by Tuesday.
Does she care about resume format?
No. She cares about getting the important info, fast.
Guess what? That means format.
Respect Anna's time. Make it easy to see what a great Human Resources manager you are.
Start with the best resume format for HR: reverse-chronological.
Use simple, clear fonts. Make everything eye-friendly, with big headings and strategic white space.
Not good at layout? Tap a friend with strong visual skills on LinkedIn or Facebook to help.
Last, show you understand the hiring process by saving your HR resume as a PDF.
Human Resources resume PDFs preserve their structure. Other formats can look great on your machine, then take a sick day in transit.
Pro Tip: Modern PDFs are machine-readable. Still, some Applicant Tracking Systems trip on them. Check the job offer to make sure it won't reject an HR resume PDF.
You can interview other options for your HR resume format, too! See this guide: 3 Resume Formats: How to Choose the Best One [Examples]
Want to make sure your resume will hook every recruiter and get you that interview? Get our free checklist and learn what makes a job-winning resume: 46 Things You Need To Do Before You Send Your Resume
2
How to Write a Resume Summary or Resume Objective
This is not your first rodeo.
You know managers don't spend much time reading the average resume.
In fact, six seconds is standard.
So, don't be average.
Break the mold with your Human Resources resume summary or resume objective. A well-written one can stretch that six seconds into a slow, careful read.
Which is which?
A resume summary shows this is not your first time herding cats. Use it if you've got lots of HR experience.
A resume objective works if you're still halfway through HR for Dummies. Use it if you're just getting your feet wet.
Here's how to do each one right:
Human Resources Resume Examples [Two Resume Summaries]
Look at these two MBA HR Generalist resume samples:
wrong
Human Resources manager skilled in recruitment, interviewing, job posting, termination, training, and employee retention. Energetic and with 6 years experience and an SHRM-CP certification.
That's not exactly grounds for a pink slip. But it doesn't warrant the interview, either. Why not? It's as generic as a nametag that says, "Person."
So, add some measurable wins.
right
Highly effective Human Resources manager and SHRM-CP with 6 years experience. Seeking to increase employee retention for Twitter. At Abaveo, Inc., increased retention 25%. Cut lead time for recruiting by 46%. Raised employee effectiveness by 18%, and training participation by 15%.
Poof. Now the business owner is thinking, "Hmm. This candidate knows her stuff."
She may want proof, but she can get it in the interview.
In any, case, she'll read the rest of your HR resume with interest.
Our resume builder (you can create your resume here) will give you tips and examples on how to write your resume summary or any other section. You can easily copy them straight into your resume - it will save you a ton of time.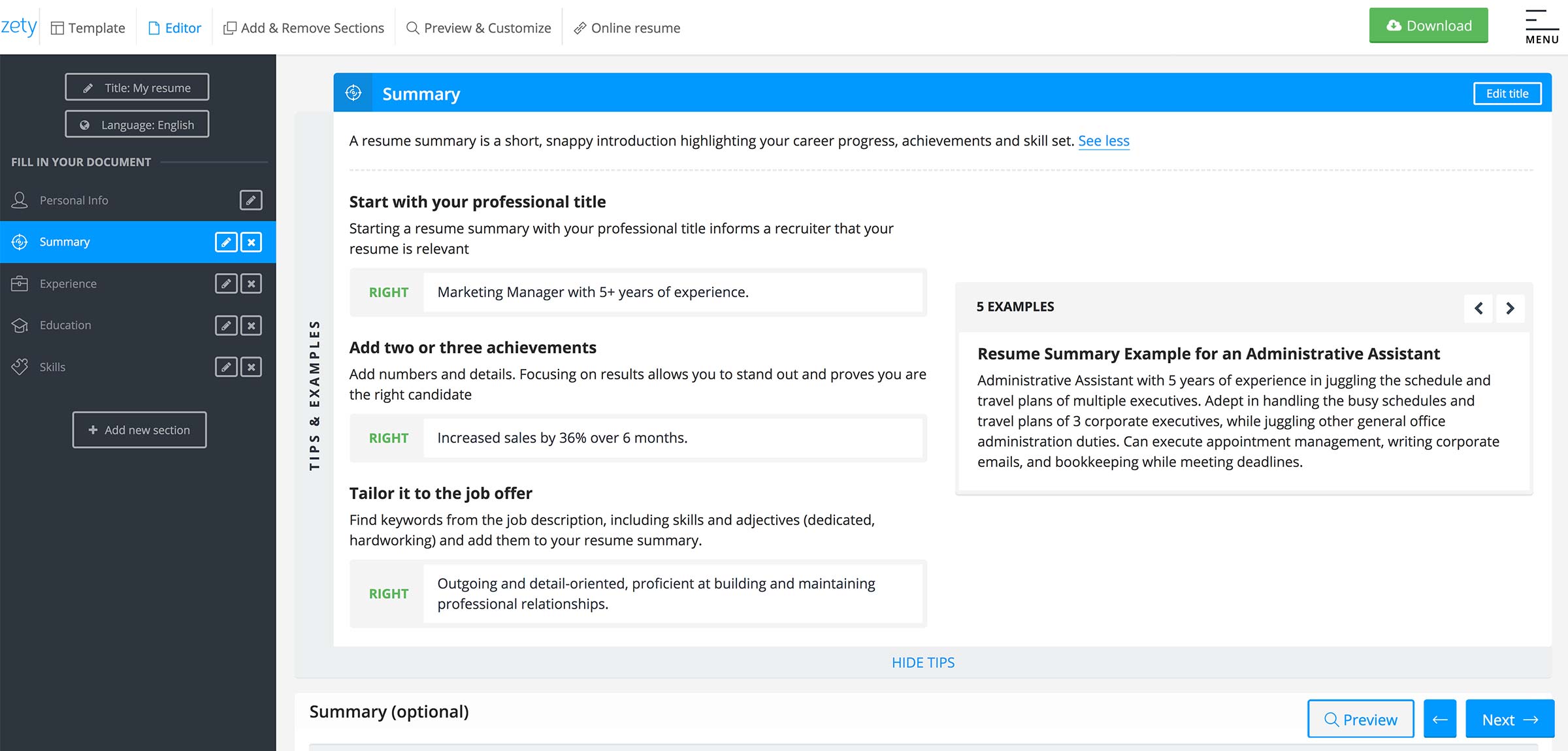 Inside Zety's resume builder you will find tips and examples for your resume.
But what if you're just breaking into HR? Do you have to start out in the mailroom?
Absolutely not.
How to Write a Resume Objective for an Entry-Level Human Resources Assistant
If you're new to Human Resources, why should anyone hire you?
The old answer was, "Because you've got drive! Spunk! Chutzpah!"
This is not 1949 and no one buys that anymore.
Look at these two entry-level Human Resources assistant resume samples.
Two Entry-Level Human Resources Resume Examples
wrong
Passionate entry-level Human Resources employee, skilled in employee relations. No real-world experience yet, but eager to grow into a role.
That's not so bad. In fact, it's almost a textbook fresher HR resume objective sample. But stack it up against 200 others and it blends into the wallpaper.
Add accomplishments, and suddenly you're a future star employee.
right
Energetic entry-level Human Resources Specialist. Assisted with administration of HR for a mid-sized retail company. Facilitated the interviewing and on-boarding of 4 new employees. Organized company events and employee gatherings.
Wow. You might not be the next Felicia Fields, but you can't tell it by that career objective for an HR assistant resume.
But how did an entry-level resume for an HR manager get such impressive accomplishments?
She did it by thinking hard about past non-HR positions.
See the next section for pointers.
Pro Tip: Resist the rookie mistake of trying to cram everything into your Human Resources resume objective or resume summary. One or two impressive facts is enough.
For more tips on how to write a great HR resume objective or resume summary, see these guides: How To Write A Resume Summary: 21 Best Examples You Will See AND +20 Resume Objective Examples - Use Them on Your Resume (Tips)
3
How to Describe Your Human Resources Experience
Imagine a list.
At the top, it says, "Interview These Candidates."
Below are ten names. Yours is #1.
That's where your resume for HR jobs must take you.
You won't do it by listing every detail from your past. That would bore the executive into skipping your resume.
Each bullet point has to fit the job like an industrial coating.
Here's how:
First, read the job description. Highlight all the HR duties and responsibilities.
Next, sit down with a scratch pad and think about your latest job. Brainstorm 4-6 times you did those duties.
Like this:
MBA Human Resources Resume Examples [Experience]
Picture a job offer that wants speed and experience with employee retention programs. The ideal candidate should also have a history of improving training programs.
Here's how that professional Human Resources manager resume job description might look:
right
Human Resources Manager
Abaveo Inc.
2013 - 2017
Managed all Human Resources functions in a 500-employee ecommerce firm. Handled oversight, payroll processing, interviewing, and documentation.
Managed recruitment for 32 key employees. Drove lead time for recruiting process from 65 days down to 35 days in one year.
Through employee retention programs, increased retention 25%.
Raised training and development hours 15% per employee per year.
Impressive. Right up there with Holly Delaney from Zappos. It doesn't just say, "Responsible for." It says, "Very responsible."
It blows away the next Human Resources resume sample.
wrong
Human Resources Manager
Abaveo Inc.
2013 - 2017
Managed all Human Resources duties and responsibilities for a mid-sized ecommerce business.
Handled oversight and payroll processing for all four years.
Conducted interviews for new hires and spearheaded the recruitment process.
Implemented employee retention programs.
Not exactly George Costanza, but pair it with the last example, and guess who gets the interview?
But to give it a clean slate, all we need to do is add achievements.
Don't have any? Don't worry.
How to Write a Human Resources Resume with no Experience
If you've never worked in HR, that doesn't mean you have zero Human Resources experience.
This is true even if you're only writing a Human Resources internship resume.
Think about past non-HR jobs. Have you performed any administrative functions? Assisted with training and development? Facilitated recruitment or on-boarding?
Have you helped with the administration of benefits, leave, or compensation?
After all, what is Human Resources experience? It's handling all those duties. You can list them on an HR resume for freshers, even without the official title.
Check out these two Human Resources assistant resume examples to see how it's done:
wrong
Human Resources Experience: No on-the-job HR experience yet, but I'll do a great job!
Other Experience
Toy Company Packager.
Local Radio Host.
Paging Peter Griffin. Your Human Resources resume is ready.
But show past wins in non-HR jobs, and suddenly you're in the core labor force.
right
Human Resources Experience
2016 - 2017
Assisted with administration and operations of HR department for a fast-paced retail business. Helped interview and on-board 3 new employees.
At a small manufacturing firm, organized company events, including Fun Fridays, Annual Golf Retreat, and impromptu employee gatherings.
Nice. As good as Gromit's resume to Wallace.
Wondering how to get Human Resource experience like that? Work an admin job for a few months and take some HR responsibility.
Even a stint as an HR assistant or intern can move an HR resume into the winner's circle. Or try small projects like hiring temp staff for a local music festival.
Pro Tip: It's a lot easier to get a low-glamor job at a temp or staffing agency. They're not pretty, but you don't have to stay long. Plus, they'll get that "HR" title on your resume.
Want your Human Resources resume to work overtime? See this guide: "How to Put Achievements on a Resume - Complete Guide (+30 Examples)"
4
Is Your Education Section on Vacation? It Might Be
Disaster.
The branch manager was just about to call you for the interview.
Then she noticed something in your education section that gave her pause.
She started playing with her stress ball, then moved on to other Human Resources resumes.
So what did you do wrong?
You know to add your:
College Name and Location.
Years in School.
Degree.
But did you match your education bullet points to the HR job description?
Check out these two functional HR resume samples.
Two Human Resources Resume Examples [Education]
wrong
BS, Human Resources
Penn State, 2007 - 2011
Received a BS in Human Resources.
GPA 3.2.
OK, that shows the basics, but it could be anyone, including Milton from Office Space.
But add details, and your human capital is on the rise.
right
BS, Human Resources
Penn State, 2007 - 2011
Excelled in Employment Relations coursework.
My Honors Thesis on Organizational Psychology was linked to by the Harvard Business Review.
Now we've got a potential Dianne Mills in the offing.
This isn't just a sheet of paper with "college education" written on it. This is a real, live human being (and one I'd love to hire).
Pro Tip: Should you add your GPA to a resume for Human Resources? If it's impressive and/or recent, it's pertinent. Otherwise, leave it out.
Want your Human Resources resume education section to get attention like a bonus check? See our guide: "How to Put Your Education on a Resume [Tips & Examples]"
5
How to Put Skills on a Resume for Human Resources
Imagine you're hungry. You're looking for a good place to eat.
Every restaurant you pass has a sign that says, "We Have Good Food."
Which one do you believe?
Then a waitress from one place comes out and offers you a free sample. You try it. It's delicious.
That's what your HR manager resume skills section must do.
HR managers see a lot of skills on resumes.
After a while they're all the same. They might as well say, "I have good skills."
You need proof.
But how do you provide it?
Your answer is in these two professional HR resume examples.
Human Resources Resume Sample Skills Lists
Let's imagine a job offer that wants skills in interviewing, on-boarding, employee retention, and cost cutting.
You'll add those to your resume skills list. Then you'll prove them by pinning them into your HR experience section, like this:
right
Handled all HR duties and responsibilities in a fast-paced call center. Recruited, interviewed, and

on-boarded

35 employees.
Enhanced incentive structure. Increased employee retention 18%.
Through lean interviewing techniques, lowered interviewing costs 15%.
That's a win. Put on your "I'm a prefectionist" t-shirt, because you're getting the job.
But don't use a skills list like this:
wrong
Human Resources Skills List: Emotional Intelligence, Recruiting, Onboarding, Communication, Collaboration, Social Media, Scheduling, Employee Engagement, Health Plans, Interviewing, Listening, HR Software, Kitchen Sink Hiring...
That applicant is barely treading water in the applicant pool.
List of Skills to Put on a Human Resources Resume
Let's get your feet on the career ladder with the list below.
Find more skills for Human Resources in the job offer, and in other job offers online.
Human Resources Resume Skills

| | | |
| --- | --- | --- |
| Soft Skills | Hard Skills | More Hard Skills |
| Emotional Intelligence | Recruiting | Affirmative Action |
| Communication | Onboarding | Benefits Administration |
| Collaboration | Employee Relations | Compliance |
| Ethics | Screening | Data Analysis |
| Decision-Making | Scheduling | Employee Engagement |
| Organization | Social Media | Evaluations |
| Listening | HR Software (HRIS) | Health Plans |
| Problem Solving | Performance Management | Job Description |
| Compassion | Background Checks | FMLA |
Follow the steps above, and you'll be managing sick days and bonuses at Ford or SAS before you know it.
Pro Tip: Don't just prove the skills in the job offer or it might look like pandering. Add a few extra core competencies to your professional HR resume.
Want to do due diligence on your skills section? See the great Human Resources resume template up top. Plus, see this guide: "+30 Best Examples of What Skills to Put on a Resume (Proven Tips)"
6
How to Add Certifications to Human Resources Resumes
Would you like 50% more money?
According to Payscale.com, that's how much more certified HR managers make.
But you've got to list it correctly in your resume for HR positions.
First, put it after your name, and in your summary. Then display it in a dedicated "Certifications" section right under your resume summary.
Certifications
SHRM-CP HR Generalist Certification
Yellow Belt Certification in Lean Six Sigma
Do you need certifications? No. But a good cert on a Human Resources resume can take you from Barney Fife to proto-Dave-Ulrich in an eyeblink.
Pro Tip: Not sure what certification to get? An SHRM-CP or SCP both look great on an HR resume. So does an HRCI PHR.
What else should you put on a resume for Human Resources to give it an instant promotion? See our guide: "What To Put On A Resume To Make It Perfect [Tips & Examples]"
7
How to Add Other Sections for an Effective Resume
Here's the problem:
A great HR manager needs more than just experience.
She needs Emotional Intelligence. Respect from coworkers. Relationship-building skills.
How can you prove those things on one little sheet of paper?
You can use targeted "other" sections.
Awards, accolades, and interests all make great additions to a Human Resources director resume. So do passions, non-work accomplishments, and volunteer projects.
Even publications and conferences can prove your HR passion.
The idea is to show your casting-call-conducting chops beyond just clock-punching.
Human Resources Resume Examples ["Other" Sections]
Additional Activities
Volunteered to handle temp staffing for local youth group.
Assisted with interviewing event staff for an annual music festival.
Offered consulting services to train a small nonprofit in performance reviews.
Publications
Article on employee engagement published in HR Bartender.
Interviewed by the HR Capitalist podcast about recruiting techniques.
Conferences
SHRM Conference 2017
Northeast Shingo Prize Conference 2017
Accolades
Received two commendations from employers.
Voted best co-worker by employees at Maxiva, Inc.
Any of the items above show there's real Boston-Consulting-Group-level worker behind your Human Resources resume.
Pro Tip: You don't have to win a Stevie to have great "other" sections. Don't have any fun details? Try volunteering or doing some small projects.
Not sure what to put in the "other" sections on a resume for Human Resources? See our guide: "+20 Best Examples of Hobbies & Interests To Put on a Resume (5 Tips)"
8
Here's the Most Common Myth About Cover Letters
Do you hate reading cover letters? Most HR managers do.
Does it surprise you that almost half still think they're necessary?
You need to write a cover letter for those HR managers.
Don't make a generic Human Resources cover letter. You know, the kind you hate to read.
Instead, make it a tantalizing sales pitch for your great Human Resources resume. Here's how:
Get attention by using the hiring manager's name. Find it on LinkedIn, or by calling the receptionist.
Keep her attention by mentioning a fact or two that attracts you to the company. Can't find one? Use your HR skills to dig one up online.
Promise something in exchange for reading your resume, like a way to make the exec's life easier.
Dear Anna,
Paralith's commitment to employee retention and development is well known. It's the reason you were voted "Best Medium-Sized Company to Work for" by Glassdoor. As a certified Human Resources Manager with a proven track record of raising retention at two mid-sized companies, I believe I'd make a valuable addition to an already solid team.
Close with a call to action. That's as simple as, "PS – I'd value the chance to show how I decreased turnover 15% at Metanoodle – and how I can do the same for you.
Pro Tip: Didn't hear back? Follow up on that Human Resources cover letter! The exec might have hired another candidate, but she might have just forgotten about your perfect HR resume.
Plus, a great cover letter that matches your resume will give you an advantage over other candidates. You can write it in our cover letter builder here. Here's what it may look like: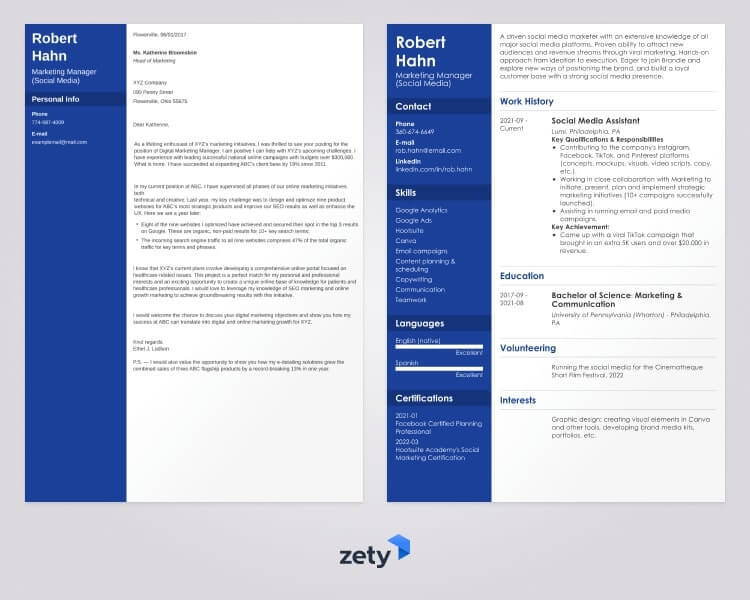 See more cover letter templates and start writing.
Need more tips to boost your HR cover letter's morale? See our guide: "How To Write A Cover Letter [Complete Guide With Examples]"
9
How to Add Contact Info to Your Resume
"Hmm. No LinkedIn profile. Let's skip to the next applicant."
Don't write a great Human Resources resume, then drop the ball with contact info.
Of course you'll add:
Full Name
Updated Phone Number
Professional Email Address
Like this:
Emma Farran, emmapfarran@gmail.com - 937-602-3818
Adding a LinkedIn profile and Twitter handle lets the executive dig deeper.
If you miss this step, the executive might get interested by another HR candidate's social pages and forget about you.
Pro Tip: Will that picture from ladies night eight years ago scuttle your resume for HR? Not if you follow our guide to tidying your online presence.
Need more help to write a Hank-Jackson-level HR resume? See this guide: "How to Make a Resume: A Step-by-Step Guide (+30 Examples)"
Key Takeaway
Even with good Human Resources resume templates in hand, making your own version is tough. To do it right, follow these strategies:
Start with the job offer. Highlight all the HR duties, responsibilities, skills, and qualities you see.
Prove you've got those HR superpowers in your resume bullet points. Show measurable evidence in your experience and education sections.
Use "other" sections to fit you to the job like shrink wrap. Include awards, publications, conferences, and commendations.
Do you have questions on how to write a great resume for Human Resources? Not sure how to describe your skills or achievements? Give us a shout in the comments! We love to help!