You know everything about the employment process. You've read through tons of resumes. But what about a Human Resources resume for yourself?
Impressing hiring managers can be tricky. But give us 7 minutes, and you'll learn how to write a job-winning HR resume. See our resume for Human Resources examples, and best templates, and read our guide that will make all the other HR specialists want to hire you for their team.
This guide will show you:
A Human Resource resume example better than 9 out of 10 others.
How to write a Human Resources resume that gets more interviews.
Tips and examples of how to put skills and achievements on a Human Resources manager resume.
How to describe your experience on a resume for Human Resources to get any position you want.
Here's a sample resume for a Human Resources specialist made using our resume builder.
Want to save time and have your resume ready in 5 minutes? Try our resume builder. It's fast and easy to use. Plus, you'll get ready-made content to add with one click. See 20+ resume templates and create your resume here.
Sample resume made with our builder—See more resume examples here.
Want to focus on seeking out talent as good as you? Switch over to:
Human resurces resume example
Caroline Johnson
Human Resources Specialist
123-456-7890
carolinejohnson@email.com
linkedin.com/in/caroline.johnson
Summary
Detail-oriented Human Resources Specialist with 5+ years of experience. Eager to support Nexus Optix Co. in building a highly efficient team of professionals by leveraging my skills in personnel recruitment and retention. Successfully implemented a company-wide wellness program at Nova Matrix Inc., resulting in a 20% decrease in employee absenteeism.
Experience
Senior Human Resources Specialist
Nova Matrix Inc., Las Cruces, NM
June 2015–December 2020
Key Qualifications & Responsibilities
Oversaw recruitment process, successfully filling 100+ positions within the company.
Managed and resolved employee relations issues.
Designed an overhauled onboarding process.
Developed and coordinated a company-wide wellness program.
Key Achievement:
Implemented a wellness program leading to a 20% decrease in employee absenteeism.
Human Resources Assistant
Velocity Matrix Co., Las Cruces, NM
July 2012–May 2015
Key Qualifications & Responsibilities
Assisted with recruitment efforts, including job postings and interviews.
Maintained human resources records and databases.
Facilitated employee onboarding process.
Key Achievement:
Decreased administrative time by 30% with a streamlined HR database management.
Education
Bachelor of Business Administration, Human Resources Management
New Mexico State University, Las Cruces, NM
August 2008–June 2012
Relevant extracurricular activities
Active member of the university's HR club.
Volunteered for local job fairs.
Skills
Personnel Recruitment and Retention
Employee Relations Management
Wellness Program Development
HR Records and Database Management
Conflict Resolution
Excellent Communication Skills
Empathy and Sensitivity
Analytical Thinking
Membership
Member of the Society for Human Resources Management since 2016
Delivered a lecture on Establishing Team Cohesion during the 2018 Women in Business Conference, San Diego.
Served as team leader for an HR project which won first prize in the university competition.
Certification
Certified Human Resources Professional (CHRP), Society for Human Resources Management, 2020
Languages
English—Native
Spanish—Advanced
Interests
Hiking and outdoor activities, demonstrating leadership and team-building skills.
Reading about organizational psychology, indicating an ongoing interest in human behavior and team dynamics.
1
What's the Best Format for a Human Resources Resume?
The first step in creating your amazing Human Resources resume sample is formatting. That's how you make it readable. That's how you make the reader read through it fast and painlessly. And that's pretty important, as your recruiter will look at your document for about 7 seconds.
So, how can you ace your HR resume sample from the very beginning?
Pro Tip: Modern PDFs are machine-readable. Still, some Applicant Tracking Systems trip on them. Check the job offer to make sure it won't reject an HR resume PDF.
You can interview other options for your HR resume format, too! See this guide: 3 Resume Formats: How to Choose the Best One [Examples]
2
Describe Your Human Resources Experience
There's a list of Human Resources resumes on your hiring manager's desk. At the top, it says, "Interview These Candidates." Below are ten names. Yours is #1. That's exactly where your resume for HR jobs must take you.
You won't do it by listing every detail from your past. That would bore the executive into skipping your resume. Instead, you have to shine with your work experience. Here's how you can describe it on your HR specialist resume:
Tailor your resume to the job description. That's how you demonstrate you're the perfect fit for this very job.
Mention your accomplishments, not your HR duties. This is precisely how you send a message that all your duties have been done excellently!
Add some resume action words. That's how you can easily demonstrate your achievements and experience.
Quantify your achievements and experience, as it shows specifically what you've done for past employers.
Here's how that professional Human Resources manager resume job description might look:
Human Resources Job Description for a Resume
RIGHT
Human Resources Manager
Abaveo Inc.
2013 - 2017
Managed all Human Resources functions in a 500-employee ecommerce firm. Handled oversight, payroll processing, interviewing, and documentation.
Managed recruitment for 32 key employees.

Drove lead time for recruiting process from 65 days down to 35 days in one year

.
Through

employee retention programs

, increased retention 25%.

Raised training and development hours 15%

per employee per year.
Impressive. It doesn't just say, "Responsible for." It says, "Very responsible." And those numbers work well, as they show specific achievements.
It blows away the next Human Resources resume sample.
WRONG
Human Resources Manager
Abaveo Inc.
2013 - 2017
Managed all Human Resources duties and responsibilities for a mid-sized ecommerce business.
Handled oversight and payroll processing for all four years.
Conducted interviews for new hires and spearheaded the recruitment process.
Implemented employee retention programs.
This example, on the other hand, seems like it was copied from the requirements for the candidate. So no good at all.
When making a resume in our builder, drag & drop bullet points, and skills, and auto-fill the boring stuff. Spell check? Check. Start building a professional resume template here for free.
When you're done, our professional resume builder will score your resume and our resume checker will tell you exactly how to make it better.
But what if you don't have tons of achievements and amazing experience to wow your recruiters with? There's a way you can still win that job!
How to Write an Entry Level Human Resources Resume with No Experience
If you've never worked in HR, that doesn't mean you have zero Human Resources experience. This is true even if you only write a Human Resources internship resume.
Think about past non-HR jobs. Have you performed any administrative functions? Assisted with training and development? Facilitated recruitment or onboarding? Have you helped with the administration of benefits, leave, or compensation?
After all, what is Human Resources experience? It's handling all those duties. You can list them on an HR resume for freshers, even without the official title.
Check out these two Human Resources resume examples to see how it's done:
RIGHT
Human Resources Experience
2016 - 2017
Assisted with administration and operations of HR department for a fast-paced retail business. Helped interview and on-board 3 new employees.
At a small manufacturing firm, organized company events, including Fun Fridays, Annual Golf Retreat, and impromptu employee gatherings.
Not a lot of experience in HR per se, but still an impressive experience that can be transferred to the HR job you're after.
WRONG
Human Resources Experience: No on-the-job HR experience yet, but I'll do a great job!
Other Experience
Toy Company Packager.
Local Radio Host.
No HR experience and nothing that shows you'll do a great job, except the promise? That's not how you get an interview!
Wondering how to get Human Resource experience like the candidate from the first example? Work an admin job for a few months and take some HR responsibility.
Even a stint as an HR assistant or intern can move an HR resume into the winner's circle. Or try small projects like hiring temp staff for a local music festival.
Pro Tip: It's a lot easier to get a low-glamor job at a temp or staffing agency. They're not pretty, but you don't have to stay long. Plus, they'll get that "HR" title on your resume.
Want your Human Resources resume to work overtime? See this guide: "How to Put Achievements on a Resume - Complete Guide (+30 Examples)"
3
Use the Education Section to Show HR Expertise
According to the study, the employment rate for the candidates with a bachelor's or higher degree is higher than for those with lower education and it ecquals 86%. It's also higher for candidates with some years of college (75%) than for those who completed high school (68%) and those who had not completed it (53%). Make sure your recruiter knows exactly what's your education level!
Follow these resume tips and add your:
College Name and Location
Years in School
Degree
But did you match your education bullet points to the HR job description? Check out these two functional HR resume samples:
Education on a Human Resources Resume
RIGHT
BS, Human Resources
Penn State, 2007 - 2011
Excelled in Employment Relations coursework.
My Honors Thesis on Organizational Psychology was linked to by the Harvard Business Review.
No questions asked, the reader knows exactly what school the candidate writes about. And those achievements make it stand out even more!
wrong
BS, Human Resources
Penn State
OK, so we know that this candidate attended Penn State. When? Was there a graduation already? Any achievements? It's all a mystery to us. So why bother wasting time on that during an interview, since we know that the first candidate is way more impressive already?
Pro Tip: Should you add your GPA to a resume for Human Resources? If it's impressive and/or recent, it's pertinent. Otherwise, leave it out.
Want your Human Resources resume education section to get attention like a bonus check? See our guide: "How to Put Your Education on a Resume [Tips & Examples]"
4
Put the Best HR Skills on a Resume
Whether you're about to write an HR manager resume skills section or an HR specialist resume skills section, you need a specific set of skills that will make you a great candidate for the Human Resources team.
How to write a perfect Human Resources resume skills section?
Create a master list of your key skills. Think about what skills you have. From those, you will later select what skills to put on a resume.
Choose the most relevant skills for the opening. Have another look at the job ad and select those skills that can be mirrored in the previous sections.
Don't forget about both your soft skills and your hard skills.
Now let's have a look at some skills you might want to consider adding to your HR resume sample:
Essential HR Resume Skills
Emotional Intelligence
Recruiting
Affirmative Action
Onboarding
Benefits Administration
Employee Relations
Compliance
Ethics
Screening
Data Analysis
Scheduling
Employee Engagement
Social Media
Evaluations
HR Software (HRIS)
Health Plans
Problem-Solving
Performance Management
Job Description
Compassion
Background Checks
FMLA
You know what skills you might want to add. You know how to do it. Now let's have a look at these two HR resume examples:
right
Handled all HR duties and responsibilities in a fast-paced call center. Recruited, interviewed, and

on-boarded

35 employees.
Enhanced incentive structure. Increased employee retention 18%.
Through lean interviewing techniques, lowered interviewing costs 15%.
That's a win. Put on your "I'm a perfectionist" t-shirt, because you're getting the job.
But don't use a skills list like this:
wrong
Human Resources Skills List: Emotional Intelligence, Recruiting, Onboarding, Communication, Collaboration, Social Media, Scheduling, Employee Engagement, Health Plans, Interviewing, Listening, HR Software, Kitchen Sink Hiring...
That applicant is barely treading water in the applicant pool.
Pro Tip: Don't just prove the skills in the job offer or it might look like pandering. Add a few extra core competencies to your professional HR resume.
Want to do due diligence on your skills section? See the great Human Resources resume template up top. Plus, see this guide: "+30 Best Examples of What Skills to Put on a Resume (Proven Tips)"
5
Add Other Sections for an Effective HR Resume
It's time for the additional section of your Human Resources resume. And it's a great place to show anything that you think might boost your chances of landing that HR position you're after!
Let's see what can you list in the extra section of your resume for Human Resources:
Human Resources "Other" Sections on a
Resume Examples
Additional Activities
Volunteered to handle temp staffing for a local youth group.
Assisted with interviewing event staff for an annual music festival.
Offered consulting services to train a small nonprofit in performance reviews.
Certifications
SHRM-CP HR Generalist Certification
Yellow Belt Certification in Lean Six Sigma
Associate Professional in Human Resources™ (APHR™)
Senior Professional in Human Resources® (SPHR®)
Global Professional in Human Resources® (GPHR®)
Publications
Article on employee engagement published in HR Bartender.
Interviewed by the HR Capitalist podcast about recruiting techniques.
Conferences
SHRM Conference 2017
Northeast Shingo Prize Conference 2017
Accolades
Received two commendations from employers.
Voted best co-worker by employees at Maxiva, Inc.
Even if you're writing a Human Resources director, an additional section can work magic, as it shows you have some extra things that boost your value to the employer. And what boosts your value boosts your chances of getting hired!
Not sure what to put in the "other" sections on a resume for Human Resources? See our guide: "+20 Best Examples of Hobbies & Interests To Put on a Resume (5 Tips)"
6
Write a Human Resources Resume Summary or Resume Objective
You know managers don't spend much time reading the average resume. A well-written summary of qualifications can stretch the brief glimpse at your document into a slow, careful read.
Which is which?
A resume summary shows this is not your first time herding cats. Use it if you've got lots of HR experience.
A resume objective works if you're still halfway through HR for Dummies. Use it if you're just getting your feet wet.
They are both placed at the top of your human resources resume, but we encourage you to write them last. It's just easier, once you've got an entire resume written.
Let's see some examples of Human Resources summaries and objectives:
HR Resume Summary Example
RIGHT
Highly effective Human Resources manager and SHRM-CP with 6 years experience. Seeking to increase employee retention for Twitter. At Abaveo, Inc., increased retention 25%. Cut lead time for recruiting by 46%. Raised employee effectiveness by 18%, and training participation by 15%.
Your hiring managers probably think this candidate is impressive. They may want proof, but they can get it in the interview. And that's a win already.
Oh, and they'll definitely read the rest of your HR resume with interest. So win: win!
WRONG
Human Resources manager skilled in recruitment, interviewing, job posting, termination, training, and employee retention. Energetic and with 6 years experience and an SHRM-CP certification.
That's not exactly grounds for a pink slip. But it doesn't warrant the interview, either. Why not? It's as generic as a name tag that says, "Person."
But what if you're just breaking into HR? Do you have to start out in the mailroom?
Absolutely not.
How to Write an Entry-Level Resume Objective
If you're new to Human Resources, have a look at these two entry-level Human Resources assistant resume samples.
Human Resources Resume Objective Example
RIGHT
Energetic entry-level Human Resources Specialist. Assisted with administration of HR for a mid-sized retail company. Facilitated the interviewing and on-boarding of 4 new employees. Organized company events and employee gatherings.
See those action words? And skills that make a great HR specialist? That's how you do it! But how did an entry-level resume for an HR manager get such impressive accomplishments? By thinking hard about past non-HR positions.
WRONG
Passionate entry-level Human Resources employee, skilled in employee relations. No real-world experience yet, but eager to grow into a role.
That's just a dull objective, and it tells you nothing about the candidate. So perhaps a hiring manager should move on with the resumes?
Pro Tip: Resist the rookie mistake of trying to cram everything into your human resource resume objectives or summaries. One or two impressive facts is enough (you might even consider writing a resume headline, instead).
For more tips on how to write a great HR resume objective or resume summary, see these guides: How To Write A Resume Summary: 21 Best Examples You Will See and +20 Resume Objective Examples - Use Them on Your Resume (Tips)
7
Add a Cover Letter to Your Human Resources Resume
You don't ask yourself "Do I need a cover letter?" if you work in the HR. You might already know that 83% of recruiters claim having a good cover letter is a must.
Don't make a generic Human Resources cover letter. You know, the kind you'd hate to read.
Instead, make it a tantalizing sales pitch for your great resume for HR. Here's how:
Format your cover letter properly and have it consistent with your resume template. That's how you get remembered, and that's how you show your attention to detail.
Grab your reader's attention from the very first sentence of your cover letter. Show you are passionate, skilled and that you have some impressive achievements.
Keep the right length of your cover letter. One page should do the trick.
Write a perfect ending to your cover letter. Finishing with a "PS" and an additional achievement can work magic on all HR resumes.
Pro Tip: Didn't hear back? Follow up on that Human Resources cover letter! The exec might have hired another candidate, but she might have just forgotten about your perfect HR resume.
Plus, a great cover letter that matches your resume will give you an advantage over other candidates. You can write it in our cover letter builder here. Here's what it may look like: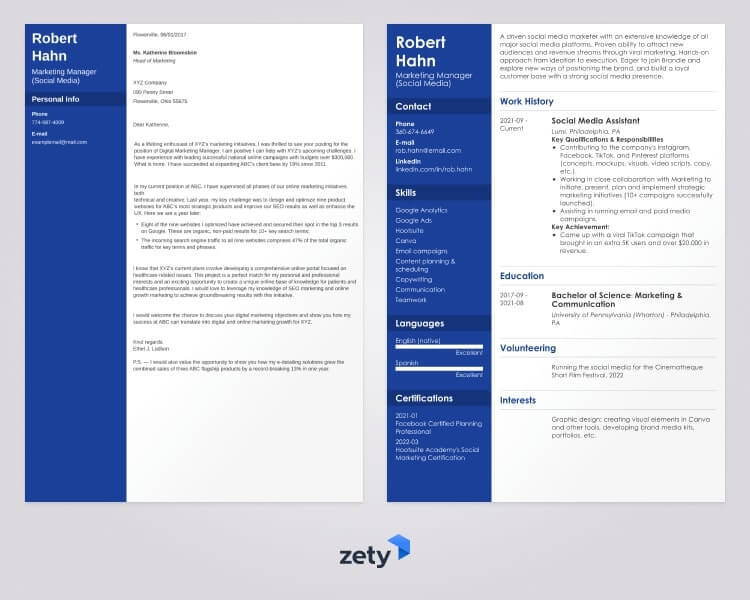 See more cover letter templates and start writing.
Need more tips to boost your HR cover letter's morale? See our guide: "How To Write A Cover Letter [Complete Guide With Examples]"
Key Takeaway
Even with good Human Resources resume templates in hand, making your own version is tough. To do it right, follow these strategies:
Start with the job offer. Highlight all the HR duties, responsibilities, skills, and qualities you see.
Prove you've got those HR superpowers in your resume bullet points. Show measurable evidence in your experience and education sections.
Use "other" sections to fit you to the job like shrink wrap. Include awards, publications, conferences, and commendations.
Do you have questions on how to write a great resume for Human Resources? Not sure how to describe your skills or achievements on an entry-level HR resume? Give us a shout in the comments! We love to help!
About Zety's Editorial Process
This article has been reviewed by our editorial team to make sure it follows Zety's editorial guidelines. We're committed to sharing our expertise and giving you trustworthy career advice tailored to your needs. High-quality content is what brings over 40 million readers to our site every year. But we don't stop there. Our team conducts original research to understand the job market better, and we pride ourselves on being quoted by top universities and prime media outlets from around the world.