Our customers have been hired by:
HR directors are known for their ability to navigate the complexities of company culture and employee development. And you're an HR director who can do that and much more!
If you're ready to start your journey with another company, you'll need an impeccable HR director resume. Fortunately for you, our expert guide will show you how to write one!
This guide will show you:
An HR director resume sample better than 9 out of 10 other resumes.
How to write a director of human resources resume that will land you more interviews.
Tips and examples of how to put skills and achievements on a human resources director resume.
How to describe your experience on a resume for an HR director to get any job you want.
Want to save time and have your resume ready in 5 minutes? Try our resume builder. It's fast and easy to use. Plus, you'll get ready-made content to add with one click. See 20+ resume templates and create your resume here.
Sample resume made with our builder—See more resume examples here.
Have a look at resumes related to your profession:
HR Director Resume Sample
Virginia Wilson
HR Manager
586-995-5944
virginiawilson@gmail.com
linkedin.com/in/virginiawilson
Summary
Strategic thinker with a knack for data projection and finance, looking for advancement and growth as HR Director at CTowns. Strong advocate for Diversity, Inclusion & Equity initiatives, awarded the D&I Award (CIFS) for the Again & Once More project at 4U. Employee-wellbeing seeker with practical labor law knowledge.
Experience
Human Resources Manager
4U, Bloomfield, MI
August 2018–November 2021
Led team of 4 Human Resources professionals with various functions, including sourcing, payroll, and learning & development.
Chaired senior management committee meetings with 3 employee representatives to build and improve rapport between company and employees.
Ensured compliance with labor law, GDPR, and health & safety regulations in multinational company.
Secured hiring of 90+ employees during a difficult time economically.
Oversaw $10M budget annually for the US and EU roles.
Key achievement:
Created and led DI&E project, "Again & Once More," for highly educated women having significant employment gaps due to unfavorable life circumstances, filling 12 executive positions in a year, and receiving The D&I Award from CIFS for the project.
Human Resources Specialist
Haven, Lansing, MI
September 2016–July 2018
Managed and updated employee records for a 3000-employee international company.
Oversaw employee retention program, reducing retention by 13% over 2 years.
Secured contract with the best training & development provider in Michigan state.
Education
MS Human Resources Management
University of Michigan, New York, NY
2015
Relevant coursework: Compensation & Performance Management, Talent & Leadership Development, Management Skills Development, International Dimension of Organizational Behavior, Diversity and the Workplace, Economics of the Labor Sector, Labor in the American Economy.
Skills
Labor Law
Finance
Administration
Data analytics and projection
Microsoft Office proficiency
Organizational skills
Communication skills
Decision-making skills
Interpersonal skills
Associations & Memberships
Member of The Society of Human Resource Management (SHRM)
Member of WorldatWork Total Rewards Association
Volunteer coach at HR Certification Institute (HRIC)
Languages
Spanish—Business Proficiency
Italian—Advanced
Hobbies & Interests
Traveling and discovering Latin American and European cultures
Writing a blog with recruitment advice for the underprivileged
This is how to write an HR director resume:
1. Create Framework for Your HR Director Resume
An HR director coordinates activities according to company policies and employment laws, understands the company strategy, and supports talent and performance management. To become one, you need to write an HR resume evidencing your interpersonal, organizational, and problem-solving skills.
Let's start right away—
As an HR director, you're parsing savvy and know not to waste time on what's irrelevant.
"Thank god for automatic rules and subfolders!"
Phew.
To have the chance of becoming coffee buds with your recruiter, format your resume so that they don't lose their time on figuring out what's what:
Your job's about the details. Here you'll find more on How To Do A Resume
2. Launch an HR Director Resume Summary or Objective
"Tell me something about yourself" is the first question you ask at interviews. But—
Before they got there, they'd given away a few details about themselves in resume profiles.
See which is the right one for you:
A good summary for a resume sums up your relevant experience and skills. It names your qualifications and tells the recruiter what you seek in the new role. In your HR director resume summary, add your unique personality traits, highlighting your perfect fit for the position.
An objective for resumes shows your strengths and aspirations driving you toward growing experience as an HR professional. So, an HR resume objective should speak about how you'd like to take your experience further and why the company is the right fit for your development.
These two aren't all you can choose from to introduce yourself on the resume. See Summary of Qualifications Examples
3. Make Responsibilities Redundant. Hire Achievements
You must've seen thousands of resumes in your career.
Now—
Think about which resume really stood out to you.
The one with a creative design and flowery language in the job description, OR the one with a professional resume template and a fine collection of career accomplishments?
You know the answer.
Find ways below to create a winning resume job description for a human resources director:
Have the job ad on hand and use it to make a list of relevant duties. It means to tailor your resume and leave out those responsibilities that aren't mentioned in the job ad.
Then, take those duties and transform them into accomplishment statements, using power / action verbs (led, oversaw, increased) and PAR formula.
Speaking of, 4–5 bullets and 1–2 singled-out key accomplishments are just right for the most recent position. Write 2–3 resume bullet points for the others.
Use numbers to quantify your milestones.
Why don't you add even more successes to your resume? See what sample HR director Resume Accomplishments are
4. Evaluate Your Knowledge on Your Human Resources Director Resume
Human Resources directors and managers may need a bachelor's degree. Sometimes even a master's.
That's why it's not smart to skip the education section even though you've got years of work history, mainly when it's one of the must- or nice-to-haves in the job posting.
Take a look at how to list education on a resume:
Degree name in full (abbreviations make recruiters play the guessing game, and nobody's got time for that)
School name and location (italicizing helps distinguish the school name in the description; use it if your alma mater is renowned)
Graduation date (listing an unfinished degree on your resume is fine if you took relevant courses).
I mentioned minors in that section. So, if you're interested in finding out more about them in resumes, check this guide: How To List Minors On Resumes
When making a resume in our builder, drag & drop bullet points, skills, and auto-fill the boring stuff. Spell check? Check. Start building a professional resume template here for free.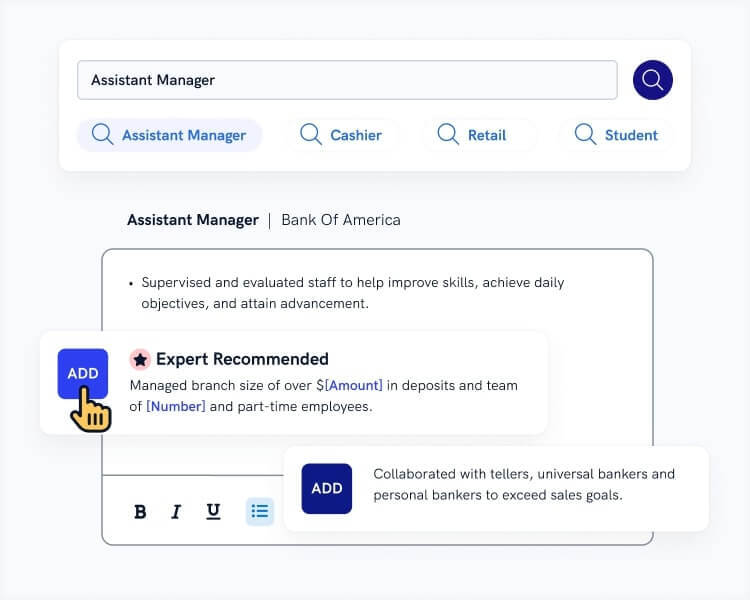 When you're done, our professional resume builder will score your resume and our resume checker will tell you exactly how to make it better.
5. Make a List of Your Assets
Working on an internal and external employee training plan took you weeks.
The result?
All available spots filled in seconds.
It says lots not only about your talent development skills, as each workshop was popular, but also how well you're navigating the internal comms.
Show your hiring manager you've got the skills to take an HR department to another level:
You should've befriended the job ad already. Have a look at it again and mark resume keywords that scream, "I'm the skill you need to include in your HR director resume." They're worked into both candidate responsibilities and requirements.
Make a list of your skills and compare it with the job description.
Now have a critical look at your list and pick only those which you're sure of. Lying on your resume never pays off.
Mix hard and soft skills into the resume.
See skills examples for an HR director resume below:
Director of Human Resources Resume Skills
Labor Law
GDPR
Finance
Administration
Onboarding
Learning & Development
Payroll
Sourcing and recruiting
Compensation and benefits administration
Screening
Vetting / Background check
Employee engagement
Employee wellbeing
Exit interviews
Performance management
Data analytics and projection
HRIS
Microsoft Office proficiency
Empathy
Ethics
Conflict resolution
Stress management
If you're still wondering what skills to add to your resume, have a read: 99+ Skills You Should Put In Your Resume
6. Foster Growth in Additional Sections
Retention—
The buzzword for every HR professional.
For your resume, the retention strategy is to include additional sections:
Mention industry associations or societies (SHRM, IFEBP, and the like) you belong to, in order to highlight your time spent on growing qualifications outside work.
Speaking of qualifications, you should receive a certificate upon completion of most courses. If they're relevant to the job you're pursuing, include your certificates and licenses on your resume and boost your visibility in the recruitment process.
Make sure to list your foreign language skills on the resume. Working in HR departments equals facing thousands of employees from all around the world. It's definitely an advantage.
Although languages are important, knowing foreign cultures and how they translate to a work environment is even more crucial. So, don't underestimate the power of hobbies or interests in your resume. If you're a passionate traveler, the bonus points that come with it will compensate you for the used whitespace.
If you kept overhitting targets and received an award for that, make room for it in your resume. Awards and praise mean engagement, and every employer wants to have engaged employees in their teams.
Behind every success, there's persistence. So, make it to the last straight and see How A Successful Resume Should Look Like
7. Close the Deal With a Cover Letter
I don't feel like I need to make a presentation on the importance of cover letters, do I? You know precisely how they work and what they're for.
So—
Here's only a quick reminder of how to make a cover letter that'll land you the job:
Pick a modern cover letter template. It's best when it's consistent with your resume design. That way, you won't have to create a cover letter heading from scratch.
Create a clear cover letter outline and format the layout.
Sell yourself in the cover letter opening. And what works better to open a cover letter than an achievement saying, "They're the one"?
Get into the depths of one or two of your achievements and show what actions you took to get where you are. Don't copy and paste content from your resume.
Reinforce your motivation by saying what you'll bring to the table and why it's good for the company.
End the cover letter with a call to action, asking your recruiter to set up an interview.
Sign the letter with a formal sentiment and your full name. You can add a digital signature if you have such a possibility.
Can't get your head around what to write in your cover letter? We've got you covered in this guide: What To Include In A Cover Letter
Plus, a great cover letter that matches your resume will give you an advantage over other candidates. You can write it in our cover letter builder here. Here's what it may look like: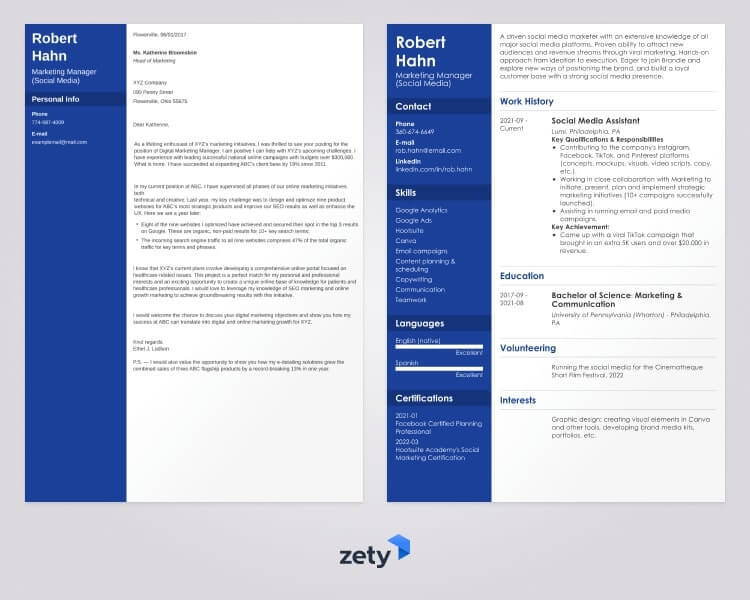 See more cover letter templates and start writing.
This is it.
Turn up the ringtone volumes and keep your phone in hand proximity.
Thank you for reading!
What do you think about the above HR director resume writing guide? Do you have any questions about a resume for a human resources director, professional summary, or accomplishments? Don't you know what to show on your HR director resume?
Give us a shout in the comments section!
About Zety's Editorial Process
This article has been reviewed by our editorial team to make sure it follows Zety's editorial guidelines. We're committed to sharing our expertise and giving you trustworthy career advice tailored to your needs. High-quality content is what brings over 40 million readers to our site every year. But we don't stop there. Our team conducts original research to understand the job market better, and we pride ourselves on being quoted by top universities and prime media outlets from around the world.
Sources