Business Owner Resume Samples (Template & Guide)
Did you own a business but are now ready to get back into the workforce? This guide will help you learn the ropes and prepare you for becoming someone else's employee again.
Tired of being your own CEO, accountant, janitor, and social media manager? Thinking of giving up these multiple roles and only focusing on what you do best? All while enjoying regular paychecks, paid time off, and other benefits?
Well, why not? Welcome back to the workforce! Allow us to help you jog your memory on how to write a professional business owner resume. One that won't paint you like you've failed at being an entrepreneur.
This guide will show you:
A business owner resume example better than 9 out of 10 other resumes.
How to write a business owner resume that will land you more interviews.
Tips and examples of how to put skills and achievements on a business owner resume.
How to describe your experience on a resume for a business owner to get any job you want.
Want to save time and have your resume ready in 5 minutes? Try our resume builder. It's fast and easy to use. Plus, you'll get ready-made content to add with one click. See 20+ resume templates and create your resume here.
Sample resume made with our builder—See more resume samples here.
Business Owner Resume Sample
Franko Šarić
Business Owner — Croatian Collectibles
franco.saric@gmail.com
(718) 555-4433
linkedin.com/in/francosaric
Summary of Qualifications
Former small business owner of Croatian collectibles online shop handing over successful ecommerce operation to next generation of family. Seeking to leverage 50% year-over-year business growth and knowledge of southeastern European memorabilia to become the store manager of Balkan Baubles.
Work Experience
Owner & Manager
May 2016–March 2019
Croatian Collectibles, Astoria, NY
Key Qualifications & Responsibilities
Managed day-to-day operations of busy online shop and accompanying blog.
Supervised and trained 5 employees with full employee retention.
Promoted products on multiple channels, including social media, online ad campaigns, and word-of-mouth initiatives.
Handled selection, purchasing, and import of southeastern European collectibles and antiques.
Key Achievements
Founded successful small business which grew by over 200% in under 3 years.
Spearheaded push to go from brick-and-mortar to fully-online store, saving 50% in overhead and increasing revenue stream by 100%.
Assistant Store Manager
January 2015–May 2016
Adriatic Antiques, Astoria, NY
Key Qualifications & Responsibilities
Processed, renewed, and kept accurate accounts of all incoming and outgoing sales and purchases.
Managed over one dozen employees, including three or four at any one time.
Provided one-on-one consultations with clients to determine and suggest pieces for sale.
Oversaw selection of products for purchase and display.
Key Achievements
Earned "Store Manager of the Year" award in 2015 by the Astoria Business Alliance.
Education
BS in Business Management & Administration
Brooklyn College, Brooklyn, NY
Graduation: 2014
Relevant Coursework: Business Law, Social Media Marketing, Advanced Financial Management, Project Management, Operations Management, Employment Law, Quantitative Business Analysis, International Business Management, Information Systems.
Key Skills
Problem Solving
Task Delegation
E-commerce & Brick-and-Mortar Storefronts
Time Management
Financial Management
Effective Communication
Awards
2015 Store Manager of the Year
Memberships
National European Immigrant Business Council (NEIBC)
Languages
Croatian: Native Proficiency
Serbian: Professional Working Proficiency
Now, let's get to it!
Here's how to write a perfect resume for business owners:
1. Choose the Best Format for Your Former Business Owner Resume
Whether you owned a car dealership or a restaurant, you had a proper structure in place to keep everything streamlined and organized.
Do the same here—
A great business owner resume format maintains order and scannability.
Follow these formatting resume rules:
Pro Tip: Is the employment you seek in a different industry than the business you owned and managed? Check out our career-change resume to iron out the details.
2. Write a Former Business Owner Resume Summary or Objective
A resume objective or summary can also be called a resume profile.
This intro paragraph is 3–4 sentences long. It offers hiring managers a quick look at your background, skills, experience, and career goals.
The summary statement is great if you have 2+ years of relevant experience. With this, you'll talk up your related experience, skills, and background, while also including a top-notch achievement with numbers to prove you've got what it takes.
The career objective is ideal for when you have little experience related to the new role. Use the objective statement to talk about your career goals. Still, give a quantifiable achievement to prove your skills.
Pro Tip: Just because the resume summary or objective goes on top doesn't mean you need to write it first. Actually, save it for last. It's difficult to "sum up" your business owner resume if you haven't written it yet!
3. Create the Perfect Former Business Owner Job Description for Resume

Whether you managed a small retail business or owned an IT consultancy company, get your work history section right. So—
Here's how to nail your business owner work history resume section:
Start with your most recent job, as owner or otherwise, and go back from there.
List your job title, dates worked, company name, and up to 6 bullet points laying out your job responsibilities.
Use resume action words (e.g., initiated, implemented, etc.) to describe each job duty.
Show off quantifiable achievements rather than standard job tasks.
Target each resume to this one job. Don't write a generic resume.
Pro Tip: When you write a "transition from business owner to employee resume," don't overcompensate. Keep the words in your work history easy-to-understand and free of jargon.
When making a resume in our builder, drag & drop bullet points, skills, and auto-fill the boring stuff. Spell check? Check. Start building a professional resume template here for free.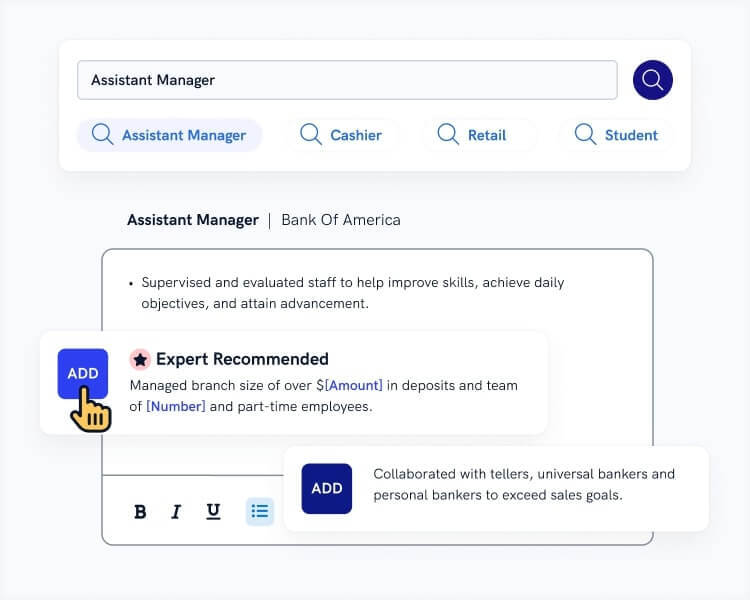 When you're done, Zety's resume builder will score your resume and our resume checker will tell you exactly how to make it better.
4. Make Your Business Owner Resume Education Section Shine
The education section on resumes for small business owners may seem useless. I mean, you did run a business, after all, right?
Wrong—
A bad business owner resume academic section is just bad business.
Keep these business rules in mind to get it right:
More than 5 years of business experience? Include only your degree, major, and college name.
New to the industry? Add extra details, like academic achievements, extracurriculars, coursework, and fields of study.
Completed university? Don't include high school.
Didn't finish university? Add high school below.
Pro Tip: Relevant coursework for business owner resumes are determined by the job you're seeking. Becoming a manager? List any business management courses you've taken. Heading into graphic design? That visual arts class is perfect here.
5. Highlight Your Business Owner Resume Skills
Show the employer you're the boss at what you do by listing the best business owner skills on resume:
Business Owner Resume Skills
But—
Don't just copy-paste this skills list. That'll get you nowhere.
Instead, do this:
List all the work skills you have which relate to the job you're applying for, including both hard skills and soft skills.
Use the job description to find the skills and abilities they need.
Highlight those skills from the job requirements. Those are the best keywords to use.
If something you highlighted matches something on your list, add it to your resume!
Also, mind the ATS.
Larger companies use applicant tracking systems to handle the myriad resumes they take in each day.
ATS software allows HR staff to scan your small business resume into their system, search for particular resume keywords, and return a score based on your resume's match to the job ad.
Bad match, then you did a bad job!
Pro Tip: Our list (reminder: don't copy-paste it!) was made up of great soft skills. However, hard skills are just as, if not more, important. Use the job ad to find the technical skills and transferable skills they are looking for.
6. Add Other Sections to Your Small Business Owner Resume
You now have the makings of a solid resume for small business owners.
However—
Every other former biz owner—and applicant, in general—have the same sections on their resumes. To stand out, add some great extra sections to yours.
Here are some great additions on a resume for a business owner:
projects
licenses
memberships
7. Attach a Cover Letter to Your Business Owner Resume
53% of hiring manager say a resume alone isn't sufficient. So—
Here's how to write a cover letter for business owners they'll adore:
Also, we've got some awesome cover letter tips to help you along and a guide on writing the perfect business cover letter. Check them out!
Pro Tip: Remember to follow up on your job application. A quick email or phone call will do the trick.
Plus, a great cover letter that matches your resume will give you an advantage over other candidates. You can write it in our cover letter builder here. Here's what it may look like: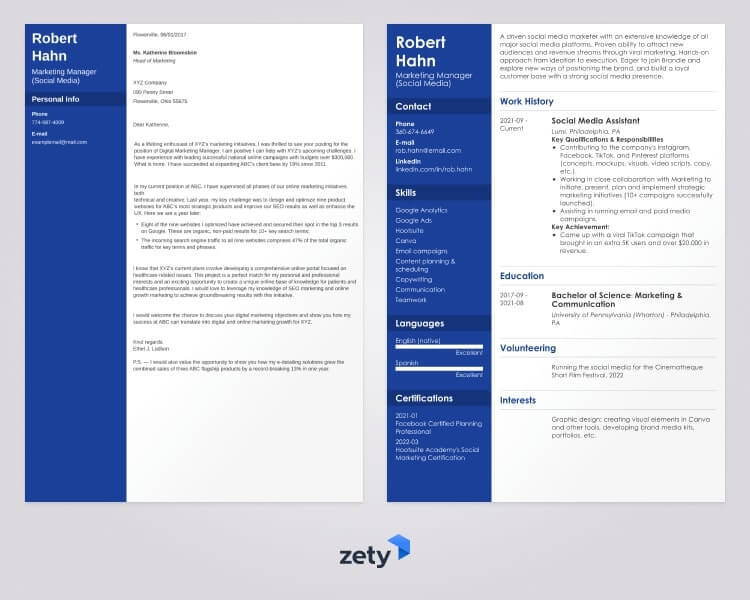 See more cover letter templates and start writing.
So, that's it—
Now THAT'S a resume that's all business!


Got any questions on our small business owner resume samples? Not sure how to talk about business skills, management certifications, or SMB achievements? Get at us in the comments below, and thanks for reading!
About Zety's Editorial Process
This article has been reviewed by our editorial team to make sure it follows Zety's editorial guidelines. We're committed to sharing our expertise and giving you trustworthy career advice tailored to your needs. High-quality content is what brings over 40 million readers to our site every year. But we don't stop there. Our team conducts original research to understand the job market better, and we pride ourselves on being quoted by top universities and prime media outlets from around the world.