Office Manager Resume Examples + Writing Guide for 2023
Writing a perfect office manager resume is just like managing the office: all you need to do is tick some boxes on your to-do list, and you're ready to go!
Can you imagine an office operating properly without an office manager? Who would schedule the meetings? Who would make sure all the supplies are there and ready to use? And who would do all the small things that make an office a little more friendly?
No office can work without an office manager. And no office manager can get hired without a great office manager resume. Don't worry. Read on, and see the best office manager resume examples, templates, skills, and everything you need to land the job you're after!
This guide will show you:
An office manager resume sample better than 9 out of 10 other resumes.
How to write an office manager resume that will land you more interviews.
Tips and examples of how to put skills and achievements on an office manager resume.
How to describe your experience on a resume for an office manager to get any job you want.
Want to save time and have your resume ready in 5 minutes? Try our resume builder. It's fast and easy to use. Plus, you'll get ready-made content to add with one click. See 20+ resume templates and create your resume here.
Sample resume made with our builder—See more resume examples here.
Want to focus on describing your office manager experience? See Office Manager Job Description for a Resume
Here are other guides for office and admin jobs:
Office Manager Resume Example
Alexander Wells
Office Manager
567-785-9332
alexander.wells@email.com
linkedin.com/in/alexander.wells
Summary
Highly experienced and certified Office Manager with 10 years of experience managing complex, fast-paced office environments. Eager to support VelocitySphere Solutions in streamlining operations and increasing efficiency levels. Launched an innovative paperless payable system that streamlined processing time by 40% at Proxima Innovations.
Experience
Office Manager
Proxima Innovations, Toledo, OH
March 2016–Present
Key Qualifications & Responsibilities
Serve as the primary point of contact for all organizational administrative activities.
Oversee scheduling of meetings, coordinate facility maintenance services, manage office supplies inventory, and monitor employee attendance records.
Develop effective policies and procedures to ensure smooth operation of daily activities while adhering to regulatory requirements.
Provide administrative support to executives by conducting financial analysis on budget requests and generating reports for senior management review.
Process customer invoices and payments promptly while collaborating with internal stakeholders to ensure accurate billing information following applicable laws and regulations.
Key Achievement:
Launched a paperless accounts payable system that streamlined processing time by 40%.
Office Administrator
HyperTech Systems, Toledo OH
June 2012–March 2016
Key Qualifications & Responsibilities
Carried out general administrative duties, including monitoring emails for urgent requests, screening phone calls from customers and vendors, and routing messages to the respective parties within the organization.
Assisted with recruitment efforts by performing background checks on job applicants before interviews were conducted.
Processed payrolls weekly and monitored employee health benefits accounts, ensuring accuracy throughout each process.
Prepared invoices for services rendered by the company, maintaining accuracy while verifying all relevant information was included before submission.
Key Achievement:
Introduced an automated expense tracking system that provided real-time data regarding expenditures, resulting in an increase in profits of 15%.
Education
Bachelor's Degree in Business Administration
University of Toledo, Toledo, OH
June 2009–May 2012
Relevant Extracurricular Activities
Student Government Association Treasurer (2011 - 2012)
Academic Achievements
Member of Honor Society (2010 - 2012)
Dean's List Award (2009 - 2012)
Skills
Proficient in Microsoft Office Suite(Word/Excel/PowerPoint/Outlook),
QuickBooks Pro Accounting Software and Salesforce CRM
Excellent organizational skills with an ability to multitask in fast-paced environments.
Highly detail-oriented and analytical with superior problem-solving abilities.
Strong communication skills with the ability to communicate effectively at all levels of an organization and with external business partners.
Certifications
Certified Professional Secretary, International Association of Administrative Professionals (IAAP), 2015
Certified Office Professional, International Association of Administrative Professionals (IAAP), 2016
Awards
Employee of the Year Award, HyperTech Systems, 2014
Outstanding Academic Performance Award – University of Toledo – 2009
Memberships
Members of the International Association of Administrative Professionals (IAAP) since 2013
Coordinated events with local companies and distributed information about IAAP membership benefits.
Served as a mentor to new members, providing guidance on organization policies and procedures.
Languages
English—Native
Spanish—Fluent
Interests
Writing software tutorials for my blog "Business Administration Tips" (25K subscribers).
Participating in local career fairs encouraging high school students to pursue further education.
1
What's the Best Format for an Office Manager Resume?
Poof. You've been turned into an HR manager.
You've got a stack of 300+ office manager resumes between you and freedom.
How will you get through them all?
You'll start by dropping the poorly formatted ones. The ones with typos. Spelling errors.
Why?
Because office manager duties require attention to detail.
Can you see why using a good office manager resume format is important?
Pick a trusted layout like the reverse-chronological format.
It shows your most recent job first.
Use clear, legible fonts and big, eye-friendly headings.
Do it right, and you'll come across like Mary Poppins with Excel skills.
See the sample office manager resume at the top of this guide for an example.
Want to make sure your resume will hook every recruiter and get you that interview? Get our free checklist and learn what makes a job-winning resume: 46 Things You Need To Do Before You Send Your Resume.
Pro Tip: Save your great office manager resume as a PDF. Even the best free Word resume templates might not look great on all computers. However, double-check the job offer to make sure PDFs aren't prohibited.
Want to look at other formats for your construction office manager resume? See our guide: "3 Resume Formats: How to Choose the Best One [Examples]"
2
Write an Office Manager Resume Summary or an Office Manager Resume Objective
How can you hook the HR manager in a short amount of time with your office manager resume?
You'll do it with a resume summary or a resume objective.
A resume summary is a snapshot of your top-notch accomplishments. Use it if you've got lots of them.
A resume objective shows your goals. Use it if you've barely dipped your toe in the office manager pool.
Here are two examples:
Office Administrator Resume Examples: Summary Statements
right
Energetic office manager with 5+ years experience, seeking to leverage proven management and training skills to grow efficiency at Prescott Global. Oversaw eight office assistants in a high-volume tech business. Grew new contracts by 22% per year. Cut lead times 53%. Cut costs 22%.
wrong
Experienced office manager, skilled in overseeing office staff, scheduling, growing new contracts, and cutting costs. Seeking a job in a global tech firm.
No contest, right? That first one might as well come with its own magic lasso and set of bullet-deflecting bracelets.
When making a resume in our builder, drag & drop bullet points, skills, and auto-fill the boring stuff. Spell check? Check. Start building a professional resume template here for free.
When you're done, our free resume builder will score your resume and our resume checker will tell you exactly how to make it better.
Worried that you can't write an experienced office manager resume summary like that? You can. I'll show you how in a minute.
But what if you've got no experience?
In that case, write an office manager resume objective.
How to Write a Resume Objective for an Entry Level Office Manager
Don't have experience? Think your professional office manager resume will look like the break room on a Christmas morning?
A resume objective lets you focus on the goal. But I'll let you in on a little secret:
No resume should lack experience completely.
Just look:
Two Entry Level Office Manager Resume Examples: Objective Statements
right
Hard-working office manager, seeking to improve KPIs at Prescott Global. As wait staff supervisor at H. H. Restaurant, trained and oversaw 20+ staff members. Gave regular reviews, sourced inventory, and managed all bookkeeping operations. Saved 20% per year on supplies and cut errors in cash-drawer management by 26%.
wrong
Energetic employee, seeking a career in office management. Have worked as wait staff supervisor, bartender, and hair stylist. No office manager experience.
Wow, right? Look at that first example from an office manager resume. Hermione Granger is all grown up.
But wait a minute. Foul! Whistle! Red flag on the play!
How in heck did an entry-level office manager get that kind of experience?
Answer: she dug.
She'd never been an office manager. But when she thought about it, she'd done plenty of office manager-type tasks.
Pro Tip: A resume summary or resume objective is the hook that lands the big office manager job. You've got six seconds, so put your best bait on it.
For more help, see the front office manager resume template up top. Plus, check out our guides: How To Write A Resume Summary: 21 Best Examples You Will See AND +20 Resume Objective Examples - Use Them on Your Resume (Tips)
3
Describe Your Experience on an Office Manager Resume
You've got one sheet of paper.
How do you fit your office manager experience into that?
It isn't enough space. Yet it's too much.
What do you include, and what do you leave out?
Writing a good office manager resume can make you rip your hair out.
There's an easy way to show your resume experience.
First, read the job offer carefully.
Then, make a list of your best accomplishments that fit it.
Since this is the reverse-chronological format, show your most recent job first.
Add bullet points that show your chops.
Medical Office Manager Job Description Resume Samples
right
Office Manager
Block Island Digital, Boston, MA
July 2018–Present
Key Qualifications & Responsibilities
Coordinated and organized office operations in a high-volume tech business. Oversaw eight office assistants to ensure organizational efficiency.
Achieved revenue goals through effective management of job scheduling. Decreased lead times 53% by cutting out processing waste.
Built all daily work schedules. Grew the team through direct performance feedback and annual appraisals. Decreased turnover by 35%.
Reduced office supply costs by 20% by implementing a new cost-effective protocol.
wrong
Office Manager
Block Island Digital
July 2018–Present
Office manager in a high-volume tech business.
Ensured organizational efficiency.
Handled all job scheduling. Also scheduled all employee shifts.
Supported promotional and marketing programs.
Gave regular staff work feedback.
In charge of new contract growth.
That first office manager resume job description its case like Erin Brockovich. It's full of metrics that prove you've got the skills.
But what if you don't have experience?
How to Write an Office Manager Resume with no Experience
You could write an office manager resume with no experience.
You could write a resume objective that says you want the job. You could say you've got the skills.
But you know that won't get you hired.
It's far better to show your office manager experience from non-office-manager jobs.
Two Business Office Manager Resume Examples: No Experience
right
Fenton Mineral
Office Assistant
2016-2017
Handled all office assistant responsibilities in a thriving chemical firm.
On-boarded a new office assistant, including all training and orientation.
Managed inventory tracking and ordering. Saved 15% on supplies through sourcing special deals with vendors.
Horrible Heffalump Restaurant
Wait staff Supervisor
2012 - 2016
Trained and supervised 20 staff members. Gave yearly progress reports and spot-training sessions. Commended by management for efficiency.
Handled all inventory management and ordering. Sourced most cost-effective vendors. Saved the company 20% per year on supplies.
Supervised all day-to-day non-food operations. Oversaw cash drawer management, including cash-outs and deposit. Decreased errors 26%.
wrong
Office Manager Experience: None yet. Looking for on-the-job training.
Other Experience
Office Assistant
Wait Staff Supervisor
Light-years apart, right? As different as Temperance Brennan and a squintern.
But both office manager resume samples are from the same person.
In one case, she just used her noggin a bit more.
This trick works for office manager assistant resumes too.
Pro Tip: Office manager jobs are very different. Were you in charge of 50 people or one? The more descriptive you can be, the better your chances of finding a good fit.
See more examples here: Office Manager Job Description for a Resume
Do you know what wakes an HR manager up like nine cups of espresso? Resume action words for office managers. Use the ones in this guide: "+80 Examples of Resume Action Words for Every Profession"
4
Highlight Your Education on an Office Manager Resume
You don't need a college degree to be an office manager.
But if you don't list education on your office manager resume, you're like Dorothy deciding not to use the Ruby Slippers.
There's no place like employed.
Start with:
School Name and Location.
Years in School.
Degree.
Then add accomplishments that fit the job description.
Two Office Manager Resume Examples: Education
right
BA, Bowdoin College, Maine
2005-2009
Pursued a passion for Business Administration coursework.
Excelled in management classes.
President, Bowdoin College Cycling Club.
Supervised winter fund drive 2008.
wrong
Bowdoin College, Maine
2005-2009
Received a BA in Liberal Arts
Took core math and science classes, with some business administration.
GPA 3.5
That first one could be Princess Leia with an Office Depot rewards card.
The cycling club presidency shows leadership. Ditto the fund drive supervision.
The specific courses show a zest for managing.
But anyone can do this. It just takes a few minutes of thinking back on your achievements.
Pro Tip: Should you put your GPA on a professional office manager resume? If it's impressive, show it. Otherwise, cut it free.
Need more tips to give your veterinary office manager resume a good grooming? See this guide: "How to Put Your Education on a Resume [Tips & Examples]"
5
Put Skills on a Resume for an Office Manager
Let's travel deep within the hiring manager's mind.
Hmm. It seems she's thinking about cheesecake.
Let's peek at what she values most in a resume for an office manager.
It's skills.
Of course she wants experience. But really, the experience just proves the skills.
Your office manager resume has got to prove your skills.
But what skills should you list? And how do you show them?
Start by looking at the job description. Highlight all the skills and office manager responsibilities you see.
Then, list those skills, plus a few more.
Finally, prove you've got them in your resume bullet points.
Let's take a sample office manager resume for a job that values customer service, sales growth, and training new employees.
List those skills, plus operational development on your resume.
Then you wave your magic office manager resume wand:
Real Estate Office Manager Resume Example (Experience)
Managed all daily operations in a small real-estate firm, including improving

customer satisfaction

and

operational development

.
Assisted in development and execution of office-level sales plans. Helped

increase sales by 27%.

Ensured outstanding

customer service

. Increased word-of-mouth referrals by 17%.
Participated in recruiting and

training new office associates

. Increased employee retention by 48%.
See that? You go with that job like Pam Beesly goes with Jim Halpert. That hiring manager is looking frantically for your contact info.
List of Skills to Put on an Office Manager Resume
What are basic office skills? Look no further.
Let's jump start your office manager resume skills section with a few skills keywords.
Use the office manager responsibilities list below. Then find more skills in job offers online.
Office Manager Resume Skills
If you use that office manager skills list as I described above, you'll look like Princess Leia with an "Office Ninja" coffee mug.
Pro Tip: Skills are really just office manager resume keywords. Applicant Tracking Systems will look for the right ones. Resumes without them will get tossed.
Want to put your skills section into high gear? Follow the office manager resume template from the top of this article. Also, see our guide: "+30 Best Examples of What Skills to Put on a Resume (Proven Tips)"
6
Add Other Sections for an Effective Office Manager Resume
Nightmare scenario:
The hiring manager reads your legal office manager resume. It's exactly like the rest.
So, she chooses one at random.
It's not yours.
Don't let your office manager resume be like all the rest.
Make it stand out like Joan from Mad Men by adding some juicy "other" sections.
Office Manager Resume Sample "Other" Sections
Technical Proficiency
Typing Speed: 95 WPM
MS Excel: 97% on Isograd MS Excel Test
Additional Activities
Member, American Management Association.
Run a small cycling club for fun and fitness.
Walk dogs once a week at the local shelter.
The "other" sections above would work for a dental office manager resume, real estate, construction, or any other management position. Why?
The AMA membership shows this job is more than just a paycheck to you. The cycling club proves you're fit, and shows leadership.
Finally, the volunteer work demonstrates a service mindset. That's key on a professional office manager resume.
Should You Show Technical Proficiency on an Office Manager Resume?
The main point is to cram your single-page resume with impressive accomplishments.
If you've got better "wins" than a fast typing speed, show them instead.
Otherwise, consider taking a couple online tests. Then add the results to your office manager resume.
You can find tests online for typing speed, MS Office skills, and almost any other software.
Pro Tip: You can add sections for volunteer work, conferences, publications, courses, hobbies, or anything else that shows you fit the job.
Want great office manager resume "other" sections? See this guide: "+20 Best Examples of Hobbies & Interests To Put on a Resume (5 Tips)"
7
Create a Cover Letters to Add to Your Office Manager Resume
"Your office manager resume cover letter will go straight in the trash."
Why is that a myth?
Because 40% of HR managers consider cover letters essential.
So, include a cover letter with every office manager resume you send.
But don't make it generic.
Generic is Olaf. You need to be Elsa.
Call the recruiter by name to make it personal.
Show your passion by mentioning something you like about the company.
Show how you can help by citing 1-2 big wins that match what they're looking for.
Last, add a call to action. "I'd love to talk more with you about your needs" works great.
Pro Tip: Every time you submit a cover letter and resume for a management position, follow up. A well-timed thank-you note is job search magic.
Plus, a great cover letter that matches your resume will give you an advantage over other candidates. You can write it in our cover letter builder here. Here's what it may look like: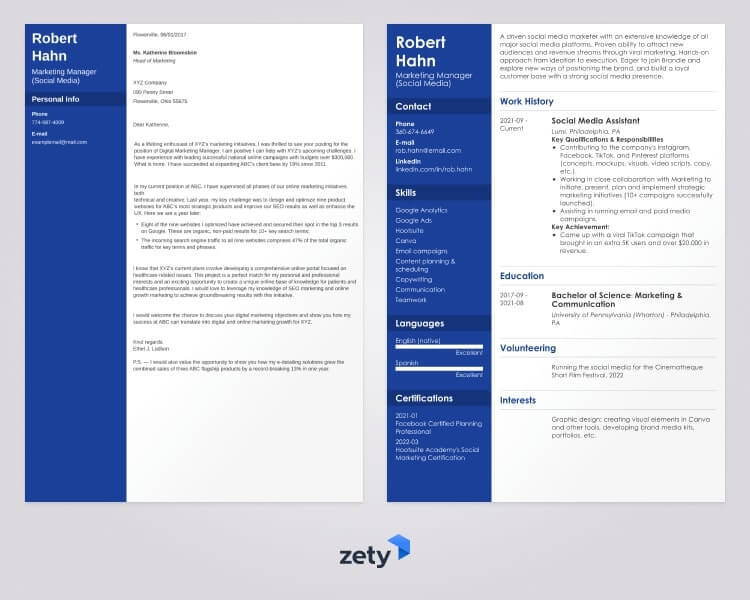 See more cover letter templates and start writing.
Want to write a great cover letter for your executive or assistant office manager resume? See this guide: "How To Write A Cover Letter [Complete Guide With Examples]"
8
Include Contact Info to Your Resume for an Office Manager
Heart-in-the-throat:
The HR manager loves your professional office manager resume. She thinks you're basically Ripley from Alien, but with better interpersonal skills.
But you forgot to add your contact info.
Of course you won't do anything that flighty. But did you know most applicants do something almost as bad?
First, include your:
Full Name
Updated Phone Number
Professional Email Address
Like this:
Michelle Muller, michellefmuller@gmail.com - 424-260-4793
But here's the part you may have missed:
Include your LinkedIn profile, Twitter handle, and other social media hangouts.
You need to let the hiring manager find out more about you if she's interested.
If you don't, she may move on to greener pastures.
Pro Tip: Got other impressive achievements that won't fit on a resume? Include them in your LinkedIn profile, then make sure the HR manager knows they're there.
Want more help writing the best executive office manager resume on record? See our guide: "How to Make a Resume: A Step-by-Step Guide (+30 Examples)"
9
Fit Your Office Manager Resume to the Job Description
By now, you know your office manager resume has to match the job description like it was sprayed on.
That means you have to know the job description.
Here's an office manager sample job description to show you what I mean.
Sample Office Manager Position Description
Moriches Digital is looking for an office manager to coordinate all office activities, including oversight of four full time office assistants.
Office Manager Qualifications
Must be able to oversee administrative assistants.
Ability to interact with customers.
Responsible for scheduling all office assistant hours.
Work with finance to assure all office purchases fall under budget.
Administration Skills and Qualities
Leadership
Interpersonal Skills
Organizational and Administrative Skills
When writing a resume for a managerial position, there's no one-size fits all approach.
You have to understand the office manager resume responsibilities for this job.
So, what's the above description asking for?
Once you know it, take a hard look at your past to see where you've fulfilled those duties.
It sounds time consuming, but after you've done one or two, you could do half a dozen on your coffee break.
Pro Tip: The best way to tailor yourself to a job? With specific office manager resume bullet points in your education and experience sections. See the template up top for an example.
Need more ideas for resumes that match the job? See this guide: "6 Tips on How to Tailor Your Resume to a Job Description (Examples)."
Key Takeaway
Even when you've got your own office manager resume templates to work from, writing your own isn't easy. Here's what you should do:
Start by digging into the posting. Highlight all the office manager resume job duties you see.
Use those keywords to make your skills list. Then prove them with accomplishments in your office manager resume bullet points.
Finally, add "other" sections that prove you've got those skills. Those sections show your great office manager resume is more than just a piece of paper.
Do you have questions on how to write a great resume for an office manager? Not sure how to describe your skills or achievements? Give us a shout in the comments! We'll answer as soon as possible!
About Zety's Editorial Process
This article has been reviewed by our editorial team to make sure it follows Zety's editorial guidelines. We're committed to sharing our expertise and giving you trustworthy career advice tailored to your needs. High-quality content is what brings over 40 million readers to our site every year. But we don't stop there. Our team conducts original research to understand the job market better, and we pride ourselves on being quoted by top universities and prime media outlets from around the world.