As an assistant manager, you know how to juggle tasks and make tough calls. Now let's apply that same decisiveness to your job search!
With our expert guidance, you'll create an assistant manager resume that's more compelling than a motivational speech, making hiring managers eager to bring you on board.
Read on and see:
An assistant manager resume sample better than 9 out of 10 other resumes.
How to write an assistant manager resume even if you have no experience.
Tips and examples of how to put skills and achievements on an assistant manager resume.
How to describe your experience on a resume for assistant manager positions to get any job you want.
Here's a sample resume for an assistant manager made using our resume builder.
Want to save time and have your resume ready in 5 minutes? Try our resume builder. It's fast and easy to use. Plus, you'll get ready-made content to add with one click. See 20+ resume templates and create your resume here.
Sample resume made with our builder—See more resume examples here.
Already a full-blown manager? Read:
Looking for specific resume samples for other managerial positions? We've got you covered:
Still havn't found the sample you're looking for? See:
Assistant-manager resume example
Paul Childress
Assistant Manager
(123) 456-7890
paulchildress@email.com
linkedin.com/in/paul.childress
Summary
Highly organized and detailed Assistant Manager with over 7 years of experience. Eager to support Innoviz Systems in creating an efficient and productive work environment through effective team management and process optimization. Successfully increased overall company productivity by 15% at AlphaTech Solutions.
Experience
Assistant Manager
AlphaTech Solutions, Orlando, FL
March 2015–Present
Key Qualifications & Responsibilities
Managed a team of 15 employees, ensuring workflow efficiency.
Implemented a new inventory management process, reducing waste by 20%.
Coordinated with various departments to achieve company objectives.
Oversaw hiring and training processes for new personnel.
Key Achievement:
Increased overall company productivity by 15% through effective team management and process optimization.
Junior Manager
Synapse Innovations, Orlando, FL
May 2013–February 2015
Key Qualifications & Responsibilities
Assisted in managing a team of 10 employees.
Coordinated with senior management to implement new procedures.
Assisted in inventory management and workflow optimization.
Key Achievement:
Reduced inventory waste by 10% through process improvements.
Education
Bachelor of Science in Business Management
University of Florida, Gainesville, FL
August 2009–May 2013
Relevant extracurricular activities
Member of the Business Management Club.
Participated in business strategy competitions.
Academic achievements
Graduated with Honors.
Named to the Dean's List for all semesters.
Skills
Team Management
Inventory Management
Process Optimization
Communication
Leadership
Problem-solving
Negotiating
Time management
Certifications
Certified Management Professional, American Management Association, 2014
Awards
2018, Manager of the Year, AlphaTech Solutions
Memberships
Member of the American Management Association since 2015
Delivered a lecture on Effective Team Management during the 2019 AMA Conference.
Languages
English—Native
Spanish—Intermediate
Interests
Volunteering at a local food bank.
Running a Business Strategy Blog with over 5k readers.
1
What's the Best Format for an Assistant Manager Resume?
Some food for thought:
According to our HR statistics report, recruiters and hiring managers spend just 7 seconds on every resume they get.
They don't read the whole thing. They skim it for what's most important to them.
So—
What should you do?
Make it easy to find the most relevant details on your assistant manager resume.
Choose the respected reverse chronological resume format. Recruiters are familiar with it so they'll know where to look for what they need.
Plus, it lets you put your best foot forward. It showcases the peak of your career.
Here's what to include in a reverse-chronological assistant manager resume, from top to bottom.
Assistant Manager Resume Template
Contact information
Resume objective or summary
Work experience in reverse-chronological order
Education
Skills
Additional Sections (Certifications, Awards, Volunteer Experience, or Hobbies and Interests)
Pro Tip: Once you're done writing your professional resume for assistant manager positions, save it in PDF. This way, you'll keep your resume layout intact. Just remember to double-check with the assistant manager job description if the company accepts PDF. If not—send your resume in DOC.
Want more tips on the best assistant manager resume format for you? Here's the only guide you'll need: Three Resume Formats: How to Format a Resume for Greatest Impact
2
How to Write an Assistant Manager Resume Objective or Summary?
Remember those 6 seconds of a recruiter's attention your resume gets? Scary, right?
But what if you could make her actually read your whole resume? Wouldn't it be great?
Good news!
You can do it.
The trick?
Put a perfectly crafted assistant manager resume objective or resume summary at the top—a short and sweet paragraph just below your contact information that explains why you're the perfect candidate for this job.
Resume summary gives an outline of your career and highlights your best achievements. Use it if you've got relevant experience.
Resume objective, in turns, discusses what you've learned so far and shows how you'd fit in. If you're writing an entry-level assistant manager resume or if you're changing careers, go for the resume objective.
The key thing? You need to make your assistant manager resume objective or summary solely about your employer's benefits, not your personal gain.
Don't write about what you want out of the job. Focus on what you have to offer.
Check out these sample assistant manager objectives and summaries to see what I mean.
Let's begin with objectives.
Example of a Retail Assistant Manager Resume Objective
wrong
Entry-level retail associate with a BA from Williams College. Seeking real world experience in retail. No experience yet but I'm very energetic.
Not awful, one might think. But not impressive either. The bottom line is something along the lines of "I've got no experience, but I want to get some. Oh, and I need a job."
Have a look at another retail assistant manager resume objective sample.
Example of a Retail Assistant Manager Resume Objective
right
Hard-working retail associate, skilled in POS tech and inventory management. Seeking to increase sales and customer loyalty as Assistant Store Manager at Chiller Outfitters. Built volunteer retail experience at Goodwill as cashier and restocker, receiving management commendation for excellent customer communication.
Wow, right?
This one's sure to get every hiring manager interested and eager to read on. Why? Because it makes an offer the hiring manager cannot refuse.
If you're writing a sales or retail assistant manager resume and need more inspiring ideas, check out one of these industry-specific guides:
Now let's see how to write a summary on a resume for asst manager positions.
Restaurant Assistant Manager Resume Summary Example
right
Engaging restaurant worker and manager with 7 years of experience. Seeking to help Legal Seafoods in reaching their goal of food service industry excellence as the new Assistant Manager. Managed 25 cooks and waitstaff in fast-paced, high-end restaurant. Handled inventory, vendors, and hiring. Reduced turnover by 25%.
See? "I've been successful at the job and I will help you get where you want to be with your business."
That's what hiring managers want to hear.
This candidate's getting the call-back, that's for sure.
Want to have a look at more examples of a restaurant assistant manager resume? Here's a couple of articles you cannot afford to miss:
Pro Tip: In every resume objective or summary for assistant manager positions, address the company by name and indicate the position you're targeting. Yup—that means you cannot send one general assistant manager resume for every application. And that's the point. Personalization works wonders!
When making a resume in our builder, drag & drop bullet points, skills, and auto-fill the boring stuff. Spell check? Check. Start building a professional resume template here for free.
When you're done, Zety's resume builder will score your resume and our resume checker will tell you exactly how to make it better.
Writing the perfect assistant manager resume objective or summary can be tricky. For more expert tips and real-life examples, check out our handy guides: How to Write a Resume Summary and How to Write a Resume Objective.
3
How to Describe Your Assistant Manager Work Experience?
An assistant manager assists the manager.

But we both know this isn't enough to get the job and keep it, is it?
The fix?
In the work experience section, don't just talk about your past assistant manager duties and responsibilities. Focus on your achievements.
Here's how to do it:
How to Describe Your Work Experience on an Assistant Manager Resume
Start with your current or most recent job.
Follow it with your previous position and the one before that, and so on.
Underneath each position, add up to 5 bullet points describing your duties and, more importantly, your achievements.
Quantify whenever possible. Don't say you "significantly increased sales." Say how much exactly. Numbers pop!
At the bottom, add a "Key achievement" subsection where you show off your best win.
Last but not least—pick phrases from the job ad, and refer to them in your work experience section. List relevant assistant manager duties, not every single task you've performed. It's called tailoring a resume and it's super effective. Want to learn more about it? Go here: 6 Tips on How to Tailor Your Resume to a Job Description
So now you've learned the theory. Time to see how it works in practice!
Have a look at some assistant manager resume examples. Let's begin with a fast food assistant manager resume sample:
Sample Fast Food Assistant Manager Resume—Work Experience
Assistant Restaurant Manager
January 2010 - December 2010
Pizza Hut, New York, NY
Managed and coached phone and online orders for clients.
Encouraged and influenced dining guests to make beverage-pairing decisions based on taste and menu.
Instituted customer promotional survey to assess food demand, which soon became adopted industry-wide.
Key Achievement: Identified cold storage solution which led to a cost reduction of 17%
Pro Tip: Pack your work experience section full of action verbs. "Managed," or "coached" sound way better than "responsible for managing and coaching."
Want to see an example of an assistant manager resume from a different industry? Here we go!
Customer Service Assistant Manager Resume Sample—Work Experience
Customer Service Assistant Manager
March 2012‒January 2017
On Point Electronics, New York
Led a team of 75 customer service representatives for On Point Electronics for five years.
Increased customer retention by 38%.
Increased employee retention by 22%.
Key achievement: Raised customer experience phone survey ratings by 58%.
Nailed it. Numbers, action verbs, key achievements—all check.
4
Is Your Education Section Underselling You? It Might Be.
Is the education section of an assistant manager resume the easiest one to write?
Yeah, perhaps.
Usually, just put your highest degree there. Include:
Degree type,
Your major (and minors, if you've got them),
Institution name,
Graduation date.
Pro Tip: If you've got more than 6 months of professional experience, don't include your GPA. Omit it also if it's not higher than 3.5. It could do you more harm than good.
These are the basics.
But sometimes you need a bit more. For instance, if you're writing a resume with no experience, it's your education section that you should focus on.
Include details like:
Relevant coursework
Favorite fields of study
Academic achievements
Extracurricular activities
Show prospective employers you mean business.
Here's an example of a great assistant manager resume education section.
HR Assistant Manager Resume Sample—Education Section
BS, Human Resources
Penn State, 2007–2011
Excelled in Employment Relations coursework.
Started and ran a discussion club on modern trends in employer branding.
My Honors Thesis on Organizational Psychology was linked to by the Harvard Business Review.
That's the way to do it. Even if the candidate doesn't have much experience, her education section shows the sense of purpose she has in pursuing her career.
Sometimes that's all it takes to convince employers to give you a shot.
If you're hungry for more tips about listing your education on an asst manager resume, check out this piece: How to Put Education on a Resume [Tips & Examples]
5
What are the Best Skills for an Assistant Manager Resume?
Your skills are, ultimately, what's of value to your employers.
So what's the best way to show them?
In a word—relevance.
The skills section of your assistant manager resume can't be filled with all skills you think you have listed in whatever order you see fit. You need to highlight those skills that a given company wants.
Remember when I mentioned tailoring? Here it comes again. See what I mean.
Assistant Manager Skills on a Resume—How to List Them
Start with a spreadsheet that lists all your professional skills.
Read the job description carefully. Look for skills-related keywords.
Check how many of these are there in your spreadsheet. Quite a few? Great. That's your skills list.
Don't just put the names of your skills. Provide evidence that shows your level of proficiency.
In need of a real-life example? There you go.
Let's say, there's an opening for a sales and retail assistant manager. The job ad states that the following skills are required:
New business development
Lead conversion
Budgeting
Here's a tailored assistant manager resume skills list:
Sample Retail Assistant Manager Resume—Skills List
Business Development:

Developed new business to push sales revenue from $750,000/yr to $1.1 million in 1 year.

Lead Conversion Solutions:

Increased staff training to drive lead conversion up 20%.

Budgeting

: Cut inventory costs by 25% through annual trend analysis.
Just perfect. That's exactly what the hiring manager's been looking for—relevant skills backed up with solid evidence of past success.
Pro Tip: Don't talk about your skills only in the skills section. Sprinkle them throughout your work experience and education and mention one or two in your resume objective or summary.
See more examples of job-winning skills sets that could spice up any assistant manager resume here: 30+ Best Examples of What Skills to Put on a Resume (Proven Tips)
6
How to Add Additional Sections to Make an Effective Assistant Manager Resume?
Almost all candidates lie on their resumes.
And recruiters know that. That's why they read every resume they get with a pinch of salt.
Now—guess what?
You can make them actually believe yours.
How?

Add an extra section that provides proof that you're a valuable candidate. List your unquestionable wins.

Such as?

Have a look at some ideas for an additional section on a resume for assistant manager positions.
Additional Sections for an Assistant Manager Resume—Examples
Industry awards
Certifications
Influencing on social media
Additional training and participation in conferences
Can't showcase any of the above yet? Don't fret. A junior management assistant resume can still benefit from an extra section.


Here are few examples:
Extra Sections for a Junior Assistant Manager Resume—Examples
Volunteer experience
Hobbies and interests
Academic achievements
Personal blog
Pro Tip: To beef up a flimsy assistant manager resume, consider taking an online training class or two. You can finish most in two or three hours without leaving home and they can make a huge difference for your chances of landing that dream job.
Not quite sure what to include in the extra section of a good admin assistant resume and what to leave off? Read our guide: Resume Sections to Include on Your Resume: Guide (+20 Examples)
7
How About an Assistant Manager Cover Letter?
Some of your peers might've told you that nobody reads cover letters in 2023.
Never take any advice from them again.
Why's that?

Because almost half of recruiters won't open your resume if there's no cover letter attached.

Sound like a risk you want to take? No?

So I thought.

An assistant manager cover letter is often expected even if the job description doesn't explicitly state so. And it can be used to your massive advantage.

Think about looking for an entry-level position. Daunting, right?

It's your asst manager cover letter that can get you there!

If you attach a cover letter to your resume, you can highlight your creativity. And you get the chance to explain why you're interested in pursuing your career.

Your cover letter can prove to recruiters that you're motivated and driven.

But it's not only junior candidates who should write a cover letter.

It doesn't matter if you're writing an HR assistant manager resume, a senior assistant property manager resume, or a resume for assistant sales manager gigs. Including a cover letter in your application doubles your chances of getting hired. Can't argue with the stats, can you?
Plus, a great cover letter that matches your resume will give you an advantage over other candidates. You can write it in our cover letter builder here. Here's what it may look like: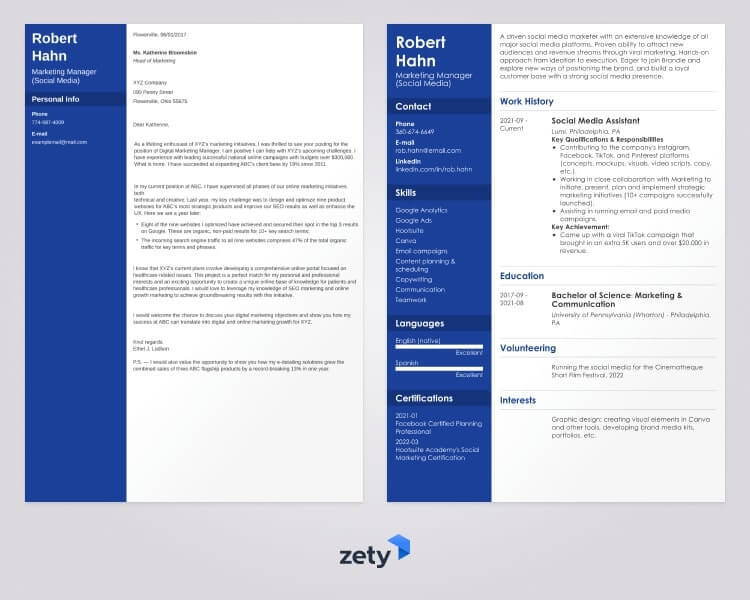 See more cover letter templates and start writing.
Pro Tip: Make your assistant manager cover letter personal. Use the job poster's name. For bonus points, do some research—visit the company website and mention something you like about the way they run their business.
Want to learn the art of writing a jaw-dropping cover letter? Read this guide and become a cover letter writing pro in no time: How to Write a Cover Letter in 8 Simple Steps
Key Takeaway
If you want to write a resume that gets assistant manager jobs—
Personalize every resume you send. Mention the name of the company you're applying to and refer to the requirements listed in the job ad.
Open your assistant manager resume with a resume summary or a resume objective. Give an outline of your most valuable skills and successes.
In the work experience section, use action verbs and emphasize your achievements, not just assistant manager duties.
Quantify whenever possible. Choose numbers over descriptions. Don't beat around the bush—be specific and straightforward.
For the final word—keep your phone at hand. You'll get flooded by interview callbacks!
Got any more questions? Need further help? Want to chat about writing your resume? That's great cause I can't wait to hear your thoughts! Drop me a line in the comments and I'll get back to you double-quick.
About Zety's Editorial Process
This article has been reviewed by our editorial team to make sure it follows Zety's editorial guidelines. We're committed to sharing our expertise and giving you trustworthy career advice tailored to your needs. High-quality content is what brings over 40 million readers to our site every year. But we don't stop there. Our team conducts original research to understand the job market better, and we pride ourselves on being quoted by top universities and prime media outlets from around the world.