Customer Service Manager Resume Sample [+Job Description]
Applying for customer service manager jobs? Whether at a tech startup, retail store, or large call center, here's how to write a customer service management resume they'll love.
Customer Service Manager Resume Sample
Selamawit Yemane
Customer Service Manager
selamawit.yemane@gmail.com
(929) 999-5595
linkedin.com/in/selamawityemane
Summary of Qualifications
Personable and conscientious CSM with 2+ years in customer service management and an additional 2 years as a customer support representative. 2017 NYS Manager of the Year award recipient and APPA Customer Service Management Certificate holder. Seeking to utilize waste reduction strategies (50% decrease in 2 years) to become the next customer service manager at Big's Box Store.
Work Experience
Customer Service Manager
January 2017–April 2019
Bullseye Mart, Jackson Heights, NY
Key Qualifications & Responsibilities
Effectively supervised day-to-day front-end operations of a busy customer service department.
Hired, trained, and mentored top customer service agents and front-end staff.
Implemented ambitious customer satisfaction goals, and better-enabled customer service staff members to effectively meet them.
Created, edited, and altered customer service strategies and procedures in Agile manner to best deliver a satisfying experience for all store customers.
Managed and updated the customer loyalty program.
Key Achievements
Awarded the 2017 "New York State Manager of the Year" from Bullseye Mart.
Implemented waste reduction strategy which reduced waste by 50% over 2 years.
Reduced customer service staff turnover by 50%.
Customer Service Representative
January 2015–December 2016
Tarzhay Stores, New York, NY
Key Qualifications & Responsibilities
Assisted store guests with all client concerns, including replacements, refunds, returns, and service warranties.
Fulfilled and exceeded customer satisfaction goals in a consistent manner.
Helped tutor new customer service associates after hiring and during seasonal upticks.
Key Achievements
Earned "Friendliest Customer Service Agent" award for all of 2016.
Education
Bachelor of Science in Retail Management
Pace University, New York, NY
Graduation: 2016
Relevant Coursework: Retail Purchasing, Management Communications, Sales and Sales Management, Project Management, Consumer Behavior, Supply Chain Management, Organizational Behavior, Business Leadership, Retail Store Operations.
Key Skills
Complaint Resolution
Effective Communication
Teambuilding & Training
Cost Reduction & Waste Elimination
Patience & Empathy
Ability to Keep Calm in Stressful Situations
Certifications
2018 Customer Service Management Certificate—American Public Power Association
Awards
2017 Bullseye Mart New York State Manager of the Year
2016 Tarzhay Stores Friendliest Customer Service Agent
Memberships
National Customer Service Association (NCSA)
The Institute of Customer Service (ICS)
The Association of Support Professionals (ASP)
Languages
Tigrinya: Native Proficiency
Arabic: Limited Working Proficiency
Want to save time and have your resume ready in 5 minutes? Try our resume builder. It's fast and easy to use. Plus, you'll get ready-made content to add with one click. See 20+ resume templates and create your resume here.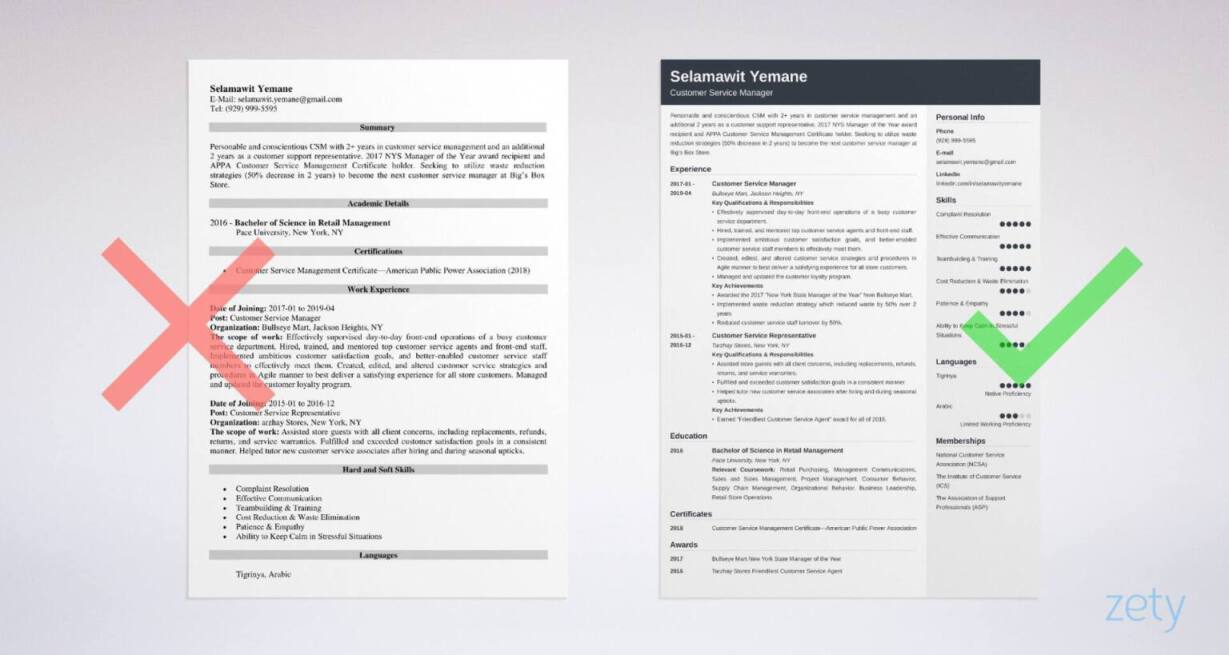 Sample Customer Service Manager Resume—See more templates and create your resume here.
Check out other resume guides related to customer service management:
Now, let's begin.
Here's how to write a customer service manager resume:
1. Choose the Best Format for Your Customer Service Manager Resume
A tight customer service schedule is crucial if you want a 100% satisfaction score.
Likewise—
A properly-formatted resume is critical to getting a 100% approval from the employer.
Keep these points in mind on customer service manager resume formatting:
Pro Tip: Send a PDF resume unless they tell you otherwise. The PDF format lets HR managers open it cleanly on any device, but it may not work with their software programs as well as Microsoft Word. Check the customer service manager job description for details.
2. Write a Customer Service Manager Resume Objective or Summary
A resume profile, known as either a resume objective or summary statement, is a brief 3- or 4-sentence introduction paragraph.
It gives employers and hiring managers a concise statement as to what your resume is about, with your job goals, work experience, achievements, and background.
Got over 2 years of customer service management job experience?
Choose the resume summary.
The resume summary is a short paragraph intro which "sums up" your experience and skills in customer service and management. To top it off, a key achievement with numbers is given which quantifies your customer service management effectiveness.
Got little or no work experience as a customer service manager?
Choose the resume objective.
The career objective still gives a numbered achievement to prove your competence. However, instead of giving your background and experience, it wins them over with look at your career goals.
Pro Tip: Retail checkout lanes are at the front, but shoppers don't start there. Likewise, save writing your objective or summary for the end, so you have a better grasp as to what you're summing up.
3. Create the Perfect Customer Service Manager Job Description for a Resume

In customer service, you'll want a Net Promoter Score of 10.
It's the same here—
To achieve a score of 10 from the employer, write a job experience section which makes their hearts race like a Black Friday blowout sale.
So—
Here's how to write an effective customer success manager resume experience section:
Begin with the most recent work you had, and go backwards through past jobs from there.
List job titles, dates of employment, the company name, and 5 or 6 bullet points outlining your on-the-job responsibilities.
As the work entries go further back in time, reduce the number of bullet points.
Use strong action verbs (e.g., eliminated, corresponded, etc.) to start each entry.
Give one or two quantifiable achievements in order to prove your competence in customer service and management.
Learn how to tailor a resume to a specific job. Hiring managers hate generic resumes.
Pro Tip: Have a resume with little experience in customer service or no experience in management? To get customer service management jobs, talk up management experience outside of customer service, as well as customer service experience outside of management.
4. Make Your Customer Service Manager Resume Education Section Shine
Most customer service manager positions require only a high school diploma, but more and more employers prefer an associate or bachelor's degree.
Still—
No matter which level of academia you've reached, get your education resume section done correctly.
Here's how to deliver an education section that'll wow 'em:
Plenty of CSM experience? Add just the degree name, college name, and location.
New to customer service management? Give extras, like Latin honors and achievements, extracurriculars, and relevant coursework.
Finished university? Skip high school on your customer service management resume.
Working on college? Add high school below your in-progress degree (or as a standalone if you have no college at all).
Pro Tip: Relevant coursework on a customer service manager resume doesn't only mean customer service-related classes. Include courses related to business and leadership to round it out well.
5. Highlight Your Customer Service Manager Skills
According to the BLS, customer service jobs, including those in management, will increase by more than 5% by 2026 in the US alone.
This is another 136,000 people to compete against you.
To beat them—
Show them your customer satisfaction and company image abilities are second to none with the perfect customer service skills section:
Top 20 Customer Service Manager Skills
Task Delegation
Help Desk Software (Zoho Desk, Salesforce Desk, etc.)
Works Well Under Pressure
Customer Satisfaction Skills
Front-End Supervision
Retail Operations
People Skills
Escalation Management
Net Promoter Score (NPS)
Product / Service Knowledge
Client Support Tickets & Ticketing Systems
Patience & Understanding
Customer Experience Skills
Cost-Reduction Strategies
But—
You can't just take this list and stick it straight in your Target or Walmart customer service manager resume.
They'll see that and outsource your resume straight into the "fail" pile.
Here's what to do instead:
List all the soft skills and hard skills you have which are relevant to customer service to begin your job skills list.
Find the advertised position, and keep the customer experience manager job description out and open in front of you.
To find good keywords to use on a resume, take note of the traits and abilities they're looking for (check the "job requirements" section).
Do you see a noted skill from the job ad which matches something on your customer service skills list from the start? Add that to your customer service manager skills resume section!
Pro Tip: Remember tailoring? Stick to as close to the wording from the job ad as possible to ensure it matches what they're looking for.
When making a resume in our builder, drag & drop bullet points, skills, and auto-fill the boring stuff. Spell check? Check. Start building your resume here.
When you're done, Zety's resume builder will score your resume and tell you exactly how to make it better.
6. Add Other Sections to Your Customer Service Manager Resume
There are dozens of people applying for the same customer service manager job you are.
Everyone has the same resume sections as you do, too.
How will you stand out?
Wake the hiring manager up from their misery of mundanity by adding a few extra sections to liven up your resume.
Customer Service Manager Resume Examples—Extra Sections
Here are some boredom-killing options to choose from:
projects / portfolio
licenses and memberships
7. Attach a Customer Service Manager Cover Letter to Your CSM Resume

Most hiring managers agree that a customer service manager cover letter should be sent with the resume.
So—
Always give them a cover letter!
Here's how to write a management cover letter for customer service jobs they'll love:
Also, we have great cover letter advice, as well as articles on how long should a cover letter be and what to include in a cover letter.
Check them out!
Pro Tip: Don't forget to follow up on your job application. Then, since you have a top-notch resume, time to prepare for the interview!
Plus, a great cover letter that matches your resume will give you an advantage over other candidates. You can write it in our cover letter builder here. Here's what it may look like: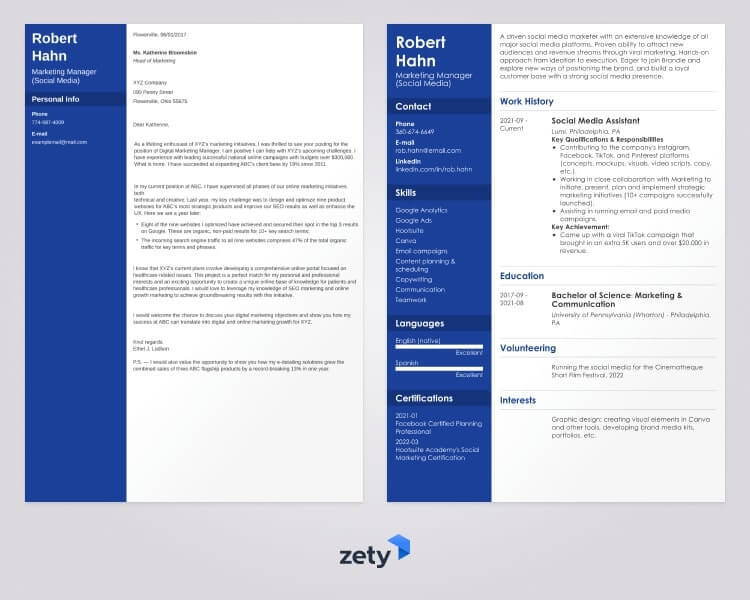 See more cover letter templates and start writing.
Well, that's it—
Now THAT'S a resume that'll definitely manage to get you that top customer service job!
Have any questions on how to write a customer service manager resume? Not sure how best to talk up your management skills, customer service certifications, or retail achievements? Get at us in the comments below, and thanks for reading!