Customer Service Manager Resume Sample [+Job Description]
Applying for customer service manager jobs? Whether at a tech startup, retail store, or large call center, here's how to write a customer service management resume they'll love.
Customer Service Manager Resume Sample
Selamawit Yemane
Customer Service Manager
selamawit.yemane@gmail.com
(929) 999-5595
linkedin.com/in/selamawityemane
Summary of Qualifications
Personable and conscientious CSM with 2+ years in customer service management and an additional 2 years as a customer support representative. 2017 NYS Manager of the Year award recipient and APPA Customer Service Management Certificate holder. Seeking to utilize waste reduction strategies (50% decrease in 2 years) to become the next customer service manager at Big's Box Store.
Work Experience
Customer Service Manager
January 2017–April 2019
Bullseye Mart, Jackson Heights, NY
Key Qualifications & Responsibilities
Effectively supervised day-to-day front-end operations of a busy customer service department.
Hired, trained, and mentored top customer service agents and front-end staff.
Implemented ambitious customer satisfaction goals, and better-enabled customer service staff members to effectively meet them.
Created, edited, and altered customer service strategies and procedures in Agile manner to best deliver a satisfying experience for all store customers.
Managed and updated the customer loyalty program.
Key Achievements
Awarded the 2017 "New York State Manager of the Year" from Bullseye Mart.
Implemented waste reduction strategy which reduced waste by 50% over 2 years.
Reduced customer service staff turnover by 50%.
Customer Service Representative
January 2015–December 2016
Tarzhay Stores, New York, NY
Key Qualifications & Responsibilities
Assisted store guests with all client concerns, including replacements, refunds, returns, and service warranties.
Fulfilled and exceeded customer satisfaction goals in a consistent manner.
Helped tutor new customer service associates after hiring and during seasonal upticks.
Key Achievements
Earned "Friendliest Customer Service Agent" award for all of 2016.
Education
Bachelor of Science in Retail Management
Pace University, New York, NY
Graduation: 2016
Relevant Coursework: Retail Purchasing, Management Communications, Sales and Sales Management, Project Management, Consumer Behavior, Supply Chain Management, Organizational Behavior, Business Leadership, Retail Store Operations.
Key Skills
Complaint Resolution
Effective Communication
Teambuilding & Training
Cost Reduction & Waste Elimination
Patience & Empathy
Ability to Keep Calm in Stressful Situations
Certifications
2018 Customer Service Management Certificate—American Public Power Association
Awards
2017 Bullseye Mart New York State Manager of the Year
2016 Tarzhay Stores Friendliest Customer Service Agent
Memberships
National Customer Service Association (NCSA)
The Institute of Customer Service (ICS)
The Association of Support Professionals (ASP)
Languages
Tigrinya: Native Proficiency
Arabic: Limited Working Proficiency
Want to save time and have your resume ready in 5 minutes? Try our resume builder. It's fast and easy to use. Plus, you'll get ready-made content to add with one click. See 20+ resume templates and create your resume here.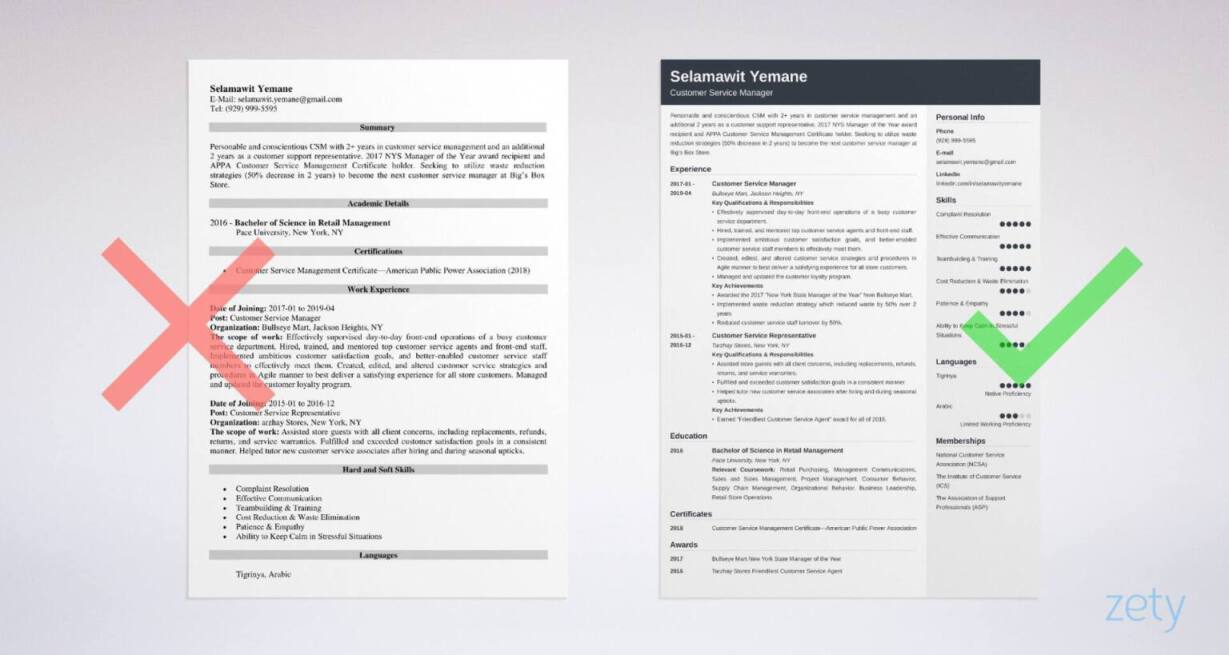 Sample Customer Service Manager Resume—See more templates and create your resume here.