Our customers have been hired by:
Think about this: hiring managers spend about six seconds on each resume. A poorresume header can befuddle the hiring software many of them use, scramble contact info, and cost you golden opportunities.
Career search takes enough work, do you really need to worry about your resume header, too? You don't. Good headers should come easy. Choose the best resume header with our tips, and grease the rails to let you slide into that interview.
Want to save time and have your resume ready in 5 minutes? Try our resume builder. It's fast and easy to use. Plus, you'll get ready-made content to add with one click. See 20+ resume templates and create your resume here.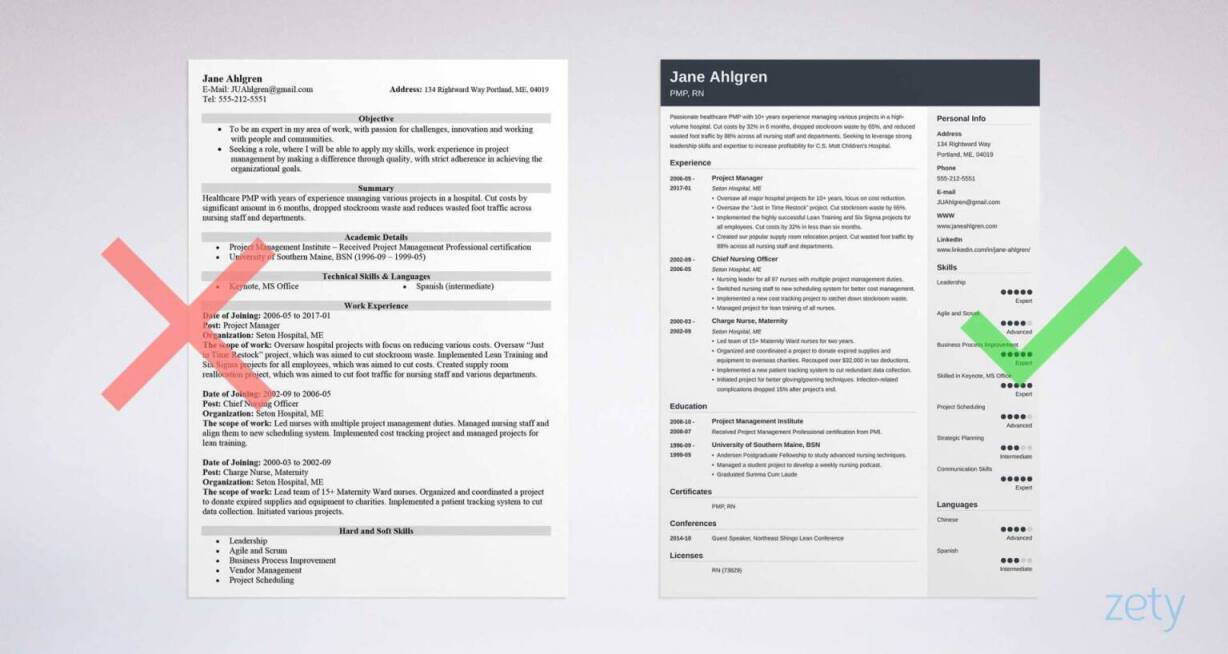 Sample resume made with our builder—See more resume examples here.
Right Resume Header
James Hildreth, PMP, RN
402-290-4898, jameszhildreth@gmail.com
LinkedIn.com/in/jameszhildreth
There's your best resume headers example. Now let's look at why it works and how to do it right.
Looking for info abou headlines? Here's the right guide: 30+ Resume Headlines and Titles
To head your resume, put the right contact info in the right order. A professional resume headers should include at least your name, phone number, and a clickable email address. Add extras and style it right to make it easy for the manager to choose you.
Don't start your resume with the title Resume. Lots of people do that, but lots of people put corn on pizza, too. The hiring manager will know it's a resume by looking at it.
Here's an example of a professional header on a resume.

This resume letterhead's a great example of our builder's capabilities. Start building your resume now!
How to Format a Resume Header
Format your resume header at the top of the page. Center it or place it in the left margin. Your name should be the most prominent item, followed by phone number and email address. Then include additional value adds like clickable social media and website links. Resume layouts vary, but contact information always comes first.
Name
Make your name the biggest thing on the page. Your name is the only way to tell your resume apart from hundreds of others. Got different names (like William, Bill, or a maiden name)? Use the version that's most searchable online.
Use the same name across all online profiles you want the hiring manager to find. So, if you use "Steve" in your resume, don't use "Stephen" in your LinkedIn profile, Twitter handle, and portfolio website.
Title
It's shocking how many job applicants skip their work title. Add your title to your name in smaller font. That can be "CPA," "Bookkeeper," "Restaurant Manager," "Nurse Practitioner," and so on.
If you've got a key license or certification, use it in your professional resume header. For example, "Mary Meyer, Certified Pharmacy Technician," or "Seth Arbuthnot, Caregiver, CNA."
Address
You can add your address on your resume next, though it's okay (and often preferable) to leave it off. A hiring manager may count a long commute as a point against you. You can just list the same city as the job, without a street address.
If you really want to make the point, add "open to relocation" to your resume headers. If you do list your address, P.O. boxes are okay, but a permanent address is better since it looks more stable.
Phone Number
A phone number is the #1 way hiring managers set up interviews. List the number you use most. Don't use your work phone, since it can cause trouble with your current boss. It also sends a "questionable ethics" message to the hiring manager.
Email Address
Email is the #2 way managers reach out to applicants. Right after your phone number, include a professional address. That means no PartyFuntimeBoyz23432459823@yahoo.com. Your first and last name and "@gmail.com" works great. If that's taken, add a middle initial.
One email address is plenty. Just like with phone numbers, don't use your current work email.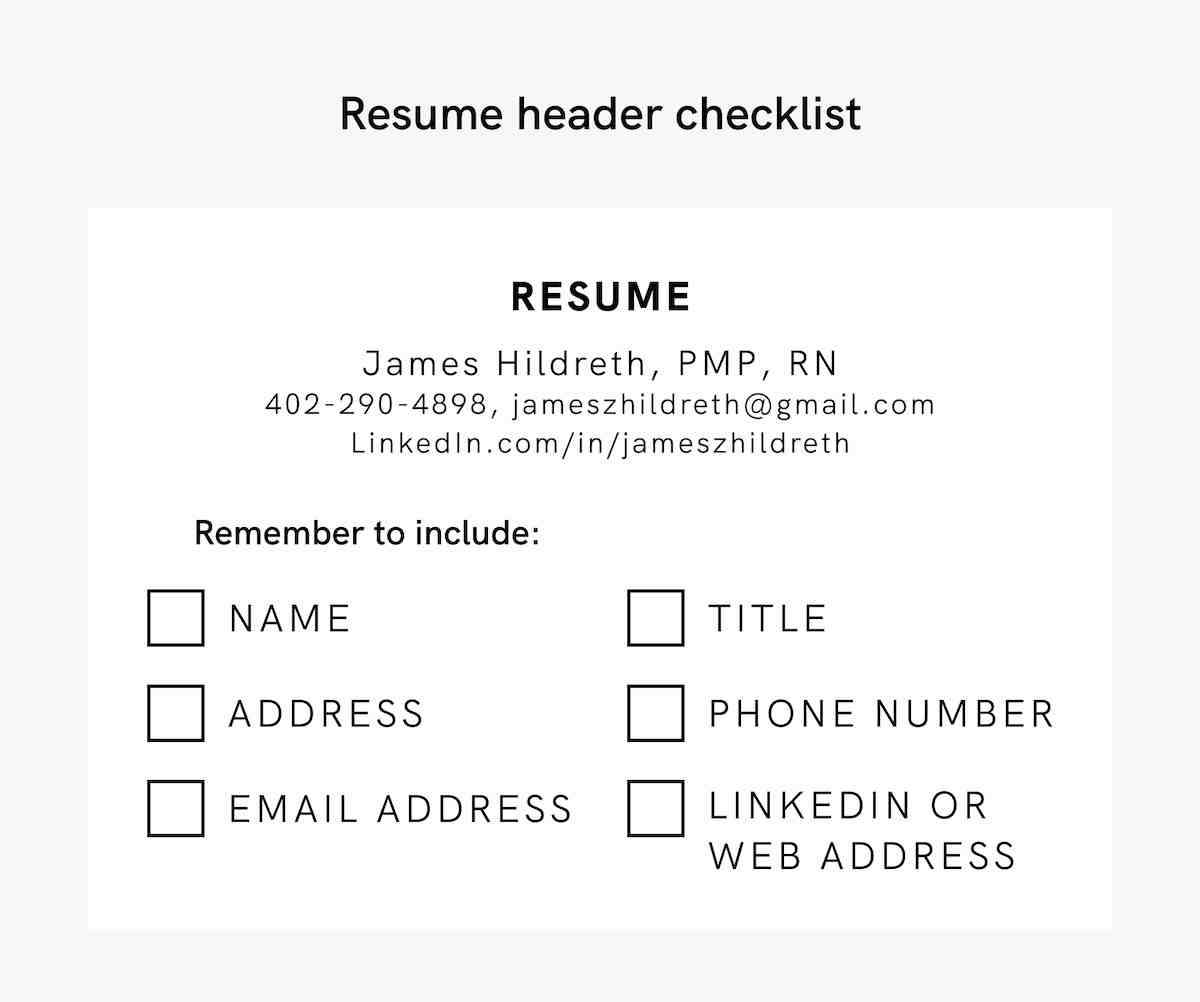 Want to learn more about resume formats? Need good resume examples for every job? See our blog: Free Resume Examples for 500+ Jobs
When making a resume in our builder, drag & drop bullet points, skills, and auto-fill the boring stuff. Spell check? Check. Start building a professional resume template here for free.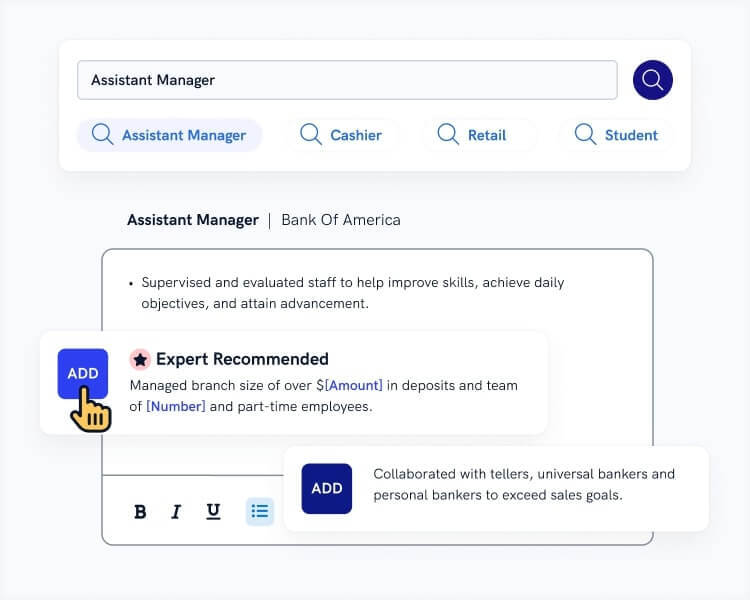 When you're done, our easy resume builder will score your resume and our resume checker will tell you exactly how to make it better.
2
How to Make a Resume Header Sparkle
You could follow the resume header template at the top and stop there. In fact, the best resume examples do just that. But ask yourself: what should be on a resume for extra contact info?
Consider these added tips for good resume name header design. They'll help you score more interviews and spend less time wondering what went wrong.
Web Address
You don't need a web address in your resume headers. That said, if you've got a job-related website or online portfolio, include it. It's a great way to let the hiring manager see more of your achievements.
Adding a portfolio works especially well for projects that look good online. That means software engineers, architects, interior designers, and artists can all include portfolios.
LinkedIn
Over 85% of all hiring managers now use LinkedIn to hire applicants. Adding a good LinkedIn profile to your resume header can help the manager learn more about you.
Make sure to personalize your LinkedIn link. Also, streamline your profile with the right photo, background image, summary, and resume keywords. Want to get at least 20 times more profile visits? See our guide on LinkedIn profile fixes here.
Facebook
Most job seekers shouldn't include a Facebook profile in a resume header. Why not? Facebook can share info that can shoot you in the foot at best, and cost you interviews.
A recruiter will disqualify a candidate just for showing an alcoholic beverage in a Facebook post. And yes, they look. Need help sanitizing your profile? See our guide on online presence fixes here.
Here's a few more resume header examples: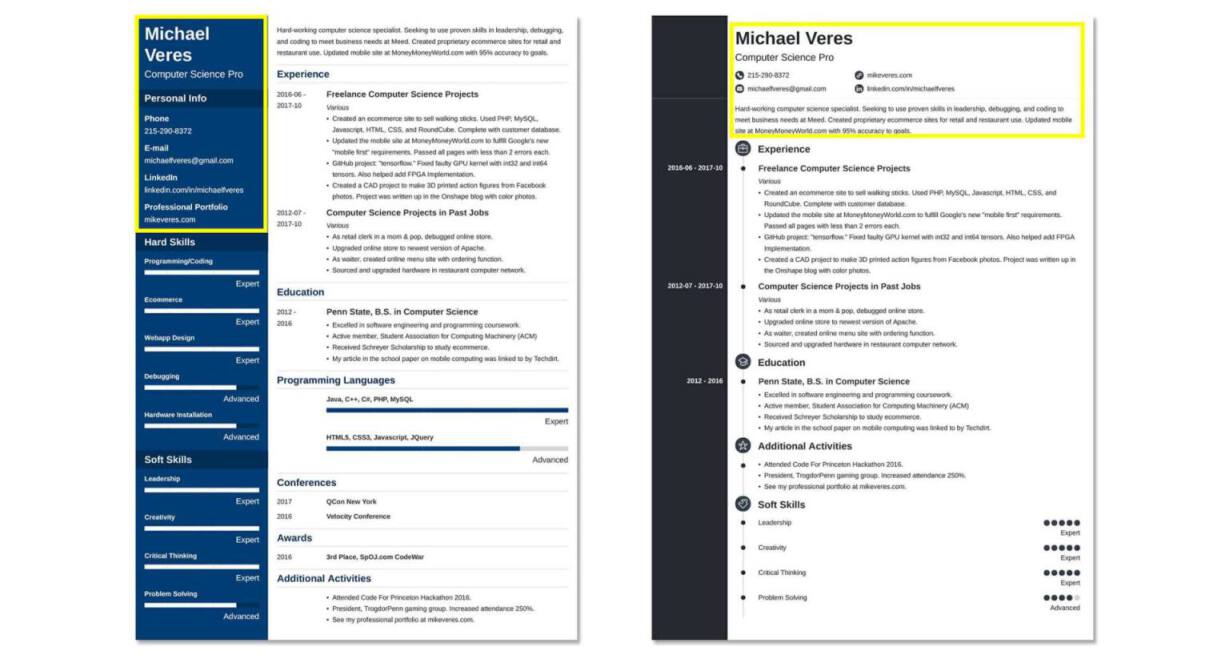 Modern yet professional. Check our other resume templates here.
2 Page Resume Header
To make a two page resume header, repeat the header on the second page. That's mainly for consistency, but also to help the manager remember vital info.
For example, say you list a key bit of work history on page two. With a 2nd page resume header, you'll remind the manager, "Oh yeah, she's got an online portfolio," or, "That's right, he's got his PMP certification."
How to Create a Resume Header in Word
When creating a header for a resume in Word, don't use Word's document headers. Most applicant tracking software can't read them. Instead, center your header or put it in the left margin.
Use large (22 point font) for your name. Put your contact info in 11 point font below. The best resume header fonts are clear and simple, like Arial and Cambria.
Proofread
One last resume tip about good headers: proofread. You probably won't make a mistake with your phone number, but it happens. A more common error is adding a portfolio or certification that doesn't fit this job description.
Pro Tip: There's no need to make a creative resume header that stands out. Outlandish fonts, colors, and designs distract from vital contact information. Show personality in your LinkedIn profile or portfolio site instead.
Here's an example resume header made with our fast online resume builder. (Outlined in yellow in the image.) Want to write your resume in 15 minutes? Use our templates and build your resume here.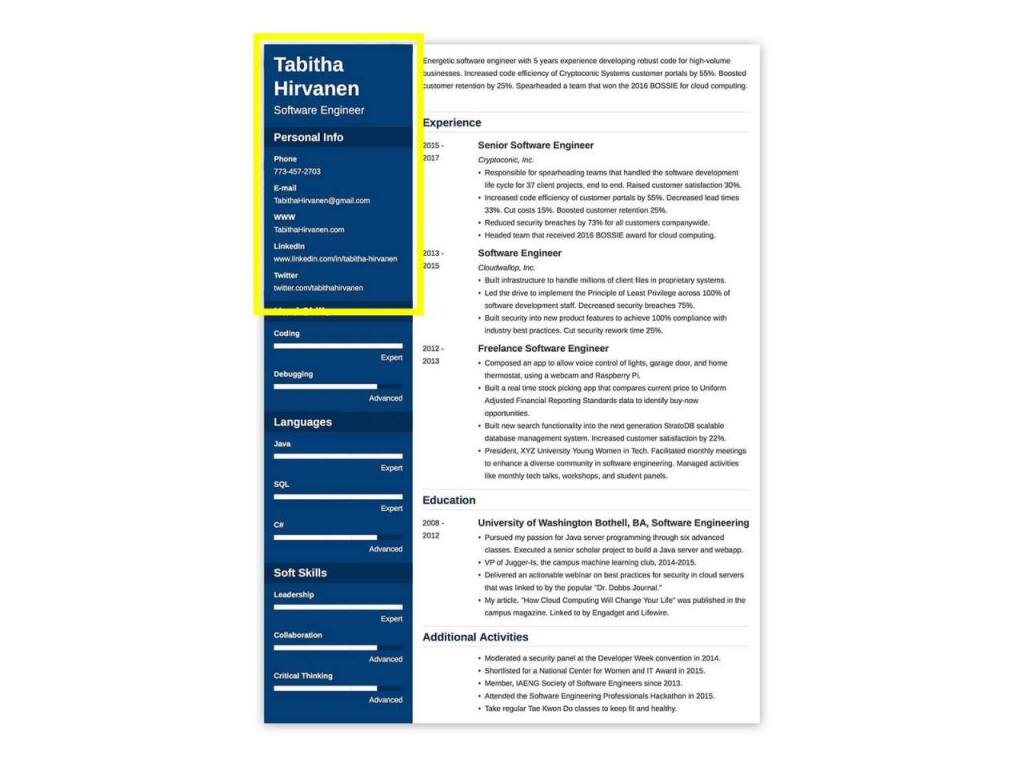 That resume headers sample works because it keeps all your relevant info visible, but uncluttered.
Plus, a great cover letter that matches your resume will give you an advantage over other candidates. You can write it in our cover letter builder here. Here's what it may look like: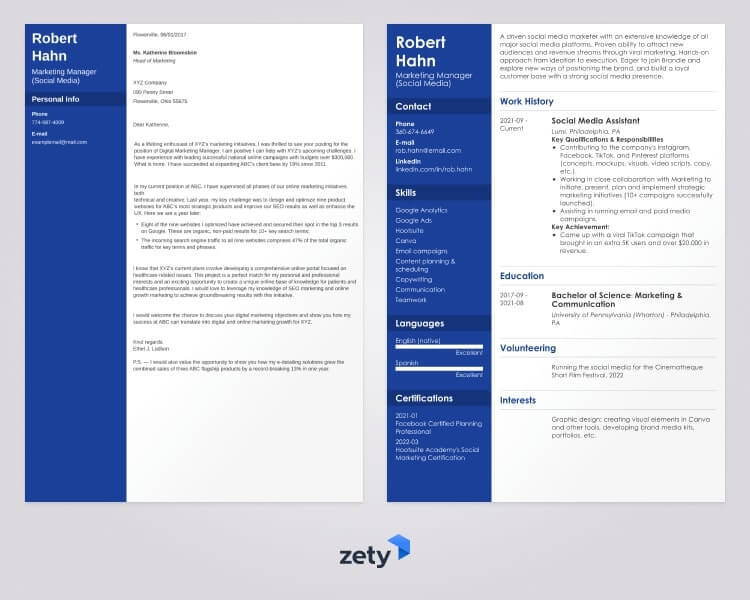 See more cover letter templates and start writing.
Key Takeaway
A good resume header is key to getting contact info past the hiring software.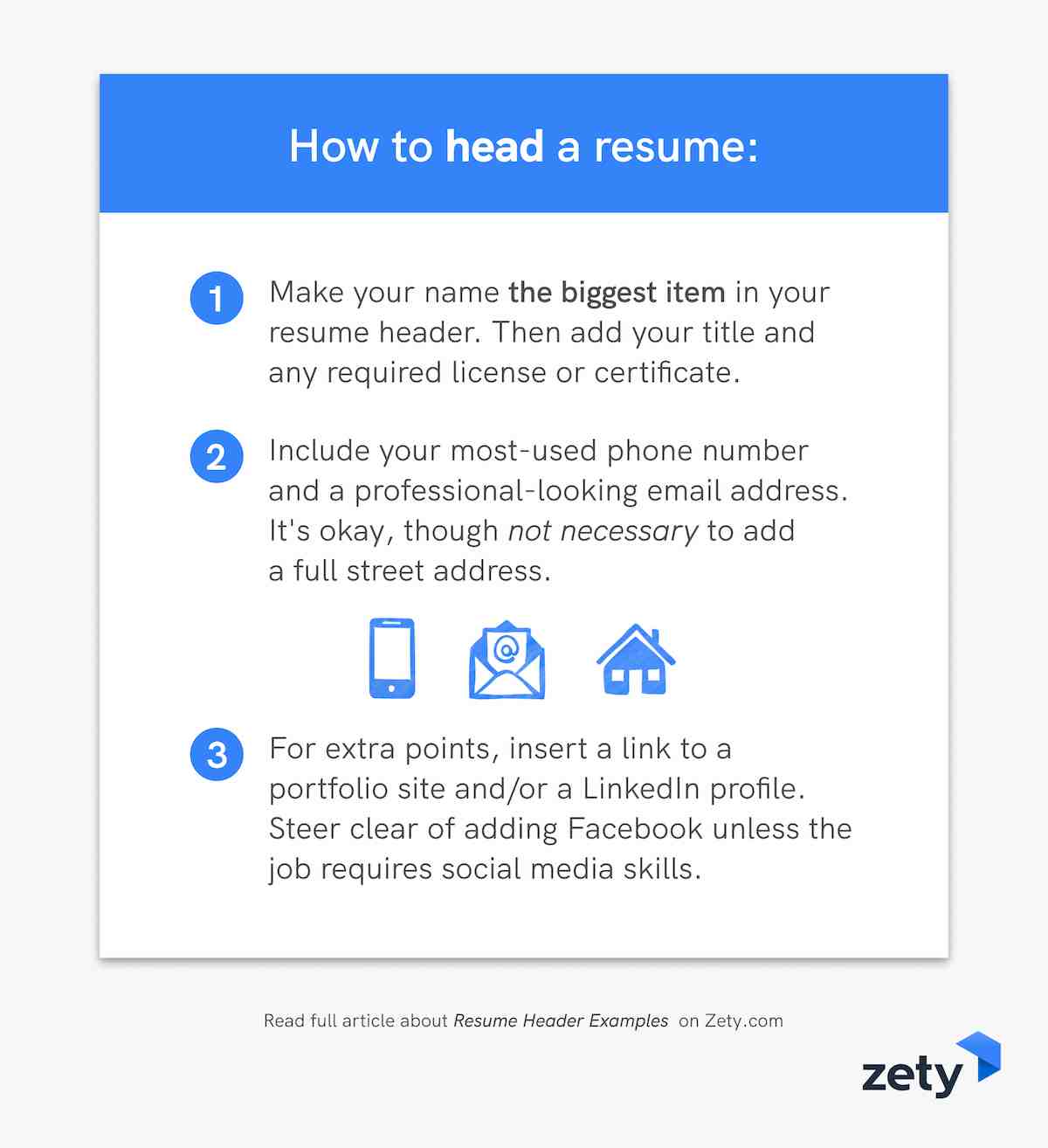 Follow these important steps:
Make your name the biggest item in your resume headers. Then add your title and any required license or certificate.
Include your most-used phone number and a professional-looking email address. It's okay, though not necessary to add a full street address.
For extra points, insert a link to a portfolio site and/or a LinkedIn profile. Steer clear of adding Facebook unless the job requires social media skills.
Want to know more about how to make a resume header? Maybe you have some great headers for resume ideas? Give us a shout in the comments! We love to help!
About Zety's Editorial Process
This article has been reviewed by our editorial team to make sure it follows Zety's editorial guidelines. We're committed to sharing our expertise and giving you trustworthy career advice tailored to your needs. High-quality content is what brings over 40 million readers to our site every year. But we don't stop there. Our team conducts original research to understand the job market better, and we pride ourselves on being quoted by top universities and prime media outlets from around the world.