Welcome to the only resume layout guide you'll ever need.
Read it, apply the advice, and your resume will make a great first impression.
And first impressions matter: employers don't read resumes, they scan them.
The right resume layout will help them find what they need to decide you're the right person for the job.
Make the process hard for them… and they'll simply move on to the next candidate..
Just look at the two resume layout examples below.
Same contents, different layout. Which will attract more attention?
Sample Resume Layout Made With Our Resume Builder
Want to save time and have your resume ready in 5 minutes? Try our resume builder. It's fast and easy to use. Plus, you'll get tips and right vs. wrong examples while writing your resume. See +20 resume templates and create your resume here.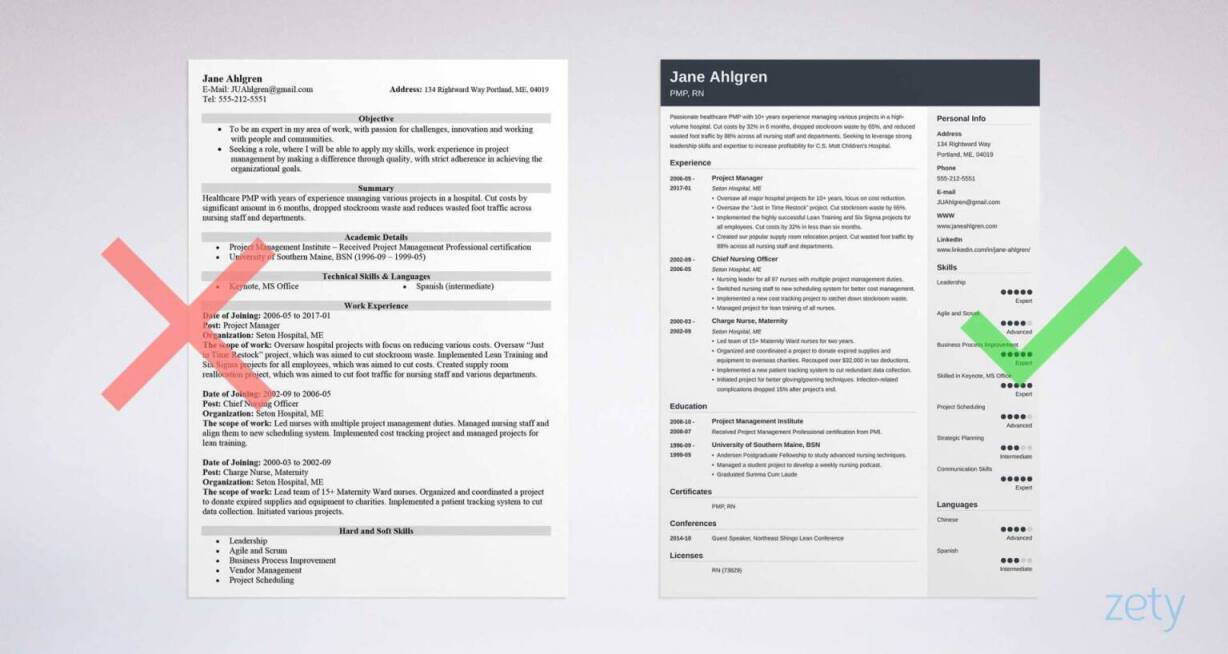 Sample resume made with our builder - See more templates and create your resume here.
Alright, so you've seen two resume layouts:
The first one: generic. A bit sloppy.
The second: professional. Easy to scan.
Time to learn how to lay out a resume that gets read.
It will take no longer than 7 minutes.
Here's what you'll get in this guide:
Table of Contents
Okay. Time to dive in!
1
Basic Resume Layout Design Rules: Margins, Spacing, Fonts, and More
Let's walk through creating a good resume layout step by step.
Set the Margins
Pick the Right Font
Choose Proper Line Spacing
Go for single or 1.15 line spacing (double line spacing after subheadings.)
Create a Resume Header That Pops
Make the header layout of your resume visually distinct. Include your name, job title, and contact information.
Learn more here: Resume Header Layout: Examples & Full Guide
Divide Your Resume Layout Into Proper Sections
Make Smart Use of Bullet Points
How Long Is Too Long? Know the Ideal Resume Length
2
The Best Resume Layout Examples and Templates for 2019 (Gallery)
Getting the resume or a curriculum vitae layout right in word processing software is a challenge—
You make one change and the whole layout breaks.
You don't have to struggle to create a professional resume layout on your own.
You can simply pick a well-formatted, neat template and just fill it in with your information.
Our resume builder offers 20+ beautiful blank resume layouts you simply update with your details and download in PDF.
Check them out!
(Note: Each of the resume layouts below is easily customized. You can change fonts, colors, add, remove, and re-order sections.)
Professional Resume Layout Sample
We called this resume layout "Crisp," and crisp it is indeed. The resume side column on the left is for your personal information and skills, allowing you to save space. Big section headings draw recruiters' eyes to what's important.
This resume layout design is very universal: will work for candidates in traditional, conservative fields, as well as those applying to more relaxed companies.
Creative Resume Layout Sample
"Cubic" is one of our takes on creative resume layouts and designs.
With a three-tone background depending on the section, different areas of your resume stand out easily from each other. The header is sharply distinct from the rest of the template, making your name and job title more prominent and, thus, memorable.
A perfect resume layout for tech, graphic design, and creative jobs.
Simple Resume Layout Sample
This one's called "Vibes." And what sort of vibes does it send, huh?
Simplicity, they say, is the ultimate sophistication and here you can witness simplicity at its finest.
Tiny, elegant icons next to section headings are eye-catching but not too invasive. Simple bar charts for your skills let you describe your proficiency level easily.
A fantastic resume layout for corporate jobs, as well a good CV layout for academic positions.
Basic Resume Layout Sample
"Nanica" by Zety.
Nanica is a basic resume layout using a lot of white space. It allows space on the left side to serve as a timeline for the work and education sections. A full-width area for your heading statement allows you to grab the recruiter's attention with a captivating resume summary or resume objective.
Elegant Resume Layout Sample
Last but not least, here's "Concept."
A very dynamic and unique resume layout with a dark stripe for the timeline on the left-hand side. Recruiters will love this one, no doubt!
But hey! We have plenty more. See all the templates we've got to offer, pick your favorite, and create your resume in our builder now.
3
What Goes Where on a Resume (Infographic)
For most candidates, the reverse-chronological resume layout is best.
The structure of this simple resume layout comprises:
Here's an infographic to illustrate the proper layout of a resume:
The Best Resume Layout, Outlined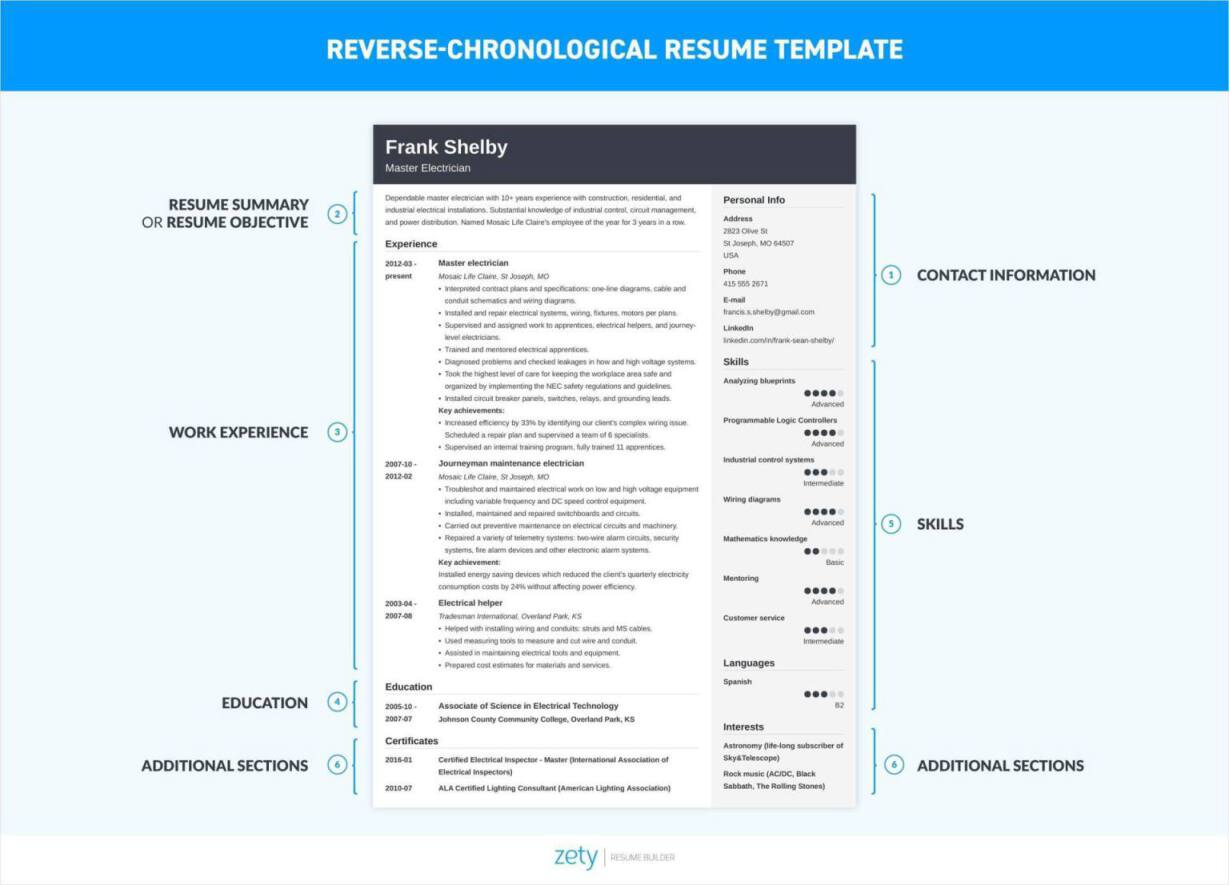 If you're ready to start working on the contents of your resume, check out How to Write a Resume That Gets Jobs
4
The 3 Main Formats of a Professional Resume Layout (Infographic)
There are three standard resume layouts for you to choose from:
Chronological
Functional
Combination
They differ slightly in their setup and purpose.
Here's how to structure sections in each of the main resume formats: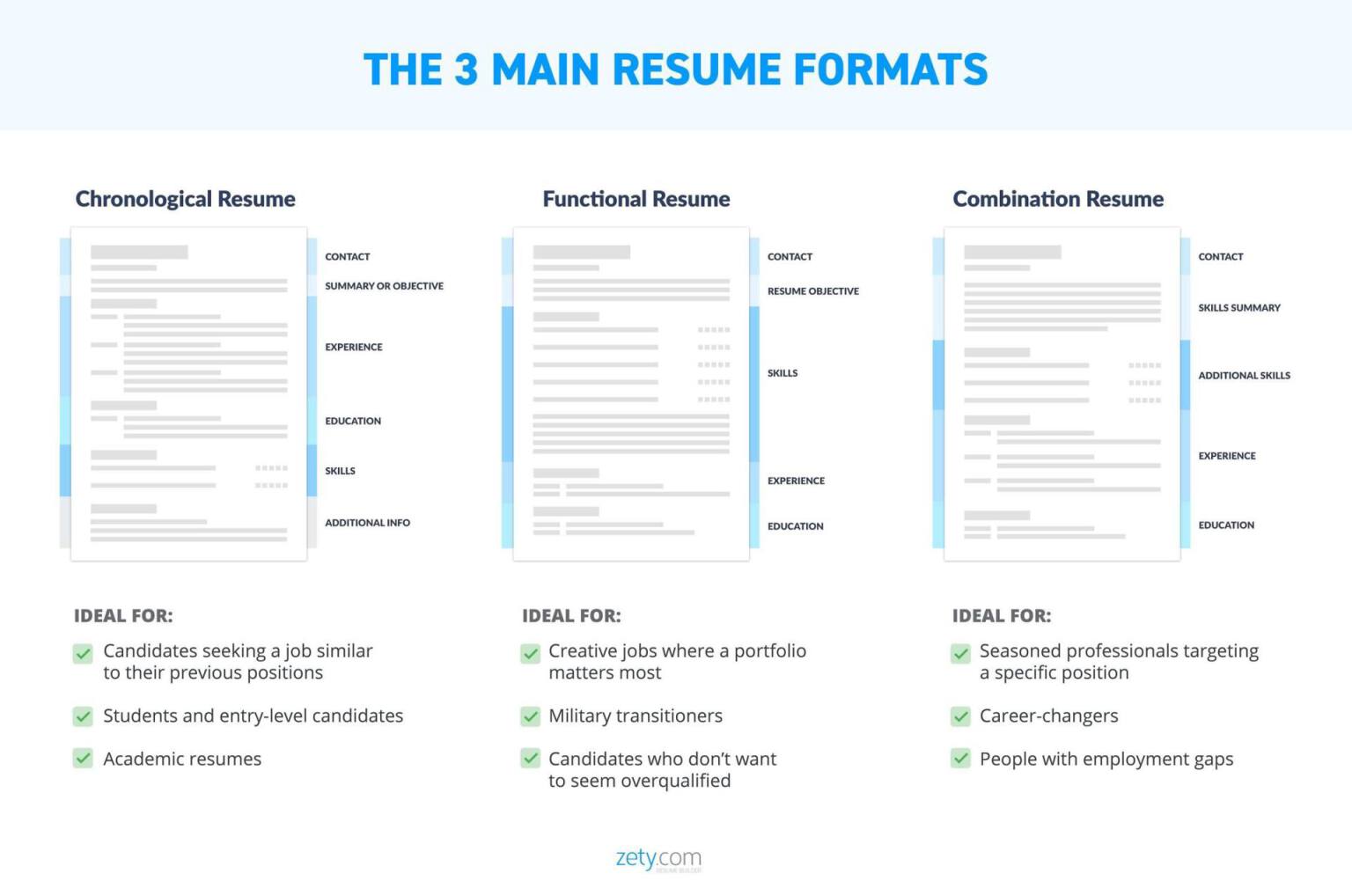 Again, the reverse-chronological resume format is common standard. This professional resume layout is easy to scan and compare to other resumes.

The two main sections in a reverse-chronological resume layout are education and experience. Either can come first.
You will list both your jobs and degrees in reverse-chronological order. This means you start with the most recent position.
If you have relevant job experience, lead with the work history section.
Fresh out of school? Your education comes first.
The functional resume layout has a detailed skills summary at the top.
If takes the pressure off of your work history and emphasizes your skills.

The combination layout also focuses on skills but its main purpose is to link those skills with your work history and verifiable achievements.
Below the summary of your skills, you also list work history in reverse-chronological order. This layout combines the best features of the reverse-chronological and the functional resumes, hence the name.
Learn more about each of the 3 standard resume layouts:
Or, see this overview of all the 3 resume formats and get tips on how to pick the right one for you: Resume Format: How to Pick the Best One
5
BONUS: Extra Resume Layout Tools and Ideas
To get inspiration for designing your resume layout, see: The Best Resume Design Ideas and Examples
We'd love for you to give our builder a try, but if you insist on messing around with MS Word layouts, at least pick the best of the best: Free MS Word Resume Templates and Layouts (15+)
Want to give Google Docs resume layout a shot? We've got you covered: Google Docs Resume Layout Templates
Going to an interview or a job fair and need to print a resume? Make sure your layout will look good on paper: Resume Paper: How to Choose The Best One (10+ Photos)
Finally, see some of our galleries and compilations of the best resume layouts you'll ever find online:
Key Takeaway
Here's how to have the best resume layout out there:
Use professional fonts, single line spacing, clear section headings.
Pick one of the three standard resume formats.
Divide your resume into sections in the correct order.
Make your resume brief and relevant.
Follow the above strategies, and you'll soon set your sights on any job you want.
Got further questions? Need assistance? Let me know in the comments, I'll get back to you double-quick!