You're about to choose the best resume layout for you, but think about this, first:
What's the difference between a good resume and a great resume?
A good resume may land you interviews. But a GREAT resume can land you THE JOB.
But what's the real difference?
Is it just the content? More skills and achievements? Better experience?
Not only.
A great resume goes beyond great content - it has a great resume layout.
A great resume has all the right things in all the right places and is easy for hiring managers to read.
A great resume layout anticipates what hiring managers want, gives it to them, and impresses them.
Plus, professional resume templates can make you seem organized and detail-oriented.
Just take a look at the example below. Both have the same content, but which will attract more attention?
Here's a sample accounting student resume made with our online resume builder.
Want to save time and have your resume ready in 5 minutes? Try our resume builder. It's fast and easy to use. Plus, you'll get tips and right vs. wrong examples while writing your resume. See +20 resume templates and create your resume here.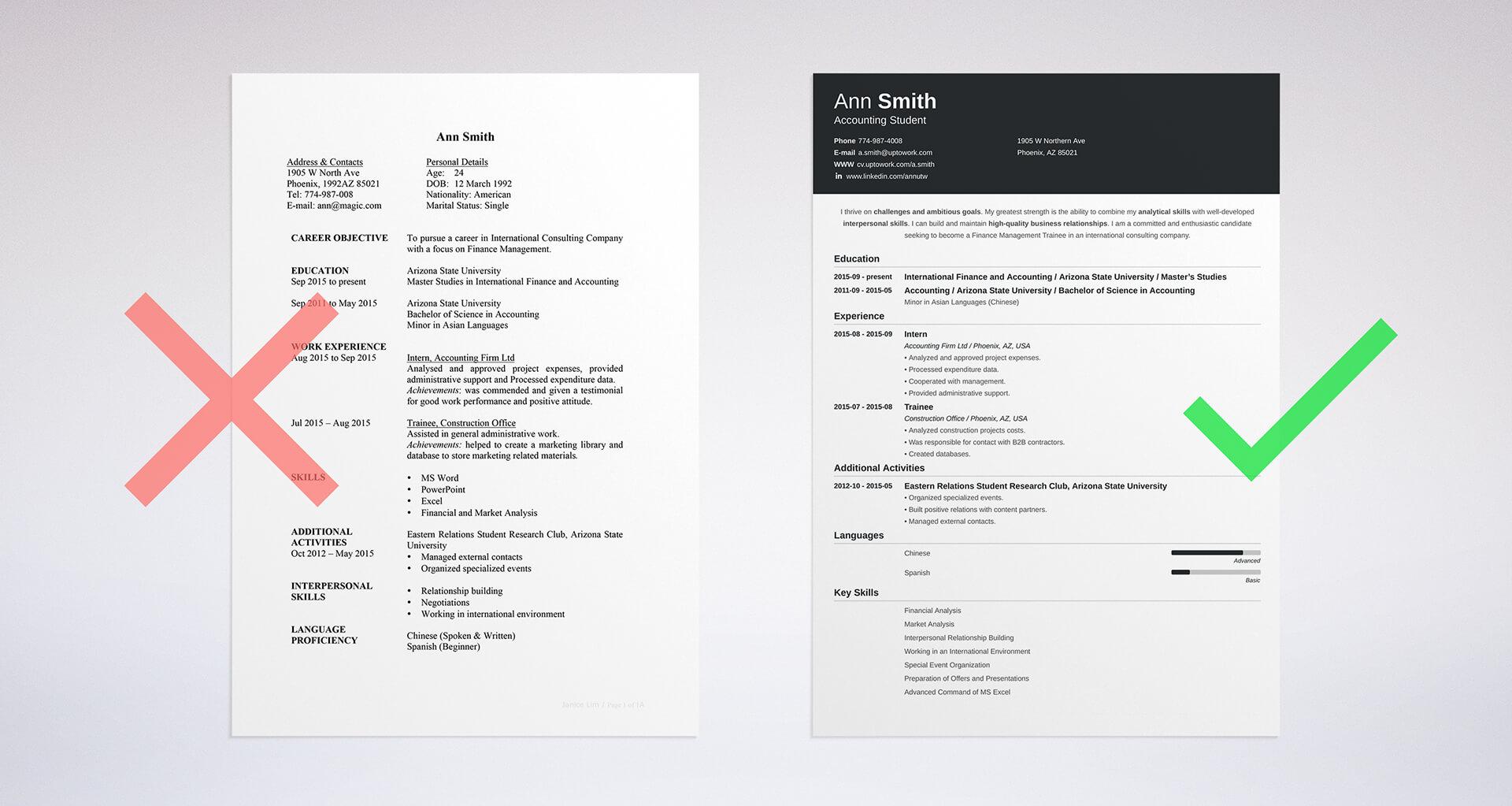 Accounting Student Resume Example - See more templates and create your resume here.
So, that's why this simple resume layout guide will tell you:
Which professional resume format is best for a top resume layout.
Top resume layout tips on where things should go on the best resume templates.
How to adjust margins, font, and spacing to make a traditional resume layout better.
1
One Page or Two - What's the Best Length for a Resume Layout?
Some experts will tell you one page, and some will tell you two. So, which do you choose for a perfect resume layout?
Here's a rule of thumb - use a one-page resume layout if you're inexperienced or writing a student resume.
You can get away with two pages if you're a seasoned professional with lots of experience.
The key is gauging your audience. Will the hiring manager want to read a two-page resume?
Nine times out of ten she won't—so don't force the second page if you can only fill up half of it. Try to cut your resume to one page by deleting additional sections.
Want to make sure your resume will hook every recruiter and land you that interview? Need a surefire way to avoid fatal resume mistakes? Get our free checklist: 46 Things You Need To Do Before You Send Your Resume
Need more advice on how to make a resume layout for one page? Read to find out:
2
Which Resume Format Makes for the Best Resume Layout Examples?
There are three standard resume formats for you to choose.
The reverse-chronological resume format is the most common. It's the best for creating a professional resume layout that's easy for hiring managers to scan.
The two main sections in a reverse-chronological resume layout are education and experience. Either can come first. You will list both your jobs and degrees in reverse-chronological order - with your most recent first.
Here's an example of a reverse-chronological resume builder template from our resume builder: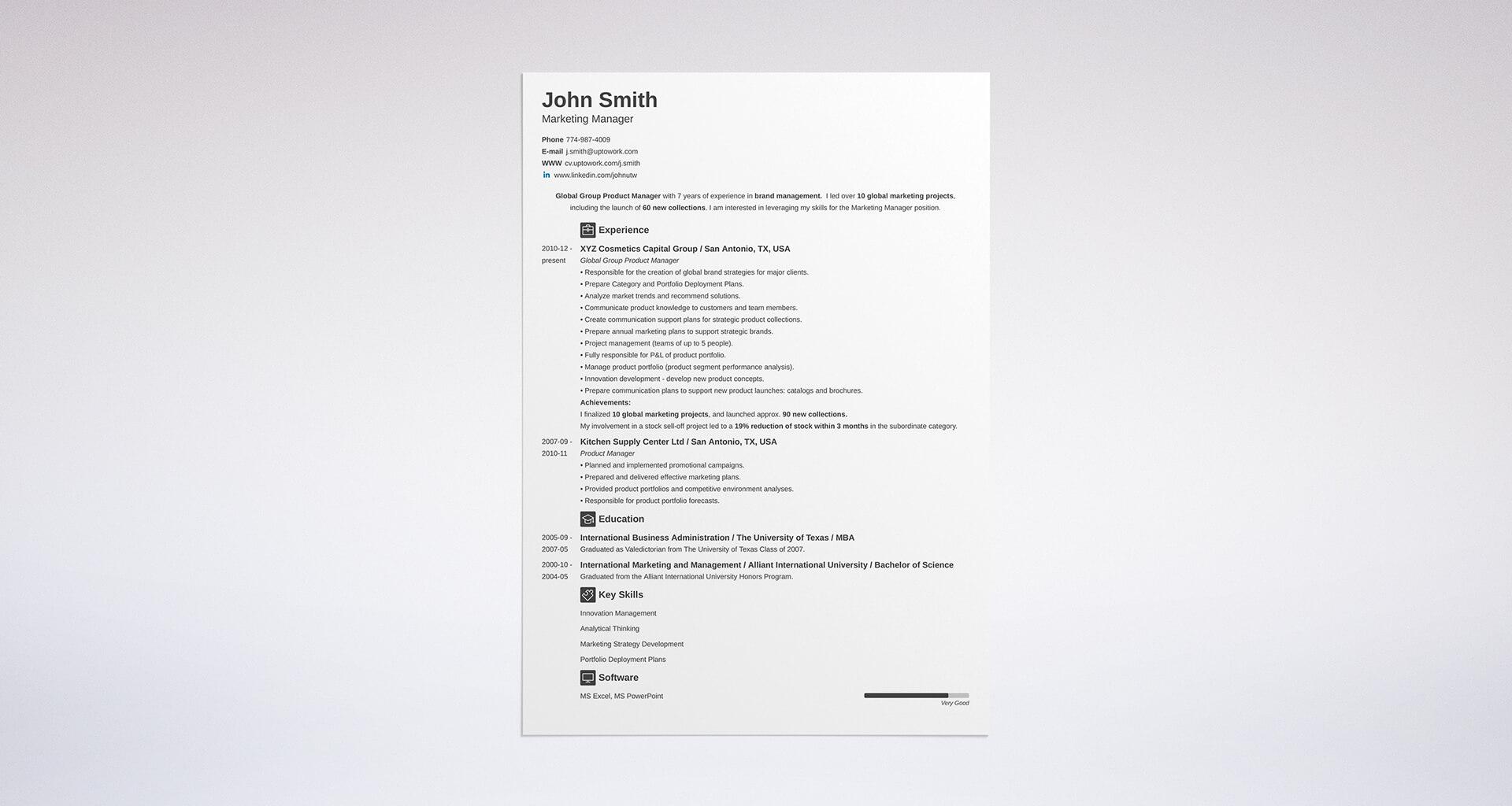 The functional resume format is best left alone. You can use this basic resume format to list skills and achievements in a random fashion.
And you can do that without listing dates of employment or jobs you held.
In the end, there's no social proof that you can use your skills in a workplace.
The combination format allows you to list work history in reverse-chronological order.But you also get to place emphasis on your skills.
You use your best skills that are relevant to the job as subheadings.
For example:
Marketing Manager 2015 - Present
Good Times Company, Happyville, NY
Communication Skills
Write and edit external marketing materials, including press releases.
Teamwork Skills
Manage a marketing team of +5 employees and coordinate with +4 graphic designers.
Pro Tip: Most hiring managers will spend only a few seconds scanning your resume. That's why the best resume formats put your most important information first.
Unsure which formats will support creative resume layout ideas? Want to know the advantages of each format? Read our guide: "3 Resume Formats: How to Choose the Best One [Examples]"
3
What goes where? Don't Just Follow a Basic Resume Template Layout
A resume comprises four main sections:
Contact information comes first. Don't forget to add pertinent information such as degrees, titles, or license numbers. Make it prominent and easy to find by placing it at the top of the resume.
Next, place your most relevant skills and achievements in the top third of your resume. The top third is where the hiring manager will focus. So, perfect resume layouts make the most of that prime real estate.
You can achieve this by:
Adding a resume summary or resume objective. Each is a brief 2-3 line introduction to yourself as a professional. Take a look at how adding an introduction attracts attention: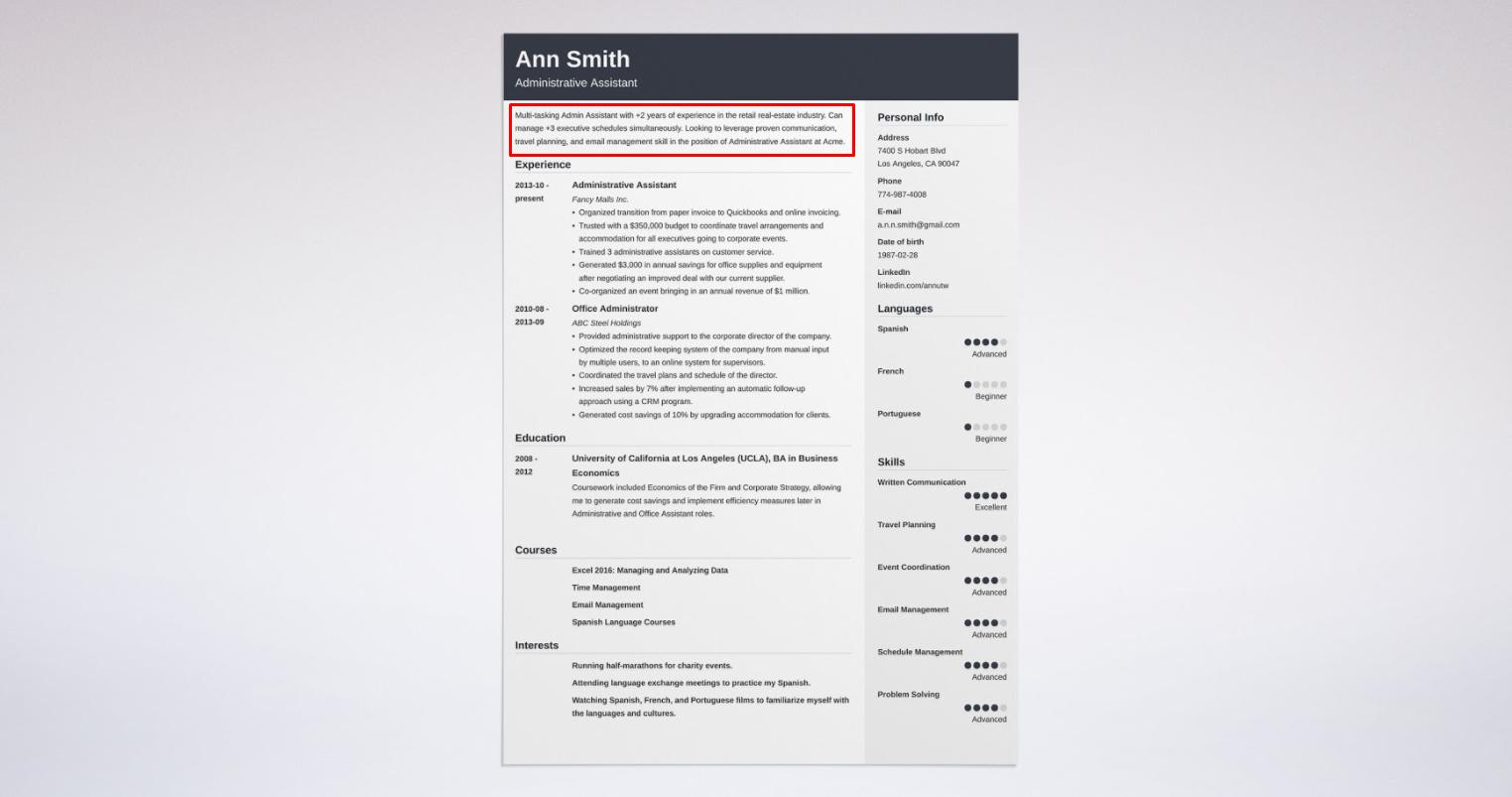 Next, comes either your education or experience section. Which you choose will depend on which is the most relevant and impressive. You should list the content under both sections in reverse-chronological order.
Let's say you have years of experience. Your work history should come first. Start with your most recent job. List your professional job title, the name of the company, the location, and the dates of your employment.
right
Taxidermist 2010 - Present
Stuffed Animals, Pelican, Louisiana
Preserve small and large mammals for private and public clients
wrong
Taxidermist
Stuffed Animals Inc.
Responsible for stuffing animals.
Use around six bullet points under each job to list responsibilities. Even better, list some quantifiable achievements as well. Did you decrease costs or increase revenue? Add that!
Numbers draw the eye of the recruiter.
As for your day-to-day responsibilities, pick those most relevant to the job.
Let's say you're a fresh graduate with a student resume. Best to put your education first and your part-time summer jobs second.
Finally, you'll want to add a skills section.
You won't always find a section for skills on modern resume templates online. But grouping your skills in a separate section is important.
A skills section helps the hiring manager see right now that you're qualified to do the job. All you have to do is list the skills you have that also show up in the job offer.
It's best to put your skills section in a prominent place in a modern resume layout. Here are some suggestions:
Under the introduction for a first impression.
At the end for a lasting impression.
In a side column for easy reading.
Here's an example from our resume builder showing a creative resume template PDF that uses a side column: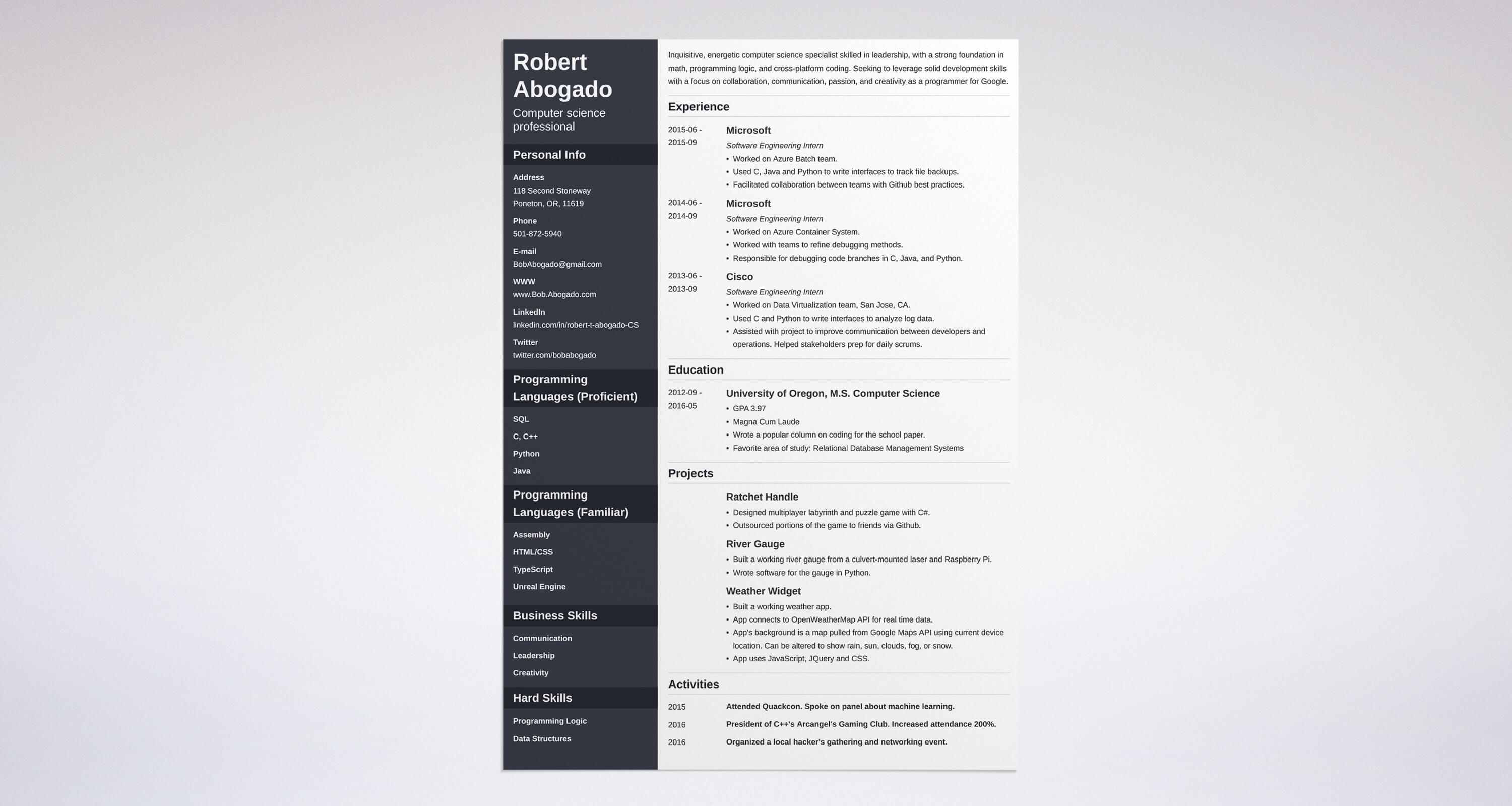 Also, consider adding other sections. Depending on your profession, additional sections will vary. You may not need to add any at all.
Here are some examples of additional sections to add to an interesting resume layout template:
Hobbies and Interests
Certifications and Licenses
Industry Awards
Publications
Conferences
Foreign Languages
Pro Tip: To add extra sections, make sure you have more than one item to list. Otherwise, try to fit those items into other places on your resume so as not to waste space.
Still not sure what to put on your resume? Not sure which sections will benefit a simple resume layout? Read our guide: "What to Put on a Resume to Make It Perfect [Tips & Examples]"
4
Margins, Font, and Spacing - Oh My! Make Your Unique Resume Layout Attractive
Margins for a Standard Resume Layout
Let's say you're creating a Microsoft Word resume layout from scratch. Your margins should be one inch.
Let's say you're using a resume builder or you downloaded a resume template online, a sample resume layout is often in place. Just add your information.
The effect you want to achieve is a balance between white space and text. Use bullet points to break up blocks of text and add more white space to your new resume layout.
Line Spacing for a Basic Resume Layout
Single line spacing is best. Add double line spacing after subheadings.
Font Choice for a Good Resume Layout
Your font should be clean and easy to read - no Comic Sans. The best choice for an easy resume layout is to use a 10-12 point Sans Serif or Serif font.
For ideal readability, keep the font size consistent throughout your resume. The exception is increasing the font size for your name.
If you want to emphasize certain elements of your cool resume layout do so by using bold, caps, or italics. That includes such information as your name or subheadings.
Here's some more advice on how to adjust your resume layout design to save space:
right
Write your contact information on a single line instead of giving each bit of information its line.
wrong
Decrease the font size to pack information into your free resume layout like sardines in a can.
Remember it's about quality, not quantity.
Pro Tip: Times New Roman is the most common resume font. And that's the reason why you should avoid it. You don't want your resume to look like a simple resume template download, do you?
Want more information about which fonts work best for resumes? It's not as silly as you may think. Read our guide: "What is the Best Font for a Resume?"
Key Takeaway
Let's say you're the best candidate and have all the right skills. It doesn't matter. You won't get far without spending some time on a professional resume layout design.
Some of you may find it easier to use an online resume template or a resume builder. But for the rest of you, all you have to do is spend a few extra minutes considering how to lay out a resume.
Choose the right line spacing, fonts, and margins.
It's about quality, not quantity!
That's the difference between a good resume and a great one. And that difference is what will land you your dream job.