You're looking for infographic resume templates. Well, we've got 'em! But first:
You're about to apply at a place where you can let your creativity soar - perhaps a media marketing company or a graphic design studio. Your imaginative eye and clever originality fit the open position perfectly.
Now you want to make an infographic resume to prove that.
Well, not to worry! Together with my colleague, Luiza, with her artistic vision, we set out across the internet in search of the best resume templates of infographic design so you don't have to.
This infographic resume guide will show you:
Personal infographic resume examples better than 9 out of 10 other resumes.
How to create an infographic resume that will land you more interviews.
Editable infographic resume templates that you can download and use right away.
Simple infographic resume ideas so that you can make it right.
Want to save time and have your resume ready in 5 minutes? Try our resume builder. It's fast and easy to use. Plus, you'll get tips and right vs. wrong examples while writing your resume. See 20+ resume templates and create your resume here.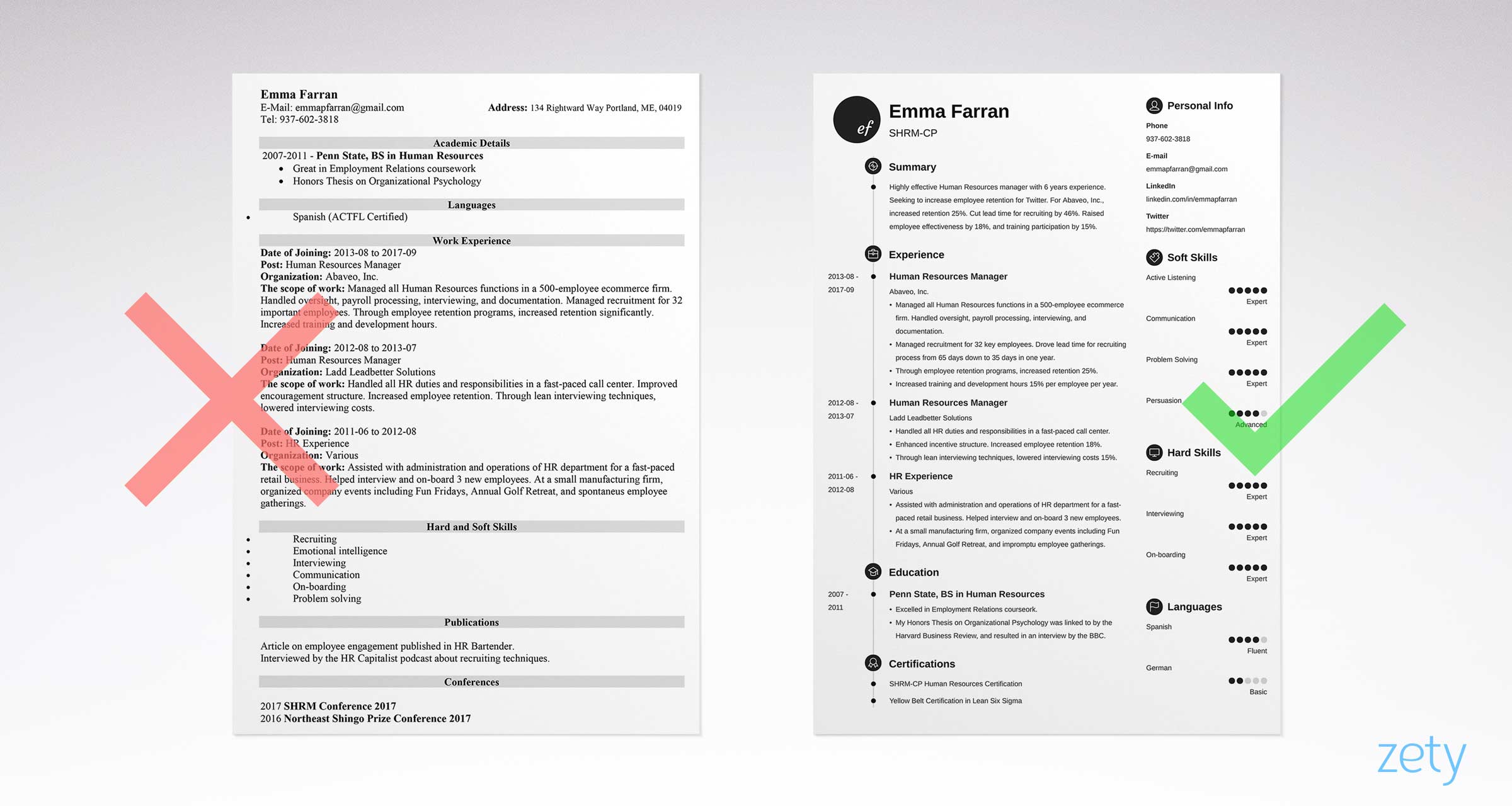 Example of a One Page Resume - See 20+ resume templates and create your resume here.
One of our users, Nikos, had this to say:
[I used] a nice template I found on Zety. My resume is now one page long, not three. With the same stuff.
Note: we have designed all our resume templates to be ATS-scannable.
13 of the Best Infographic Resume Templates
What is an infographic resume?
Infographic resume

An infographic resume is just a resume with more illustrations and fewer words. The shortest infographic resume definition is information + graphics = infographic.
If you want to know how to make an infographic resume for yourself, let's look at some of the great infographic resumes already out there. With these, you'll get some great ideas as to what to add to your own resume infographic, as well as a variety of downloadable infographic resume templates that you can download and use right away.
1
Jansen's Temptation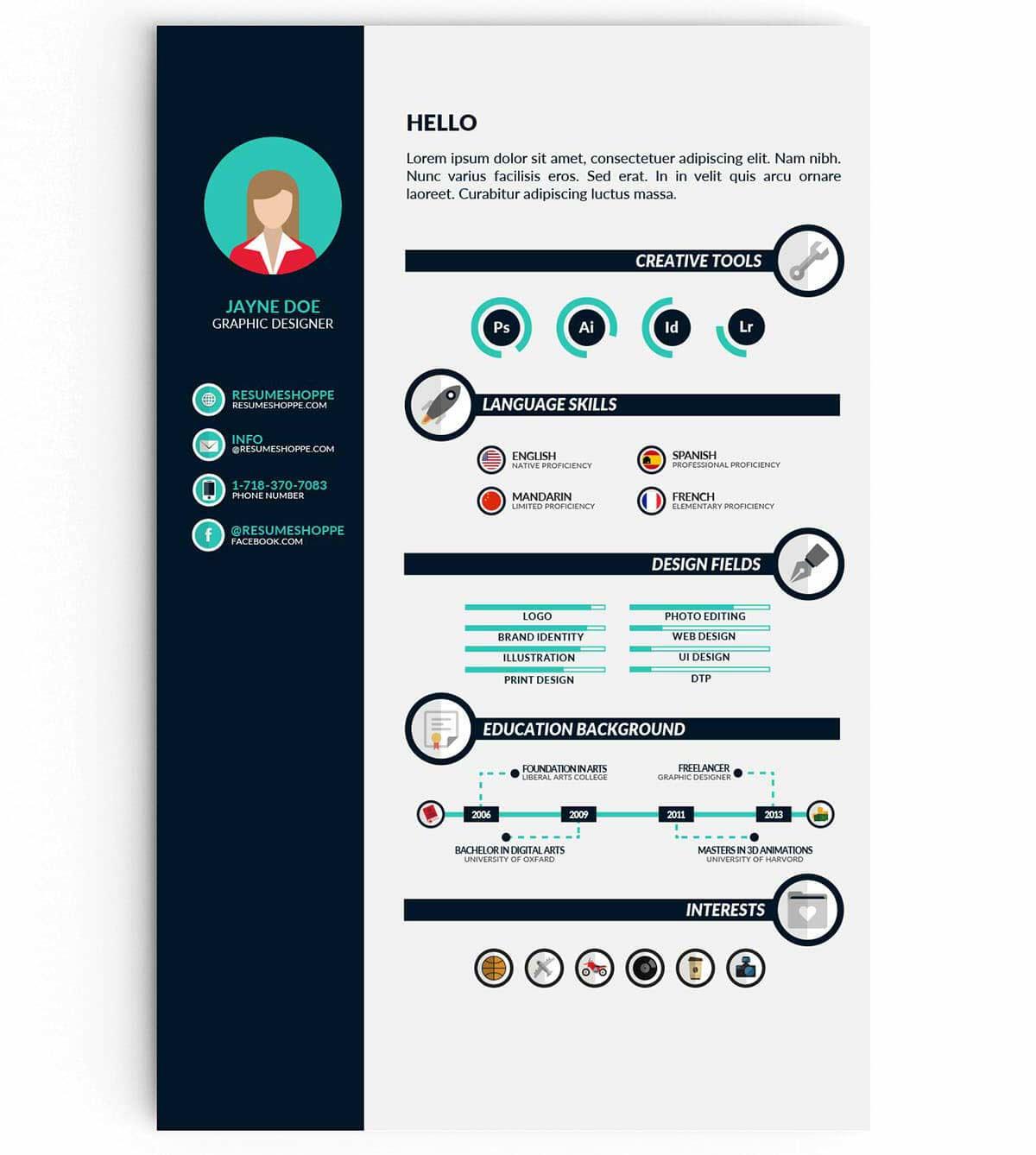 This "Free Resume for Designers" is just that - a free infographic resume template created by a superb designer (Paul Jansen) for other designers to use. This one has icons on top of icons, with large graphics highlighting the headings of each different section, while smaller ones identify your interests, personal info, and languages spoken. You are sure to have the perfect color and the best font for resumes with this template. It's a colorful yet professional reusme template.
Here's the link to this free infographic resume template on Behance, available in .ai format for Adobe Illustrator. Check out our curated list of more free templates to download: Free Resume Templates: 17 Downloadable Resume Templates to Use
2
Smart Art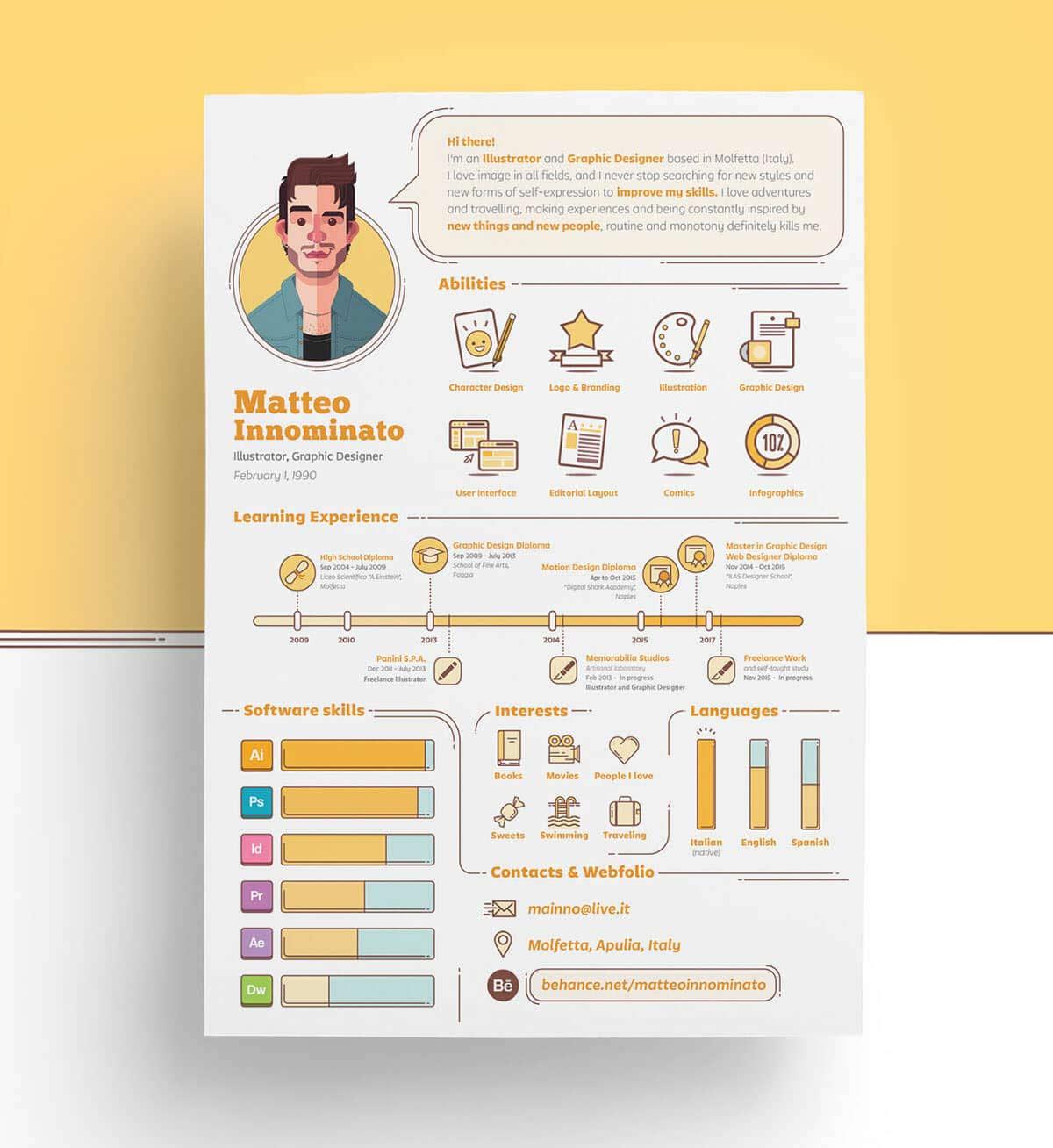 "Personal Branding Design" by Matteo Innominato on Behance is fun and quirky - a cool resume template if ever there was one. The hand-drawn graphics and icons are unique and remove the need to write excessive amounts of text. Its cartoonish design starts with an avatar on top and a voice bubble for your important heading statement, just like in your favorite comics.
Here's the link to this template. This template for resumes is one of the best in part because it's quite modern. Check out other contemporary ones: Modern Resume Templates & 18 Examples [A Complete Guide]
3
Shade of the Art
"Infographic Resume" by White Graphic is a CV design which trades modern resume color schemes for shades of gray. Using the two-column format, the right side keeps it simple with just contact deets, skills, and creative social media bars, while the left side shows traditional long-form experience and your summary or objective. Modern resume icons round it off by subtly informing the beginning of each section.
Check out this full modern resume design on Etsy with this link.
Infographic resumes: good or bad?
Sometimes, a traditional resume isn't enough to show your creativity. You want to prove you're great with graphics and design, and infographic resumes, when done right, look great. For most job seekers, however, using them is a bad choice. Most resumes are scanned by ATSs and these robots don't understand graphics. Be warned: submitting a graphics-heavy resume might have the same impact as submitting a blank document.
4
Sophie Starks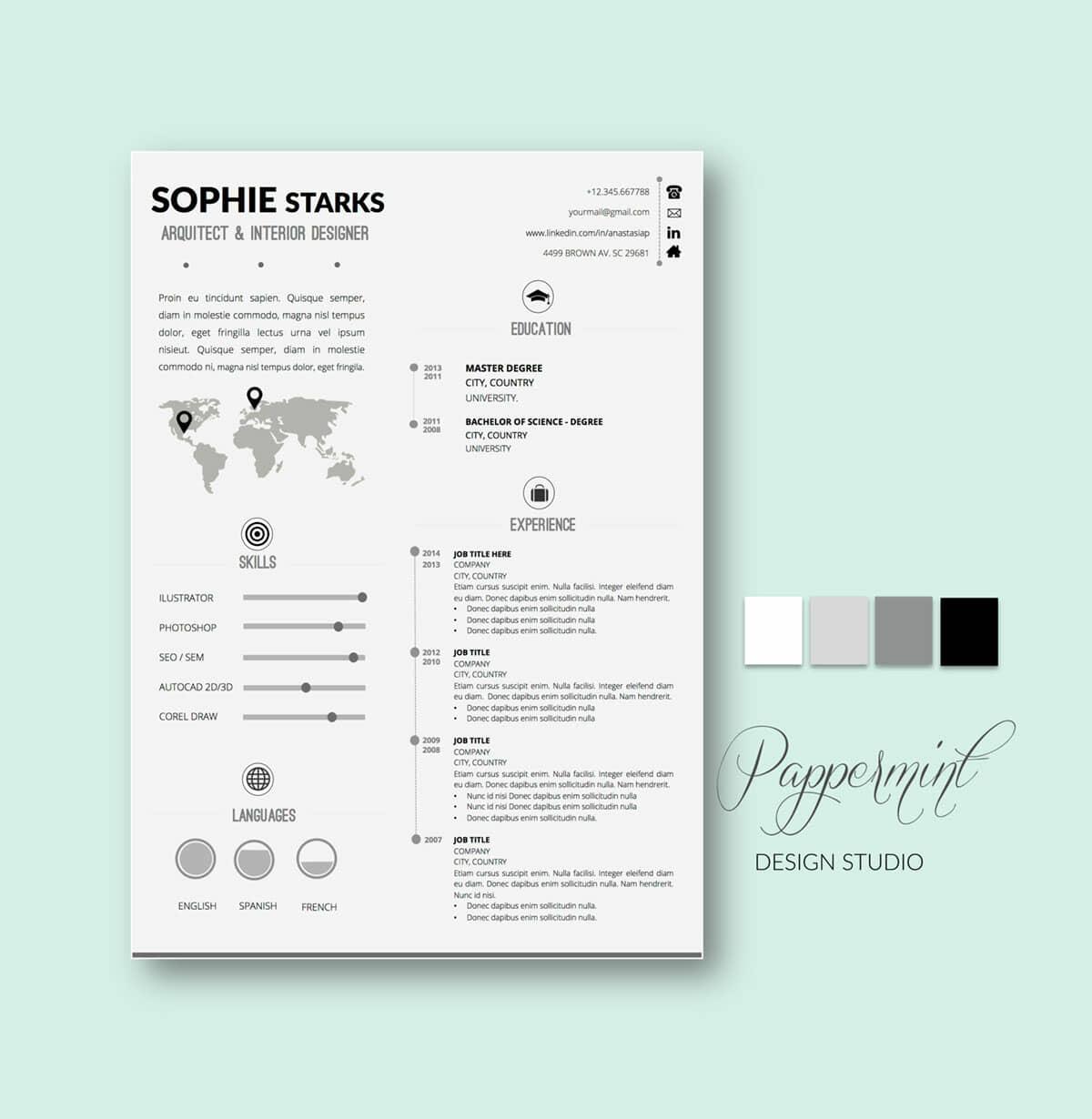 The "Sophie Starks" infographic timeline template by Pappermint Design Studio has all the major resume sections, with each one bringing something unique to the table. Check out the map with location markers in the heading statement, the slider bar skill section, the filled-in circles for your language proficiency, and the simple timeline for your experience and education areas.
Here's the link to this infographic resume with timeline template on Etsy, which includes a cover letter template (see our cover letter tips) that matches. Files in this instantly-available download are available for Microsoft Powerpoint (.ppt, .pptx). You'll be certain to ace the interview with this one!
BTW, you can get more cover letter templates here.
As you can see, simple doesn't have to mean uninspired and boring. Check out our curated list of simple resume templates: Simple Resume Templates: 15 of the Easiest Resume Examples to Use
5
A Recipe for Success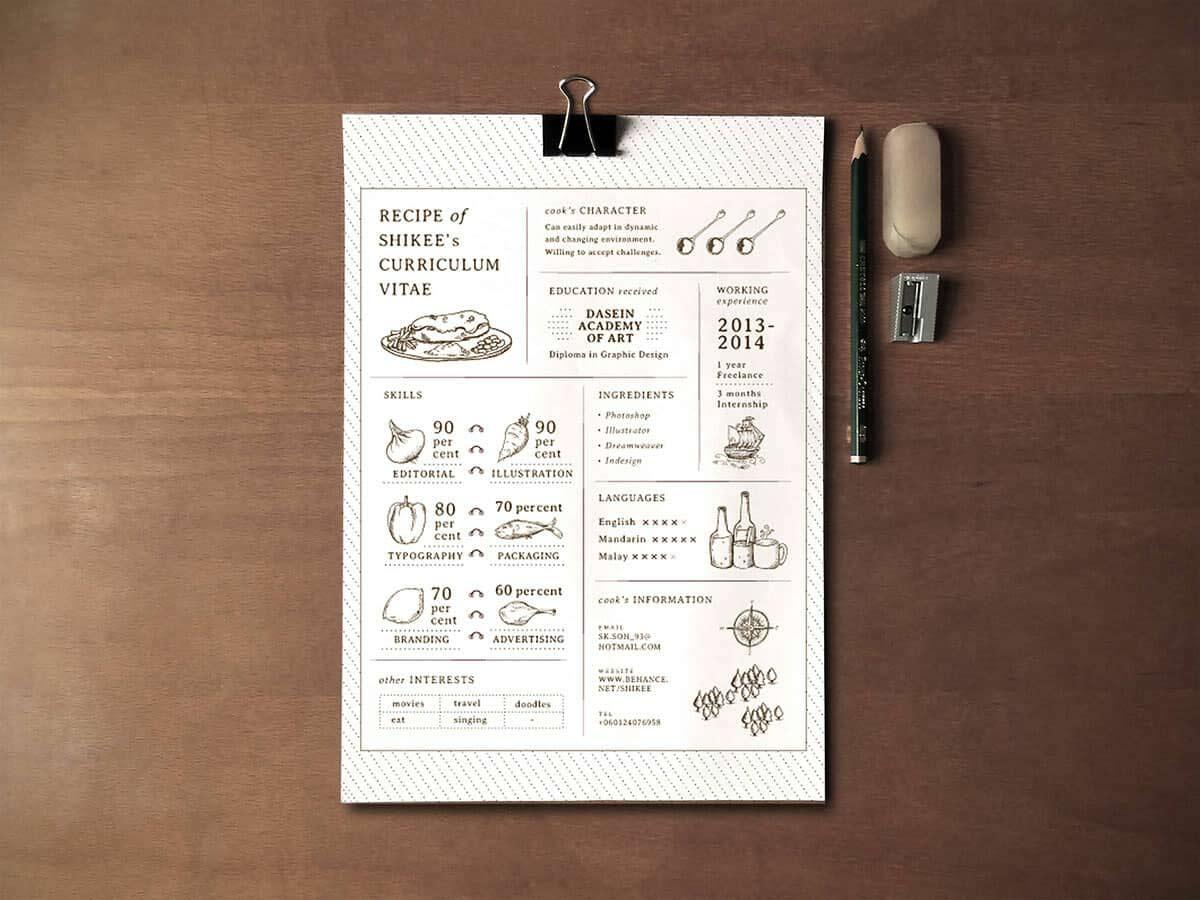 Shikee Soh's simply-named "Curriculum Vitae" is so much more than that - it's one of the most visually-appealing resumes out there, and it comes in the resemblance of a standard food recipe. List your skills as ingredients and insert food graphics in place of other icons you might have used to create the perfect chef resume, fast food resume, barista resume, or waiter/waitress resume.
Here's the link to this infographic resume template on Behance. Being creative on a resume like this one is tough, but our guide and examples make it easy: Creative Resume Templates (15+ Examples & Complete Guide]
6
Self Identity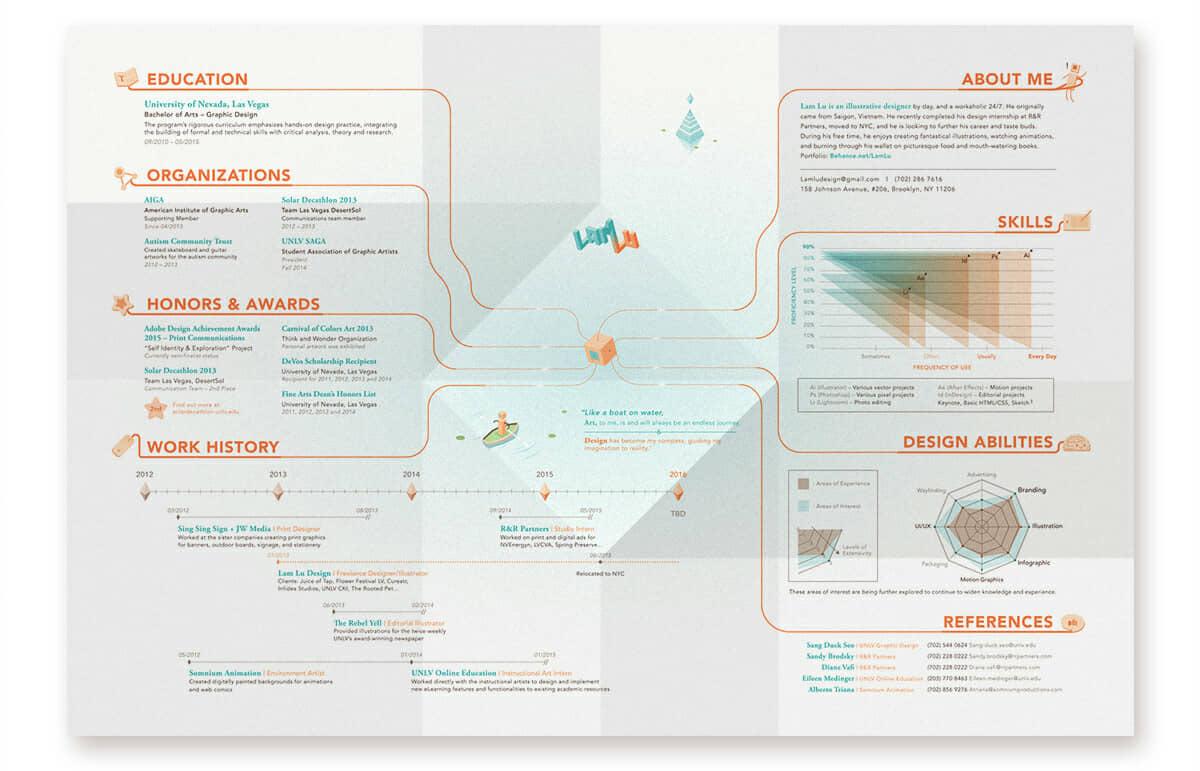 Lam Lu's "Self Identity" project on Behance is one of the best personal infographics we've seen. A pleasant, blue-and-orange color scheme, dozens of icons and charts, and an area of convergence in the center which ties everything together - what more can you ask for? It'd make a great visual resume to hand in to the hiring manager, or a great placemat to read at your next dinner party.
Here's the link to this infographic resume template. For more of the best resume templates we've found around the web, see: Best Resume Templates: 15 Examples to Download & Use Right Away
A great cover letter that matches your resume template will give you an advantage over other candidates. You can write your cover letter in our resume builder here. Here's what it may look like: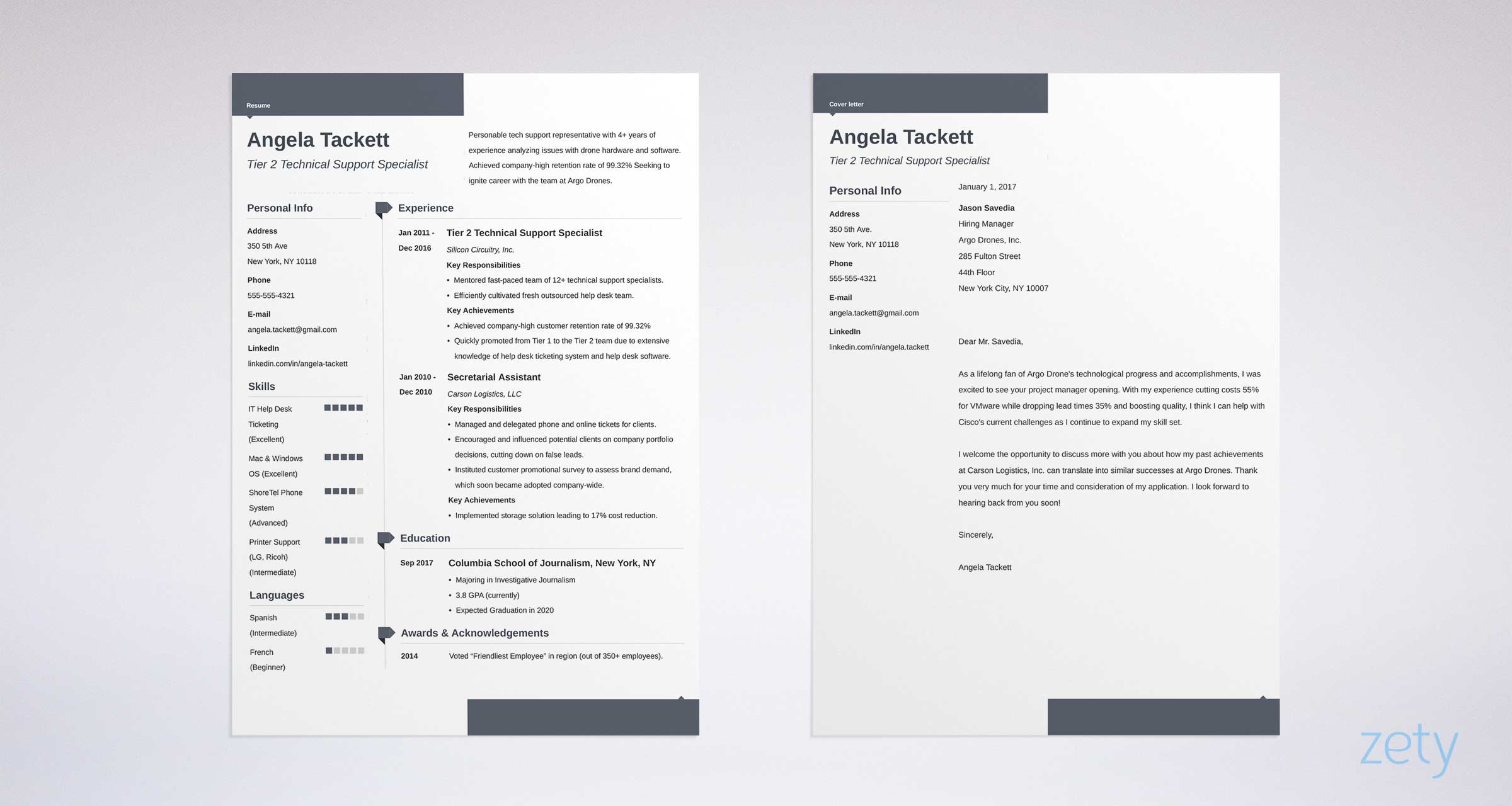 See more templates and create your resume and cover letter here.
7
A Rad Resume by Radkova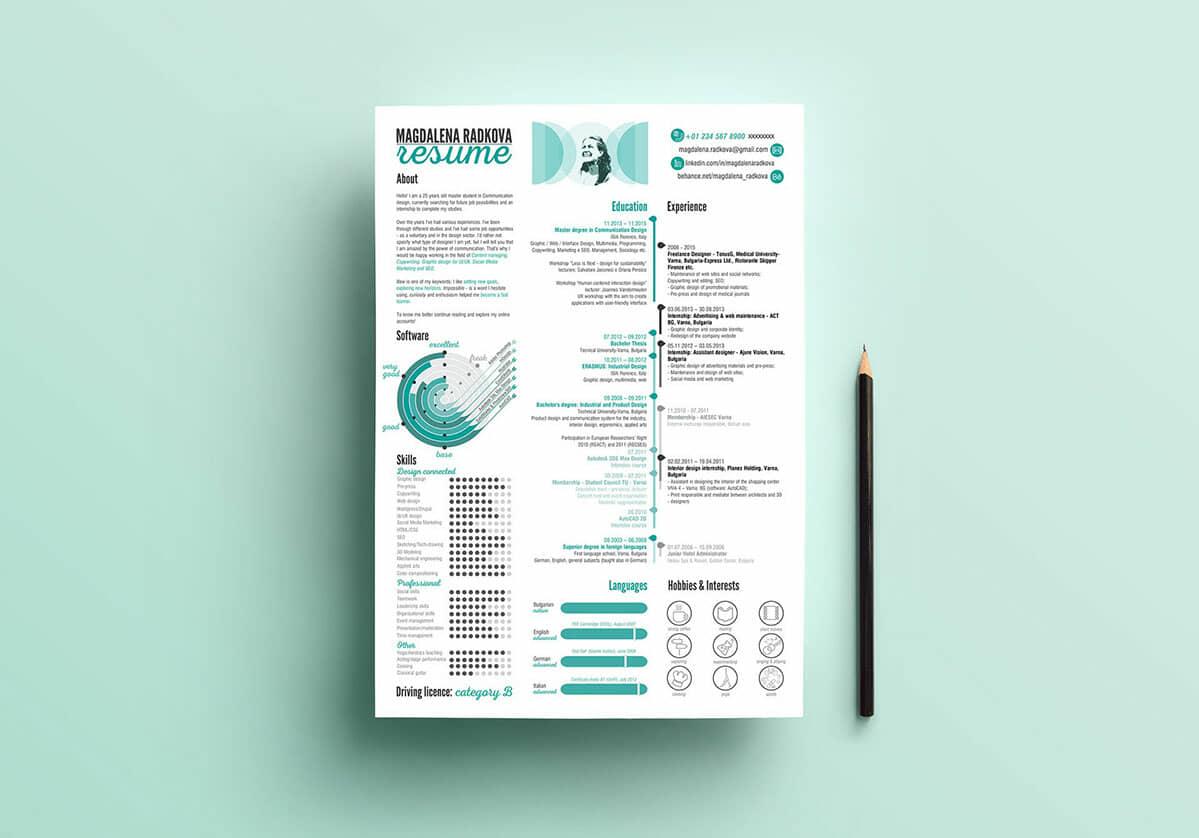 Magdalena Radkova's "My Creative CV/Resume" on Behance is light on the graphics and heavy on the info. She uses a few images to tastefully represent several sections, such as her software proficiency and her hobbies and interests. The rest of her graphical resume uses text to allow room to tell her story.
Here's the link to this great resume infographic template on Behance, available as an editable file for Adobe Illustrator and Photoshop. Check out other amazing resume layouts: Great Resume Templates (15 Examples to Download & Use Right Now)
8
Mariquita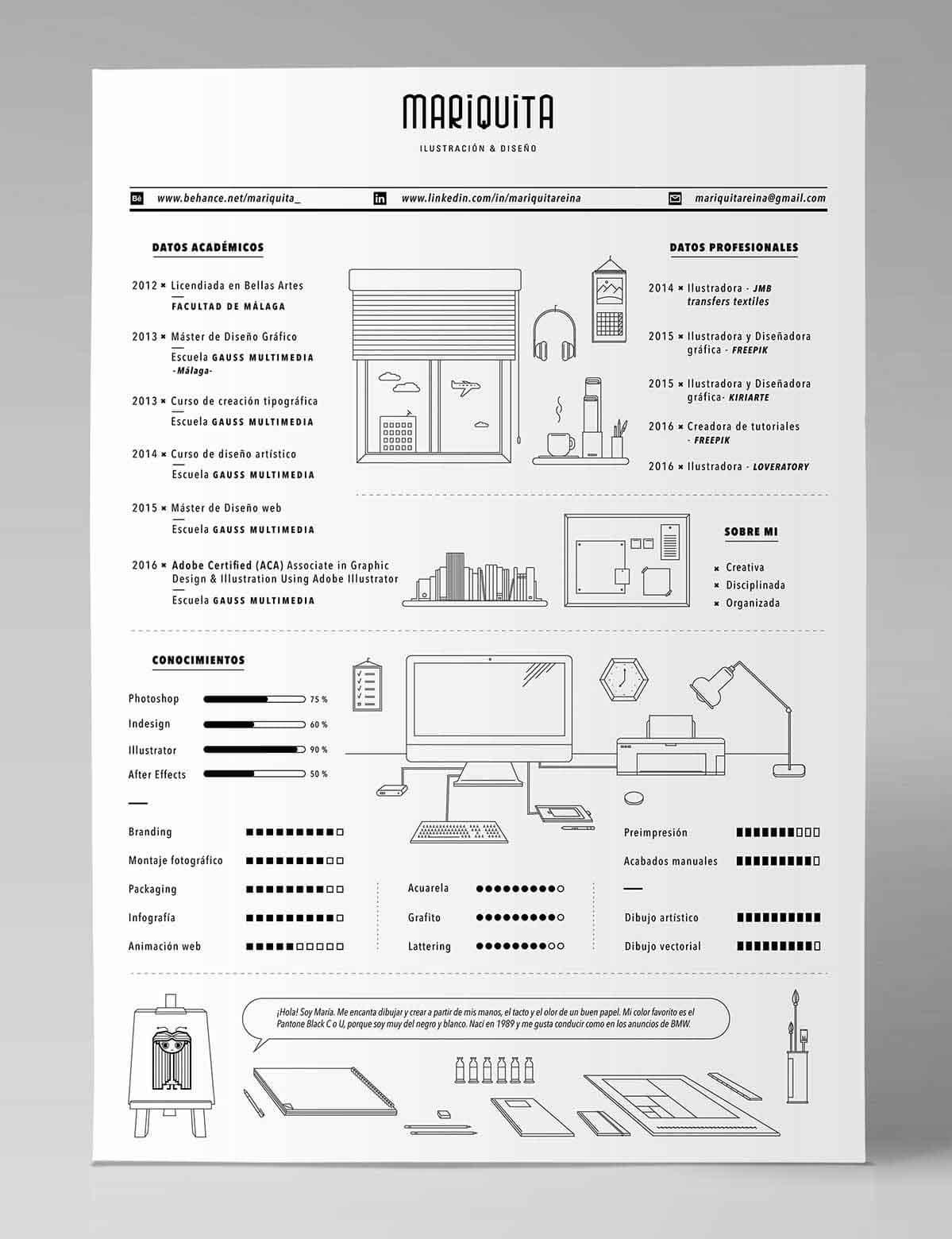 María Vázquez Reina brings us her "CV Mariquita," and what a looker it is! It's black and white of a stenciled nature, but the rest of this resume is all modern. Hand-drawn images break up the various sections and subconsciously alert the recruiter exactly what your interests and skills are, while resume graphs and bar charts detail just how great you really are.
Here's the link to this resume with graphics template, a perfect infographic resume for engineers and graphic designers.
9
Sketch Art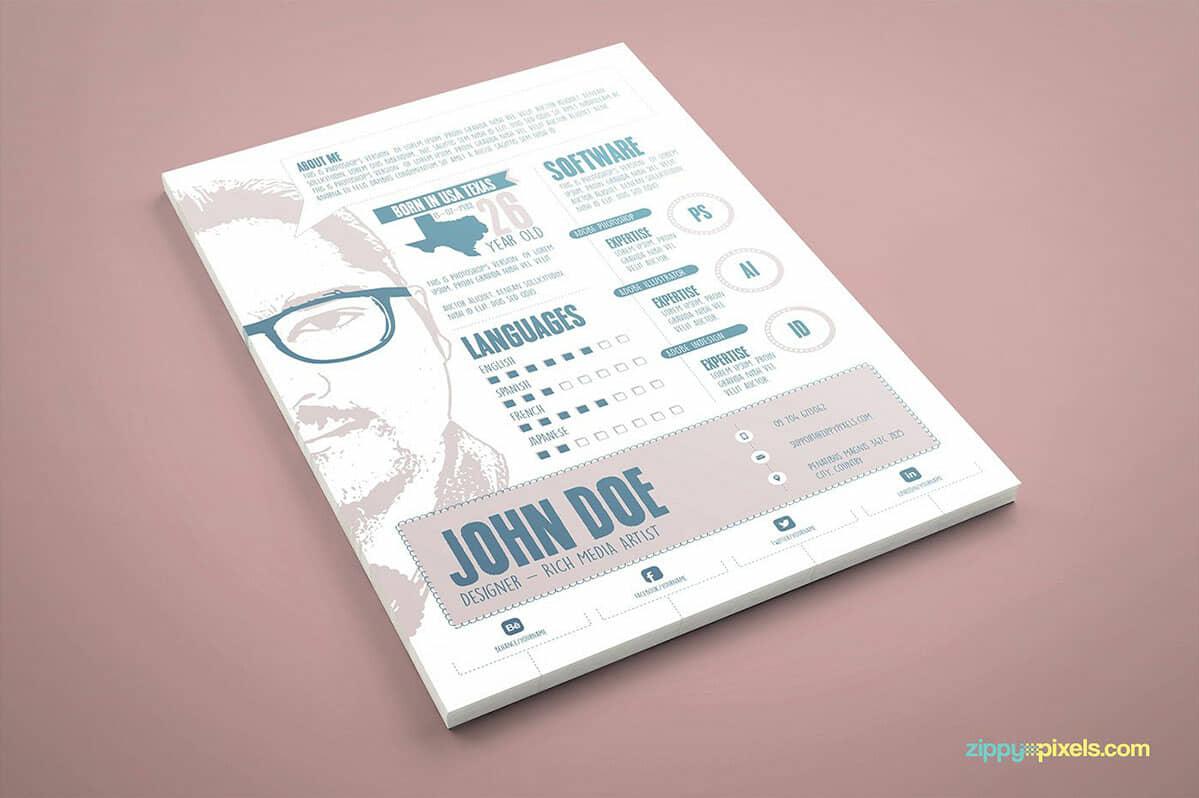 This is the "Sketch Art Style Designer Resume Template with Cover Letter (PSD & AI)" by Zippy Pixels - boy, what a name, huh? But also, what a design! The creator of this resume template with picture succeeds in creating a template that leaves you breathless - whether you admire its design or try to say its name three times fast.
The two colors here play nicely with each other, while the actual graphics stay pretty subdued in prominence. The huge name at the bottom and the half-profile photo at the side is a novel way to catch the recruiter's eye.
Here's the link to this editable resume template on Creative Market.
10
Clementine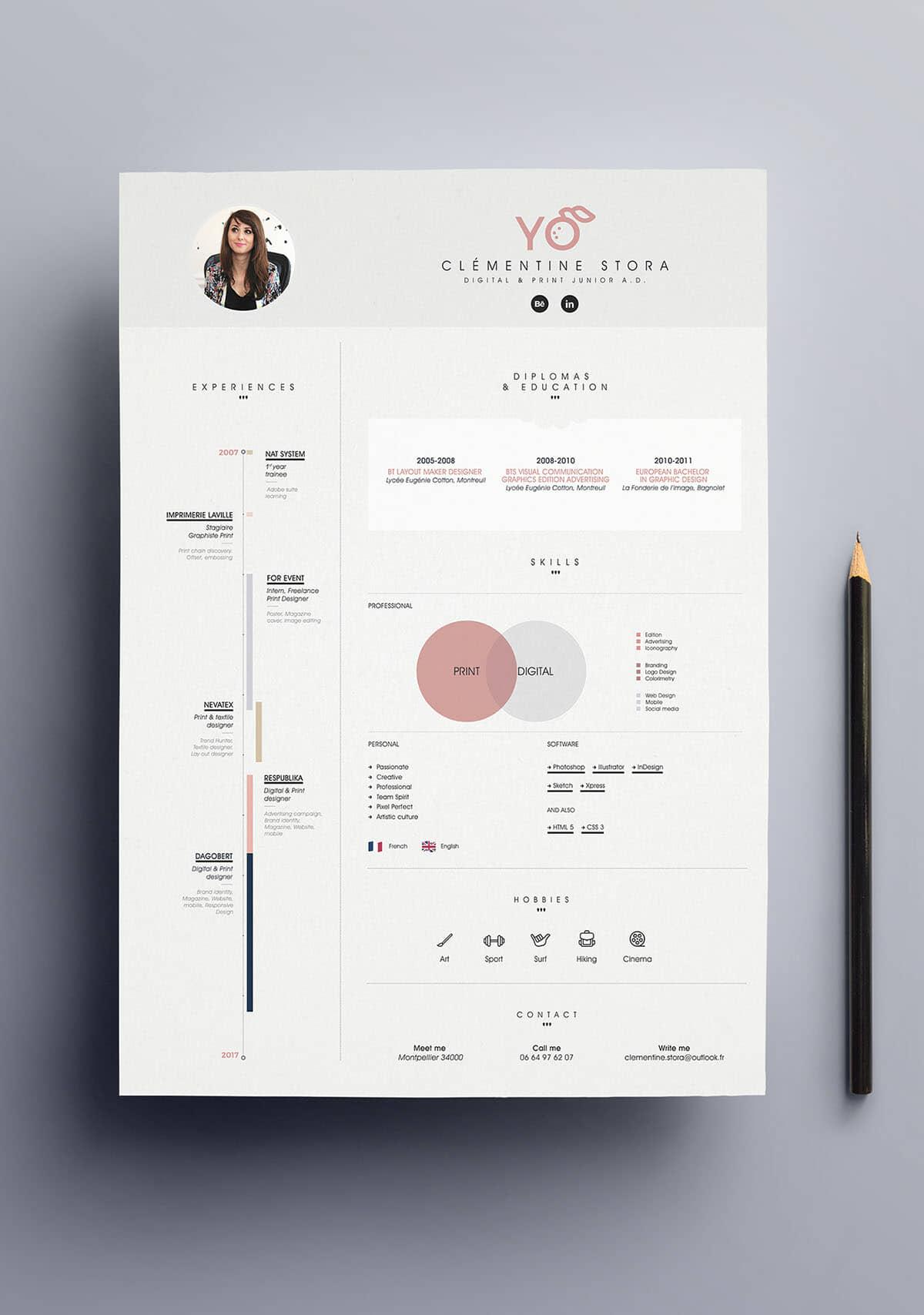 Clémentine Stora's simply-named "My Resume" uses shades of colors from Sephora to give her layout fashionable French flair. Tons of (off-)white space helps direct the hiring manager's eyes and attention to the sections of the document that are most important to them.
Here's the link to this beautifully-basic infographic resume template on Behance. Remember, basic templates for resumes don't have to sacrifice quality. Check out more of them: Basic Resume Templates (15+ Examples to Download & Use Now)
11
Personal Promo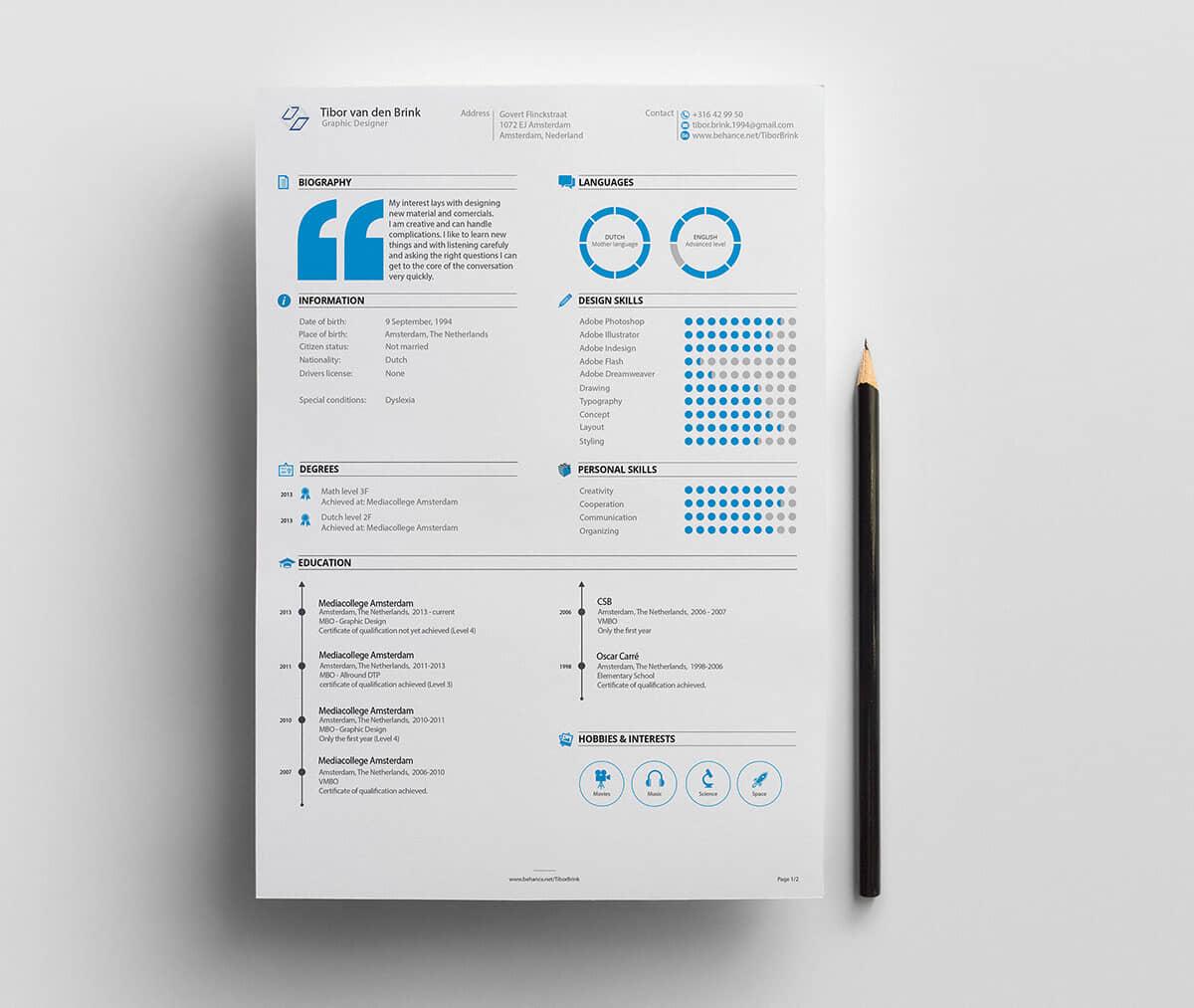 Tibor van den Brink designed his "Personal Resume & Promotion" with the best colors for a resume - Zety's own livery! In all seriousness, though, this template's got what it takes to grab the recruiter's attention, from the timeline education section to the block quote-styled heading statement.
Here's the link to this infographic resume template on Behance, compatible with Adobe Illustrator.
12
Currículum Diseño Gráfico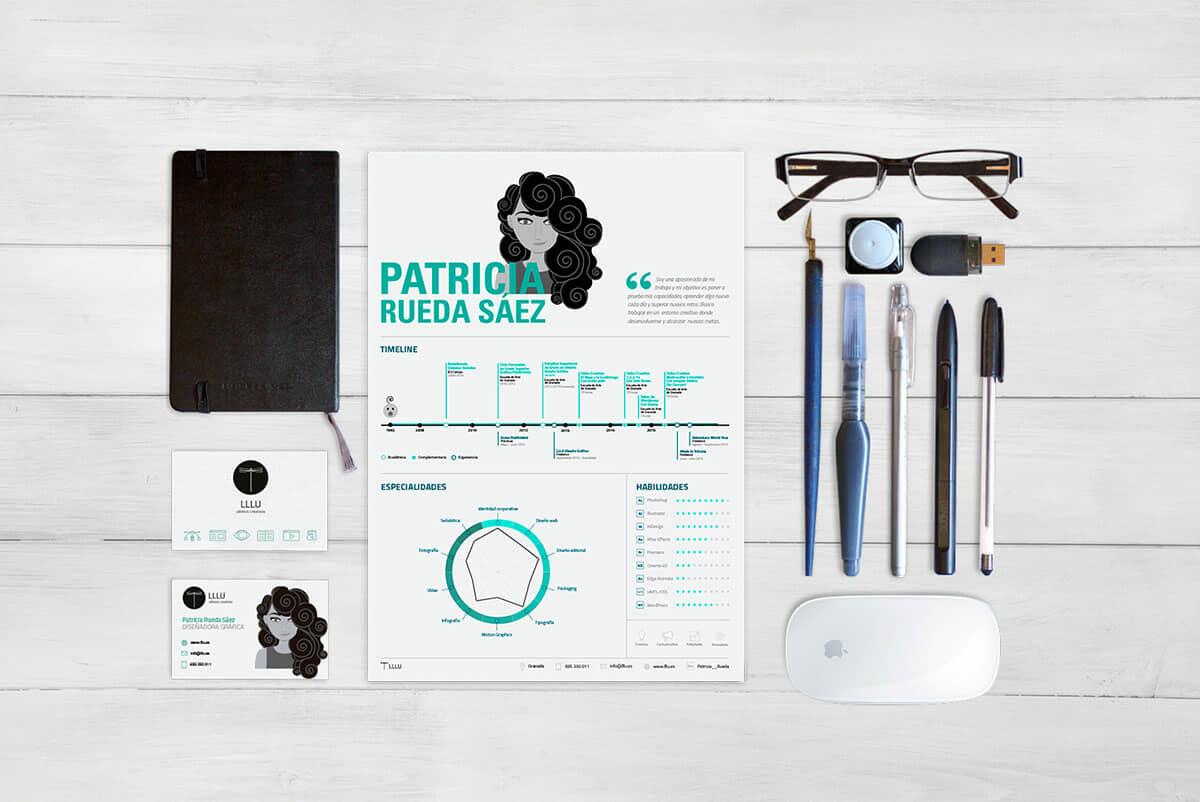 Patricia Rueda Sáez shows us here her take of the career infographic with her "Graphic Design Resume." The horizontal timeline is truly unique here, and her icon choices and simple color palette give it an understated, professional feel.
Here's the link to this infographic resume template on Behance.
13
The Hub & Spoke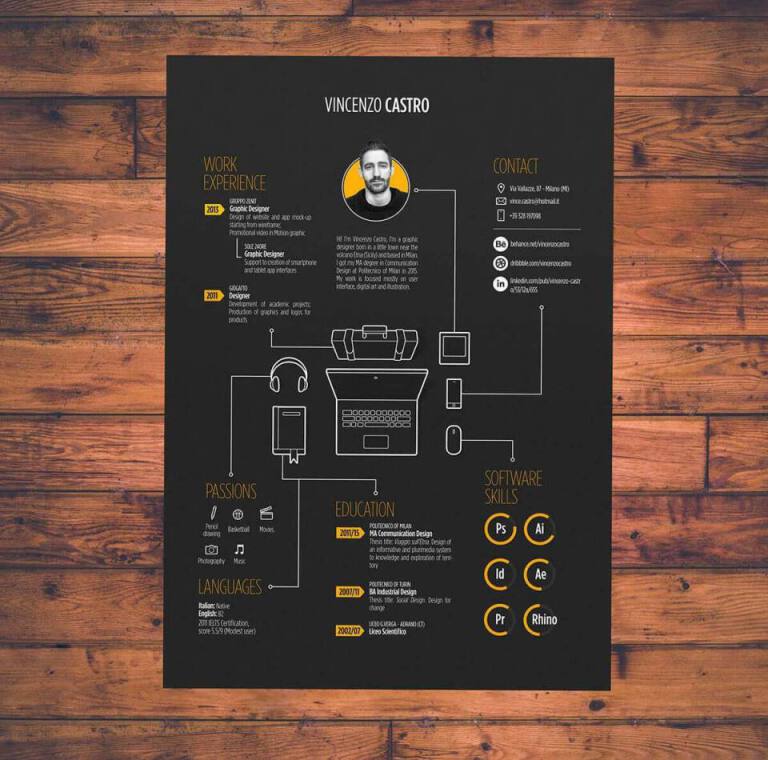 Vincenzo Castro might not have named this one too creatively, but he saved all that creativity for the actual product. The "Curriculum Vitae" still places your name and contact info at the top, but that's just about where the similarities with traditional resumes end.
Centered around a grouping of tech icons, lines lead the way all around to point out different aspects of your hireability. This one is available as a download for Adobe InDesign and Photoshop. Here's the link to this template on Behance.
That's quite a good resume, don't you think? Well, we've got a dozen other nice resumes to ooh and ahh over: Good Resume Templates (15 Examples to Download & Use Right Now)
Done with creating your infographic resume? Make sure you didn't miss anything that could cost you the job of your dreams! Get our handy free checklist: 46 Things You Need To Do Before You Send Your Resume
Key Takeaway
So, what'd you think? Just keep these points in mind:
Visual resume templates like these infographic examples sure aren't the boring ol' resumes of the past.
Essential elements such as your skills, language proficiency, and your contact information can be illustrated with these fillable resume templates.
Show rather than tell - like the best writers do.

Do you have any questions on creating an infographic resume? Not sure how to use infographic design to describe your skills or achievements? Give us a shout in the comments below and we will answer your question. Thanks for reading!