Our customers have been hired by:
You want your resume to be eye catching, so you want a unique infographic template.
But you want your resume to catch the recruiters eye for the right reasons.
Infographic resumes aren't for everyone.
This guide will show you:
15 of the best infographic resume template examples.
Who can benefit from creating an infographic resume and who shouldn't use one.
Infographic resume templates that you can download.
Simple infographic resume ideas and tips so you can do it right.
Want to save time and have your resume ready in 5 minutes? Try our resume builder. It's fast and easy to use. Plus, you'll get ready-made content to add with one click. See 20+ resume templates and create your resume here.
Sample resume made with our builder—See more resume examples here.
Looking for more resume templates? See:
Now—
15 of the Best Infographic Resume Templates
Who Should Use an Infographic Resume Template?
Got a career focused on graphics and design skills? Feel free to create something special. But for most people, infographic resume templates don't make a good job application resume.
That's because of the ATS software that most employers use to scan applications. To those pesky bots, they'll most likely be a blank file or complete gibberish. Plus, graphic elements might not leave you enough room to sell yourself to the employer.
Worst of all? For an infographic resume template to work, you most likely need to create one yourself. Unless you're a graphic designer with incredible skills—you'll struggle.
So keep this in mind and always have an ATS scannable copy of your resume. We've got excellent examples here: Best Resume Templates to Download. And here's a random selection for you to look at now:
Primo
Our infographic resume template mixes the classic resume structure with round icons and a timeline that adds to your career progression. Graphical representation of your skillset gives it a playful vibe that a person like you will appreciate.
Cascade
Plenty of information doesn't have to be cluttered, hence the Cascade template. Type away your accomplishments and worry not about enough room. Pick a color you wish to highlight your skills and enjoy this easy-to-follow two-column design.
Cubic
Came for an infographic resume template but stayed for a sleek Cubic? Great choice! You can spark curiosity and admiration, and it doesn't have to be by design. A personalized resume summary at the top of your resume can give you that.
Muse
Make your employment history your recruiter's muse. Let them draw inspiration for success from your two-column and clean template. The modern-shaped ribbons point at what's essential, so you better tailor your resume to the job ad.
Crisp
A resume template like Crisp should speak to creative souls like yourself—the perfect balance of graphic elements and negative space is exactly what you need to succeed.
So what do you say?
You still game for an infographic resume template? Then make sure to read the rest of the article carefully.
What Is an Infographic Resume?
An infographic resume is based on visual representations of your skills and experience, such as timelines, graphs, icons, or bar charts. Unlike a traditional resume style, which just uses text, an infographic resume uses graphic design elements.
Some useful programs in which you can create infographic resumes are Canva, Venngage, or Piktochart.
What to Put on an Infographic Resume?
It's tempting just to go with cat memes. I know I would. But you do need to follow some basic rules to make the best infographic resume template:
Make it easy to understand—classic resumes follow a specific format, contact details on top, followed by a summary or objective, then work experience, education, and other information. You don't have to copy this format, but you need to keep the sections clear and distinguishable.
Stay relevant—create a targeted resume for the job you're applying to. Tell a story that explains why you're the best choice for this job.
Color it in—when you make an infographic resume template, the color scheme can speak volumes—yellow for happiness, blue for dependability, and so on. Color theory is an important part of the design.
KISS—Keep it simple, stupid! This classic design principle applies to infographic resume templates, too. Make sure it's easy to read and doesn't have too much distracting detail.
Get inspired with the infographic resume templates below:
1. Pretty in Pink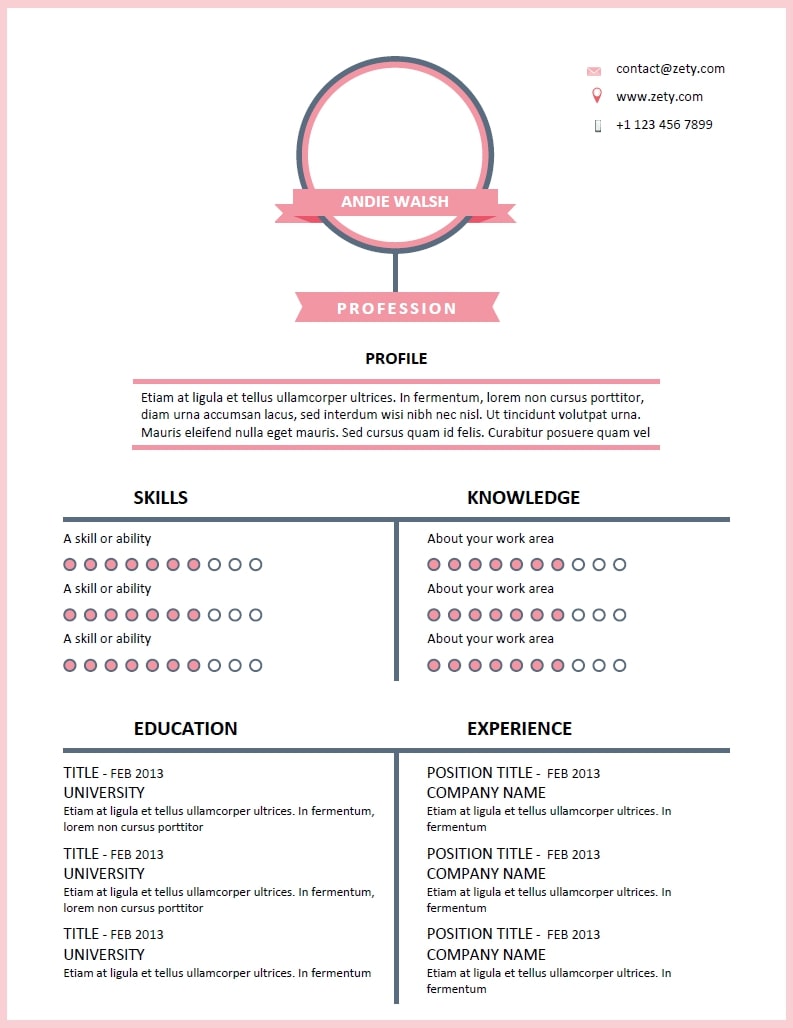 Let's start with a simple and modern free infographic resume template word file from Hloom called "Pink Timeline." It has clean and clear resume formatting, a perfectly placed resume profile and a simple graphic representation of your skills. The two-column resume format keeps it feeling modern.
Download it for yourself with this link.
Pro Tip: Infographic resumes may not be ATS scannable but they could be the ace up your sleeve in your job hunt. Feature it on your LinkedIn profile, 87% of recruiters use it to vet candidates. Or attach it to an email if you're networking or in direct contact with the hiring manager. Just ensure you attach a traditional version too.
How to make your resume ATS friendly? Find out here:: ATS Resume: Template and Complete Guide
2. Fresh and Funky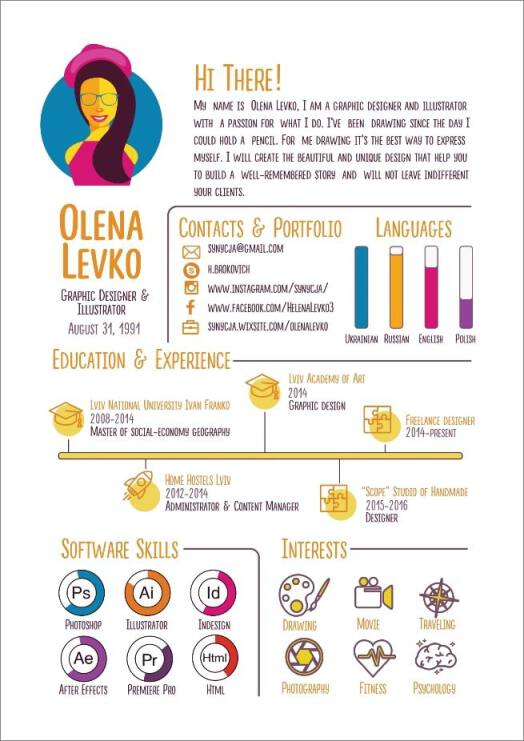 Next is this cute and quirky design by Helen Levko. There's creativity and playfulness aplenty showcased here. The timeline neatly illustrates both education and professional experience and the custom icons are as informative as they are fun. The style is perfect for a graphic designer resume.
Here's the link to this free infographic resume template on Behance. Conveniently provided in AI file format.
3. Lightbulb Moment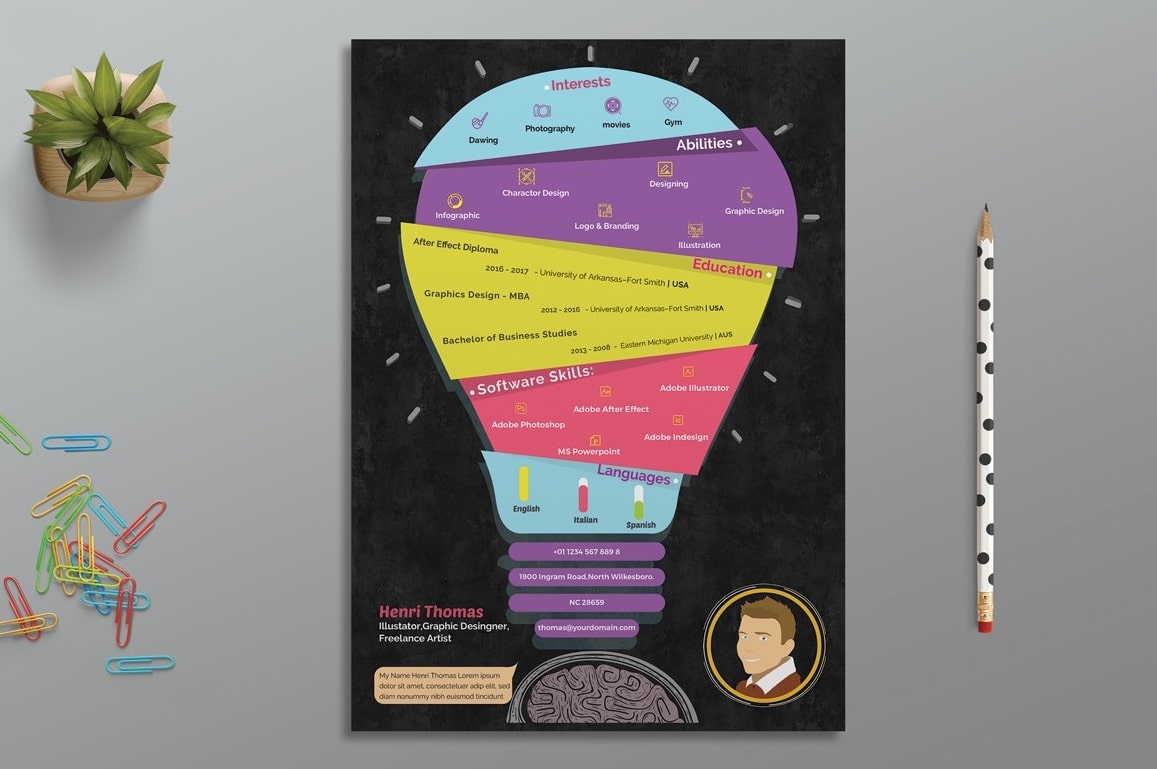 This one-of-a-kind infographic resume was created by ThemeDevisers. Based around a lightbulb motif this one has maximum visual impact and no need to write excessive text.
The cartoon picture of the applicant adds a fun touch. This is definitely one to get you noticed. Here's the link on Creative Market.
4. Back to Black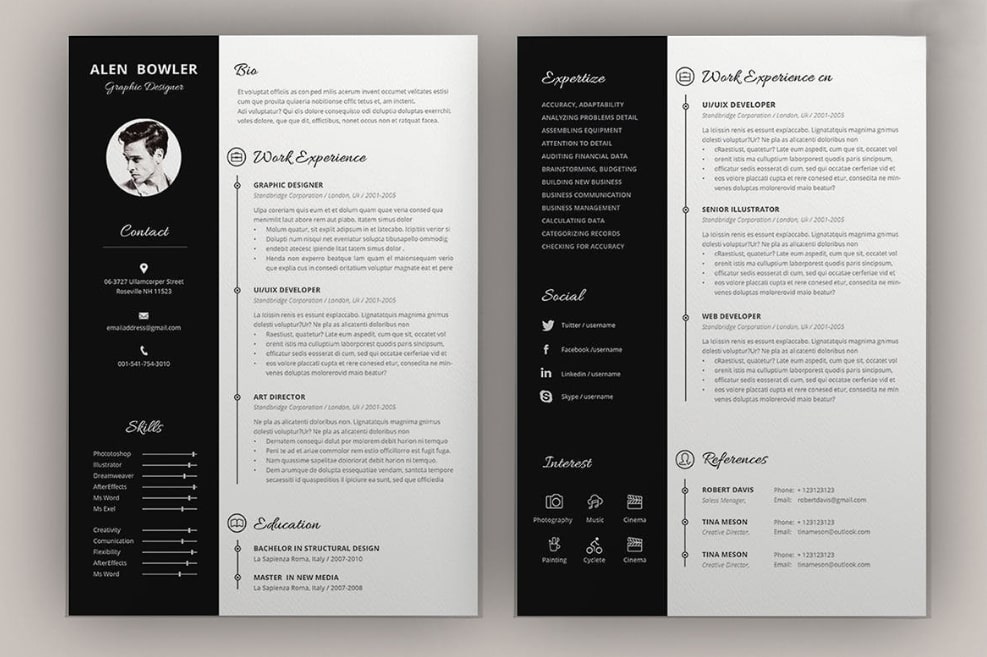 Here's a simple infographic resume from MerchElements. It combines the text elements of a traditional resume with a two-column format, subtle resume icons, and skills sliders.
The monochrome look adds a touch of timeless elegance and the body text uses an easily readable resume font. A good choice for more conservative job applications.
Get it using this link at Etsy.
5. DIY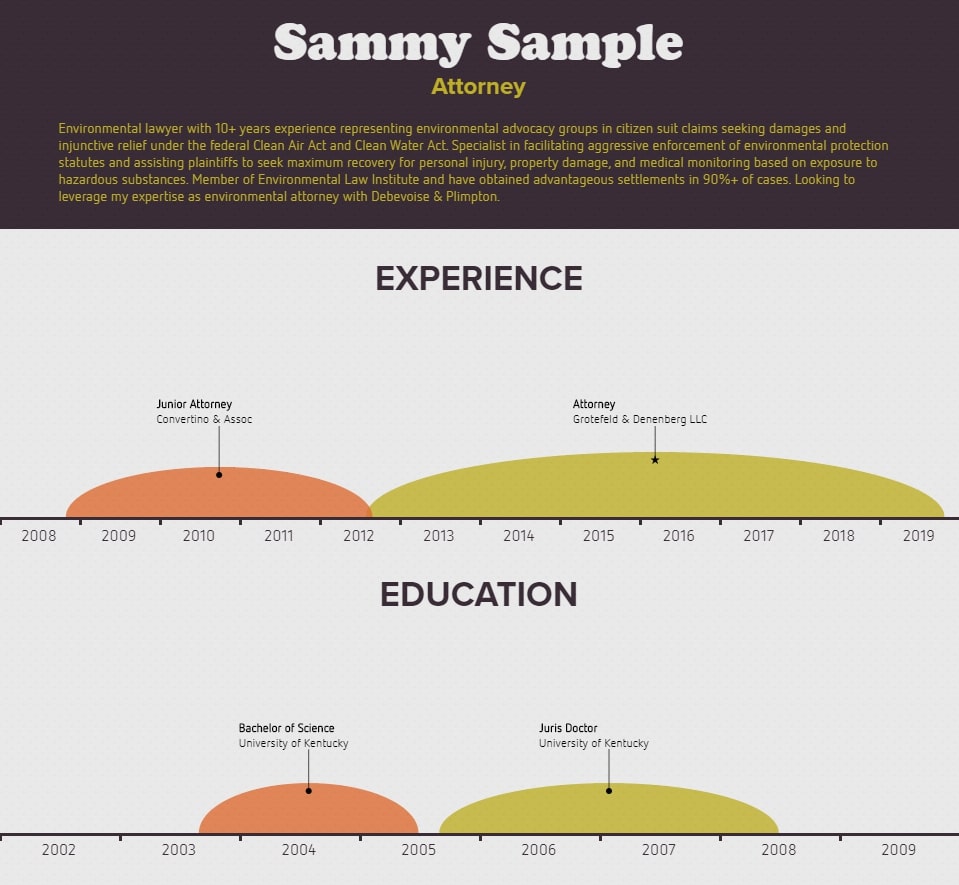 You've now seen some amazing infographic resume examples. So I bet you're wondering where you can find an infographic resume builder. This is an extract from a resume created with visualize.me.
It's free and super simple to use. You create an account with visualize.me and punch in your resume info. Then it gives you a range of styles and color schemes to choose from. Even better, it gives you a handy link to download your infographic resume.
It can even connect directly to your LinkedIn account. A fantastic tool for those who aren't confident creating resumes from scratch.
6. Stylish Monochrome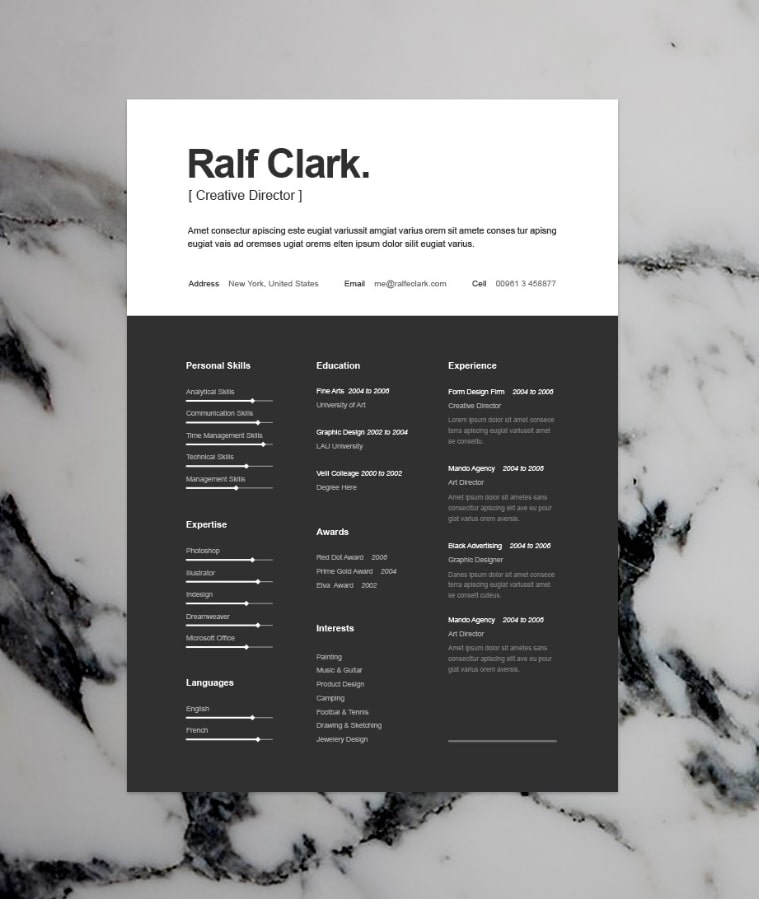 Here we have another very handsome black and white design. This time with a distinctive horizontal division of space. Remember that scene from "American Psycho" where they're comparing business cards?
This is the sort of slick, stylish resume template that Patrick Bateman would love. You can download it with this link.
When making a resume in our builder, drag & drop bullet points, skills, and auto-fill the boring stuff. Spell check? Check. Start building a professional resume template here for free.
When you're done, our professional resume builder will score your resume and our resume checker will tell you exactly how to make it better.
7. Color Pop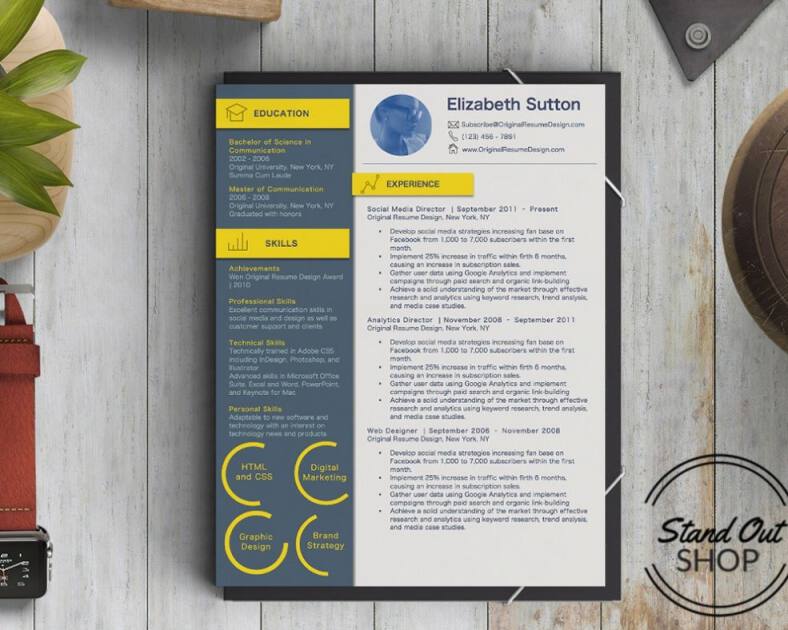 This infographic resume template is an eye-catching variation on the familiar two-column theme. This one adds pops of bright yellow that make it stand out and guide the reader's eye to each section.
This one is an interview winner for sure. You can download it through Etsy at this link.
8. Retro Green
Canva is another solid free infographic resume creator. This template is striking in its simplicity and reminiscent of vintage product labels. Access it with this link.
Simple, clean lines can make a powerful impact. See our own range of simple resume templates: Simple Resume Templates
9. Pink Power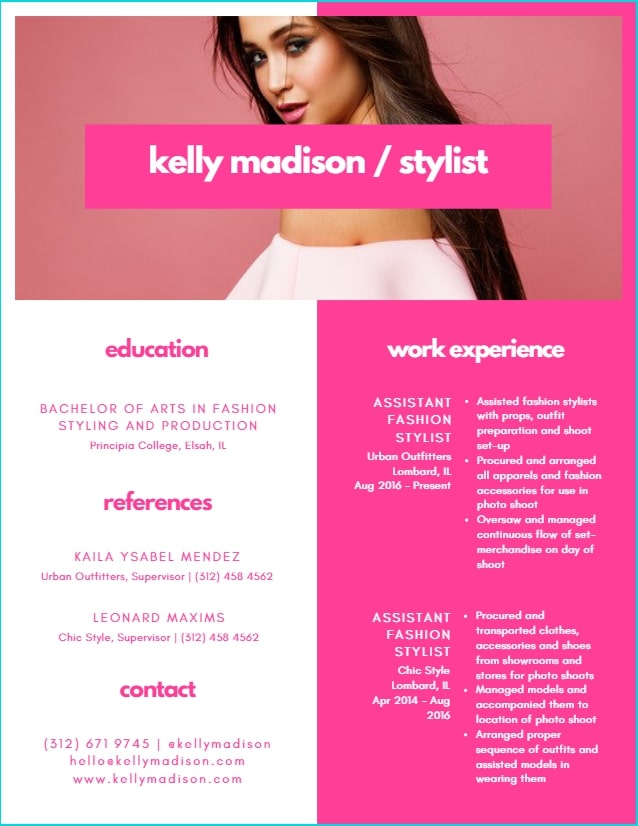 Here's another Canva resume template. It's a great example of how to make a creative resume that tells a story and is targeted to the applicant's expertise.
Being a fashion stylist there's a strong focus on personal appearance with a large resume photo. Then the hot pink design with a subtle cyan border shows a striking use of color that every good stylist needs.
Access it with this link.
Plus, a great cover letter that matches your resume will give you an advantage over other candidates. You can write it in our cover letter builder here. Here's what it may look like:
See more cover letter templates and start writing.
10. Sharpen Up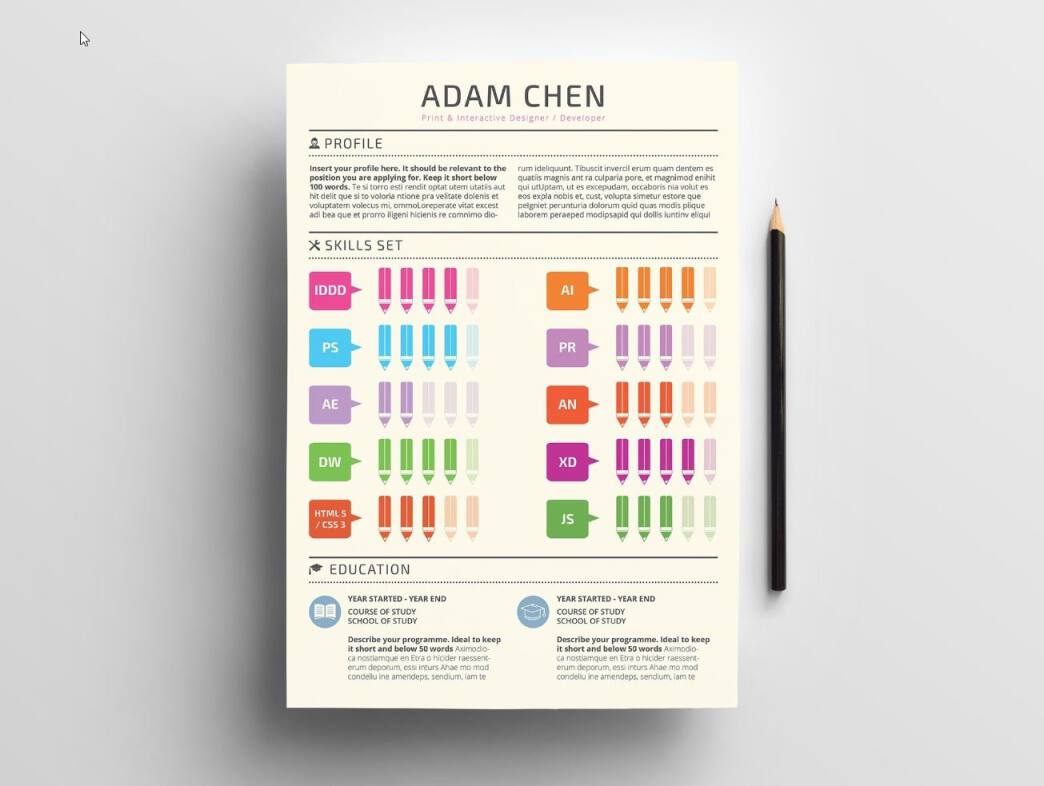 A simple tweak can make your resume unique. This one uses pencils as a resume infographic icon, adding a fresh twist to the skills meter found on so many other infographic resume examples.
Chen Zhi Liang is the creative mind behind this one and it's available for download with this link at Behance.
Need more inspiration to craft a creative resume? Check out our guide: Creative Resume Templates [15+ Examples and Complete Guide]
11. May I Take Your Order?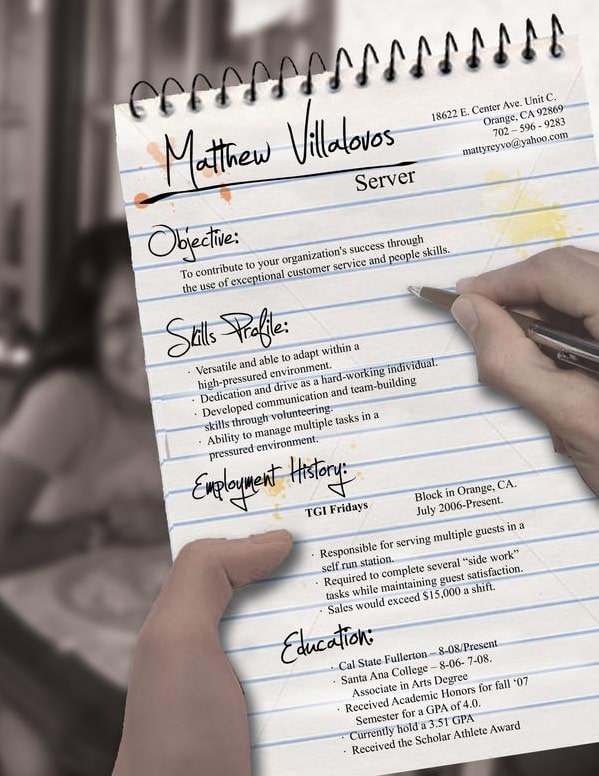 Speaking of unique, feast your eyes on this. A server resume written on an order pad. You can't get more imaginative and relevant than this.
It would be a real winner for the restaurant industry where you'll often hand a printed copy of your resume directly to the business.
This one was made for a waitress resume, but could work well for a fast food resume or barista resume, too.
To get this resume made by rkaponm, just click on this link.
12. Spin That Wheel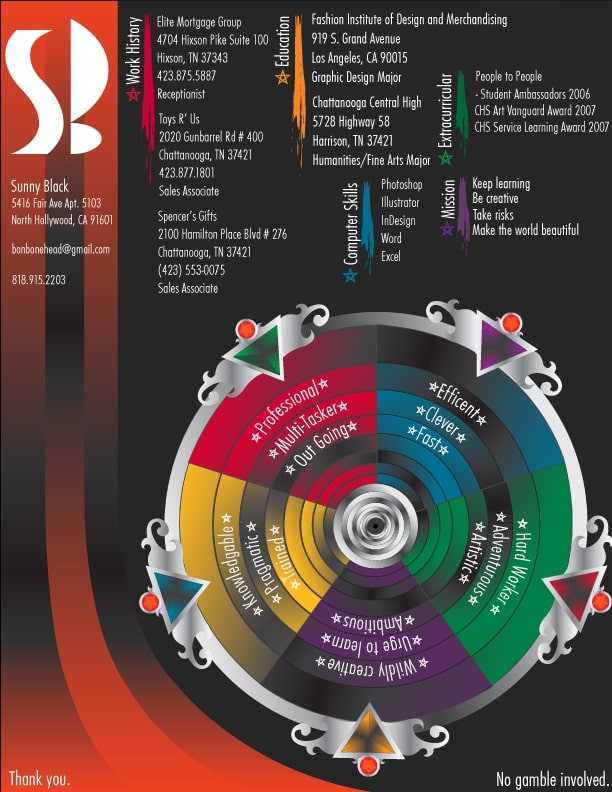 MrSunnyBlack has really spun up the creativity with this one. The solid blocks of color leap off the page and the roulette wheel is like nothing else out there.
It also introduces a touch of humor with the "No gamble involved" footnote. For this infographic resume sample go to this link.
13. I'm Batman
Claiming you're Batman is an imaginative way of getting a recruiter's attention. Pair that claim with this infographic resume and you're bound to get noticed.
Importantly, all of the necessary sections of a classic resume are there. Still, this is a very left-field approach so it'd need to be targeted at the right employer.
Saransh Solanki is the superhero behind this infographic resume template. Download it for free with this link at Behance.
14. Get Ahead in the Job Race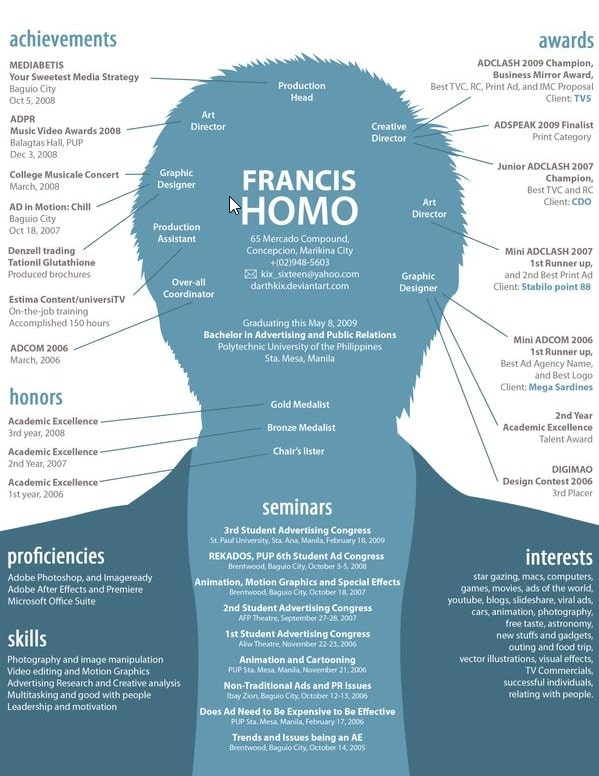 It seems there's no limit to the imagination when it comes to infographic resume templates. This example by darthkix shows awards and achievements coming directly from the mind of the infographic resume creator.
The starting point is a simple profile silhouette, cleverly divided into three columns. You can download it with this link.
15. In from the Cold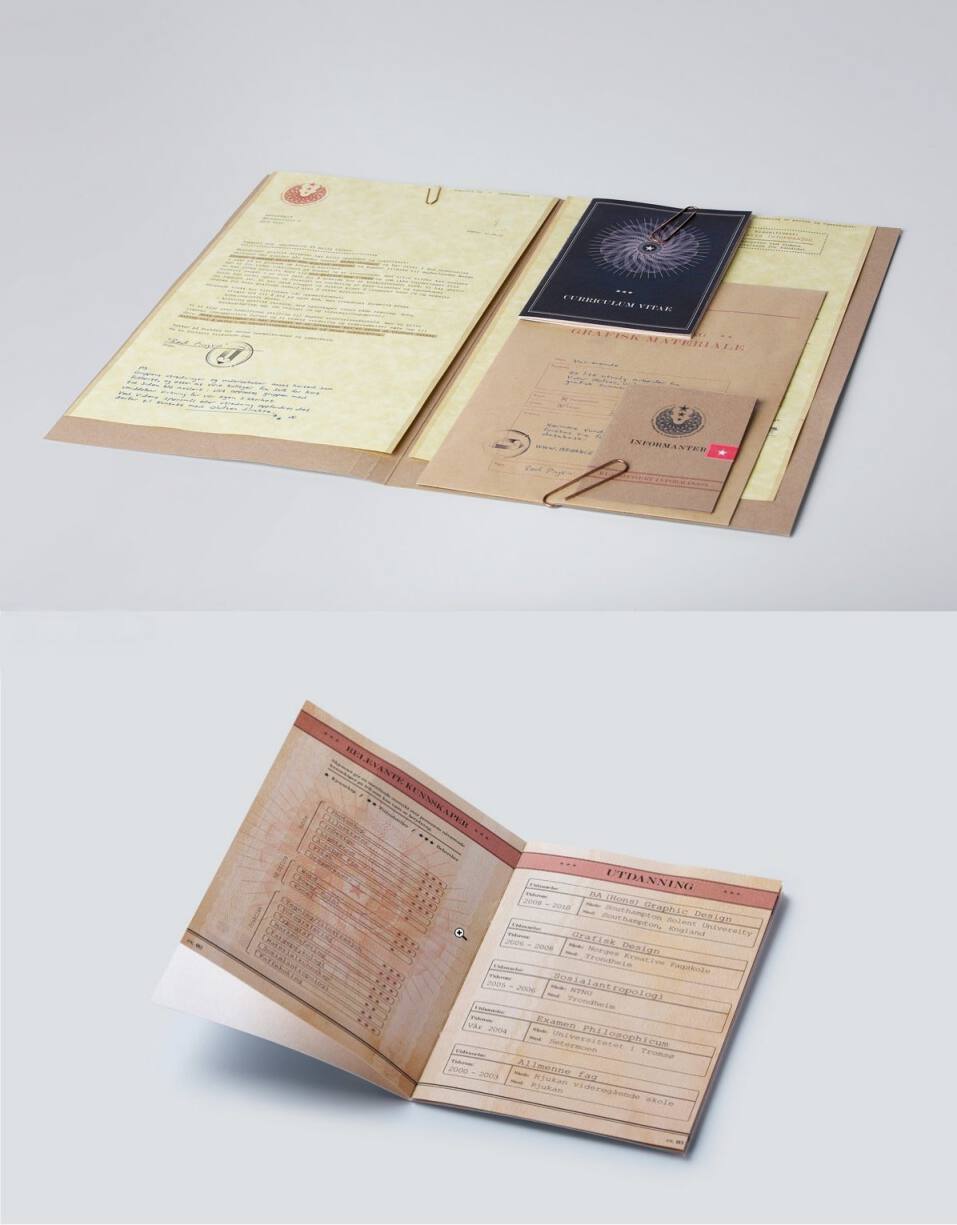 For our final infographic resume, we've got something special. It was created by Vidar Olufsen and inspired by a design studio who said they'd "file him" for a later occasion. This resume has taken the physical form of a cold war era dossier file.
There's a cover letter enclosed and the resume itself is contained in a separate booklet. It took incredible talent to create this one. If you feel inspired and want to try something similar yourself then use this this link to download.
That's the creative side covered, but before you send your resume make sure your written content is on point, too. See our guide: Resume Tips & Tricks
Key Takeaway
Those are some spectacular examples right? Just remember these key points for using one yourself and you're set:
Infographic resume templates aren't for every career. Be cautious with your creativity.
Infographic resumes may not be scannable by ATS so they risk being rejected.
Graphics can take up lot of room and reduce the amount of written content you can include.
The sky is the limit when it comes to resume infographic design. But be sure to include the same essential information as in a classic resume.
Focus your imagination on the job you're applying for. Use your infographic resume template to explain why you're the best fit for a particular job or industry.
Got more infographic resume ideas to share? Still not sure if an infographic resume will work for you? Fire away in the comments section. We're looking forward to hearing from you.
About Zety's Editorial Process
This article has been reviewed by our editorial team to make sure it follows Zety's editorial guidelines. We're committed to sharing our expertise and giving you trustworthy career advice tailored to your needs. High-quality content is what brings over 40 million readers to our site every year. But we don't stop there. Our team conducts original research to understand the job market better, and we pride ourselves on being quoted by top universities and prime media outlets from around the world.
Sources