10+ Free Canva Resume Templates [+Review]
Canva resume templates let you make a great-looking resume for free. But are their resume templates what hiring managers want to see?
Searching for a new job is hard. Whether you're unemployed or unhappy at your current job, the faster you can find your next job the better.
It doesn't help that the first step in finding employment—making a resume—can be the most frustrating.
Recruiters are picky—your resume needs to look perfect.
And formatting a resume in Word can take hours and it still might look slightly off.
Resume builders are a way to take the stress out of formatting a resume, so that you can focus on what's really important—the contents of your resume.
Let's see 10 of the best Canva resume templates and find out how the Canva resume builder performs.
This guide will show you:
10 of the best Canva resume templates
Step-by-step instructions for the Canva resume builder
How to write a resume in Canva
Want to save time and have your resume ready in 5 minutes? Try our resume builder. It's fast and easy to use. Plus, you'll get ready-made content to add with one click. See 20+ resume templates and create your resume here.
Sample resume made with our builder—See more resume examples here.
Interested in other resume templates? Check out:
1. Top 10 Best Canva Resume Templates
You'll see some great Cava resume templates in a second, but first let's break down the pros and cons of a Canva resume:
Pros of a Canva Resume:
Canva has hundreds of resume templates with excellent graphic design to choose from.
Formatting is a breeze and the resume templates are easy to edit.
You can download your resume in PDF format, which is the preferred format.
Canva is completely free, no strings attached.
Cons of a Canva Resume:
Canva resume templates look beautiful graphically, but many don't have enough space to write an in-depth experience section.
The graphical elements could be difficult for ATS to scan, and an ATS-friendly resume is crucial unless you're sending your email directly to the hiring manager.
Many of the templates are formatted to include a photo, which makes them less useful. (Canva is an international graphic design tool, and including a picture on a resume is common in some countries, but not in the US.)
Clearly, the Canva resume builder has both pros and cons. In general, if you're looking for cool resume designs, Canva is a great resource.
But resume content is also of vital importance to recruiters. And beware—if you have to choose between having a creative resume template and one that will get past ATS, always choose the latter. Up to 99% of Fortune 500 companies use ATS to assist the hiring process.
Note: All the resume templates in our builder are ATS-friendly and designed by experienced career professionals.
OK—Let's see those Canva templates!
1. Black and White Canva Resume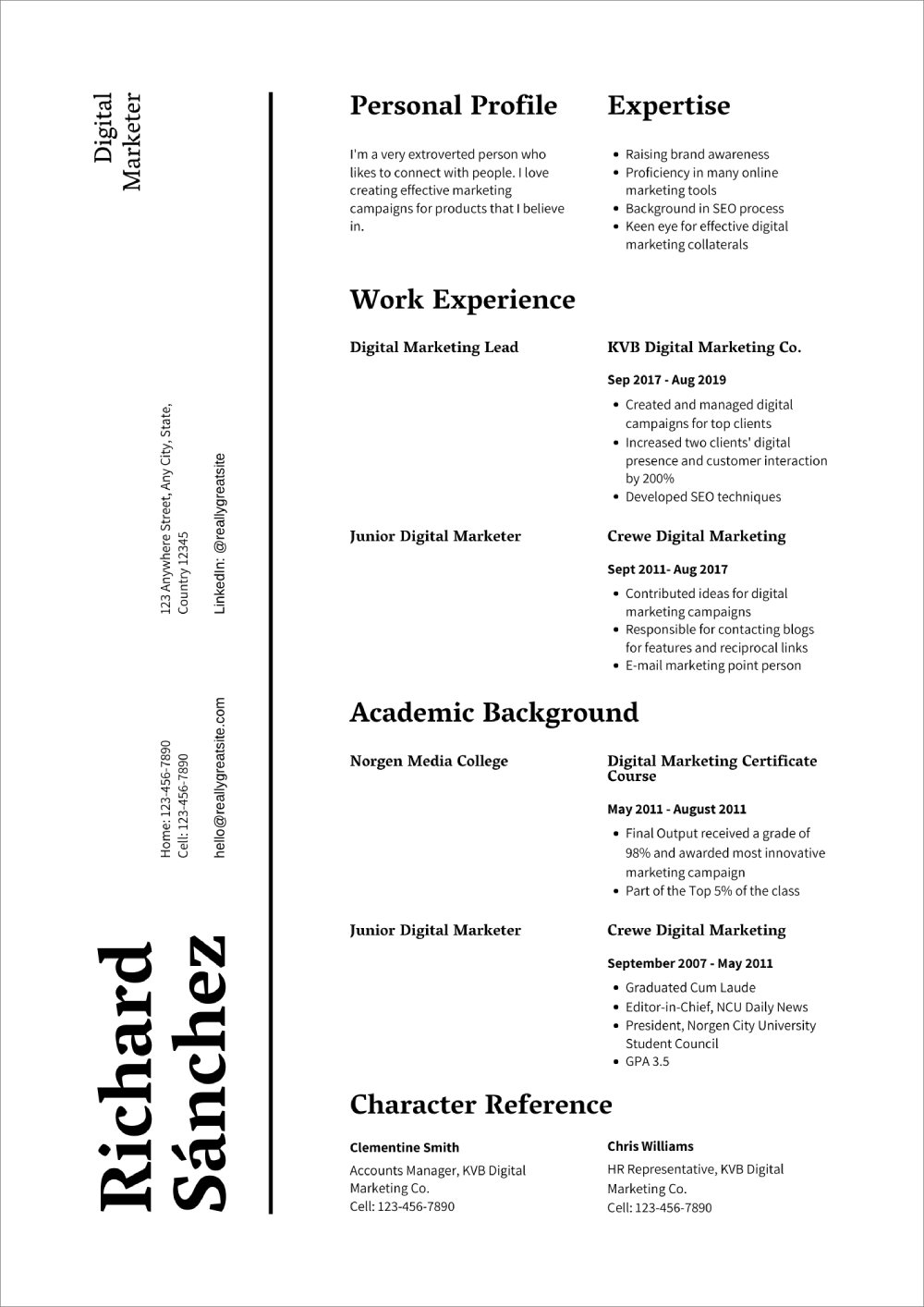 Minimal and creative, while still following the tried-and-true reverse chronological resume format. The sideways resume header requires a little head turning, but also makes space for lengthy experience and education sections. Note: References are an example of what should not be included in a resume. Luckily, the section is easy to edit or resume in Canva's resume builder.
You can edit and download this Canva resume template for free here.
2. Two Column Creative Canva Resume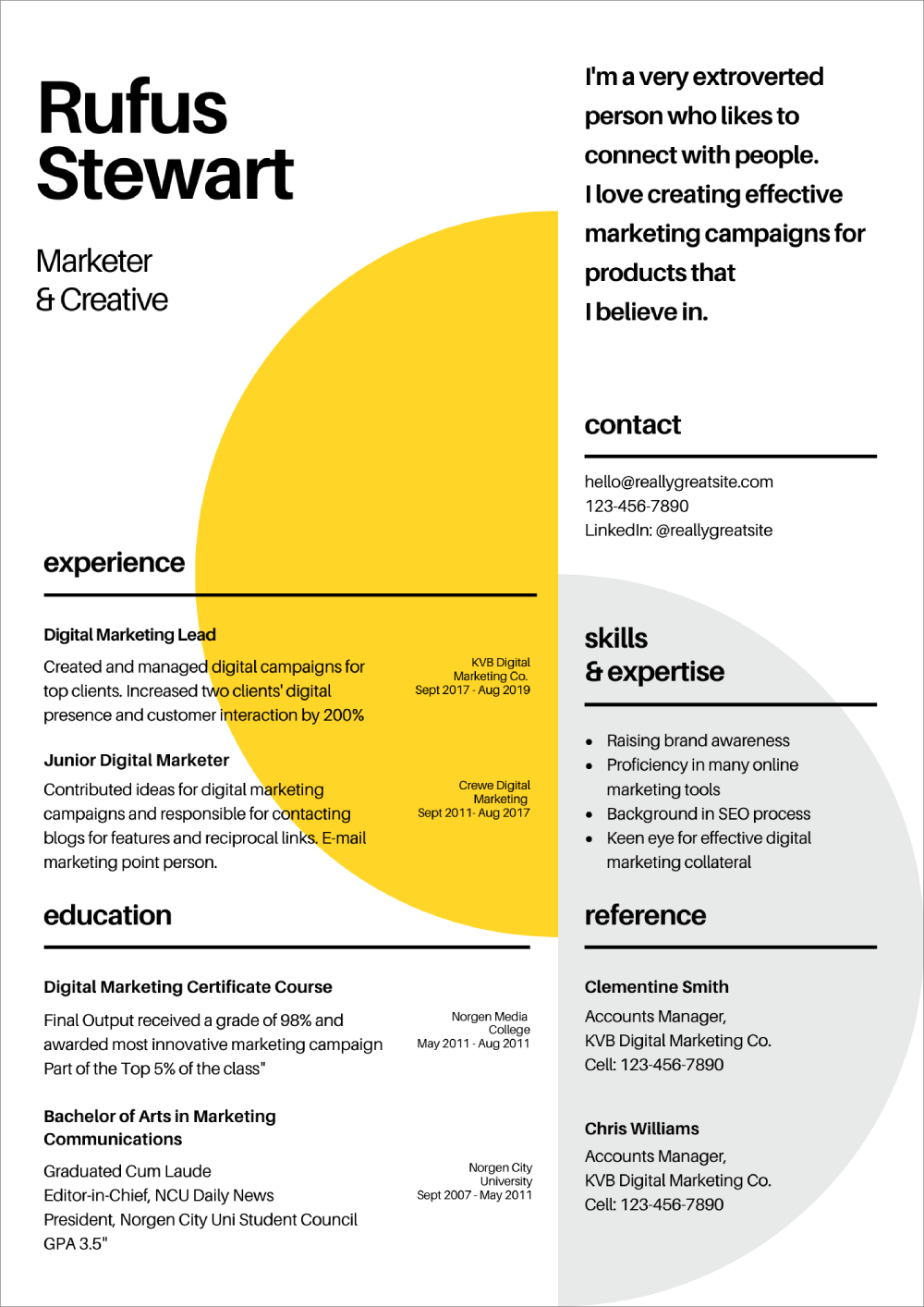 Modern, stylish, and easy to read. No small feat for resumes heavy on the graphics. That makes this Canva template a great candidate as a graphic designer resume. The space for content is somewhat limited, so this two column resume would be better for creative professionals early on in their career.
You can edit and download this Canva resume template for free here.
3. Blue Minimal Canva Resume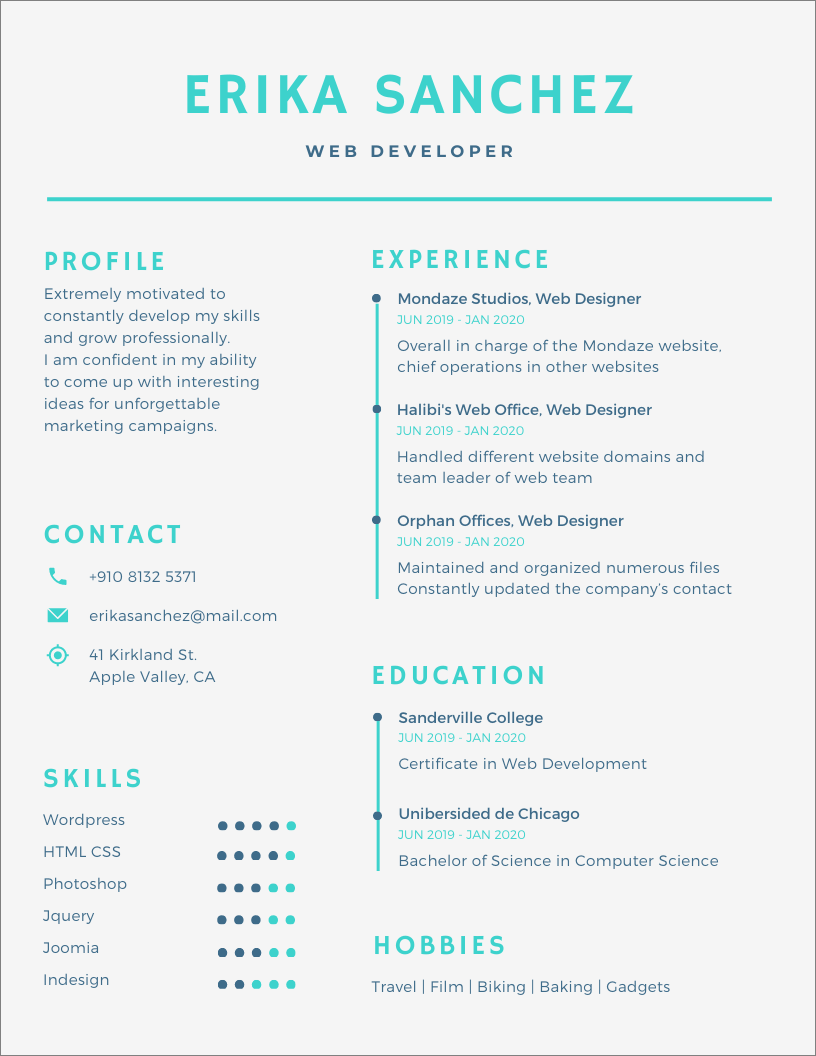 Here's another Canva resume that's easy on the eye. It has sections for the most important parts of a resume, and even reserves a little space for hobbies and interests at the bottom. The only edit I would make is to lengthen the resume job descriptions. Afterall, 65% of employers prefer candidates that have relevant experience.
You can edit and download this Canva resume template for free here.
4. Red and Black Corporate Resume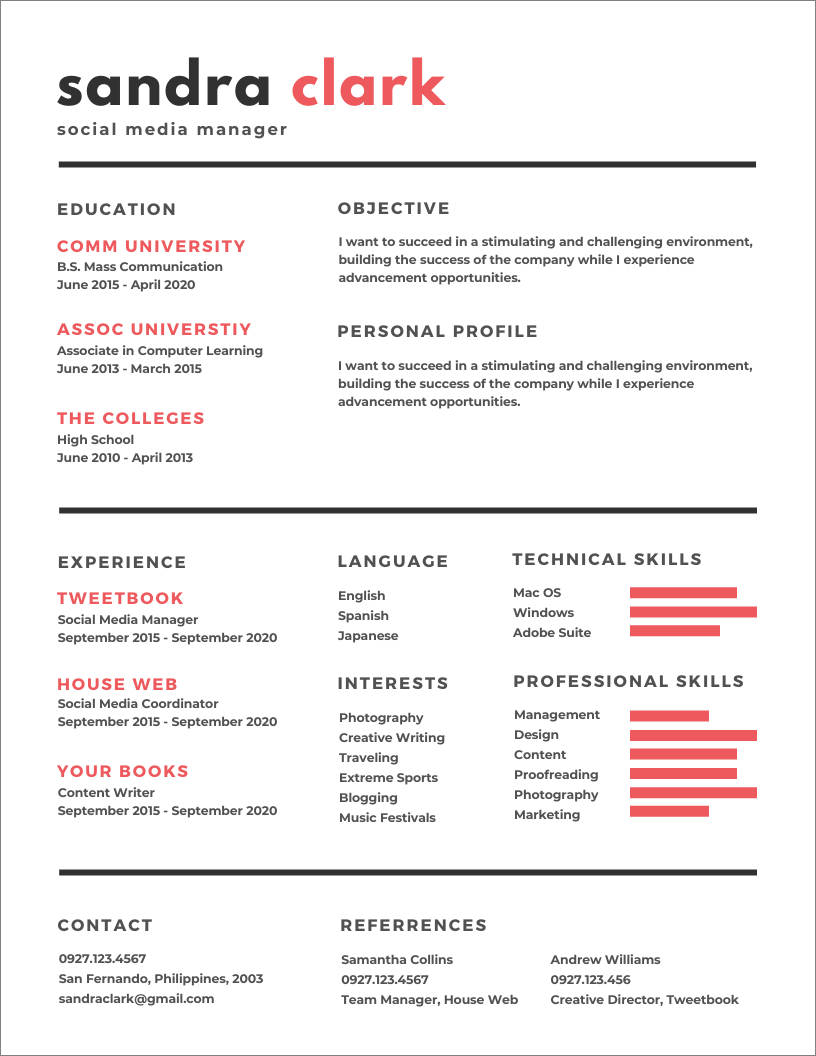 A little color goes a long way when it comes to resume design, and this Canva resume is the perfect example of that. Don't fret if red isn't your style, the Canva resume builder lets you edit color palates easily. And although the template mentions social media manager, it would suit any position that requires a mix of hard and soft skills.
You can edit and download this Canva resume template for free here.
5. Web Developer Canva Resume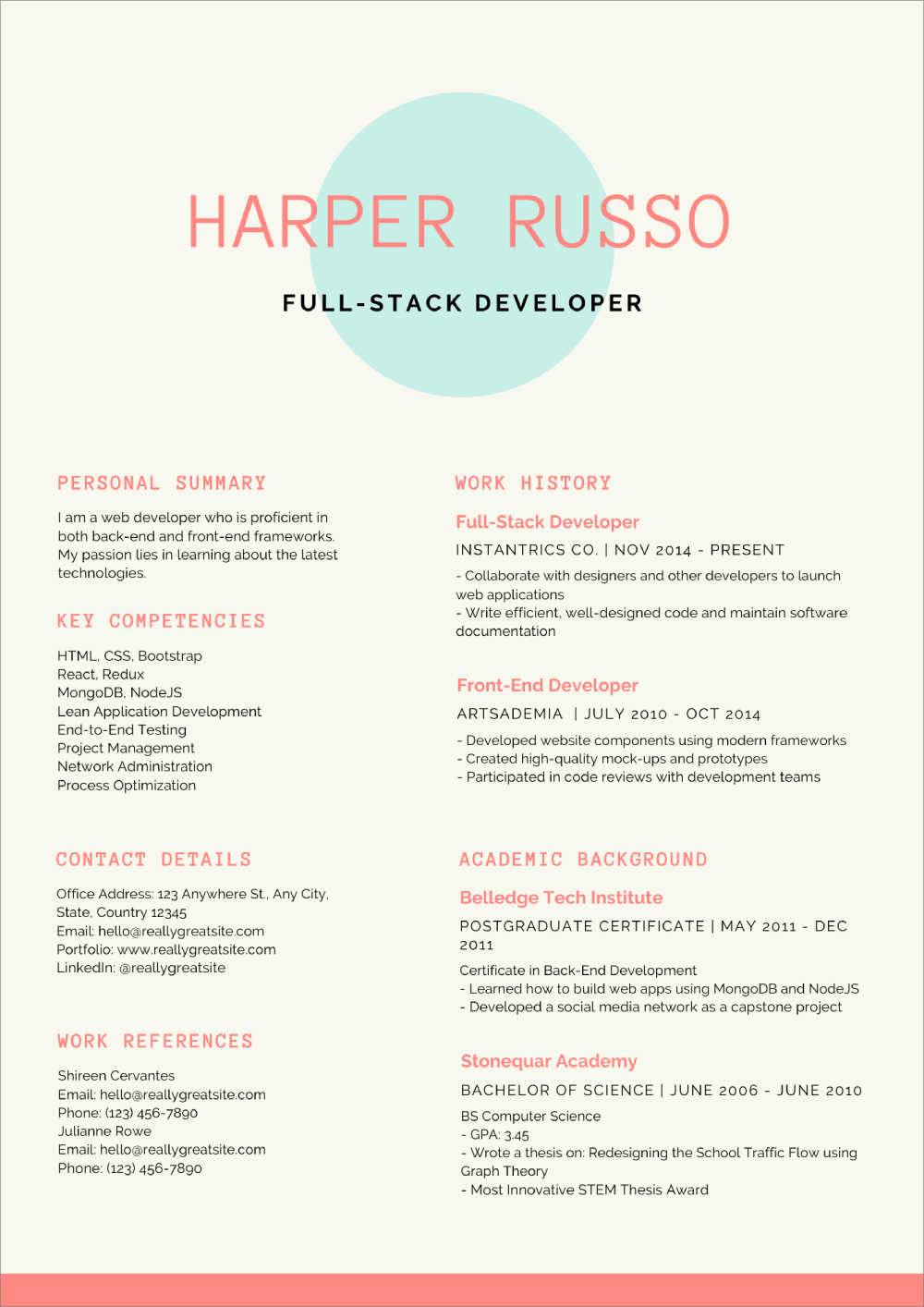 The trend of slick templates with eye-catching graphic design continues with this web developer Canva resume. It has a great color profile and a non-standard resume font that stands out. One potential downside with this design is that there's quite a bit of wasted space up top, but if you're early in your career this could be a great template for you.
You can edit and download this Canva resume template for free here.
6. Scholarship Canva Resume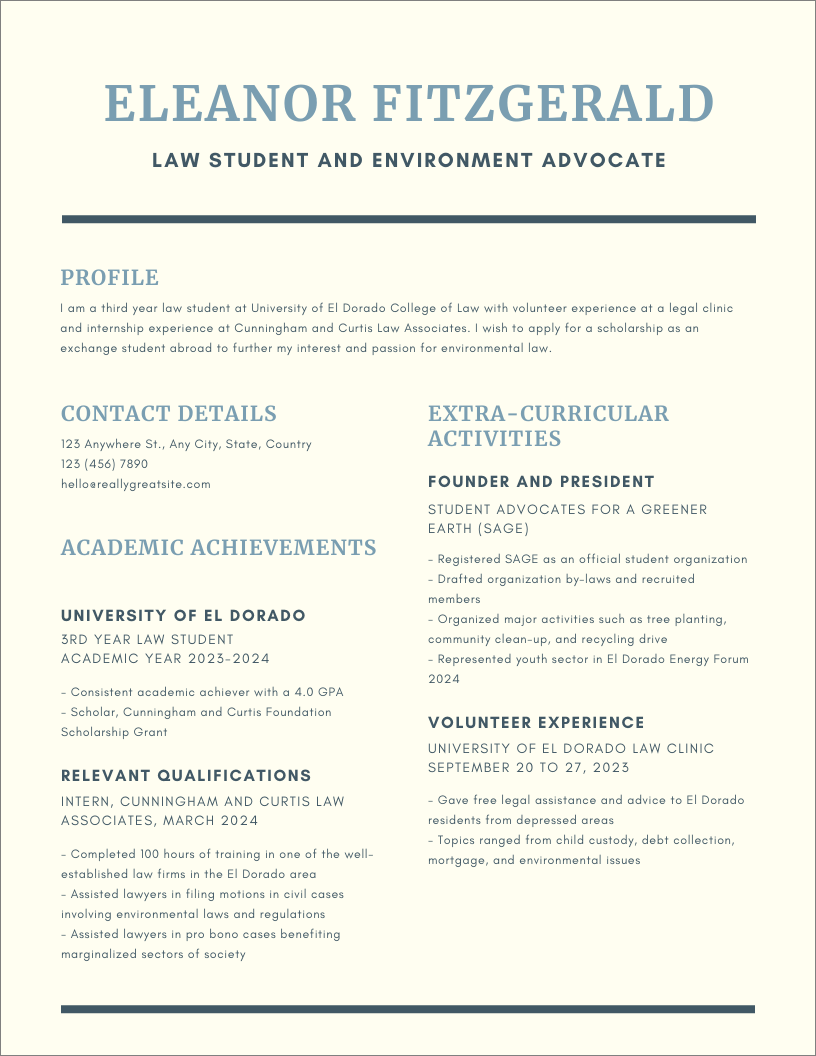 Simple and straightforward—this scholarship resume template lets your qualifications speak for themselves. Finding a template that fits your situation can be worth its weight in gold, as making a resume with no work experience can leave you with too much blank space.
You can edit and download this Canva resume template for free here.
7. Playful Corporate Canva Resume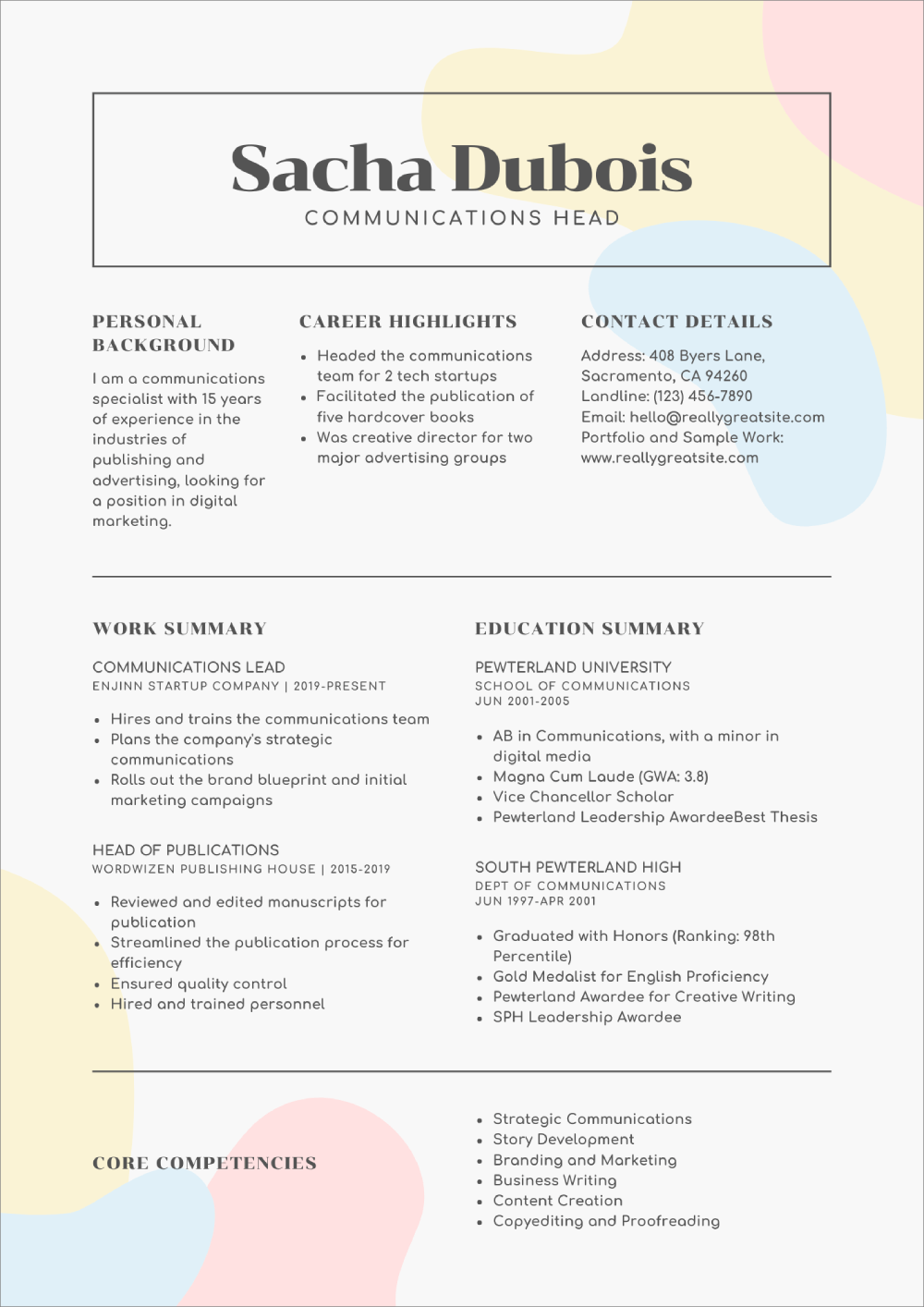 A favorite among Canva users, this template has a classic resume layout but splashes of color that lighten the mood significantly. Note: Remember that you shouldn't put your high school on a resume, unless that's the highest level of education you reached.
You can edit and download this Canva resume template for free here.
8. Turquoise Canva Resume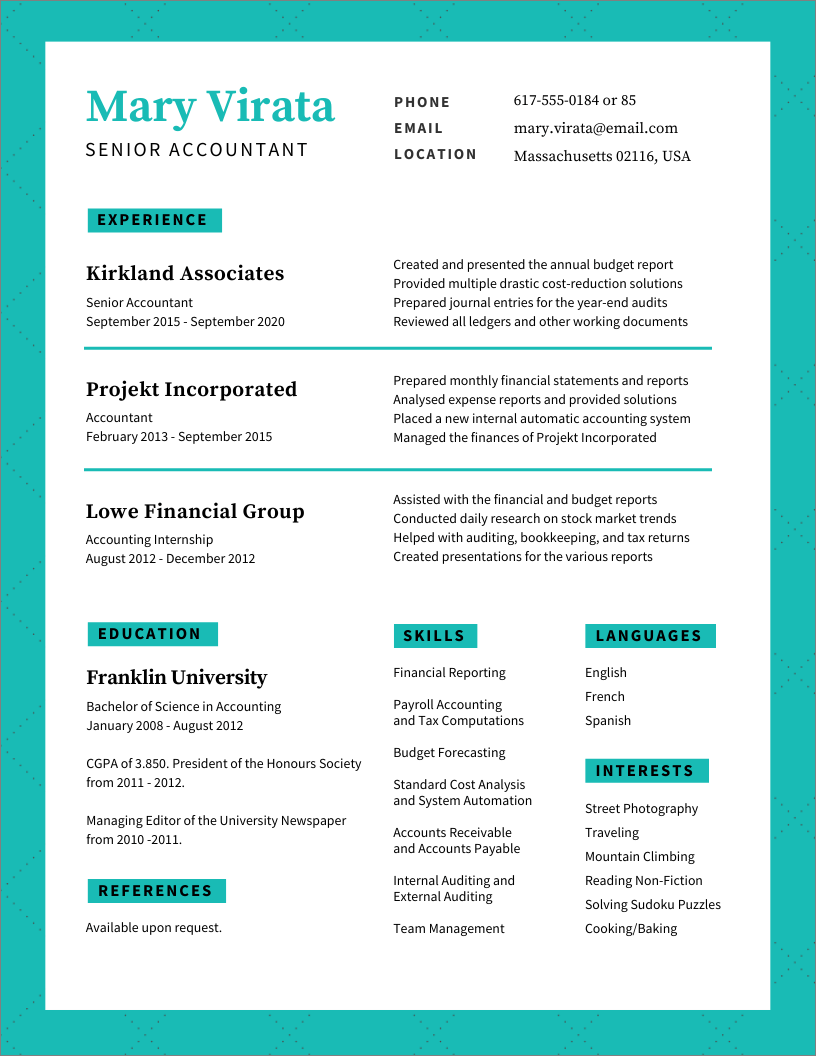 Relevant experience front and center. Now there's a shortcut to the recruiter's heart. This Canva resume seems to have all qualities needed to make the perfect resume. Just one minor complaint: Leave off "references available upon request", the phrase is completely superfluous because hiring managers already know they can ask for references whenever.
You can edit and download this Canva resume template for free here.
9. Infographic Canva Resume with Icons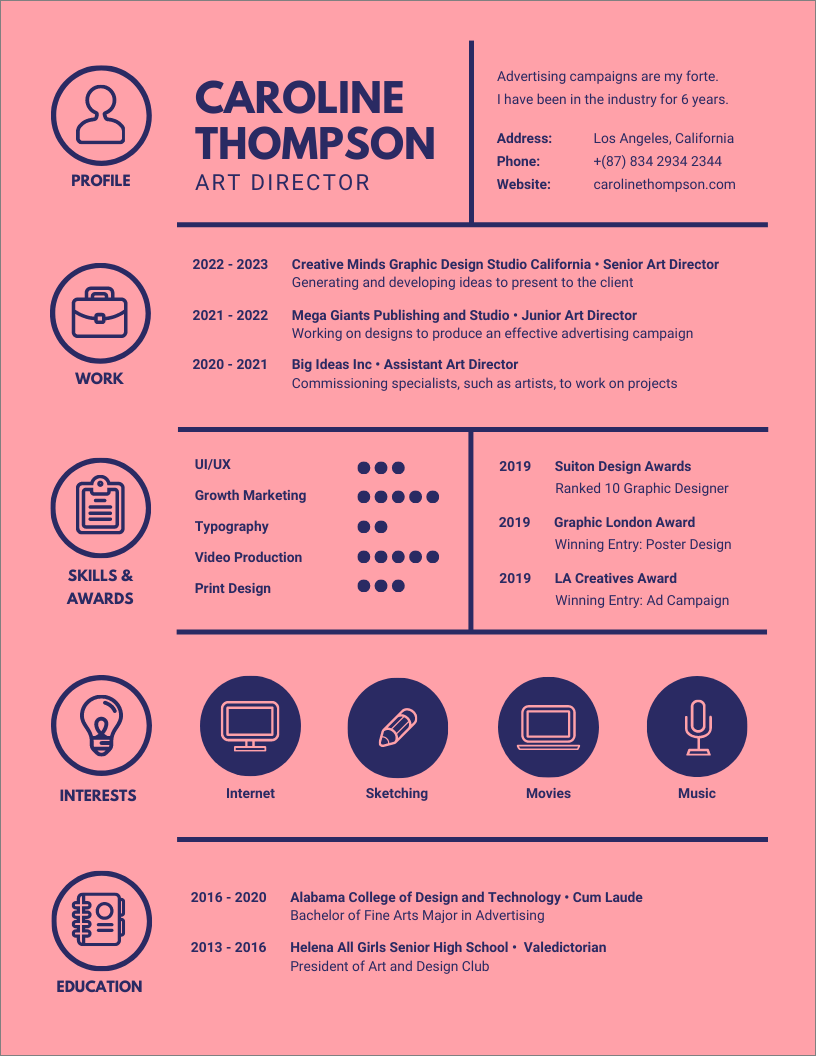 Infographic resume templates aren't for everyone, but if your dream job requires art and graphic design skills, they could be your ace in the hole. Talk is cheap, so you might as well use your resume as a canvas to show your mettle. Just remember that they struggle with ATS, so an ATS-friendly resume is always preferable unless you're emailing your resume directly to the HR manager and you know they'll give it a manual lookover.
You can edit and download this Canva resume template for free here.
10. Colorful Resume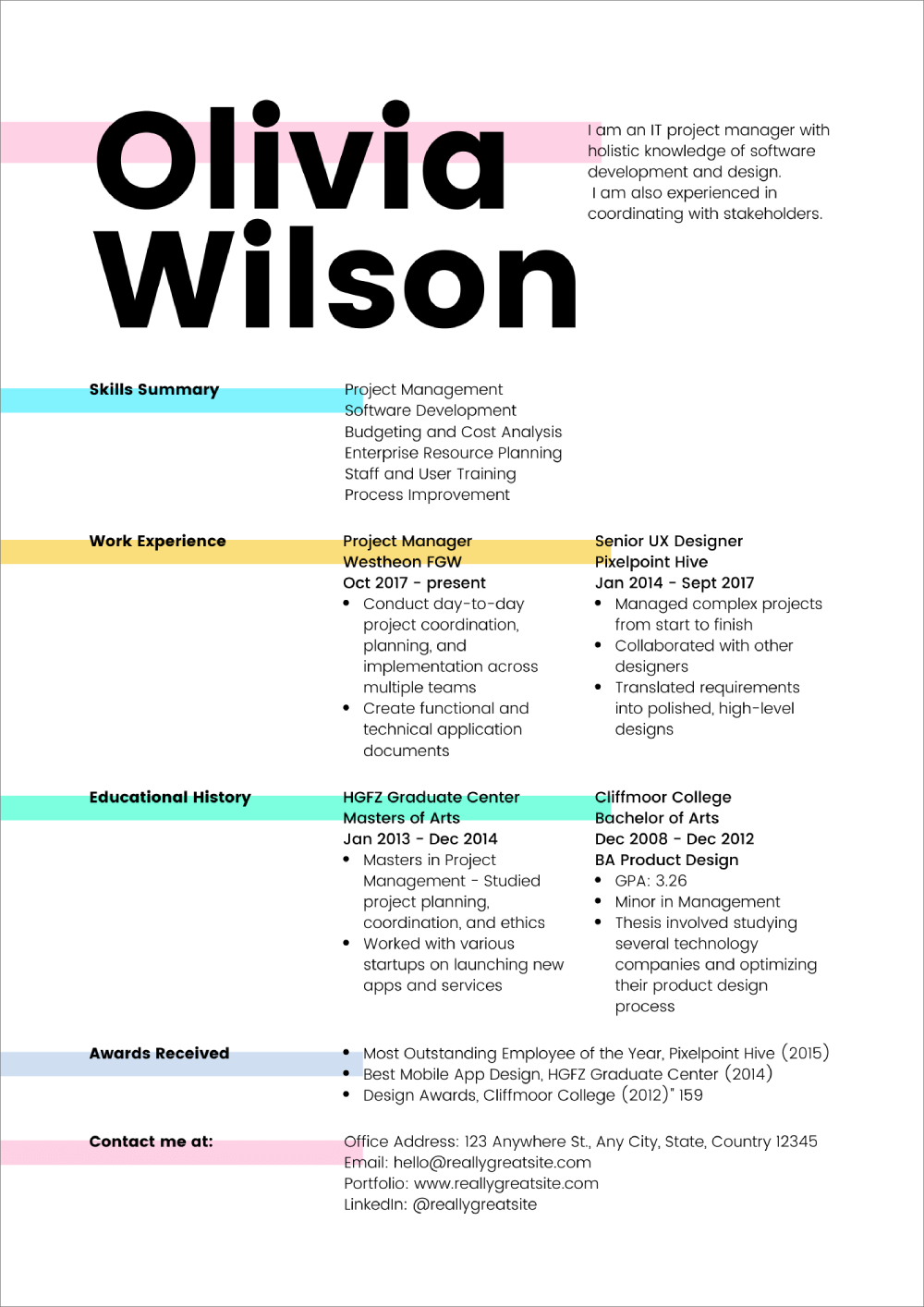 Classic resume formatting reinvented with colorful highlighting. With a more fleshed out skills summary, this template could be a great hybrid resume. Hybrid resumes are great for career changers and those with very specific skills sets they want to show off. Note: Most resume experts recommend including resume contact information up top with the resume header so that it's easier for recruiters to find.
You can edit and download this Canva resume template for free here.
2. How to Write a Canva Resume
Now that you've seen some great Canva resume templates. Let's learn how to use the Canva resume builder.
The Canva resume builder is a graphic design platform tool that lets users choose from resume templates, edit the template text, and then save their resume as a PDF for free. With hundreds of resume templates to choose from, it's an easy way to make an attractive looking resume.
So—how exactly do you make a Canva resume?
1. Register on the Canva Website
The first step is to create an account in Canva. You can sign up using Google, Facebook, or your email address. Don't worry, you won't be charged anything for creating the account.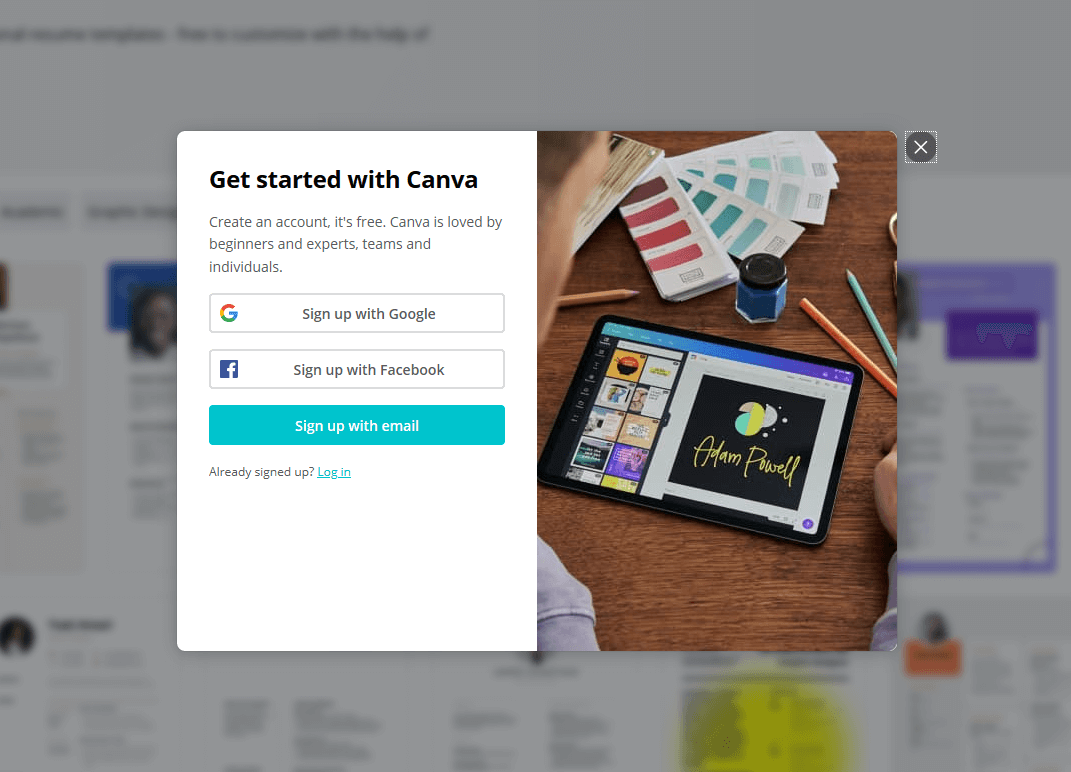 2. Choose a Canva Resume Template
After you've signed up, you can search here to look through Canva resume templates. Find one that looks suitable for your industry and select it.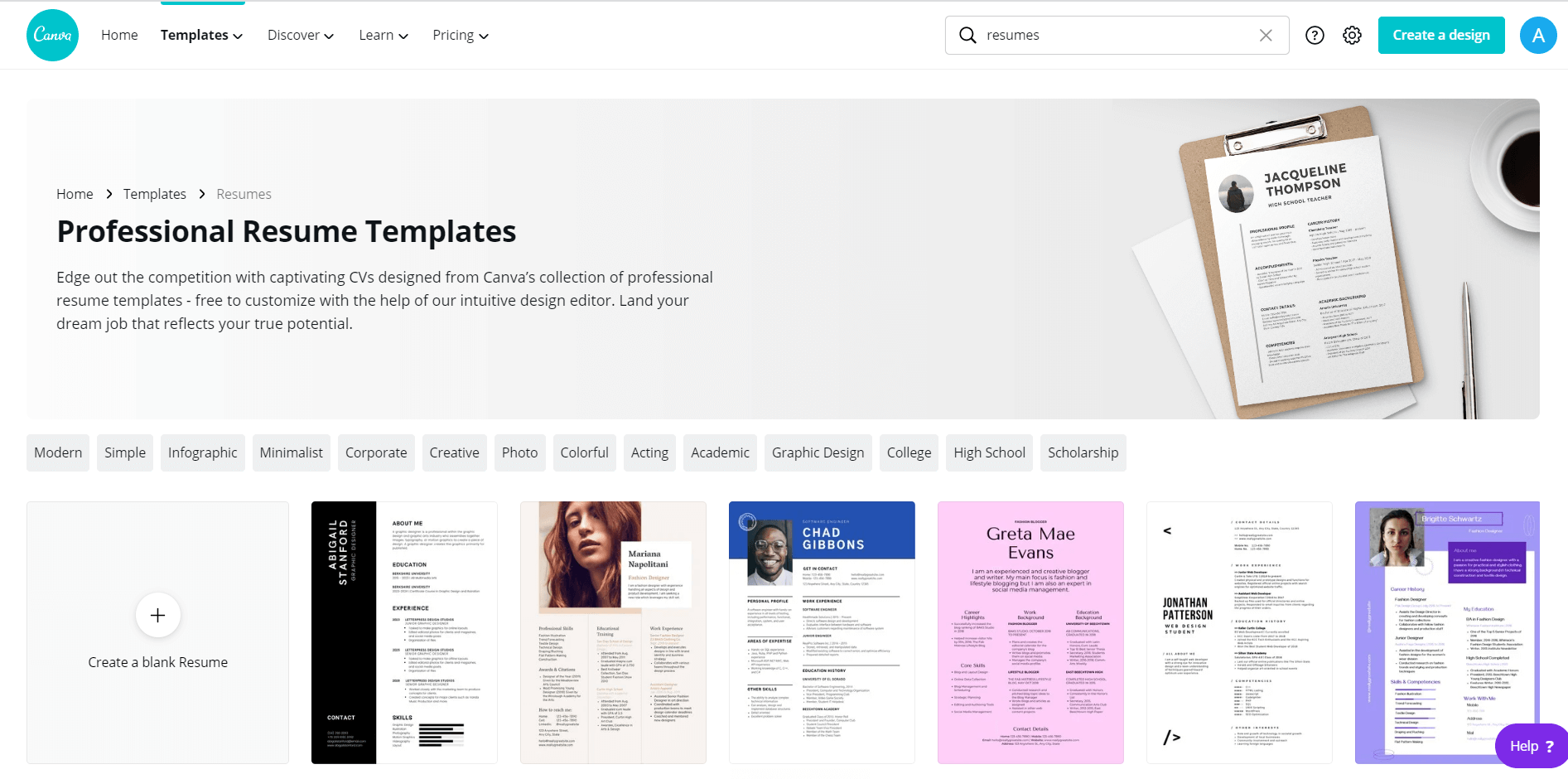 3. Edit the Canva Resume With Your Information
After you've clicked on a template, you'll be able to edit the text inside it. Select each text box individually to modify the text within. You'll be able to move the text and change the text's font, size, and formatting.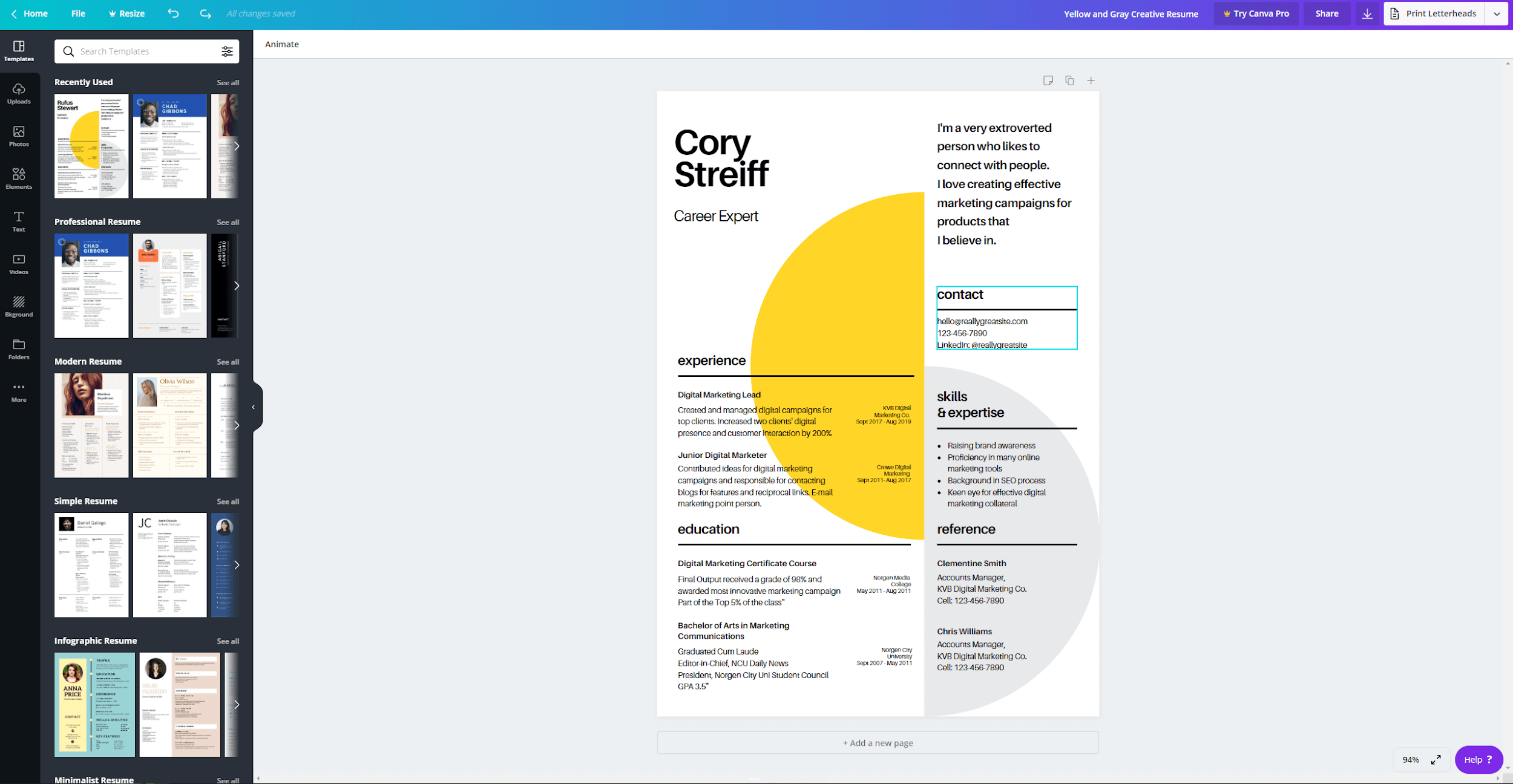 4. Change the Color Scheme on Your Canva Resume
If you'd like, you can change the color scheme of any element on the Canva resume by selecting the element and clicking on the color icon in the top left corner.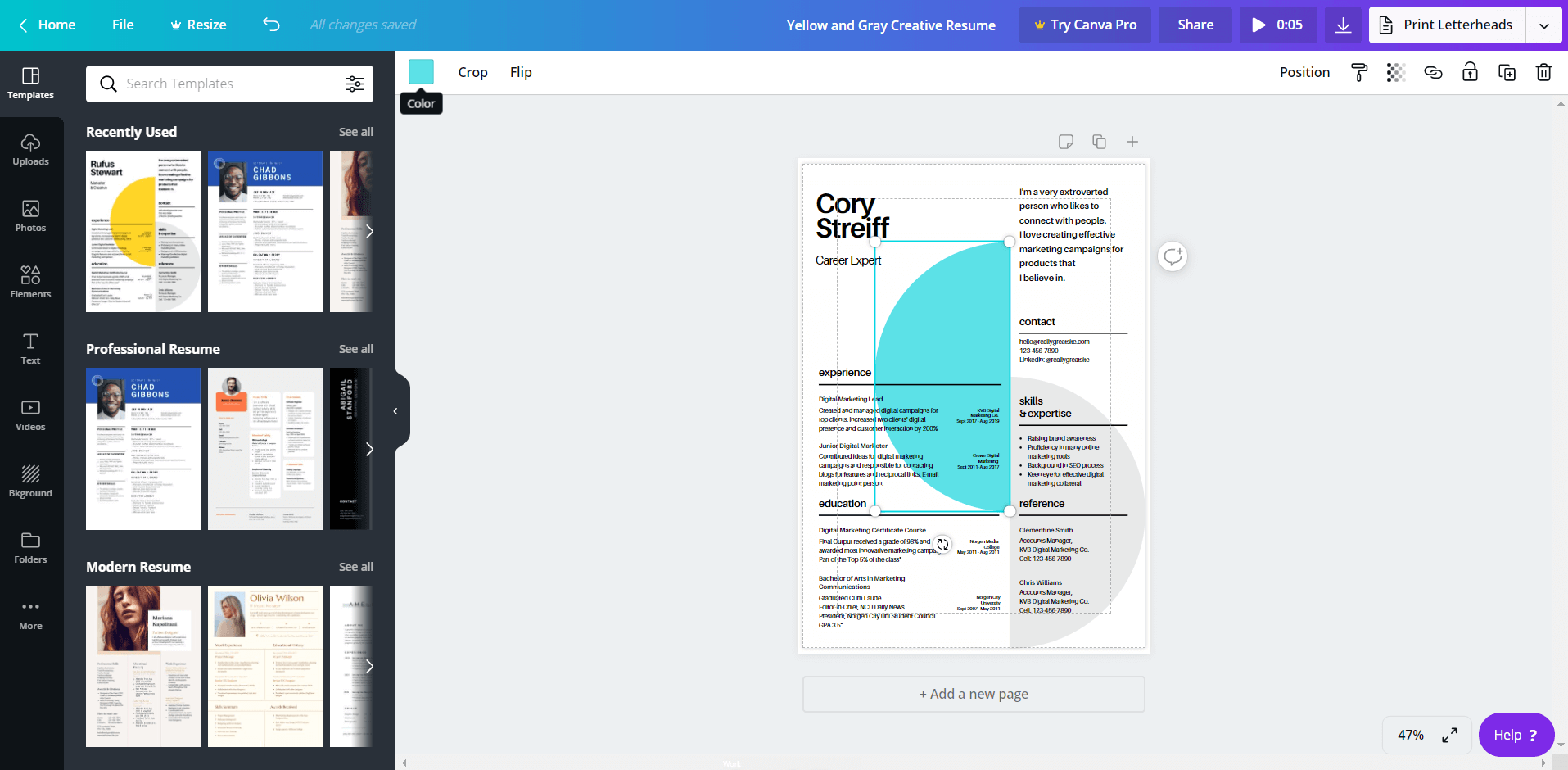 5. Add Additional Graphical Elements to Your Canva Resume
On the left hand side, you can find a toolbar that will let you play around with many more graphical elements including the text, background, photos, and more.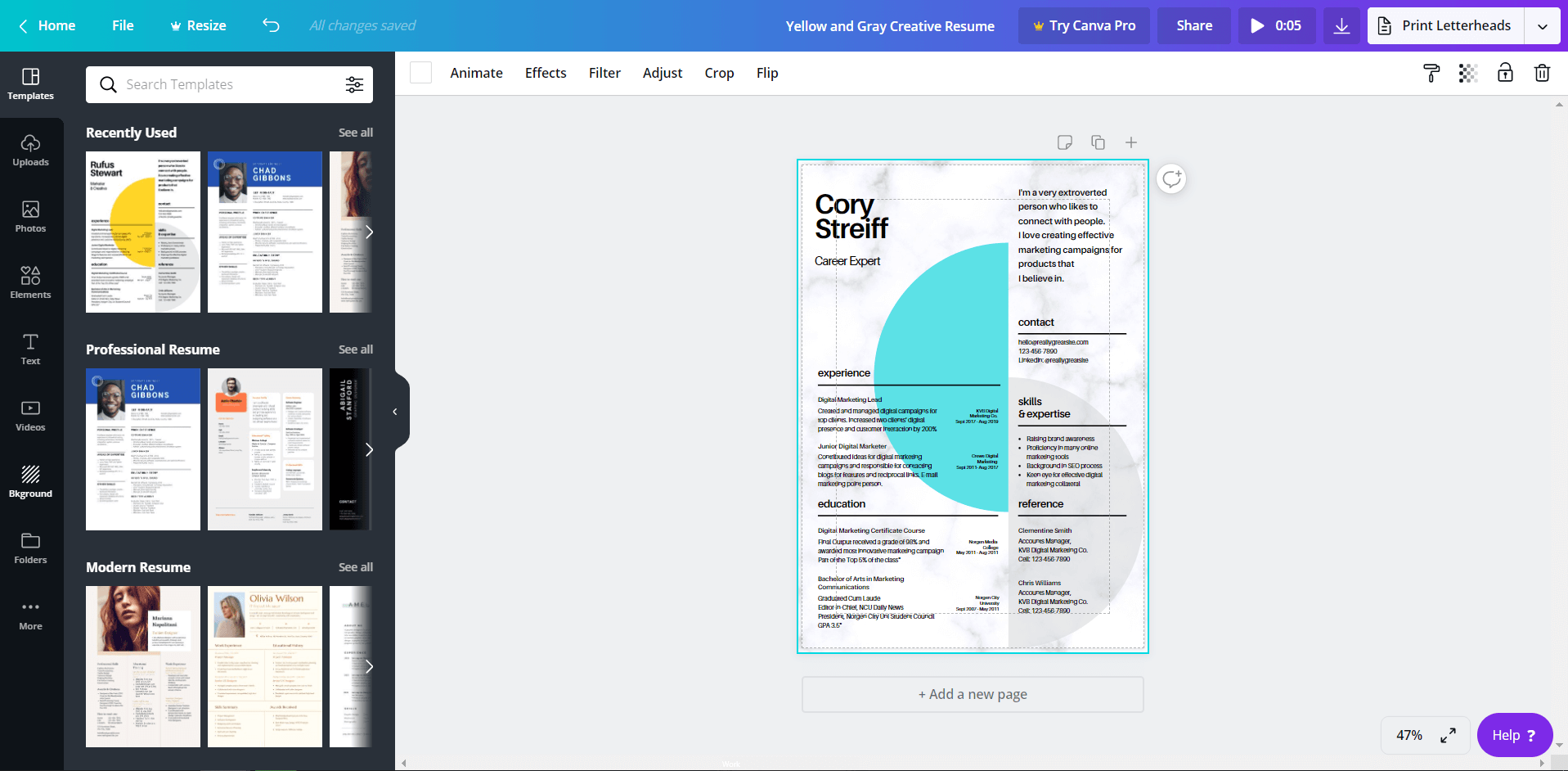 6. Download Your Canva Resume
When your Canva resume is looking just right, click the download icon in the top right corner to download your resume as a PDF, JPG, or PNG.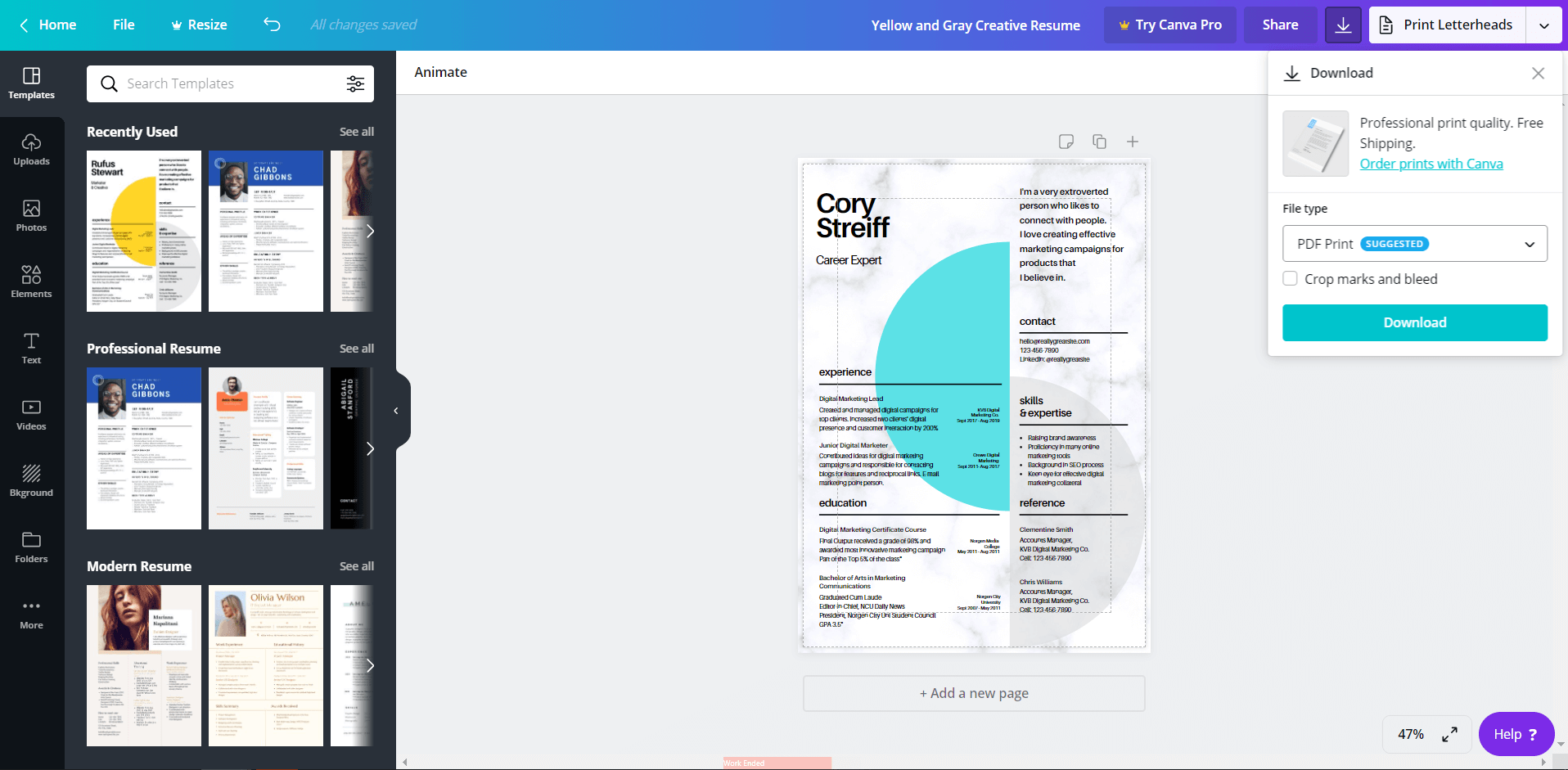 Having trouble choosing the right resume format? Read more: How to Choose the Best Resume Format?
So now that you know how to build a Canva resume, the question is should you?
When making a resume in our builder, drag & drop bullet points, skills, and auto-fill the boring stuff. Spell check? Check. Start building a professional resume template here for free.
When you're done, Zety's resume builder will score your resume and our resume checker will tell you exactly how to make it better.
4. What to Include in Your Canva Resume
Formatting is important, but resume content is king. Even the most gorgeous resume won't get you a job if the contents are lacking.
Recruiters spend just 7 seconds on average scanning resumes (according to hiring statistics). What are they looking for in that blink of an eye? One study found that recruiters make hiring recommendations based on perceived professional knowledge, interpersonal skills, and general mental ability.
How do you make sure that you peak the recruiter's attention in those seconds? How do you show you have that professional knowledge and those skills?
By tailoring your resume to the job description. You can do that by finding the key requirements from the job description and then weaving the ones you have into your experience and skills sections.
So what are all the categories of a professional resume?
Need some more help with resume writing? Check out our complete guide: How to Make a Resume [Professional Writing Guide]
Plus, a great cover letter that matches your resume will give you an advantage over other candidates. You can write it in our cover letter builder here. Here's what it may look like: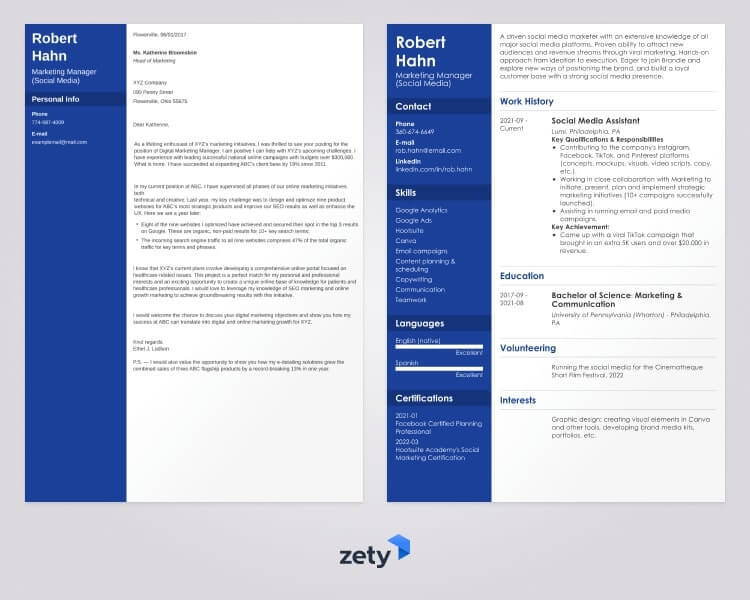 See more cover letter templates and start writing.
Thanks for reading! Do you have any questions about the Canva resume builder or the Zety resume builder? Have you already tried making a Canva resume? How did it turn out? Let's chat in the comment section below!
About Zety's Editorial Process
This article has been reviewed by our editorial team to make sure it follows Zety's editorial guidelines. We're committed to sharing our expertise and giving you trustworthy career advice tailored to your needs. High-quality content is what brings over 40 million readers to our site every year. But we don't stop there. Our team conducts original research to understand the job market better, and we pride ourselves on being quoted by top universities and prime media outlets from around the world.