15+ Best Online Resume Builders in 2021: Top Sites Reviewed
We found and reviewed the best online resume builders. So when you start using them to make your resume, you'll know exactly what to expect.
Let's be super clear on this—
There's a ton of resume builders available on the Internet.
Some of them offer great features while others claim to be legit but fail to deliver at the end of the day.
But what's the best resume builder?
In this article we'll show you quick reviews of the best resume websites for people of all walks of life.
Want to save time and have your resume ready in 5 minutes? Try our resume builder. It's fast and easy to use. Plus, you'll get ready-made content to add with one click. See 20+ resume templates and create your resume here.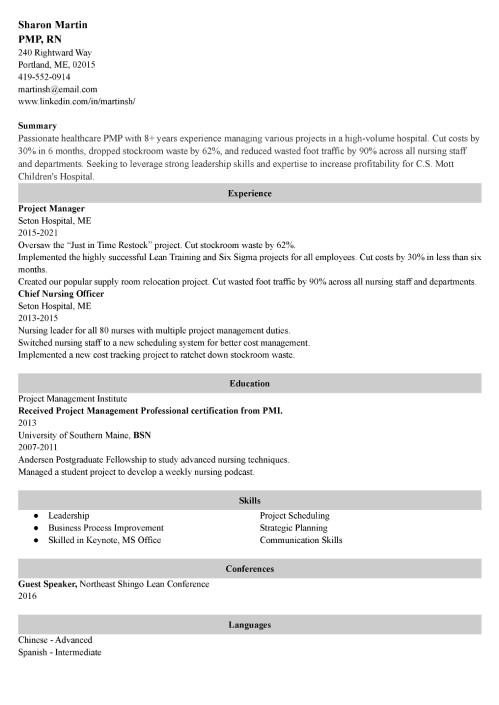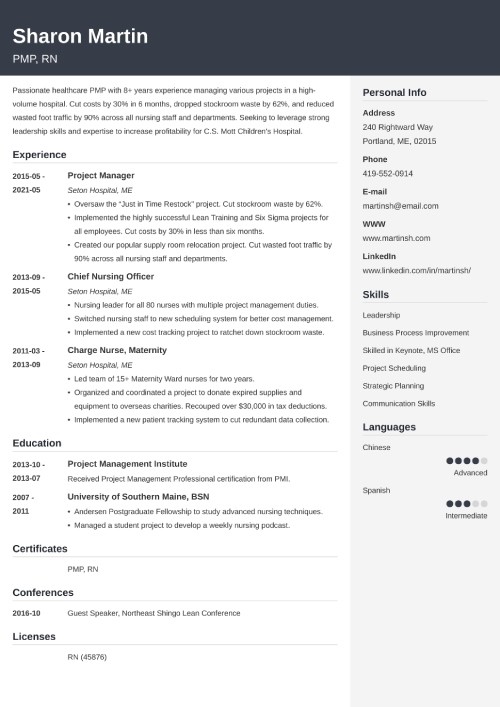 Sample resume made with our builder—See more templates and create your resume here.
These are the best resume builders in 2021:
Zety
ResumeHelp
ResumeNerd
ResumeLab
ResumeNow
VisualCV
ResumUP
EnhanCV
Wozber
ResumeGenius
Kickresume
Resumonk
ResumeBuild
FlowCV
SarmSoft Builder
ShapeResume
And now let's learn more about each of their programs.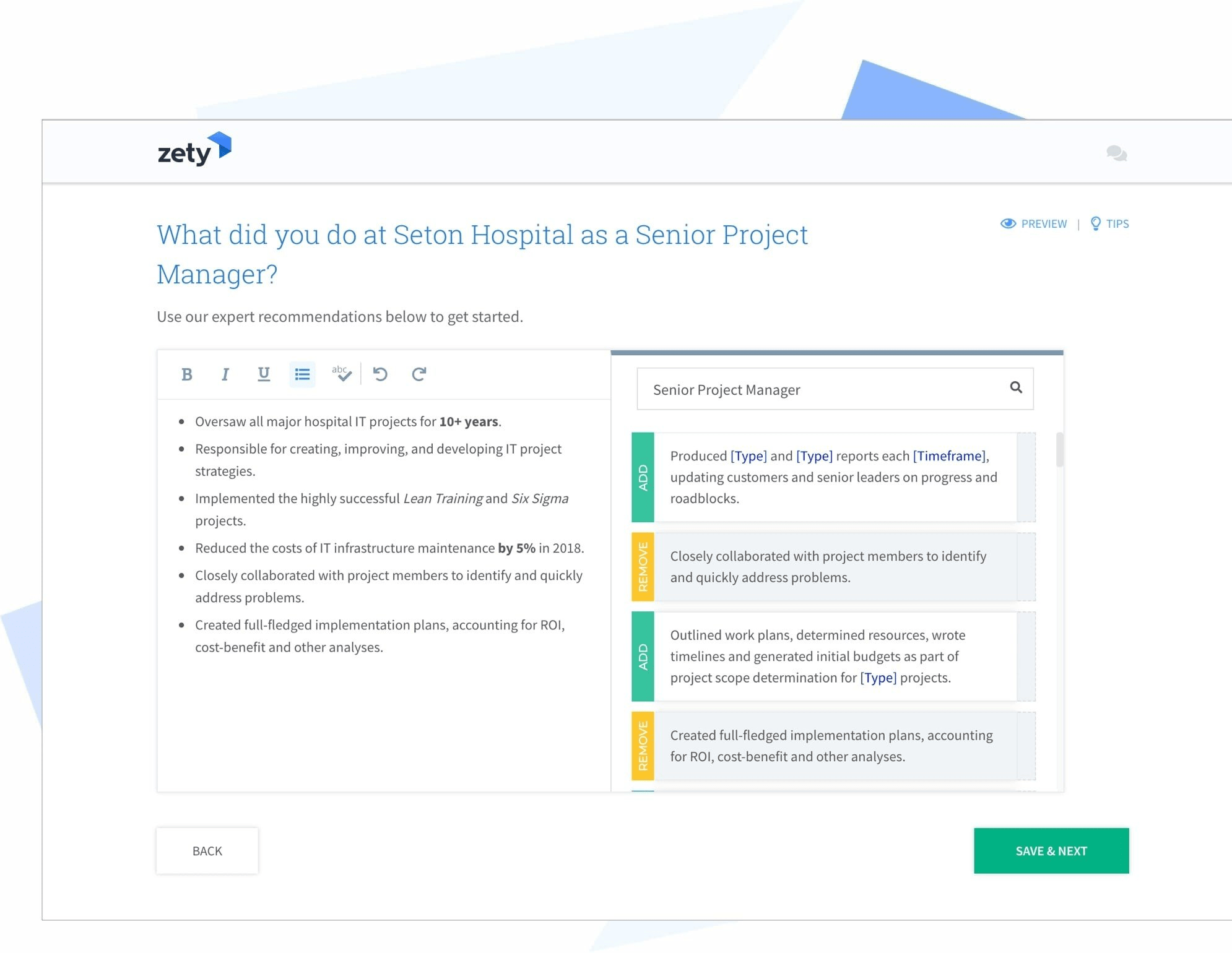 Zety is an online resume generator app with more than 20 blank resume templates and features that speed up the writing process.
We aren't going to review it ourselves. No, that would be self-promotional.
We won't tell you that we're awesome because our resume builder is fast and easy to use and we have cool resume templates.
We will skip the part where we say we provide you with lots of resume tips and pre-written content you can simply click to use. We'll also skip mentioning that we have incredible resume design.
We won't mention the cover letter builder that gives you a unique letter in a few clicks. We won't say we have the best resume templates.
No. Instead, just go and see for yourself. Go ahead and see how to build the perfect resume.
Zety—Example Resumes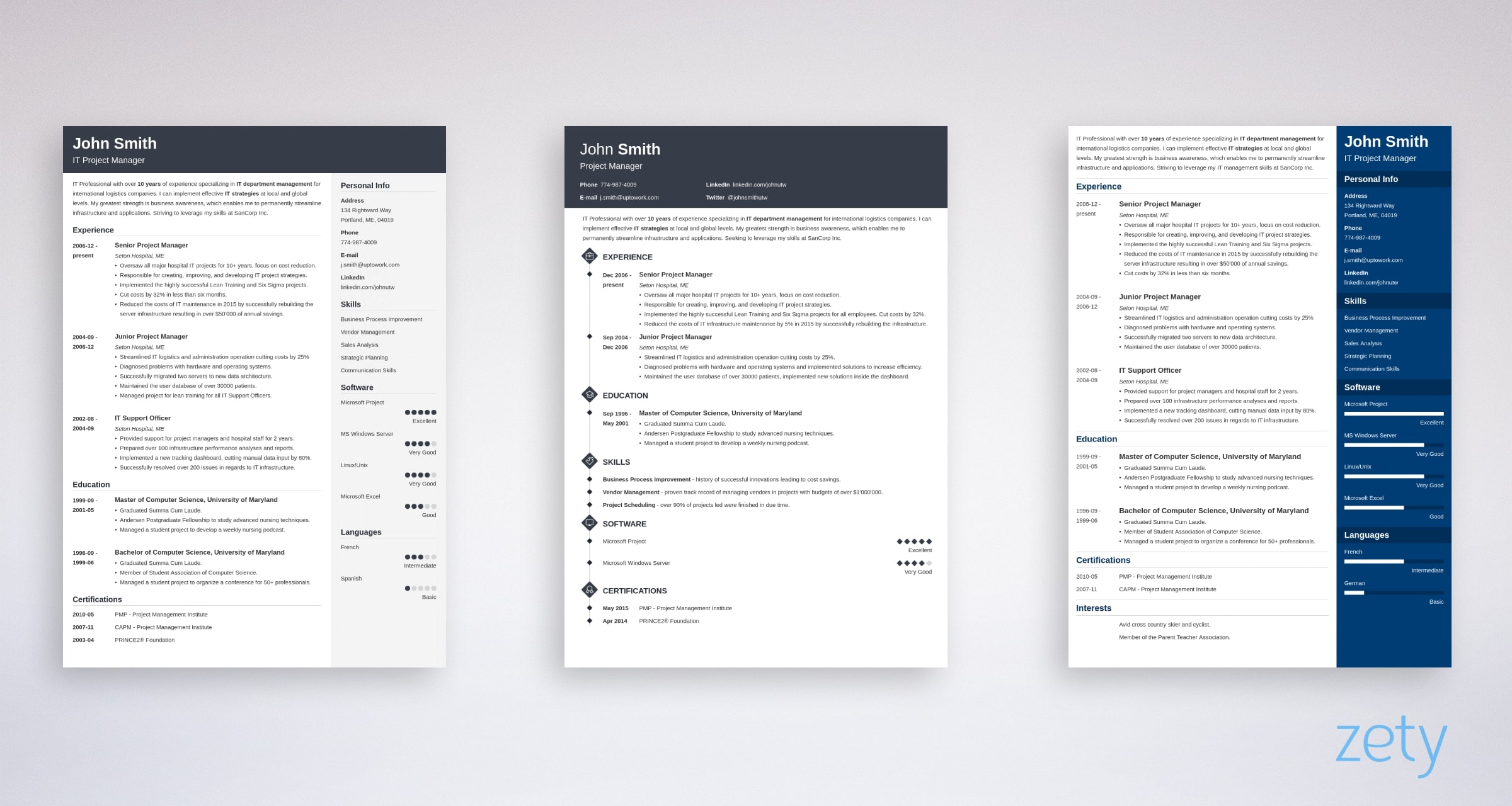 (Arguably the best resume templates of 2021 online.)
Is Zety Resume Builder good?
According to 2,729 user reviews on Trustpilot, Zety is an excellent resume-building tool. Users are particularly keen on its ease of use and the variety of templates.
This is what users said about Zety in their reviews:
Writing a resume makes most people cringe. However, with Zety I can easily edit my resume to bring focus to any specific skills needed for a particular job. This includes the dreaded cover letter. I no longer panic when someone asks for an updated resume.
Easy to follow prompts and beautiful templates to choose from. Started getting calls a few days after submitting and applying resume. It definitely stands out!
Went for a job interview and the potential employers were very impressed with my CV. It was the first thing they said to me!
Pricing:
Freemium (try before you buy, pay when satisfied with the results)
14-day full access—$2.7
Monthly plan—$5.95
Yearly access—$71.40
Before you start using any resume-building online tool, make sure you know the basics of resume writing. See: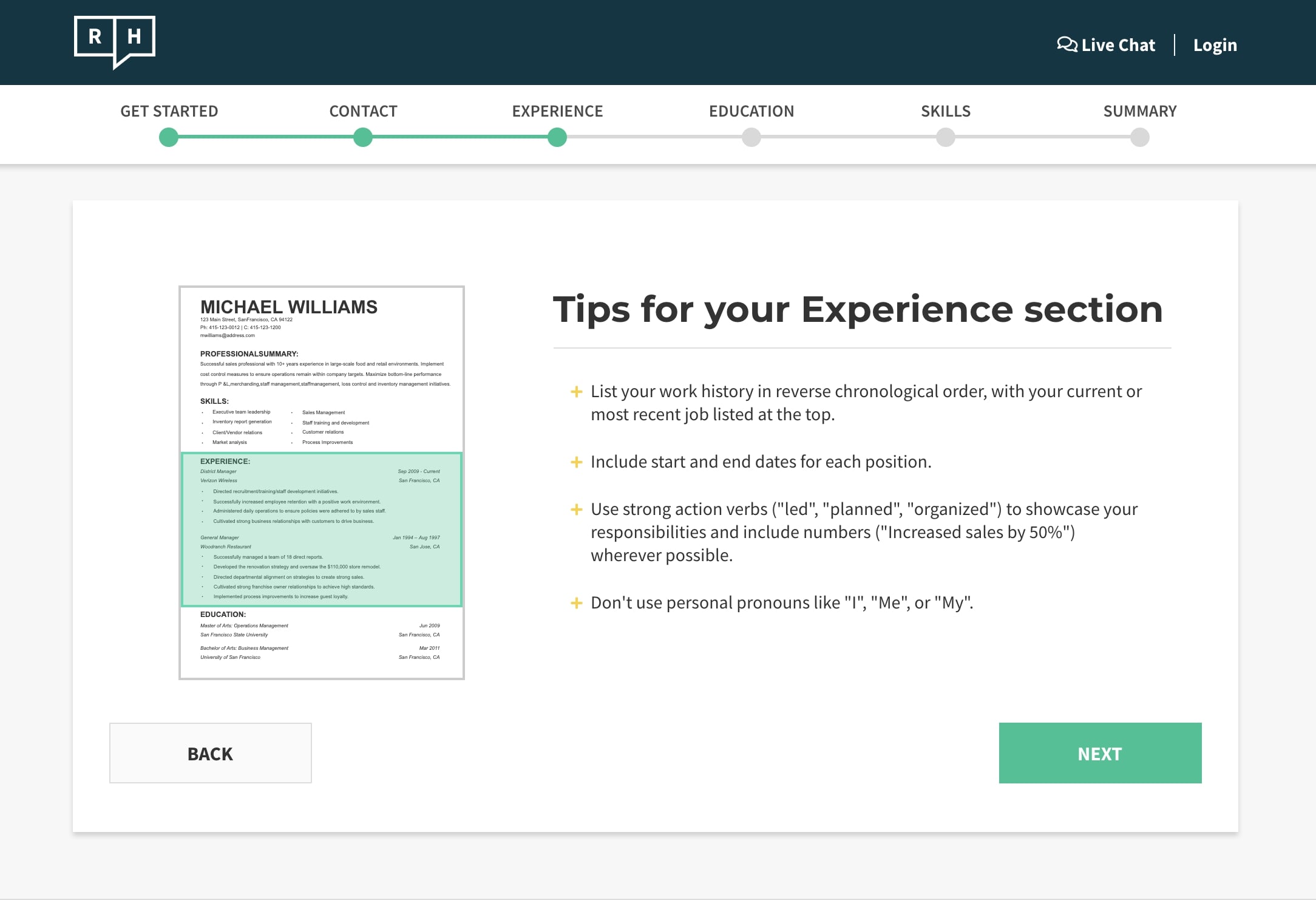 ResumeHelp offers a wizard-based resume creator that takes you from section to section. All you need to do is fill in the blanks and your resume will be put together by the app itself.
You get to choose one of 20+ templates that you can further customize to your liking.
The tool also offers pre-written content to speed up the writing process.
ResumeHelp—Example Resume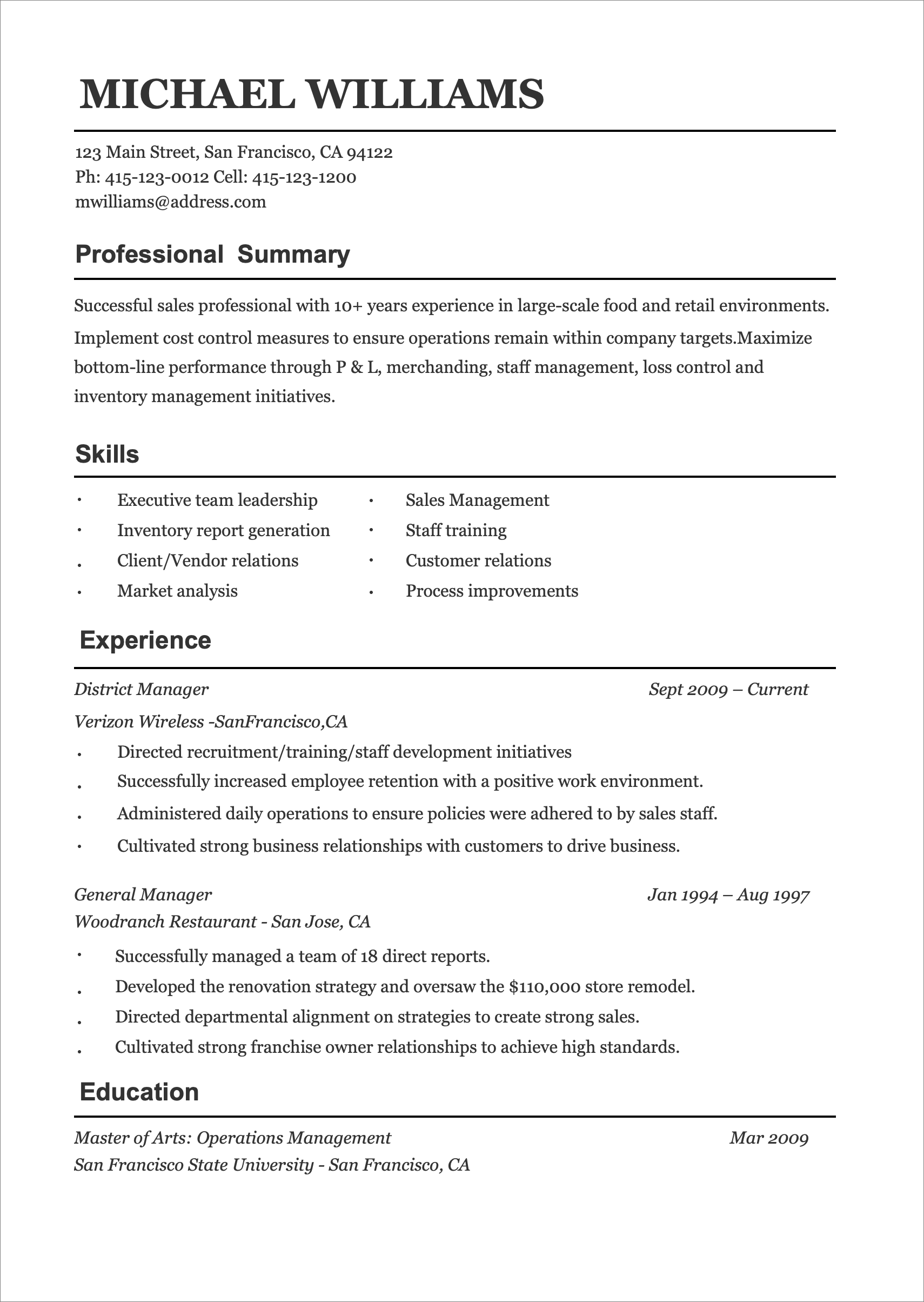 Pros:
20+ templates
Pre-written content
Tips on resume writing
Cons:
No free cover letter builder
Pricing:
$2.90 / 14-day full-access trial
$7.90 / monthly (billed annually at $94.80)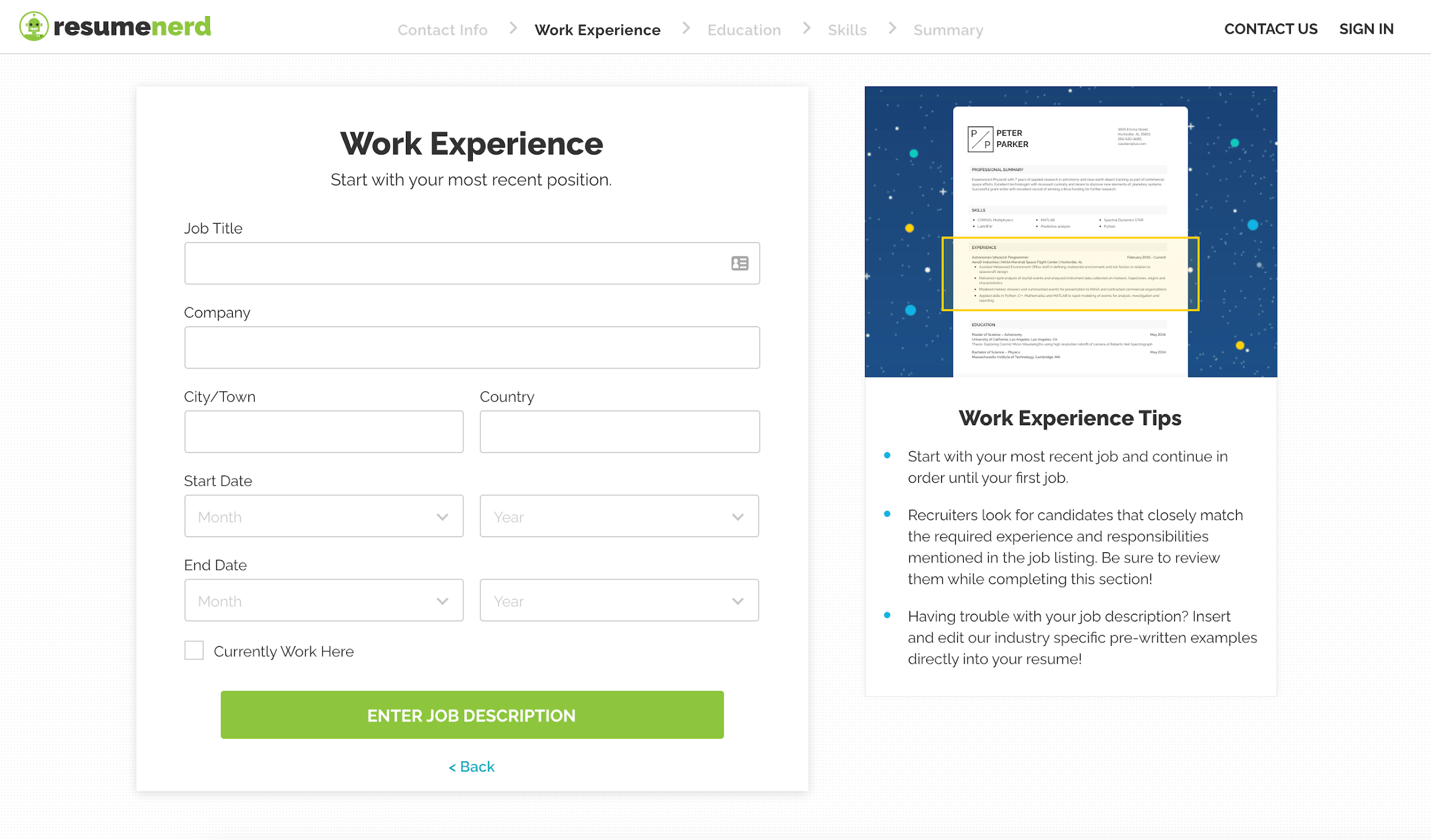 ResumeNerd's wizard will take you through the resume writing process section by section.
Before you start writing any part of the resume, you'll get to see several tips on how to make the most of it. The app also offers some pre-written content that you can modify to your needs.
ResumeNerd—Example Resume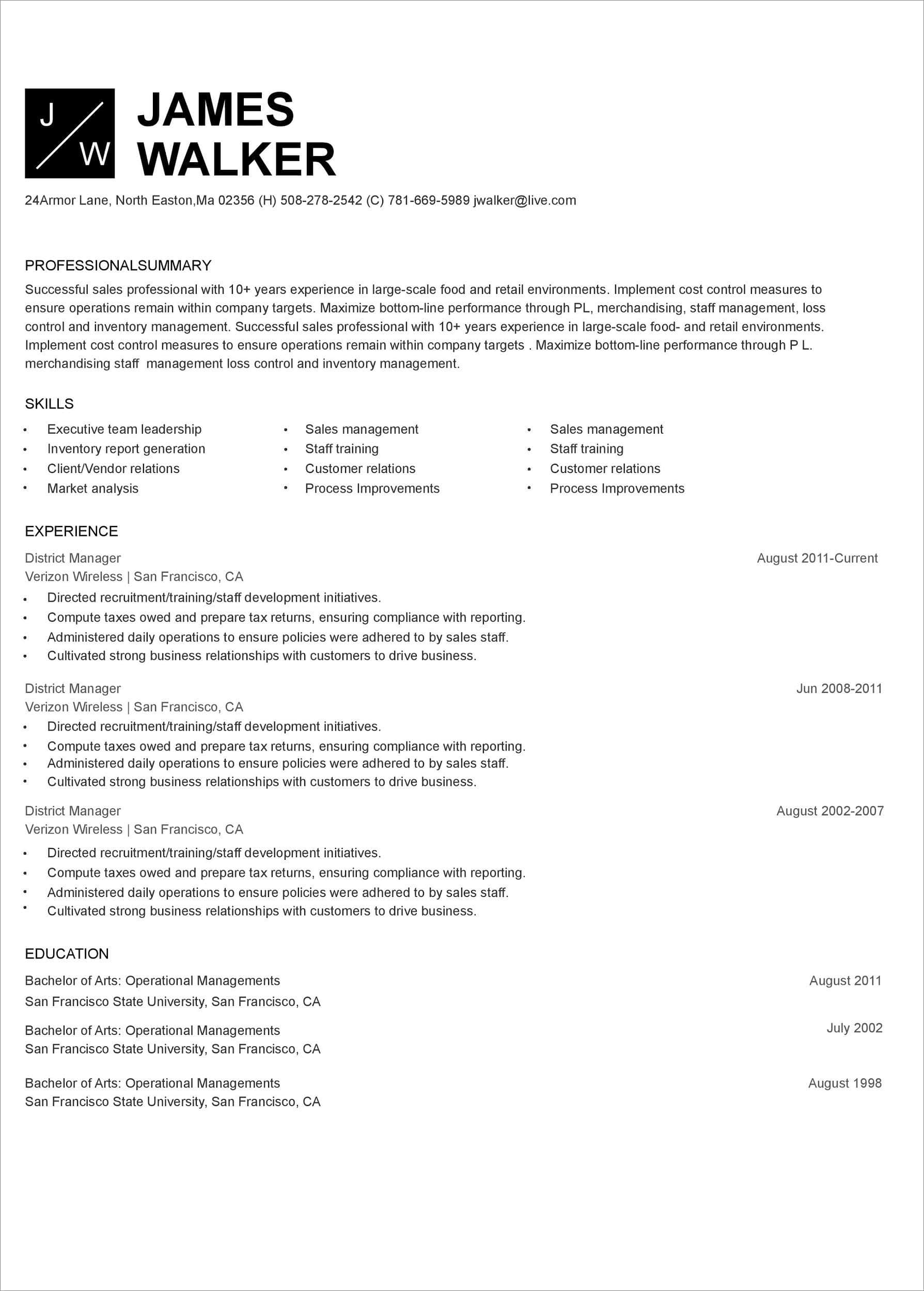 Pros:
Resume check
Pre-written content
Many download formats
Cons:
Cover letter builder is a premium feature
Pricing:
$2.75 / month
$22.75 / 3 months
$39.75 / year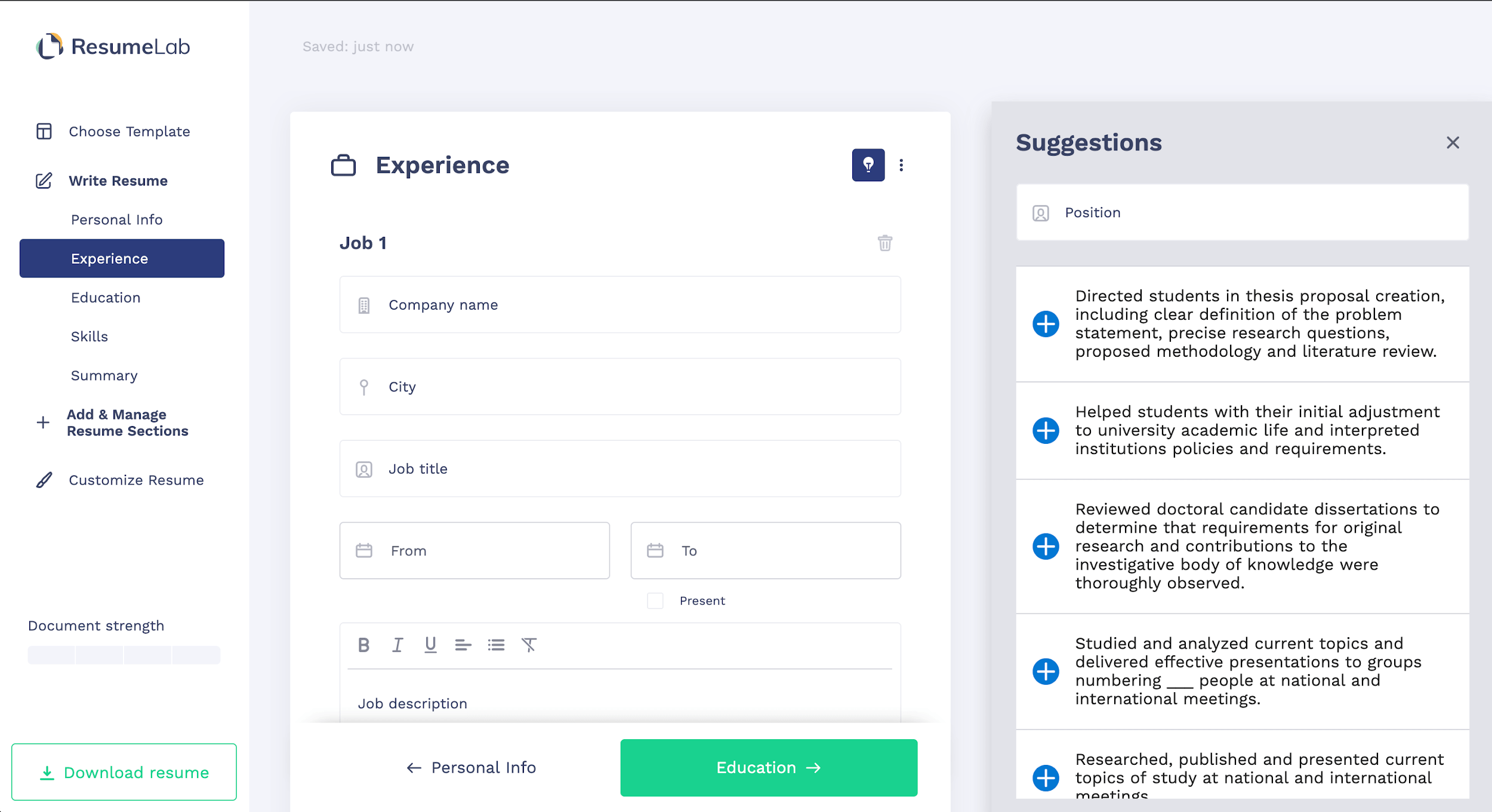 The online tool offered by ResumeLab lets you create a resume and cover letter combo. You get 18 professional templates to choose from.
Apart from pre-written content (e.g. experience bullet points), you get a unique AI-driven document strength meter that scores your resume against those prepared by the other candidates.
Also, you can customize each resume template to your heart's content.
Pros:
18 customizable templates
AI-based resume scoring system
Unlimited PDF download
Advanced customization options
Cons:
Pricing: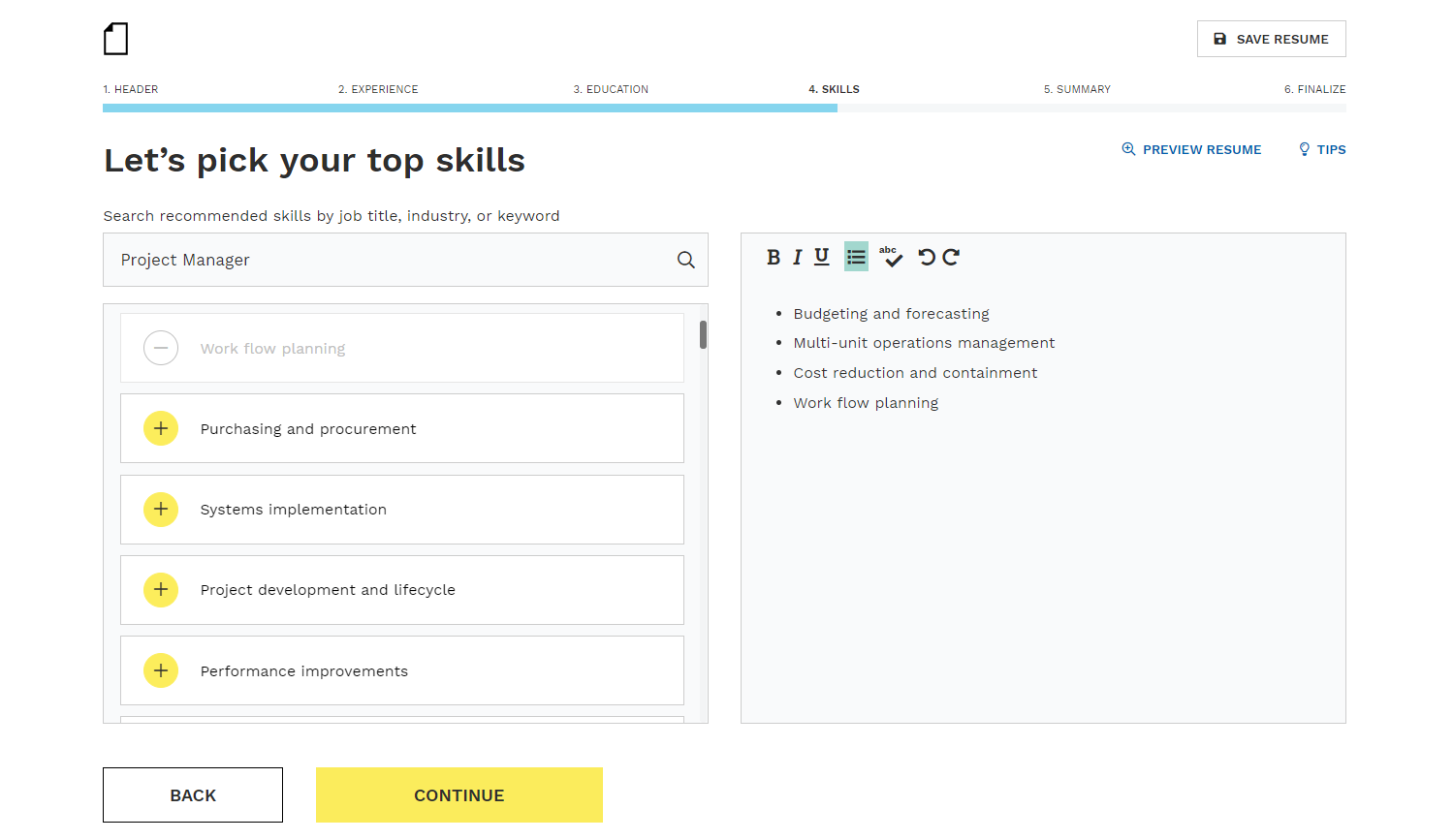 ResumeNow is a fast-paced resume builder that takes you through a series of fill-in-the-blanks wizard screens.
As you fill out the blank spaces, the app does the formatting and puts all the info on the resume template of your choice.
The app offers pre-written content and a professional print out option.
Resume Now—Example Resume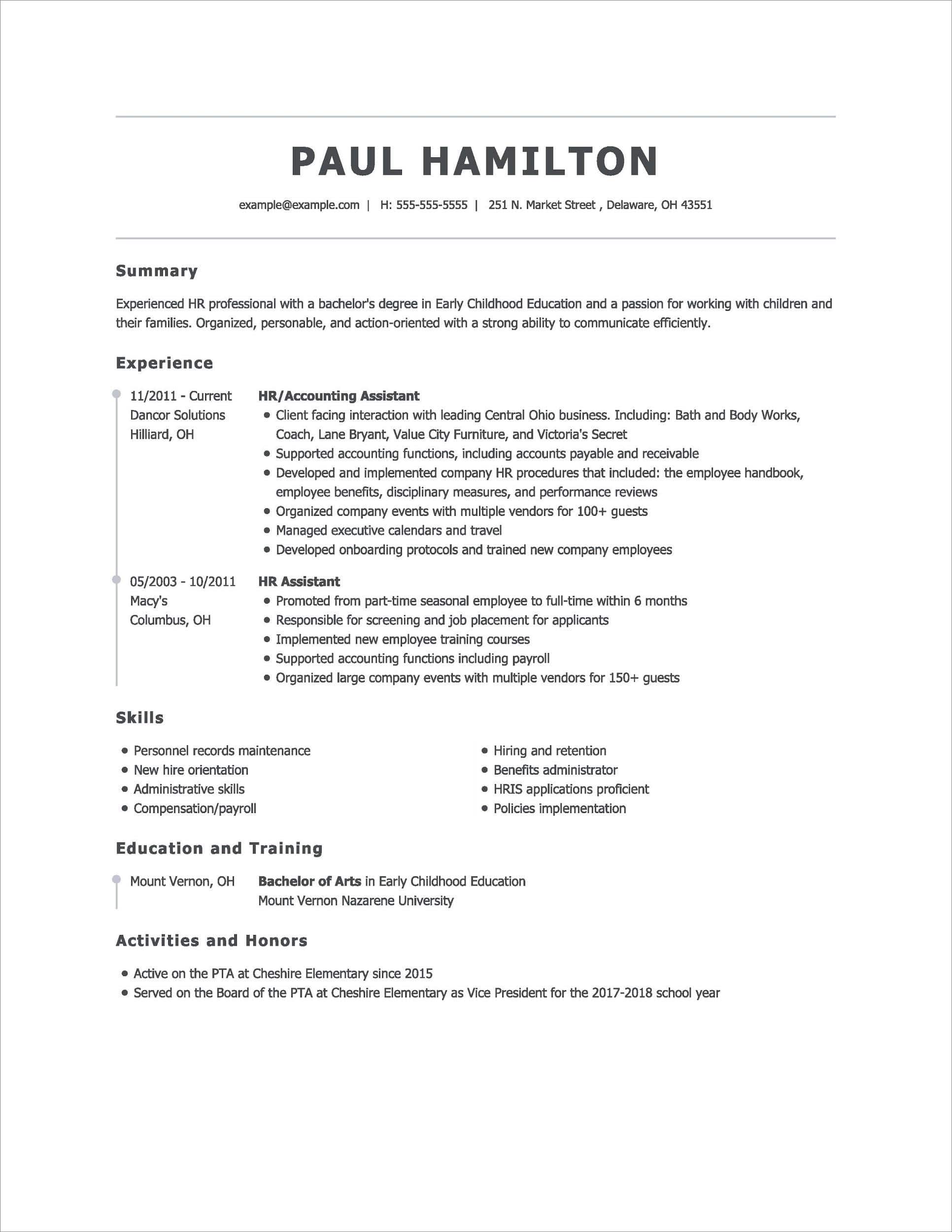 Pros:
Professional printouts available
Multiple download formats
Cons:
No resume check in the cheapest option
Pricing:
$2.45 / 14-day limited access
$2.85 / 14-day full access
$10.45 / monthly access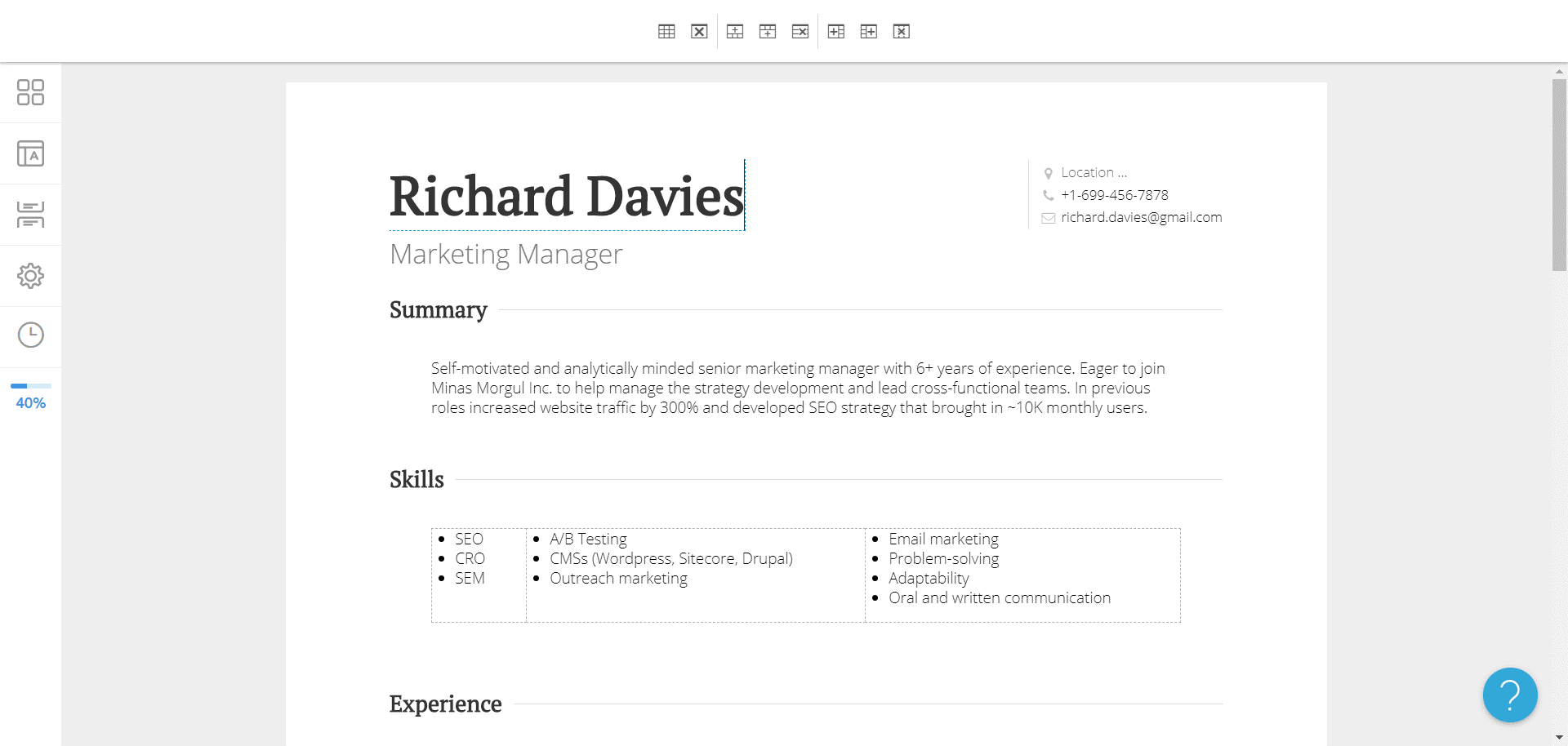 VisualCV's resume website allows you to make a single resume or cover letter for free—but you can't call it a free resume builder.
If you wish to make more than one document and have access to all the templates, you need to buy a premium plan. The builder offers a handful of ready-made resume examples that you can use as a basis for your own document.
Also, the cover letter builder functionality is very basic.
VisualCV—Example Resume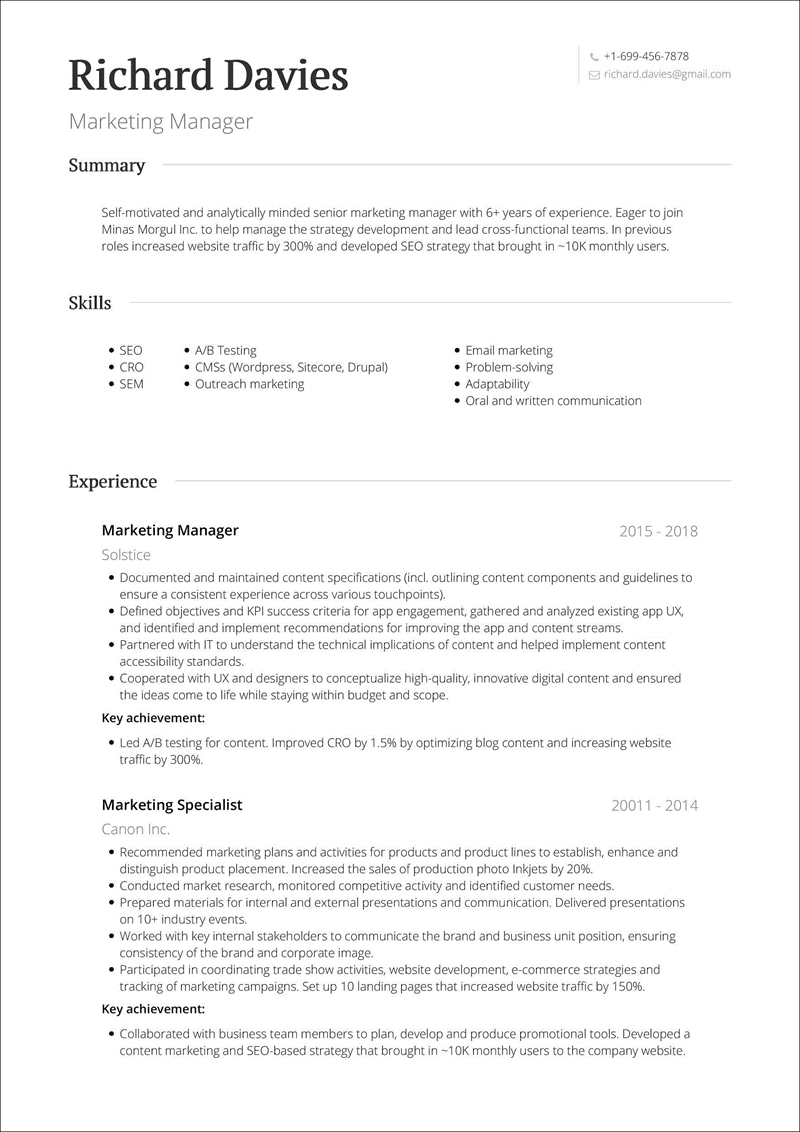 Pros:
Ready-made resume examples
Easy to use user interface
Cons:
The cover letter builder is very basic
Pricing:
Free (one document only)
$12 / month
7. Resumup.com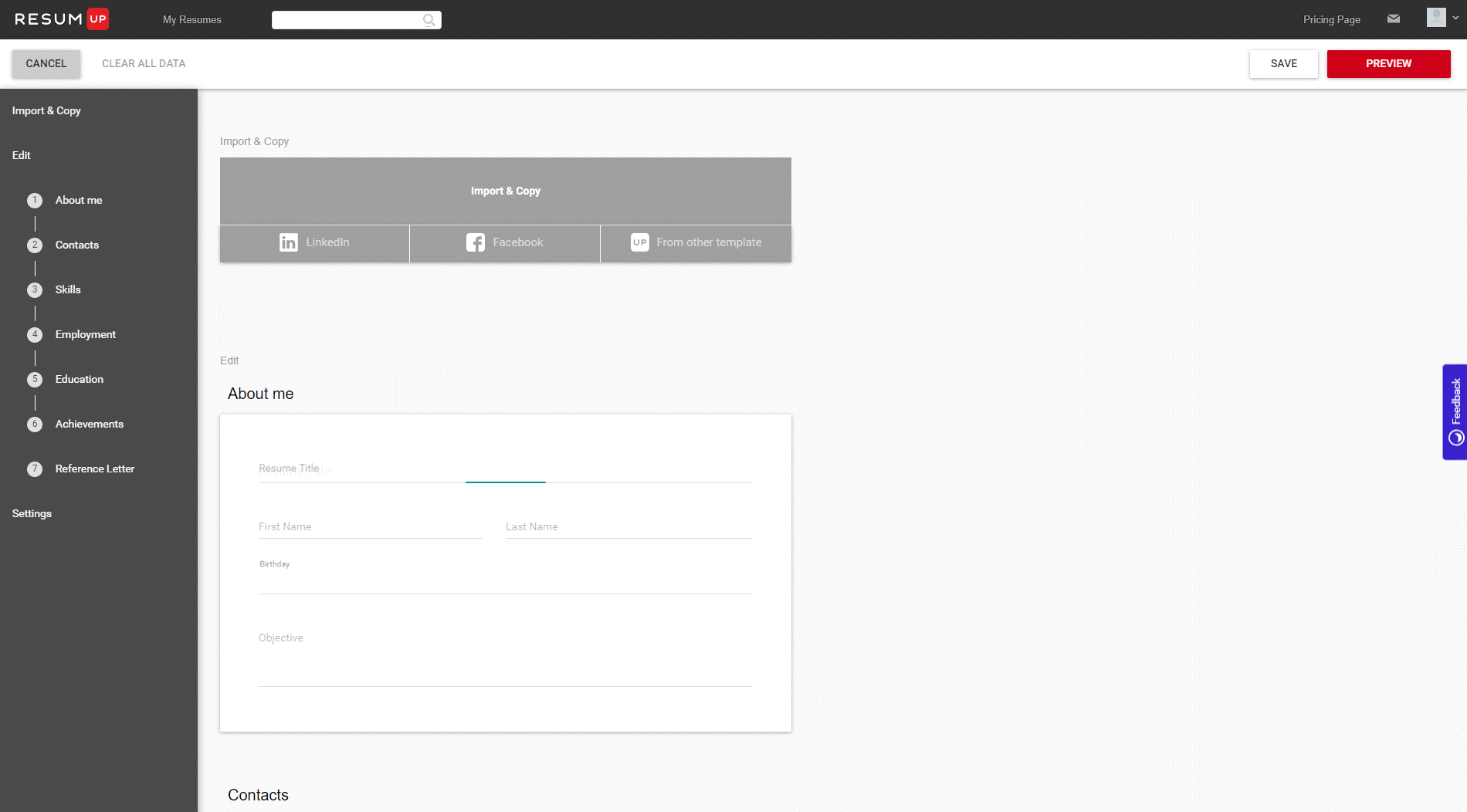 Resumup may not be the best app out there but it deserves a mention. Just like most of the other apps it's intuitive to use and all you need to do is fill in the blanks to get your resume ready.
The strangest thing about this app is that the only option you get for free is a resume in a TXT format that you can't do much with anyway… ¯\_(ツ)_/¯
Resumup—Example Resume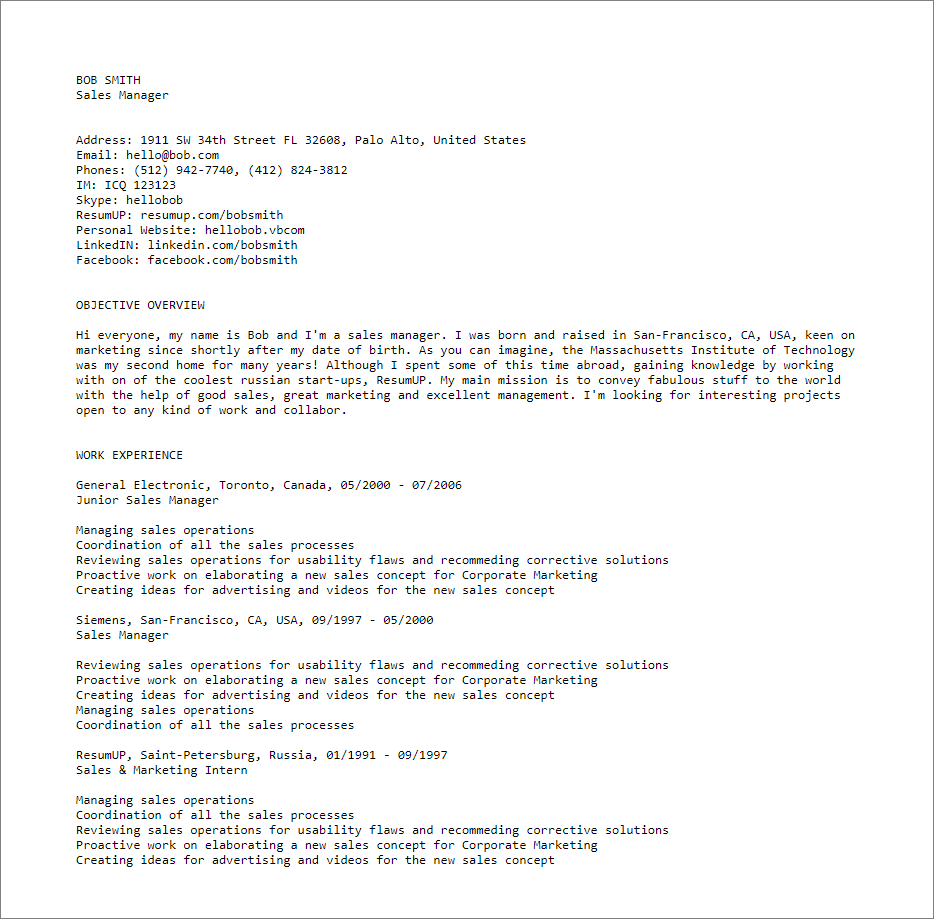 Pros:
Cons:
The only free option is a… TXT resume
No PDF resume option
Pricing:
Free (TXT document)
$6 / month (only 1 template)
$8 / month
$149 / lifetime access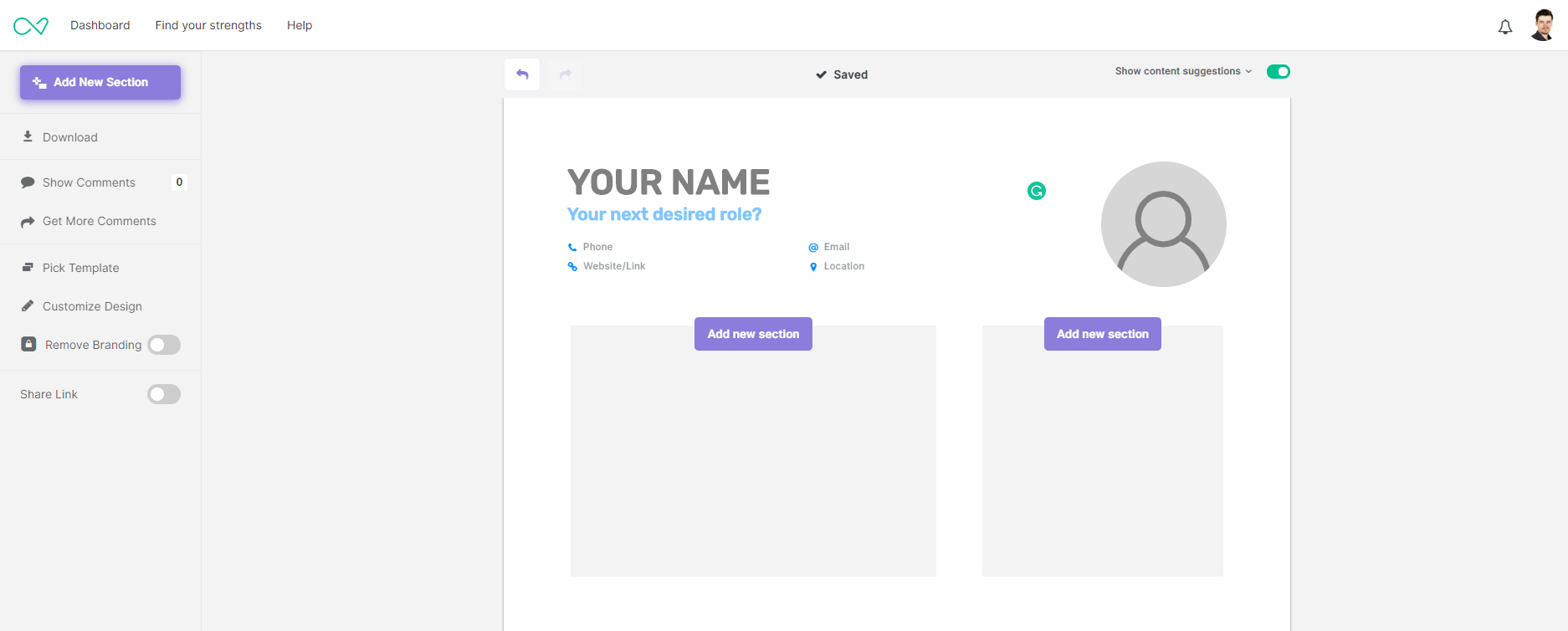 This online tool lets you write both a resume and a cover letter.
It offers a collaboration option that allows you to share your document with friends who can review it and leave their comments.
Also, there's a very basic content suggestion tool that can help you correct typos.
EnhanCV—Example Resume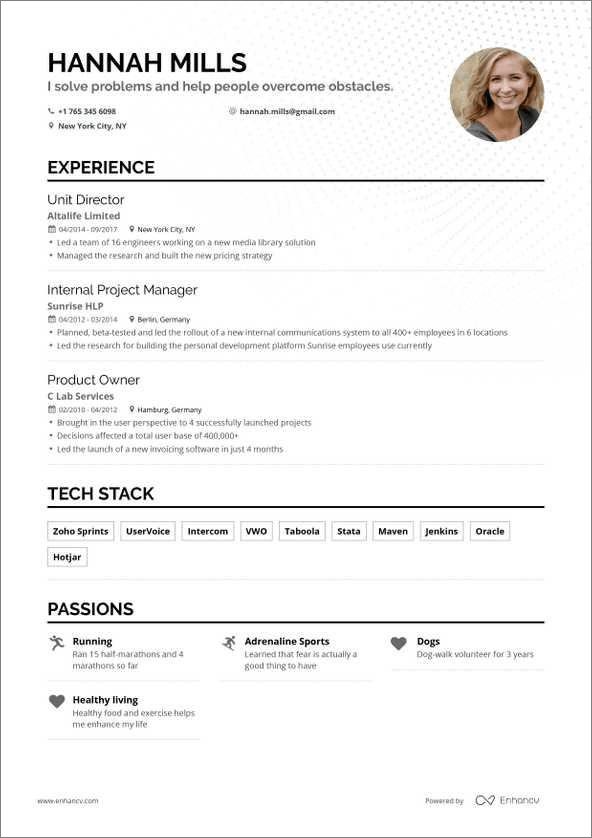 Pros:
Intuitive and easy to use
You can get your resume critiqued by your friends
Cons:
The content suggestions tool is very basic
Pricing:
Three options: $10.99 or $14.99 or $19.99 / month
When making a resume in our builder, drag & drop bullet points, skills, and auto-fill the boring stuff. Spell check? Check. Start building professional resume template here for free.
When you're done, Zety's resume builder will score your resume and tell you exactly how to make it better.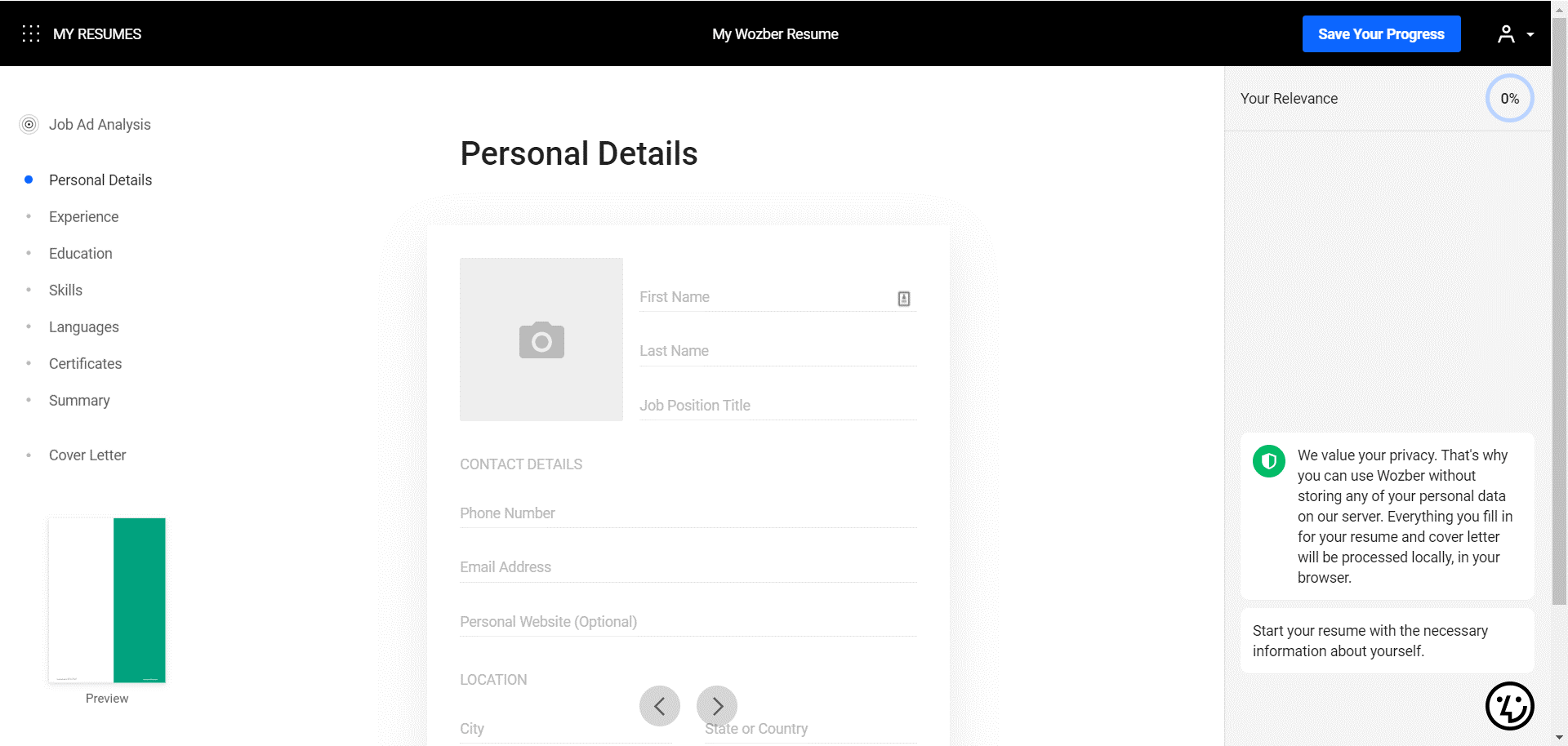 This app is available free of charge and has both resume and cover letter writing functionalities.
However, the builder lacks pre-written content that would show up inside the editor. And free resume templates aren't always the most reliable. One interesting feature the app offers is the so-called Relevance Meter that shows to what extent your resume complies with the job offer.
Wozber—Example Resume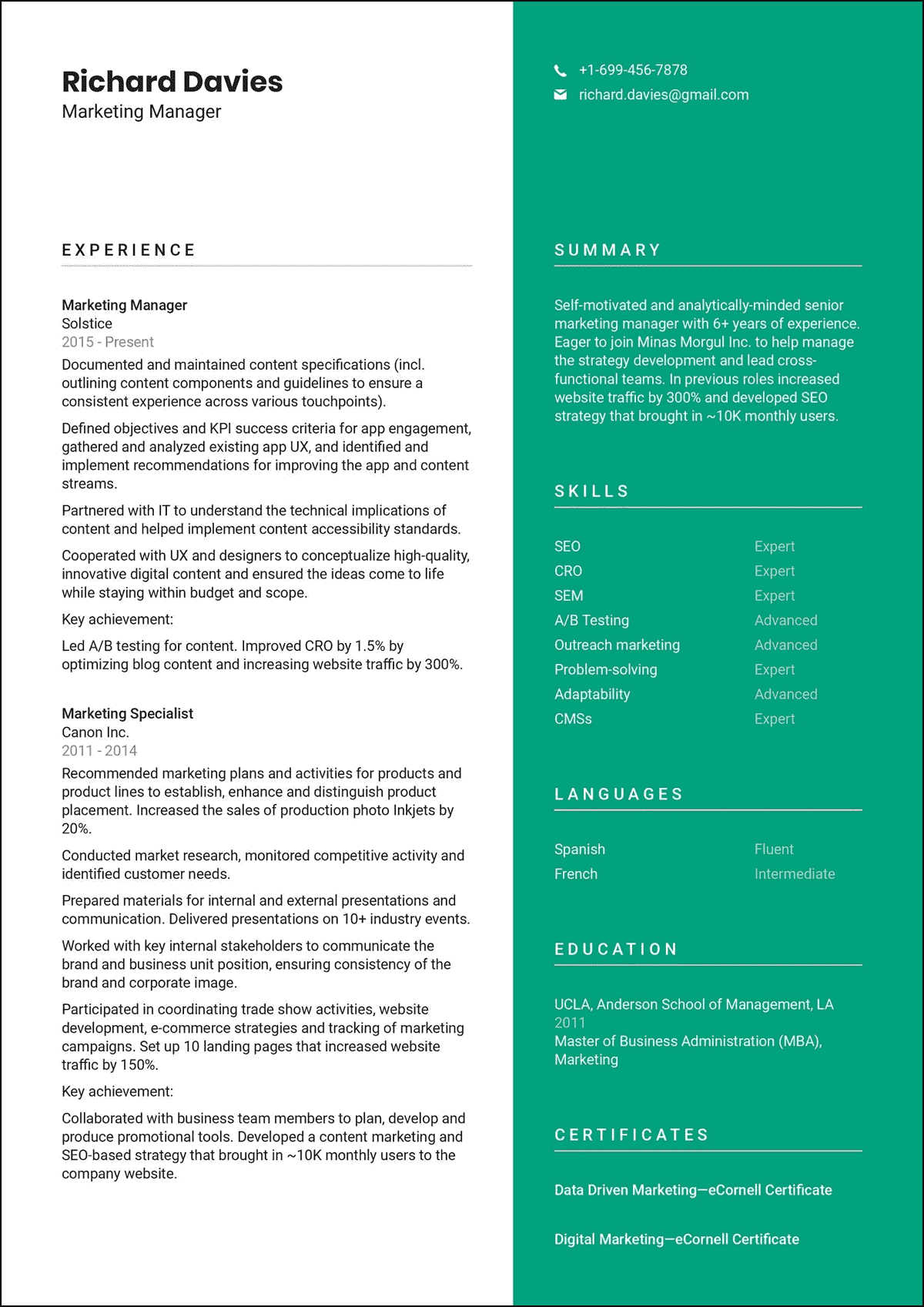 Pros:
Free of charge
Cover letter writing tool
Cons:
All templates look very much alike
The layouts might be hard to read and parse
Plus, a great cover letter that matches your resume will give you an advantage over other candidates. You can write it in our cover letter builder here. Here's what it may look like: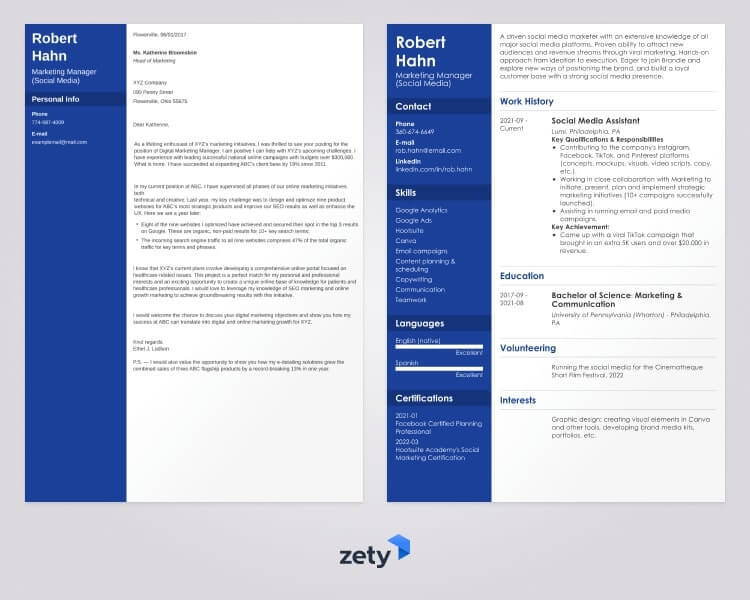 See more cover letter templates and start writing.9. Novoresume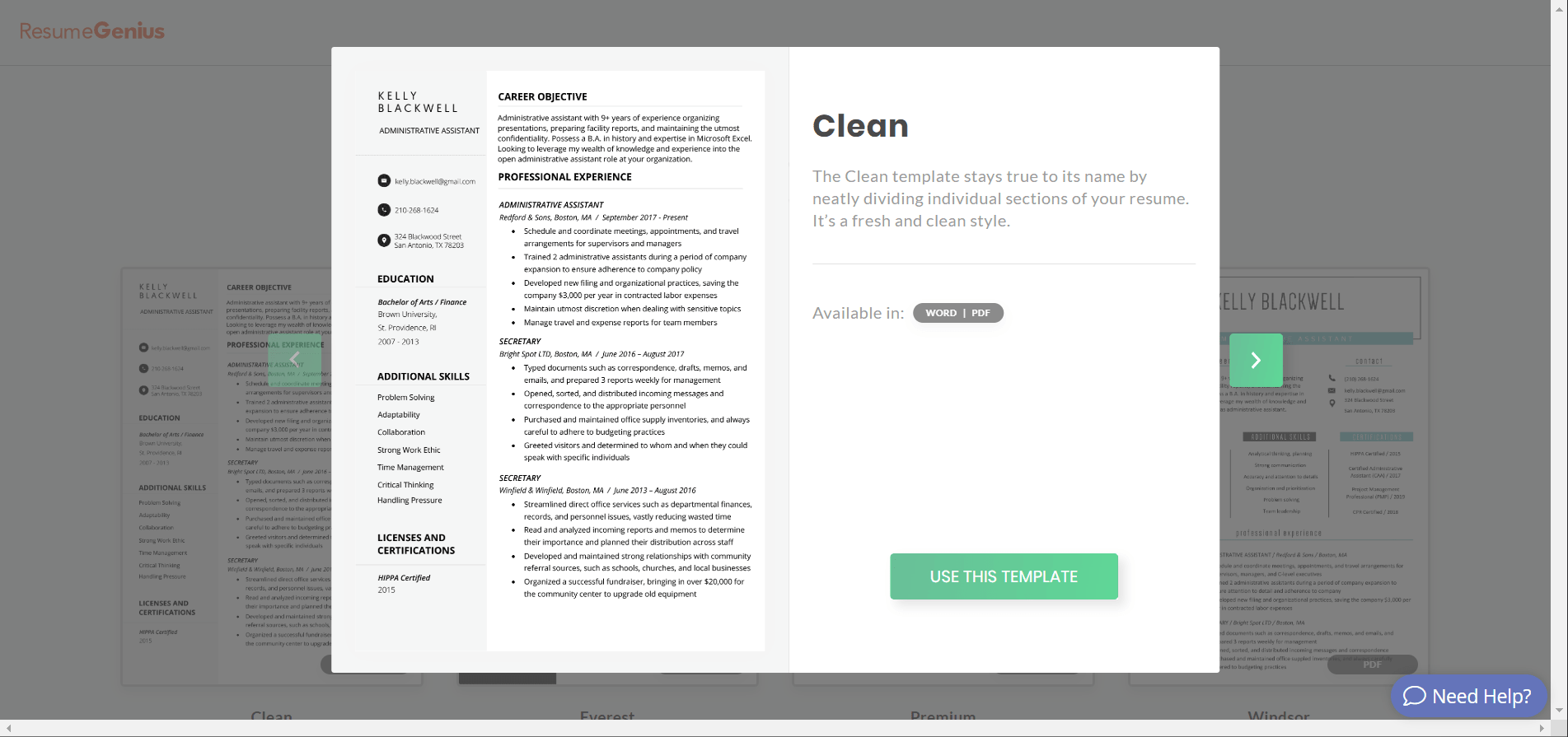 You are guided by a resume wizard application with limited options (which might be good if you don't care for more advanced options). In some sections, you get pre-written content.
There's no cover letter writing functionality, though, and it's not a free resume builder either.
ResumeGenius—Example Resume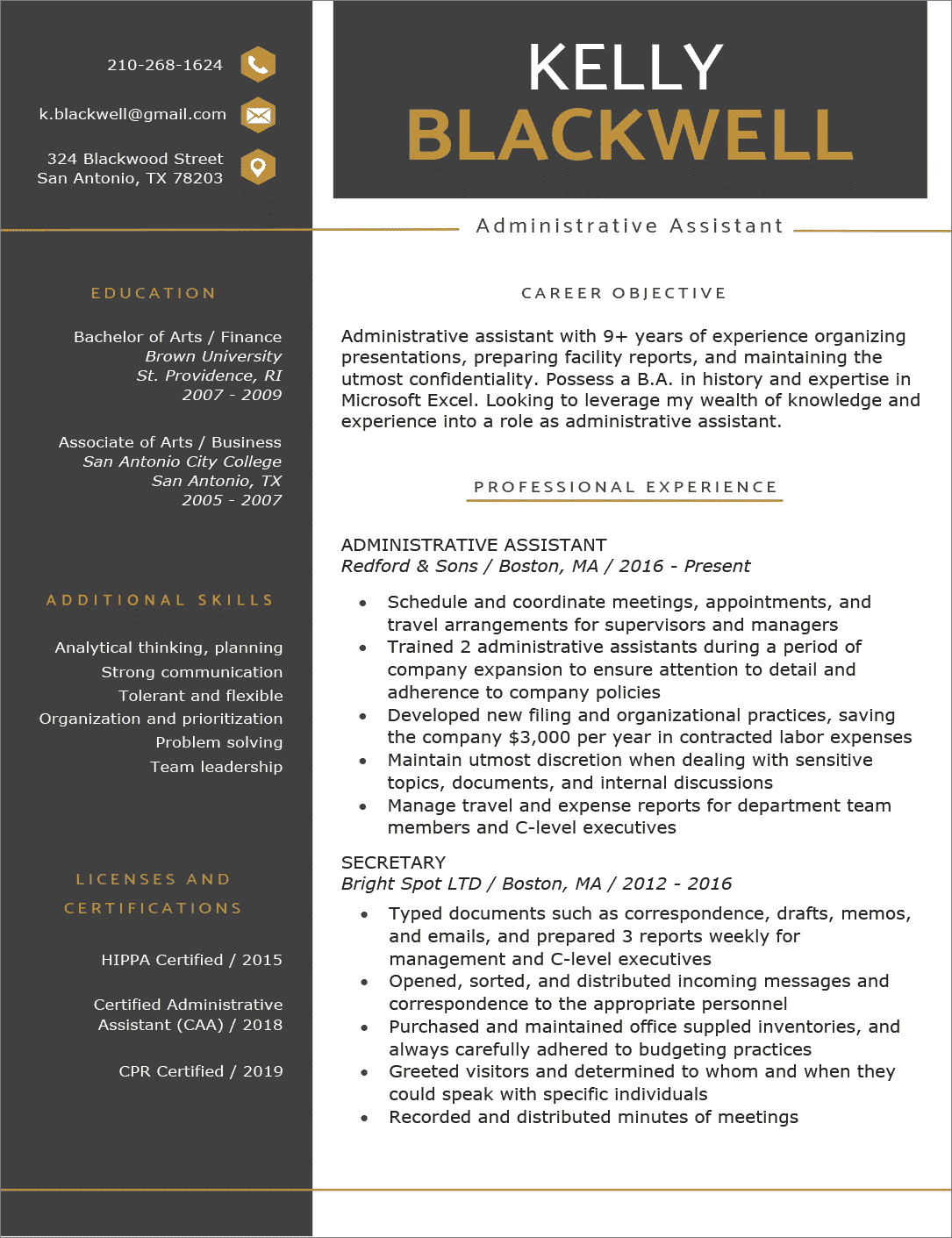 Pros:
Good user experience
Helpful resume writing wizard
Cons:
You may not notice it's a paid tool
Pricing:
14-day trial version—$1.95 ($39.95 / month afterwards)
$7.95 / month (if you choose to be billed annually at $95.40)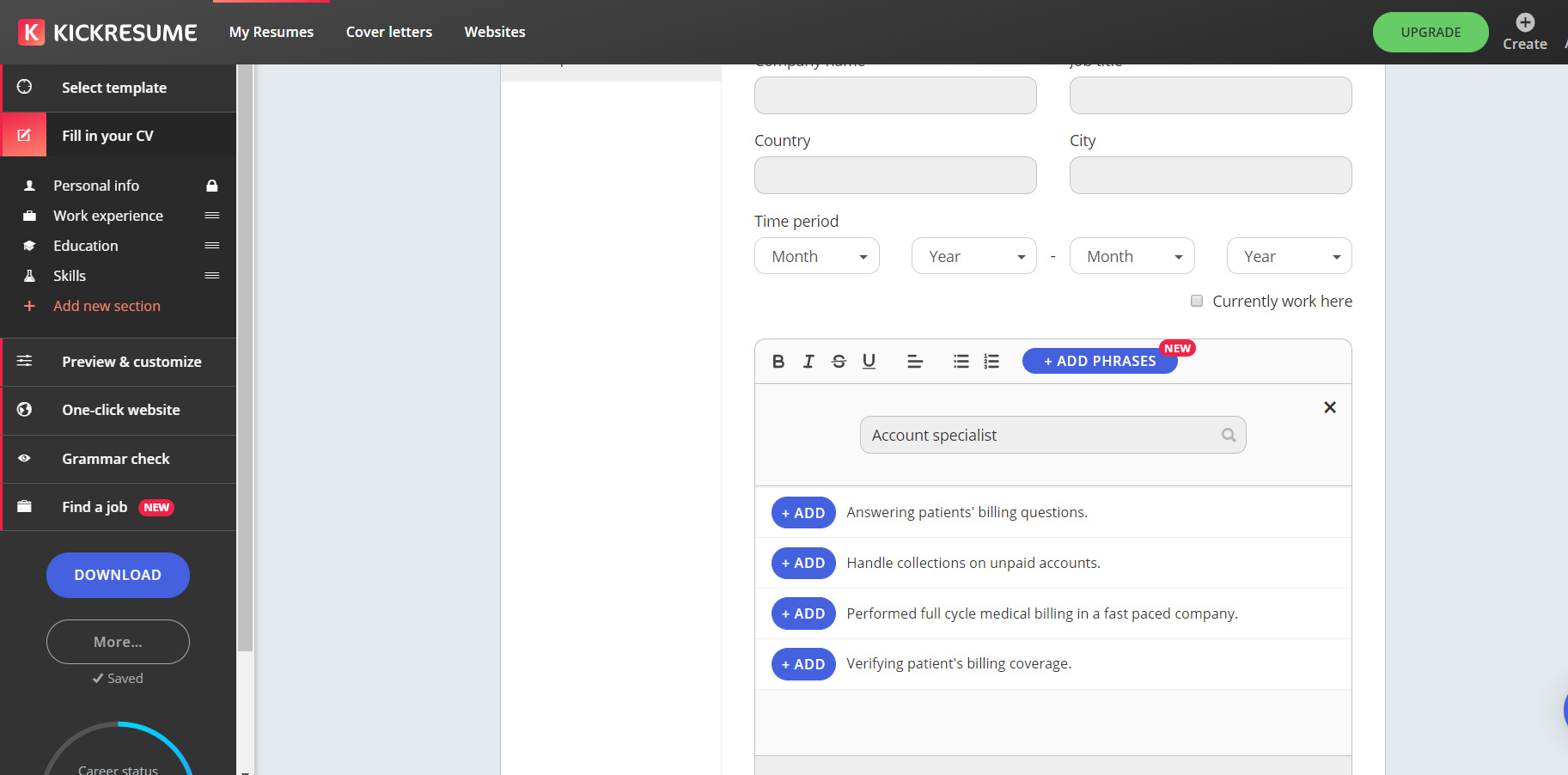 Kickresume offers several templates for resumes, a cover letter writing tool, and a limited job search functionality. However, the pre-filled content it offers is quite basic and requires serious tweaking to become usable. The templates are graphics-heavy—arguably, this might be a problem for some ATS systems and recruiters. And if you don't have an ATS resume your job application could be rejected before anyone reads it.
The app also lets you build a resume website.
Kickresume—Example Resume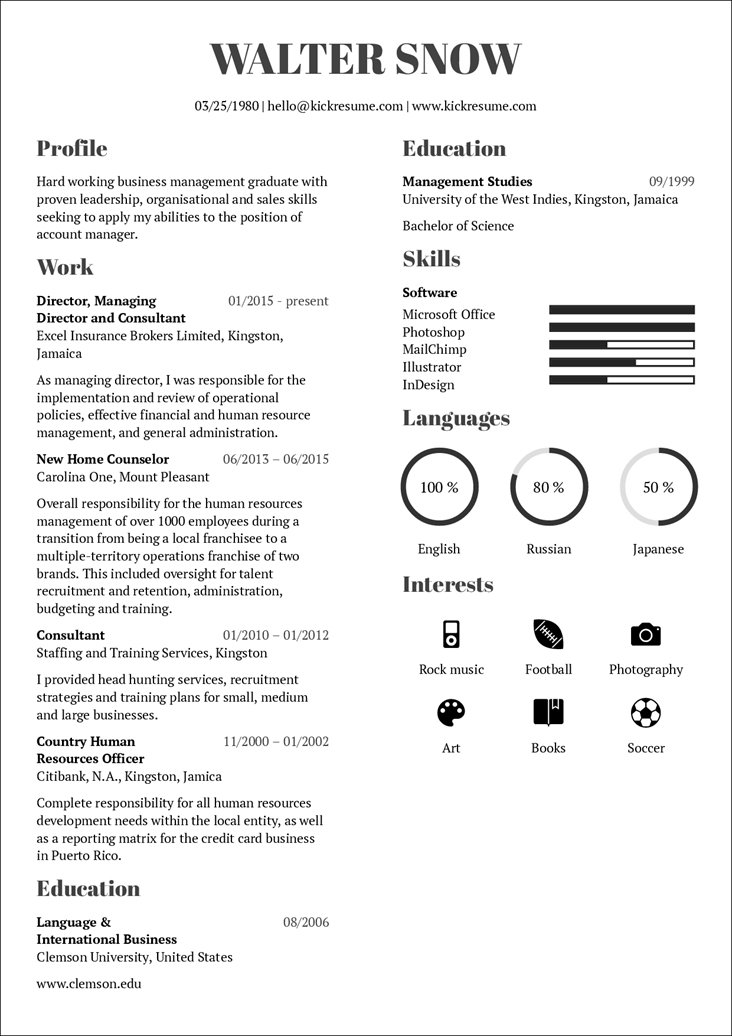 Pros:
Number of templates
Website maker
Cons:
Very basic pre-written content
Limited options when making a free resume
Pricing:
$19 / month
$36 / 3-months
$96 / year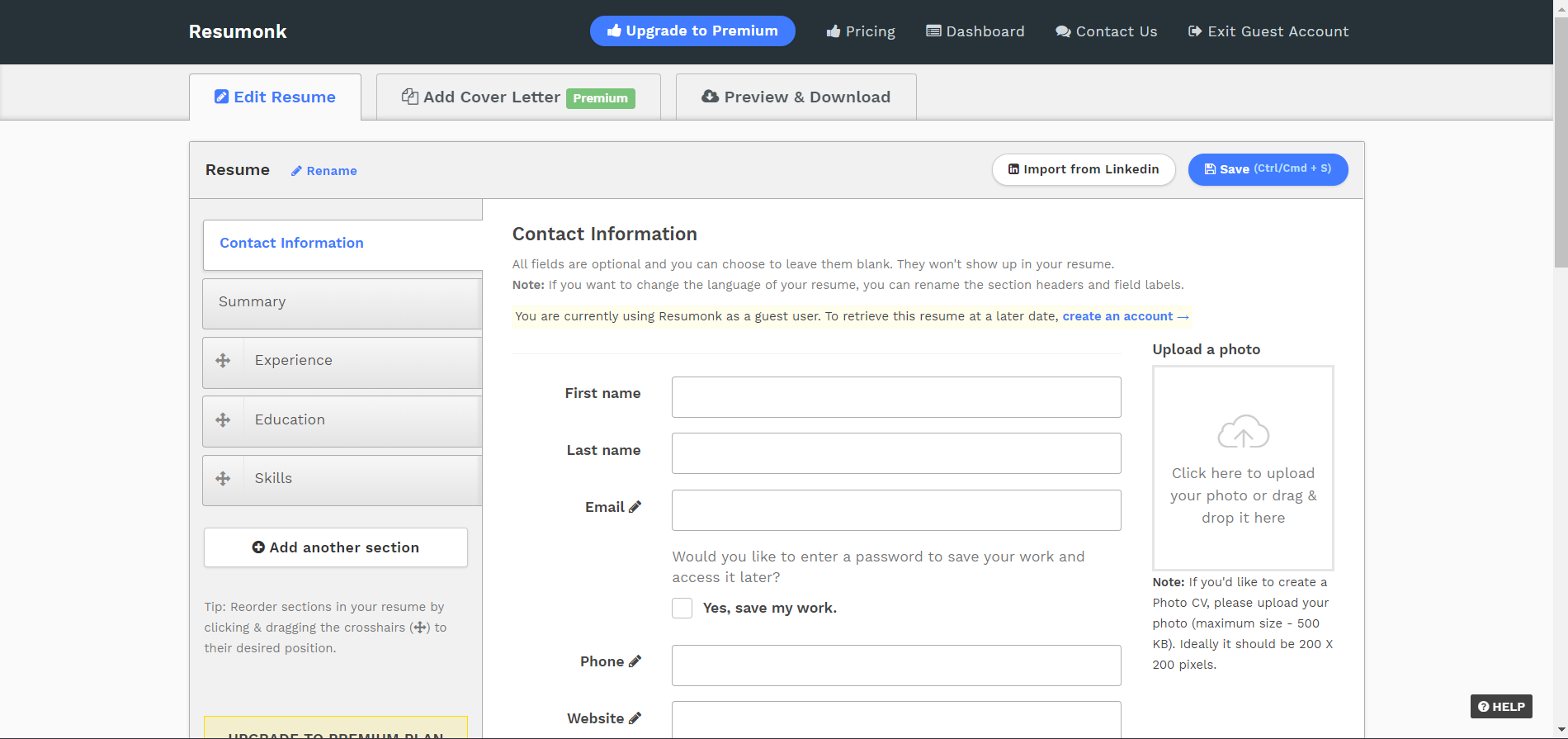 Resumonk is a simple tool that lets you create a resume and a cover letter.
Its features are rather basic and in comparison to the other online resume builders, the software comes across as a bit outdated—both in terms of functionalities and user interface.
Resmonk—Example Resume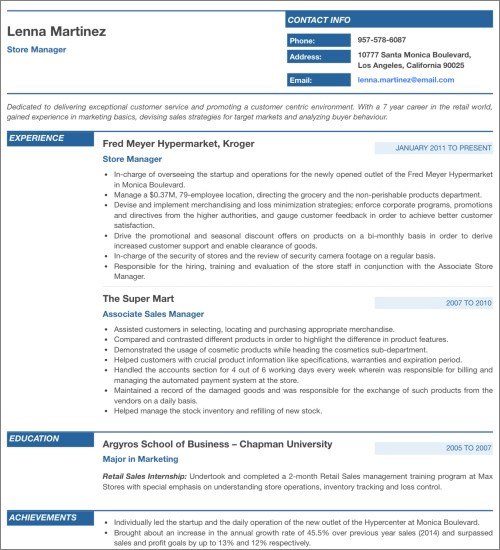 Pros:
Simple to use
Cover letter builder included
Cons:
Has a slightly outdated vibe
Its features aren't as polished as those of competitors'
Pricing:
$29 / year
$89 / lifetime access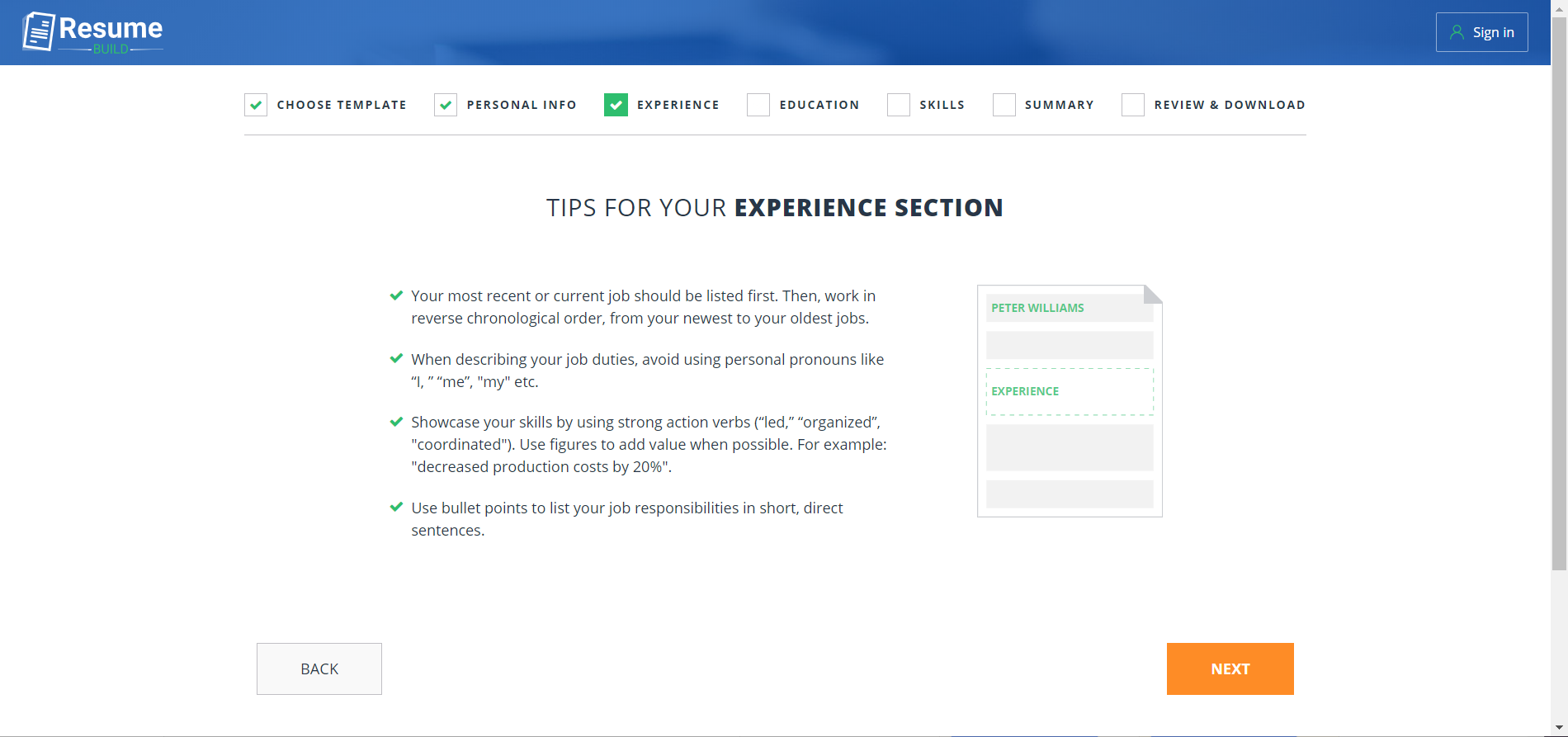 The app offers some pre-written content that you can use and adapt for your purposes. For example, you can choose bullet points for your job description section or find a resume summary befitting your level of experience.
The app doesn't have a cover letter making functionality, and if you want to download your resume you'll have to pay. Still, it's pretty good value for money so if you're not in a bank-breaking mood, ResumeBuild is a tool to consider.
ResumeBuild—Example Resume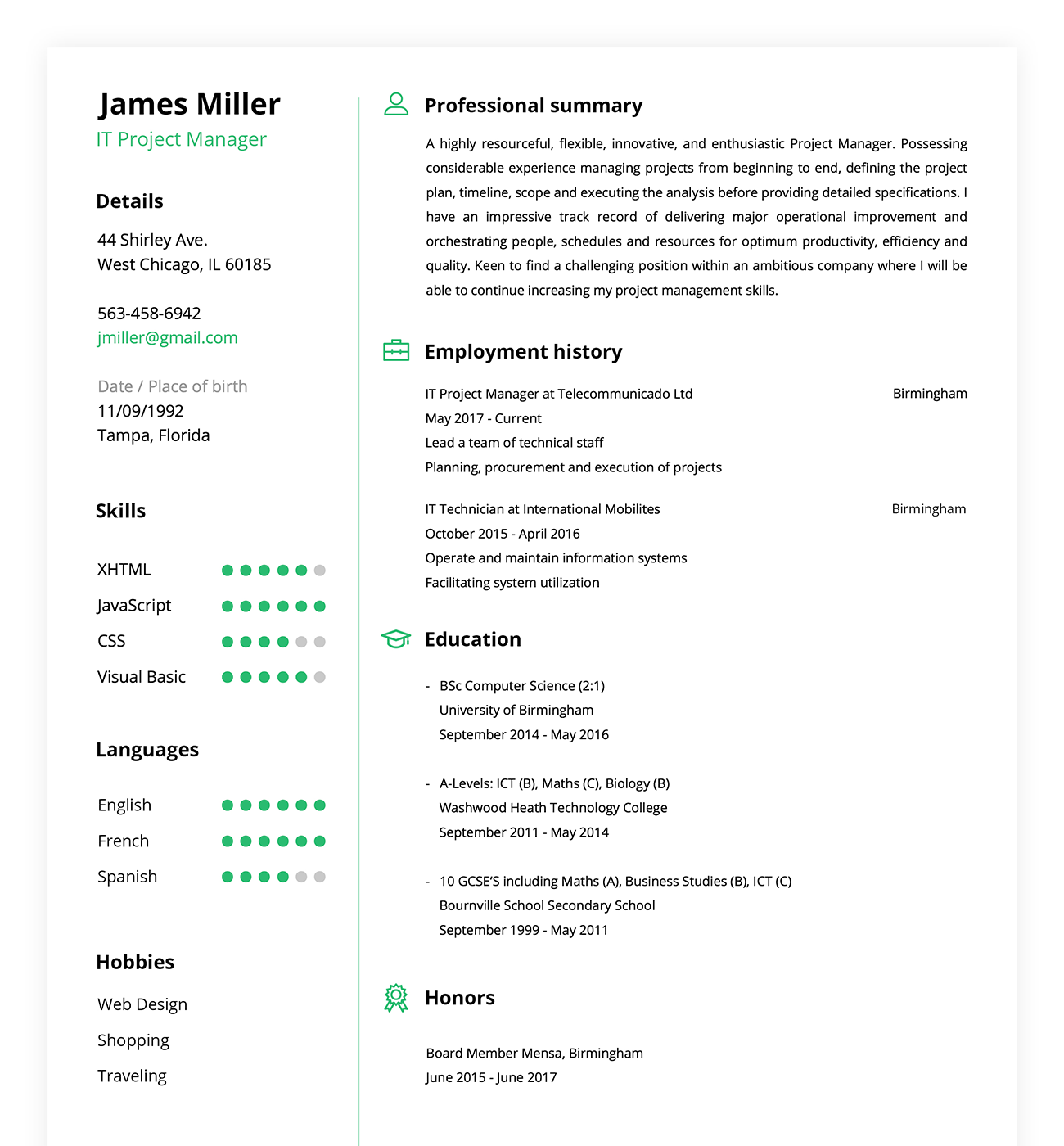 Pros:
Smooth and intuitive
17 templates
Cons:
No cover letter writing functionality
Pricing:
$1.95 / 7-day full access trial (then $59 / 12 weeks)
$7.95 / monthly price (if you pay for a year's access upfront)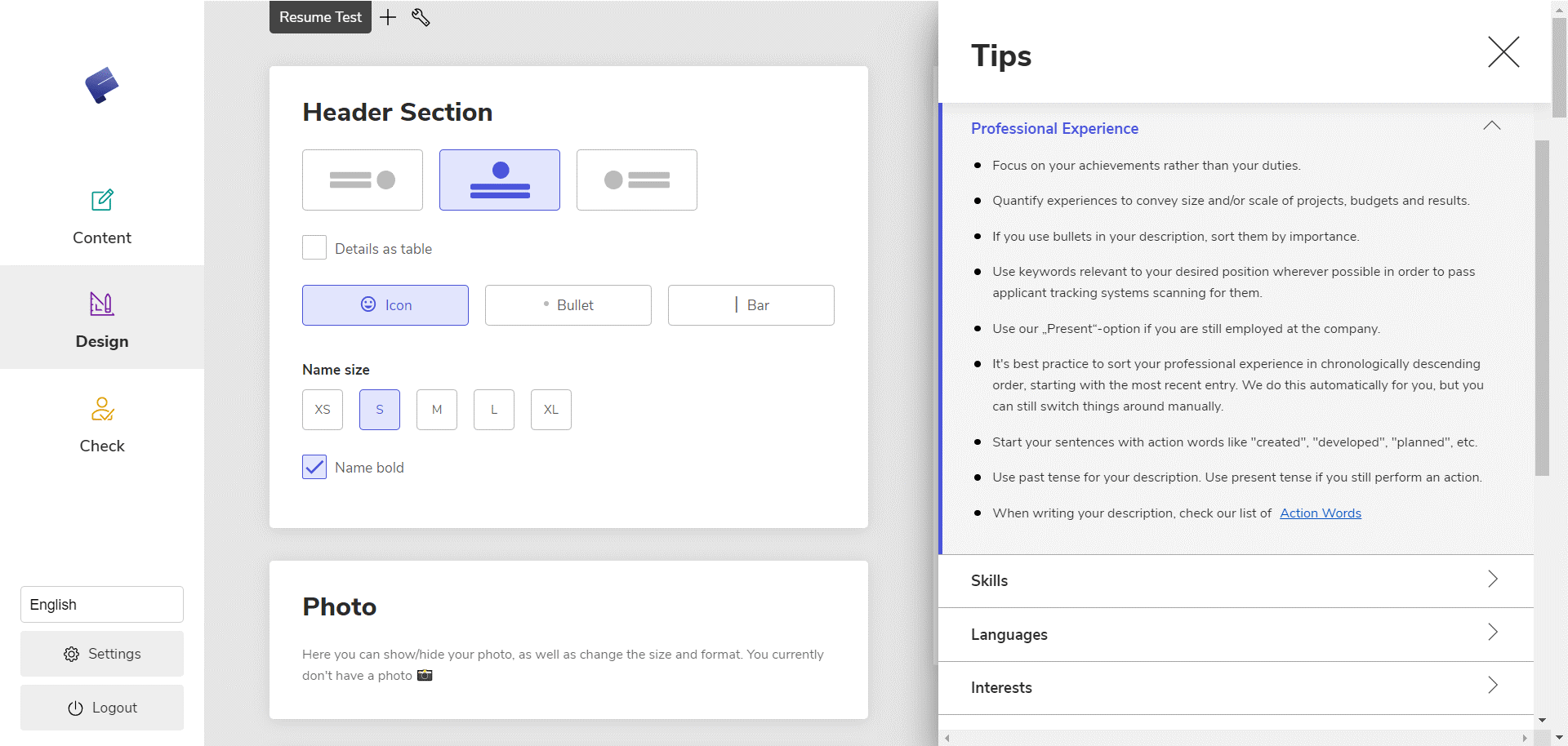 This app is available for free and lets you create a good-looking resume.
It's intuitive and—despite the lack of any wizard—you can start making your document right away.
However, there's only one template available in the app, and no cover letter making functionality.
FlowCV—Example Resume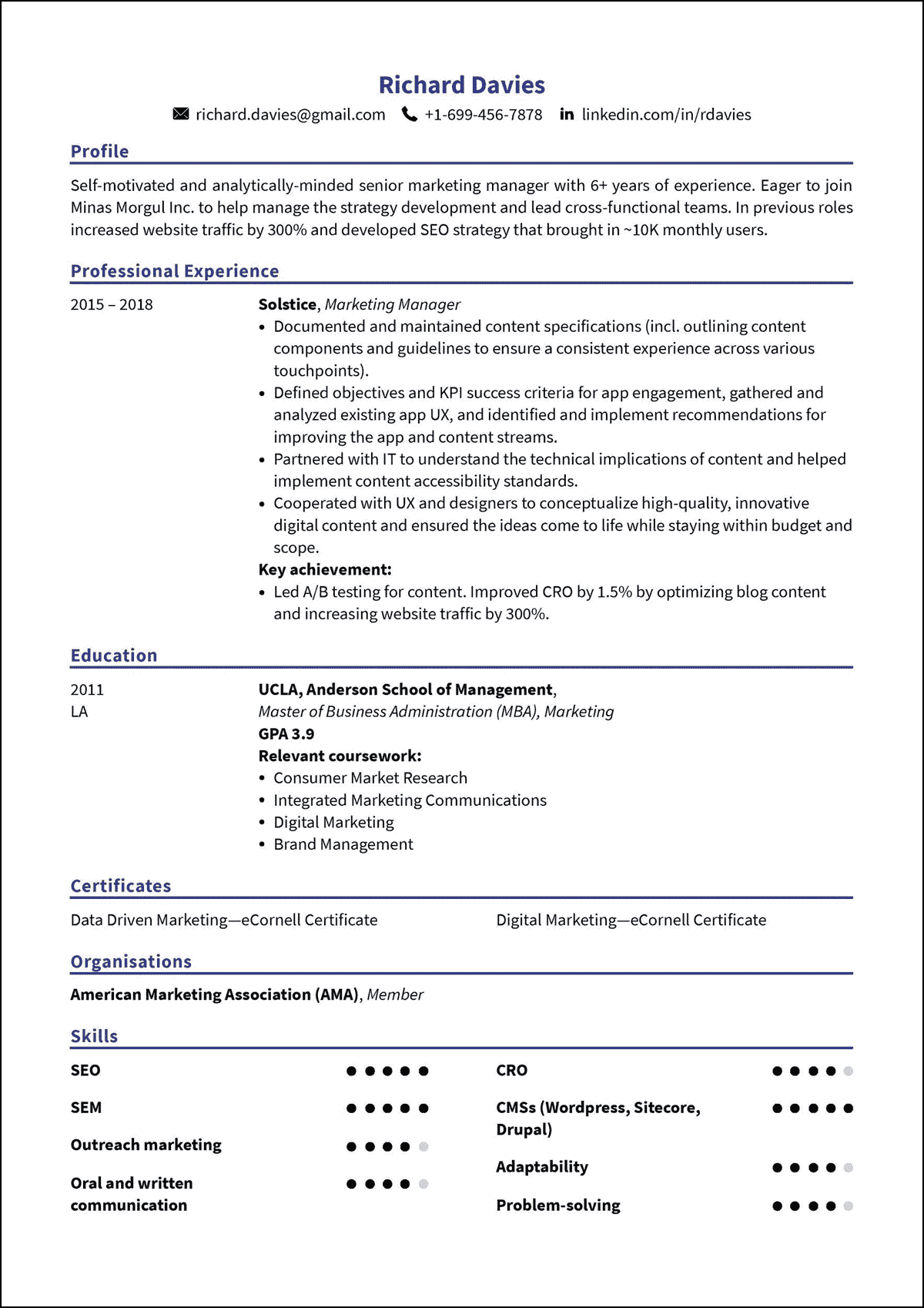 Pros:
Free of charge
Intuitive and easy to use
Cons:
Only one (but fully customizable) resume template
No cover letter writing functionality
Whitespace is good, but there's probably too much of it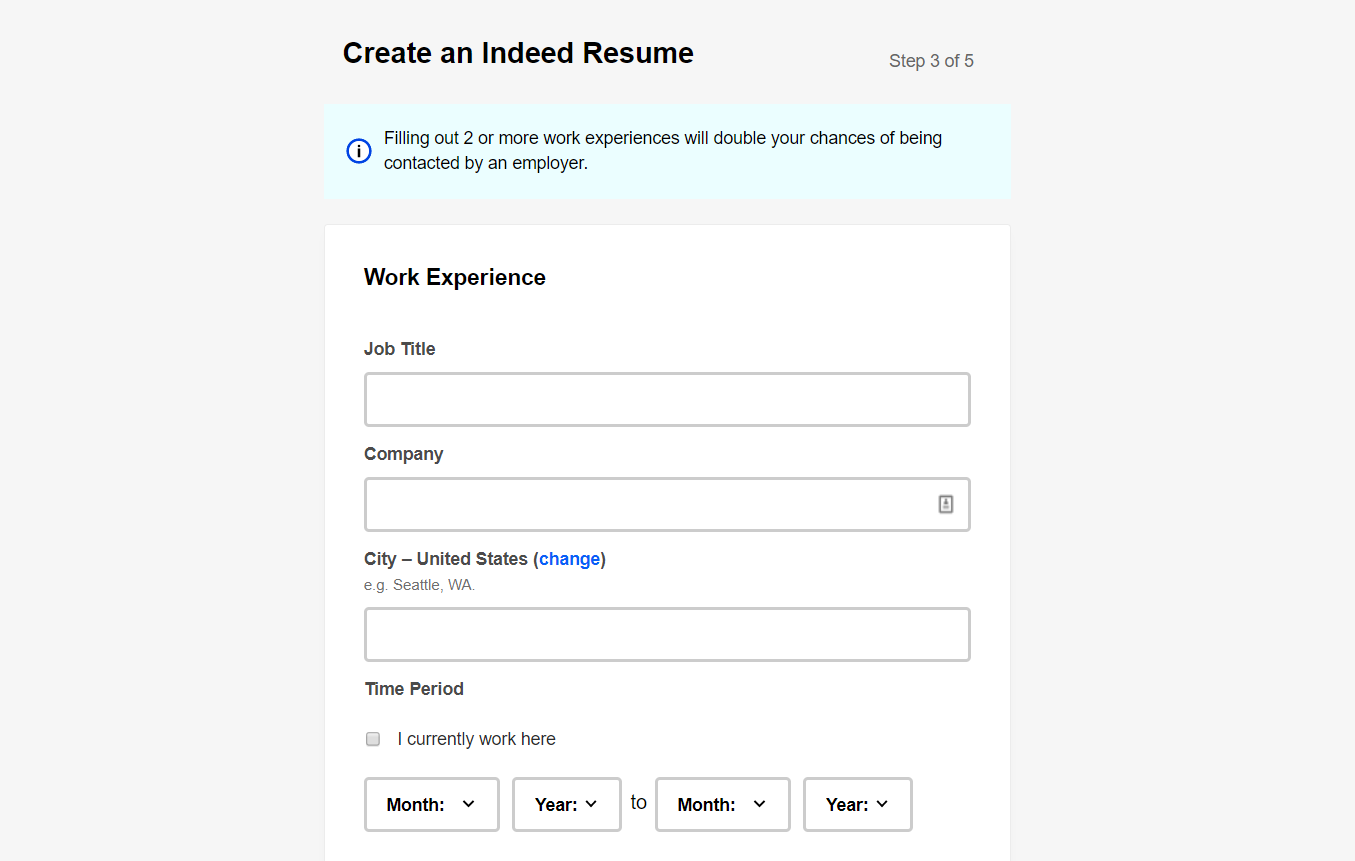 The tool offered by Indeed is slightly different from the other resume builders on our list as it's primarily supposed to complement Indeed's own job search functionality.
The tool comes for free and allows you to make a fully functional resume. The customization options are quite limited as the tool was designed to supplement your job search specifically via Indeed's platform.
You can download your resume as a PDF file or share the link.
Indeed—Example Resume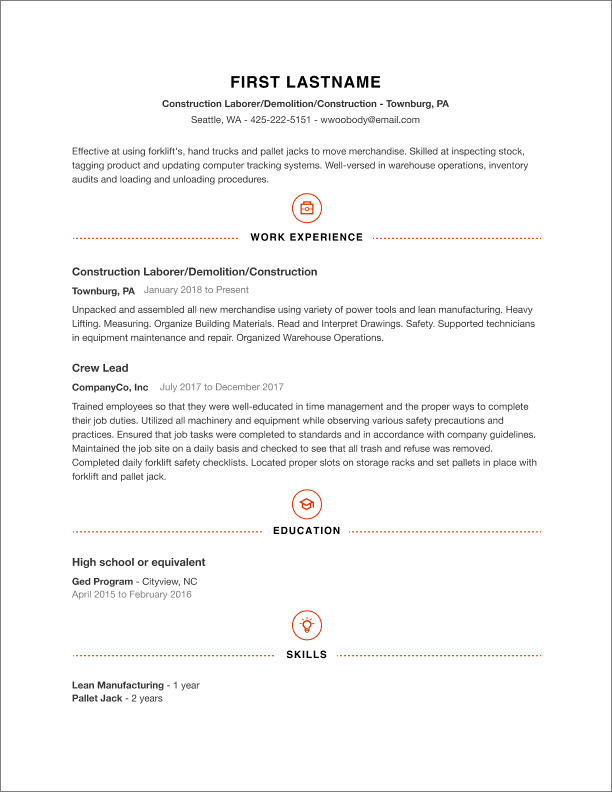 Pros:
Free of charge
Integration with Indeed's job board
Resume shareable via a link
Cons:
No customization option
The resumes look very basic
Too much whitespace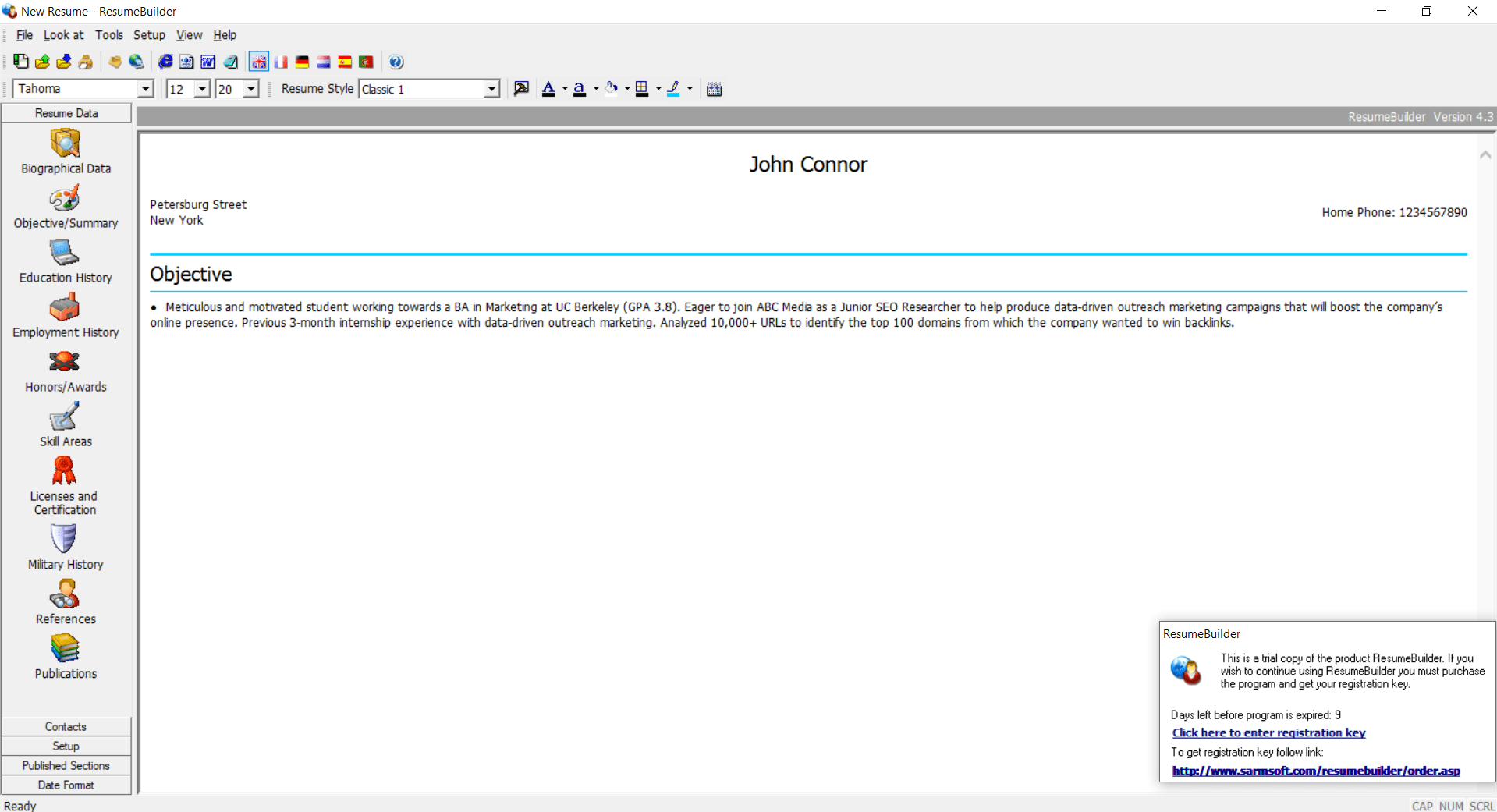 SarmSoft's builder feels like it's been designed for Windows 95. It's usable on the latest version of Windows 10, though.
It offers a pretty clunky writing experience but—in contrast to all the other apps on our list—it's a standalone program that you download and install on your hard drive, and it will work even when the entire Internet is wiped into oblivion.
Your resume will look rather basic and old-school, but maybe that's exactly in line with the so-called retro fashion.
Pros:
Downloadable
CD-ROM delivery option
Cons:
Outdated look & feel
Limited trial functionalities
Pricing: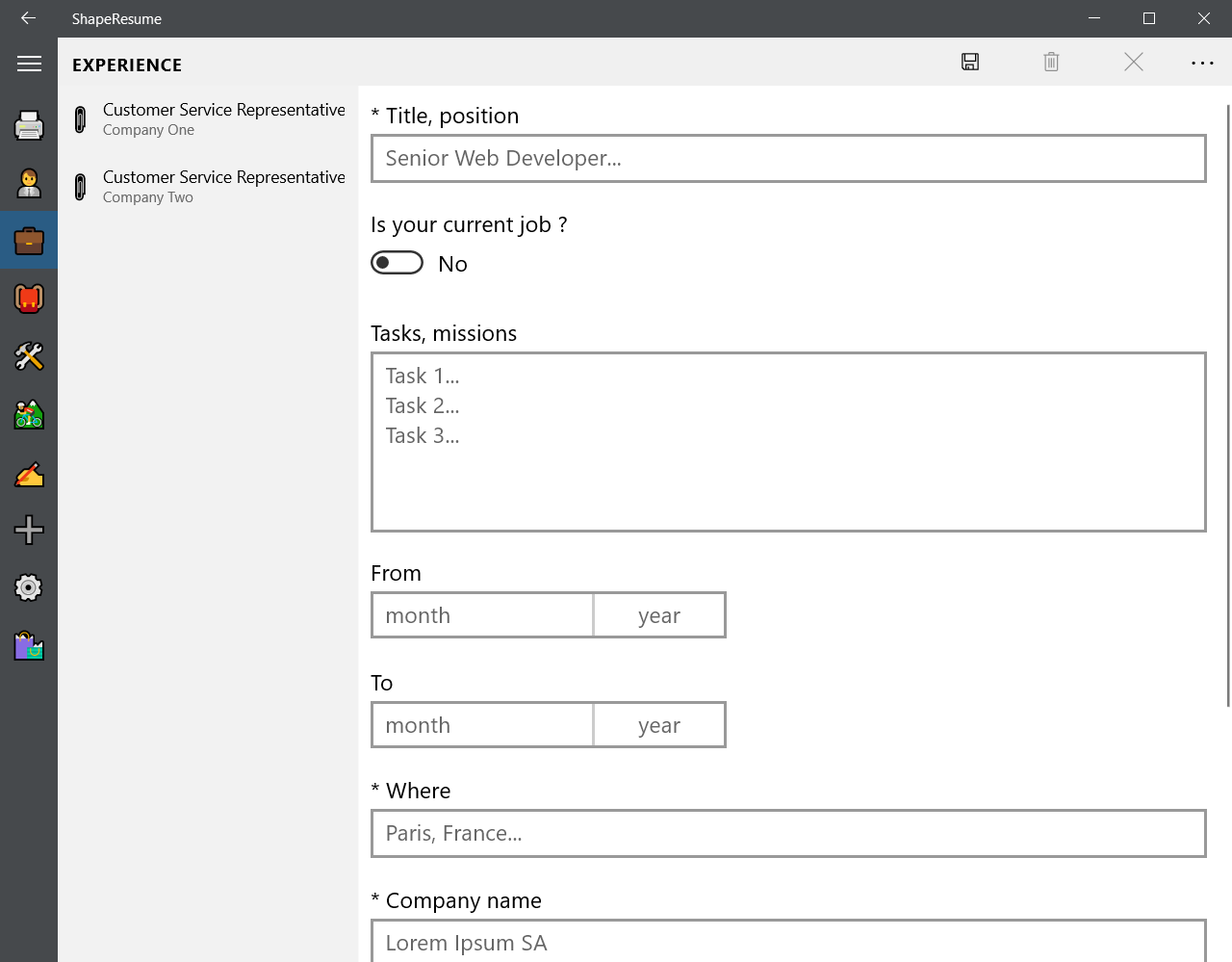 The ShapeResume software tool is the second (and the last) downloadable app on our list.
You can use the tool offline after downloading and installing it on your hard drive. You write your resume by filling in the blank spaces and the app does all the formatting for you.
The free version doesn't allow you to modify the template in any way but you can export your resume to a PDF file.
ShapeResume—Example Resume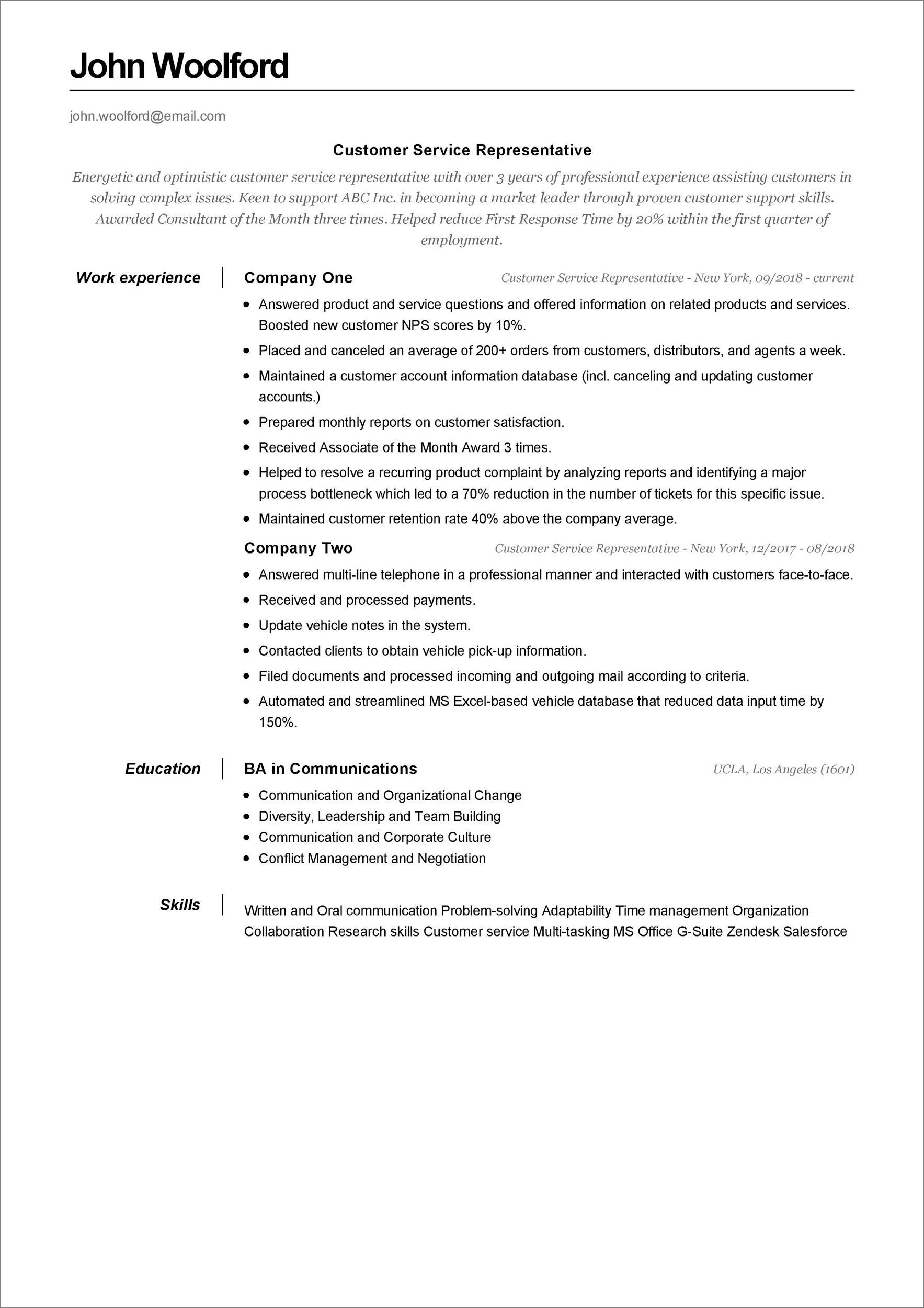 Pros:
Cons:
Free version doesn't let you format the template
No cover letter writing functionality
Pricing:
This is it! How did you like our selection of the best online resume builders? Are there any other top resume builders you'd like to add to our list? Give us a shout out in the comments below. We're always happy to hear from you!