Best Online Resume Builders in 2023 [Free & Paid Features]
We found and reviewed the best online resume builders, so you don't have to. Pick one (or more than one) to make your resume and know exactly what to expect.
Let's be super clear on this: there are tons of resume builders available on the Internet. Some offer great features, while others claim to be legit—but fail to deliver.
But what is the best online resume builder? That remains a mystery. Or does it?
I'll show you a quick review of the best resume apps and websites for making your resume.
Want to save time and have your resume ready in 5 minutes? Try our resume builder. It's fast and easy to use. Plus, you'll get ready-made content to add with one click. See 20+ resume templates and create your resume here.
Sample resume made with our builder—See more resume examples here.
These are the best resume builders in 2023:
Zety
LiveCareer
Resume Genius
MyPerfectResume
ResumeLab
ResumeNow
EnhanCV
ResumeHelp
ResumeNerd
Wozber
Resumonk
VisualCV
Kickresume
FlowCV
Let's move on to reviewing each of them: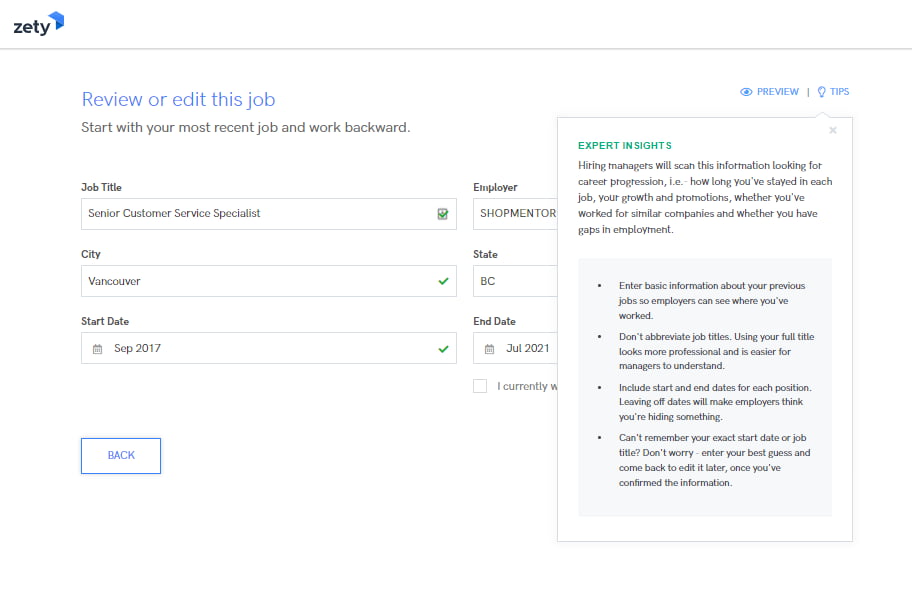 Zety is an online resume builder with over 15 blank resume templates and features that speed up the writing process. Over 1,000,000 users have already picked the Cascade template, the most popular of our resume designs.
Easy to follow prompts and beautiful templates to choose from. Started getting calls a few days after submitting and applying resume. It definitely stands out!
Go ahead. See a perfect resume for yourself.
Zety—Online Resume Builder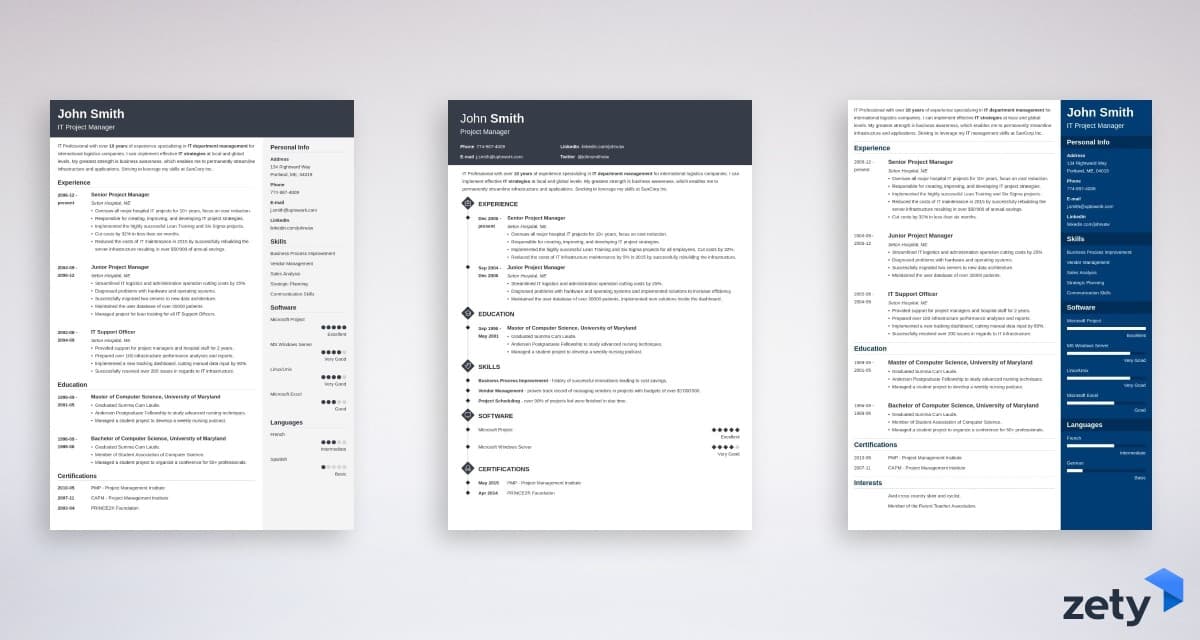 (Arguably the best resume template of 2023 online.)
The builder guides you through the process with many resume tips and pre-written content available at a mouse-click.
Writing a resume makes most people cringe. However, with Zety I can easily edit my resume to bring focus to any specific skills needed for a particular job. This includes the dreaded cover letter. I no longer panic when someone asks for an updated resume.
According to 3,000+ reviews on Trustpilot, Zety is an excellent resume-building tool. Users are particularly keen on its variety of accessible and eye-catching templates.
Went for a job interview and the potential employers were very impressed with my CV. It was the first thing they said to me!
Pros:
Resume or cover letter made from scratch or uploaded from old documents
Resume wizard with built-in expert tips and suggestions
Intuitive navigation between sections
Matching resume and cover letter templates
Possible personalization
Free unlimited download in several formats (including PDF and .docx among others)
Cons: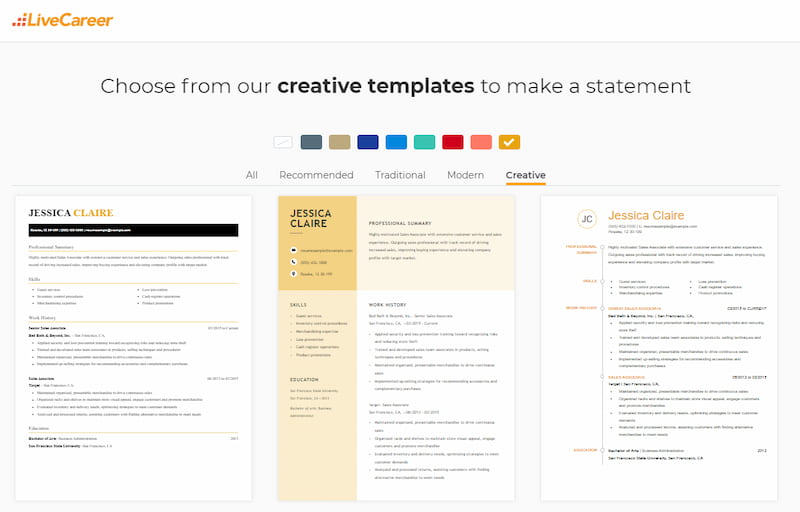 LiveCareer is a resume builder online that won the Sitejabber's 2020 Customer Choice Award. It provides more than 25 resume templates that appeal to all kinds of souls—be it creatives, mathematical masterminds, or traditionalists.
You can use the dashboard to create a resume, cover letter, or even find jobs on popular job search websites.
Plus, it allows you to tailor your resume to the job ad from there. Just copy and paste the job description, and the tool will show you your match score.
How cool is that!
LiveCareer—Resume Builder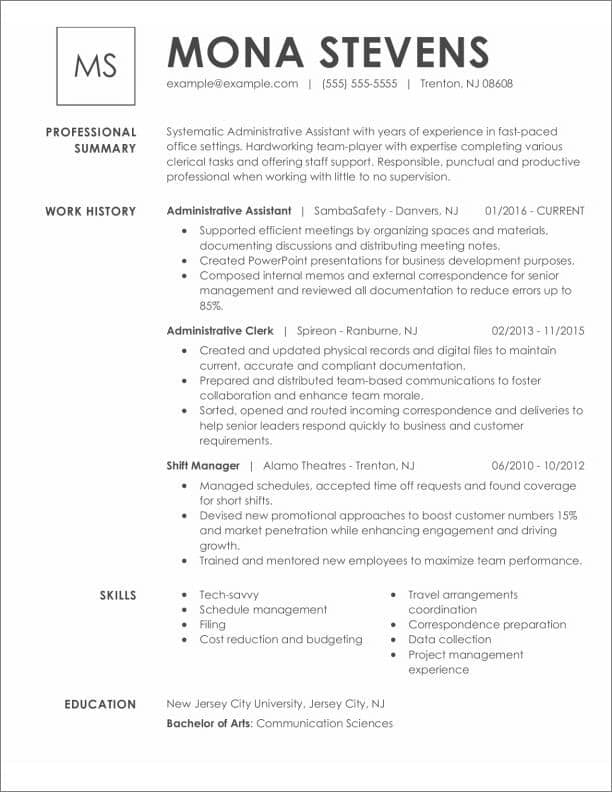 Pros:
Immediate preview
Expert tips in the entry boxes
Spellchecker in text editors
Great choice of templates
Money refund to 14 days after purchase
Cons:
Template change affects your previous choices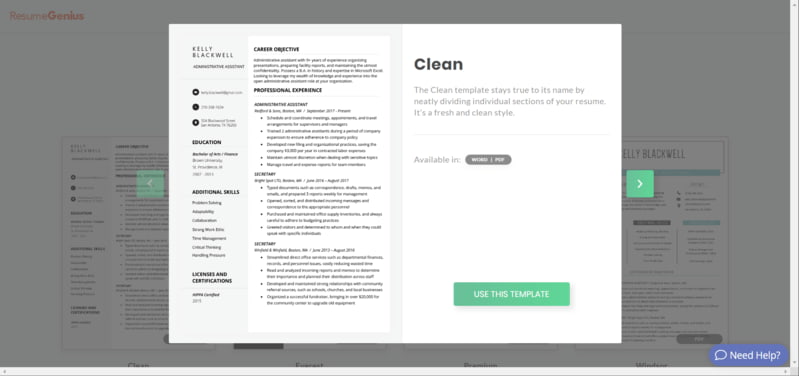 Resume Genius tool provides ATS-friendly templates, which means they're parsable by computer software and don't crash en route to the recruiter's mailbox.
The resume templates have a corresponding design for the cover letters, making your entire job application pretty consistent.
And do you know what consistency means?
VI-SI-BI-LI-TY.
Your chances have just gone up!
Besides, your visibility can even skyrocket if you add to it the knowledge gained from articles written by Certified Professional Resume Writers.
Resume Genius—AI-Powered Resume Builder
Pros:
Integrated cover letter builder
Word and PDF formats are available
AI-generated content from real job ads
Unlimited downloads for both plans
Chance for a full refund within the 14-day trial period
Cons:
You can choose to add the "References Upon Request" section, which is an outdated solution
Jump in for a more detailed review of the Resume Genius resume builder: Resume Genius Reviews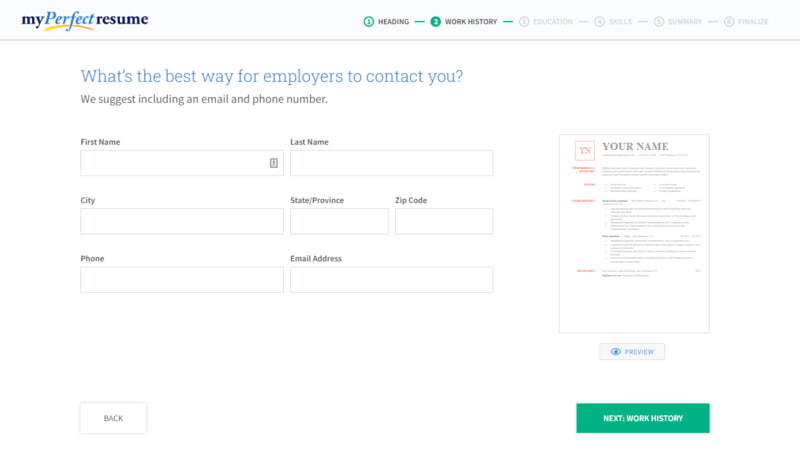 The I-will-do-whatever-I-want-with-your-content editor should be long gone. And now it is.
No more trying to figure out how to make a resume in Word. MyPerfectResume does it all for you: formatting, naming the sections, and even pre-writing to fill them out!
What you need to do is only to click to pick which content describes you best, and you're good to go.
A few clicks away, and your resume is ready.
MyPerfectResume—Resume Builder Website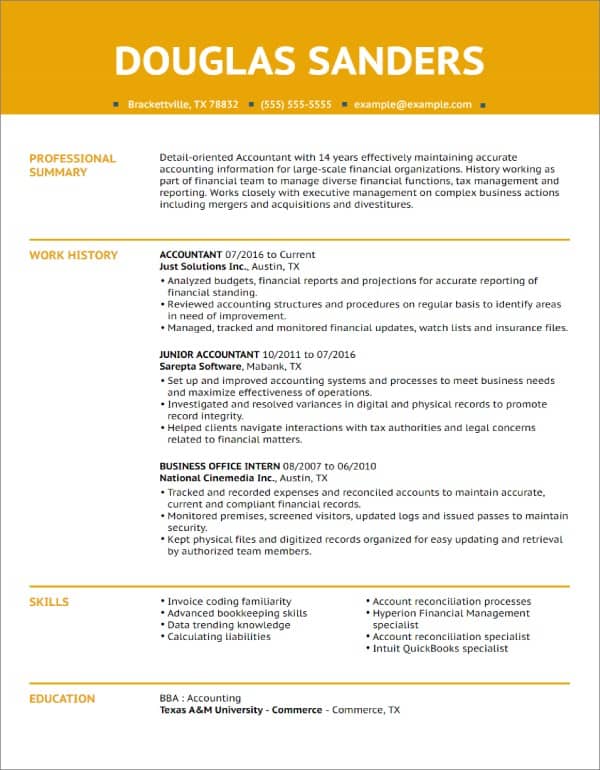 Pros:
Encouraging prompts
Highlighted sections you're currently working on
Pro-tips available at every writing step
Consistent page design
SmartApplyTM (built-in application parser, ensuring compliance with ATS)
Cons: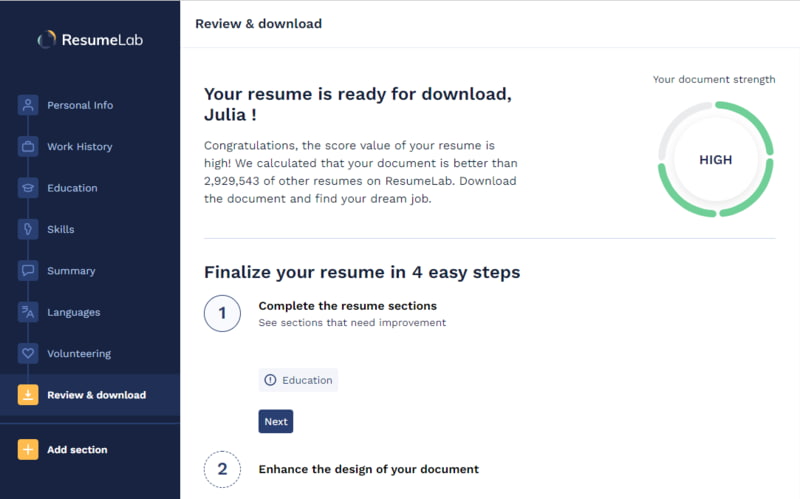 The online tool offered by ResumeLab lets you create a great resume and cover letter combo. You get 20+ professional templates to choose from.
Apart from the pre-written content (e.g., experience bullet points or a career objective), you get a unique AI-driven document strength meter that scores your resume against those prepared by other candidates.
Also, you can customize each resume template by color, section order, or skill rating icons. The list of available modification options is a real deal.
ResumeLab—Resume Builder Online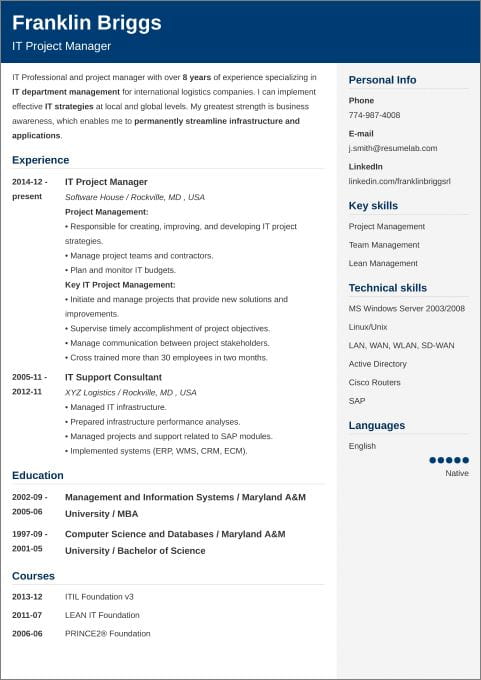 Pros:
18 templates with advanced modification options
Flexible resume sections structure in every template
AI-based resume scoring system
Unlimited PDF download
Cons: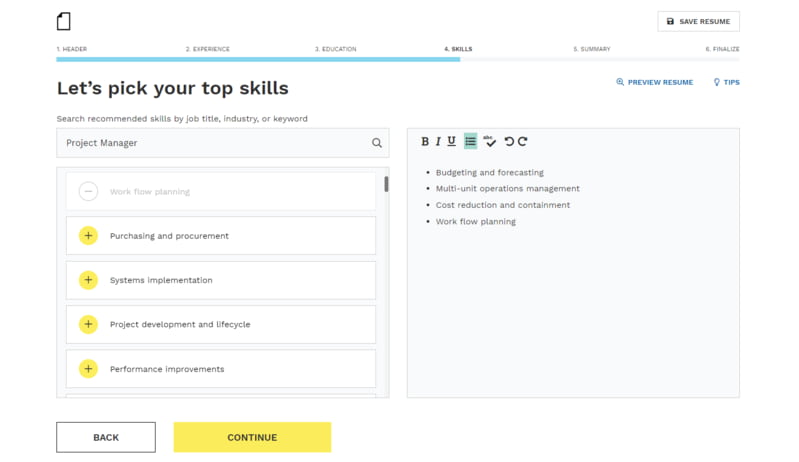 ResumeNow is a fast-paced resume builder with incredible UX and design that takes you through a short series of fill-in-the-blanks wizard screens.
As you fill out the blanks, this resume software does the formatting and puts all the info on the resume template of your choice, just by itself.
The app also offers pre-written content and a professional print-out.
Resume Now—Professional Resume Builder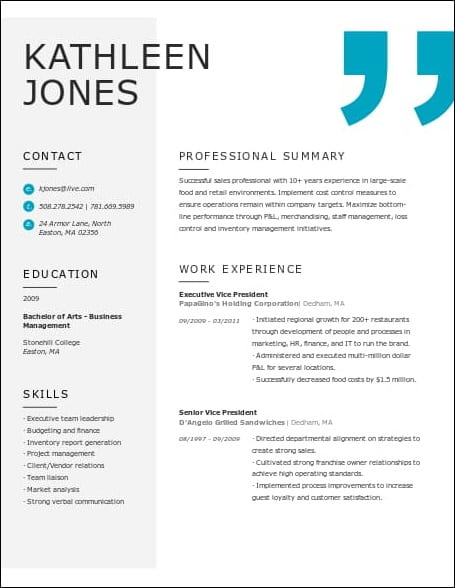 Pros:
On-point design
Multiple download formats
Template recommendation based on the industry and country
Custom sections available
Painless formatting
Mobile app
Cons:
No resume check with the limited access plan
Additional $0.50 for next download, print, or email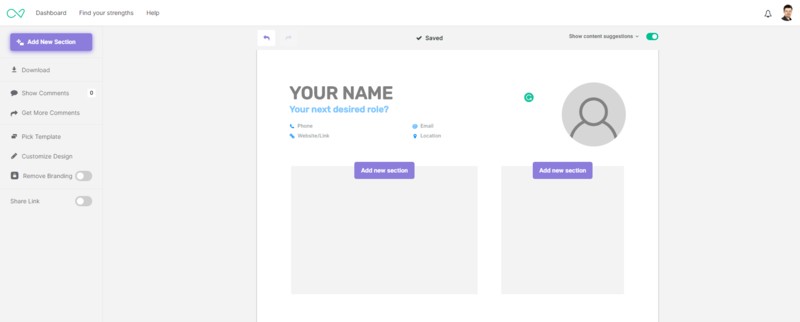 This online CV software tool lets you make both a CV and a cover letter.
And you can invite your friends to collaborate!
Let Sue and Drew tell you what they think of your application and ask to share their invaluable feedback. Perhaps you'll thank them later?
Also, a content suggestion tool can help you correct all typos.
EnhanCV—Resume Builder Site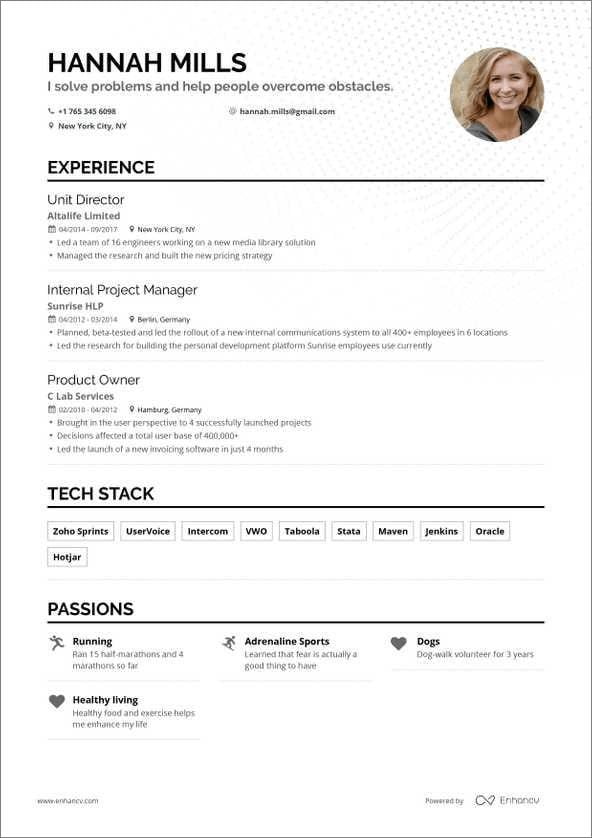 Pros:
Unlimited free PDF download with an account
Template names indicating career stages and formats
Feedback from friends and family
Cons:
Long intro to get to the builder
Content improvements and recommendations available only with an upgraded plan
Branding on the documents with a free plan
ResumeHelp offers a wizard-based resume creator that takes you step by step, from section to section. All you need to do is fill in the blanks, and the app itself will put together your resume.
You get to choose one of 20+ templates that you can further customize to your liking. It also means you can later upload your resume to your LinkedIn profile.
The resume software tool also offers pre-written content to speed up the writing process.
ResumeHelp—Resume Builder Service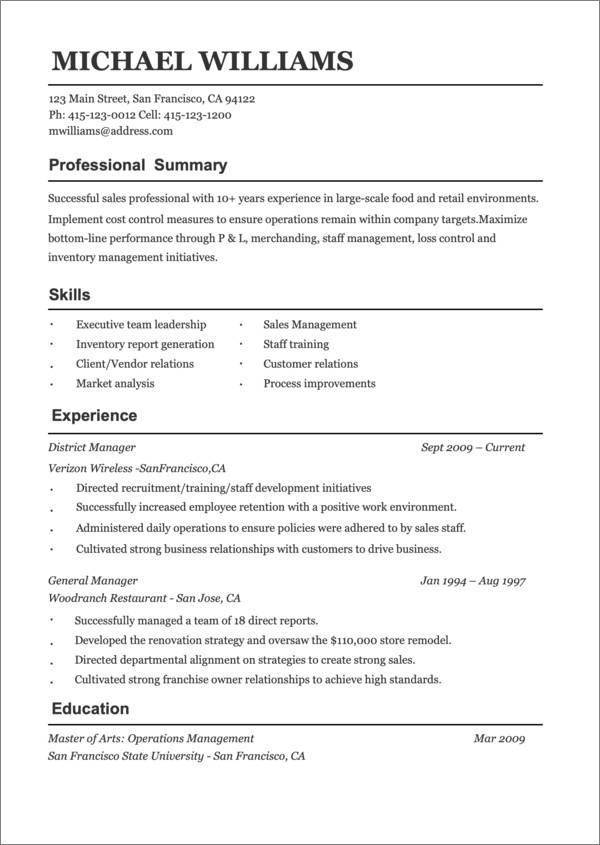 Pros:
20+ templates
Pre-written content
Tips on resume writing
Cons:
No free cover letter builder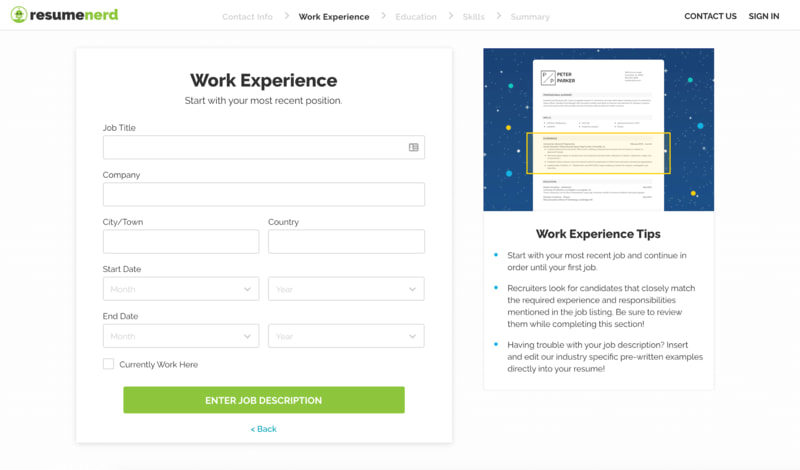 ResumeNerd's wizard will take you through the resume writing process section by section.
Before you start writing any part of the resume, you'll get to see several tips on how to make the most of it. The app also offers pre-written content that you can modify to your needs.
ResumeNerd—Paid Resume Builder Software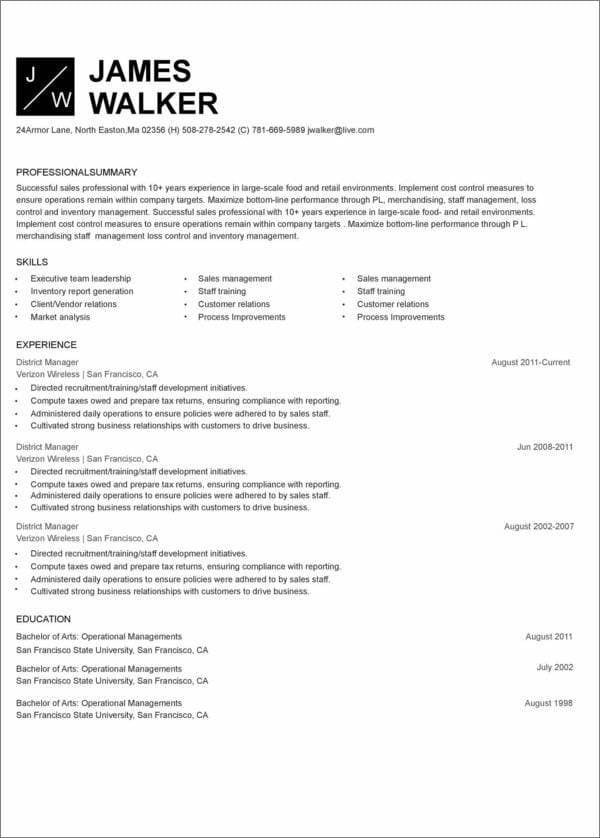 Pros:
Resume check
Pre-written content
Many download formats, including HTML
Tips can be skipped
Cons:
Cover letter builder is a premium feature
When making a resume in our builder, drag & drop bullet points, skills, and auto-fill the boring stuff. Spell check? Check. Start building a professional resume template here for free.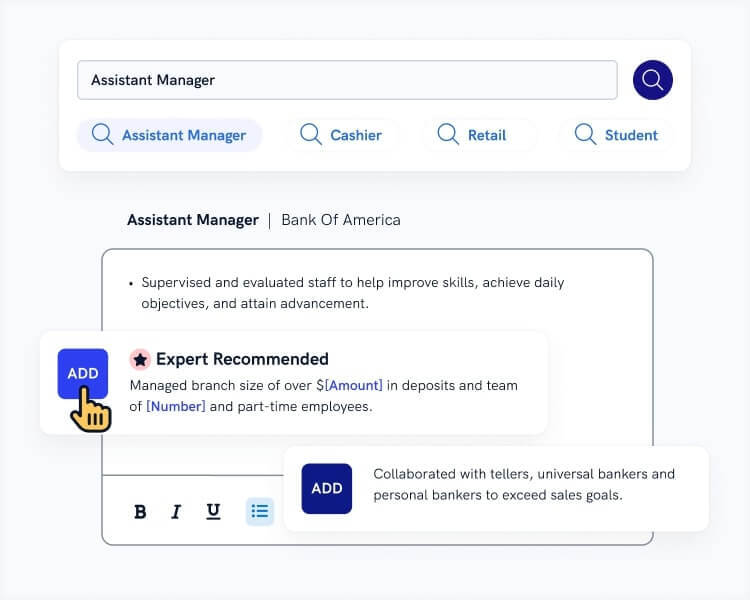 When you're done, Zety's resume builder will score your resume and our resume checker will tell you exactly how to make it better.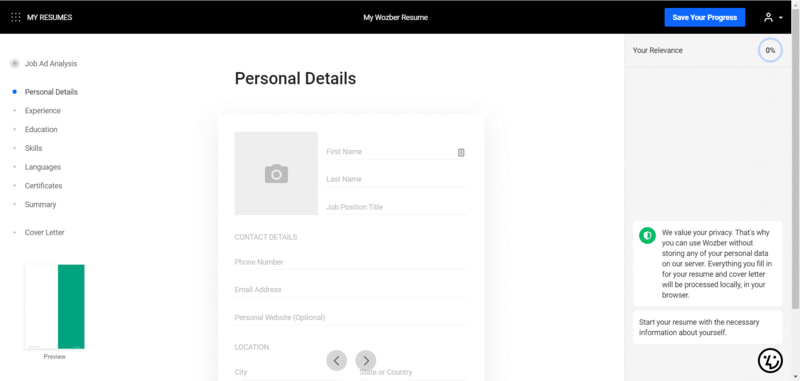 This resume software is available free of charge and has both resume and cover letter writing functionalities.
However, the builder lacks pre-written content that would show up inside the editor. And free templates like Word resume templates aren't always the most reliable. One interesting feature the app offers is the so-called Relevance Meter that shows to what extent your resume complies with the job offer.
Wozber—Resume Builder Program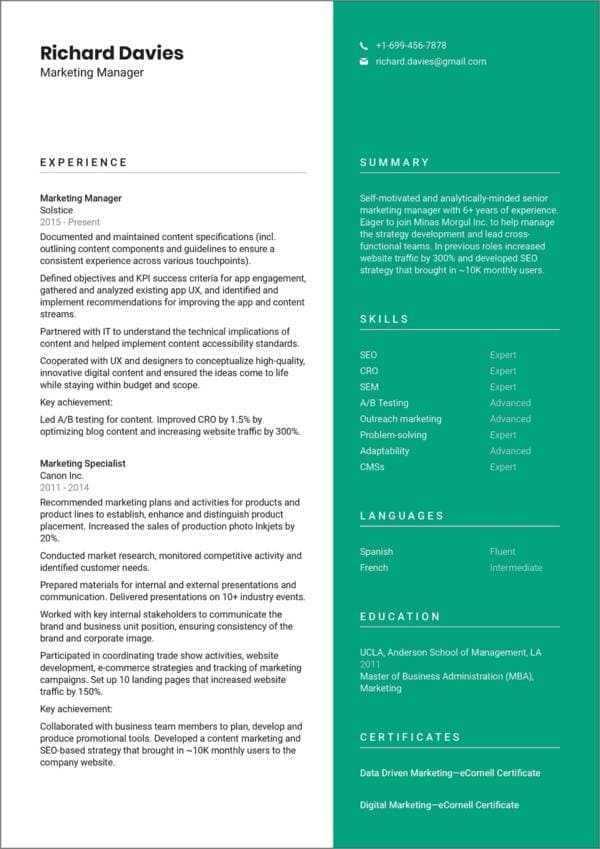 Pros:
Free of charge with an account
Progress saving
Cover letter writing tool
No branding
Cons:
All templates look very much alike
The layouts might be hard to read and parse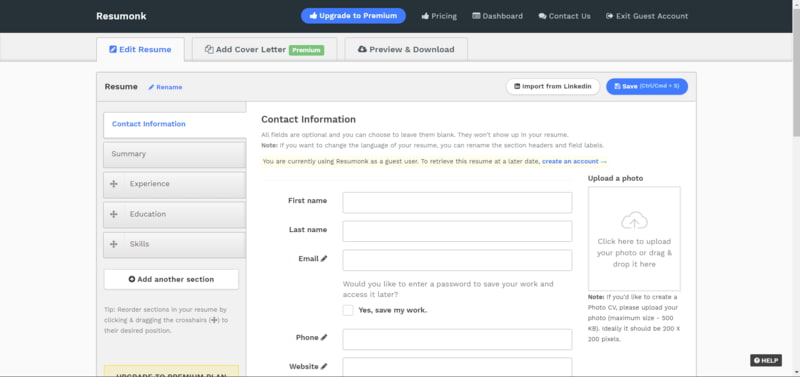 Resumonk is a simple tool to create a resume and a cover letter.
Its features are rather basic, and in comparison to the other online resume builders, the software comes across as a bit outdated—both in terms of functionalities and user interface.
Resumonk—Resume Builder Application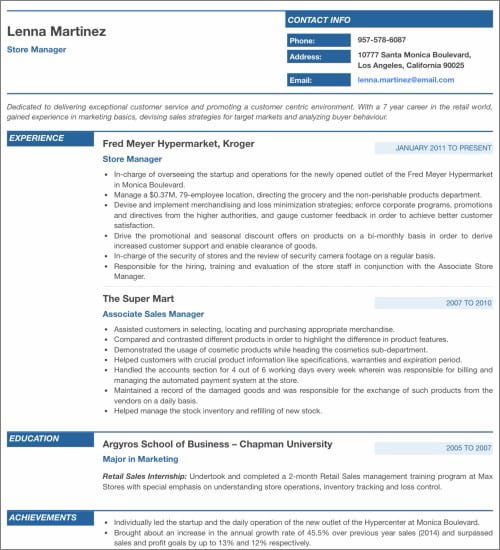 Pros:
Simple to use
Cover letter builder included
30-day money-back guarantee
Clear pricing strategy
Cons:
Has a slightly outdated vibe
Its features aren't as polished as those of competitors'
Branding with a free plan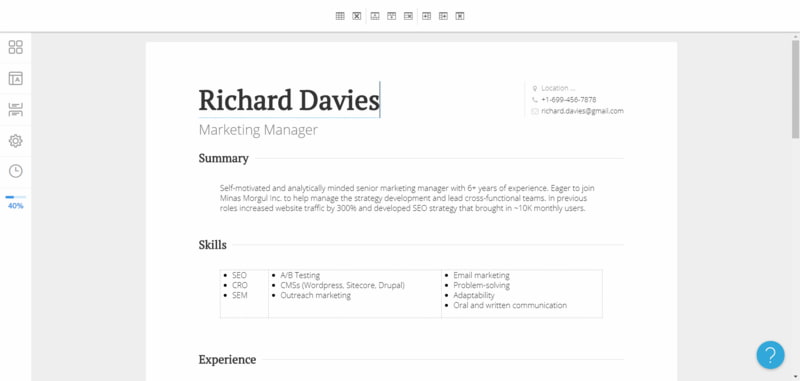 VisualCV's resume website allows you to make a single resume or cover letter for free—but you can't call it a free resume builder.
If you wish to make more than one document and access all the templates, you must buy a premium plan. The builder offers a handful of ready-made resume examples that you can use as a basis for your document.
Also, the cover letter builder functionality is very basic.
VisualCV—Online Resume Builder Service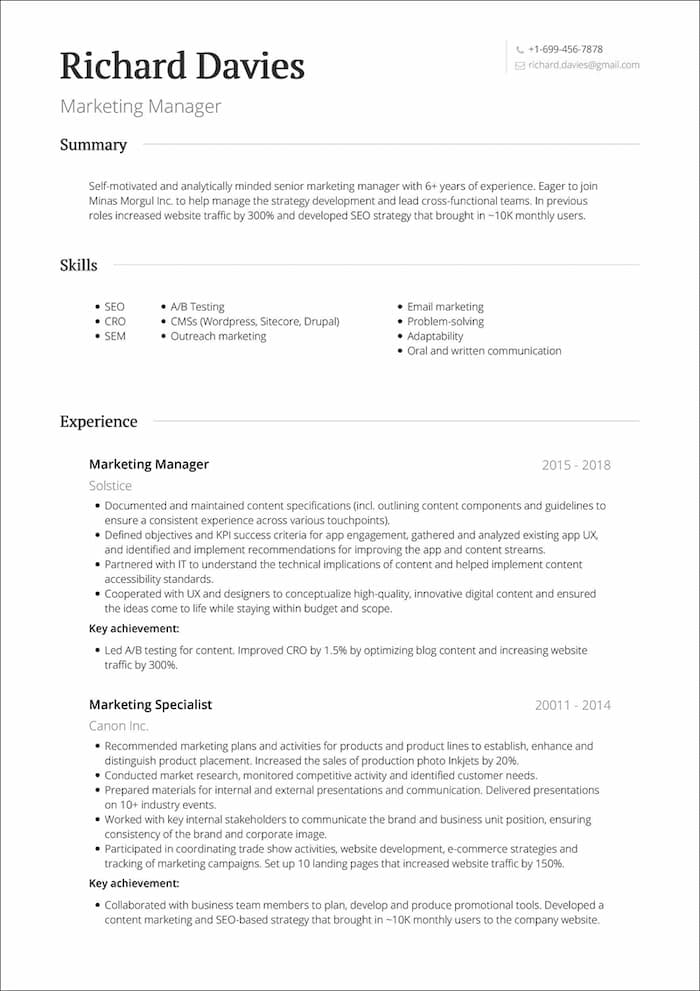 Pros:
Ready-made resume examples
Easy to use user interface
Cons:
The cover letter builder is basic
Branding with a free account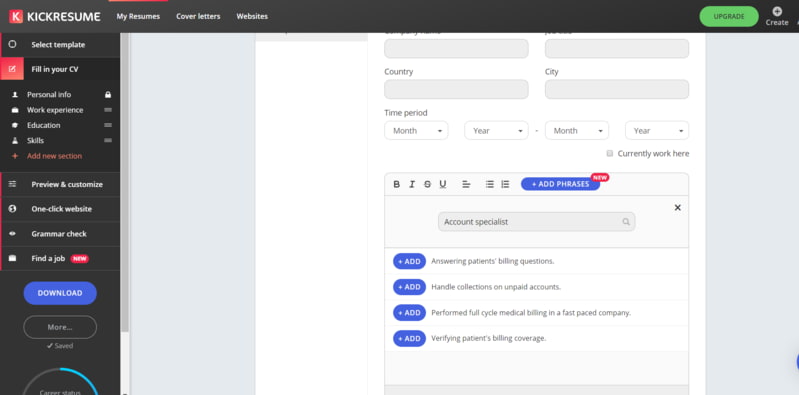 Kickresume offers several templates for resumes, a cover letter writing tool, and a limited job search functionality. However, the pre-filled content it offers is quite basic and requires serious tweaking to become usable. The templates are graphics-heavy—arguably, this might be a problem for some ATS systems and recruiters. And if you don't have an ATS resume, your job application could be rejected before anyone reads it.
The app also lets you build a resume website.
Kickresume—Online Resume Builder App
Pros:
Number of templates
Website maker
Cons:
Elementary pre-written content
Limited options when making a free resume
Plus, a great cover letter that matches your resume will give you an advantage over other candidates. You can write it in our cover letter builder here. Here's what it may look like: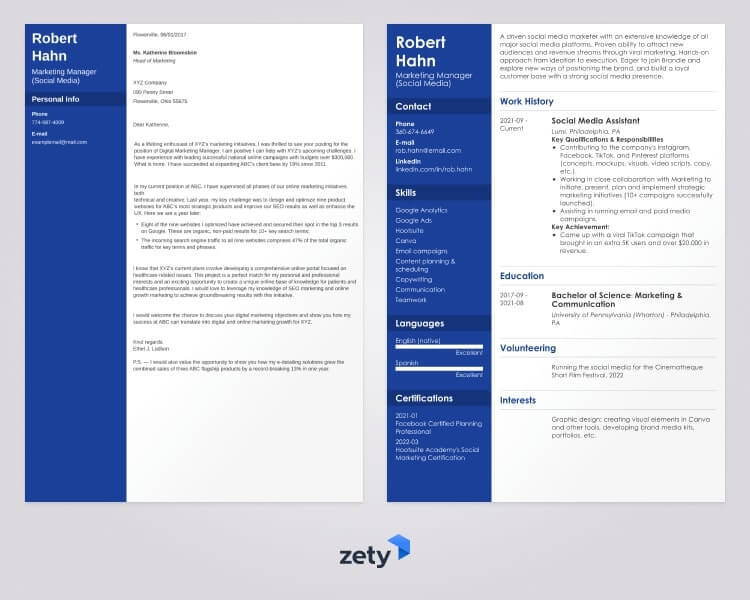 See more cover letter templates and start writing.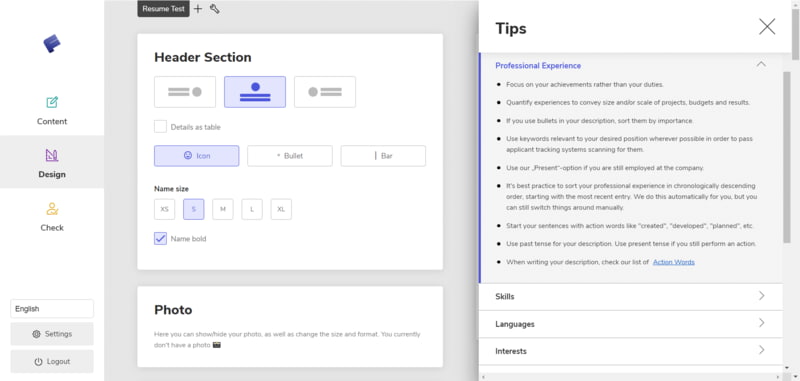 The CV maker resume software is available for free and lets you create a good-looking resume.
It's intuitive, and—despite the lack of any wizard—you can start making your document right away. However, there's only one template available in the app and no cover letter making functionality.
FlowCV—Free Resume Builder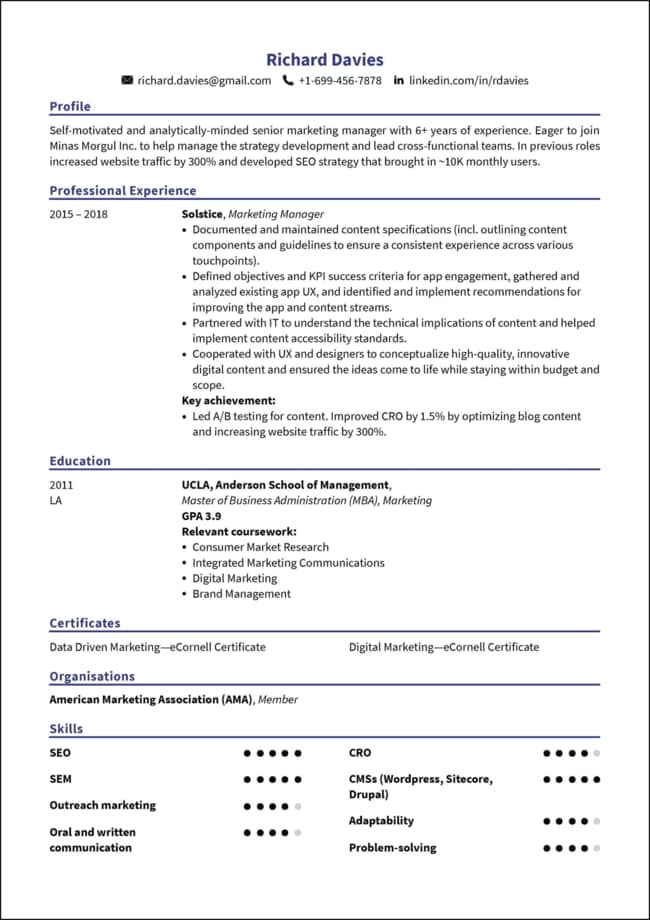 Pros:
Free of charge
Intuitive and easy to use
Cons:
Only one (but fully customizable) resume template
No cover letter writing functionality
Whitespace is good, but there's probably too much of it
And hey!
Before you start using any resume-building online tool, make sure you know the basics of resume writing:
This is it!
How did you like my selection of the best online resume builders? Are there any other top resume builders you'd like to add to my list?
Give me a shout in the comments below. I'm always happy to hear from you!
About Zety's Editorial Process
This article has been reviewed by our editorial team to make sure it follows Zety's editorial guidelines. We're committed to sharing our expertise and giving you trustworthy career advice tailored to your needs. High-quality content is what brings over 40 million readers to our site every year. But we don't stop there. Our team conducts original research to understand the job market better, and we pride ourselves on being quoted by top universities and prime media outlets from around the world.