You're about to choose from the best resume designs, but first, think about this:
Don't judge a book by its cover is a wonderful moral to teach your kids. Too bad, it's out of touch with reality (both in publishing and in any other area of life).
When looking for a new job, you sure will be judged and it's your resume that'll be the cover.
Just as publishers spend a ton of time choosing the best book cover designs, so should you on designing a resume.
Why?
Because a good resume design guarantees two things:
One, that your resume gets recruiters hooked and almost forces them to give it more attention.
Two, that all the information you want to provide is legible and easy to find in a flash.
Fail to deliver on any of the above, and you can kiss that dream job goodbye.
Feel like you could use some professional resume design ideas and tips? You've found the right place. This article will show you:
The best resume design templates you'll find in 2019.
Inspiring ideas for your professional resume design.
Effective resume design tips that'll make your resume better than 9 out of 10 others.
A step-by-step guide on how to create a resume that wins you your dream job.
The Best Resume Design Templates You Will See in 2019 (15+ Examples)
Below's a list of really cool resume designs that can be found all over the Web.
They're all focused on various design elements, so they're very much different. But they've got one very important feature in common:
All these resume designs will surely knock recruiters off their feet!
Check them out and see what makes them so eye-catchy.
And if you are a graphic design pro and want to see the best tips on how to make a resume that outperforms 9 out of 10 others, here's a guide just for you: Graphic Design Resume: Sample & Guide [+20 Examples].
Resume Headers That Pop
1
Influx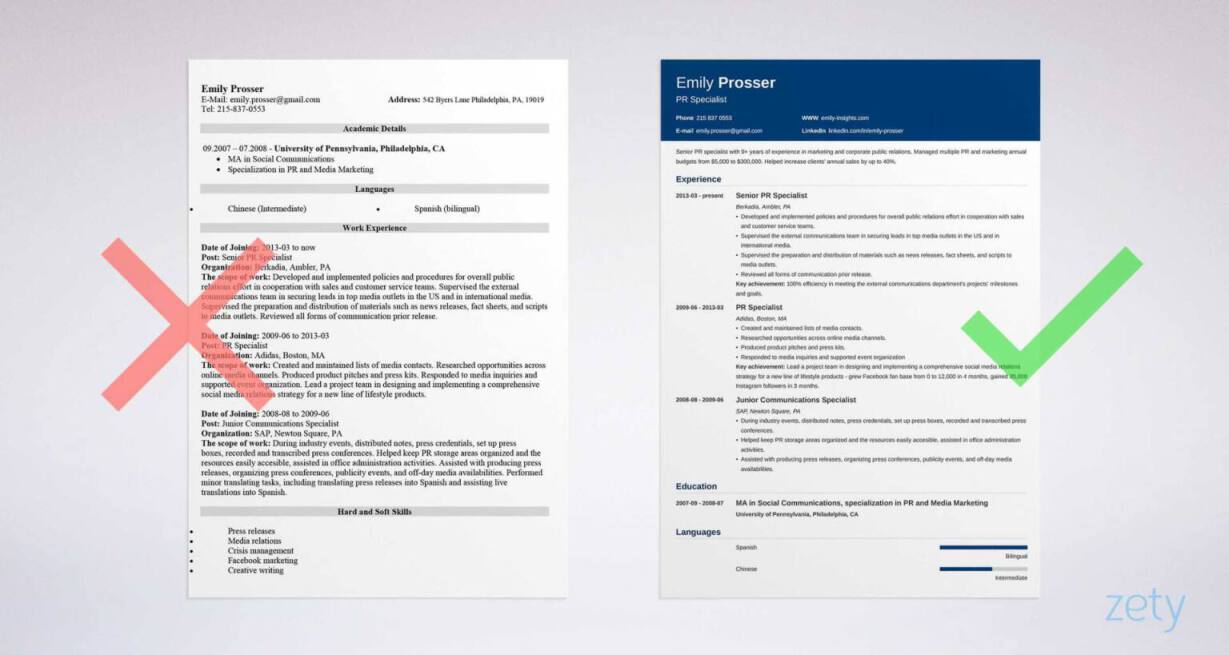 Want to save time and have a great resume ready in 5 minutes? Try our resume builder. It's fast and easy to use. Plus, you'll get tips and right vs. wrong examples while writing your resume. See 20+ resume templates and create your resume here.
Zety's "Influx" template is a perfect business resume design. The dark shade sharply separates the header with the body of your resume, making your contact information easy to scan and hard to miss. We recommend it for corporate positions, especially those in the US.
You can access this resume design template in our online resume builder. See 20+ templates and create your resume in 5 minutes here.
2
Bright and Light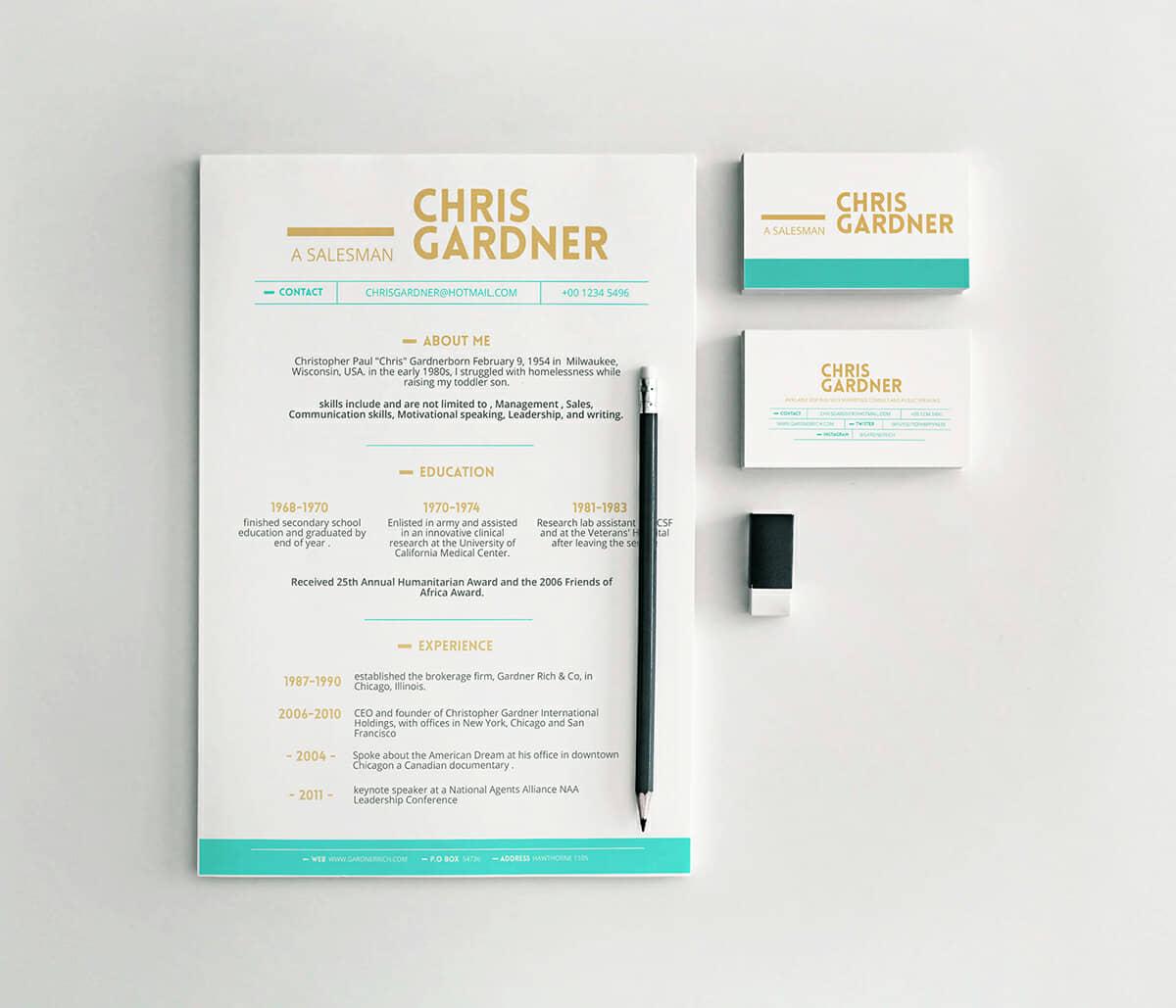 This one, named "Free Minimalistic Resume," was created by Behance's Fay Zodiac. It's a great example of how mixing a classic, basic resume design with a large, eye-catching header can give your resume a dynamic, yet professional touch.
Available for free download in PTT and PSD with a lot of customization options. (Plus, you'll get 2 business cards PSD templates!)
Here's the link to this template.
3
Vintage and Classy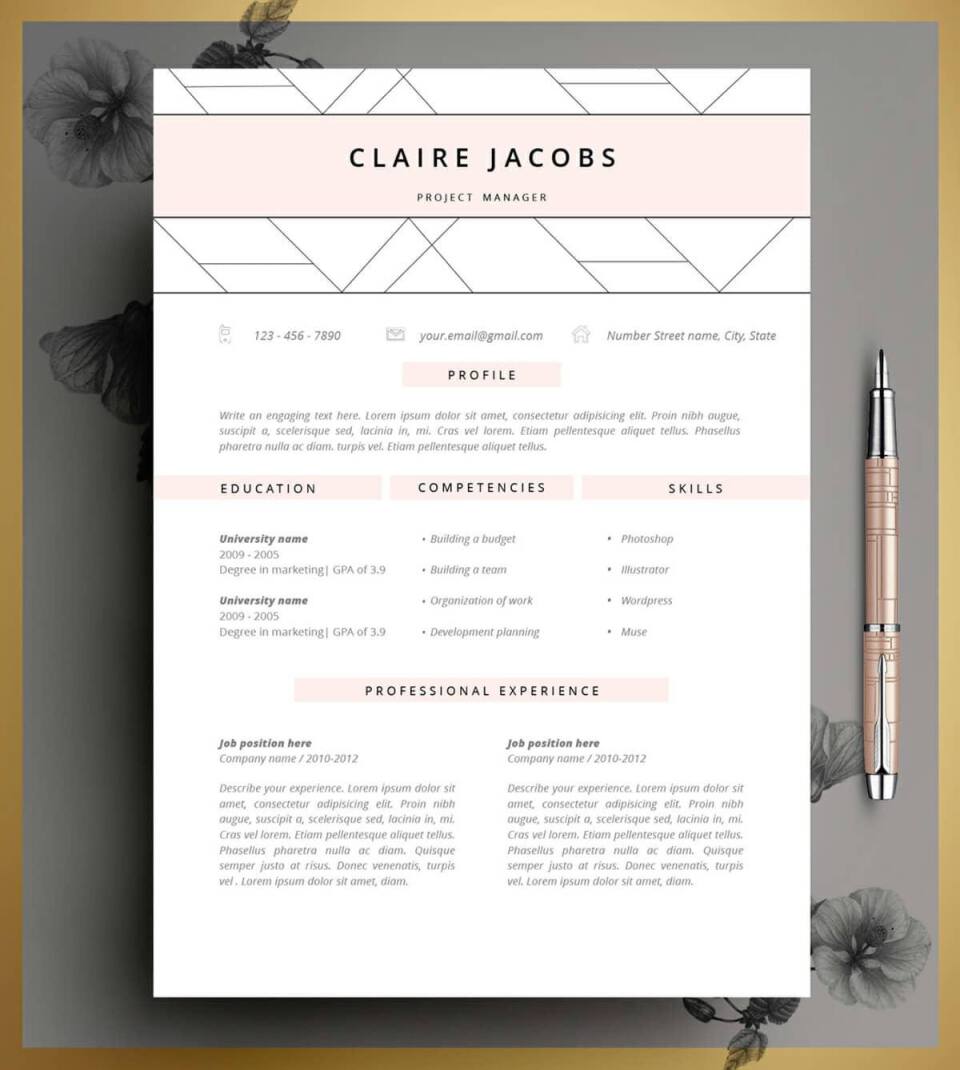 This vintage resume design has a header that immediately signals professionalism and a strong attention to detail. You can purchase it on Etsy and get a matching cover letter template editable in MS Word and iWorks Pages.
Here's the link to this resume design template.
If you want to have a simple, elegant resume without too many gimmicky graphics or pictures, here's the only list of templates you'll need: Simple Resume Templates (15 Examples to Download & Use Now).
Eye-Catchy Section Titles
4
Clean Resume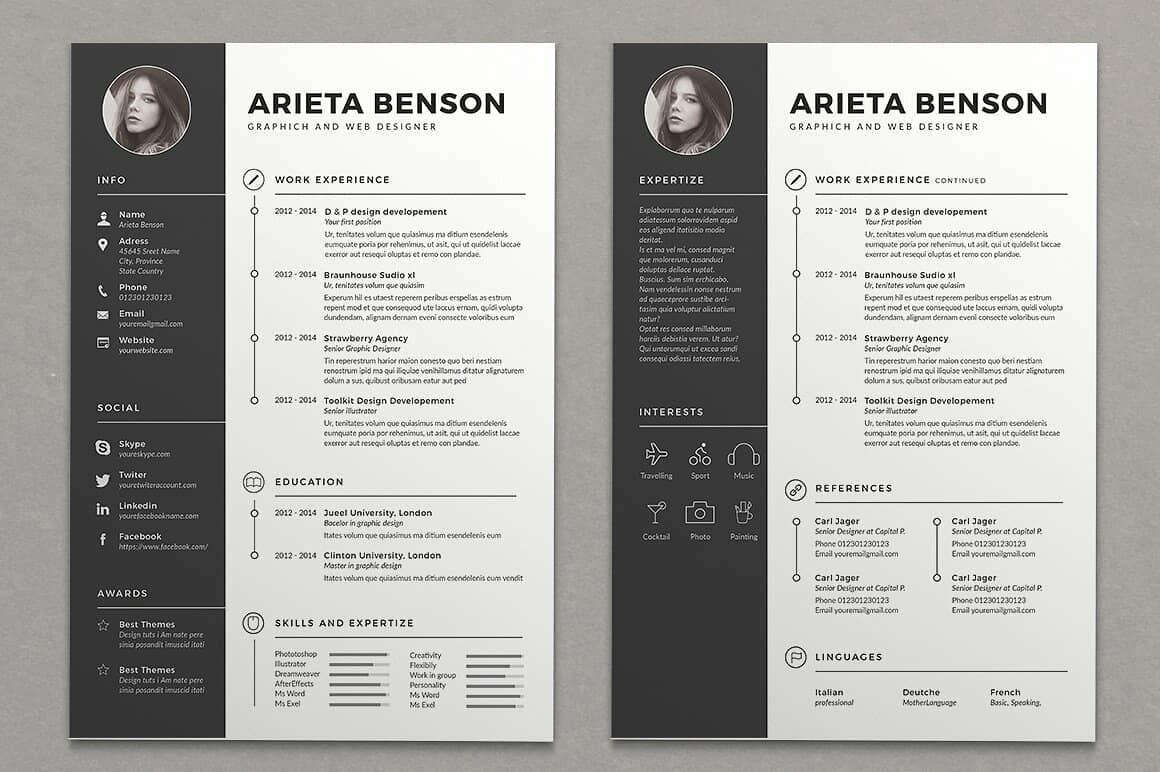 The "Clean Resume" available at Creative Market gives a direct proof that even two-page resumes can be easily scannable when section titles stand out the way they should. You can download this customizable resume design in Word, as well as INND and PSD.
Here's the link to this resume design template.
For more amazing resume design templates editable in MS Word, check out our gallery of the best free Word resume templates you'll find online: Resume Templates for Word (FREE): 15+ Examples for Download
5
Modern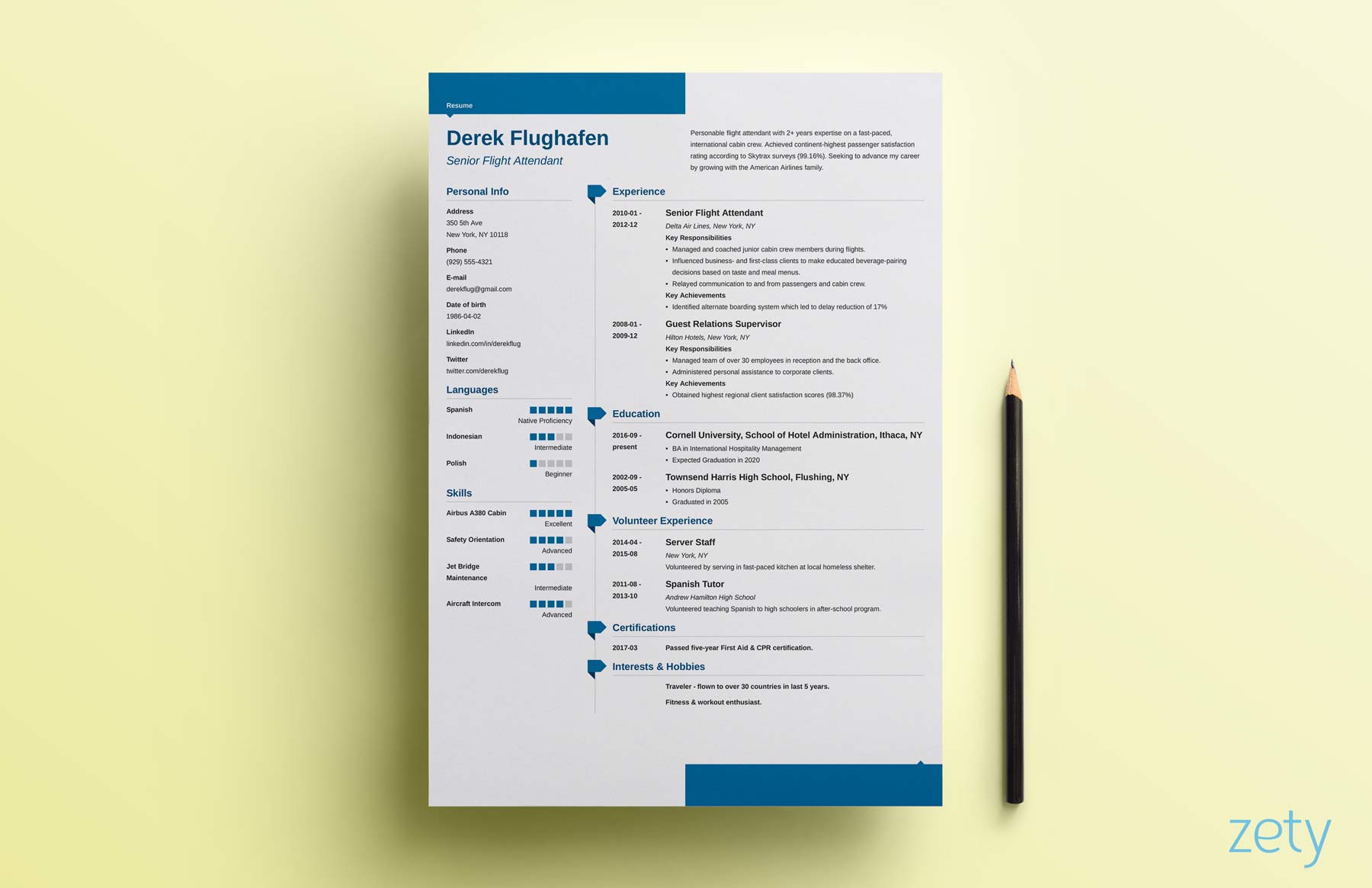 Our "Modern" resume template has been designed to make sure recruiters know where each piece of information about your career is located. The section titles include small graphical elements that guide readers' eyes to where you want them to go.
You can access this resume design template in our online resume builder. See 20+ templates and create your resume in 5 minutes here.
6
Floral Resume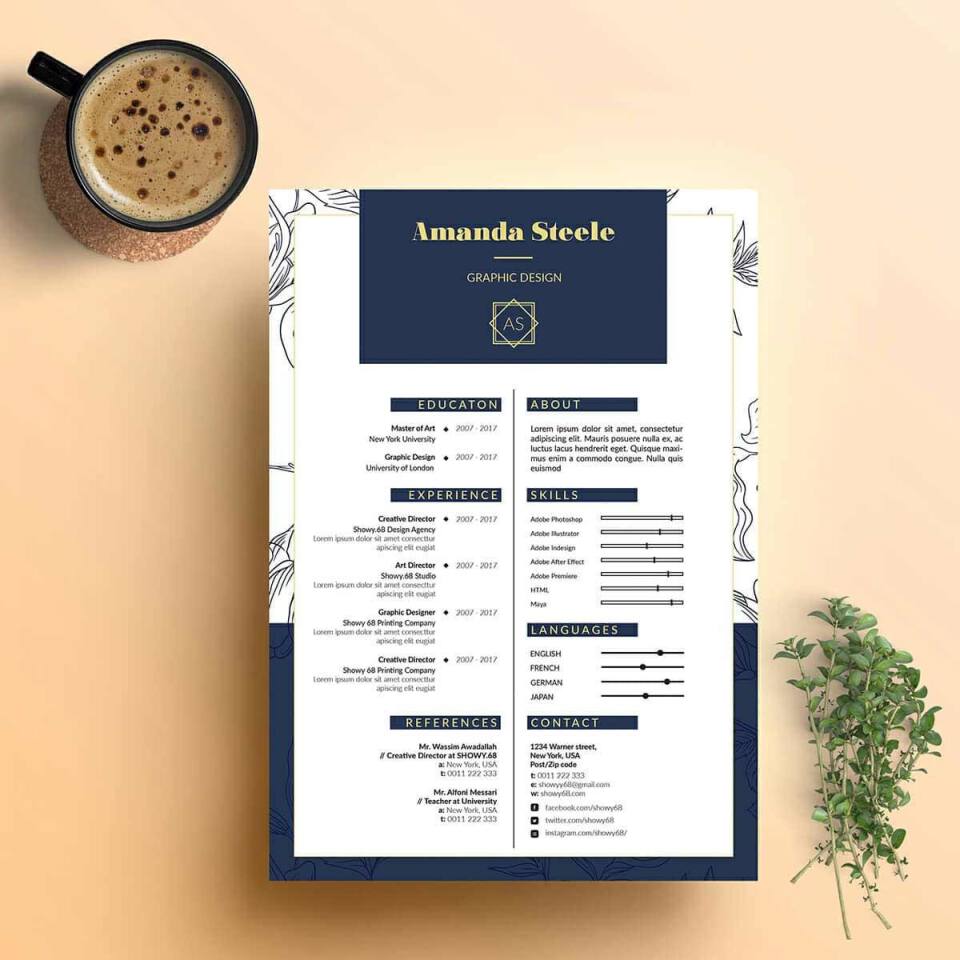 Do Anh Nguyet and SHOWY 68 have designed this "Floral Resume Template / CV Template" for those of you who'd value combining a creative resume design with simplicity and legibility. This one's a great choice for jobs in creative industries.
Here's the link to this resume design template.
If you're looking for a creative job, your resume has to reflect your artistry and ingenuity. If it's too basic and (let's face it) boring, recruiters will assume that so are you. Have a look at our list of creative resume templates that'll make every recruiter want to interview you: Creative Resume Templates (16+ Examples to Download & Guide).
Wasting No Space By Using Columns
7
Clean and Clear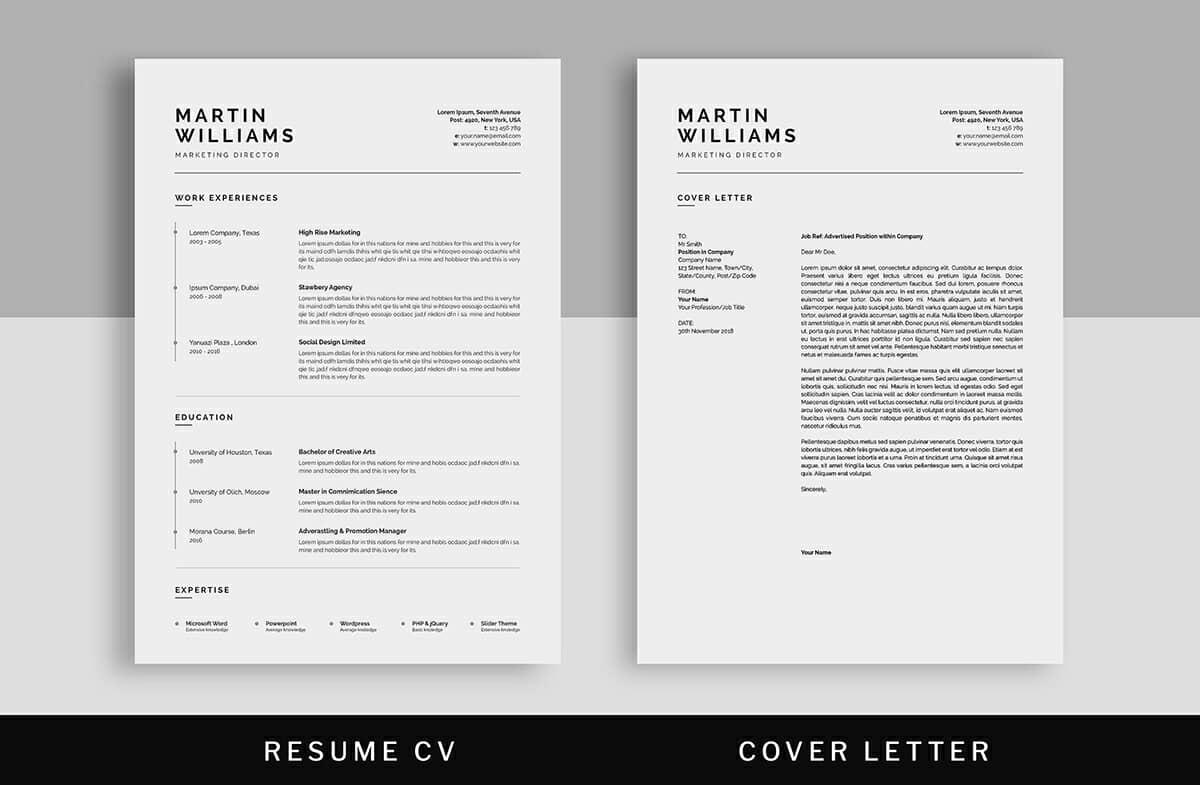 "Minimal Resume CV" by UX-Group uses two columns in work experience and education sections, making it easier for you to keep your resume one-page without having to jam-pack your content. As a bonus, you'll get a cover letter template and a ready-to-print business card.
This one's available in PSD, INDD, IDML, and DOC.
Here's the link to this resume design template.
8
Iconic not Laconic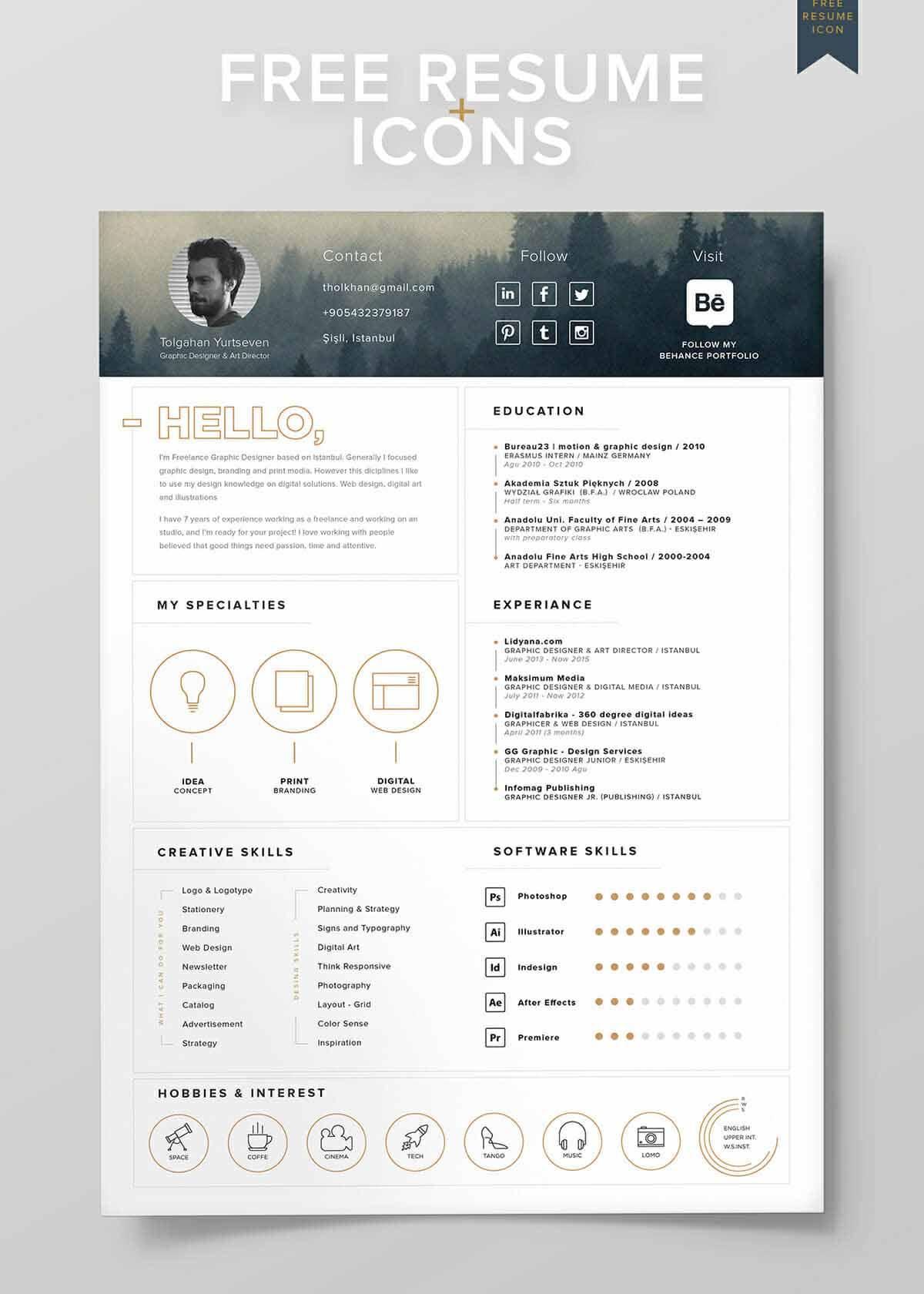 Tolgahan Yurtseven's "FREE Resume Template + Icons" is an unbeatable combination of informative and creative resume design. A great fit for applicants targeting creative positions in companies with a casual office culture. (In case you've missed Tolgahan's caps in the title: THIS ONE, believe it or not, IS FREE). Available in INND and PSD.
Here's the link to this resume design template.
For more free resume templates you can use for your job application and impress employers, see our ultimate list: Free Resume Templates: 17 Downloadable Resume Templates to Use.
9
Symmetrical and Balanced
Entitled plainly "Resume," and created by Ahsanyaja Corp, this template uses two symmetrical columns to help you fit all you want to say into one page. This original resume design, despite its unorthodox take on the layout, is also very clean and legible. You can download this resume template in INND, PSD, and AI.
Here's the link to this resume design template.
White Space Is Your Friend
10
Slick and Simple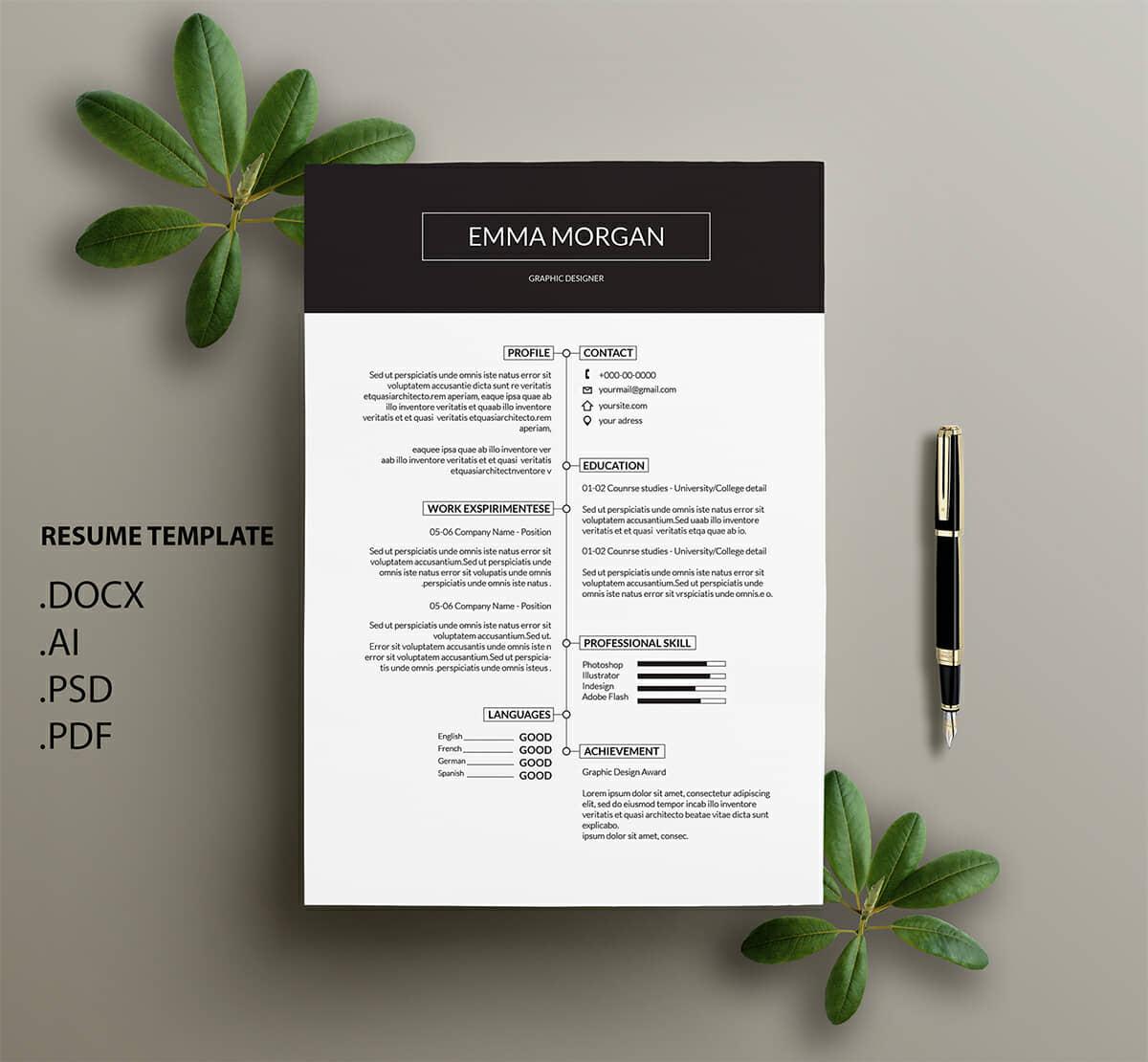 SHOWY 68 and Mee Hoang's "Simple Professional Resume Template / CV Template" delivers on what's promised in its title. It's got the right balance between a typical, formal resume design and a sprinkle of creativity. A lot of white space makes this one very pleasant to look at.
Here's the link to this resume design template.
11
Crisp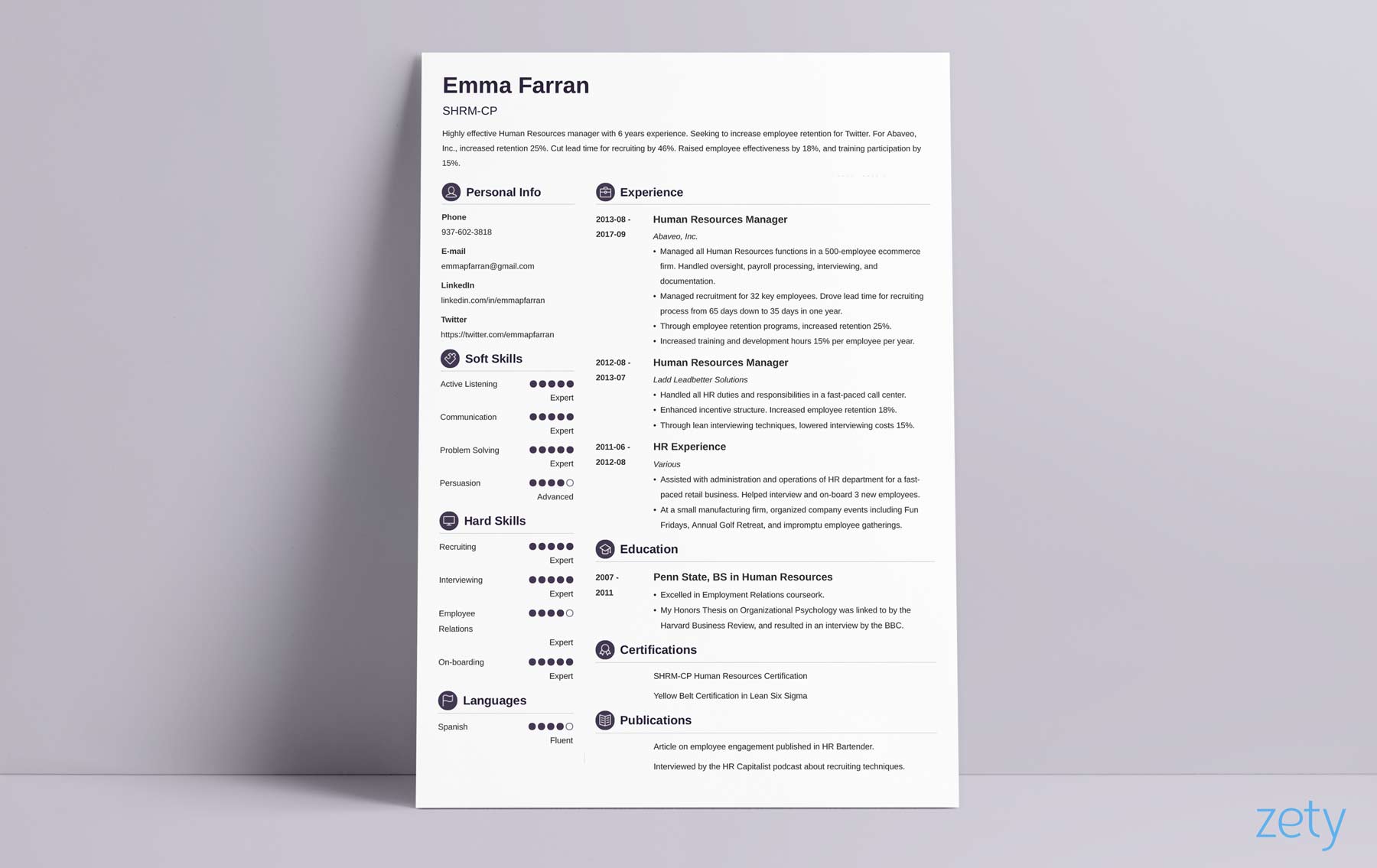 We've designed our "Crisp" resume template to satisfy all those who appreciate a clean resume design without too much graphics. Use this one if you expect recruiters to print out your resume. It will look as stunning on paper as it does on screen.
You can access this resume design template in our online resume builder. See 20+ templates and create your resume in 5 minutes here.
12
No More Than Required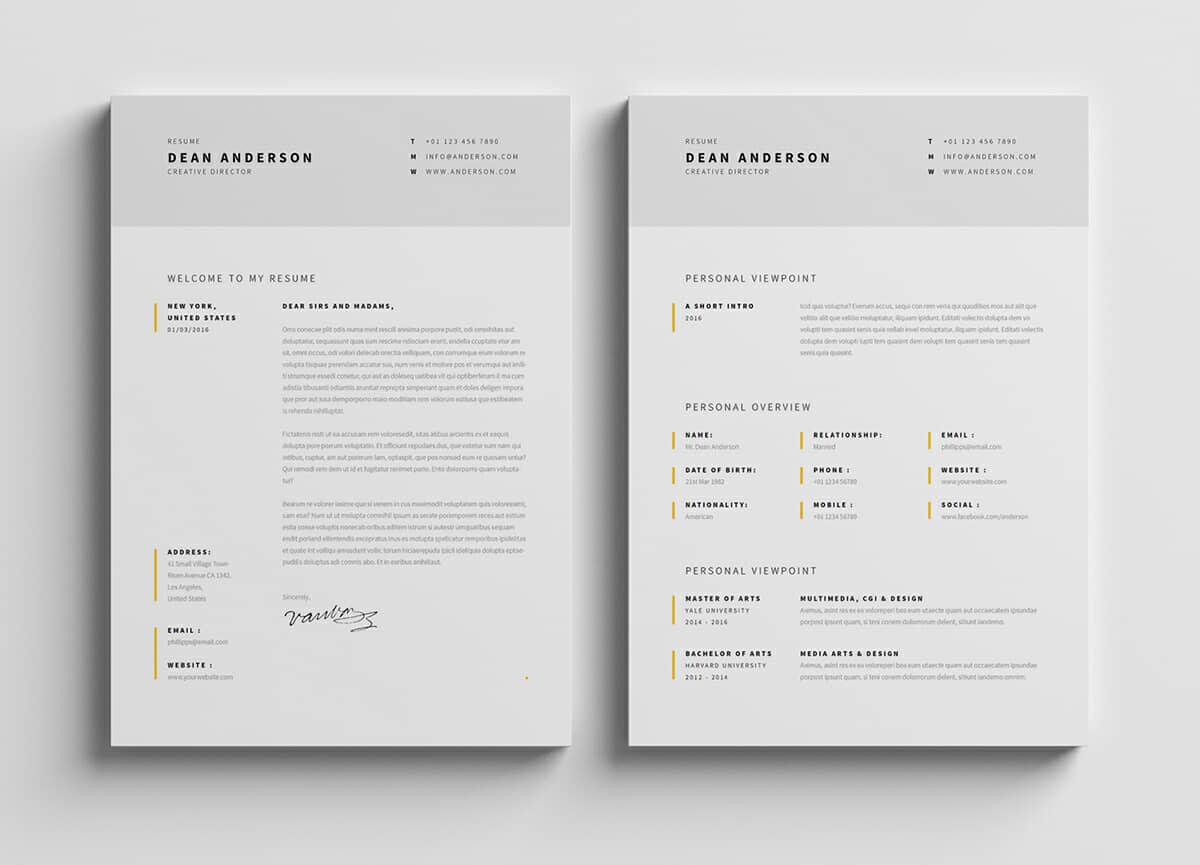 EgoType brings you one of the most minimalistic yet eye-catching resume templates you'll see. It'll be an effective resume design for virtually all industries, from creative to traditional, as well as for academic purposes. Use this resume design if you want your resume to highlight your high level of professionalism.
Here's the link to this resume design template.
Colors Can Speak Louder Than Words
13
Watercolor Triangle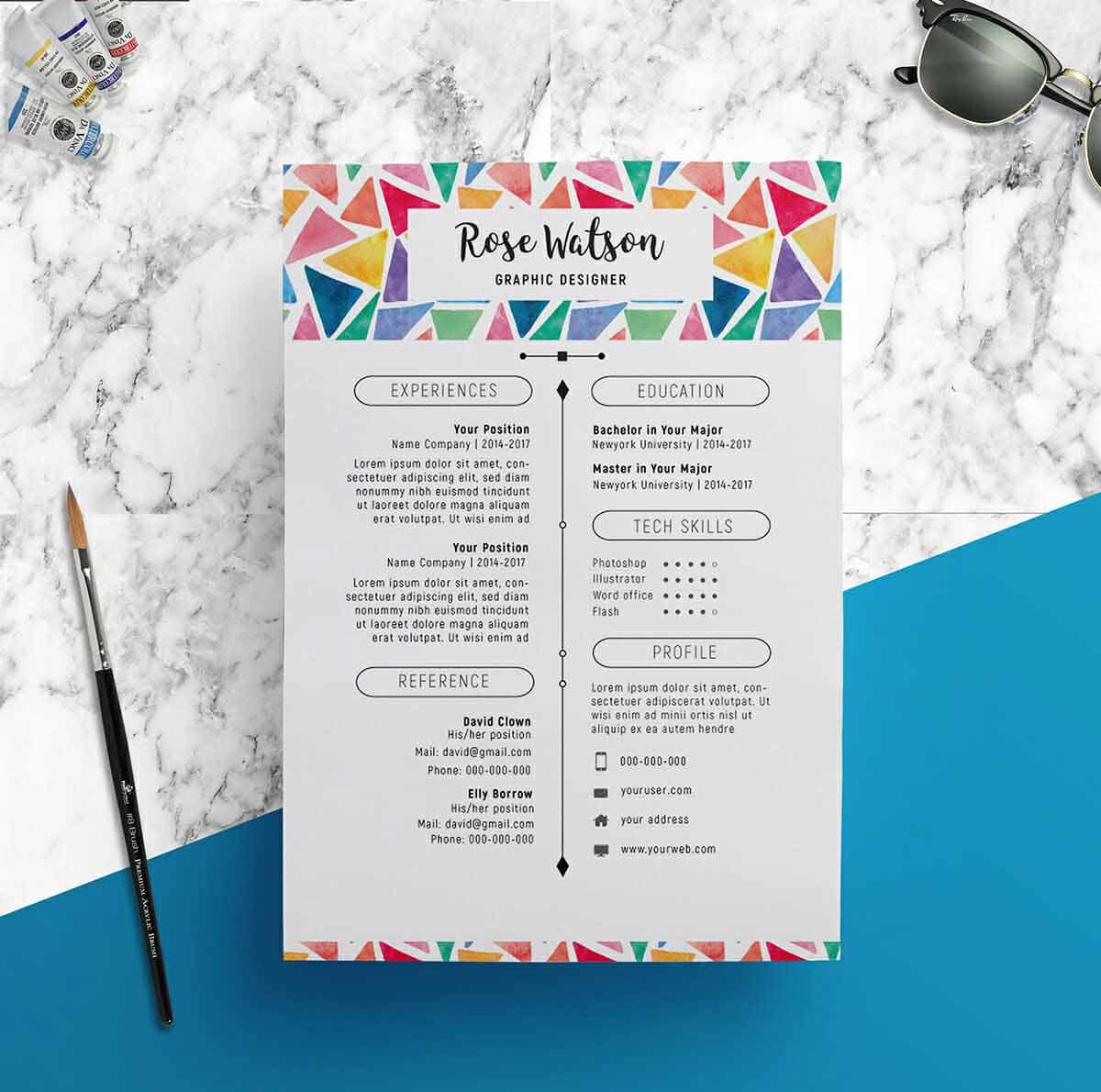 The lucky thirteen on our list goes to SHOWY 68's "Watercolor Triangle Resume Template - CV." While employers who prefer a conservative office culture might not appreciate the colorful paint-like header, this one's a great resume design example for job hunting in more casual industries.
Here's the link to this resume design template.
14
High Contrast, High Reward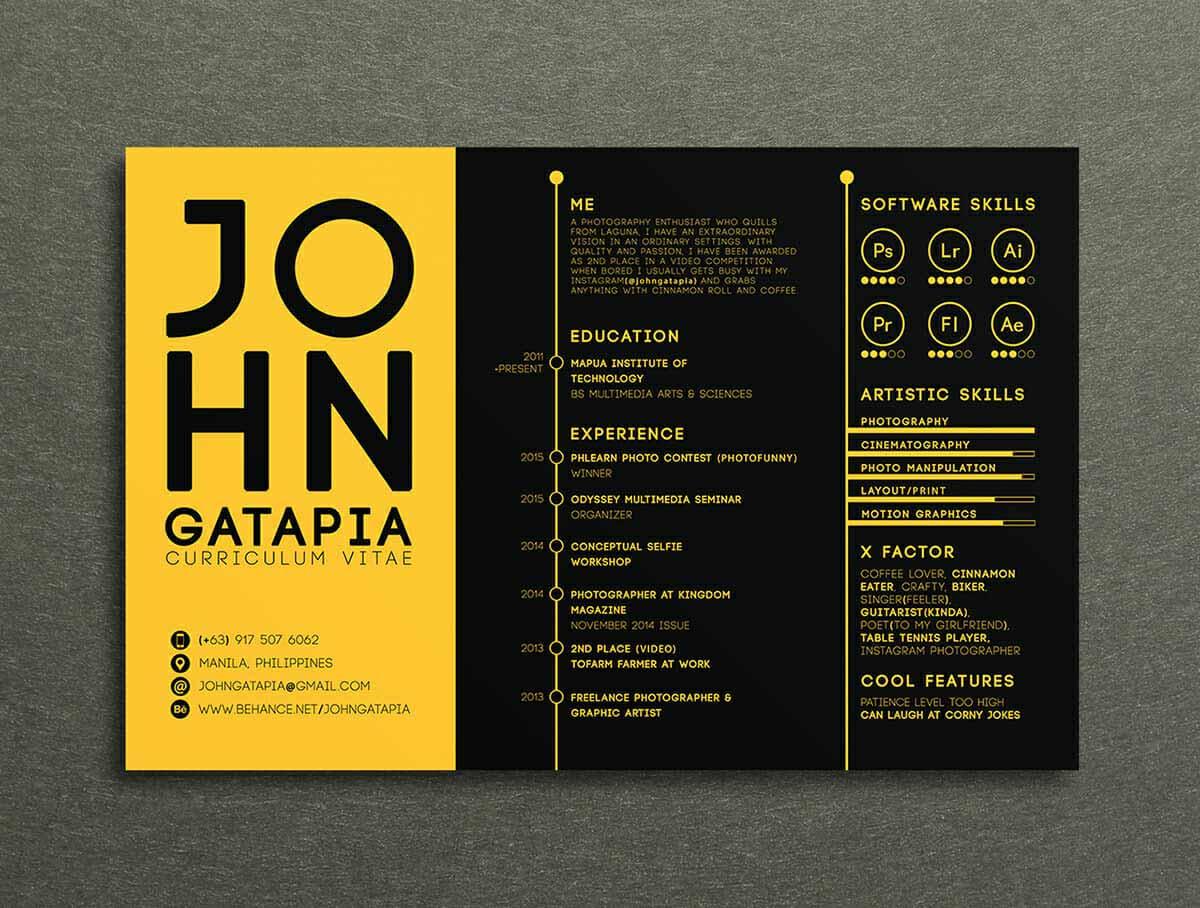 In this high-contrast resume design, black is the new white and, well, orange is the new black. Imitating the design of websites for the visually impaired, it's a very refreshing template. Using it might prove a little risky as it might not look great when printed out, but it sure does grip attention.
Here's the link to this resume design template.
What makes this template so great is in part it's modern touch. Check out our list of other templates at the cutting edge of resume design: Modern Resume Templates & 18 Examples [A Complete Guide].
15
Infographic Resume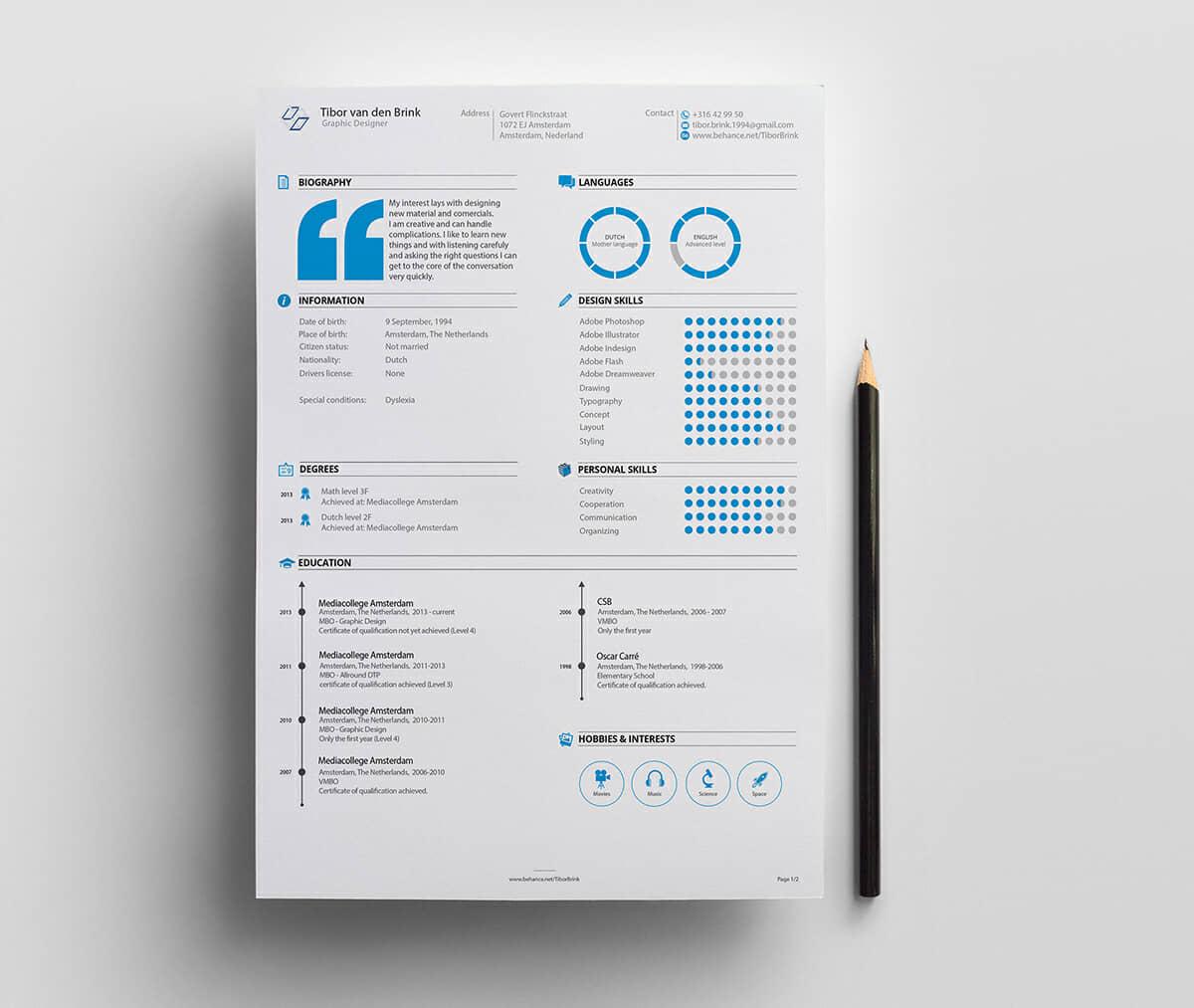 Tibor van der Brink, in his "Personal Resume and Promotion," puts traditional resume sections inside a creative infographic. Blue icons add a pleasant touch of color, but the design remains elegant and clear.
Here's the link to this resume design template.
Alright, so you've seen some great resume design templates. Now let's go through some basic resume design tips to help you create a resume that represents you to your best advantage.
Done with designing and writing your resume? Make sure you didn't miss anything that could cost you the job of your dreams! Get our handy free checklist: 46 Things You Need To Do Before You Send Your Resume
How to Design a Resume in 9 Simple Steps?
A well-designed resume is supposed to make a good first impression.
If the first impression your resume design makes is messy or unprofessional - it's an instant deal-breaker.
Whether you choose to design a resume in Word or use more advanced graphic design software, such as InDesign or Photoshop, there are some golden resume layout rules you should play by if you want to get your foot in the door.
Have a look at our top resume design tips and transform your run-of-the-mill resume into a killer one.
1. Start with choosing the right font
Imagine reading Madame Bovary printed out in Comic Sans. However monumental and meticulously crafted, the novel would seem ridiculous.
The font you choose for your resume design should be professional and elegant to avoid coming across as a trivial joke.
Unless you're very confident about your typographic skills, stick to one font throughout your resume. You might pull off different font for the header or section headings if you're a design pro but otherwise - it would probably make your resume look like an eight-year-old's scrapbook.
Going for a wrong font can well ruin your chances of landing the interview. I mean it. It you'd rather avoid this scenario, here's a dedicated guide for you: What's the Best Font for a Resume?
2. Set the margins
Another cornerstone of every well-designed resume template.
For every professional resume design, borders should be identical for all four edges.
One-inch margins are your safest choice. If you feel like choosing a slick resume design with smaller fonts and no bold, feel free to extend your margins to an inch an a half. It'll give your resume a nice, minimalistic touch.
3. Divide your resume into sections
Depending on the resume format you choose, your resume will be divided into different sections, each focusing on a different aspect of your career. Usually, the sections will be organized in the following order:
Contact information
Resume summary or resume objective
Work experience
Education
Skills
Additional sections
If you want a more unique resume design, you can add other sections or re-order the above ones. Make sure you read this guide for inspiring resume redesign ideas: Resume Sections to Include on Your Resume: Guide (+20 Examples).
4. Make the resume header pop
Even the most elegant resume design will turn out futile if you've got no professional resume header. Think of it as of your business card. It makes as much of an impression as your personal appearance - the suit you wear or the briefcase you carry.
Pro Tip: The design of your resume header is critical, but don't forget about the contents. Include all the basics: your full name, professional title, email address, and telephone number. Then add some extra details - your LinkedIn profile, personal website, or a link to your online portfolio.
Getting started with your resume design is tough and, worse yet, messing it up at the very beginning might ruin your chances of impressing your prospective employers. Don't fret, here's a guide that will tell you how to start designing a resume the right way: How to Start a Resume: A Complete Guide With Tips & 15+ Examples.
5. Use clear headlines
For an eye-catching resume design, make your headlines stand out from the rest of the text.
Make them slightly larger than your resume body. You can also use boldface type or type the headlines IN ALL CAPS.
This way, you'll save recruiters' time: they'll know where to look for what interests them on your resume.
6. Make smart use of white space
Recruiters have to review hundreds of resumes every day. They're tired of looking at heaps of information crammed into as little space as possible.
Especially if you're applying for a corporate job, use a clean resume design: minimalist, with a lot of white space. It'll be an instant relief for recruiters. They'll surely be eager to spend more time on your application.
How to make sure you've used white space to your advantage?
Don't go for single line spacing unless you want your resume to look like yellow pages. Set the spacing for 1.15 or 1.5. Make sure it's consistent across your whole resume design. Add a space before and after every section heading, as well as after every entry.
Pro Tip: Unless explicitly asked to include one, don't use a photo in your resume design. You're looking for a job, not a date.
7. Don't overuse bullet points
Bullet points are a good idea for breaking up the text and making it easier to read. Use them when describing your professional responsibilities and achievements or listing details about your education.
Limit yourself to five bullet points underneath each entry. Feel like it's not enough? It is. Remember to only write about your career details relevant to the position you're aiming for.
Recruiters don't read your whole resume. They skim it for very specific information and keywords. If you want this job, you need to know how to give the recruiter exactly what they're looking for. It's called tailoring your resume. Learn how to do it here: 6 Tips on How to Tailor Your Resume to a Job Description (Examples).
8. Make your resume as long as it needs to be
Don't obsess on trying to make your resume design one-page. Be brief and relevant, but don't omit any important details.
Most candidates don't know how long a resume should be. And often that's why they struggle to find a job. We know it's confusing, so we've put together this guide to clear up all of your doubts: How Long Should a Resume Be? Everything You Need to Know.
9. Save your well-designed resume in PDF
PDF files help you keep your resume layout intact. You wouldn't want your beautiful resume design messed up when getting opened on a computer that doesn't run your text editing software, right?
For infographic resume designs, or others made with advanced graphic design software, PDFs are a safer choice than JPG or PNG files, because the latter ones do not extract raw text.
Just one more important thing:
Before you send out your resume, check the job description to make sure PDFs are accepted. If not - send a resume in Word. Either way - it's always better to have two resume file formats available.
Sending your resume in a wrong file format can spoil your chances of getting the job. If you don't get it right, your resume might not pass the Applicant Tracking Software (ATS) test. Read this guide and make sure you come out on top: Word vs PDF Resume: What is the Best Resume Format?
Key Takeaway
An innovative resume design, different than a thousand other generic resumes will surely catch every recruiter's attention.
Remember to keep these points in mind:
Even if you're not a graphic designer, you can have a unique, elegant resume design in no time. You can either use online resume builders that offer downloadable resume design templates, or design a resume by yourself so that it reflects your individuality.
If you choose to DIY, make sure to keep the layout simple and uniform. Stick to one font, make an eye-catchy header and divide your resume into easily identifiable sections.
Don't try to cram too much text into too little space. Use bullet points for work experience descriptions and go for an extra space before and after every section heading and each entry.
Apply those strategies, and I guarantee that you'll have a killer resume design that sells your candidacy to every employer.
Do you have more questions on how to design a resume to impress recruiters and get more job interviews? Want to share your resume designer experience? Give us a shout in the comments and we'll get back to you!