Being a graphic designer, you might think your talent and skills speak for themselves. You don't worry about graphic designer resume, only paste a portfolio link to your job application and voilà. Right?

Unfortunately, no. There are thousands of talented candidates hunting for high-paying jobs. That, alone, is the reason to craft the best graphic designer resume possible. Your job application needs to stand out like Milton Glaser's designs. You're one quick scroll-down away from a perfect graphic design resume sample—read on, and learn how to make one yourself.
In this article, you'll find:
A graphic designer resume example better than 9 out of 10 other resumes.
How to write a graphic designer resume that will land you more interviews.
Tips and examples of how to put skills and achievements on a graphic design resume.
How to describe your experience on a resume for a graphic designer to get any job you want.
Here's a sample resume for a graphic designer made using our resume builder.
Want to save time and have your resume ready in 5 minutes? Try our resume builder. It's fast and easy to use. Plus, you'll get ready-made content to add with one click. See 20+ resume templates and create your resume here.
Sample Graphic Design Resume—See more resume examples here.
Targeting other, similar positions as well? Maybe one of these guides will be of interest to you:
Here's how to write a graphic design resume:
Graphic resume example v2
Peter Johnson
Graphic Designer
555-555-5555
peter.johnson@email.com
linkedin.com/in/peter.johnson
Summary
A highly creative and innovative graphic designer from Kearney, Nebraska with over 10 years of experience in branding design, logo design and marketing material creation for clients across multiple industries. Seeking a career at Apex Systems to apply my ability to visualize ideas, create stunning visuals, and develop impactful campaigns that capture the essence of a brand. Accomplished in boosting sale rates by 25% at Cyberspace Innovations through effective use of graphics and multimedia amenities while meeting all client expectations.
Experience
Graphic Designer
Cyberspace Innovations, Kearney, NE
April 2011–Present
Key Qualifications & Responsibilities
Created logos, websites, brochures, banners and other promotional content for various corporate clients.
Directed photo shoots and developed video content for social media campaigns on YouTube, Instagram & Facebook.
Developed print materials including posters, billboards and flyers for events such as product launches & conferences.
Coordinated with writers to infuse textual elements into designs to make them more meaningful.
Adapted designs according to customer feedback while ensuring deadlines are met without compromise on quality control standards.
Key Achievement:
Assisted with developing the designs for rebranding of one of the leading global food chains, increasing its sales by 25%.
Graphic Designer
AlphaWave Technologies, Omaha, NE
May 2008–April 2011
Key Qualifications & Responsibilities
Designed website layouts including logos, icons and navigation menus.
Developed promotional material like brochures, flyers and business cards to market products & services.
Coordinated with printers to ensure smooth production of materials while ensuring quality standards.
Ensured all designs are in compliance with industry-standard coding practices for seamless integration into websites.
Key Achievement:
Boosted customer engagement rates by 50% through the use of compelling visuals and multimedia elements.
Education
BFA – Graphic Design
University of Nebraska, Lincoln, NE
August 2004–May 2008
Skills
Adobe Creative Suite (Photoshop, InDesign & Illustrator)
Branding
Logo Design
Graphic Design & Layout
Video Editing & Animation
Typography
Color Theory & Management
Multimedia Development & Presentation
Certifications
Adobe Certified Expert: Photoshop CC 2018 - Adobe Systems Incorporated, 2018
Awards
Best Design Award – University of Nebraska, 2007
Memberships
National Association of Professional Graphic Designers since 2009
Developed and conducted a graphic design workshop for students at the Omaha High School, 2019.
Languages
English—Fluent
Swahili—Intermediate
Interests
Photography
Digital Art & Sketching
1
Format Your Graphic Designer Resume
You're a graphic designer, so you need to showcase all your skills with the flashiest resume on earth. Right?
Hold up a second. Graphic design is all about conveying great content in a pleasing way. Notice that "conveying great content" comes first.
Creative resumes printed on milk cartons or in super-spy dossiers are catchy. But they're a little too catchy.
Job one is to get your great content across without creating extra work for the art director. That art director has about seven seconds to check your resume, according to our HR statistics report.
And there are 286,000 of yous fighting for 266,300 graphic design jobs. That means if your information is buried somewhere in your edgy design... uh-oh, trash bin.
Three Formats for a Professional Graphic Designer Resume
For the highest chance of success, stick to the three tried and tested resume designs:
Generally, reverse chronological is best. Look at these graphic designer resume templates—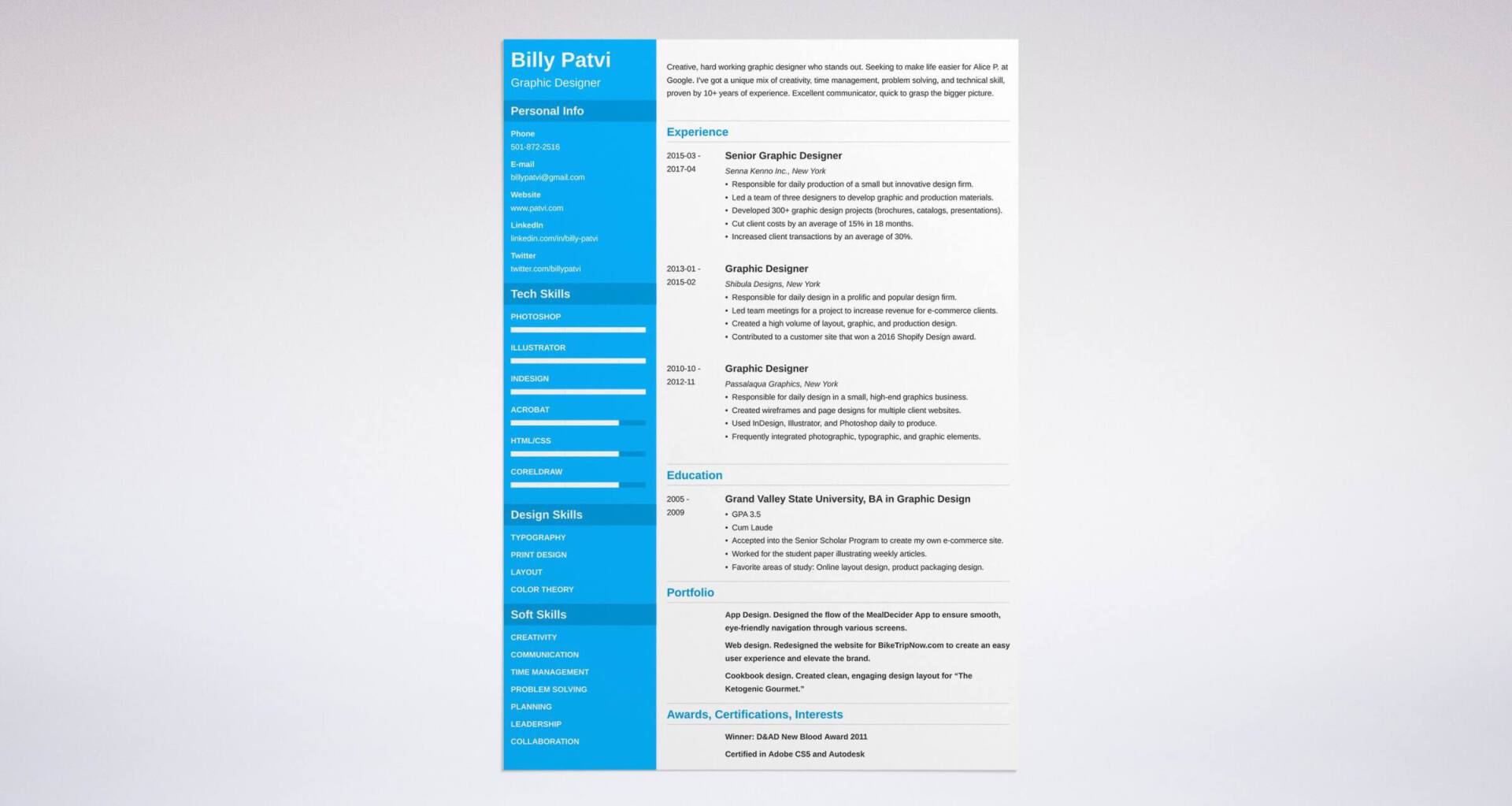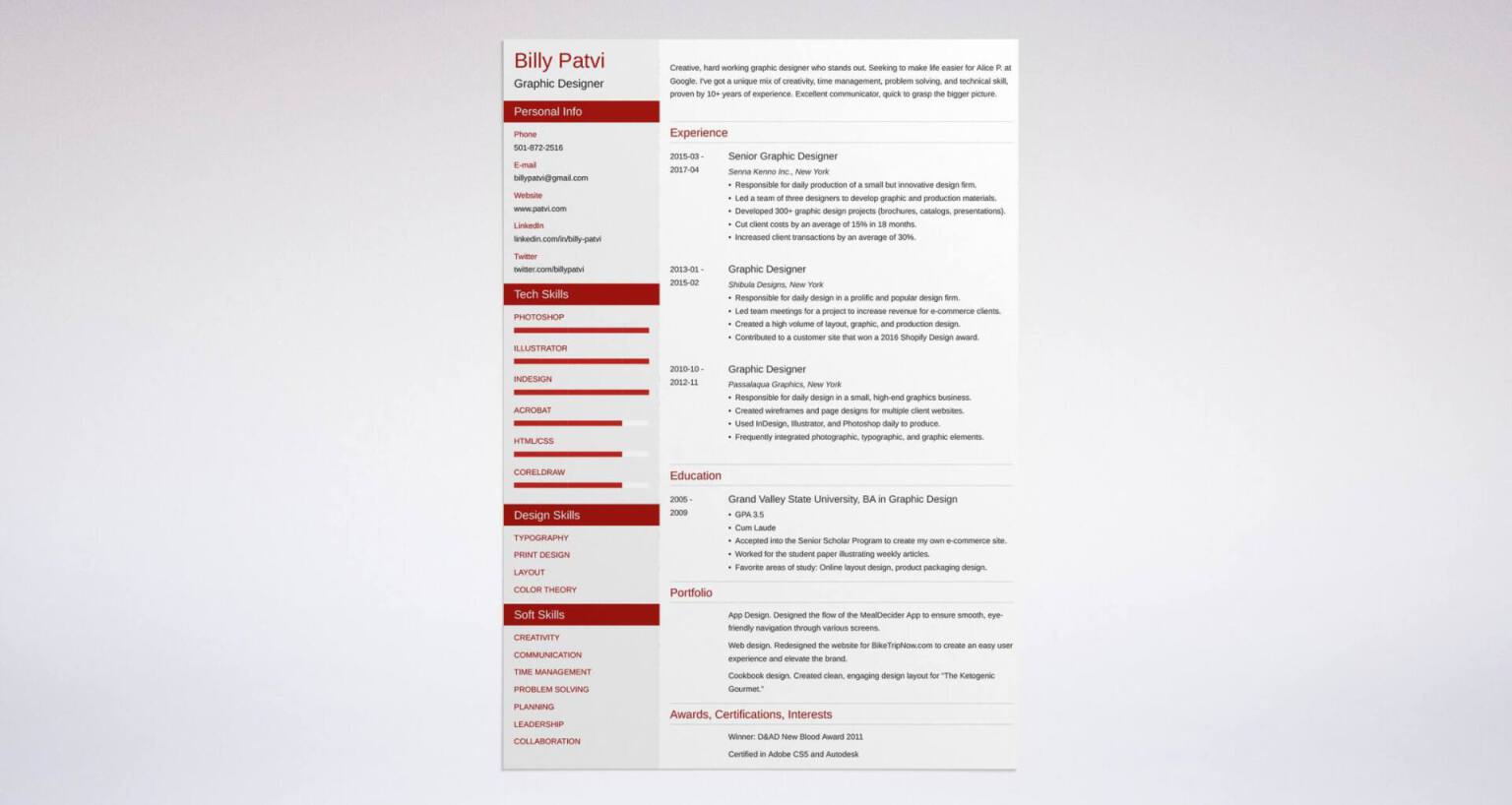 Art directors and marketing managers pay close attention to good graphic designer resume layouts.
Use white space to give their eyes a rest, and legible fonts to make for easy reading. In addition, graphic designers should also be well-versed in typography and how to create fancy fonts. Fonts can add personality and depth to any resume template.
Next, save the resume as a .pdf. MS Word is great, but the formatting can get borked en route. A .pdf is set in carbonite. Just make sure the company will accept one. Some won't.
Pro Tip: Want to stand out like Banksy? Don't do it with challenging or overly creative resume ideas. Instead, point your well-designed resume to a stellar online portfolio. See 50 great portfolio examples here.
For a deep dive into the three resume formats, see this guide: 3 Resume Formats: How to Choose the Best One [Examples]
Remember, you are looking for a job and with resumes it is always substance over form. Creativity is fine, but it means less to employers and Applicant Tracking Systems than facts and figures.
As a graphics expert, you can't just use other people's templates. And, again, don't self-sabotage your efforts and make sure your graphic designer resume makes your case with its contents not flashy images.
Bearing that in mind, have a look at this collection of well-designed resumes and get inspired: Resume Design: 15+ Templates to Download & Use 【How-to Tutorial】
2
Add Contact Information to Your Graphic Designer Resume
You don't want to be unreachable. Still, your contact info shouldn't overshadow the rest of your innovative graphic designer resume. Include:
Name
Updated phone number
Professional email address
A link to your online portfolio
RIGHT
Billy Patvi, Graphic Designer - billypatvi@gmail.com - 501-872-2516 - patvi.com
WRONG
Billy Patvi, Graphic Design Professional, 122 Arbuckle Drive South, Benchburg, CA, 80125 - Email: billypatvi@gmail.com
Secondary Email: billypatvifunjellybean52@hotmail.com - 501-872-2516
Pro tip: For a two-page resume for a graphics designer, put contact info on both pages.
Want to see what a great resume looks like? Find out in our guide: How to Make a Resume: A Step-by-Step Guide (+30 Examples)
3
Write a Graphic Designer Resume Summary or Resume Objective
Picture an art director. We'll call her Alice. She's the gatekeeper of the juiciest graphic design jobs on the West Coast. It's got nap rooms and free onsite doctors.
You really, really want to work for Alice.
The best way to get her attention is to start your excellent graphic designer resume with: "Objective: To get a job as a graphic designer." True?
False.
But you knew that.
The best way to get Alice's attention is to say what you can do for her. To do that, use a resume summary if you've got lots of experience.
Graphic Designer Resume Summary Example
right
Senior graphic designer responsible for daily graphic design content for a medium-sized firm. Worked regularly on graphic, layout, and production materials. Recipient of the 2016 BigCommerce Design award. Developed 200+ graphic design projects (logos, brochures, advertisements, infographics) that increased client transactions by 25%.
wrong
Graphic design professional with 10+ years experience. Looking for a job as a graphic designer. Skilled at Adobe Illustrator.
When making a resume in our builder, drag & drop bullet points, skills, and auto-fill the boring stuff. Spell check? Check. Start building a professional resume template here for free.
When you're done, our online resume builder will score your resume and our resume checker will tell you exactly how to make it better.
Use a resume objective if you're just starting out or changing careers or you're looking for a new niche. It drops the "experience" with a focus on skills.
Graphic Design Resume Objective Example
right
Enthusiastic, creative graphic designer with solid problem solving skills. Seeking to lower the workload of John M. at Marketing Fusion, Inc. through proven strengths in creativity, collaboration, and taking criticism. Also excels at several tech tools, including Illustrator, Photoshop, and CorelDraw.
wrong
Graphic design graduate looking for a job in graphic design. Can use photoshop, illustrator, and CorelDraw.
Pro Tip: Avoid writing generic resume introductions. Go for details, highlight your specific strengths, and fit them to the job offer. Aim for Picasso vs paint-by-numbers.
Need more examples on how to make a cool statement for your resume summary or objective? See our two guides: How To Write A Resume Summary: 21 Best Examples You Will See and The Only Way to Use Resume Objectives [20+ Examples & Tips]
4
Describe Your Graphic Design Experience
Remember Alice? The art director for the job with the nap rooms and in-house doctors? Experience matters a lot to her.
If you don't present yours in just the right way, chances are she won't even see it. Statistics show she looks at each resume for only six seconds.
Start your original graphic design resume experience section with your most recent job. Then list responsibilities and achievements in bullet points.
Tailor your experience to each and every job opening. Custom-tailored resumes pop out like a Dali painting.
Let's take an example job offer. This one is looking for a candidate who can translate the written word into images and layouts. The successful candidate will understand marketing in the retail sector.
For our example, let's imagine you've made a list of 112 achievements and responsibilities. For this sample graphic designer resume, you'll pick only the four that best fit the job offer at hand.
Graphic Design Experience Section Example
right
Graphic Designer
January 2015‒February 2017
Shibula Designs, New York
Spearheaded daily design in a small but prolific firm.
Facilitated team meetings for a project to increase revenue for ecommerce clients.
Collaborated on a project to create layouts and images for written online content.
Contributed to a customer site that won a 2016 Shopify Ecommerce Design Award.
wrong
January 2015‒February 2017
Shibula Designs, New York
Responsible for daily graphic design.
Led team meetings for a project to increase revenue for blog clients.
Worked on a project to create logos for a new client.
Contributed to a customer site that won a 2016 Best of News Design award.
See the difference?
They're both equally good resume experience examples. It's just that one is tailored to the job (and will likely land an interview) and one is trash-bound.
What if You Have No Experience?
Anyone can make an eye-catching resume if the challenge is picking between various prestigious design awards. But what if you have no experience on your resume?
You need experience to get experience. It's like two hands drawing each other. The good thing for graphic designers with no experience is, it's easy to get some.
As a new designer, you can showcase your own work in an online portfolio. You can also enter contests and do one-offs for sites like Freelancer.com, 99 Designs, and CreativeAllies.
Or do a couple small jobs cheap for local businesses.
Here's an example of a freelance graphic design resume experience section:
right
Freelance Graphic Designer
June 2016‒May 2017
Arondale, Connecticut
Designed logo for Nabor Gro groceries and liquor, Arondale, Connecticut.
Received 99 Designs award for best t-shirt design, February, 2017.
Designed brochure for Zorbuni, Inc., Des Moines, Iowa.
Action Words to Enhance Your Already Great Graphic Design Resume
Use action words to make your experience section really pop. Instead of "responsible for," or "worked in," use, "spearheaded," or "contributed to."
Get more action word examples in the table below.
Graphic Design Resume Action Words

| | | |
| --- | --- | --- |
| Authorized | Clarified | Designed |
| Chaired | Composed | Acknowledged |
| Cultivated | Consulted | Assimilated |
| Delegated | Analyzed | Blended |
| Built | Coalesced | Advocated |
| Calculated | Collaborated | Authored |
| Crafted | Ignited | Directed |
Pro Tip: Get a Pinterest account, and use it. Pinterest is a great way for graphic designers to showcase their work. Pinterest portfolios can jump start even a student resume.
To make your creative graphic design resume shine, enrich it with action words. Get some here: +80 Examples of Resume Action Words for Every Profession
5
Mention Your Graphic Design Education
Nothing beats real world experience. So does education really matter, especially on a freelance graphic designer resume?
Look at it this way:
If you don't have a great degree, you can build experience fast to make up for it. If you've got a great degree, it's a feather in your cap. Either way, you'll want to show your education in the best light to stand out like Warhol.
Display:
University and location
Degree type
Major
Awards, honors, and other standouts.
List things about your schooling that prove you were born and bred to get this job.
right
BA in Graphic Design
Grand Valley State University, Michigan
2012-2015
GPA 3.5
Cum Laude
Accepted into Senior Scholar program to create my own ecommerce site.
Worked for the student paper illustrating articles.
Favorite area of study: Online layout design.
If You Haven't Finished College
You can still write a great graphic design resume education section even if you haven't finished college yet. Just focus on your areas of passion, interest, and accomplishments so far.
right
Grand Valley State University, Michigan
2015-2017
Current GPA 3.6
Accepted to Senior Achiever program to build my own Saas graphic design WebApp.
Illustrate articles weekly for the student paper.
Favorite area of study: App wireframe design.
Pro Tip: Create a few graphic design resume templates and keep them on hand. Swap out education details as needed to fit each new job opening.
Need more guidance to avoid making a bad graphic designer resume? Use this guide: How to Put Your Education on a Resume [Tips & Examples]
6
Put Graphic Design Skills on a Resume
Let's go back to our art director, Alice. She's in her office. Nice Mondrian. She's going through a stack of enough graphic artist resumes to wallpaper the Empire State Building. Yours is in there somewhere, but she'll never see it.
Why?
Because you didn't match your skills to fit the job description. Her automated screening software didn't even put it in her inbox.
Get to know the job description for the position you're applying to. Let's say it values Illustrator, Outlook, communication skills, and signage branding. If you've got those skills, showcase them.
Better still, prove them.
| right | wrong |
| --- | --- |
| Excellent communicator. Frequently worked on large teams. | Excellent research skills. Frequently handled big research jobs. |
| Award-winning signage and branding skills. | Award-winning layout skills. |
| Skilled in Illustrator and CorelDraw. | Skilled in Acrobat and FreeHand. |
| Use MS Outlook daily. | Award-winning layout skills. |
Again, we're trying to fit you to the job like it was drawn on. Knowing how to make a creative resume means meeting rigid constraints creatively.
Need some inspiration for the best graphic design resume skills section? The best place to look is the job description. For a basic collection, see the list below.
Pro Tip: If you list a crucial skill in your skills section, back it up in your experience section. Show how you used that skill to help your former employer.
Need more pointers for adding skills to your creative graphic design resume template? See our guide: 30 Best Examples of What Skills to Put on a Resume (Proven Tips)
7
Add an Online Portfolio Section to Your Graphic Design Resume
You want your resume to showcase your awesome design skills. But you need it to play well with the automated screening systems.
What do you do?
Wisely, you back away from the idea of printing your resume on a frisbee or a yoga ball. Instead, you make it eye-friendly and easy to read, then point it to examples of your work online.
Graphic Design Resume Portfolio Samples
right
Portfolio (See it online at www.BillyPatvi.com)
App design. Designed the flow of the MealDecider App to ensure smooth, eye-friendly navigation through various screens.
Web design. Redesigned the website for BikeTripNow.com to create an easy user experience and elevate the brand.
Cookbook design. Created clean, engaging design layout for "The Ketogenic Gourmet."
Product packaging design. Designed packaging line for Javacat brand coffees.
Need some resume design inspiration? Do a Google search for "graphic designer portfolios." With a little effort, you can stand out like Paul Rand.
You are a graphics gal or guy, so making a portfolio from scratch might be a bit challenging. Got your back. Read: How to Make a Personal Website That Helps You Find a Job ❰Tutorial❱
Does your resume need filling up? Want to add hobbies and interests to your resume? See our guide: 20 Best Examples of Hobbies & Interests To Put on a Resume (5 Tips)
8
Include Design Awards, Accolades & Certifications
"Let's interview this one." You want the art director to say those words when they see your resume. They won't if it's like all the others. How do you make it different?
Add a section to your cool graphic designer resume that spotlights your best features. Make sure the things you list highlight your ability to do this job.
You can add certifications, conferences, publications, clubs you belong to, hobbies, or other pertinent details.
Graphic Designer Awards and Accolades Example:
Awards and Certifications
Adobe CS5 certified.
Autodesk certified.
Winner: D&AD New Blood award 2017
My chocolate bar design at BillyPatvi.com was written up in a Huffpost article.
Attended HOW Design Live, 2016
Even something that seems small to you might pop out to a recruiter, so take the time to brainstorm. As in other sections, match your list items to the job description.
Want to beef up your chops? Google "graphic designer awards," "graphic designer certifications," and "graphic designer conferences" for ideas to give your resume more heft.
Pro Tip: Have a "personal identity." Use it on your portfolio website, business cards, and LinkedIn profile. You can even put it on your resume. For inspiration, do a search for "personal identity" on Pinterest.
To help you craft a more unique graphic designer resume, we've created these handy guides: What to Put on a Resume to Make it Perfect [Tips & Examples] and How to List Certifications on a Resume: Guide (+20 Examples)
9
Combine Your Graphic Designer Resume With a Cover Letter
"Nobody writes cover letters anymore." We would tweak that just a scosche, like this: "People who don't get jobs don't write cover letters anymore."
You betcha: 45% of recruiters and art directors will skip your resume if it doesn't have a cover letter. Your graphic design cover letter is your chance to personalize yourself. It's a highlights reel of the most impressive things that fit you to the job.
In your great graphic designer resume cover letter:
Use the recruiter's name.
Mention something you like about the company.
Explain how you can help.
Create a list of 3-4 bullet points from all sections of your resume. For example, here's a snippet from a senior graphic designer resume. It's for a leadership role that focuses on cutting costs:
Example:
Led a team of four designers to develop layout, graphic, and production materials while helping clients cut costs by an average of 10%.
Recipient of the 2016 Shopify Ecommerce Design award.
Managed the efficient use of project budgets in the $3,000–30,000 range.
Developed 300+ graphic design projects (brochures, logos, infographics, advertisements) that have increased client transactions by an average of 30%
Use these career highlights in your graphic designer resume to drive your achievements home.
Plus, a great cover letter that matches your resume will give you an advantage over other candidates. You can write it in our cover letter builder here. Here's what it may look like: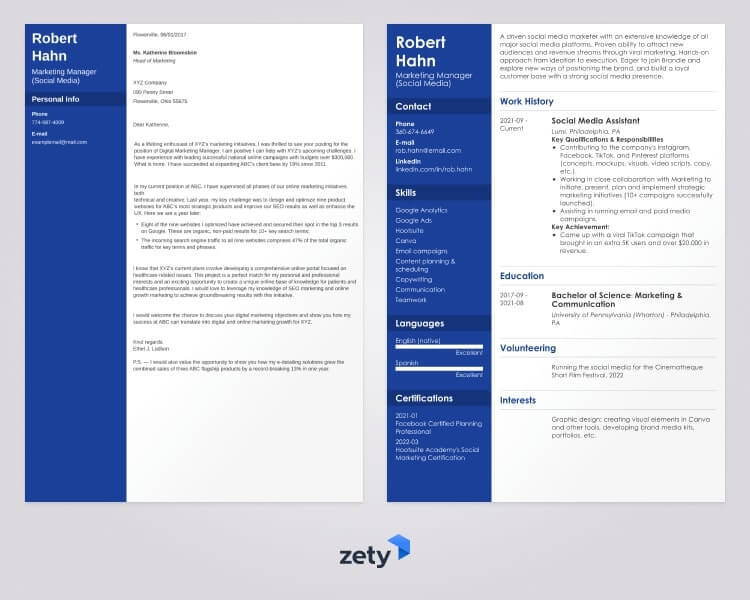 See more cover letter templates and start writing.
Pro Tip: Search LinkedIn for some good examples of graphic design resumes and cover letter. Pick the best details and use them in your own presentation.
Want to write a graphic design cover letter that makes you look like Klimt? See our guide: Graphic Design Cover Letter Samples and Writing Guide
To get ideas on writing good cover letters in general read: How to Write a Cover Letter (Examples and Tips)
Key Takeaway
Want a job-winning graphic designer resume? Then follow these steps:
While creative resume layouts are fun, it's better to rely on the standard, reverse-chronological template with excellent content.
At the top of your resume, put a well-phrased graphic designer resume objective or summary.
Pack your work experience section full of action words that highlight your achievements.
Tailor every detail to fit the job offer. Every bullet point should fit the graphic design job description like yoga pants.
Do you have any questions on how to make a graphic design resume? Maybe you're writing a graphic designer resume summary and need a helping hand? Give us a shout in the comments section!
About Zety's Editorial Process
This article has been reviewed by our editorial team to make sure it follows Zety's editorial guidelines. We're committed to sharing our expertise and giving you trustworthy career advice tailored to your needs. High-quality content is what brings over 40 million readers to our site every year. But we don't stop there. Our team conducts original research to understand the job market better, and we pride ourselves on being quoted by top universities and prime media outlets from around the world.