How Far Back Should a Resume Go in 2023? (+ Tips)
How many years should you go back on a resume? Is it a good idea to list those back-in-the-day jobs? What to add if you're a junior? Read on to get the answer.
The experience section of your resume is the backbone of your entire job application. It's crucial to get it right: listing too many positions will make the recruiter confused, but too little work history can crash your chances of winning a job interview. It's a delicate balance.
If you're asking yourself, "how far back should I go on my resume?", or "how many job experiences should be on a resume?", we've got the answer for you!
In this article you'll learn:
How far back should a resume go depending on the situation.
What hiring managers say about the experience section length.
How to list old jobs on a resume and explain experience gaps.
How many jobs should you list on your resume.
How to make your work history relevant.
Want to save time and have your resume ready in 5 minutes? Try our resume builder. It's fast and easy to use. Plus, you'll get ready-made content to add with one click. See 20+ resume templates and create your resume here.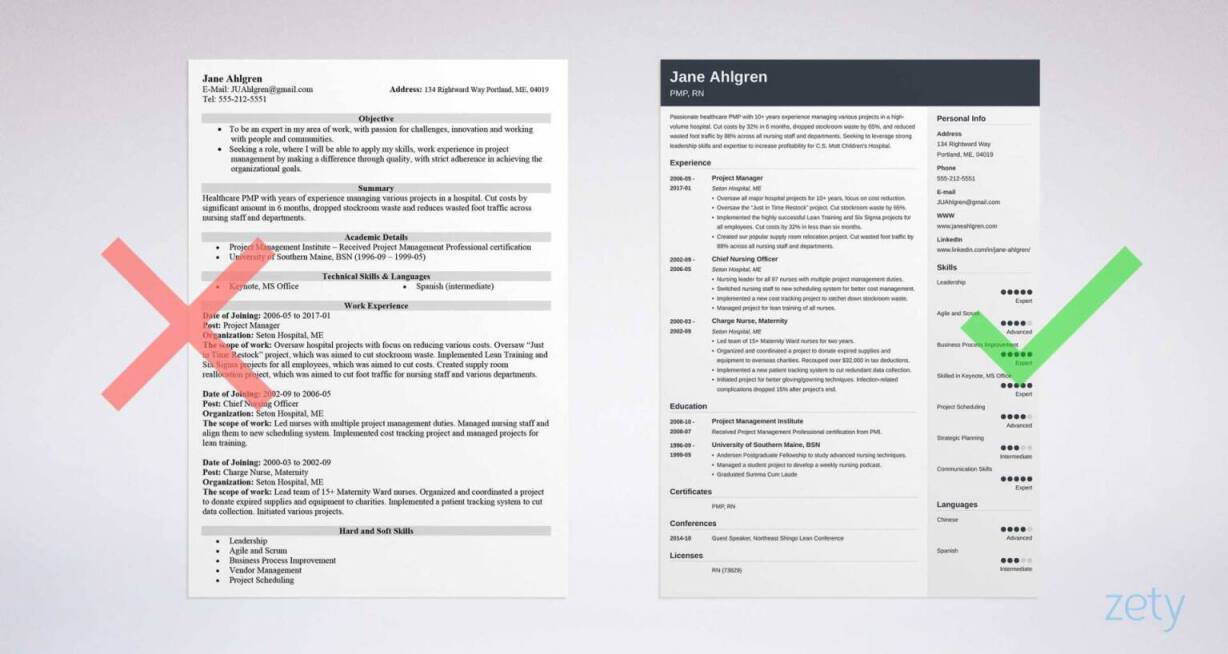 Sample resume made with our builder—See more resume examples here.
If you're interested in how to format your resume experience section, read: Work Experience on a Resume: Job Description Bullet Points That Kill
1
How Far Back Should a Resume Go?
Let's start with how far back should you go on a resume. The answer is, it should go back even 10–15 years assuming it's all relevant experience. However, it all depends on your work history: how much experience you have, whether you have gaps in employment or scored freelance gigs. As long as your resume is targeted to the job ad, it can be even 2-3 pages.
So, let's break it down:
Senior Positions
When it comes to senior positions, employers often look for candidates with lots of professional experience. But it doesn't mean they are interested in those back-in-the-day jobs.
When writing the experience section on your senior resume:
Go as far back as 15 years and list relevant work experience.
Follow the job posting—the expected years of expertise are usually mentioned there.
Note: Focus on relevance first. Listing your entire career history on a resume for a senior position may lead the recruiter to the conclusion that you're overqualified. More on that later.
Mid-Level Positions
If you're targeting a mid-level vacancy, a 10-year career history is your optimum. So:
Focus on the positions relevant to the job offer and describe them in more detail.
Mention the remaining jobs, including short-term and freelance work. But don't elaborate on these.
Theresa Santoro, Director of Operations and Human Resources at Actualize Consulting, supports the up-to-10-year experience section format:
I tend to hone in on the most recent 5 years of work experience. However, I will review and consider up to the last 10 years of professional experience. Anything more than 10 years back, I will scan for keywords relevant to the job description I am trying to source for.
Entry-Level Positions
How many jobs should you list on a resume when you have little experience? The answer is simple.
If you're writing a resume for an entry-level position:
List all paid and voluntary work you've done.
Name skills and accomplishments that match a job description.
Remember about internships, part-time jobs, authorial projects, and freelancing.
Check more tips on writing a resume for entry-level jobs in our article: How to Write an Entry-Level Resume: Sample and Complete Guide [+20 Examples]
Candidates with No Professional Work Experience
How far should a resume go when you don't have any experience? Job seekers with no work experience whatsoever should add all paid and unpaid work experience including:
internships
volunteering experience
roles in student organizations
practicums.
Pro Tip: Put your resume job descriptions below your education section if you've just graduated or if you have very little professional experience.
Read on to check how to write a first-time resume: First Resume with No Work Experience: Samples and Expert Tips
Academic Positions
Academic positions require years of proven research and teaching skills. Universities want to learn the candidate's academic history—which usually covers more than 10 years.
In the academic job search for instructors, adjunct or associate professors, or tenured professors, the "Curriculum Vitae" (Latin for life story) should be as far back as 15-20 years, especially if that experience includes teaching, instruction, training, and other educational-related information about their experience.
If you want to learn more on how to write a CV for academic positions, check our guide: How to Write an Academic CV: Template and Expert Tips
2
How Many Jobs Should You List on a Resume?
How many jobs is too many on a resume? It's a good question. You should list as many jobs on your resume as you can, assuming they are all relevant and you're not going beyond the 10-15 year limit. The number of jobs typically varies between 7 and 3. As long as each job or position is relevant, you shouldn't worry about the exact number.
Especially if what you did back in the days perfectly matches the position you're targeting now.
There are a few ways you can list old but relevant jobs on your resume.
Brianna Rooney (aka TheMillionaireRecruiter.com), the founder and CEO of Techees.com with 12 years of experience recruiting software engineers, has a top tip, suggesting adding them under a separate resume section:
If you have amazing projects or accomplishments that date further back, then you can have a spot for that but keep it brief. You can add "notable projects" or "notable accomplishments." I'd suggest adding only a couple of sentences under each one. I don't feel adding dates to them is necessary. If it's too long ago, they won't look at it. That goes back to the "what have you done lately.
This extra resume section may be also called: Additional Experience or Earlier Experience.
For more extended experience periods that you find relevant—use the format presented below:
Old Job—Years of Experience within the Same Company
Staff Accountant, 2000-2010
Hyatt and White, ProAccounting Services, NewMed Co.
When listing promotions and multiple positions on a resume, write separate entries under the umbrella of the company name if the positions you held had different duties.
Old Job—Similar Experience, Different Companies
ProAccounting Services
Staff accountant, 2008-2010
Accountant, 2006-2008
Accounting assistant, 2004-2006
Should you list unrelated work experience on a resume? Do it only if you don't want to create gaps on your resume. Otherwise, it's a waste of space.
Pro Tip: No matter how far back you go on a resume—do it in reverse-chronological order. List recent experience first, then follow up with older jobs. Follow this resume format, even if you omit some career gigs.
Find out what other sections should be included in your resume. See: What Things You Should Put on a Resume (List Included)
3
Putting Career Gigs on a Resume
More than one third of workers in the US are in the gig economy. If you're one of those 57 million people, do you have to worry that your work history consists only of those career gigs?
Not if you make the best of it! Show off your skills instead of writing a boring list of titles, company names, and dates. Focus on 2 or 3 jobs most relevant to the job ad you're targeting and describe them in more detail.
A combination resume format (also called a hybrid resume) will help you do that. It combines the features of the reverse-chronological resume and the skills-based resume.
It's a win-win resume format for:
Career changers: as it allows them to elaborate on the skills relevant to the job ad.
Seasoned professionals with plenty of work experience: as it makes it easy for them to promote only the best career achievements.
And, those with gaps in employment: as it gives them a chance to prove the skills regardless of the work history.
Learn how to create a hybrid resume thanks to our dedicated guide: Combination Resume Template & 5+ Examples [Complete Guide]
If you're writing a resume for a position outside your current field, see our article: Resume for Career Changers: All You Need to Know
When making a resume in our builder, drag & drop bullet points, skills, and auto-fill the boring stuff. Spell check? Check. Start building a professional resume template here for free.
When you're done, our easy resume builder will score your resume and our resume checker will tell you exactly how to make it better.
4
Making Your Resume Experience Section Relevant
Most hiring managers agree that experience relevance is more important than its length.
Relevant means valuable.
A resume is the vessel used to get an interview, not the job. You need to have something that sums up your experience as best it can without it being too lengthy or too vague. A lot of people want to hang on the past, when companies really want to know, "what have you done lately and what can you do for me now."
So, how to guide the recruiter towards relevant career moments?
Make sure your resume and job description match.
Recognize the employer's needs and address them directly.
Name quantifiable achievements that prove you fit the requirements
Use bullets to showcase your job experiences in a clear way.
The question is not how many jobs to put on a resume but—how to find the appropriate ones. What exactly does it mean? If you want to be a sales associate—focus on the sales-related jobs on your resume.
And though you worked as a bartender back in the days or ran fitness classes at the local studio, leave these out. Instead, list all your retail, sales representative, and call center jobs.
Plus, describe each position so that it resonates with the job description. Here's how to do it:
Read the job offer carefully.
Highlight the skills they're looking for and recognize the company's pending needs.
List all duties you performed in your previous positions.
Finally, select the ones that fit the vacancy you're after.
It's that simple.
Pro Tip: Trying to tailor your resume to the job ad, but you have never done the same job in the past? Think of the positions that are most related to the position you're applying for and show your transferable skills.
Don't make your resume too long. Check: How Long Should Your Resume Be & How to Make a Resume Fit on One Page
Plus, a great cover letter that matches your resume will give you an advantage over other candidates. You can write it in our cover letter builder here. Here's what it may look like: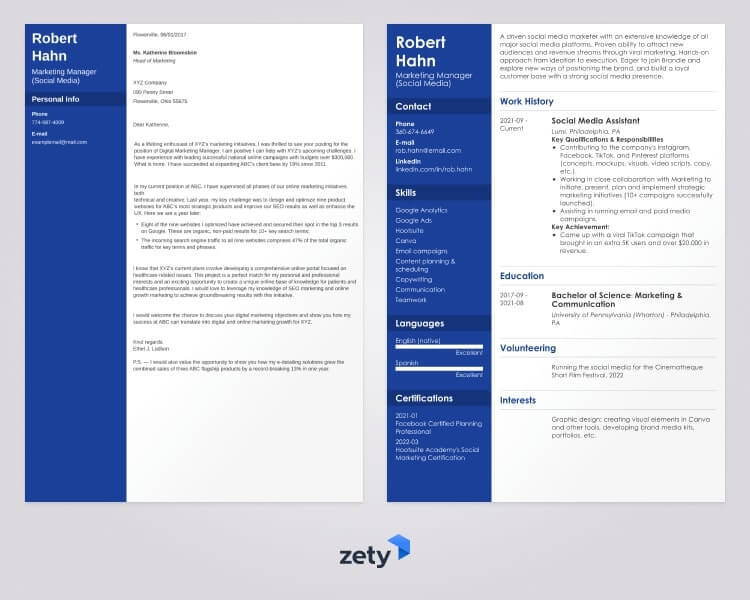 See more cover letter templates and start writing.
As always the only correct answer is: it depends. However, as long as you pick relevant positions, jobs, or even gigs, any arbitrary cut-off is meaningless. Avoid going beyond 20+ years of experience unless required. Tailor, trim, cut, and whatever is left, is the right length.
Does the article answer your question: how far back should a resume go? Do you know now how many jobs should you list on a resume? Or maybe you have other doubts? Let me know in the comments section.
About Zety's Editorial Process
This article has been reviewed by our editorial team to make sure it follows Zety's editorial guidelines. We're committed to sharing our expertise and giving you trustworthy career advice tailored to your needs. High-quality content is what brings over 40 million readers to our site every year. But we don't stop there. Our team conducts original research to understand the job market better, and we pride ourselves on being quoted by top universities and prime media outlets from around the world.