Our customers have been hired by:
You have a good-looking experience section that will impress many recruiters. But, it seems irrelevant to the opening you're after. So here's a big question: should you include irrelevant work experience on your resume?
Read on to learn how to decide whether you should polish your irrelevant experience until it looks like gold or leave it off your resume entirely.
This guide will show you:
The difference between a relevant and irrelevant experience on a resume.

How to make your irrelevant experience relevant on your resume.

Examples of turning irrelevant experience into relevant on your resume.
Want to save time and have your resume ready in 5 minutes? Try our resume builder. It's fast and easy to use. Plus, you'll get ready-made content to add with one click. See 20+ resume templates and create your resume here.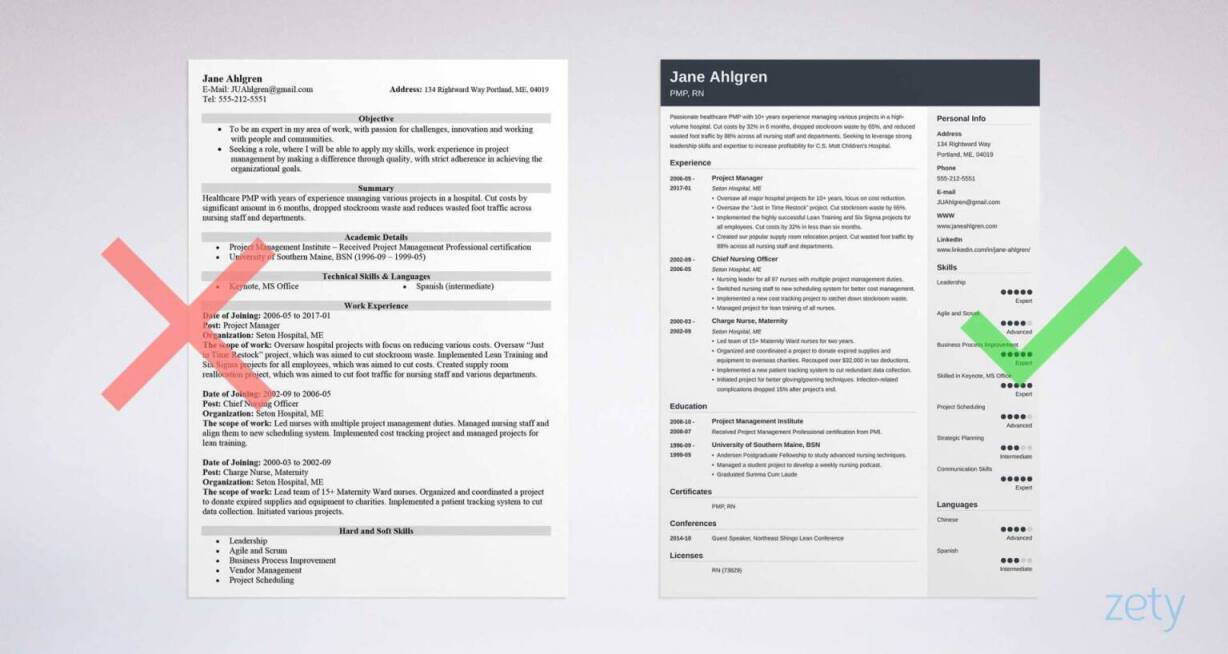 Sample resume made with our builder—See more resume examples here.
Take a look at these handy articles about resumes:
OK, let's start with defining irrelevant experience.
What is Irrelevant Experience?
Irrelevant experience is past work experience or skills that are unrelated to the job you're applying for. For example, let's say you're applying for a marketing coordinator position. Relevant experience would be your current position as a social media manager. Irrelevant experience would be the bartending job before that. While having irrelevant experience isn't useless, hiring managers are mostly looking for relevant experience.
Relevant vs. Irrelevant Work Experience
Why all the emphasis on work experience in the first place? Well, a recent study found that 82% of jobs either required or preferred previous work experience. So it's not your imagination when it seems like every job you see requires years of experience.
Okay, fine. Experience is important. But is there a difference between irrelevant and relevant work experience? For the recruiter—definitely.
If Acme Engineering is looking for a senior mechanical engineer, your past experience as a barista might show you can pull a great shot of espresso, but it doesn't say much about your skill with AutoCAD. And much less that you'll be able to keep a manufacturing production line running 24/7. That's why hiring managers are first and foremost looking for relevant experience on your resume.
And despite some of the poorly written resumes you might've seen, a resume isn't an autobiography. Just because you had some summer job or volunteered on the side doesn't mean you have to include it on your resume.
Resumes have one purpose: to get you an interview for a specific job. Think of a resume as your greatest hits album, a list of relevant accomplishments and achievements designed to wow the HR manager of a job posting. And you need your resume to be extremely relevant in order to stop the recruiter in their tracks. Otherwise, they'll only spend an average of 6 seconds on it.
Pro Tip: Since work experience is almost universally prioritized by recruiters, we recommend the reverse-chronological resume format to emphasize your work experience.
When making a resume in our builder, drag & drop bullet points, skills, and auto-fill the boring stuff. Spell check? Check. Start building a professional resume template here for free.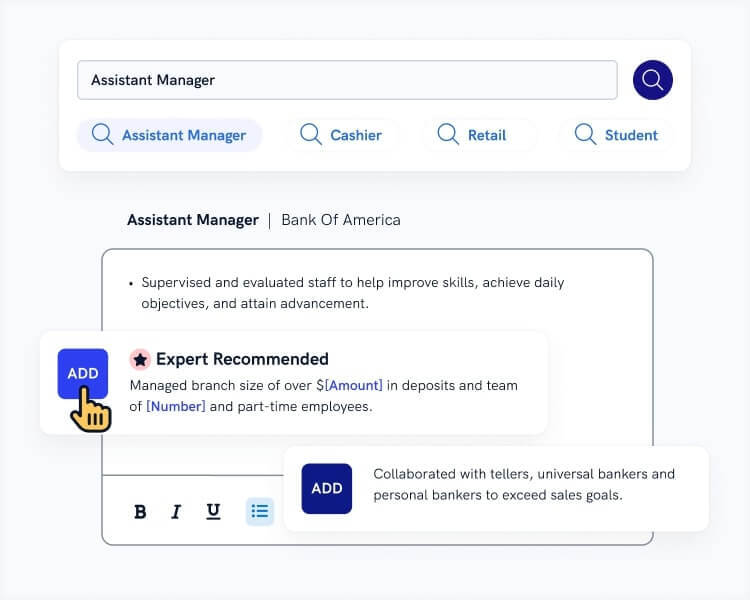 When you're done, our easy resume builder will score your resume and our resume checker will tell you exactly how to make it better.
Is Your Work Experience Actually Irrelevant?
The line between relevant and irrelevant experience isn't always clear. It's not just a matter of having a similar job title or not. Even if a previous job didn't require the same technical skills, you could have gained soft or hard skills that would come in handy at the new position.
Explain that to the hiring manager by tailoring your resume to make previous jobs sound more relevant. If a previous position required any of the skills or knowledge mentioned on a job description, you should definitely include them on your resume.
Just don't get carried away with this. If you make manning a front desk sound like you were the CEO, your main accomplishment will be making recruiters think you're lying on your resume.
Read more: How To Describe Work Experience On a Resume?
Making Irrelevant Experience Relevant
Let's get practical with an example. Say you're applying for an office manager job. You might think experience in fast food isn't relevant. But if you were the general manager at McDonald's, you likely developed many of the same managerial skills necessary for the office manager job. You just need your resume to show it.
Here's the job you'd kill to have, an office manager position at Apple:
And here's what a McDonald's resume might look like on a generic resume that you mass email to job boards:
WRONG
General Manager
McDonald's
2019–2020
Was responsible for operating and running a profitable restaurant.
Met McDonald's high customer standards of quality, service, and cleanliness.
Hired and developed a team of department and shift managers to ensure a successful franchise.
Provided coaching to 10+ employees at grilling, frying, and coffee stations.
Doesn't seem too bad? Well you're right, it's not a bad description—if you're applying to another restaurant.
But if you're the HR manager at Apple, it looks about as enticing as cold fries.
Now let's see a job description that's been tailored to make your restaurant experience that look hyper-relevant:
RIGHT
General Manager
McDonald's
2019–2020
Maintained a positive atmosphere among employees despite demanding conditions.
Supervised a 10+ person team in a fast-paced environment by effectively multitasking.
Managed expense reports, as well as the purchasing of supplies and equipment worth more than $25,000.
Oversaw the scheduling of crew members, maintaining flexibility despite the sudden changes in schedules.
Wow–
That description looks like it was pulled right from Apple's job ad. (Hint: It was.)
Both job descriptions accurately described your time at McDonald's, but the customized version no longer makes it look like irrelevant experience.
By taking the keywords mentioned in the job ad, your interpersonal skills, time management, and other office management skills are on full display.
Should I Include Irrelevant Work Experience On a Resume?
Most of the time, yes. It's better to include irrelevant work experience (tailored to fit a specific job) than to leave it off your resume. You don't want to create gaps on your resume and often some experience is better than no experience.
But there are exceptions. Let's say this previous job of yours is 100% irrelevant. None of the skills transfer over, and it's in a completely different industry. For example, you were a part-time pizza delivery driver and now you're looking at programming jobs. Should you put irrelevant jobs on your resume? The nuanced answer depends on what point you are in your career.
Experienced Job-Seekers
If you have decades of experience already, you can confidently leave irrelevant positions off your resume. That year you worked at Pizza Hut while in college isn't going to help you make partner at the next law firm you work for. In any case, when you have years and years of work experience, you don't have much real estate to waste on your one-page resume.
Read more: How Many Years Should You Go Back On a Resume?
Entry-Level Candidates
For candidates that are either fresh graduates or writing a resume with no job experience, you might not have any relevant job experience at all. In that case, it's better to include the irrelevant work experience. The thinking is that any experience is better than no experience. Holding a part-time job while studying shows hard work, and any professional experience can display maturity that some employers might worry young applicants are lacking.
You should still try to highlight relevant experience by mentioning volunteer experience, school projects, side projects, or freelance work on your resume. But if you don't have relevant experience, you don't have it.
Read more: College Graduate Resume: Example and Guide
Career Changers
The decision on whether to include irrelevant experience is trickier for career changer resumes. You want the hiring manager to see your most relevant experience, so they think you're perfect for the job, so try to tailor the experience to appear relevant.
The other option is to remove experience that is completely irrelevant, but that will likely create big employment gaps on your resume. Generally, it's better to list irrelevant experience than it is to make the HR manager think you were unemployed for a year or more. One way to get around this dilemma is to break up your work experience section into two parts: "Relevant Experience" and "Other Experience".
If you are changing careers, consider using the combination resume format to highlight the key job skills you've developed in your previous career that will help you in your new career.
Read more: Best Employability Skills to Put on a Resume
Plus, a great cover letter that matches your resume will give you an advantage over other candidates. You can write it in our cover letter builder here. Here's what it may look like: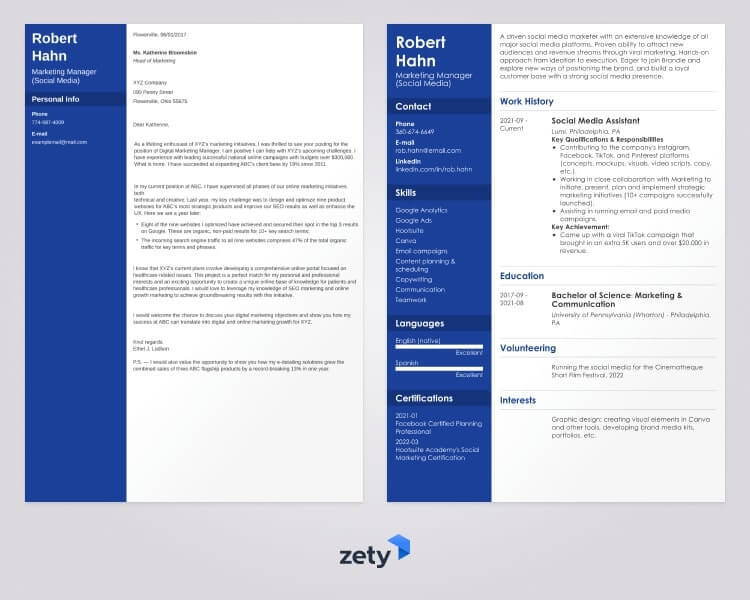 See more cover letter templates and start writing.
Key Takeaway
Deciding on whether to include irrelevant work experience is sometimes tricky, but these tips can make the decision easier:
Some jobs that seem irrelevant at first glance might require similar skills (soft or hard) to the job you're applying for. If that's the case, tailor your resume job descriptions to make it obvious they're relevant.
If you already have 10-15+ years of experience in your industry, leave off irrelevant work experience to save space on your resume and keep your resume focused.
If you have little to no experience, include irrelevant experience on your resume because some professional experience is better than none.
If you're in the process of changing careers, you may have to leave irrelevant experience in order to avoid employment gaps on a resume. In that case, tailor it so that it seems relevant to the position you're applying for and consider using a combination resume to highlight your skills.
Thanks for reading! Are you also struggling with the "Should I include irrelevant work experience on a resume" question? Ask below in the comment sections and we'll try our best to help out!
About Zety's Editorial Process
This article has been reviewed by our editorial team to make sure it follows Zety's editorial guidelines. We're committed to sharing our expertise and giving you trustworthy career advice tailored to your needs. High-quality content is what brings over 40 million readers to our site every year. But we don't stop there. Our team conducts original research to understand the job market better, and we pride ourselves on being quoted by top universities and prime media outlets from around the world.
Sources