What Are Interpersonal Skills? Definition With Examples
The job you want requires interpersonal skills. But what are they? Check our interpersonal skills examples and learn how to highlight these qualities and abilities in your resume.
Have you heard of interpersonal skills? Maybe someone from HR mentioned that term, or you saw that in a job ad? These skills are all the rage now. But what are they, exactly? Who needs them, and why is that so?
Learn the importance of strong interpersonal skills now.
This article will show you:
What interpersonal skills are and why they're important.
A list of interpersonal skills examples that you can add to your resume.
How to list interpersonal skills on a resume to impress your future employer.
Want to save time and have your resume ready in 5 minutes? Try our resume builder. It's fast and easy to use. Plus, you'll get ready-made content to add with one click. See 20+ resume templates and create your resume here.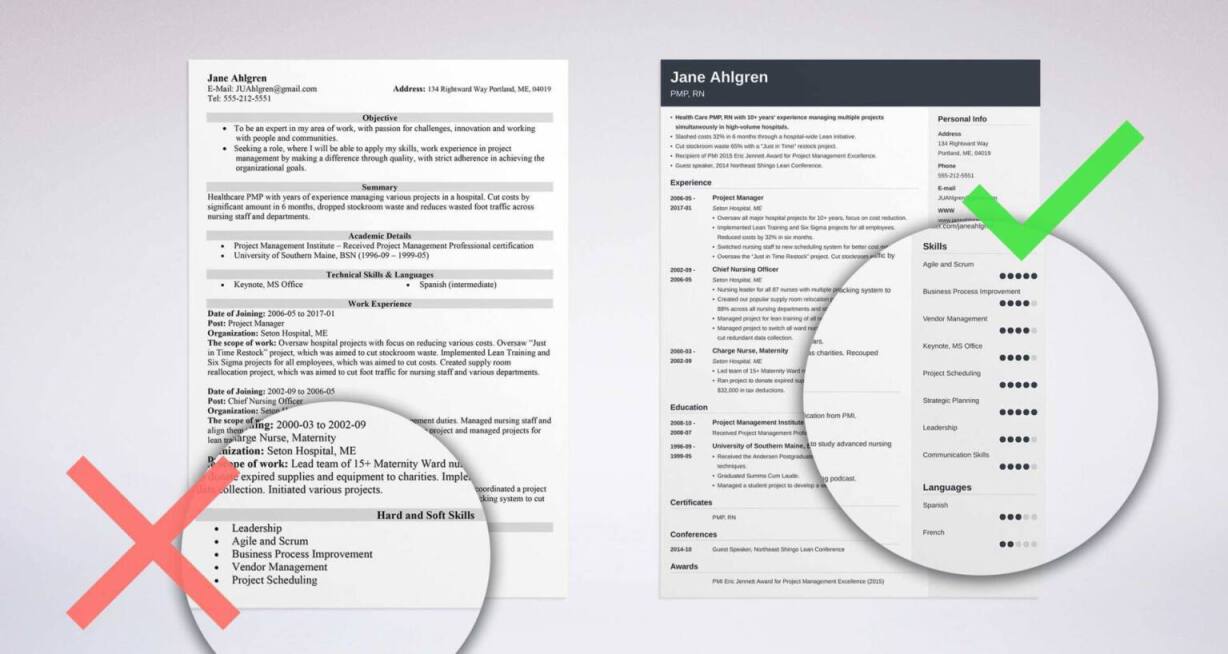 Sample resume made with our builder—See more resume examples here.
Want to learn about other types of professional skills? Check the guides below:
Now, let's master those interpersonal skills together:
What Are Interpersonal Skills?
People's interpersonal skills are their abilities and strategies for interacting with others. They can help you build personal and professional relationships, as well as communicate and work with others effectively. Interpersonal skills combine personality traits and various social skills.
Many people refer to interpersonal skills as soft skills, people skills, emotional intelligence, or employability skills.
Why Are Interpersonal Skills Important in the Workplace?
Many jobs involve a degree of teamwork and collaboration. If employees can't communicate effectively, are unable to find common ground, or are unwilling to help each other, it can result in an increase in upsetting situations at work, decreased productivity, and an overall toxic atmosphere.
And it's more than that. According to the Future of Jobs report for 2020–2025, there's a growing demand for interpersonal skills, such as negotiation and emotional intelligence.
Want to learn more about the differences between soft skills and hard skills? Check here: Hard Skills and Soft Skills on a Resume
List of Key Interpersonal Skills
Here's a list of interpersonal skills that are most valued in the 21st century:
1. Communication Skills
It's no accident that communication skills top the list. There's so much more to effective interpersonal communication than speaking coherently. It's also about listening, understanding what the other person is saying, and reading non-verbal cues.
Examples of interpersonal communication skills include:
Verbal and nonverbal communication
Body language
Public speaking
Negotiation
Mediation
Persuasion
Conflict resolution
Assertiveness
Diplomacy
Giving and receiving feedback
Improving communication skills can be difficult, especially for introverted and neurodivergent individuals. If you'd like to try it, you might want to enroll in online courses, such as Communication Skills Master Class from Udemy.
2. Leadership
Being a leader has nothing to do with corporate seniority levels. It's an interpersonal skill that helps inspire others to work on the things you're passionate about. Leadership skills can be learned, but they're highly correlated with your character traits. That's why certain people become natural leaders, even if they don't start meetings with an icebreaker. If you wish to improve your ability to lead others, you can try online courses such as Leading People and Teams from Coursera.
Samples of interpersonal skills in leadership include:
Mentoring
Motivation
Inspiring others
Reliability
Dependability
Responsibility
3. Decision-Making
Decision-making skills are essential for managers. Do you empathize with others enough to see the implications of your decisions? Can you communicate an unpopular decision in a way that will make people see your point? Or if a decision is to be made by a group, can you weigh all the pros and cons? And finally, are you mature enough to be held accountable for your decisions?
Decision-making requires interpersonal skills, such as:
Problem analysis
Making evidence-based decisions
Executive decision-making
Brainstorming
Consensus-building
4. Problem-Solving
Employers don't want workers who give up when faced with an issue. They want people who exhibit problem-solving skills and fix an issue themselves or know when and how to find people who can do that at hand.
Some examples of interpersonal skills in problem-solving include:
Drawing conclusions
Insight
Experimenting
Persistence
Questioning
5. Organization
Organizing your work is even more important in the era of remote jobs and flexible work arrangements. Employers look for particular traits and want reliable workers who can keep deadlines, prioritize tasks, and perform their jobs efficiently.
Among interpersonal abilities, organization skills could mean:
Planning
Strategizing
Goal-setting
Working with deadlines
6. Social Skills
Humans are social creatures. Even if you enjoy solitude, you must have some basic social skills to be successful at work. Sitcom characters like Sheldon Cooper can be adorable, but in real life, saying improper things to others is not cute. It's worth learning how to start a conversation or how to introduce yourself casually—they're basic things that can make work life more manageable.
Interpersonal skills include social abilities, such as:
Relationship building
Developing rapport
Social awareness
7. Collaboration
Most 21st-century companies require their employees to collaborate effectively, form cross-functional teams, share knowledge, and help one another. It doesn't matter if you're a software engineer or a cashier at McDonald's—your boss will expect you to work with others at some point.
Interpersonal skills in collaboration mean:
Team building
Delegation of duties
8. Emotional Intelligence
You might be the smartest person in the room. Still, if you say hurtful remarks about your colleagues and dismiss other people's ideas without consideration, you won't take another step on your career ladder.
Interpersonal skills associated with emotional intelligence include:
Self-awareness
Empathy
Cultural sensitivity
Open-mindedness
Tolerance
Patience
9. Adaptability
Workplaces change. The COVID-19 pandemic has shown that businesses and employees must be able to adapt to various work conditions. Accepting changes and overcoming challenges can make you more resilient, successful at work, and more relaxed in the long run.
Aspects of adaptability related to interpersonal skills include:
Flexibility
Resilience
Positive attitude
Humor
10. Stress Management
Everyone feels tense sometimes. However, being unable to work because of stress is a serious issue, not only for the employer but also for you. Too much stress can lead to burnout and depression. Nowadays, it's very important to know how to handle stress productively.
Examples of stress management as an interpersonal skill include:
Reacting to stress
Staying calm under pressure
Deescalation techniques
Relaxation techniques
As you see, you can't underestimate the importance of interpersonal skills in the workplace.
Communication and interpersonal skills are important for successful project management, building team dynamics, and effective and efficient cross-departmental collaboration.
Would you like to learn about other necessary skills? Check here: 99+ Examples of Key Skills for Various Jobs
When making a resume in our builder, drag & drop bullet points, skills, and auto-fill the boring stuff. Spell check? Check. Start building a professional resume template here for free.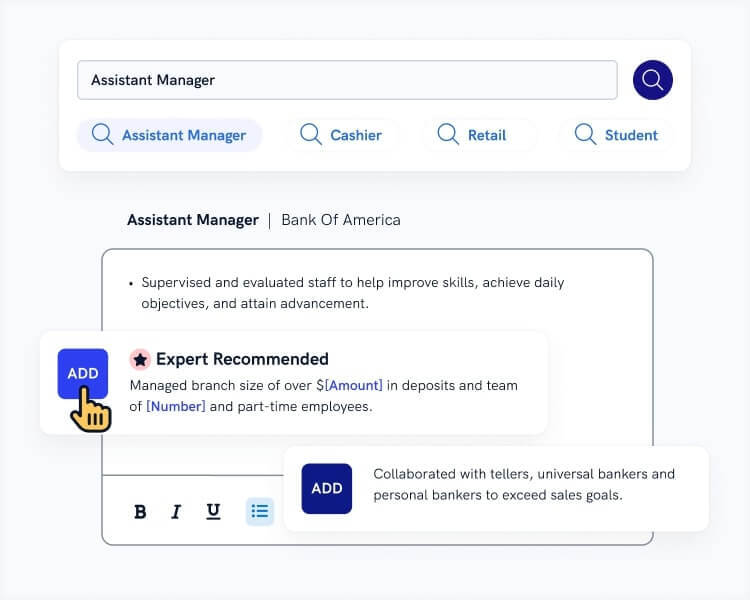 When you're done, our professional resume builder will score your resume and our resume checker will tell you exactly how to make it better.
How to Add Interpersonal Skills to Your Resume
First off, if you're looking for a job where people skills play first fiddle, such as a school teacher, administrative assistant, or customer service specialist, chances are you can quickly identify the interpersonal skills employers are looking for by examining the job ad itself.
See a sample job advertisement for a Public Relations Coordinator below:
Establish and maintain relationships

with key local influencers, editors, stylists, and publicists.

Liaise with each market

to ensure strategy and product pushes are on track.

Work on all team-wide PR initiatives

(parties, launches, events, strategy sessions, etc.).

Organize

,

track

, and maintain product orders and returns from editors;

coordinate seasonal product photo shoots

.
Coordinate daily and weekly editorial reports,

working closely with the Brand Communications team

on weekly and monthly recaps.

Excellent written and verbal communication skills

.
Ability to

collaborate with and influence internal and external partners

.
Self-starter with

strong initiative, ownership, and accountability

for business.

Ability to work efficiently in a high-pressure, fast-paced, deadline-driven environment

.
If that job description seems almost entirely spun around strong interpersonal skills, it's because this is exactly the case. PR jobs require candidates to have nothing short of outstanding people skills. So what can you learn from that?
When applying for a job, ensure your resume is tailored to the job posting. Scan the job ad seeking keywords (like the ones marked in yellow above) and later use relevant strengths on your resume to show off your the desired qualities and traits. According to our HR statistics report, ATS systems screen over 250 resumes on average for each job posting. The more keywords they find, the better match you must be.
Now check the below sample work experience section to see how a potential PR Coordinator could use it to showcase the required skills from the job ad:
Interpersonal Skills Examples in a Work Experience Section
Right
Built and maintained relationships

with 20+ influencers (incl. bloggers, editors, and stylists) that led to a 20% increase in media visibility.

Collaborated with a cross-functional team comprising people from 5 different departments on company-wide PR initiatives

to develop a new employee branding strategy.

Collaborated with internal and external partners. Thanks to strong influencing skills, secured 30+ editorial product placements in high-fashion magazines.
The rule of thumb is to describe your experience using the language from the job ad. This way, you can be sure that all the relevant keywords aren't missing from your resume. Remember to describe your interpersonal skills as career achievements.
But you know what? There's more. You can give your people skills more prominence on your resume by adding them to your skill section:
Interpersonal Skills Examples in a Skills Section
Right
Verbal communication
Influencing
Persuasion
Relationship building
Teamwork/Collaboration
Creativity
Self-motivation
Problem-solving
Good right? The best part is that they're not just random interpersonal skills. They've been fished out of your very own experience section.
But there's still room on your resume to put your great interpersonal skills in the limelight! Where? In your resume objective or resume summary.
Here's how the opening statement of your resume could read:
Interpersonal Skills Examples in a Resume Introduction
Right
A collaborative public relations specialist with strong initiative and 2+ years of experience. Thrives in a high-pressure, fast-paced environment. In previous roles, secured 30+ editorial product placements in high-fashion magazines, among others.
What you see in yellow highlights are the skills and character traits sprinkled here and there in the job ad and used in your opening statement.
Want to learn how to make a job-winning resume that highlights all your assets? Here's our guide: How to Make a Great Resume for Any Job
Plus, a great cover letter that matches your resume will give you an advantage over other candidates. You can write it in our cover letter builder here. Here's what it may look like: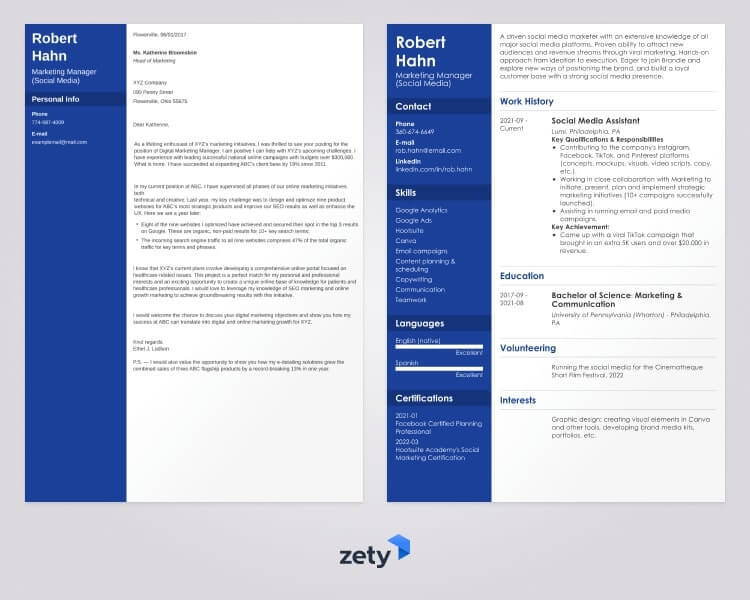 See more cover letter templates and start writing.
Key Takeaways
Here's a quick summary of all you need to remember about interpersonal skills:
Interpersonal skills refer to your ability to interact with other people.
All employers value candidates and employees with excellent interpersonal skills.
You can show off your interpersonal skills on a resume by sprinkling them in the work experience, skill list, and resume summary or resume objective.
If you feel like your interpersonal skills need a boost, there are a lot of resources available online for you to test and improve them.
Do you have any questions about interpersonal skills? Maybe you'd like to share some tips on how to develop them? Give us a shout-out in the comments below! We'd love to hear from you!
About Zety's Editorial Process
This article has been reviewed by our editorial team to make sure it follows Zety's editorial guidelines. We're committed to sharing our expertise and giving you trustworthy career advice tailored to your needs. High-quality content is what brings over 40 million readers to our site every year. But we don't stop there. Our team conducts original research to understand the job market better, and we pride ourselves on being quoted by top universities and prime media outlets from around the world.
Sources