"Work is something you do, not something you travel to,"— that's what Leonhard Woody wrote in The Underground Guide to Telecommuting, his book from 1995.
And it's truer now than ever. 43% of U.S. employees work remotely at least some of the time, and online jobs have become a legitimate source of income.
Are you looking to make some (extra) money online, too? Good, because we're about to give you over 80 online jobs to consider.
This online jobs guide will show you:
What the top companies offering legit online jobs and remote work are.
More than eighty online jobs, separated into industries, with median salaries.
How to make the switch from the office to online work.
Where to look for the best online jobs that aren't scams.
Table of Contents:
Note: Median salary info for our remote and online jobs list comes from Glassdoor and is the national average for the United States.
Want to save time and have your resume ready in 5 minutes? Try our resume builder. It's fast and easy to use. Plus, you'll get ready-made content to add with one click. See 20+ resume templates and create your resume here.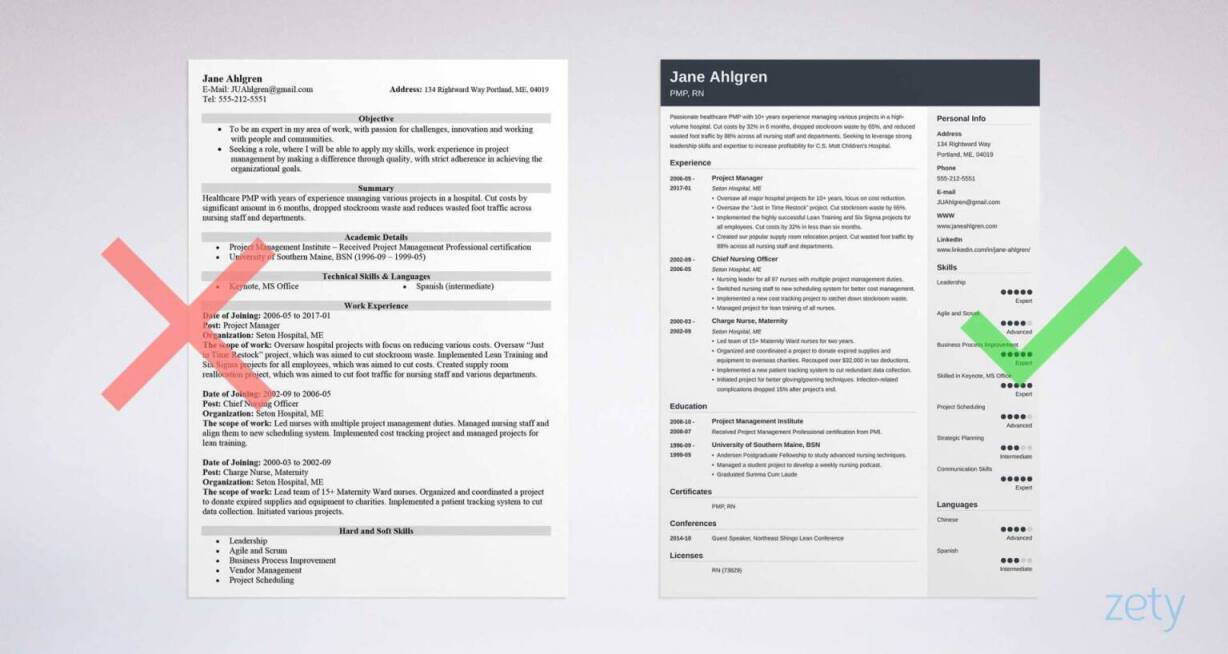 Sample resume made with our builder—See more resume templates here.
Here you can find guidance on finding job for specific situation:
1
Top 12 Companies With Online Job Opportunities
We're going to give you a full list of online jobs shortly.
First, here are our top picks for best companies to work for from home, your favorite cafe, or anyplace in between.
Appen
Appen is among the top companies hiring virtual workforce. They offer lots of flexible, short-term or long-term online jobs that require little to no experience. Appen is looking for social media evaluators, data entry clerks, transcriptionists, and more.
Apple
Yeah, you read that right. Can you imagine working for the most valuable company in the world from the comfort of your sofa? Apple is looking for At Home Advisors, part of AppleCare, their customer service division. They'll even equip you with a brand new Mac!
Asurion
You may know Asurion from their lost-stolen insurance last time you purchased a cell phone. They're always looking for full-time remote workers in customer service and on the supply chain.
Amazon
Yet another big name you can't afford to pass up. Amazon has hundreds of full-time and part-time online job positions available. Their virtual jobs span everything from business development to IT to human resources.
On top of that, their subsidiary Mechanical Turk offers some awesome online data entry jobs.
American Express
Amex, one of the biggest financial services corporations, lets you apply for a number of virtual career opportunities. They hire remote designers, engineers, customer service analysts, and more.
The great news is they even have remote team lead and director job openings, so you can work online on a managerial position, too.
Enterprise Holdings
You're probably familiar with their rental car brands: Alamo, National, and, of course, Enterprise. But were you familiar with their dozens of remote work opportunities?
On their careers page, they have dozens of listings for customer service representatives and reservation sales associates.
Capital One
If you're in the US, Canada, or the UK, you may already be familiar with this fast-growing bank. Why not jump on board? Capital One always has online job offers available, with unique opportunities such as fraud intake.
Dell
From systems consultants to strategic capture managers (whatever that is), the third-largest PC maker in the world is looking for remote employees.
Meteor Learning
As a specialist in workplace-aligned degrees and online education, Meteor Learning is always searching for new hires to become their next online teachers. One of the lesser-known work-from-home companies on this list, but no less prestigious.
Github
Now part of the Microsoft family, Github needs no introduction to tech-oriented people. They have dozens of online jobs available on their career page, including ecosystem engineers, program managers, web designers, and sales development representatives.
Hilton Hotels
Didn't think you could work at one of the largest and most luxurious hotel chains from the comfort of your bedroom? Think again. Hilton is seeking customer care coordinators and reservation sales specialists for immediate, full-time employment.
Lionbridge
Similar to Appen, Lionbridge is among the leading global companies offering online jobs. They offer online gigs for internet raters, online map quality analysts, social media internet assessors, as well as other pay per task opportunities.
To perform these online jobs at Lionbridge, you need little to no experience.
Pro Tip: Many online work opportunities revolve around customer service and information technology. So, if you know another company you'd like to work remotely for in these areas, check out their career page to see if they're hiring virtual talent.
Can't get out of the house because you're caring for kids or the elderly? Your professional life need not suffer: 61 Real Stay at Home Mom Jobs and How to Get a Good One Fast
2
Best Online Jobs & Remote Work Opportunities
Looking for a comprehensive list of online job ideas?
We've got you covered, too.
Here's our alphabetical list of online work fields, positions, and opportunities along with median salaries:
Account Manager ($67,461/yr)—Be a crucial part of a company's family as part of their remote staff which handles various clients, ensures their needs are met, manages sales, and ensures a healthy and profitable working relationship.
Accountant ($61,696/yr)—You're a numbers guy or gal with a CPA or relevant experience and a great accounting resume and accounting cover letter to hand in.
Actuary ($128,987/yr)—Manage and assess uncertainty, risk, liabilities, assets, and valuations. One of the most cushy jobs online from home you can get.
Ad Operations Specialist ($62,196/yr)—Help to maintain and grow a company's online presence by effectively managing advertising campaigns, optimizing conversion, and increasing visibility.
Animator ($82,351/yr)—Working in Hollywood doesn't have to mean a relocation to California. Make animations for video games, movies, TV shows. Pay goes up even more if you are versed in 3D animation.
BI Analyst/Consultant ($96,149/yr)—Analyze data with the business intelligence team, advise leadership and relevant teams, and formulate insights in these high paying work-from-home jobs.
Career Coach ($45,139/yr)—Once you get this virtual role, you'll help others find their dream jobs, as well.
Case Manager ($47,372/yr)—Follow up with clients, monitor casework, and help them advance with these online home-based jobs.
Communications Manager ($75,957/yr)—Create engaging and high-quality visual, audio, and written content in these working-from-home online jobs.
Community Manager ($61,818/yr)—Interested in working remotely without giving up day-to-day people interaction? Then help build online communities by building, supporting, and maintaining them yourself.
Compliance Specialist ($62,627/yr)—Learn a company's program requirements and help them analyze, monitor, and provide compliance support while acting as a central point of contact.
Content Manager ($76,590/yr)—Work online overseeing the content of a website or app, including the blog, community channels, landing pages, and copy.
Contract Analyst ($66,028/yr)—Develop contracts and negotiate budgets while in your power suit (your pyjamas).
Copy Editor ($50,820/yr)—Review and correct written material for online and printed publications.
Copywriter ($60,021/yr)—Write unique content which drives sales and increases engagement with the consumer base. And, build up your name and brand while doing it!
Corporate Development Associate ($56,286/yr)—A great way to be employed by an NGO or nonprofit and work from anywhere. Help secure funding from corporate donors and maintain great relationships with them.
Corporate Travel Advisor ($44,760/yr)—One of the best work-from-home jobs for armchair travelers. Organize transportation, book tours, and manage reservations, among other job requirements.
Customer Service ($37,221/yr)—Customer support is one of the easiest-to-find remote jobs out there, and you can choose a variety of formats: customer support by email, phone, chat, video, etc. Make sure you have a great customer service resume!
Data Analyst ($83,878/yr)—Inspect data from various methods and sources and transform them into actionable information which a company can use. Give them a good data analyst resume and get going.
Data Entry ($34,466/yr)—Remote data entry jobs from home are one of the most abundant online working options out there. If you're quick with a 10-key and keyboard, this one's for you.
Data Scientist ($139,840/yr)—Gather data together, sort it this way and that, and make new, more enlightened data out of that—ideal working-from-home jobs with high pay and benefits. You'll need a degree and a data science resume.
Database Manager ($92,220/yr)—These legit work-from-home employees maintain databases, keep entries up-to-date and relevant, and ensure accuracy.
DevOps Engineer ($143,707/yr)—Implement automation, monitor events, make routine updates, and do other online jobs that I won't pretend to understand. Make a great DevOps resume by following our guide.
Dispatcher ($37,112/yr)—The movement and coordination of traffic, equipment, and people will be dependent on you, so you'll have to show the utmost reliability.
Dissertation Editor (pay varies)—If you have a keen eye, this virtual vocation involves proofreading long documents, making edits according to grammar and style, and being a liaison between students and professors.
ESL Instructor ($52,645/yr)—Teach English as a second language via Skype, but you'll need a certificate first. A fine choice for legit online work for stay-at-home moms and dads.
Event Coordinator ($50,263/yr)—Plan company events, manage locations and venues, and ensure the success of corporate meetings. Check out our event management resume guide to prepare for these legitimate online jobs.
Financial Analyst ($72,308/yr)—Whether you're buy-side or sell-side, you'll help your clients get their money's worth. You've got to have a bachelor's degree in finance or a related field, and certification, though.
Fraud Prevention Specialist ($36,958/yr)—Help people unblock their credit cards and monitor for suspicious activity.
Graphic Designer ($52,589/yr)—Propose, construct, and edit images, videos, and other digital items for clients. This is a great online gig for digital nomads and homemakers alike. Send them your graphic design resume to get the ball rolling.
IT Director/Manager ($157,008/yr)—Didn't think you could be a tech manager working from home? Think again. Prioritize, plan, track, and implement IT projects and fixes. Just make a compelling IT resume to send in.
IT Systems Administrator ($78,322/yr)—Lots of server-side remote work supporting applications and troubleshooting any problems that arise.
Journalist ($52,162/yr)—No need to go to the newsroom for work, when you can work online just as well, no matter which beat you cover.
Law Enforcement Transcriptionist ($28,570/yr)—With the increase in use of police body cams, dash cams, and other recording devices, there's an influx of jobs to turn that digital data into text. Not for the faint-of-heart, though!
Loss Prevention Specialist ($32,473/yr)—With these telecommuting jobs, perform audits of sales, review sales data, and watch security camera footage to help businesses minimize theft.
Market Researcher ($61,183/yr)—Gather and analyze data on competition and clients in these lucrative jobs working from home.
Marketing Coordinator ($55,076/yr)—Develop marketing and advertising campaigns, maintain databases, prepare reports, and track sales data—one of the most future-proof careers from home out there.
Network Administrator ($79,380/yr)—With these high-paying work-from-home opportunities, you'll support network infrastructure, monitor circuits, and deliver technical assistance.
News Desk Editor ($63,718/yr)—Handle press releases, conduct editorial reviews, and ensure consistency and accuracy, all while working from home.
Online Teacher ($35,444/yr)—There are more and more remote teaching jobs out there these days, especially as MOOCs and online education are becoming more commonplace. Read our guide on how to become a teacher, or just jump straight into making your teaching resume and teaching cover letter.
Online Tutor ($25,500/yr)—Are you already a stay-at-home-mom or dad? Helping others with their homework and studies will be easy for you, then.
Personal Trainer ($33,120/yr)—Really? Yup, really. People can actually hire an online personal trainer these days to consult in real-time or send videos to for critique. If you have a personal training certification, these are easy jobs that pay well.
Programmer ($72,921/yr)—Code software, create updates, and troubleshoot problems. Perfect for those wanting to earn a computer programmer salary without having to commute to a cubicle each day.
Project Manager ($90,337/yr)—A high-paying online role with responsibility to match. You'll be responsible for company-wide projects, from planning and design to testing and implementation.
Proofreader ($36,290/yr)—Online proofreading jobs will rely on your eagle eye to check for proper grammar, correct spelling, and text accuracy.
Recruiter ($55,869/yr)—Once they recruit you, you'll help the company locate, recruit, and onboard other well-qualified candidates in these full-time or part-time online jobs.
Research Associate ($61,102/yr)—You'll stay on top of research projects, collect data, ensure accuracy, and conduct field research and experiments.
Reservation Agent ($30,498/yr)—Turn your bedroom into a call center annex with these flex jobs. Bring joy to people's lives and earn money doing it as you book and alter travel arrangements and help with any problems along their way.
SEO Manager ($82,055/yr)—Monitor a company's online presence to make sure it ranks well in the SERPs. Develop SEO strategies and identify and implement SEO changes when appropriate.
SEO Specialist ($66,848/yr)—Analyze clients' websites, suggest improvements, and help them reach #1 on the Google search results page—a great option for jobs that pay well from home.
Social Media Manager ($47,372/yr)—Manage the pages and profiles of clients' Facebook, Twitter, Instagram, and any other online presence. Working from home or the cafe has never been funnier.
Subcontracts Administrator ($78,702/yr)—Analyze subcontractor proposals, issue RFPs, negotiate prices, and award subcontract agreements.
Telemarketer ($25,969/yr)—Solicit products and services to new clients over the phone and in your slippers. You'll still need a computer and internet access for this online job, though, to contact management and receive updates.
Transcriber/Translator ($28,570/yr)—General transcription work can be a great option if you are bilingual and great at translating. Also, read our guide on how to add languages to a resume.
Travel Consultant ($44,760/yr)—Are you looking for fun jobs that pay well? Get paid for helping people discover new places and plan their honeymoons.
UI Developer ($74,471/yr)—As a cross between a web designer and web developer (see those below), you'll create engaging front-end environments which are consistent and accessible. Check out our UI developer resume guide, too.
Video Editor ($55,403/yr)—You've got a good eye, a powerful computer, and the knack for editing and blending video shots and raw footage? This is an ideal online work for you.
Virtual Assistant ($22,000/yr)—Perform research, administrative work, and other remote tasks. A perfect online job to take on multiple clients and multiply those earnings.
Web Designer ($64,468/yr)—A good-paying internet job to create a pleasing layout, user experience, and design for websites and apps.
Web Developer ($93,402/yr)—Perfect remote work for coders passionate about making websites faster, current, and more secure.
Pro Tip: That's not all! These are some of the most common and readily-available online work options, but you can find a remote job for almost anything (except flight attendants). Just search for it the right way (which we're about to show you now).
Looking to supplement your online jobs with flexible work nearby? Check this one out: 107 Part Time Jobs Near Me & How to Get Them (+Online & Weekend)
When making a resume in our builder, drag & drop bullet points, skills, and auto-fill the boring stuff. Spell check? Check. Start building a professional resume template here for free.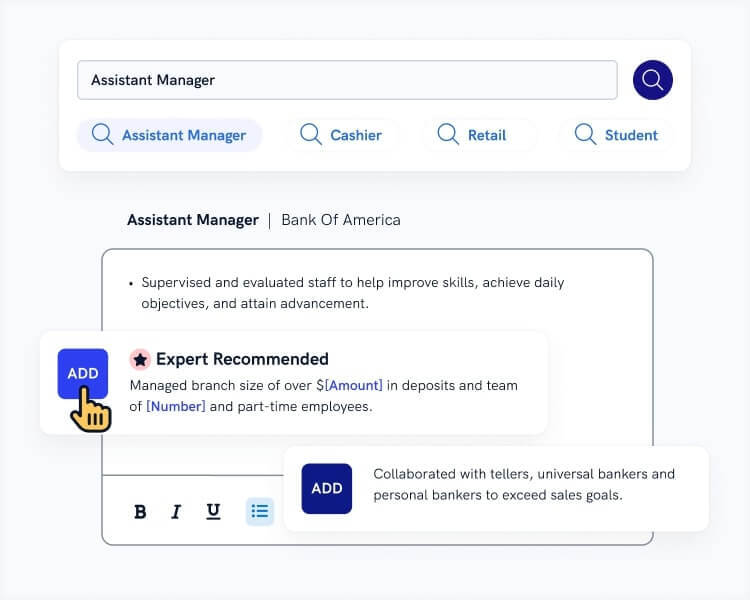 When you're done, Zety's resume builder will score your resume and tell you exactly how to make it better.
3
How to Find a Job Working Online
Online job boards are the best way to find traditional employment.
But guess what?
They are even more perfect for getting remote jobs.
Here are your best websites for finding online jobs.
Google for Jobs
The best search engine is also one of the best job search sites for online work.
If you live in the US, the UK, or India, googling to find stay-at-home jobs should show you an interactive panel within the search results that looks like this:
Click on that blue bar or the arrow on the bottom, and you'll be taken to the full Google for Jobs search engine. To learn more about it and how to use it, check out our guide on using Google for Jobs.
Indeed
Indeed is an excellent job site for finding legitimate work from home jobs, indeed. When you begin a remote job search, just enter keywords in the left-side "what" box. Then, in the right-side "where" box, type in "remote" (which should auto-resolve).
Glassdoor
Here at Zety, we're quite fond of Glassdoor. As you saw, they offer a great place to research salaries. However, Glassdoor is also an easy place to find jobs from home. Similar to Indeed, just type in "remote" in the location box. One unique feature is their database of company reviews, so you can judge how great companies offering online jobs are to work for.
Flexjobs
Flexjobs is a job board for flexible jobs, be they internet work, freelance gigs, alternative employment, or flexible working arrangements. With over 50 categories of flexible work and virtual jobs, it's one of the best one-stop-shops for online jobs for college students, stay-at-home dads and moms, and backpackers.
We Work Remotely
We Work Remotely is a popular online community that has a self-explanatory name. They only display remote gigs and online jobs, so no need to filter it down. They post jobs in copywriting, data entry, programming, design, and many other categories.
PowerToFly
As a premier women-centric job board, PowerToFly offers hundreds of remote job opportunities, as well.
Working Nomads
Working Nomads has telecommute jobs in healthcare, law, education, marketing, IT, and more. Their search engine makes it easy to find digital jobs and WeWork careers.
Jobspresso
Another job board that only deals with remote work opportunities, Jobspresso regularly has over 1,000 online job availabilities in marketing, customer service, and IT, among other categories.
ZipRecruiter
ZipRecruiter is one of the best websites for finding a good job, and their service is just as capable for finding online jobs.
Remote.co
Last but not least, Remote.co. You can research remote companies from their website, find online jobs, and also subscribe to their weekly newsletter to stay abreast of the latest and greatest work online opportunities.
We could go on and on, but those job boards above are the best. Below you'll find some other websites posting online jobs that are worth browsing:
Honorable Mentions—Less Popular but Still Legit Online Job Boards
When looking for work online, make sure to also visit:
If you're looking for part-time online work or the so called micro-jobs, google "pay-per-task jobs" or "crowdsourcing jobs". You'll find lots of dedicated platforms that offer online gigs similar to those from Appen and Lionbridge.
Pro Tip: When you search for work online, try different variations. For example, a virtual assistant could be a remote secretary, and an onlineESL instructor can also be found under online English teacher.
To succeed in any online job, you'll still need a great resume, just like in a traditional role. Learn how to create the best one: How to Write a Resume for a Job
4
Top 10 Work for Yourself Online Job Ideas
Maybe those online jobs above aren't the best fit for you?
You'd rather BYOB—
Be your own boss.
No problem.
Here are some of the best online jobs you can do for yourself:
Blogging
Start your own blog and make money from advertisements, sponsorships, and affiliate marketing. The same goes for starting your own YouTube channel or recording your own podcasts.
Event Consulting
Plan parties, weddings, and other events for money while in your underwear.
Ecommerce
Become a merchant and sell products or your own craftwork online through Shopify, your own website, or an Etsy storefront, among other options. You can also buy and resell other people's stuff on Amazon, eBay and other marketplaces.
Photographing
Surprising as it is, you can do commercial product photo shoots, food photography, portraits or interior design photography while at home.
Design T-shirts, Mugs, etc.
You can submit your designs to websites that sell custom t-shirts, mugs and other gadgets and get paid for any customer buying products with your design on.
Pro Tip: To succeed in the online space as a freelancer or self-employed worker, your online presence is key, now more than ever. Audit your name and brand, don't take shortcuts on your website, and get savvy with social media.
Maybe you want to work from home without having to be reliant on the internet? No worries. Check out this guide: 62 REAL Work from Home Jobs and How to Get a Good One Fast
5
So, You Want an Online Job? Learn the Pros & Cons of Online Work First
I mean, do you really want to work online?
Before you quit your traditional job in favor of the gig economy and online jobs, we'll list some pros and cons of each to consider.
Traditional Workplace vs Online Employment
Let's look at some of the differences between working remotely and going to the workplace (traditional):
Pros and Cons of Online Work
Online Jobs Pros & Cons

Pros

Cons

Great for stay-at-home parents, introverts, creatives, digital nomads

Bad for non-self-starters and people who don't like to feel lonely

Increased productivity

Decreased collaboration and transfer of knowledge in the team

Less noise and distraction, more freedom, flexibility, and privacy

Requires superhero-levels of concentration, motivation, and willpower

You can work from anywhere: WeWork coworking space, coffeeshop, poolside,
etc.

More difficult to communicate with fellow
employees

Saves money: no business lunches, no commute costs, no professional wardrobe

Can make you lazy and clumsy if you spend too much time in your pyjamas

Pros and Cons of Traditional Office Work
| | |
| --- | --- |
| Pros | Cons |
| Great for collaborative individuals | Harder for stay-at-home parents, introverts, creatives, digital nomads |
| Increased collaboration | Decreased productivity |
| More noise and distraction, less freedom, flexibility, and privacy | More job benefits and perks, usually (such as health and gym memberships) |
| Easier to collaborate and communicate with coworkers and clients | More expenses: commute costs, business lunches, professional outfit. |
| Healthier in most ways: physically, socially, mentally, etc. | 9–5 office routine may feel mundane and frustrate you |
A recent Gallup study found that employee engagement is lowest for workers who perform 100% of their work from outside the office (30% vs 33% avg.).
Interestingly, however, engagement is highest for the middle-to-high range, those who spend just 20-40% of their time at the office.
So, if engagement and commitment are weak points for you, consider a hybrid solution.
Pro Tip: Finding a job online may be tough, and the pay might start off lower than you expected. However, don't get discouraged. As you build up your online experience and prove your worth, your online salary will increase to match.
Before you're hired for any online job, you'll likely go through a phone or Skype interview. Don't blow it: Top Phone Interview Questions & Answers
Plus, a great cover letter that matches your resume will give you an advantage over other candidates. You can write it in our cover letter builder here. Here's what it may look like: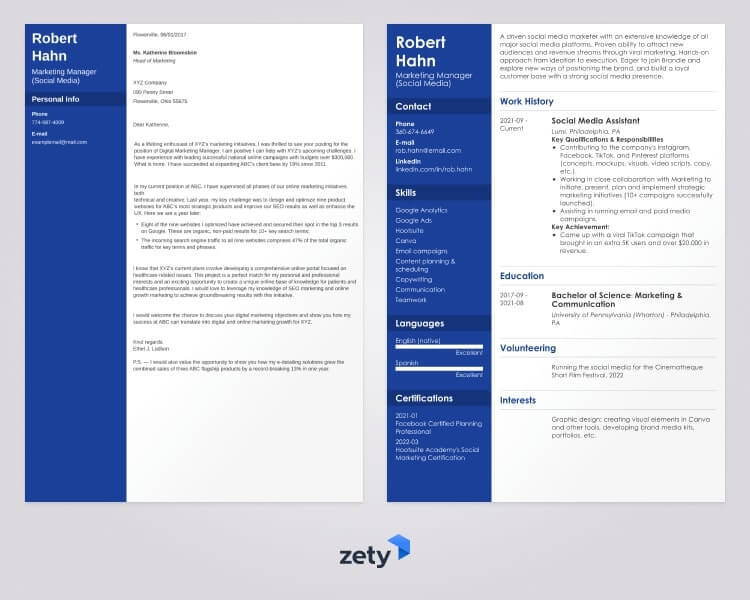 See more cover letter templates and start writing.
Key Takeaway
Here's what to consider when thinking about working online:
Most of the largest companies offer remote job opportunities.
You can find almost any job title as an online job.
Standard job search engines work well for finding virtual jobs.
There are some excellent job board websites dedicated to remote work.
Understand the pros and cons or working remotely vs traditionally.
Do you have any questions on getting legit online work and work from home jobs? Not sure how to get no-experience jobs or part-time work-from-home employment? Let's chat about it below in the comments, and thanks for reading!