In 7 minutes, you'll know exactly how to write a job-winning accounting resume. Just give this a thought first:
Accountants are no strangers to hard work. In fact, they're practically neighbors.
Multiply that by 1.397 million accounting jobs and job growth at 11% per year, and you've hit the jackpot, right?
Why worry about your accounting resume?
Because there are too many bad accountant jobs out there. You want high pay, a great work environment, and benefits through the roof.
For that job, you need a resume as unique as Indiana Jones' whip and ten times as trustworthy.
This guide will show you:
An accounting resume example better than 9 out of 10 other resumes.
How to write an accountant resume that lands more interviews.
Tips and examples of how to put skills and achievements on an accounts receivable resume.
How to describe your experience on a resume for accounting to get any job you want.
Here's a sample resume for an accounting position made using our resume builder.
Want to save time and have your resume ready in 5 minutes? Try our resume builder. It's fast and easy to use. Plus, you'll get ready-made content to add with one click. See 20+ resume templates and create your resume here.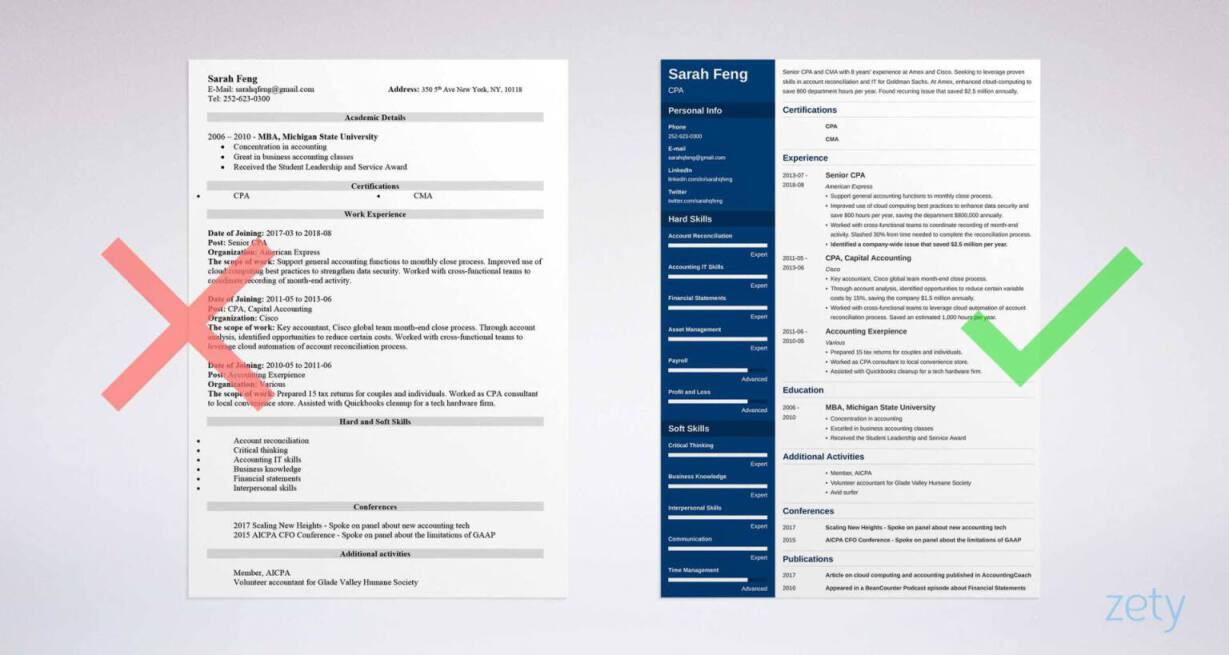 Sample Accounting Resume—See more templates and create your resume here.
See more resume examples for jobs in finance:
1
What's the Best Format for an Accounting Resume?
What trait defines a great accountant?
They see the details like no-one else.
Your professional accountant resume must shout that from the rooftops.
So, use the chronological resume format. It gets your ducks in a row and shows your most recent wins first.
That's crucial, since most resumes get only six seconds with the hiring manager.
Accountants also need great presentation skills.
Show yours with the best resume fonts, big headings, and plenty of white space.
Last, save it as a PDF unless the job offer says not to. A public accounting resume in Word format can devalue in transit. If it's hard to read, the hiring manager will award that juicy job to someone else.
Pro Tip: Not a layouts whiz? Put a shout-out on Facebook for help with your accounts payable resume. You're probably one degree of separation from someone who can give expert design tips.
Want to do due diligence on all the format options for a tax accountant resume? See our guide: 3 Resume Formats: How to Choose the Best One [Examples]
2
How to Write a Resume Summary or Resume Objective
Oh no.
The hiring manager just clicked delete.
Your great accounting resume is gone forever.
But there's a clear path to a brighter outcome, where you make six figures and get buckets of free time.
How can you make that outcome a reality?
With a resume for accountants that grabs the manager's attention like a fat tax break.
That starts with a resume summary or a resume objective.
Use a resume summary if you've got spreadsheets full of experience. A summary shows the best of it in capsule form.
Use a resume objective if the ink on your CPA exam still smudges. It will show your drive and passion when you lack experience.
The bottom line for either? Stuff them with accomplishments.
The senior accounting resume examples below show how.
Accounting Resume Examples [Resume Summaries]
These two senior accounting manager resume examples are as unalike as assets and liabilities:
wrong
CPA, CMA, seeking position at high-end firm. Skilled in account reconciliation, IT skills, and financial reporting. Have worked closely with cross-functional teams to improve the accounting process.
That's not as bad as an audit letter, but remember, you need to stand out.
This senior accountant resume summary does just that:
right
Results-driven senior CPA and CMA with 8 years' experience at Amex and Cisco. Seeking to leverage proven skills in account reconciliation and IT for Goldman Sachs. Enhanced Amex's cloud-computing practices to save 800 department hours per year. Found recurring issue that saved $2.5 million annually.
That's better than a tax-free gift.
But what if your experience is more like a new account? If that's you, see the entry-level accountant resume examples below.
Two Entry-Level Accounting Resume Objectives
Still a junior accountant? Writing an accounting internship resume?
The experts used to say, lead with passion in a resume objective:
wrong
Junior accountant seeking entry-level accounting position. No actual on-the-job experience yet in the accounting world, but I'm very eager to learn. I've got great interpersonal skills.
That's as generic as an uncompleted balance statement.
But with a few details, suddenly you've got a junior accountant resume objective like this:
right
Enthusiastic entry-level accountant. Prepared 15 tax returns in the past six months. Consulted to local convenience store as CPA. As part-time volunteer accountant at nearby animal shelter, identified $6,000 cost savings that saved the lives of 500 dogs and cats.
Show me the money, right? That entry-level accounting resume objective will earn a treasure-trove of interviews.
Where can you get that kind of experience when you're still as green as U.S. currency?
I'll show expert tips for that, up next.
When making a resume in our builder, drag & drop bullet points, skills, and auto-fill the boring stuff. Spell check? Check. Start building your resume here.
When you're done, Zety's resume builder will score your resume and tell you exactly how to make it better.
Pro Tip: Suffering from writer's block? Save the staff accounting resume objective or summary for last. Once your resume is finished, the summary will almost write itself.
Need to write an accountant resume summary or objective that stands out like Olympic gold? Want help summarizing your accounts payable resume? See our guides: How To Write A Resume Summary: 21 Best Examples You Will See and +20 Resume Objective Examples - Use Them on Your Resume (Tips)
3
How to Describe Your Accounting Experience
Picture a CEO.
Her name is Michelle.
She's got a skyline view and 300+ accountant resumes to dig through.
What will make your accounts payable resume leap off the page like it's wrapped in $100 bills?
Experience.
But there's a science for how to show experience on a resume for an accountant.
First, read the job ad carefully. Highlight any qualities it's looking for.
Second, dredge your past for accomplishments that prove those qualities.
Third, cast them in bullet points, with your last job first.
The staff accountant resume examples below will illustrate.
Accounting Resume Examples [Experience]
These financial accounting resume examples show best practices:
right
American Express
Senior CPA
2013–2018
Supported general accounting functions for monthly close process.
Improved use of cloud computing best practices to enhance data security and save 800 hours per year, saving the department $800,000 annually.
Identified a company-wide issue that saved $2.5 million per year.
Wow. The CEO just dropped her copy of Profit First right in her Buddha bowl. She can't wait to schedule the interview.
But whatever you do, don't make this financial resumes mistake:
wrong
American Express
Accounting Executive
2013–2018
Supported general accounting functions for monthly close process.
Integrated cloud-computing with account reconciliation process.
Responsible for journal entry preparation.
Coordinated recording of month-end activity.
That's like saying, "I took the CPA exam." Okay, but did you pass?
Where are the metrics? What company goals did you help meet?
Writing your first resume with no experience to draw from? The next two staff accounting resume examples light the way.
How to Write a Resume for Accounting with no Experience
Don't have experience? I can almost guarantee you've got enough for a solid entry-level accounting resume.
The best part? You can get more fast, like this:
Volunteer.
Do some freebie work for friends.
Job shadow.
Look for freelance accountant jobs online
List transferable accounting tasks from non-accountant jobs.
We're not talking about a year of work. Just one or two days can be enough to give a junior accounts receivable resume a solid footing.
The two accounting assistant resume examples below show how.
Two Entry-Level Accounting Resume Samples [No Experience]
This first sample accountant resume clip goes broke:
wrong
Accounting Experience: Have yet to work as a business accountant.
Other Experience:
That's like an overdrawn account.
To land superior interviews, your accounting assistant resume sample needs details:
right
Freelance Accountant
2017–2018
Managed all QuickBooks operations for a thriving restaurant.
Prepared 20 tax returns for couples and individuals.
Worked as CPA consultant to local convenience store.
Filled in as volunteer accountant for county animal shelter.
That's no run-of-the-mill resume for accounting. That entry-level applicant might have the skills to take down Al Capone.
Pro Tip: Focus your accounts payable resume on metrics you've improved. Not sure what to cite? See this article on Key Performance Indicators.
Don't let the hiring manager write you off. Sweeten your tax accountant resume with action words. See our guide: +80 Examples of Resume Action Words for Every Profession
4
Is Your Education Section Going Bankrupt? It Might Be
Good news!
The CEO just called. She wants to interview you.
What made up her mind? The education section in your accountant resume.
Is that even possible?
It is, if you pack your education section with details that match the job.
Start with:
College Name and Location
Years in School
Degree
Then add academic achievements that fit the job like debits to credits.
The staff accounting resume examples below paint the picture.
Accounting Resume Examples [Education]
Both these sample accounting resume sections target the same job. It requires a knowledge of business accounting and leadership potential.
right
MBA
Michigan State University, 2012–2016
Concentration in accounting
Excelled in business accounting classes
Received the Student Leadership and Service Award
Those are Deloitte-level accounting resume keywords. Plus, they fit the job offer.
That's not the case with the next of our staff accountant resume examples.
wrong
MBA
Michigan State University, 2012–2016
Completed all core coursework
GPA 3.1
That's more generic than a QuickBooks template, and it won't work half as well.
But add those details back, and you're on track for a career with PwC again.
Academic achievements matter even more in an accounting student resume.
Pro Tip: Learn as much as possible about the hiring manager or CEO. That'll help you pick accomplishments that match. A little research now can pay off like Apple stock from 1980.
Should you list your school name first, or your degree? Can you leave off your GPA? Find these and other answers for your cost accountant resume. See our guide: How to Put Your Education on a Resume [Tips & Examples]
5
How to Put Skills on a Resume for Accounting
Remember our CEO, Michelle?
If you convince her that you've got the skills she needs, you're on your way to being fully vested.
So, how do you convince her?
First, know what skills she needs. (She put them in the job ad.)
Second, prove your skills. That means showing how you've used them for maximum return.
The two accounting resume examples below disclose the right and wrong. They're for a job offer that values Accounting IT Skills, Account Reconciliation, and Account Analysis.
Accounting Resume Skills
This sample payroll accounting resume clipping is overvalued:
wrong
Accounting Skills: Account reconciliation, IT, financial statements, asset management, payroll, profit and loss, critical thinking, automation, accounts receivable, interpersonal skills, account analysis, communication, house painting...
That's the accounting resume equivalent of a junk bond fund.
What's wrong with listing all your skills? It's too hard for Michelle to find the ones she needs. Your interview will evaporate like an abused discretionary fund.
So, focus on the one shown in the job description. Then prove you are the Warren Buffett of those qualities.
right
Key accountant, Cisco global team month-end close process.
Through account analysis, identified opportunities to reduce certain variable costs by 15%, saving the company $1.5 million annually.
Worked with cross-functional teams to leverage cloud automation of account reconciliation process. Saved an estimated 1,000 hours per year.
Those aren't just accounting resume skills. That's Arthur Blank before he hit it big.
Need an accountant skills list to get started? Use the ones below.
Skills to Put on an Accounting Resume
Here's a list of accounting skills to use a reference for your resume. They make great resume keywords, too:
Top 30 Accounting Skills and Proficiencies
Collections
Financial Statements
Payroll
IT Skills
Asset Management
Payroll Taxes
Account Analysis
Regulatory Filings
MS Office
Revenue Projections
Account Reconciliation
State Tax Law
Budgets
Tax Compliance
Corporate Tax
Tax Returns
General Ledger
Profit and Loss
Mathematics
Quickbooks
Paychex
Income Tax
Invoices
Business Knowledge
Leadership
Detail Oriented
Attention to Detail
Follow the path above, and your resume for accountants will put you on the EY track.
Don't skimp on your IT skills list. Computer skills on resumes are increasingly important for accountants.
Pro Tip: How long should a resume be for accounting? One page? Two? That depends on how experienced you are. For highly skilled applicants, a longer resume is actually better.
Want to turn your tax accounting resume skills section into a going concern? See our guide: +30 Best Examples of What Skills to Put on a Resume (Proven Tips)
6
How to Show Certifications on a Resume
Picture an airplane without wings or an engine.
That's the same as an accountant who's not certified.
Of course you've got your CPA license. But show it right, or that busy executive may miss it and move on.
Put your certification in three places:
After your name
In your resume summary or resume objective
In a special certifications section
This accounting resume example shows how:
The CPA license is gold on an accountant resume. You can also put it in your job titles.
Certifications look even better on accounting intern resumes.
Other certifications on public accounting resumes? CFA, EA, CIA, CFE, and CISA. Whatever certifications you have, make sure they're relevant to the job opening.
Pro Tip: Writing an accounts receivable resume or accounting assistant resume? In that case, you may need a bookkeeper resume instead.
Need more help with certifications on a resume for accounting? See our guide: How to List Certifications on a Resume: Guide (+20 Examples)
7
How to Add Other Sections for an Effective Resume
How unique are you?
To really stand out, your accounting resume must show you're more than just a great bean counter.
It has to show you've got six hands and a calculator in each one.
Sound impossible? It's easy. Just add some well-trimmed "other" sections to your resume.
The two staff accountant resume examples below show how.
Accounting Resume Examples [Other Sections]
wrong
Interests
Karaoke
Long walks in the woods
That applicant sounds intense. I'm not sure if she's a great accountant, though.
But what about this next accounting manager resume example:
right
Additional Activities
Member, AICPA
Volunteer accountant for Glade Valley Humane Society
Avid surfer
Conferences
2017 Scaling New Heights - Spoke on panel about new accounting tech
2015 AICPA CFO Conference - Spoke on panel about the limitations of GAAP
Publications
2017 Article on cloud computing and accounting published in AccountingCoach
2016 Appeared in a BeanCounter Podcast episode about Financial Statements
That's as solid as a Swiss Bank. If you can show engagement like that in your accounting resume, you're halfway to getting hired.
"Other" sections are especially helpful with accounting assistant resumes.
Pro Tip: Definitely join a professional association if you haven't already. It's worth it for the networking alone. Plus, it looks great on an accounting manager resume or accounting assistant resume.
Drawing a blank for what "other" sections to include in your accounts payable resume? This guide enumerates the options: Resume Sections to Include on Your Resume: Guide (+20 Examples)
8
How About a Cover Letter for Accounting?
Why do experts say you don't need a cover letter?
Because most applicants write this kind of accounting cover letter:
"Dear hiring manager. I'm a good CPA. Please read my accounting resume."
So, don't write that cover letter.
Instead, make it personal, passionate, and persuasive.
First, use the hiring manager's name.
Next, show you understand her challenge.
Third, prove how you can fill the bill.
This shortened accountant cover letter example demonstrates:
Accounting Cover Letter Example
Goldman Sachs needs a reconciliation accountant with computer skills. My grasp of cloud computing let me save 800 hours a year for the reconciliation team at American Express. I believe at Sachs my skills will only grow, thanks to my thirst for continuous improvement and Sachs' emphasis on mentoring and personal development.
Close your cover letter with a request: "Could we discuss furthering Sachs' cloud accounts reconciliation excellence?" works great.
Pro Tip: Don't be afraid to follow up. Don't push, but after a few days, an email nudge can put you top-of-mind. That gives your accounts receivable resume another shot at glory.
Plus, a great cover letter that matches your resume will give you an advantage over other candidates. You can write it in our cover letter builder here. Here's what it may look like: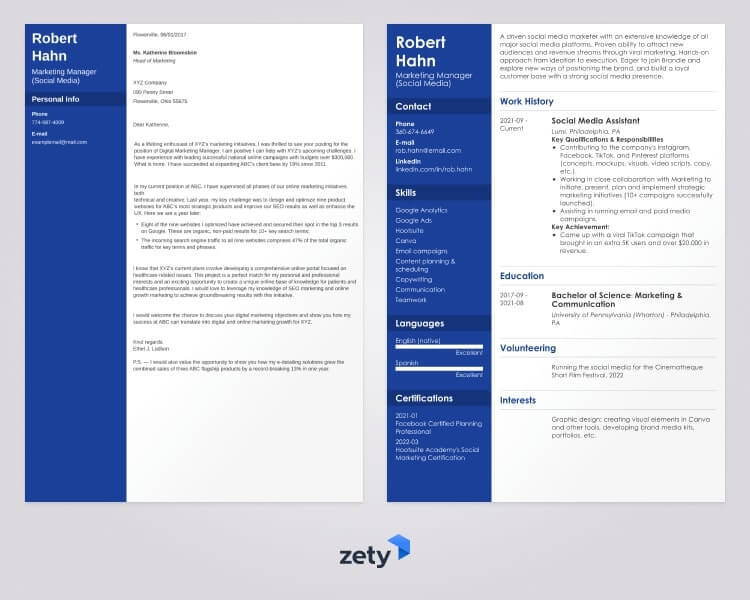 See more cover letter templates and start writing.
Need the full transaction processing for writing a great accounting cover letter? See our article, Cover Letter for Accounting Positions (Samples) and our general guide, How To Write A Cover Letter in 8 Simple Steps (+12 Examples)
9
How to Add Contact Info to Your Resume
Contact info on a resume for accounting is so simple, yet potentially so devastating.
Of course you'll list:
Full Name
Updated Phone Number
Professional Email Address
Like so:
Sarah Feng, CPA, CMA, sarahqfeng@gmail.com, 252-623-0300
But don't forget to add your LinkedIn profile.
LinkedIn has become crucial resume contact info. A whopping 87% of all recruiters hire from LinkedIn.
Plus, your profile can show you're more than just a lot of rows and columns.
Pro Tip: Want to get 11x more views to your LinkedIn profile? Want to know how adding accounting executive resume keywords can get more interviews? See our guide to LinkedIn profile optimization.
Need the fine details to make the best accounting resume you can? See our guide: How to Make a Resume: A Step-by-Step Guide (+30 Examples)
Key Takeaway
This guide shows the nuts and bolts of making a great resume for accounting. Remember these key strategies:
Read the job offer carefully. Highlight the qualities you see. Then, prove you have them in your accounting resume bullet points.
Don't fudge your education section. A key detail in it can be the one thing the hiring manager remembers about a staff accountant resume.
Add "other" sections to report on the breadth of your accounting resume skills. Include professional associations, volunteer work, and publications.
Do you have questions on how to write a great resume for accounting? Not sure how to describe your accounting skills or achievements? Give us a shout in the comments! Let's generate some interest.