Your current job got you off balance? Your boss tried cooking the books and now the office's on fire?
Sounds like it's time to move on and find a better position.
Maybe you've already browsed through job boards and found a great opportunity. But you're a bit worried.
Why?
It's your accountant resume. You haven't updated it for a long time. And it looks less than great.
Don't worry, we've got you covered. Just follow this step-by-step guide and learn how to write an error-free resume for accountants.
This guide will show you:
An accountant resume example better than 9 out of 10 other resumes.
How to write an accountant resume that will land you more interviews.
Tips and examples of how to put skills and achievements on an accountant resume.
How to describe your experience on a resume for an accountant to get any job you want.
Want to save time and have your resume ready in 5 minutes? Try our resume builder. It's fast and easy to use. Plus, you'll get ready-made content to add with one click. See 20+ resume templates and create your resume here.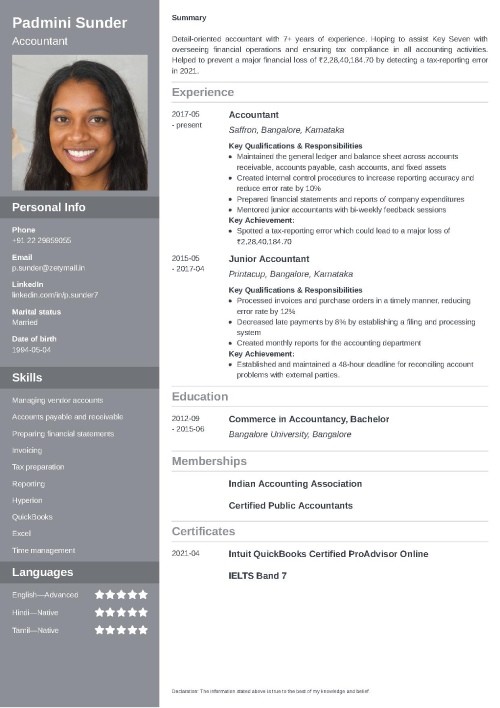 Sample resume made with our builder—See more resume examples here.
Accountant Resume Sample
Padmini Sunder
Accountant
+91 22 29859055
p.sunder@zetymail.in
linkedin.com/in/p.sunder7
Marital status: Married
Date of birth: 04.05.1994
Summary
Detail-oriented accountant with 7+ years of experience. Hoping to assist Key Seven with overseeing financial operations and ensuring tax compliance in all accounting activities. Helped to prevent a major financial loss of ₹2,28,40,184.70 by detecting a tax-reporting error in 2021.
Experience
Accountant
Saffron, Bangalore, Karnataka
May 2017–present
Key Qualifications & Responsibilities
Maintained the general ledger and balance sheet across accounts receivable, accounts payable, cash accounts, and fixed assets
Created internal control procedures to increase reporting accuracy and reduce error rate by 10%
Prepared financial statements and reports of company expenditures
Mentored junior accountants with bi-weekly feedback sessions
Key Achievement:
Spotted a tax-reporting error which could lead to a major loss of ₹2,28,40,184.70
Junior Accountant
Printacup, Bangalore, Karnataka
May 2015–April 2017
Key Qualifications & Responsibilities
Processed invoices and purchase orders in a timely manner, reducing error rate by 12%
Decreased late payments by 8% by establishing a filing and processing system
Created monthly reports for the accounting department
Key Achievement:
Established and maintained a 48-hour deadline for reconciling account problems with external parties.
Education
Bachelor of Commerce in Accountancy, Bangalore University
2012–2015
Skills
Managing vendor accounts
Accounts payable and receivable
Preparing financial statements
Invoicing
Tax preparation
Reporting
Hyperion
QuickBooks
Excel
Time management
Certifications
Intuit QuickBooks Certified ProAdvisor Online, 2021
IELTS Band 7
Memberships
Indian Accounting Association
Certified Public Accountants
Languages
English—Advanced
Hindi—Native
Tamil—Native
Declaration: The information stated above is true to the best of my knowledge and belief.
Here's how to write an accountant resume that helps you win great jobs:
1. Use the Correct Accountant Resume Format
Accountants ensure that all financial information of the company is in compliance with local or international laws. A typical accountant resume lists among their duties auditing financial data, preparing tax statements, producing invoices, and tracking financial operations within the organization.
That explains why accountants are always so busy.
But as a candidate for a job, you must be more than busy. You need to be outstanding, like accounts receivable.
To ensure recruiters read your accountant resume from beginning to end, follow these resume formatting rules:
Remember about your contact information—it must appear at the top. Include your full name, job title, email address, phone number, and (optionally) your mailing address.
Select an appropriate resume format. The reverse-chronological layout is the best choice overall, as it highlights your biggest achievements and recent experience.
Choose popular CV fonts such as Arial or Calibri to keep it easy to read. Set font size to 11–12 pt.
Keep white space with one-inch margins, paragraphs, and 1–1.15 line breaks.
Save the accountant resume in PDF format, unless specified otherwise in the job ad.
That's the outline on how to write a resume for any job type.
Now, let's move on to the specifics.
Save time—instead of choosing fonts, colours, and column placements by yourself, go for ready-to-use options: 20 Resume Templates to Download for Free
2. Add a Summary or Objective for Accountant Resumes
When writing a resume for accountants in India, make sure to introduce yourself with a resume summary or a resume objective. These resume profiles must show how the future employer can profit from your work.
Not sure if a resume summary or a resume objective is good for you? Don't worry!
Go for a resume summary if you're an experienced candidate. List your biggest work-related accomplishments and throw in a few of your valuable accountant skills.
Write a resume objective if you are a fresher accountant. Mention academic achievements or transferable skills from other jobs, and add strong character traits that make you a great candidate.
Are you a junior accountant? Check a more in-depth article for tips on how to write a resume objective: How to Write a Resume for Freshers: Full Guide with Examples
3. Show Off Experience in an Accountant Resume
Time to show your intangible assets. This section of a resume for an accountant proves they know the drill when it comes to balance sheets, income tax, journal entries, and all other accounting lingo.
Here's how to describe your work experience in a resume:
Use reverse chronology—start with the most recent job first
Include your job title, company information, years and months of employment
List your relevant responsibilities and accomplishments in 4–6 bullets. Always start with an action word!
Highlight measurable achievements with numbers, values, and percentages
Point to your biggest accomplishments so they stand out
If you're writing a resume for an accountant fresher, you might be worried that you don't have much to say in this section. Try a different strategy:
Mention academic accomplishments or volunteer experiences
Show how you used basic accounting skills at other jobs. Maybe you prepared invoices for your family's business? Or created simple profit and loss statements for a student organization?
Maybe you need more support to write a fresher resume? Check this article: Resume Format for Freshers: Everything You Need to Know
4. Bring Up Your Education in Your Accountant Resume
While having relatable work experience is valued by recruiters, education is still the key hiring factor at many companies. So here's how to mention it:
Experienced accountant resume: Name the academic institution, city and state, years of education, degree, major, and GPA.
Junior accountant: Apart from the above-mentioned facts, show off academic achievements and relevant coursework.
Pro Tip: As the educational requirements for accountants vary between countries, be extra careful when applying to international companies and jobs outside India. Do a bit of research first to understand what qualifications are needed for specific countries.
When making a resume in our builder, drag & drop bullet points, skills, and auto-fill the boring stuff. Spell check? Check. Start building a professional resume template here for free.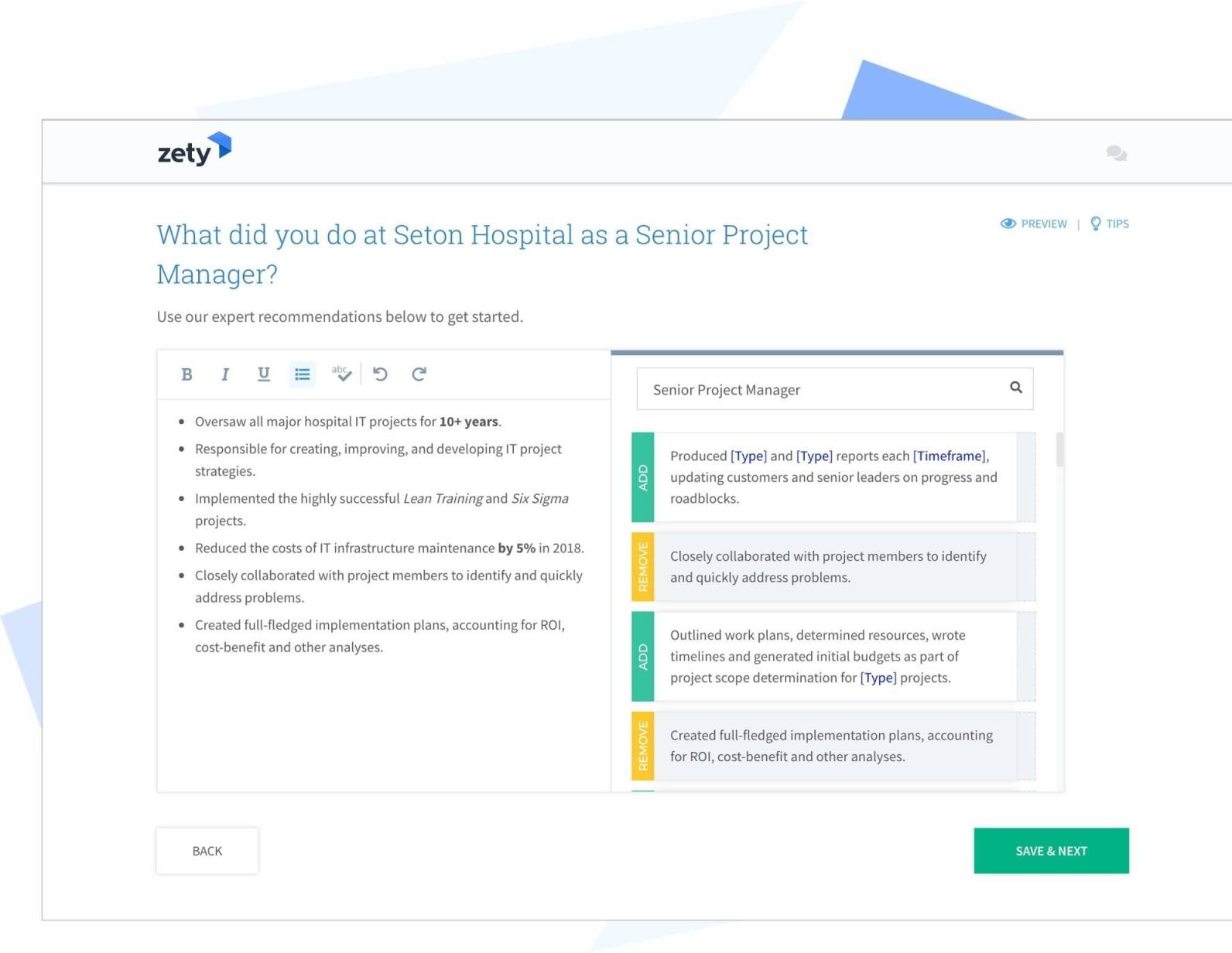 When you're done, Zety's resume builder will score your resume and tell you exactly how to make it better.
5. Choose Appropriate Skills for Accountant Resumes
Some recruiters might expect you to do magic with numbers. It's best to show you know the tricks with a list of relevant accounting skills. Here's how to curate a neat list:
Start with any job skills that come to your mind—not only related to accounting, but also soft skills, technical skills, and anything else you've mastered.
Read the job advertisement carefully, select the keywords, and match your skills with them. Select 7–10 skills that really fit the position.
Have a look at a sample list of skills for an accountant resume:
Skills for Accountant Resume
Managing vendor accounts
Accounts payable and receivable
Preparing financial statements
Invoicing
Tax preparation
Reporting
Hyperion
QuickBooks
Excel
Time management
Not sure why tech skills matter? Learn here: Computer Skills and Software to Put on Your Resume: List & Guide.
6. Pick a Few Additional Sections to Your Accountant Resume
Drop the grey suit and stand out from the crowd. Show you're much more than a walking stereotype by spicing your resume with extra sections:
Language skills: If you're looking for a job at an international company, those really matter.
Certifications: International certificates can seal the deal for you. The same goes for language certificates that show your proficiency.
Achievements: Accounting associations often offer award programmes, such as the ICAI Awards. Those can make you shine!
Hobbies: Do you write a blog about finances? Or have in-depth knowledge on budgeting while travelling?
Volunteer work: Teaching home economics to single mothers? Brag about it!
Just remember—don't stuff this section with random things. Keep it relevant to your application.
Pro Tip: If you have little relevant work experience, consider volunteering at charity organizations. It will not only help you gain footing in accounting but also provide valuable connections and a chance to make a difference in other people's lives. Many organizations seek fundraisers, Maths tutors, and mentors to help underprivileged youths.
7. Finish Off With a Cover Letter to Match Your Accountant Resume
You're nearly done with your application! Just write a neat cover letter to support your candidature.
It's really simple—just follow these steps to create a cover letter that matches your accountant resume:
Use a cover letter template that matches your resume format.
Hook the attention of the reader in the opening paragraph.
Highlight relevant skills and show how they can assist the company
Finish the cover letter with a tempting offer and a call to action.
Check this detailed guide for more information: How to Write a Cover Letter: Examples, Guide & Tips.
A great cover letter that matches your resume will give you an advantage over other candidates. You can write it in our cover letter builder here. Here's what it may look like: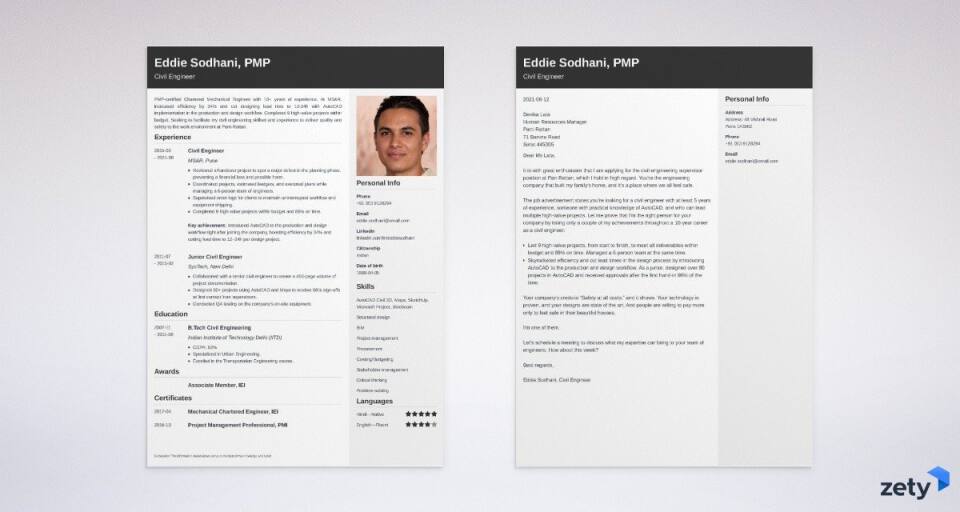 See more cover letter templates and start writing.
Admit it—this was much easier than crunching numbers. And now you know everything about writing a great accountant resume!
Seeing any loopholes in the accountant resume format? Or maybe you've got an idea of how to cut corners while writing resumes for accountants? Share your thoughts!