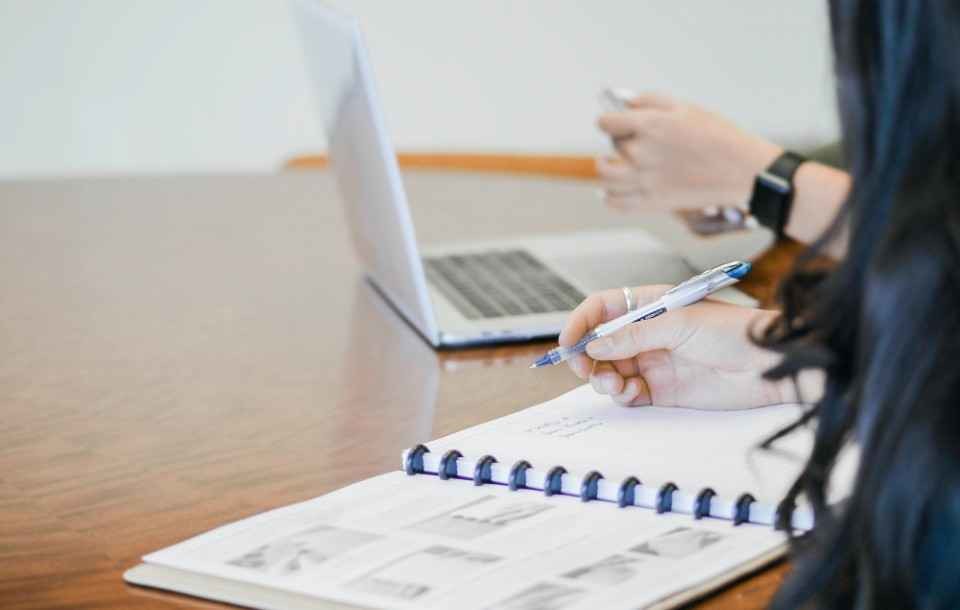 Accounting Internship / Intern Resume Sample & Objective
Register the advice from the accounting intern resume guide and prove your love for numbers. Do your due diligence and let the dream company take you over.
Big 4 or not Big 4? Audit, forensic, tax? Are you even ready? There are so many hard choices to make and so many questions with no read-made answers when you start working in finance.
But creating a great accounting intern resume will be the easy part of your application. Just keep on reading, and you'll find some useful tips on how to write it and land the internship that will be a great start for your career.
This guide will show you:
An accounting internship resume sample better than 9 out of 10 other resumes.
How to write an accounting internship resume that will land you more interviews.
Tips on how to put resume objective on an accounting intern resume.
How to describe your experience on a resume for an accounting intern to get any job you want.
Want to save time and have your resume ready in 5 minutes? Try our resume builder. It's fast and easy to use. Plus, you'll get ready-made content to add with one click. See 20+ resume templates and create your resume here.
Sample resume made with our builder—See more resume examples here.
See other accounting-related resume guides:
Accounting Internship Resume Sample
Derek R. Hill
320 Losh Lane
Pittsburgh, PA 15219
412-646-2269
derekrhill@gmail.com
linkedin.com/in/derekrhill
Objective
NYU Sudoku Competition runner-up seeking to fill the accounting internship position. Logic-minded B.S. in General Accounting highly motivated to gain hands-on experience in the accounting department at Cocount. Helped the high school cafeteria staff take inventory of the supplies, proving over 20 discrepancies.
Education
B.S. in General Accounting
NYU Stern School of Business, New York, NY
Expected graduation date: 2024
Relevant Coursework: Principles of Financial Accounting, Financial Statement Analysis, Accounting and Analysis in Practice, Financial Reporting and Disclosure, Business Acquisitions, Deferred Taxes, Translations & Derivatives, Corporate Taxation, Auditing, Forensic Accounting and Financial Statement Fraud
Awards: Second place in the NYU Sudoku Competition
Mt. Lebanon High School, Pittsburgh, PA
Graduated in 2020
SAT score: 90th percentile
Extracurricular activities:
Joined the Odyssey of the Mind club, participating in creative problem-solving competitions.
Member of the Forensics (Speech & Debate) Team.
Volunteering:
Delivered presentations every semester to freshmen's class about the fundamentals of financial literacy.
Assisted in taking inventory of school cafeteria supplies and proved +20 discrepancies.
Experience
Freelancing & Volunteering
Pittsburgh, PA
Helped organize a fundraiser for the local neighborhood, raising over $1000 to reinstall stolen and broken street signs.
Work-shadowed a non-profit accountant teaching filing an individual income tax returns to 30+ people.
Skills
Proficient in MS Excel
Aptitude for Mathematics
Ownership
Data Analysis
Attention to Detail
Communication Skills
Problem-solving Mindset
Languages
Hobbies & Interests
Let's get to writing an internship-winning resume:
1. Clean Up Your Resume Format
An accounting intern puts their knowledge into practice while doing some general accounting work. It ranges from entering data through financial reporting to preparing taxes. What's the goal of your resume, then? To prove that with your skillset and strong character, you're ready to excel at it.
But before you get down to writing your resume—keep your books clean. Make sure you balance a proper resume format with its content. It'll help you put the most important information upfront and make it easy to scan.
Reverse-chronological resumes are the easiest to read for recruiters and Applicant Tracking Systems. So, you can't go wrong with that.
See: Professional Resume Templates For Any Job
2. Make It With the Accounting Internship Resume Objective
Suppose you're wondering whether a resume summary or resume objective is the right one.
High five!
You've done your research. Now's the time for a thorough analysis.
The resume summary focuses on your work experience. You prove you've done your—in most cases full time—job well and only sprinkle it with skills.
In the resume objective, though, you say there's no other candidate so hardworking as you're. You leave a lasting impression of engagement through your achievements and skills.
So—
Go for the resume objective. Confirm that you have exactly the work ethic your hiring manager wishes to have in their team.
Again go to the job description and mark resume keywords you should use in your objective.
Start your sentences using resume action verbs.
Mention your best traits and skills to introduce yourself. Be bold, and don't look back.
Write which position and company you're applying for.
Then check it like hundred times. (Yes, indeed. This one deserves a single bullet point.)
Don't sweat it. Be brief. 2-3 sentences max.
A solution that works long-term. Read more on: Tailoring Your Resume To The Job Ad
3. Prove You Are Worth It in the Education Section
Busy season.
Busy season everywhere.
No matter if at school or in the first quarter of the year. You sit for long hours. You survive.
See how to show such motivation in the education section of your resume:
What about GPA? See here: GPA On A Resume
4. List Your Relevant Experience
Here we are—the most feared part of them all.
Panicking as if you couldn't find some records for your auditors?
Just chill.
Here's what to do:
No work experience, no worries. Focus on what you did. Side gigs, summer internship, part-time jobs, or work-shadowing? Any freelancing or volunteering fits perfectly on your resume.
Now go to the job posting. Print it if you must, and look for keywords. Mark them with your highlighter. You should practice before your internship. wink
Think of how your activities relate and start writing. Make sure to begin your bullets with strong action verbs.
Relate. Don't list everything that comes to your mind. You're applying for an accounting intern position, so list only those activities that relate.
Show you had an impact using the S.T.A.R. formula. Quantifying your results always wows the recruiters and hiring managers. Numbers attract attention and show real results.
If you feel like highlighting the most important parts, do it. Use bolding or italicizing—but do it with balance.
That wasn't so hard, was it?
You've seen us repeat relevant over and over again. See why it's so important in a resume for internships: Perfect Internship Resume Example
5. Make a List of Skills That Make You Stand Out
Making journal entries feels like you've got everything together. Or just the opposite.
You a fan? Well—
You will be.
Most intern job postings include recording entries in a general ledger or journal. If you were to keep an eye on five items when listing your skills in the accounting internship resume with no experience, do the following:
Include soft and hard skills on your resume.
Broken record alert—make your skills relevant to your job description and industry. You may know your way around Facebook Ads, but it'll get you nowhere in the accounting world.
Find the most desired skills for an intern job in the job description. No surprises here.
Place the crucial ones at the top of your resume list of skills. This way, it'll be pretty easy to track them.
Pepper them all over your accounting internship resume. There's plenty of room for proving your badass analytical skills. How about in the resume objective and education section?
Skills for an Accounting Internship Resume
Data Entry
Microsoft Office Skills
Graphic Design
GAAP
Financial Statements
Bank Reconciliation
Accounts Payable and Receivable
Invoices
Income Tax
Attention to Detail
Logical Thinking
Ability to Multitask
Staying Calm Under Pressure
Initiative
Ownership
Adaptability
Pro Tip: Find a word cloud generator, like Wordle, and copy-paste your job ad. It'll help lots in your keyword search activity by making the most often used keywords larger.
When making a resume in our builder, drag & drop bullet points, skills, and auto-fill the boring stuff. Spell check? Check. Start building a professional resume template here for free.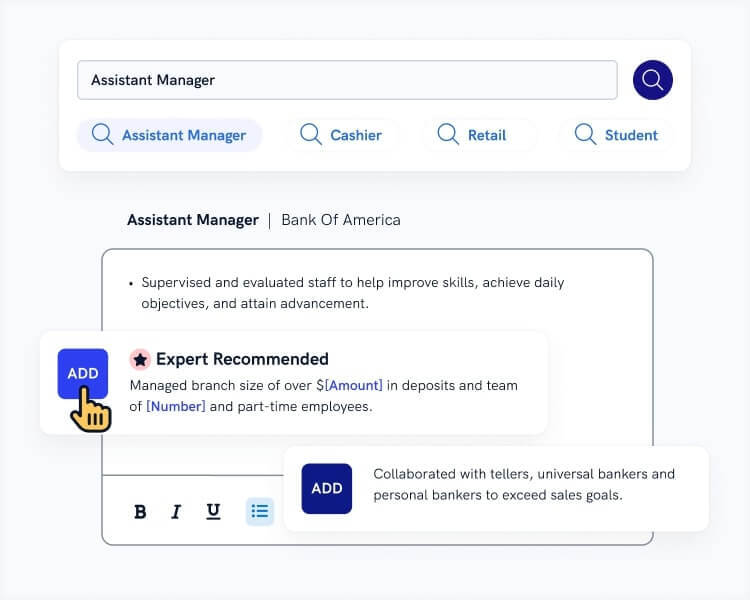 When you're done, Zety's resume builder will score your resume and our resume checker will tell you exactly how to make it better.
6. Add Other Sections to Your Resume
It's not groundbreaking news that accountants need to learn their whole life. How else would you do your job unless staying up to date with 20+ reforms in the tax law?
Holy cow!
You must know what you're doing and love it, too. How you show your dedication to accounting beyond your experience and educational background?
You've already got a pretty long list of things you should include in your resume. Read: What Not To Include On Your Resume
7. Write a Cover Letter to Tell Your Story
As you won't file taxes without your SSN, you shouldn't send your job application without a cover letter.
It'll lower your chances, and you've got only one shot. Make it count.
See what a cover letter looks like:
Make use of those cover letters: Free Cover Letter Templates
Plus, a great cover letter that matches your resume will give you an advantage over other candidates. You can write it in our cover letter builder here. Here's what it may look like: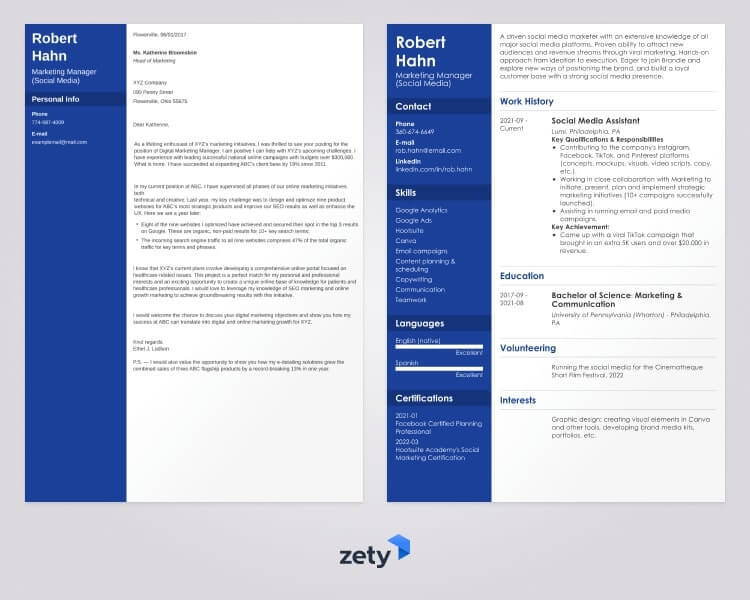 See more cover letter templates and start writing.
That's it! Easy, right?
Good luck on your accounting journey! You'll smash it.
Do you think the above tips are helpful? Is there anything missing? Give us a shout in the comments section!
About Zety's Editorial Process
This article has been reviewed by our editorial team to make sure it follows Zety's editorial guidelines. We're committed to sharing our expertise and giving you trustworthy career advice tailored to your needs. High-quality content is what brings over 40 million readers to our site every year. But we don't stop there. Our team conducts original research to understand the job market better, and we pride ourselves on being quoted by top universities and prime media outlets from around the world.
Sources