Data Entry Resume Sample (+ Skills & Job Description)
Data entry is the process of entering information from paper documents into a computer using data processing software. Often, it's an entry-level job with no experience required.
You just walked the dog and had a cup of coffee on the couch in the middle of your work day. You're a data entry pro who makes $20 an hour in one of the best work-at-home jobs there is, with a flexible schedule that you set yourself. How'd you get that unicorn job?

With a data entry resume so good, the hiring manager picked you out of 600 applicants. You're minutes away from a perfect data entry resume. Continue reading and make that dream reality.
This guide will show you:
A data entry resume example better than 9 out of 10 other resumes.
How to write a data entry resume that will land you more interviews.
Tips and examples of how to put skills and achievements on a data entry resume.
How to describe your experience on a resume for a data entry to get any job you want.
Here's a sample resume for a data entry clerk made using our resume builder.
Want to save time and have your resume ready in 5 minutes? Try our resume builder. It's fast and easy to use. Plus, you'll get ready-made content to add with one click. See 20+ resume templates and create your resume here.
Sample Data Entry Resume—See more resume examples here.
Targeting other administrative support positions too? See one of our dedicated guides:
1
Data Entry Resume Example
Peter Salazar
Data Entry Specialist
123-546-7800
peter.salazar@email.com
linkedin.com/in/peter.salazar
Summary
Dedicated Data Entry Specialist with over 5 years of experience. Eager to assist Vortex Innovations in managing and organizing their data more efficiently to increase its accuracy. Boosted data accuracy at StellarByte Solutions by 15% through the use of artificial intelligence and machine learning tools.
Experience
Data Entry Clerk
FusionTech Systems, Henderson, NV
March 2016–Present
Key Qualifications & Responsibilities
Entered data into the system with speed and accuracy, averaging 60 WPM.
Managed and updated client records, ensuring data integrity.
Assisted with file transfers and backups.
Implemented artificial intelligence tools in our workflow.
Key Achievement:
Boosted data accuracy by 15% through implementing a new data quality checking procedure and by using artificial intelligence and machine learning tools.
Data Entry Clerk
StellarByte Solutions, Henderson, NV
March 2014–February 2016
Key Qualifications & Responsibilities
Processed high-volume data within tight deadlines.
Collaborated with the IT team on troubleshooting data-related issues.
Performed regular backups to ensure data preservation.
Key Achievement:
Commended for excellent accuracy levels in data entry.
Education
Bachelor's Degree in Business Administration
University of Nevada, Henderson, NV
September 2010–June 2014
Relevant extracurricular activities
Member of the Computer Club.
Volunteered for an annual data cleaning project.
Skills
Data entry speed 60 WPM
Excellent accuracy and attention to detail
Advanced knowledge of MS Office and database software
Excellent verbal and written communication skills
Ability to multitask and prioritize work
Proficient in cloud services (Dropbox, Google Drive)
Strong organizational and time-management abilities
Excellent problem-solving skills
Certifications
Certified Administrative Professional (CAP), IAAP, 2019
Membership
Member of the Data Entry Professionals Association since 2015
Organized and hosted data entry webinar for colleagues, 2018.
Delivered a lecture on Projecting Confidence during the 2019 Women in Business Conference, San Diego.
Languages
English—Native proficiency
Spanish—Intermediate proficiency
Interests
Reading up on new data management technologies.
Participating in speed typing competitions.
What's the Best Format for a Data Entry Resume?
Pop quiz:
What's the #1 skill for a data entry pro?
Answer: accuracy. Toss in attention to detail and you've got yourself a deal.
That's why choosing the best data entry resume format is as important as preventing chronic eye strain. So: no typos. Meticulous spelling and grammar. And above all, a clean, well-formatted resume.
Use a respected resume layout like the reverse-chronological format and try to avoid unreliable formats like a functional resume (aka the skills-based resume).
Use white space and large-font headings. Put everything in clear, legible fonts. No comic sans or flowery fonts on the resume. I'll show you the details in a minute, like how to list your education. Or how to put experience on a data entry operator resume.
But first, here's one more bit of formatting advice: save your professional data entry resume as a PDF.
PDFs keep the layout looking shipshape.
Pro Tip: Check the data entry job requirements to see if PDFs are forbidden. Some Applicant Tracking Systems hiccup on resumes for data entry in that format.
Want to double-check if reverse-chronological is really the best format for a data entry resume? See our guide: 3 Resume Formats: How to Choose the Best One [Examples]
2
How to Write a Resume Summary or Resume Objective
Here's a bombshell:
The average hiring manager spends just seven seconds looking at your data entry resume, according to our HR statistics report. Cue the cold sweat, right? How in the world can you describe yourself in that amount of time?
Luckily, you don't have to.
You just have to use that time convince the recruiter to spend more. Do it by starting with a summary of skills and qualifications:
Got boatloads of experience? Use a resume summary.
Got thimblesful? Use a resume objective.
See the data entry resume samples below for illustration.
Two Data Entry Resume Summary Examples
First let's look at how to write a resume summary for a data entry clerk.
In the first one, something's missing.
wrong
Data entry clerk with 5 years experience in insurance data services. Very fast typist. Skilled in MS Office, including MS Excel and MS Access. Have worked at two different data entry clerk jobs.
What's wrong with that resume profile, you say? Nothing! Just like nothing's wrong with store-bought cookies. But put them next to grandma's homemade chocolate chip, and there's no contest.
The second of our data entry resume samples is fresh from grandma's oven:
right
Highly accurate data entry clerk with 5 years experience, seeking position with Media Level Marketing. 10-Key Typing Speed of 15,000 KPH with zero errors. Maintained 99% accuracy in two fast-paced data entry positions, entering 750-1000 records per day. Increased efficiency for Franklin Lighting 33% by automating tasks with MS Excel Macros.
No comparison! The data entry clerk recruiter just drooled a bit!
When making a resume in our builder, drag & drop bullet points, skills, and auto-fill the boring stuff. Spell check? Check. Start building a professional resume template here for free.
When you're done, our online resume builder will score your resume and our resume checker will tell you exactly how to make it better.
But what if you can't muster that kind of experience?
In that case, try a data entry resume objective.
How to Write a Resume Objective for an Entry Level Data Entry Clerk
Don't have experience? Think your data entry operator resume will look like a web form that hasn't been filled in yet?
Don't hit the panic button yet. There are lots of ways to get online data entry jobs without investment.
Look at these two accounting data entry resume samples:
wrong
Data entry clerk. No experience yet but I'm very motivated to earn money by typing. Good team player who's very detail-oriented.
That's not a terrible personal profile. But why settle, when you could have the next of our data entry resume samples:
right
Detail-oriented data entry clerk with 15,000 KPH 10-Key typing speed, seeking position with EGHI Faucets. Took 1st Place in the February 2017 Typeracer Global Typing Speed Competition. Well-versed in MS Excel. Was made cashier at the Last Unicorn Restaurant because of excellent data entry skills.
Now the hiring manager is thinking, "this applicant could probably outrun the Hyperloop."
And it all comes down to measurable achievements that match the data entry job description.
The beauty of this is that anyone can do it. I'll show you how in just a bit.
Pro Tip: Put your typing speed in your professional data entry resume summary or resume objective. If you're the bullet train of typists, it doesn't hurt to show it more than once.
Want more examples for your data entry resume summary or resume objective? See our guides: How To Write A Resume Summary: 21 Best Examples You Will See AND +20 Resume Objective Examples - Use Them on Your Resume (Tips)
3
Where to Put Your Typing Speed on a Data Entry Operator Resume
Poof. A magic genie has just turned you into a hiring manager. You're now in charge of filling lots of jobs in data entry.
Question: What's the first thing you look for in a resume?
Experience, skills, and education are all important data entry resume requirements. But what is data entry without speed? If you're a hiring manager, your biggest concern is the vital KPH and 10-Key KPH typing speed test results.
So, put those high up on your data entry resume.
Keystrokes Per Hour (KPH) is the most important. A close second, like Michael Phelps behind that shark, is 10-Key KPH. It's for numeric keypad typing speed.
How to Show Your Speeds for Different Types of Data Entry
Example
KPH Typing Speed
Alpha Numeric: 9,000 KPH with zero errors
10 Key: 15,000 KPH with zero errors
Traditional Typing Speed: 80 WPM with zero errors
7,000-8,000 KPH is considered a "good" alpha-numeric KPH. A 10-Key KPH of 10,000-12,000 looks great on a data entry operator resume.
For straight typing speed, 60-70 WPM is fast. Anything higher will make you look like The Flash with an ergonomic chair.
Pro Tip: Don't just list your KPH in your data entry resume. Prove it with a screenshot of your KPH test results in your LinkedIn profile.
Your KPH speed is a quasi-certification. Need more tips for how to show it on your data entry
resume? See our guide: "How to List Certifications on a Resume: Guide +20 Examples"
4
How to Describe Your Data Entry Experience
"This applicant is the best of the bunch."
You want the hiring manager to say those words when she reads your data entry resume work experience.
So, fit your experience to the data entry job description like a custom crafted Herman Miller chair. List your most recent job first. Show the company name and your position. Add the years and months you worked there.
Then add 3-5 bullet points with measurable achievements. Match them to the skills and responsibilities in the job description.
This is the perfect way to describe yourself on a resume.
Take this real world data entry job offer as an example.
Data Entry Job Description for a Resume
Data entry from home job opening. Successful candidate

accurately

and

rapidly

transcribes data from source documents into

computer

with several

data entry programs

and platforms. Must verify and correct data. Proven experience using PC keyboard a must. Must have fast typing skills, 10-Key typing, attention to detail. Familiarity with

Quickbooks

preferred.
There's the job description. Now let's match you to it like Peter Pan to Wendy.
Look at these two data entry resume samples.
right
Data Entry Clerk
Ben Franklin Lighting
2015 - 2017
Spearheaded all data entry duties and responsibilities for family-owned but international lighting
manufacturer.

Entered over 1,000 records per day

.
Entered all customer orders and shipping/tracking records with over

99% accuracy

. Received frequent commendations from CEO/company owner.
Performed data entry for all invoices, mailings, and POs. Increased speed of all data entry tasks by 28% over previous data entry clerk.
Used MS Office daily, including Outlook and Excel. Devised several MS Excel macros to automate repetitive tasks. Increased efficiency by 33%.
Used

Quickbooks

and

10-Key typing

to enter invoices and receipts. Checked all paper documents for

errors

first, with 99.9% accuracy.
Say hello to your new job, because the hiring manager just grabbed her iPhone. Why? Because you just proved you can do the job with a premium data entry resume.
But compare it to the substandard data entry resume example below.
wrong
Data Entry Clerk
Ben Franklin Lighting
2015 - 2017
Data entry clerk at fast-paced lighting company.
Entered customer orders and POs into the system.
Performed data entry for invoices and mailings.
Entered shipping/tracking records.
Ouch. All that really says is, "I had a job." Without the details from the first of our data entry resume samples, it proves nothing, it's just a list of job duties.
But what if you don't have any experience to start with?
How to Write a Data Entry Resume with no Experience
If you've got zilch for data entry experience, you can benefit a lot by taking online tests. I'll explain that in a minute. For now, let's look at how to beef up a skinny data entry experience list.
Think back. Have you done retail? Waited tables? Worked as any kind of clerk or customer service pro? If so, great news! Almost every job has data entry in it.
Check out these two entry level data entry clerk resume examples:
Two Junior Data Entry Clerk Resume Samples
wrong
Data Entry Experience: I just started in this business, so I've never worked at a data entry company. I don't know how to do data entry yet, but I'm a fast learner!
Other Experience
Clothing store clerk
Bartender
Sandwich shop attendant
Avoid the generic language above like a nasty case of carpal tunnel.
Instead, spruce up your entry level data entry resume with specifics.
right
Data Entry Experience
2012-2017
As a clothing store clerk, performed regular data entry on customer orders. Praised by manager for accuracy.
As a bartender, rang in hundreds of orders per day through computer driven food order and credit card processing systems. Received 93% positive customer comment cards.
In job as sandwich shop attendant, entered 150+ customer orders daily into the computer system with 99% accuracy.
Streamlined MS Access ordering process to allow for greater efficiency in customer service functions for all employees.
Holy cow. Who said you don't have data entry clerk experience?
And really, what is a data entry job? It's a job where you enter data. But that applies to all kinds of different jobs.
And what does a data entry clerk do? In many ways, her job is similar to work done by bartenders, cashiers, and anyone else who uses a computer.
The takeaway? Everyone's got plenty of experience for a data entry operator resume. If they say they don't, they just aren't thinking hard enough.
Pro Tip: Did you notice how the example above used lots of action words? Avoid boring words like "responsible for" and "worked as" in your data entry resume.
Want some action words to trick your data entry resume out like a custom Excel entry form? See our guide: "+80 Examples of Resume Action Words for Every Profession"
5
Is Your Education Section Drawing a Blank? It Might Be
For most data entry jobs, you'll get by with just a high school education.
But the way you show your education can be the thing that gets you hired.
Start with the generics:
School Name and Location.
Years in School.
Degree.
Then add the details.
Two Data Entry Resume Examples
wrong
George Lewis High School
Pittsburgh, PA
Received degree.
Took typing classes.
That just says, "I went to high school."
But now let's turn it into a story of a future data entry pro.
right
George Lewis High School
Pittsburgh, PA
Excelled in typing coursework.
Chosen as executive secretary for the yearbook committee for extreme accuracy and attention to detail. Fully transcribed all meetings for online use.
Won the school typing speed contest two years running.
See that? That's not a data entry service provider. It's Daenerys Targaryen with a "World's Best Data Entry Clerk" coffee mug.
And it just takes a little thought.
Pro Tip: Have you taken typing classes? If so, add them to the education section of your junior data entry operator resume. They show skill and commitment to your work.
Want your data entry resume education section to turn heads like a high-speed tennis match? See our guide: "How to Put Your Education on a Resume [Tips & Examples]"
6
How to Put Skills on a Resume for a Data Entry Clerk
You know what hiring managers really hate?
Besides spiders.
They hate when data entry clerks list skills, then fail to prove them. It's generic. And generics have no business on a data entry resume. Since most people do it wrong, you can do it right and blow them all away.
Use a custom-fitted data entry skills list.
Scope out the data entry job description. Let's say it mentions fast typing skills, touch typing, 10-Key, and Quickbooks.
So you list those, then add attention to detail, confidentiality, and error-catching.
Why add those data entry skills? Because you don't just want to tell the manager exactly what she wants to hear. Finally, you prove you have those skills. How?
By salting them through your education and experience sections.
Look at this data entry resume sample:
Data Entry Resume Sample: Skills and Experience Section
Executed daily data-entry responsibilities for

fast-paced

office furniture sales and service firm.

Entered over 750 records per day

.
Maintained

99% accuracy

in all

10 Key

data entry tasks. Received employee of the month award 2x for strong

accuracy

and

attention to detail

.
Handled confidential information for clients, including tax information and legal documents. Highly trusted by management with sensitive info.
Entered all receipts and invoices into

Quickbooks

daily. Frequently commended by management for

catching errors

.
That's the difference between saying, "I have a pilot's license," and buzzing the recruiter in an F-14. (With Tom Cruise grinning from the rumble seat.)
List of Skills to Put on a Data Entry Resume
So what are data entry skills? Take a look at our list of data entry skills that look good on a resume.
Add to them by pulling from the job description. Source more from other data entry online jobs.
Data Entry Skills
Most needed data entry skills include:
Proficient typing and transcription
Computer and technical skills (including software knowledge)
Organisational and time management abilities
Communication (written and verbal)
Accuracy and attention to detail
Confidentiality
Ability to work independently
Phone skills and etiquette
Interpersonal skills and people skills
A positive attitude when working under the pressure
Other soft skills
Being detail-oriented
Handling data entry items and duties with care
Data entry hard skills include:
If you follow the steps above, it won't matter that your online data entry resume sits amid 600 others. You'll have the job faster than you can type, "the quick brown fox."
How to Describe Your Computer Skills on a Resume (Sample)
It's tempting to put every it skill under the sun on your data entry resume.
Don't give in to the dark side of the typing force.
Instead, pick the big, important data entry programs.
It's pretty important to know how to do data entry in Excel. So list it on your resume along with Quickbooks, and maybe PeopleSoft.
Showcase the software packages where you're more of a Chuck Norris than a Steve Urkel. The recruiter will get the idea that you know your way around a virtual desktop.
Pro Tip: It's not about building a massive pile of computer programs to list on a resume. Go with quality over quantity.
Want to supercharge the skills section of your data entry resume? See our guide: "+30 Best Examples of What Skills to Put on a Resume (Proven Tips)"
7
How to Add Other Sections for an Effective Resume
Imagine you're in a conference room.
At one end is Bruno Mars.
You really like him.
Bruno will pick one fan from the crowd to take on a world tour. But there's a problem.
You all look exactly alike.
This is the dilemma with your data entry resume. Bruno is the hiring manager. The world tour is that great, work-from-home data entry job.
So how do you stand out?
Add "other" sections to your data entry resume.
Awards
1st Place in the February 2017 Typeracer Global Typing Speed Competition.
Bronze Medal in the April 2016 Nitrotype National Championship.
Interests
Make side money catching errors in ebooks and reporting them to publishers. Have reported 571 errors so far.
Volunteer for Temple University's fundraising outreach once a month.
Hobbies
Photography
Tending in-home saltwater aquarium
That hiring manager? She's worrying that someone else will hire you first.
Why?
The awards prove you're not kidding when you say you're fast.
The interests show you're detail-oriented and service-minded. They also show you love your job so much you sometimes do it gratis.
What about the hobbies? Photography takes attention to detail. Ditto saltwater aquariums.
What details in your life prove that data entry courses through your veins? Dig out your hidden gems and use them to adorn your resume and describe yourself as the best candidate.
Pro Tip: Consider entering some online typing contests like Typeracer or Nitrotype. Even a decent score there will look great on a resume for data entry.
Want some tips from experts to build the perfect hobbies and interests sections for your accounting or medical data entry resume? See our guide: "+20 Best Examples of Hobbies & Interests To Put on a Resume (5 Tips)"
8
Here's the Most Common Myth About Cover Letters
"Nobody reads cover letters any more."
The truth is, 60% of recruiters don't read cover letters.
Write a data entry cover letter for the other 40%.
Once your professional resume is finished, just do the following:
First, make your cover letter for the data entry position personal by using the recruiter's
Next, mention a detail you love about the company.
Then make it passionate by showing your excitement for the job.
Then, cite your two or three most eye-catching achievements.
Last, add a call to action, like, "I'd welcome the opportunity to discuss your needs in person."
Do that, and you will stand out like Usain Bolt with a low-glare monitor.
Pro Tip: A great follow-up email is as important as a data entry clerk resume. Wait a few days, then call or email with a friendly greeting that will put you top-of-mind.
Plus, a great cover letter that matches your resume will give you an advantage over other candidates. You can write it in our cover letter builder here. Here's what it may look like: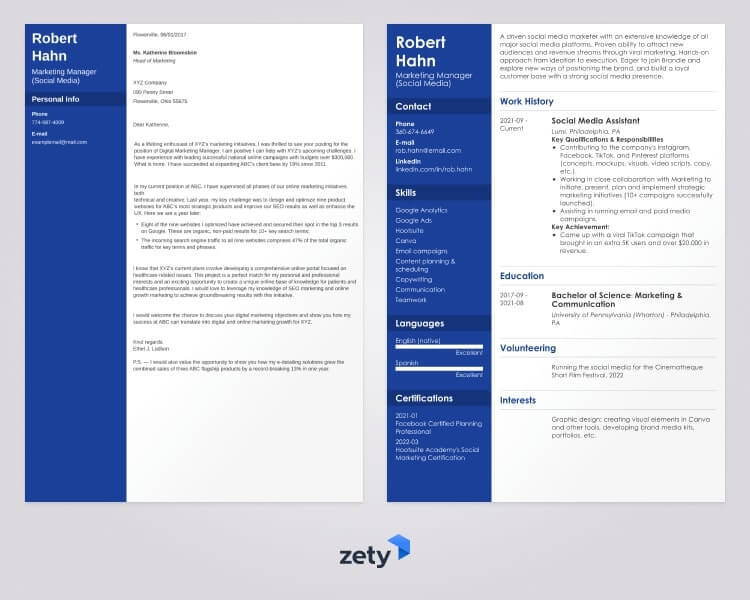 See more cover letter templates and start writing.
Need a sample cover letter for your data entry job resume? See our guide: Data Entry Cover Letter: Sample & Full Writing Guide [10+ Examples]
9
How to Add Contact Info to Your Resume
Everybody knows to add a name, email, and phone number to a data entry resume.
Just add the basics:
Full Name
Updated Phone Number
Professional Email Address
Example
Robert LaPaz, robertqlapaz@gmail.com - 484-654-1124
What everybody doesn't know is that it helps to add a LinkedIn profile and some social media accounts.
A LinkedIn profile is a great place to showcase all those things you can't fit in a tiny resume. Add photos, testimonials from previous employers, maybe even articles you've written.
Another great use for LinkedIn? Upload screenshots of typing test results like KPH speed tests or 10-key KPH.
For bonus points, use our guide on how to write the best LinkedIn profile you can.
Pro Tip: That Facebook photo from that night out with the girls three years ago could cost you a great data entry job. Clean it up with our guide to tidying your online presence.
Don't forget to use the data entry sample resume at the top of this guide. Also check out this article: "How to Make a Resume: A Step-by-Step Guide (+30 Examples)"
Key Takeaway
Data entry is one of the best work at home jobs for moms and other stay-at-homes. By now, you're way ahead of most people writing resumes for data entry clerks because you've learned the key strategies:
Fit the skills section of your data entry clerk resume to the job description.
Include data entry duties, responsibilities, and achievements. Put them in the experience and education sections of your data entry specialist resume.
Add "other" sections for typing speed test results and hobbies. They spotlight your data entry resume like a Topre Type Heaven keyboard in a sea of IBM Selectrics.
Don't forget to include a data entry cover letter in your job application!
Got tips or questions about how to write a great resume for a data entry clerk? Give us a shout in the comments section!
About Zety's Editorial Process
This article has been reviewed by our editorial team to make sure it follows Zety's editorial guidelines. We're committed to sharing our expertise and giving you trustworthy career advice tailored to your needs. High-quality content is what brings over 40 million readers to our site every year. But we don't stop there. Our team conducts original research to understand the job market better, and we pride ourselves on being quoted by top universities and prime media outlets from around the world.