Data Center Technician Resume Example & Guide (20+ Tips)
Corporate network hardware holds no secrets from you and you've yet to find an issue you're unable to fix. Show it on a data center technician resume that's fully up to date!
Are you a tech magician who sometimes seems to fix your colleague's computer problems just by walking into the room?
Wish you could put THAT on your resume, don't you?
Well, sadly, you can't, so you have to make your data center technician resume shine and sparkle some other way.
And let me tell you—
Even if you see the world in 1's and 0's, if your resume is more like the latter, you ain't goin' nowhere.
That is, unless you scroll down, of course.
This guide will show you:


A data center technician resume example better than 9 out of 10 other resumes.
How to write a data center technician resume that will land you more interviews.
Tips and examples of how to put skills and achievements on a data center technician resume.
How to describe your experience on a resume for a data center technician to get any job you want.
Want to save time and have your resume ready in 5 minutes? Try our resume builder. It's fast and easy to use. Plus, you'll get ready-made content to add with one click. See 20+ resume templates and create your resume here.
Sample resume made with our builder—See more resume examples here.
Below is a list of our similar IT resume-writing guides:
Data Center Technician Resume Sample
Mary Winston
Data Center Technician
661-373-1326
mwinston@zetymail.com
Linkedin.com/in/marywinston
Summary of Qualifications
Outstandingly dedicated and meticulous data center technician with 3 years+ of experience. At BandTech Industries, provided technical support to a team of 600+ local and remote employees. Assisted lead data center tech in maintenance, troubleshooting and improvement of robust 75 server network. Seeking to apply my skills towards streamlining processes and improving efficiency at 123 Solutions.
Work Experience
Junior Data Center Technician
BandTech Industries, Seattle, WA
July 2015–Sept 2020
Resolved roughly 15 support tickets per day.
Assisted in preparing and carrying out large-scale server migration processes and regular data backups.
Analyzed report data to identify future problems with data center management.
Installed CAT5 cabling for LAN and fiber storage connectivity.
Data Center Intern
PXE Nimbus, Nashville, TN
March 2015–July 2015
Shadowed senior employees every day to learn practical basics of Windows Server configuration.
Increased speed of ticket resolution by 33%.
Upgraded other employees' computer software and hardware.
Education
Bachelor of Electrical Engineering and Computer Science
Vanderbilt University, Nashville, TN
Graduated: 2015
Relevant coursework: Technology Strategy, Engineering Economy, Data Structures, Data Communication, and Computer Networks, Information Systems Analysis, Advanced Computer Organization, Database Management Systems
Skills
Cisco equipment
Company-wide firewall management
Networking protocols
Troubleshooting & repairs
Technical support
Great interpersonal skills & friendly attitude
Certifications
Certified Data Center Technician Professional (CDCTP), CNET, 2018
Cisco Certified Technician (CCT), Cisco, 2017
Hobbies & Interests
Volunteering at the local library for a computer literacy course for senior citizens
2017 San Diego Hack-a-thon runner-up
Here's how you write a data center technician resume:
1. Pick the Best Format for Your Data Center Technician Resume
Data center technicians are tasked with maintaining, fixing, and upgrading a company's network hardware. They also troubleshoot technical issues and configure new systems. Your data center technician resume should show you have both the technical expertise and the soft skills needed to succeed.
But before you start inputting your details, here's what you need to do to set up your document properly:
Read more: Resume Formatting Guidelines to Wow Employers
2. Write a Stunning Data Center Technician Resume Objective or Summary
A resume profile, found almost always at the very top of your resume, is what the recruiter will usually see first. It's no more than 3 or 4 punchy sentences to whet their appetite.
But to get the job, you need to make it a true feast for their eyes. How?
Follow these steps:
Decide if you need to write a resume objective or a summary for your resume.
The first choice is best suited to beginner data center techs, with not much experience to show off. Talk up the knowledge and skills you already obtained and prove how they apply to the job you're applying for.
If you've been around the IT block before and are an expert technician, write a resume summary. Think of it as a flash-highlight reel of your career, and include the achievements you're most proud of.
In either case, definitely embellish your name with a positive adjective like "dedicated" or "driven", and add numbers whenever stating accomplishments to draw attention.
Read more: All You Need to Know About Resume Introductions
3. Refresh Your Job Description on Your Data Center Technician Resume
The resume work experience section often defines your chances at getting hired, so you have to put in decent effort here.
With the Bureau of Labor Statistics predicting a 9% increase for computer support positions over the coming years, that could mean up to 72,000+ new jobs opening up.
And thousands of other resumes to compete against, most of which will list similar work experience to yours.
That's why stuffing your resume with mundane descriptions like "Installed and updated computer software" need to go. Here's what you do instead:
As mentioned, the reverse-chronological format means your most recent position goes straight to the top, with others following.
For each one, include the professional title you held, the name and location of the company, and years worked.
Fill in the details with up to 6 effective resume bullet points, describing your day-to-day, major achievements, and any other relevant, brag-worthy things that come to mind.
To make your work history more interesting, impactful, and convincing, use powerful verbs and numbers.
Pro Tip: The single best piece of advice to be given here is that tailoring the resume to the particular job boosts your chances up through the stratosphere.
4. Make the Most out of Your Data Center Tech Resume Education Section
If you equate your resume's education section to Microsoft's pointless features tacked onto every other Windows firmware update, you need to think again. Every resume needs to mention your education, and that's non-negotiable.
Here are a few tips to make your education section stand out:
List your highest-level completed education stage at the top, together with your degree, majors and minors (if any), school name, and graduation year.
If you're still studying, list also the previous stage in your education. So, if you're getting a Master's, add your Bachelor's. If you're getting a Bachelor's, list your high school education on your resume, too.
Depending on your years spent in the workforce, you may want to include extra college details, such as relevant coursework or extracurricular activities, to make up for anything you're lacking in professional experience. You should mention your GPA on a resume only if it was 3.5 or higher.
Pro Tip: Writing an entry-level resume? No worries: move up the education section to come before your work experience. In the absence of relevant career experience, your education is your best asset.
When making a resume in our builder, drag & drop bullet points, skills, and auto-fill the boring stuff. Spell check? Check. Start building a professional resume template here for free.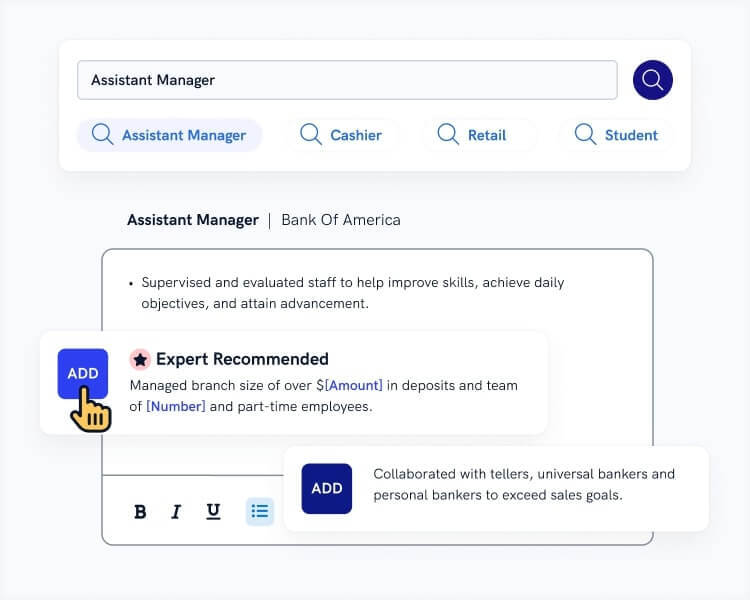 When you're done, our online resume builder will score your resume and our resume checker will tell you exactly how to make it better.
5. Display Your Data Center Tech Skills
Here's a reference list of the hottest data center tech skills to include on your application:
Top Data Center Technician Skills
Software configuration
Local and wide network configuration
Technical troubleshooting
Maintenance
Preparing detailed reports
Extensive knowledge of different operating systems
Network security
Empathy
And here's a great way to put them on your resume:
Write down all of your professional skills in one spreadsheet or document, and keep it open.
Look at the job ad you want to apply for and scan its required skills for the resume keywords that will yield you bonus points. They might, for example, be looking for someone knowledgeable about the cloud—which is the most in-demand qualification in the data center industry
If the skills they want match the skills you have, put them on your data center tech resume.
Include a mix of soft skills and hard skills, and limit yourself to around 10.
Read more: What Skills to Put on Your Resume
6. Add Extra Sections on Your Data Center Technician Resume
Assuming you've included a resume profile, your work experience, education and skills thus far, and you formatted your resume correctly, you have a pretty decent shot at scoring a job.
There's but one problem—
You're still up against dozens (if not hundreds) of others that have done exactly the same.
To set yourself apart, you need to put in some additional resume sections. Here are a few great options:
Though these sections aren't mandatory, they're worth adding: they may just be the thing that sets you apart!
7. Write a Stellar Cover Letter to Go with Your Data Center Tech Resume
Like it or not, cover letters are a staple addition to your job application. Why?
Because most recruiters and supervisors don't bother looking at resumes when they see no cover letter.
Follow these basic guidelines to write a great cover letter:
Pro Tip: A great data center technician cover letter should be one page long, just like the resume.
Plus, a great cover letter that matches your resume will give you an advantage over other candidates. You can write it in our cover letter builder here. Here's what it may look like: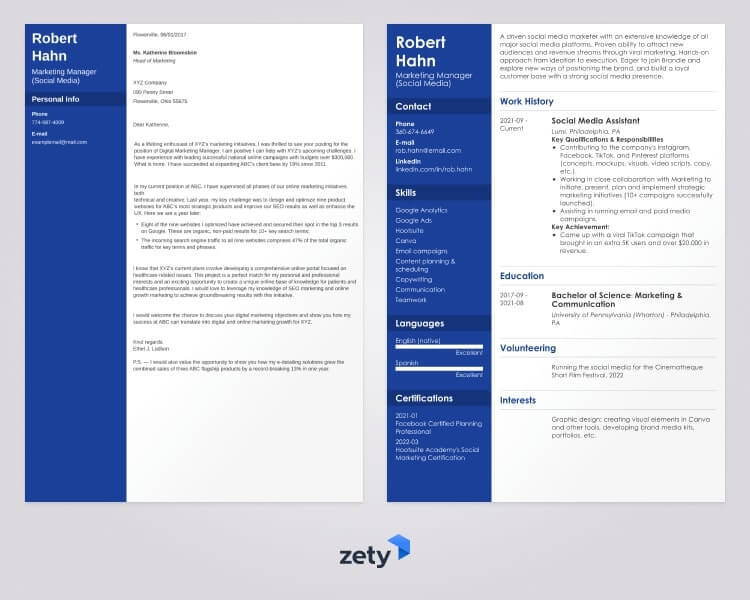 See more cover letter templates and start writing.
Still uncertain about any data center technician resume elements? Maybe you're not convinced your work experience section is chiseled well enough. We'd love to answer your questions in the comments!
About Zety's Editorial Process
This article has been reviewed by our editorial team to make sure it follows Zety's editorial guidelines. We're committed to sharing our expertise and giving you trustworthy career advice tailored to your needs. High-quality content is what brings over 40 million readers to our site every year. But we don't stop there. Our team conducts original research to understand the job market better, and we pride ourselves on being quoted by top universities and prime media outlets from around the world.