IT Help Desk Resume: Examples and Guide [10+ Tips]
You keep the company running through a thousand tiny problems because you understand how tech works. Prove it to employers with a highly functional IT help desk resume.
As an IT help desk pro, you're the human firewall for tech issues. But first, you must infect the recruiter with admiration for your resume. And turning your resume off and on doesn't help it stand out.
We'll help you write an IT help desk resume that's as smooth as a freshly formatted PC running Linux.
Want to save time and have your resume ready in 5 minutes? Try our resume builder. It's fast and easy to use. Plus, you'll get ready-made content to add with one click. See 20+ resume templates and create your resume here.
Sample resume made with our builder—See more resume samples here.
Want more IT resume examples? You're in the right place:
Sample IT Help Desk Resume Template
Ray Hernandez
rayzhernandez@gmail.com
865-240-1663
linkedin.com/in/rayzhernandez
Resume Summary
Accomplished IT help desk specialist with 4+ years of experience keeping systems running and resolving trouble tickets in a Windows 10 environment. Seeking to improve service massively at GalvaTech Inc. At Phair-Litman Systems, installed 120+ new PC workstations and laptops with Windows 10 with zero downtime.
Work Experience
IT Help Desk Specialist
Phair-Litman Systems, Fairhaven, TN
June 2017 – June 2020
Installed 120+ new PC workstations and laptops with Windows 10 and MS Office 365. Achieved zero downtime through cloud data redundancy during changeover.
Resolved 20+ trouble tickets per day through efficient triaging of problems.
Maintained 99% satisfaction rating in monthly end-user scoring through applied interpersonal skills and providing fast solutions.
Performed 100+ successful hardware and software repairs per week.
Slashed update times for systems & software by 30% through automation.
Reduced downtime for 300+ machines by 22% by scheduling and performing regular maintenance of hardware and software.
Help Desk Technician
Zaffnathy Sports, Inc.
June 2015–March 2017
Diagnosed and resolved 20+ computer and printer problems per week in a busy corporate office.
Implemented new network security system using VPNs and Cisco PIX firewall to connect both brick-and-mortar and remote employees.
Education
University of Maine
BS in Computer Science
Graduated: June 2015
Vice president, student computer club
Recipient, Susan G. Johnson Award for academic excellence
Additional Activities
Board member, Tucker County Animal Shelter. Set up donated shelter computer system and security cameras
Lead a weekly CrossFit group. Increased membership by 50%
Core Skills
Hard Skills:

Salesforce, Cisco switches & routers, Windows 10, Office 365, phone system support, desktop and laptop support, troubleshooting
Soft Skills: interpersonal skills, friendliness, teamwork
Certifications
Here's how to write your own job-getting IT help desk resume:
1. Format Your IT Help Desk Resume Correctly
Here's the bad news—the company won't hire an IT help desk specialist with a sloppy resume. With the wrong formatting, margins, fonts, and resume layout, they'll assume you're Dennis Nedry. Don't be that job applicant. Turn in a sharp-looking IT help desk resume to show you know your stuff.
The perfect resume should prove you know a switch from a router at first glance. Here's how to nail the right resume format for a job:
Read more: What's the Difference Between a Resume and a Cover Letter
2. Catch Their Eye With a Resume Profile Statement
You need a resume introduction.as the TL;DR version of your resume. It goes at the top, and it should grab them like a secure connection request.
If you're new to help desk work, write a career objective statement. Back before Wi-Fi, those were a way to explain your career goals. That's job search suicide today. Employers want to hear about your goal to help them make their IT situation better.
If you've got more experience than Larry Ellison, write a career summary statement. It's the elevator pitch for your resume. Pick the best parts of your resume and shine a floodlight on them. Your summary should make the hiring team say, "Okay, I need to read this carefully."
Read more: Ways to Make a Resume Stand Out
3. Target Your IT Help Desk Resume Job Description
Oh-oh. You've been making a big mistake. Your past resumes have talked about your duties and responsibilities. You know: "I provided technical support, resolved trouble tickets, and installed hardware and software." What's wrong with that? Everything. We have no idea if you shined or fizzled.
You can't just say you were an IT help desk specialist. You have to show you were the Sheldon Cooper of the company.
Here's how to add relevant experience in a resume so it blows their suits off:
Right after your resume summary, list your newest job.
Add its job title, the company you worked for, its location, and the dates you started and stopped working there.
Create a tailored resume by adding up to six bullet points that show your most praiseworthy key achievements. Add numbers to make them shine.
Don't start your sentences with "handled" or "responsible for." Instead, use power words for resumes like increased, solved, resolved, or installed.
Read more: Should You Include Irrelevant Experience on a Resume
4. Write an Engaging IT Help Desk Resume Education Section
Do you need to show education in a resume for IT help desk jobs? Absolutely. You don't need a computer science degree to get the job. But—you have to show your schooling. The trick? Don't just list your degree. Add a couple of accomplishments that show you weren't just playing beer pong.
You can add lists of relevant coursework or school projects in an IT help desk resume.
Did you win any academic awards? Belong to any school clubs or groups? You can add those to show extra skills.
Don't overdo the educational accomplishments. If you've been in the workforce for a while, one or two is plenty. You're just trying to show you did something in school.
What about GPA on a resume for IT help desk jobs? If you got a 3.8 or higher, go ahead and list it. Otherwise, delete it.
Pro Tip: According to US Government data, computer support jobs will grow at 10% in the next 10 years. That's faster than the average job. But your resume needs to sizzle if you want a good one.
5. Prove Your IT Help Desk Skills
So many job applicants get the resume skills section wrong. They treat it as a laundry list. The more the merrier, right? Nope. The key is to list only a sampling of your skills. But—make them the perfect IT help desk skills the company is jonesing for. This is really powerful if you get it right.
Here's how to prove your IT help desk skills are Cisco-ready:
Look closely at the job ad online. It's got the best computer skills for the job in it, as plain as day. Write them down in your skills list.
Make sure you combine both hard and soft skills in your list. You'll also want a few technical skills like router installation or JavaScript.
Next, make sure you prove those help desk skills with the achievements in your bullet points. Just saying you have a skill is unconvincing.
IT Help Desk Resume Skills
Troubleshooting
Debugging
Network Architecture
Trouble Ticket Systems
Phone Support
Network Security
Programming Languages
Zendesk
Read more: How to List Programming Languages on a Resume
When making a resume in our builder, drag & drop bullet points, skills, and auto-fill the boring stuff. Spell check? Check. Start building a professional resume template here for free.
When you're done, our professional resume builder will score your resume and our resume checker will tell you exactly how to make it better.
6. Add "Other" Sections to Your IT Help Desk Resume
Show you've done more with your skills than just go to school and get a job.
Read more: What Does the Best Resume Look Like?
7. Write a Cover Letter for Your IT Help Desk Resume
Do you need a cover letter in an IT help desk resume? Yes. Too many applicants these days are spamming employers. To show you've actually thought about this job, a letter is imperative. What is a cover letter for? To prove you really want this job out of all the others and you'll work hard if they hire you.
Include the right cover letter parts:
Start with a modern cover letter template to save tons of time fighting with the formatting and layout.
In the first paragraph, write a cover letter introduction that makes them want to read the rest.
In the second paragraph, call out the most attractive parts of your resume for IT help desk jobs.
Write a cover letter ending that asks for the interview. Also in your final paragraph, say something you'd love about working at the company.
How long is a cover letter? Three punchy paragraphs and less than a full page. Nobody will read the War and Peace of cover letters.
Read more: What Should a Cover Letter Say
Plus, a great cover letter that matches your resume will give you an advantage over other candidates. You can write it in our cover letter builder here. Here's what it may look like: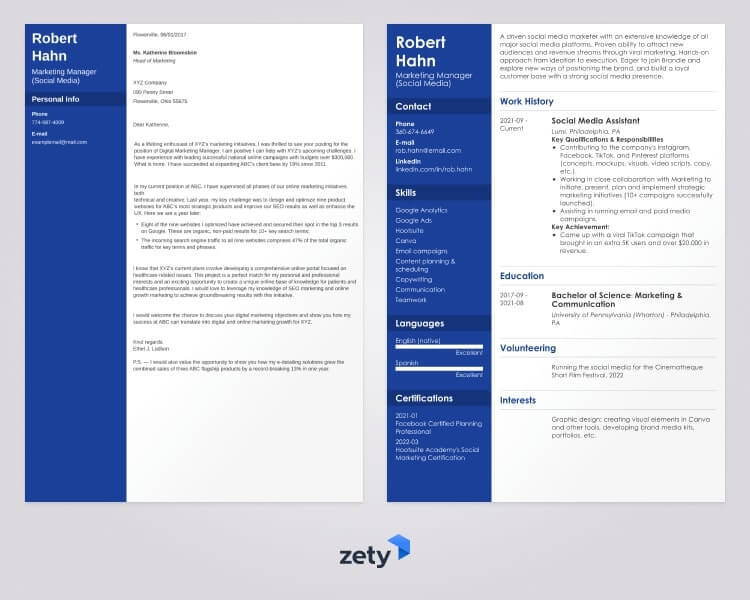 See more cover letter templates and start writing.
That's it!
That's everything you need to write a great IT help desk resume!
Thanks for reading! Do you have another question on how to make a Juniper-worthy IT help desk resume? Give us a shout in the comments section!
About Zety's Editorial Process
This article has been reviewed by our editorial team to make sure it follows Zety's editorial guidelines. We're committed to sharing our expertise and giving you trustworthy career advice tailored to your needs. High-quality content is what brings over 40 million readers to our site every year. But we don't stop there. Our team conducts original research to understand the job market better, and we pride ourselves on being quoted by top universities and prime media outlets from around the world.
Sources