Our customers have been hired by:
Ever wish you could troubleshoot your technical support resume as you do for the helpless users who call you day and night? Good news, IT superhero! Our guide is here to help you debug your resume and transform it into a job-landing powerhouse.
We'll show you how to highlight your tech wizardry like a master and have recruiters eager to add you to their team. So, let's roll up our sleeves and turn your resume into a high-speed, job-getting machine!
This guide will show you:
A tech support resume example better than 9 out of 10 other resumes.
How to write a tech support resume that will land you more interviews.
Tips and examples of how to put skills and achievements on a tech support resume.
How to describe your experience on a resume for a tech support agent to get any job you want.
Want to save time and have your resume ready in 5 minutes? Try our resume builder. It's fast and easy to use. Plus, you'll get ready-made content to add with one click. See 20+ resume templates and create your resume here.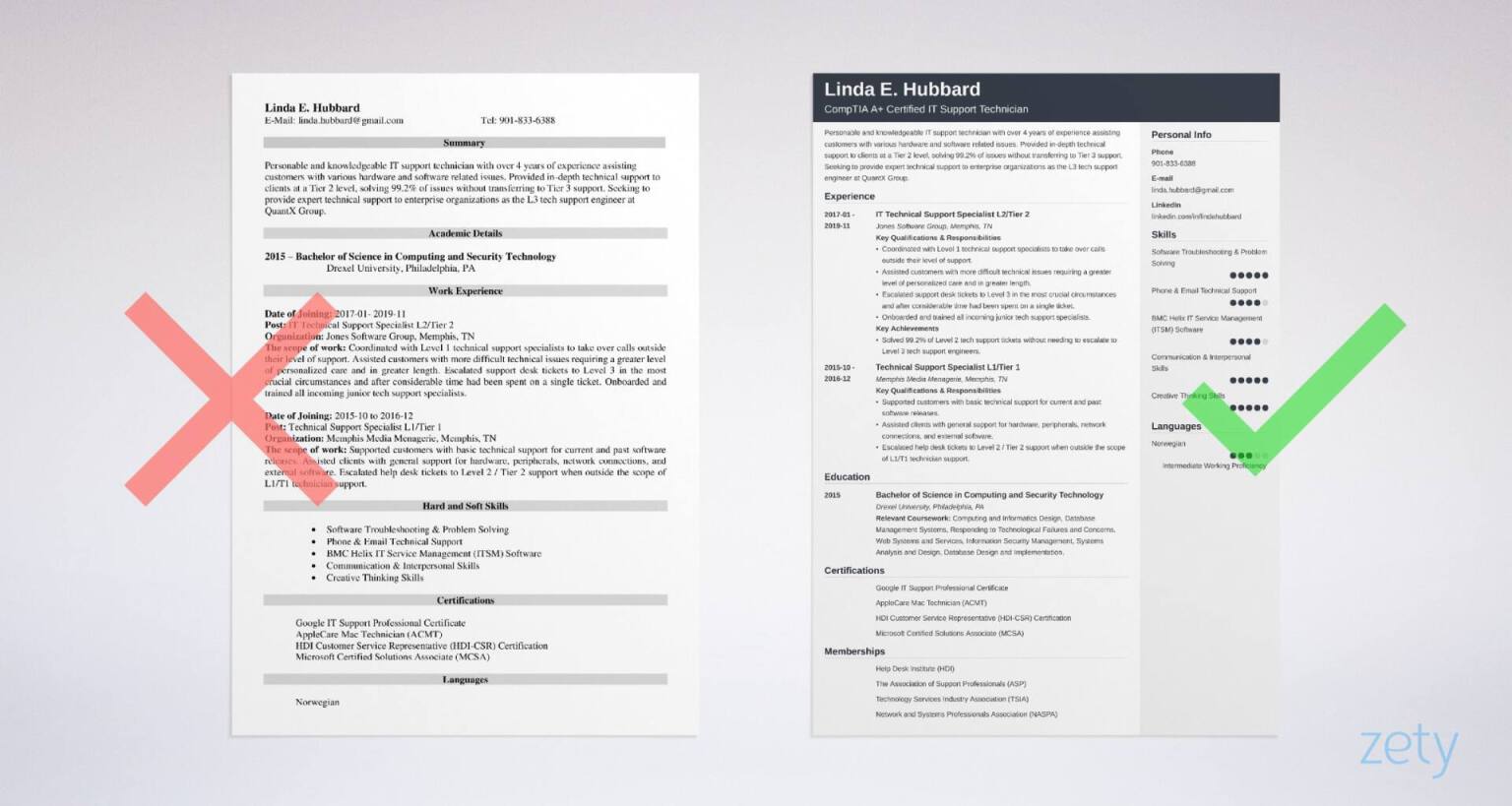 Sample resume made with our builder—See more resume samples here.
Technical Support Resume Sample
Linda E. Hubbard
CompTIA A+ Certified IT Support Technician
linda.hubbard@gmail.com
901-833-6388
linkedin.com/in/lindahubbard
Summary of Qualifications
Personable and knowledgeable IT support technician with over 4 years of experience assisting customers with various hardware and software related issues. Provided in-depth technical support to clients at a Tier 2 level, solving 99.2% of issues without transferring to Tier 3 support. Seeking to provide expert technical support to enterprise organizations as the L3 tech support engineer at QuantX Group.
Work Experience
IT Technical Support Specialist L2/Tier 2
January 2017–November 2019
Jones Software Group, Memphis, TN
Key Qualifications & Responsibilities
Coordinated with Level 1 technical support specialists to take over calls outside their level of support.
Assisted customers with more difficult technical issues requiring a greater level of personalized care and in greater length.
Escalated support desk tickets to Level 3 in the most crucial circumstances and after considerable time had been spent on a single ticket.
Onboarded and trained all incoming junior tech support specialists.
Key Achievements
Solved 99.2% of Level 2 tech support tickets without needing to escalate to Level 3 tech support engineers.
Technical Support Specialist L1/Tier 1
October 2015–December 2016
Memphis Media Menagerie, Memphis, TN
Key Qualifications & Responsibilities
Supported customers with basic technical support for current and past software releases.
Assisted clients with general support for hardware, peripherals, network connections, and external software.
Escalated help desk tickets to Level 2 / Tier 2 support when outside the scope of L1/T1 technician support.
Education
Bachelor of Science in Computing and Security Technology
Drexel University, Philadelphia, PA
Graduation: 2015
Relevant Coursework: Computing and Informatics Design, Database Management Systems, Responding to Technological Failures and Concerns, Web Systems and Services, Information Security Management, Systems Analysis and Design, Database Design and Implementation.
Key Skills
Software Troubleshooting & Problem Solving
Phone & Email Technical Support
BMC Helix IT Service Management (ITSM) Software
Communication & Interpersonal Skills
Creative Thinking Skills
Certifications
Google IT Support Professional Certificate
AppleCare Mac Technician (ACMT)
HDI Customer Service Representative (HDI-CSR) Certification
Microsoft Certified Solutions Associate (MCSA)
Memberships
Help Desk Institute (HDI)
The Association of Support Professionals (ASP)
Technology Services Industry Association (TSIA)
Network and Systems Professionals Association (NASPA)
Languages
Norwegian

: Intermediate Working Proficiency
Here are a few other resume examples and guides related to tech support jobs:
Above these links to other guides, you were given our imagining of an awesome tech support resume sample.
Now—
Let's update yours to meet the latest employment standards.
Here's how to write a technical support resume:
1. Format the Technical Support Resume Template for Success
There's one important thing to do before writing your tech support engineer resume can begin—
You need a correctly-formatted resume template.
How?
Here's how to format a technical support resume template:
Pro Tip: Save your file as PDF rather than Microsoft Word's .docx format. Microsoft Word resumes often display weirdly depending on the machine being used to view it, but PDFs rarely have any problems.
2. Write a Technical Support Resume Objective or Career Summary
When you first answer a tech support phone call, you know from the first few words if it'll be a pain or a pleasure.
Same on technical support engineer resumes.
Here, the "first few words" come in the form of a heading statement, known as either the tech support resume objective or a summary.
Which one should you use?
The career summary is perfect for technicians with plenty of experience.
A summary statement gives the finest points of your technical support career thus far by listing relevant problem-solving skills and a quick summation of your background. Include a numbered accomplishment or two to prove to the hiring manager you are as skilled as you say.
The career objective is ideal for newbies in tech support jobs.
An objective statement replaces your lack of experience with an enthusiastic outlook on your tech support career goals. Don't forget to include a quantifiable achievement here, either!
Pro Tip: Are you struggling with coming up with the perfect points to mention in your technical support analyst resume introduction? Write it last to get great ideas from the other resume sections as you go along.
3. Create the Perfect Technical Support Resume Job History Section
Next up—
The job experience section on your technical support resume.
Here's how to format a technical support job description for resumes:
Place your most recent work history first, and go back in reverse-chronological order.
Start with your job title at the top, with the company name, the city, and the state below that.
Next, include the timeframe of your employment, with both the months and years.
List up to 6 bullet points detailing the most tech support-relevant aspects of your previous or current job.
Finally, include numbers to quantify just how well you performed at various tasks.
Pro Tip: What happens if you're writing a resume without experience? On any entry-level tech support resume, give them bullet points from previous, unrelated work in the most relevant way possible. If it doesn't add value or isn't related to this new tech support job, leave it off.
4. Make Your Technical Support Specialist Resume Education Area Shine
Adding education on a resume is as easy as Tier 0 tech support.
However—
Whether for a tech support manager resume or a junior tech support analyst resume, it needs to be listed correctly.
Here's how to list education on a resume for tech support jobs:
List multiple education entries in reverse-chronological order.
Write your certificate, major, or degree on the first line, followed by the school's name and location below that.
Next, add the date of the course's completion (or the anticipated date of graduation).
Go further than other tech support applicants by including relevant extras, such as related classwork, Latin honors, academic awards, etc.
Pro Tip: Is your education more impressive than your work history? If you have a shiny new IT degree but lack tech support experience, swap these sections around so that the most impactful items get seen by the IT recruiter first.
5. Highlight Technical Skills & Support Abilities on Your Resume
Computer support specialists are set to grow by double digits between 2018 and 2028.
This 10% increase amounts to an additional 83,100 jobs—
Meaning at least 83,100 candidates to compete against in the United States alone.
To stand above the sea of tech support workers looking for work, show the hiring manager the skills you have match their company best.
First, here are some technical support resume examples of skills to add:
20+ Skills for Technical Support Jobs
Troubleshooting Skills
IT Service Management (ITSM) Software (e.g., TOPdesk, ServiceNow, Spiceworks, Jira Service Desk, SolarWinds Service Desk, CA Service Desk Manager)
Information Technology Infrastructure Library (ITIL)
Customer Service Skills
Attention to Detail
Friendliness
Energetic & Enthusiastic
Compassionate & Empathetic
Up To Date on Technological Understanding
Knowledge of Product or Service Offered
Technical Skills & Savviness
This is how to form a technical support resume skills section:
Make a general skills list of all your abilities and competencies related to tech support jobs.
Next, locate the best resume keywords to use by looking at the job requirements section of the tech support employment offer. This area of the job ad tells you exactly what they're looking for in a candidate.
If you have skills from your general list which match keywords from the job requirements section, add those to your tech support resume skills area.
Pro Tip: Include both hard skills and soft skills—hard skills are those abilities you develop, such as learning customer relationship management (CRM) software. Soft skills are those you build throughout life, such as communicating effectively.
When making a resume in our builder, drag & drop bullet points, skills, and auto-fill the boring stuff. Spell check? Check. Start building a professional resume template here for free.
When you're done, our easy resume builder will score your resume and our resume checker will tell you exactly how to make it better.
6. Include Additional Sections on a Resume for Technical Support Jobs
You aim to go above and beyond in your customer service and technical support.
Do the same on your resume.
Including extra sections shows the tech support supervisor or customer service manager how truly well-rounded a candidate you are.
Here are a few tech support resume samples of additional sections to consider:
Technical Support Engineer Resume Examples—Extra Sections
Certifications are gold on tech support resumes. Here are some of the industry leaders to give you a few examples:
IT Support Professional Certificate – Grow with Google
CompTIA A+ Certification
CompTIA IT Fundamentals (ITF+) Certification
CompTIA Network+ Certification
CompTIA Certified Technical Trainer (CTT+) Certification
AppleCare Mac Technician (ACMT)
HDI Desktop Support Technician (HDI-DST)
HDI Support Center Analyst (HDI-SCA)
HDI Support Center Team Lead (HDI-SCTL)
HDI Technical Support Professional (HDI-TSP)
Microsoft 365 Certified Enterprise Administrator Expert
MCSE Productivity Solutions Expert
7. Send In a Great Tech Support Cover Letter Along With Your Resume

Cover letters are super important, whether alongside junior technical support resumes or tech support supervisor resumes.
Why?
Technical support cover letters give you room to expand upon the robotic entries in your resume. You can exude some enthusiasm, share your story, or explain why a particular gap in your employment exists.
So—
Here are a few guidelines for writing a tech support cover letter:
Format a cover letter for support technician jobs prior to writing.
Write a compelling cover letter introduction statement to get them to read further.
Talk up your experience in tech support, technical skills, and your professional background.
Use numbered achievements to show them, rather than tell them, you mean business.
Finish cover letters using an impactful closing paragraph.
Pro Tip: Learn how to follow up on a job application the right way after sending off your technical support specialist cover letter and resume.
Plus, a great cover letter that matches your resume will give you an advantage over other candidates. You can write it in our cover letter builder here. Here's what it may look like: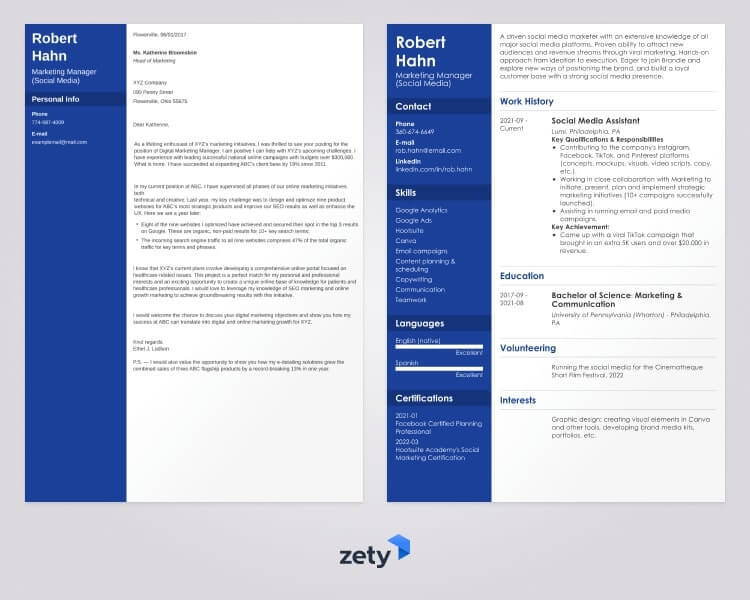 See more cover letter templates and start writing.
Need more technical support resume samples or help coming up with numbered achievements? Want help fixing your technical support job description for resumes? Let us be your tech support, and write to us in the comments. Thanks for reading!
About Zety's Editorial Process
This article has been reviewed by our editorial team to make sure it follows Zety's editorial guidelines. We're committed to sharing our expertise and giving you trustworthy career advice tailored to your needs. High-quality content is what brings over 40 million readers to our site every year. But we don't stop there. Our team conducts original research to understand the job market better, and we pride ourselves on being quoted by top universities and prime media outlets from around the world.
Sources