Our customers have been hired by:
Employers are literally fighting for candidates with highly developed problem-solving skills. So, here's the question: are there really such few people who know how to solve issues? Or aren't others just able to show this on their resumes convincingly?

If you want to find out how to define problem-solving skills, how to highlight them on your resume, and how to improve them—you're exactly where you need.
This article will show you:
What are problem-solving skills and why you need them.
How to include problem-solving skills in a resume.
Examples of problem-solving skills for various professions.
How to improve problem-solving skills in your free time.
Want to save time and have your resume ready in 5 minutes? Try our resume builder. It's fast and easy to use. Plus, you'll get ready-made content to add with one click. See 20+ resume templates and create your resume here.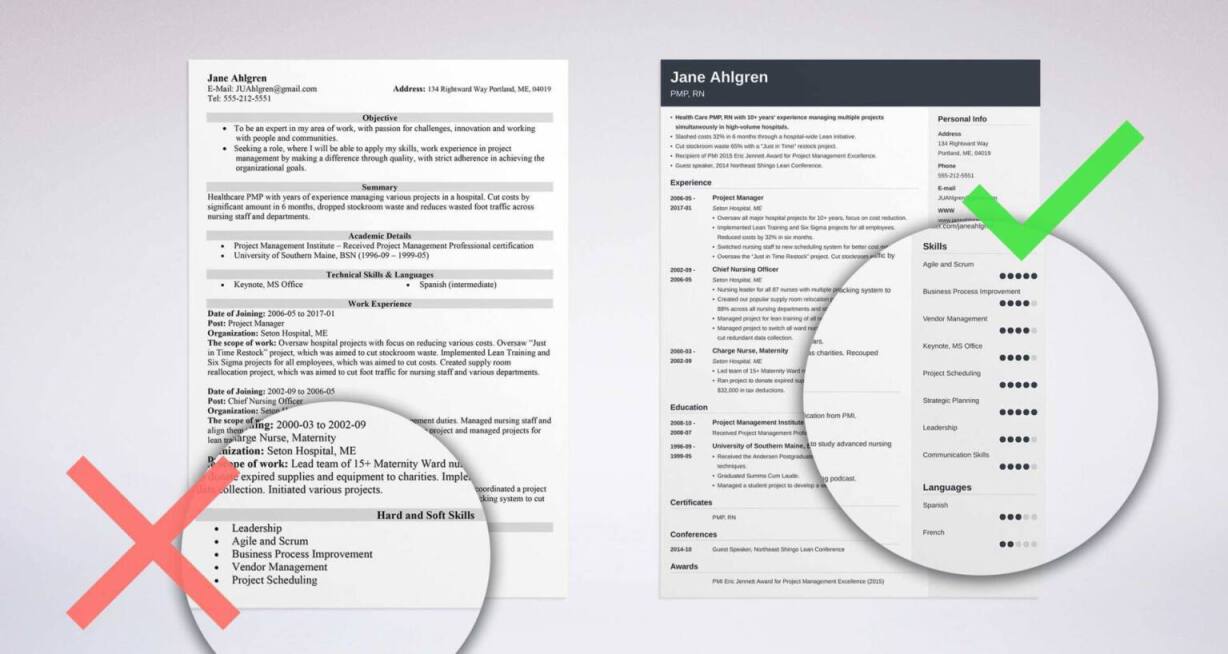 Sample resume made with our builder—See more resume examples here.
Looking for information on other skills? Head straight to one of our guides:
1
What Are Problem-Solving Skills?
Problem-solving skills consist of a set of abilities that help you identify a problem, propose solutions, choose the best one, and implement it. Problem-solving combines a bunch of other skills such as critical thinking, decision making, and information analysis. It's a valued skill in many jobs.
Here's a list of skills that may come in handy at each stage of the problem-solving process:
Analytical skills
This is pretty self-explanatory. To solve a problem you must be able to analyze it from a couple of angles. Your analytical skills are exactly the ones you need to propose solutions and get to the heart of the matter.
Research skills
As a matter of fact, they tie in nicely with your analytical skills. You must be able to find and use the right resources, dig deep enough to extract the data you need, and find the right people to bounce your ideas off of. Research skills are an essential component of the problem-solving skill set.
Creativity
Sometimes finding the right solution will require you to step out of your comfort zone, think outside the box, and push the envelope. This is only possible when your creative thinking skills are sharp as razors.
Decision-making skills
Once you narrow down your choices and pinpoint what causes the problem, you need to make the right decision. Remember: you'll be held accountable for what you decide upon. A bad decision may turn out not to be helpful in finding a solution in the best case. Or may aggravate the problem in the worst.
Critical-thinking skills
The art of problem-solving is correlated with your ability to think critically. If you have problems with seeing the big picture, you won't be able to identify all the pros and cons of different avenues you might decide to take.
Collaboration
Rarely is problem-solving a solitary task, especially in the business context. You need to prove you work effectively as part of the team to implement your solutions.
Communication skills
Last but definitely not least. No problem would ever be solved if it weren't communicated effectively. Period. The importance of good communication can never be underestimated. All problem-solving strategies depend on successful communication.
As you can see, problem-solving is related to many other kinds of skill sets. That's because it takes a mastery of more than one skills to solve a problem. Recent studies on employability skills suggest that problem-solving skills consist of two main components:
identifying the problem,
deciding on the best solution.
Each of these is as important as the other.
The problem-solving process would involve analyzing the situation, understanding it, and coming up with an action plan. In fact, you can come up with several possible action plans based on your assumptions about what the root cause is.
This is when decision-making skills come in handy.
If you have a good understanding of the situation and its implications, you'll be able to decide on the right course of action more effectively and efficiently. So, when you come to think of it, there's no such thing as a single problem-solving skill.
Let's take a closer look at how to highlight your problem-solving skills on a resume.
2
How to Put Problem-Solving Skills on a Resume?
Wondering why you should demonstrate problem-solving skills on a resume?
Employers love them. Studies invariably place problem-solving somewhere at the top of lists of skills in high demand among hiring managers.
What's more, it's hard to find a job offer that doesn't mention problem-solving skills as part of the employer's requirements.
So, naturally, the next question is: How to list problem-solving skills on a resume? Well, there's a good strategy that always works. It's called: tailor your resume to the job description.
There are many jobs that require your problem-solving skills to be second to none. The job ads for such positions include entire lists of problem-solving skills that recruiters want to see on your resume.
Here's an example of a job description for the position of a business analyst:
Collaborate with

solution architects to

develop solution designs

, and developers to ensure solutions meet the business requirements.

Establish high-quality user requirements and functional requirements on the basis of identified business needs

.
Evaluate information gathered from multiple sources, reconciling conflicts, and decomposing high-level information into details. Abstracting up from low-level information to a general understanding.

Distinguishing user requests from the underlying true needs

.
Create work effort estimations.

Support testing process on projects to ensure the solution is fit for purpose

.

Responsible for ensuring that the final solution matches the URS and meets the customer's need

s.
By the look of it, you can easily say that a business analyst is a professional problem solver.
Before we move on, you need to know one thing: Almost all Fortune 500 companies use the ATS (Applicant Tracking System) to initially screen resumes for keywords. If your resume doesn't contain the problem-solving keywords the ATS is looking for, you're likely to end up in the rejected folder. To avoid this, you need to use the resume keywords from the job ad in your own job description.
The experience section of your resume could read something like this:
Problem Solving Skills on a Resume—Example
Developed solution designs

in

collaboration

with software architects that

improved process efficiency

by 150% and reduced costs by $300K.
Supported testing on 3+ large-scale projects to

refine solutions and ensure they fit the purpose and match the customer's needs

. This

resulted in $1M savings

for the client.
This way you can be sure that:
the relevant keywords are there,
you've included the problem-solving skills the hiring manager is after.
Pro Tip: Describe your past duties and responsibilities in terms of achievements.
But it doesn't end here. You can list problem-solving skills on a resume in a separate section to make them even more visible.
But don't put any random soft skills there.
Take another look at your job description, extract the essence, and use some problem-solving skills synonyms to introduce a bit of variety to your resume:
Examples of Problem-Solving Skills for a Resume
Data analysis
Process analysis
Project design
Solution design
Test development
Benchmark development
Troubleshooting
Collaboration
The problem-solving skills list above is entirely based on the two aforementioned experience bullet points.
The best part?
If the recruiter decides to ask you situational questions related to any of the skills on the list, you'll be able to answer them by referring to a bullet point in your experience section.
So if you hear something like: Tell me about a situation when your data analysis and solution design skills made a difference, you can focus on telling the recruiter what steps you took specifically to improve process efficiency by 150% and reduce costs by $300K.
It may be hard to believe, but there's one more section on your resume you might want to populate with some of your problem-solving skills. The resume objective or resume summary.
Here's what it could look like:
Problem Solving on a Resume: Example of a Resume Summary
A senior business analyst with 7+ years of experience and excellent communication skills. Eager to join Genentech to support solution lifecycle management and participate in executing strategic initiatives. In previous roles identified a major bottleneck generating a $200K monthly revenue loss, and designed a solution to effectively prevent it.
As you can see in this example, you can call your problem-solving skills by name and put them at the very top of your resume.
Need more ideas? Here's a list of keywords you may find useful when describing your problem-solving skills on a resume:
The Best Problem-Solving Skills for a Resume
Analyzing
Brainstorming
Designing
Drawing conclusions
Experimenting
Focus
Innovation
Insight
Listening
Logical reasoning
Negotiation
Observation
Organization
Persistence
Persuasion
Questioning
Scheduling
Testing
When making a resume in our builder, drag & drop bullet points, skills, and auto-fill the boring stuff. Spell check? Check. Start building a professional resume template here for free.
When you're done, our free resume builder will score your resume and our resume checker will tell you exactly how to make it better.
3
How to Improve Problem-Solving Skills
Listen: Problem-solving skills are vital. Studies show that if we come up with the wrong solutions we may unknowingly aggravate the problems in the long run.
Other research shows that of all employability skills, problem-solving skills are the ones that managers find insufficiently developed among the staff. The reason for this is that employees are often afraid that the solutions they propose will lead to the problem... becoming worse.
This is why candidates and employees with highly developed problem-solving skills are so desirable.
If you're wondering how to improve your problem-solving skills—The answer is simple. Practice makes perfect. But not just any practice. Here's what you need to do: Adapt a methodical approach to problem-solving.
One of the best methodologies was put forward by the eminent mathematician George Polya back in 1945 in his famous book How to Solve It.
Polya suggested four steps you must take to solve problems effectively.
1. Understand the problem.
Seems obvious, right? Well, if this was so obvious, why would people have no faith in their problem-solving skills? A thorough understanding of the challenge you're facing is vital in finding the right solution.
This is why Polya suggests you start with asking yourself these questions:
Do you understand the words in which the problem is expressed?
What exactly are you required to do?
Can you describe the problem in your own words?
Can you illustrate the problem with a picture or diagram?
Do you have all the information necessary to solve the problem?
2. Devise a plan.
Polya suggests a number of strategies you can adopt. Here's a look at some of them:
Guess and check
Draw a picture
Look for patterns
Eliminate possibilities
Make a list
And—
Ask yourself more questions:
What are the connections between the data and the unknown?
Have you seen a similar problem before?
Have you taken a look at the problem from different perspectives?
Can you restate the problem in several different ways?
Can you solve a simpler problem?
Coming up with the best strategy comes in time and requires you to think in creative ways.
Remember: The more problems you solve, the easier it will be for you to identify the strategies that work for you.
3. Carry out the plan.
After the conceptual stage, implementing the plan may feel like a piece of cake.
As you're carrying out the plan, keep checking if it brings about the desired results each step of the way.
4. Look back.
Once the problem is solved, inspect your solution. Find out what worked and what didn't. Is it possible to reapply your solution to solving a related problem?
And finally, check out these simple yet creative tips to improve problem-solving skills, train your brain and learn new strategies:
Dance and listen to music (they supposedly stimulate neural connections.)
Play logic games and doing puzzles.
Get a good night's sleep.
Observe your circadian rhythm and following its patterns.
Do physical exercise, such as yoga or soccer.
Note down your ideas.
Your problem-solving skills are just a part of a skill set that turns you into a highly-employable candidate. Plus, a great cover letter that matches your resume will give you an advantage over other candidates. You can write it in our cover letter builder here. Here's what it may look like: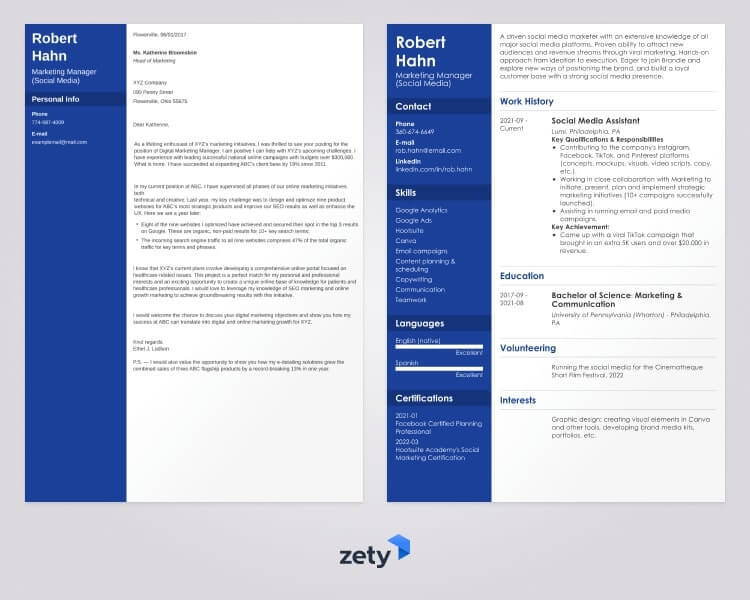 See more cover letter templates and start writing.
Key Takeaways
Here's a quick summary of all you need to remember about problem-solving skills:
Problem-solving skills are one of the key employability factors as identified by several independent studies.
They consist of a set of interrelated abilities that allow you to solve problems effectively.
Employers look for candidates with good problem-solving skills.
You can show your problem-solving skills on a resume in many ways. Just make sure you identify the relevant ones.
The best way to improve your problem-solving skills is by approaching problems in a methodical way. Practice makes perfect!
Do you have any questions about problem-solving skills? Maybe you'd like to share some tips on how to develop them? Give us a shout out in the comments below! We'd love to hear from you!
About Zety's Editorial Process
This article has been reviewed by our editorial team to make sure it follows Zety's editorial guidelines. We're committed to sharing our expertise and giving you trustworthy career advice tailored to your needs. High-quality content is what brings over 40 million readers to our site every year. But we don't stop there. Our team conducts original research to understand the job market better, and we pride ourselves on being quoted by top universities and prime media outlets from around the world.
Sources