Professional Skills for a Resume (List of Examples)
Professional skills sound vague, but they're the foundation of any successful career. Learn how to describe your professionals skills on a resume like a pro.
What makes someone professional? Years of experience? Or the right attitude?
Do you need experience to have professional skills to get hired or can you "fake it till you make it"?
In this article we'll cover everything you need to know about professional skills, including examples, how to build them, and how to include them on a resume.
But first… Perhaps you are interesting in making your resume look professional—
The Zety resume builder will generate hundreds of professional skills, suggest bullet points, resume objectives, and achievements. Just what the recruiter ordered.
Want to save time and have your resume ready in 5 minutes? Try our resume builder. It's fast and easy to use. Plus, you'll get ready-made content to add with one click. See 20+ resume templates and create your resume here.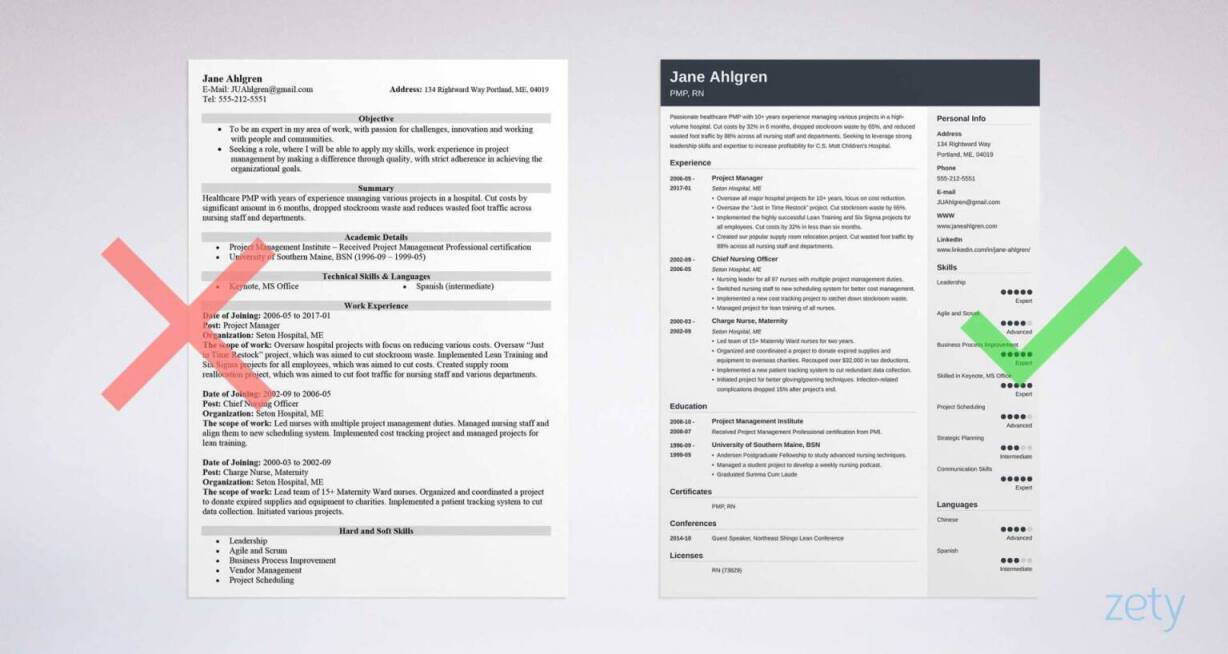 Sample resume made with our builder—See more resume samples here.
What Are Professional Skills?
Professional skills are career competencies and abilities used in the workplace that are beneficial for nearly any job. Professional skills are a combination of both hard skills (job-specific duties that can be trained) and soft skills (transferable traits like work ethic, communication, and leadership). They can be contrasted to personal skills, which are closer to personality traits and more difficult to learn.
To excel at any job, you need professional skills. That means a mix of hard skills and soft skills. The good thing about professional skills is that many of them are transferable skills. For example, if you learn how to manage a team effectively, you can use your skills in leadership no matter what your next job title is.
The hardest part about developing professional skills? You need professional skills to get a job, and employers want to see professional skills before they hire you. This catch-22 will be familiar to many fresh graduates and people at the beginning of their careers.
Which professional skills are most important according to employers? One study found that over 80% of employers are looking for problem-solving skills, teamwork skills, and communication skills on students resumes.
If you can demonstrate those professional skills on your resume and in the interview, your chances of getting hired will skyrocket. Let's find out how.
Professional Skills—Examples
Which professional skills are used in the workplace? Here's a list that would look right at home on almost any resume:
Wondering which skills employers find most desirable? See: Employability Skills [Definition and Top 10 List]
How Do You Put Professional Skills on a Resume?
Just like interviewing for a job over Zoom without wearing any pants, putting professional skills on a resume is all about framing.
The first thing you need to figure out is which professional skills you want to put on your resume. Luckily you don't have to guess which skills would impress the hiring manager. Job postings are basically HR wish lists, and by tailoring your resume to the job you can make your resume look like a match made in heaven.
To do that, review the job posting to see what professional skills are mentioned and make a list.
Look through a list of hard and soft skills, and write down the professional skills you've developed. The skills that overlap on these two lists are the winners.
Now that you have your list of professional skills, you want to incorporate them throughout your resume. Here's an example for each section.
Professional Skills on a Resume Skills Section
Skills
Administrative: Managed scheduling, office equipment, and invoices for 12+ employees.
Customer Service: Used problem solving skills to resolve complaints daily.
You can include some additional details in your skills section, so it doesn't seem like you're just copy-pasting the skills from the job posting.
Professional Skills on a Resume Experience Section
Work Experience
Sales Associate
Nike, Rochester, New York
June 2018–Present
Met and exceeded sales goals by 20% consistently, using people skills to develop customer relationships.
Collaborated with the entire team to share sales techniques and serve customers better.
Assisted customers in a fast-paced environment via effective time management.
See that? Even though this work experience section is describing duties and achievements, key professional skills are weaved throughout. People skills, teamwork skills, and time management skills are skills bound to transfer nicely to a new position.
Professional Skills on a Resume Profile
Detail-oriented administrative assistant with 3+ years of experience organizing offices and managing schedules. Seeking to support Acme Co achieve new levels of productivity and organization.. Reduced office equipment costs by 16% annually at Globocorp by analyzing vendors systematically using Excel spreadsheets and other software skills.
Employers are often interested in how a task is accomplished. Using your resume profile to tell a story is an excellent way to show proof of your skills in action.
Professional Skills on a Resume Education Section
BS in Business Administration, Florida State University
Graduated: 2016
Served on the board of the FSU Student Business Association.
Relevant Coursework: Microeconomics, Marketing, Sales
If you are writing a student resume and don't have much experience yet, the education section is the perfect spot to go into more detail and stuff it with some skills.
And that's how to put professional skills on each section of a resume! Just remember that it's better to be honest about your abilities, lying on a resume might come back to bite you!
When making a resume in our builder, drag & drop bullet points, skills, and auto-fill the boring stuff. Spell check? Check. Start building a professional resume template here for free.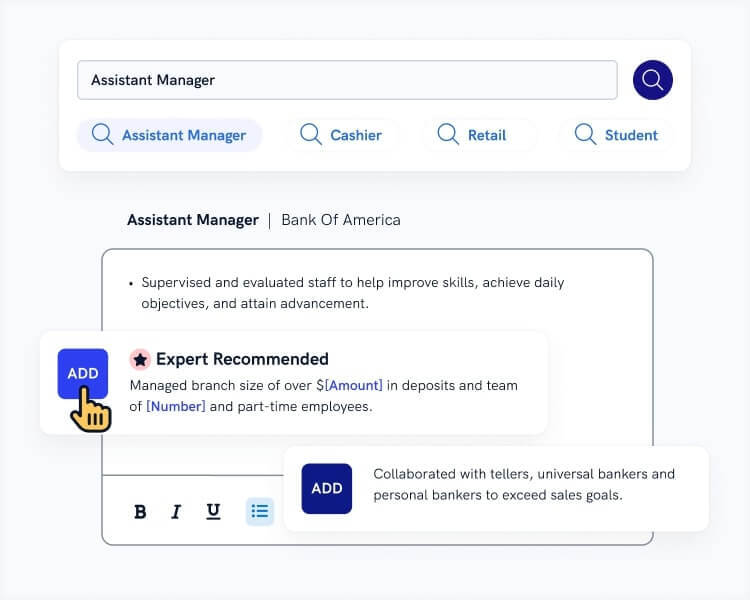 When you're done, our free resume builder will score your resume and our resume checker will tell you exactly how to make it better.
If you're in the middle of applying for a job, here's the cliff notes on how to write a resume:
Ready to attach a letter with your resume? Check out:How to Write a Letter of Intent [Template and Examples]
Plus, a great cover letter that matches your resume will give you an advantage over other candidates. You can write it in our cover letter builder here. Here's what it may look like: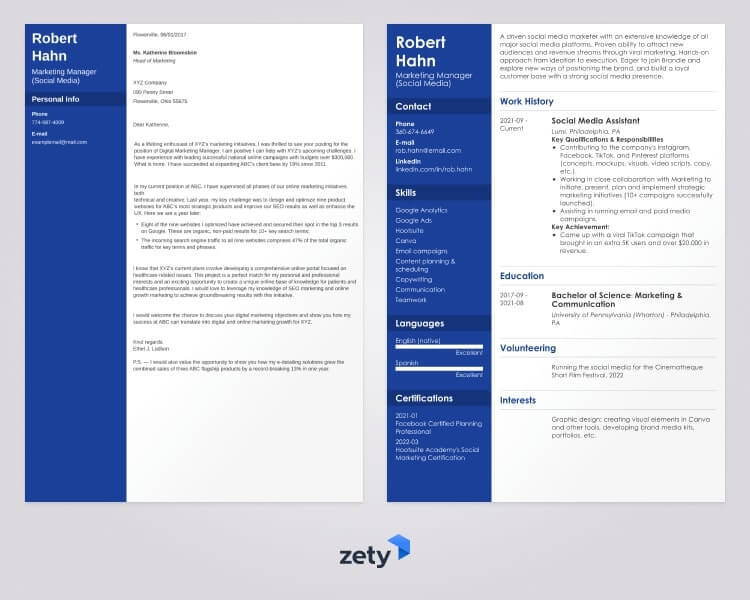 See more cover letter templates and start writing.
That's it! Now let's hear from you! What are professional skills that have helped the most in your career? Which professional skills are you still working on? Let us know in the comment section below.
About Zety's Editorial Process
This article has been reviewed by our editorial team to make sure it follows Zety's editorial guidelines. We're committed to sharing our expertise and giving you trustworthy career advice tailored to your needs. High-quality content is what brings over 40 million readers to our site every year. But we don't stop there. Our team conducts original research to understand the job market better, and we pride ourselves on being quoted by top universities and prime media outlets from around the world.
Sources