Detail-Oriented: Why You Need to Show Off This Job Skill
Here's how to appear detail-oriented on your resume and in an interview. Because sometimes you do need to sweat the small stuff.
Did you know that 61% of recruiters will throw out your resume if they see a typo?
Now—the reason that recruiters are so unforgiving could be that they're just grumpy people.
But more than likely, it's because having even a single spelling mistake shows that you lack a character trait crucial for some occupations: being detail-oriented.
So let's dig deeper into why being detail-oriented is desirable for employers and how you can show it off during your job search.
This guide will show you:
Why being detail-oriented is so important for some jobs.
How to best include this skill on a resume.
How to answer detail-oriented interview questions.
Detail-oriented synonyms.
What the opposite looks like (big picture thinkers).
Want to save time and have your resume ready in 5 minutes? Try our resume builder. It's fast and easy to use. Plus, you'll get ready-made content to add with one click. See 20+ resume templates and create your resume here.
Sample resume made with our builder—See more resume examples here.
Want to find out how to write the rest of your resume? Read more about how to build a resume from scratch.
Are You Detail-Oriented?
What does detail-oriented mean? Detail-oriented is a character trait that means being able to pay close attention and notice minor details. A detail-oriented person is able to give a task their undivided attention and catch mistakes, errors, or changes before they snowball into a bigger problem. This quality is critical for some jobs, so it often comes up in the context of resumes and interviews.
If you're applying for jobs, you're bound to have come across "detail-oriented" on a job posting or in an interview.
How come?
Well it turns out that attention to detail is one of those job skills that translates directly into a long list of favorable behaviors on the job. Detail-oriented people tend to:
Create flawless deliverables that require little to no editing.
Complete work while following company standards and protocols closely.
Review and check the accuracy of documents and reports.
Set up procedures to maintain high quality standards.
Provide complete attention to every detail.
While those behaviors would be great for any job, some professions demand a higher attention to detail than others. Such professions include medical staff, architects, editors, pilots, programmers, and quality assurance specialists. Here is a complete list of jobs that demand an extreme attention to detail.
How to Be More Detail-Oriented
Fortunately, how detail-oriented you are isn't decided at birth. Just like other hard and soft skills, the more you work on them, the more you'll improve. Here's a few ways you can become more detail-oriented:
1. Get organized with a task management system
Being able to use a task management system isn't just a skill for project managers . Anyone can benefit from their assistance in managing tasks, tracking time, and collaborating with your team. Some popular task management applications include Asana, Basecamp, Monday.com, Trello, and Wrike.
2. Write everything down
Once you're using a task management system, now it's time to collect every task and detail in one place. Small details add up over time to the overall quality of a task, so it's important to jot down details whenever they arise, even if they seem not worth noting at the time. Don't leave it up to your brain to keep track of everything.
3. Track your time
Being crunched for time is bound to cause details to slip through the cracks. Practice your time management skills so that you can give enough attention to each and every task.
4. Communicate effectively
Many mistakes and misunderstandings arise from poor communication. Whenever you are receiving a new task, make an effort to ask questions on topics that need clarification. Good communication skills mean listening carefully when coworkers or clients are talking to fully grasp what their
5. Always proofread
It sounds obvious, but proofreading can really save your butt. Before you hit "submit" on an email, document, or presentation, take the time to comb through it for small errors or mistakes.
Detail-Oriented on a Resume
Detail-oriented is a skill you can include on a resume that tells employers that you pay attention to details, notice small mistakes, and are able to deliver high quality, accurate work. It's a soft skill that means you can learn new job responsibilities and carefully perform them to completion.
Sounds good, right?
Here's how to come off as detail-oriented on your resume:
1. Write "Detail-Oriented" Correctly
The first step in showing that you're detail-oriented? Getting the punctuation right when writing "detail-oriented"! Detail-oriented is always written with the hyphen, whether it comes before a noun or after.
2. Make Sure Your Resume Is Spotless
What looks bad on a resume? As mentioned earlier—grammar mistakes and spelling errors. They are like a Bat-Signal telling the recruiter you're not detail-oriented. Which depending on the job, could be an automatic deal-breaker.
3. Add Detail-Oriented Certificates to Your Resume
Consider putting certifications on your resume. Here are some examples of job-specific certifications that show how detail-oriented you are:
Advanced Editing Certificate Program, ACES
Project Management Professional, PMP
Certified Associate in Software Testing, CAST
Certified Test Engineer, CSTE
Professional Administrative Certification of Excellence, PACE
4. Sprinkle Detail-Oriented Accomplishments Throughout Your Resume
Just add detail-oriented to the skills section of your resume and carry on with your day, right?
Not quite. You want to let the recruiter come to the conclusion that you're detail-oriented all on their own.
Don't worry, planting ideas in people's heads isn't as complicated as the film Inception makes it out to be. You just need to incorporate duties and accomplishments that required detail-oriented thinking throughout your resume experience section.
Read more: How to Tailor Your Resume to a Job Description
When making a resume in our builder, drag & drop bullet points, skills, and auto-fill the boring stuff. Spell check? Check. Start building a professional resume template here for free.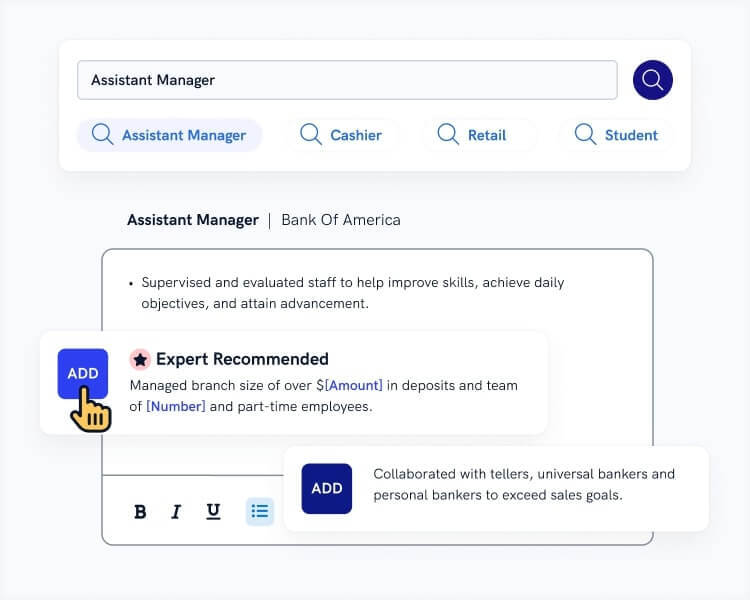 When you're done, our online resume builder will score your resume and our resume checker will tell you exactly how to make it better.
Detail-Oriented Interview Questions
If the hiring manager is looking for a detailed-oriented candidate, chances are you'll be put on the spot during the interview with a behavioral or situational interview question.
To help you prep, here's some examples of detail-oriented interview questions and answers meant to assess your attention to detail:
1. Are you detail-oriented?
Example: My last position as a project manager required me to be detail-oriented. I used task management software to ensure nothing important slipped through the cracks, and organized a system where I had to proofread all work before it was sent to a client to ensure a high quality of work.
This is a straightforward question. Just make sure your answer is more detailed than "Yes." Use the STAR method for answering interview questions to give a real world example of your detail-orientedness.
2. How would you describe yourself?
Example: I have a good eye, in the sense that I'm quite detail-oriented. For example, as a quality assurance engineer, I noticed small changes in part quality due to seasonal temperature fluctuations inside the factory. Thanks to this find, we were able make process adjustments and reduce manufacturing downtime by over 15% over the past year.
If you know detail-oriented is a necessary skill for the position you're applying for, you can answer how to describe yourself by saying you're detail-oriented. Just be sure to give real world examples of your ability to pay close attention to tasks and follow instructions perfectly.
3. How do you make sure you get all the important details from customers?
Example: When I first started as a customer service representative, I noticed that stressful customer interactions would sometimes cause me to forget some questions. To combat that, I created a checklist that I look at towards the end of every call to make sure I have all the necessary information.
This question is asking about your ability to plan ahead and is also checking if you have good communication skills. Talk about the system you use (or would theoretically use) to prevent yourself from forgetting to ask a question.
4. How do you ensure high quality when under a tight deadline?
Example: Many of the marketing campaigns I worked on had tight deadlines. I found that Asana, the task management software, helped ensure we didn't lose track of any details in favor of speed. We also found that having multiple people review deliverables before they were published was critical, especially under tight deadlines.
Catching mistakes is easy when you have plenty of time, and a lot harder when under pressure. Try to mention how you dealt with stressful experiences in the past, and the techniques you used to deal with that stress.
5. Can you tell me about a time you found an error that wasn't obvious from the start?
Example: As a nurse, there are many situations where errors can be life threatening. There was one occasion when I was administering medicine to a patient, and the patient's chart mentioned a dose that looked slightly outside of the norm. I decided to seek clarification by double-checking with the doctor on call. It turns out that it was a transcription error that could have resulted in serious harm to the patient had I not intervened.
In this case, the interviewer is looking to see if you sometimes catch errors that your coworkers, or even boss, have missed. They're checking to see if you're more detail-oriented than average.
6. What would you do if a client sends you a request that you don't understand?
Example: Ideally, I would have already had a detailed conversation with the client where I get to understand the client's needs and have asked all the questions I need to. But if that wasn't possible, then I would contact the client to clarify any details. I try to make as few assumptions as possible so that the client is never surprised by our work.
Part of being detail-oriented is asking questions when instructions are unclear. Detail-oriented people are better at noticing problems before they arise so that they can find the right person to get problems solved.
7. What tools or processes do you use to prevent mistakes in your work?
Example: I use Wrike's task management software to track projects and keep my daily to-do lists. I also like using Gantt charts to see which task I should be working on and when my deadline is. I also have a rule that I always review deliverables twice so that I can catch mistakes before I hit send.
A part of being detail-oriented is having a good eye, but the other part is about setting up strategies that make mistakes near impossible. This is a great opportunity to mention your project management skills, and any organizational software you have experience with.
Read more: Top Common Interview Questions and Answers
What are Some Synonyms for Detail-Oriented?
Based on our in-depth analysis of 133,000 resumes, detail-oriented is one of the most commonly-found adjectives found on resumes.
Want to separate yourself from all the other job applicants? Below are 20 synonyms for detail-oriented:
Rigorous
Meticulous
Accurate
Thorough
Observant
Fastidious
Consistent
Precise
Careful
Insightful
Focused
Attentive (to details)
Systematic
Perceptive
Diligent
Punctilious
Scrupulous
Conscientious
Thoughtful
Detailed
Read more: Words to Describe Yourself: The Ultimate List [100+ Words]
Detail-Oriented vs. Big Picture Thinking
For every yin, there is a yang. If you think of people on an attention-to-detail spectrum, then you'd have detail-oriented people on one end and big picture thinkers on the other. How does the thinking of big picture people differ from detail-oriented people?
Big picture people are great at coming up with ideas, setting lofty goals, and taking risks. But they can also be disorganized, have difficulty making structured plans, and considering drawbacks. On the other hand, detail-oriented people are great at foreseeing difficulties, organizing plans, and getting things done. But they can get lost in the details, failing to prioritize tasks correctly and not understanding how different pieces fit together.
Most of the time, being detail-oriented is considered a plus—but not always. Sometimes paying attention to details means missing the forest for the trees. You can spend so long working out minor kinks, that you become a perfectionist and delay getting your product out the door. In that situation, it's more important to have leadership skills like big picture thinking.
Big picture people focus on getting an MVP out the door. As long as they have someone (a project manager or an administrative assistant) taking care of the details, they can focus solely on the future.
Read more: Resume Adjectives, Power Words and Action Verbs
Plus, a great cover letter that matches your resume will give you an advantage over other candidates. You can write it in our cover letter builder here. Here's what it may look like: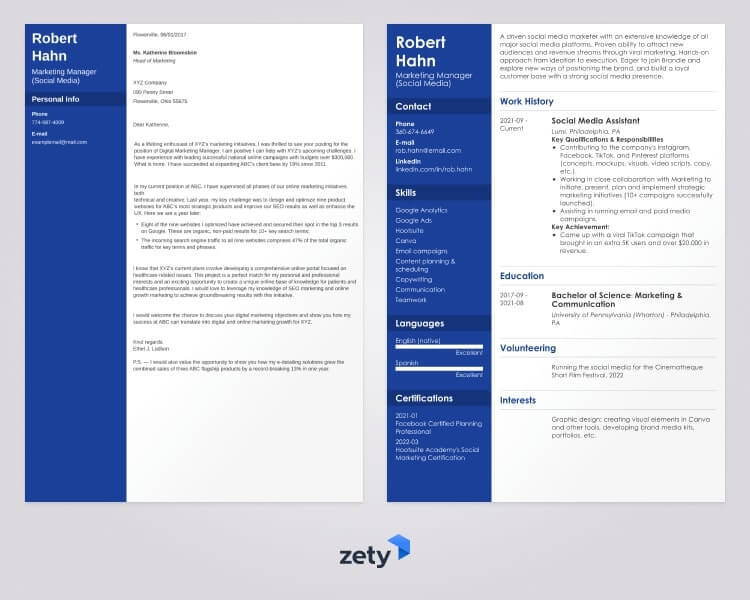 See more cover letter templates and start writing.
And…scene! Now you should have a better idea of what being detail-oriented and how you can use it to your advantage in a job search.
Have any detail-oriented questions? Wondering how you can prove that you're detail oriented on a resume or in an interview? Hit us up in the comment section and we'll answer any of your questions. Good luck on your job search!
About Zety's Editorial Process
This article has been reviewed by our editorial team to make sure it follows Zety's editorial guidelines. We're committed to sharing our expertise and giving you trustworthy career advice tailored to your needs. High-quality content is what brings over 40 million readers to our site every year. But we don't stop there. Our team conducts original research to understand the job market better, and we pride ourselves on being quoted by top universities and prime media outlets from around the world.
Sources