Here's the best leadership skills list this side of Melinda Gates. Why will it change your world? Because it doesn't just show the best 150 leadership qualities. It shows how to use them.
Think about it: getting hired is more than saying I've got leadership skills on a resume. So, pick the ones that make the hiring manager sit straighter. Then, prove you've got them cold.
This guide will show you:
A great qualities of a leader resume list.
How to describe leadership skills on a resume to get hired.
Why and how to prove leadership qualities and skills in your resume.
How to develop leadership skills so employers see your worth.
Want to save time and have your resume ready in 5 minutes? Try our resume builder. It's fast and easy to use. Plus, you'll get ready-made content to add with one click. See 20+ resume templates and create your resume here.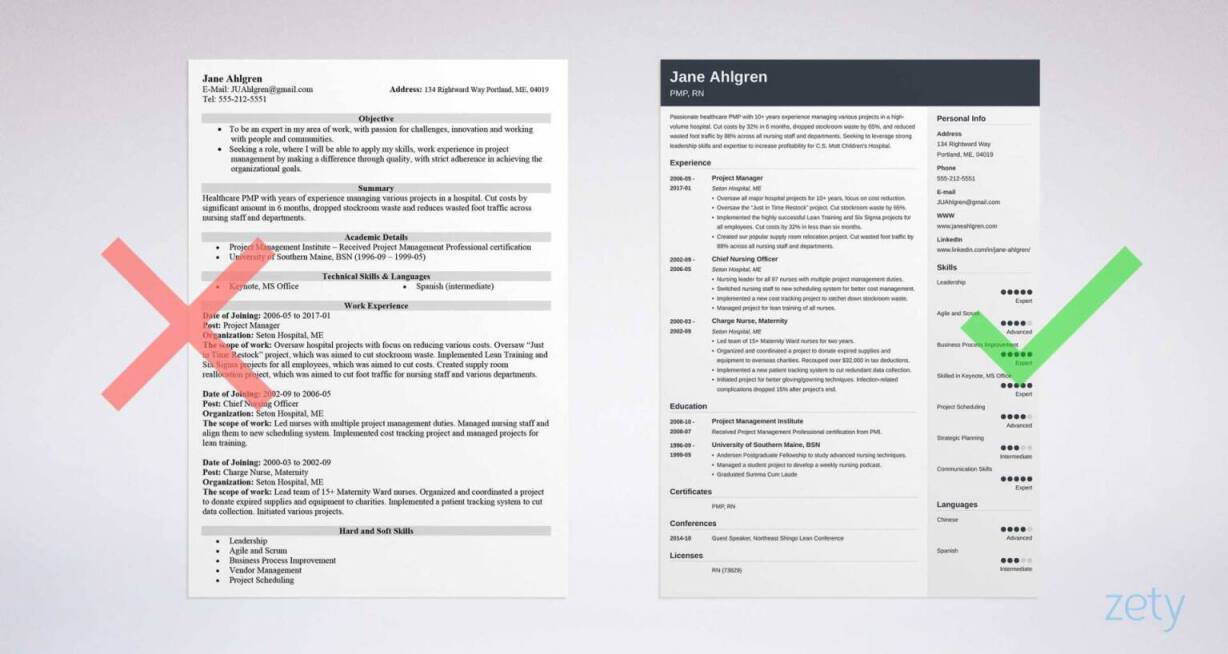 Sample resume made with our builder—See more resume samples here.
Want to learn more about other job-winning skills? Follow up with our dedicated guides:
But first, let's answer the question: what are leadership skills?
Leadership skills are key executive abilities. They let managers guide teams to meet organizational goals. Skills of a leader include interpersonal skills, communication, planning, and persuasion.
1
Review the Best Leadership Skills for Your Resume
The short version:
There are dozens of types of leadership skills.
See the top 21 skills of a leader below.
Each has several lesser leadership qualities for a total of 150.
Which leader skills should you show in your resume? What makes a good leader?
Scroll the leadership skills resume phrases list below to find out:
Top 20 Effective Leadership Skills
People Management. Recruiting, hiring, training, mentoring, coaching, onboarding, disciplining, getting buy-in, team building.
Management. Business knowledge, office management, finance, vendor management, policy deployment, delegating, planning, strategic thinking.
Collaboration Leadership Skills. Analyzing problems, brainstorming solutions, compromising, defining roles, facilitating discussion, employee engagement.
Decision Making. Prioritizing tasks, research, ethical decision making, team decision making, problem analysis, consensus-building.
Time Management. Goal setting, self-awareness, prioritization, focus, self-motivation, outsourcing, stress management.
Persuasion. Sales, speaking, listening, empathy, emotional intelligence, empowerment.
Psychological Leadership Skills. Judging character, negotiation, flexibility, motivation, persistence, morale-building.
Problem Solving. Perceptiveness, data gathering, fact finding, problem analysis, brainstorming, research, test development, testing, evaluation.
Ethical Leadership Skills. Accountability, professionalism, honesty, judgement.
Communication. Active listening, speaking, receiving feedback, storytelling, facilitating conversations, giving presentations, PowerPoint.
Interpersonal Skills. Charisma, relationship building, listening, empathy, conflict management.
Motivating Employees. Providing rewards, giving recognition, giving feedback, receiving feedback, evaluating performance, setting expectations.
Positive Attitude. Empathy, compassion, diplomacy, good naturedness, self confidence.
Creative Thinking Skills. Lateral thinking, brainstorming, listening to ideas, open-mindedness.
Project Management. Lean thinking, strategic planning, scheduling, Scrum.
Computer Skills. MS Office, email, writing, enterprise systems, spreadsheets.
Supporting Employees. Listening, keeping promises, compassion, logistics.
Lean Thinking. Value stream mapping, kanban, pokayoke, policy deployment, 5S, Six Sigma, inventory reduction, setup reduction.
Agile/Scrum. Meeting facilitation, Agile planning, enforcing rules, shielding the team, servant leadership, removing impediments.
Team Leadership Skills. Communication, organization, supervision, respect, influence, honesty, team support, logistics, delegation, giving recognition.
Want effective leadership skills examples for your resume? That's next.
Pro Tip: Don't cram too many leadership qualities into your resume. Focus on the ones this job really needs. A laundry-list of qualities of a leader smells like fear and doubt.
Need a bigger list of skills and qualities for your resume? See our guide: 99 Key Skills for a Resume + Examples
Want to zero in on job-specific skills? Visit: Hard Skills for Any Job (Best List of Samples)
2
Show Leadership Skills on a Resume With Achievements
"Okay, but how?"
How do you show leadership skills on a resume?
Of course use the requisite skills list, like this:
Skills: Interpersonal skills, collaboration, PowerPoint, communication, budgeting.
But don't stop there.
Prove your leadership qualities or no one will believe them.
There's a simple formula.
Load your resume bullet points with evidence.
List the right skills, and how they helped your employer.
Also—
Focus on the skills in the job posting.
These leadership skills examples show how:
Leadership Skills Examples for Resumes
You've got leadership qualities. You want to flaunt them on your resume.
And you should.
But what resume leadership skills does this employer want? Training? Coaching? Persuasion? Winning employee engagement for key programs?
Pick those listed in the job ad and prove your leadership skills resume phrases with quantifiable achievements.
Job ad says: negotiating, training, Lean, value stream mapping.
Your resume says:
Negotiated

key deals with vendors, resulting in

25% cost savings

.
Through

Lean training

across all team members,

slashed inventory 40%

.
Led team in

value stream mapping

drive.

Cut lead times by 3 days

.
As good as hired.
Each bullet has leadership traits or skills the job wants.
Plus—each one helped your company and has numbers as proof.
Resume Leadership Skills in Nursing Examples
Your nursing skills are up there with Ann O'Brien's. But if you don't prove it on your resume, the hiring manager won't know.
So read the job ad. Does it want team building most? Tech skills? Communication? Training skills? Integrity? Match your resume leadership qualities to those.
Job ad says: team building, commitment to quality.
Your resume says:
Conducted 3

team-building

events per year with

30 staff members

each. Contributed to raising job satisfaction scores

20% in 2 years

.
Led patient-care

quality

improvement drive. Helped

raise scores

on nursing portion of HCAHPS survey 23%.
Resume Leadership Communication Skills Examples
Does the job posting want leadership communication skills? Then prove them. But which ones?
Does it need active listening? Speaking? Business storytelling? Or does it just want general written and spoken communication skills?
Job ad says: Giving presentations, PowerPoint, written communication
Your resume says:
Gave 3–5 group

presentations

a month to employees and clients. They were posted to YouTube.

Most got 1,000–50,000 views

.
Used

PowerPoint

to demonstrate why we should use Trello as an office kanban system. Gained 100% buy-in.

Cut delivery times for projects by 18%

.

Wrote

monthly company newsletter, quarterly reports, and two federal grants per year. Awarded an average of

$50,000 annually for special projects

.
Leadership Skills for Managers Examples for Resumes
Does your dream job require leadership skills for managers? Of course it does. And you know you need to prove you've got them.
But—does that mean people management or operations management? Process management or project management? What about hiring, training, or delegating?
Read the job ad carefully, then build your bullet points like this:
Job ad says: Mentoring, office management.
Your resume says:
Hand-picked by upper management to

mentor

teams and managers from other departments. Facilitated a

15% increase in policy compliance

.

Managed

head office with 21 staff members. Used a targeted approach to hiring, compensation, and engagement and

slashed turnover by 25%

.
Interpersonal Leadership Skills Examples for Resumes
Leadership soft skills are key in manager jobs. Do you have skills and qualities like charisma, active listening, and conflict management?
Those are great, but make it easy on by sifting through the job interview. Find the interpersonal skills it wants. Then build bullet points like this:
Job ad says: Charisma, conflict management.
Your resume says:
Elected by

popular

vote of 500+ employees to lead the company's Goal Compass team.

Facilitated reaching all four goals

in one year.

Resolved conflicts

on the production floor by leading meetings between opposing parties.

Slashed time lost to intra-team conflicts by 30%

.
When possible, use exact resume keywords from the job posting. In this case, we swapped "charisma" with "popular" because it made more sense.
Team Leader Skills Examples for Resumes
Team leadership skills impact a tight-knit group. They're different from organizational leadership qualities that cover multiple teams.
What team leader skills does this job need? Support? Communication? Supervision? Prove them on your resume like this:
Job ad says: Supervision, giving recognition.
Your resume says:
Supervised

a team of 7 CNC operators. Consistently hit all production targets, turning out

17% fewer defects

than the plant average.
Gave persistent, daily

recognition

for jobs well done. Also used monthly & quarterly recognition to gain

10% higher morale scores

than company average.
Technical Leadership Skills Examples for Resumes
Technical leadership skills are the opposite of leadership soft skills. They're things like training, finance, data gathering, and Six Sigma.
When should you show them on your resume? When the job ad asks for them, or when they're central to the job itself.
Job ad says: Agile planning, fact finding.
Your resume says:
Used

Agile planning

for 10 projects per year.

Saved $45,000 a year in quality issues

.
Conducted 1–2

fact-finding

operations per month to address quality concerns. During my tenure,

customer complaints dropped 22%

.
Need to prove you've got the qualities of a leader? That's next.
Pro Tip: Don't lie. Making up achievements may get you to the interview. But—they'll spot your lack of leadership qualities the second you sit down.
Which leadership soft skills should you list? What about technical leadership skills? See our guide: Soft Skills vs Hard Skills for a Job: What Employers Look For
When making a resume in our builder, drag & drop bullet points, skills, and auto-fill the boring stuff. Spell check? Check. Start building a professional resume template here for free.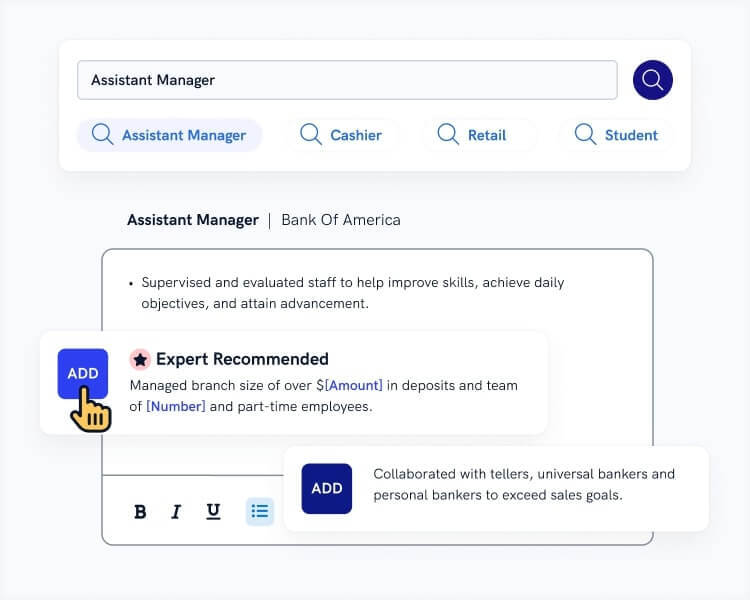 When you're done, Zety's resume builder will score your resume and tell you exactly how to make it better.
3
Show Leadership Qualities on Your Resume to Get Hired
What are leadership skills vs leadership qualities?
We could argue that for hours.
The point?
You need both to prove the characteristics of a leader.
And—
You can prove both with achievements.
Here's a list of key leadership traits:
Leadership Qualities
Integrity
Honesty
Ethics
Empathy
Confidence
Passion
Commitment
Vision
Supportiveness
Accountability
Decisiveness
Creativity
Empowerment
Trustworthiness
Prove leadership qualities just like the examples above.
Job ad wants: Passion, accountability, supportiveness.
Your resume says:
Spread

passion

for excellence through a 500-person team with presentations and one-on-one conversations. Cut turnover 30%.
Took

accountability

for all decisions from direct reports. Then when a big client asked for a rush job, my team volunteered to work the weekend to deliver.

Supported

employees with extra resources, time, and autonomy. Achieved 95% buy-in for our Kaizen efforts.
Pro Tip: What are the most important leadership skills and qualities for your resume? They're usually at the top of the job posting. Employers put "nice extras" lower down.
Computer skills and knowledge are central leadership traits. See our guide: Computer Skills: Best Resume Computer Skills Employers Want
4
Supersize Your Resume Leadership Skills
Yikes.
What if you know how to list leadership qualities and skills on a resume, but—
You don't have them yet?
Don't panic.
Leadership is a skill that can be learned.
How to Improve Leadership Skills
Improving leadership skills means having empathy.
Work to understand direct reports. Get to know their needs and problems. Then strive to make their work-lives easier.
Need concrete advice and ways to improve your leadership skills?
See this list of training courses:
Leadership Skills Courses
General Leadership Skills Courses
Technical Leadership Skills Courses
Pro Tip: Want free leadership skills courses? There are some great YouTube videos and TED talks out there. Lynda.com will give you a free first month, too.
Need more technical leadership skills? See our guide: Technical Skills List: Examples for Resumes Employers Want.
Plus, a great cover letter that matches your resume will give you an advantage over other candidates. You can write it in our cover letter builder here. Here's what it may look like: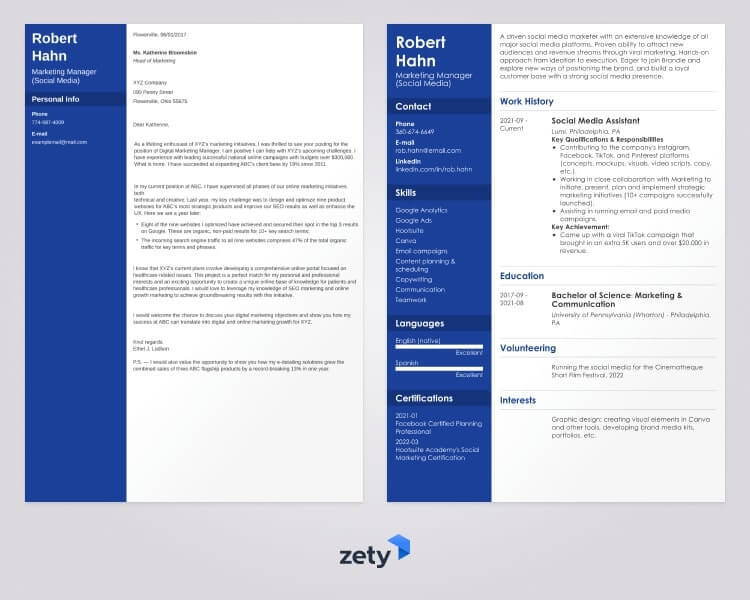 See more cover letter templates and start writing.
Here's a recap. How to describe leadership skills on a resume:
Review the different types of leadership skills.
Read the job ad. Learn the leadership qualities and skills that matter to this job.
Prove your leadership traits and skills with achievements from past jobs.
Add numbers to your leadership skills resume phrases to show you've got the characteristics of a leader. Use dollar figures, percents, hours saved, and numbers of people trained.
Are you still fuzzy on the qualities of a leader? Not sure how to prove leadership skills on a resume? Give us a shout in the comments! We'd be happy to reply.