What Are Hard Skills? Definition & Examples for Every Resume
Not sure what "hard" skills are? You better find out! (And learn how to use them on a resume to score interviews.) Good news? You've come to the right place.
What makes you good at your job?
Recruiters will assume it's years of professional experience, a solid diploma, and a well-established certificate.
But these all represent something much more important:
Your skills. The ones that get the job done—
This guide will show you:
How to list hard skills to make up for what you lack in experience.
What hard skills are in demand in 2023.
Why these skills beat any other selling point.
Want to save time and have your resume ready in 5 minutes? Try our resume builder. It's fast and easy to use. Plus, you'll get ready-made content to add with one click. See 20+ resume templates and create your resume here.
Sample resume made with our builder—See more resume examples here.
It's not about how difficult they are, it's all about how process-oriented such abilities might be.
Hard Skills Definition:
Hard skills are abilities that let you tackle job-specific duties and responsibilities. Hard skills can be learned through courses, vocational training, and on the job. These skills are usually focused on specific tasks and processes such as the use of tools, equipment, or software.
In contrast, soft skills are your traits and abilities not unique to any job—think collaboration, time management, empathy, or leadership.
Which kind of skill set is more important? A LinkedIn study suggests that a slight majority (57% vs 43%) of employers value soft skills over hard skills.
But is this really an either/or situation?
Not really. The best way to think about it that hard skills get interviews, soft skills get jobs.
(Not to mention the thin line between definitions—how soft a skill is time management?)
If the hard-vs-soft-skills contrast isn't quite clear to you, see our guide: The Difference Between Hard and Soft Skills Explained
Hard Skills Examples List
(And here's a few tips regarding Top Skills Employers Look for in 2023)
How to List Hard Skills on a Resume
A successful resume displays a targeted set of hard skills. Before you jump to particular examples, see how and where to include them:
How to put them on a resume?
Don't just copy-and-paste the skills you think you have.
Go through the job description and identify skills-related keywords.
Create a list based on what you find.
Highlight these strengths on your resume.
Where to list them?
For more strategies of highlighting your job skills, see: Crucial Skills to Put on Your Resume 2023
Top 10 Hard Skills for a Resume: List of Examples
1. Technical Skills
Technical skills include specialized knowledge and expertise in fields such as IT, engineering, or science. Typical technical skills are abilities to use specialized software or equipment.
Here are some examples of technical hard skills:
CAD
Lean manufacturing
Multivariate analysis
Linear regression
Prototyping
Workflow development
STEM skills
Web: HTML, CSS, Javascript
Payment processing
Automated Billing Systems
CRM Platforms
Research
Troubleshooting
Now, here's a few samples extracted from resumes:
Created MS Excel pivot tables to identify 500+ new high-traffic, low-competition keywords that pushed us to $250,000+ more annual revenue.
Applied Lean manufacturing principles to redesign Kanban system. Decreased inventory costs 32%.
Efficient Mechanical Engineer with 3+ years' combined experience as a Design Engineer. Can perform static, fatigue, and fracture analyzes for F-35 structural components of main landing gear.
For a dedicated guide to putting technical hard skills on a resume, see: The Best Technical Skills for Resumes
2. Computer Skills
Computer skills are your abilities to use software and hardware: from basic and general, to highly specialized.
On today's job market, computer skills are a must in any industry. Be sure to include list them on your resume especially if you're applying for office jobs and if the job ad requires specifics.
Here's a list of some basic computer skills:
MS Office:

Word
Excel
Outlook
Powerpoint
OneNote
Access

Google Drive
Spreadsheets
Email
Presentations/Slideshows
Database Management
Quickbooks
Social media
Web
Typing
Graphics
Enterprise systems
WPM
And here you'll see some typical programming skills:
Java
PHP
MySQL
SQL
C#
JavaScript
C++
Python
iOS/Swift
Ruby on Rails
This is how you can make them work on your resume:
Composed an app to allow voice control of lights, garage door, and home thermostat, using an Amazon Echo and Raspberry Pi.
Wrote Excel formulas to add conditional formatting to a budgeting spreadsheet.
Automated reports with Oracle Netsuite to cut reporting costs by 25%.
Need more information? Here's a must-read for you: Key Computer Skills to Put on a Resume in 2023
If you want to laser-in on MS Office skills, see: Microsoft Office Suite Skills for the Workforce
3. Analytical Skills
Analytical skills are the skills of gathering data, analyzing it, deciphering the meaning, and presenting it.
No matter what job you're pursuing, if you're able to show that you're good with data analysis, the recruiter will score you some bonus points.
Here are some analytical skills to put on a resume:
Research
Forecasting
Data mining
Data presentation
Resource management
Data engineering
Database management
Data and metrics interpreting
Reporting
Diagnostics
Creativity
Theorizing
Analytical skills proven on your resume:
Utilized Microsoft SPSS statistical software to track and analyze data. Created machine learning tools that computed adjusted P/E values.
Used MS Access to identify and improve low-performing portfolios. Increased average client revenue by 19%.
Learn more: Analytical Skills/Data Analysis Skills to Boost Your Resume
4. Marketing Skills
Marketing skills include the general knowledge of sales, advertising, and consumer research, as well as a plethora of highly technical, digital skills required for success in modern-day online marketing.
Marketing hard skills are of greatest value to candidates in media, advertising, social media, e-commerce, and product management.
Some examples include:
SEO/SEM: Ahrefs, SEMRush, SEO Power Suite, Majestic
PPC
Social media marketing and paid social media advertising
Writing
CRO and A/B testing
Email marketing and automation
HubSpot, Aritic PinPoint, ONTRAPORT, Infusionsoft
Funnel management
UX Design
Data visualization
Google Analytics and Google Search Console
AdWords, Facebook Paid Ads
The list could go on, and on, and on. But what marketing skills are most relevant today?

According to The Pipeline, those are the top marketing skills for your resume:
Data Analysis
Writing and content creation
SEO/SEM
Social media
Technology proficiency
Not sure how to make your resume show your marketing expertise? Get inspired by these samples of hard marketing skills on resumes:
Marketing ability highlights:
Introduced an incentive-driven A/B testing competition among team members which resulted in increasing landing page conversions by 114% in 4 months.
Adept at Using HubSpot, Kissmetrics, and Google Analytics.
Created 20+ SEO campaigns for websites with complex media and big structures.
Hungry for more? Check this out: Top-Level Marketing Skills for Your Resume & How to List Them
5. Presentation Skills
Wait, what? Aren't presentation skills a soft skill?
Not exactly. Sure, you need certain soft, transferable skills to deliver a good presentation: confidence, adaptability, self-awareness, or stress management. But—
To facilitate your presentation or report, you'll need at least a few of these hard skills:
Visual communication
Slideshows
Research
Data analysis
Reporting
Persuasion
Graphic design
And here's how to prove you're a savvy presenter on a resume:
Created 150+ business reports and newsletters, using data visualization to facilitate the message.
Assisted the CEO with creating slideshows in Powerpoint, Prezi, and Movavi.
See more: How to List Presentation Skills on Resumes
6. Management Skills
Again, you might feel like people skills are in the core of good management and leadership. Again…
That's just half-right.
To be a good manager, you also need some job-specific skills such as these:
Business knowledge
Budgeting
Project management
Hiring
Finance
Office management skills
Logistics
New business development
Negotiating
Planning
And here's how to convey your management expertise on an exec resume:
Implemented team-wide use of Google Docs, Slack, and Trello to slash project time-to-delivery 35%.
Redesigned budgeting methods to increase project delivery rate by 20%.
For more examples and step-by-step tutorials see: Managerial Skills List (Not Only For Managers!)
When making a resume in our builder, drag & drop bullet points, skills, and auto-fill the boring stuff. Spell check? Check. Start building a professional resume template here for free.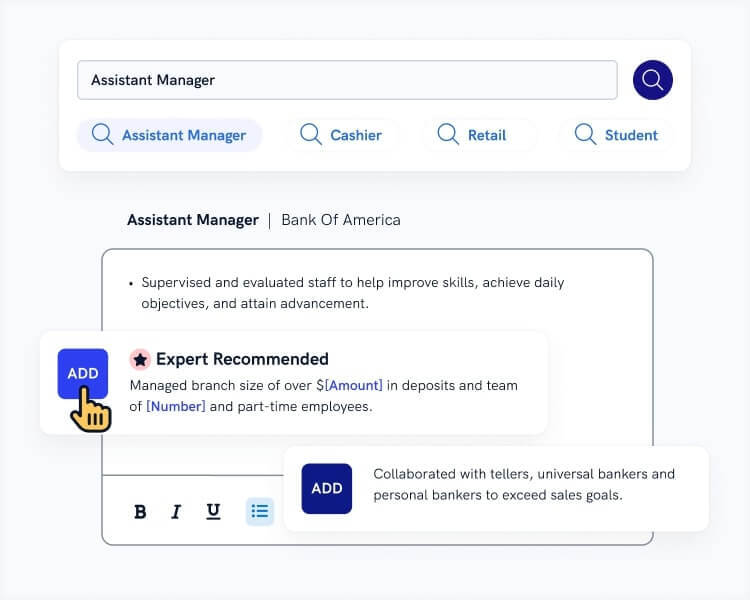 When you're done, our online resume builder will score your resume and our resume checker will tell you exactly how to make it better.
7. Project Management Skills
In short, project management skills guarantee that things get done.
More than that, actually: done in time and within budget. If you're skilled in project management, it will be a plus for any sort of job where you need to coordinate processes or people's work.
Project management skills include general managerial expertise as well as proficiency in certain frameworks and software. Here are some examples of PM hard skills:
Project scheduling
Strategic planning
Project lifecycle management
Agile software
Scrum management
Financial modeling
Kanban
Forecasting
Performance tracking
Budgeting
And these samples will show you how to present your PM expertise on a resume:
Highly skilled in Agile software: employed Jira and Taiga to improve team velocity 35%.
Budgeting: saved $800,000 through a company-wide automation drive.
Implemented Lean Training project for all employees.
For more tips on showcasing your PM hard skills, head over to Project Management Skills Crucial for Your Career (And Resume!)
8. Writing Skills
A solid grasp of writing techniques will give your career a boost if your job requires any sort of writing (think typing up quarterly reports, onboarding documents, presentations for clients, sales pitches, etc.).
Check out these examples:
Basic writing: grammar, punctuation, spelling, vocabulary
Note-taking
Letter writing
Email writing
Business writing reports, press releases, content management
Data visualization
Creative writing: plotting, worldbuilding, dialogue
Academic writing
Storytelling
Copywriting
SEO
Editing
Journalism
Proposal writing
Social media
Presentation writing
Now, an ultimate writing assignment… Conveying your writing skills on a resume. This is how to do it:
Content writing: produced up to 4 1000+ words long articles weekly.
Authored a 90-page user guide for a cloud-based webinar app.
Wrote 3 successful grant applications that received $160,000 in funding.
We've written a super detailed piece on writing skills, give it a read: 150+ Writing Skills for Jobs & How to Boost Them
9. Language Skills
Another somewhat obvious point on our list. But that doesn't make it less important.
Knowing more than one language will set you apart from your competition for any job in a company that deals with international customers or stakeholders.
First of all, create a section for languages. List all foreign languages you know and indicate your proficiency level.
But you can also emphasize your multilingual skills in other parts.
Offered meticulous customer support for clients in 3 languages: English, Spanish, French.
Need more information? See: How to Show Off Your Language Skills on a Resume
10. Design Skills
If you're a skilled illustrator, modern employers will fight one another for who gets to hire you. No, not only if your niche is graphic design. The ability to create polished visual materials is a great asset in all work environments.
Here are some graphic design skills examples.
Photoshop
Illustrator
InDesign
UX/UI design
UX research
Data visualization
Color theory
Acrobat
HTML/CSS
Free Hand
Corel Draw
Sketching
Typography
Print design
Layout
Now, here's a few samples from other resume sections:
Authored superior graphic design, print production, ads, marketing collateral, viewbooks, and logo design.
Designed logo for Nabor Gro groceries and liquor, Arondale, Connecticut.
Need more inspiration to highlight your creative powers? While we don't have a dedicated piece on design skills, I'm sure you'll find this one useful: How to Write a Head-Turning Graphic Design Resume
Certifications: The Best Way to Validate Your Hard Skills
If you have certifications that back up your skills, list them in a separate resume section. Include the name of the certificate and the year you received it.
Learn more: How to Include Certifications on Resumes
Plus, a great cover letter that matches your resume will give you an advantage over other candidates. You can write it in our cover letter builder here. Here's what it may look like: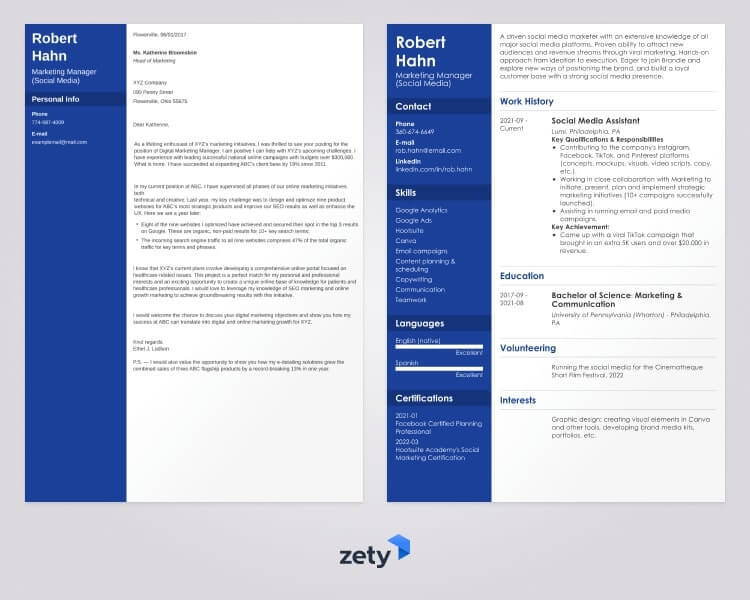 See more cover letter templates and start writing.
Here's everything you need to know about putting hard skills on a resume:
Hard skills are the job-specific skills that make you well suited for a particular role.
Always match your hard skills to those from the job ad.
Use skills-related keywords in the work experience section, along with real-life evidence of how you used those skills to achieve spectacular results.
Don't forget to list the most important abilities in a separate skills section.
Mention 2–3 most relevant skills in your resume profile.
Validate your skills by listing professional certifications.
Got more questions? Need assistance in picking the right hard skills for your resume? Drop me a line in the comments, I'll get right back to you.
About Zety's Editorial Process
This article has been reviewed by our editorial team to make sure it follows Zety's editorial guidelines. We're committed to sharing our expertise and giving you trustworthy career advice tailored to your needs. High-quality content is what brings over 40 million readers to our site every year. But we don't stop there. Our team conducts original research to understand the job market better, and we pride ourselves on being quoted by top universities and prime media outlets from around the world.
Frequently Asked Questions about Hard Skills
What are hard skills?
Hard skills are professional abilities that you must have to perform your job duties, and they refer to specialist knowledge you can learn through education, development courses, or training. Mastery of hard skills can be evaluated using knowledge tests or professional exams.
Hard skills differ from job to job. This means that a resume for a professional chef needs a different set of hard skills than a software engineer's resume. For a chef, hard skills examples are food preparation, sanitation and hygiene, combining flavors, planning menus, and managing kitchen staff. For a software engineer, examples of hard skills are programming languages, software testing, full-stack development, and so on.
What is the difference between hard skills vs. soft skills?
Hard skills refer to the essential knowledge that you need for your profession. Meanwhile, soft skills are personal qualities that influence your approach to problems, creativity, and ability to work with others. They're sometimes called people skills. While you can learn hard skills at school, during courses, or with training, you can develop soft skills through analysis of your own behavior and with the help of professional coaches.
Some argue which are more important in discussing hard skills vs. soft skills. But the truth is, a good employee needs both. Why? Because professionals without soft skills can be very difficult to work with.
What are the hard skills for a resume?
Hard skills on a resume are an essential part of the skill section. They can also be mentioned in other parts of the resume, such as a resume profile or the work experience section.
These job-specific abilities must be consistent with the job requirements. For example, if the job advertisement for a teacher says: "Essential duties include lesson planning for K-12 STEM curriculum, performing student evaluation using appropriate assessment techniques, and accurate maintenance of all required records," then the hard skills on a resume for a teacher are lesson planning, knowledge of K-12 STEM curriculum, student evaluation, and keeping administrative records.
It's recommended to select around 5–7 hard skills to put on a resume and to balance them out with 2–3 soft skills relevant to the job.
Why are hard skills important?
Hard skills are an important part of any job. They refer to the knowledge and abilities essential for the profession, such as having a driver's license and understanding road rules for a truck driver. Without those hard skills, employees won't be able to perform their work duties effectively.
As these skills are essential for work, it's worth brushing up on your knowledge and abilities from time to time. Even if you're an expert in your field, new developments might bring methods and solutions that can make your job easier, especially if your job needs computer skills or technical abilities.
What are the top 20 hard skills examples for 2023?
While hard skills vary between professions, some of these abilities are transferable. Learning them can be a good step to improving your career.
These are the top 20 hard skills for a resume in 2023:
1. Machine learning
2. Statistical modeling
3. Software testing
5. Product management
7. Accounting
8. Digital security
9. Search Engine Optimization
10. UX design
11. Graphic design
12. Marketing skills, including social media marketing
13. Account management
15. Programming languages
16. Cloud computing
17. Video editing
18. Teaching and knowledge management
Some of these skills may sound intimidating, but you can learn many of them via online courses or video tutorials. Think which of these skills can be smoothly combined with your profession. For example, if you are a photographer, you could spend a few hours of your free time learning about social media marketing to improve your Facebook and Instagram pages.