30+ Key Strengths for a Resume (List of Good Examples)
There are skills, and there are strengths. What's the difference between them, and how to identify strengths to list on your resume? Read on and find out!
Listing skills on a resume is one thing. You need them to prove you're the right fit for the job. But what about strengths to list on a resume? Are they the same thing?
Skills embody strengths. If you've excelled at managing a team, leadership is not just a skill but also your strength. Employers are not interested in candidates who simply know how to do certain things—they have specific strengths in mind. And they need proof.
Let's take a closer look at the strengths and skills for your resume.
This guide will show you:
What strengths to put on your resume to stand out from the rest of the candidates.
How to pick resume strengths examples to cater to employer's demands.
A list of strengths for your resume you can use as inspiration.
Ways to incorporate resume strengths across your resume, with a resume sample to guide you.
Want to save time and have your resume ready in 5 minutes? Try our resume builder. It's fast and easy to use. Plus, you'll get ready-made content to add with one click. See 20+ resume templates and create your resume here.
Sample resume made with our builder—See more resume examples here.
See our resume guides for freshers:
Sample Strengths Resume Template
Maria J. Wilkinson
marisjwilkinson@gmail.com
(682) 463-5240
Dallas, TX
Resume Summary
Resourceful and creative event planner and promoter with 6 years of experience in the events and advertising industries. Eager to join Plan A in supporting charity organizations through coordinating and promoting auctions and concerts. Oversaw successful organization and promotion of two 2000-guest trade shows, 24 concerts, and 37 ad campaigns. Exceeded expected event attendance by 20% by proactively engaging in marketing and promotion.
Work Experience
Event Planner
Blue Spark Productions and Management, Houston, TX
January 2016–March 2020
Winner of the company's Top of the Tops in 2019 for seeing through exceptionally successful events.
Fostered relationships with event clients through exceptional customer service.
Designed timelines and layouts for seamless event schedules.
Spearheaded new marketing strategies resulting in a 20% increase in business in 2018 and 2019.
Marketing Promotions Assistant
LSI, Phoenix, AZ
September 2013–November 2015
Actively involved in all aspects of the company's ad campaigns.
Successfully reconfigured weekly brainstorming sessions, resulting in increased efficiency and productivity.
Brought in 8 new major clients through active networking and friendly approach.
Education
Bachelor in Marketing
Tilburg University, Holland
Graduation: May 2013
Skills
Organization
Marketing
Communication
Complex problem solving
Negotiation
Judgment and decision making
Read more: How to Build a Resume
What Are Resume Strengths?
Resume strengths are things you're best at, traits or capabilities that make you excel at your work. Often they are talents that let you exceed expectations. Sometimes, they are even special abilities you may not be aware of, because they're part of who you are. To help identify your strengths, keep in mind that they are closely related to your personal values.
Strengths for a Resume—Examples
The best list of strengths to highlight on a resume is relevant to the job you're applying for and targets traits employers look for as well as key jobs skills.
Here's a general list of strengths for a resume:
Logical thinking skills
Punctuality
Work Ethic
Negotiation skills
Flexibility
Adaptability
Interested in interview prep: What Are Your Strengths? and What Is Your Greatest Weakness?
These are not just resume strengths examples. The items above are strengths and skills. But what makes them your strengths is having a natural knack for using them. This is what the recruiters are interested in. All you need to do is to recognize yours, and to know how to highlight them in your resume.
See many more ideas for strengths to list on resume in:
When making a resume in our builder, drag & drop bullet points, skills, and auto-fill the boring stuff. Spell check? Check. Start building a professional resume template here for free.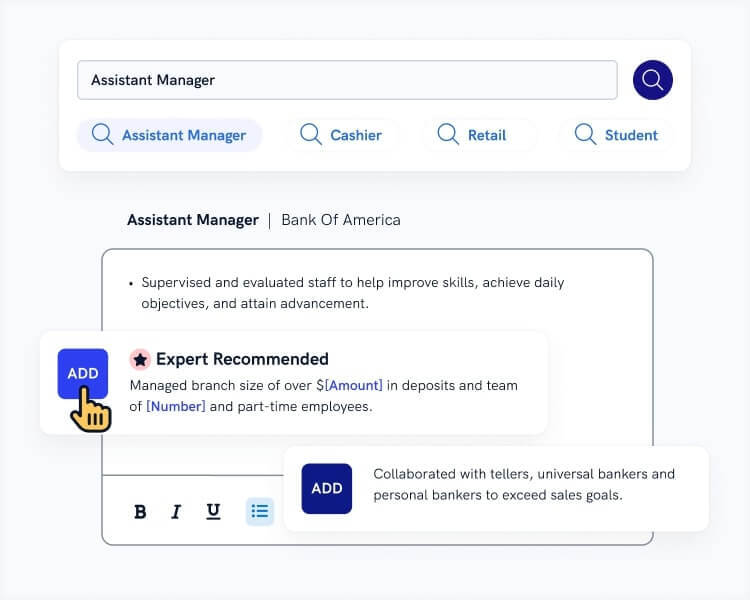 When you're done, our easy resume builder will score your resume and our resume checker will tell you exactly how to make it better.
How to Include Strengths on a Resume?
The strengths you sprinkle throughout your resume depend on the company's needs. How to do it the right way? Just follow these steps:
Read the job listing carefully to see what strengths their ideal candidate should possess.
Now, make a list of your own strengths.
Cross-reference both lists to decide which of your talents match.
Showing your knowledge of the company's needs shows enthusiasm, which can go a long way in assuring success not only before, but also after you get hired.
Mention them in all of your resume sections starting from the summary of qualifications to the last section.
Prove each ability by providing an achievement which illustrates them.
Our sample candidate's strengths to put on a resume are organization and marketing.
See how the candidate highlights them on their resume... and learn how you can make your strengths stand out on a resume:
Last but not least, remember to attach a cover letter to your resume, and be sure not to start it with salutations such as To Whom It May Concern, or Dear Sir or Madam. According to a Forbes article, these types of cover letter greetings immediately tell the hiring manager that you don't care enough about the job to do even the most basic research. See our guide on how to write a cover letter.
Plus, a great cover letter that matches your resume will give you an advantage over other candidates. You can write it in our cover letter builder here. Here's what it may look like: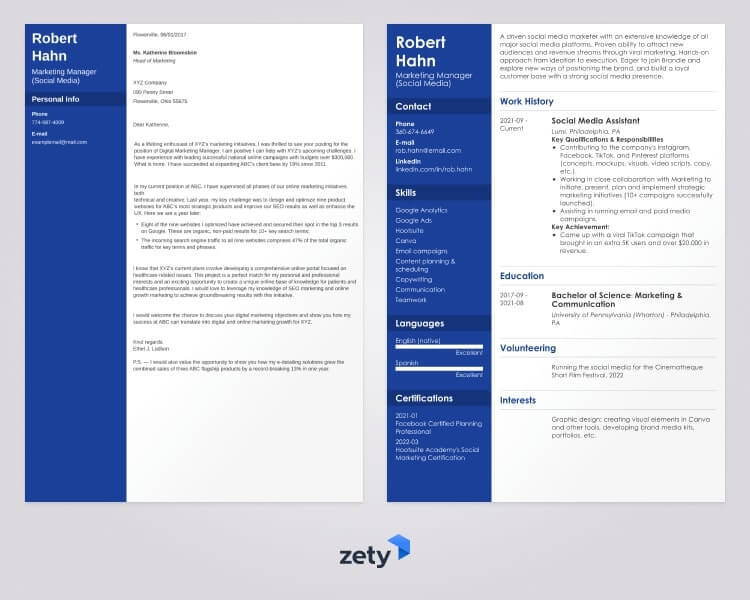 See more cover letter templates and start writing.
Key Takeaway
Here's a summary on how to build the perfect resume:
Choose the best type of resume for you. The reverse-chronological resume format works best if you already have experience.
Consider the font you're using when deciding on the font size. Most acceptable resume fonts can be 12 points, while some sans-serif fonts can go as low as 10 points. When it comes to paper, go with white or ivory if you're printing your resume. A study showed that resumes on white paper are received more positively than those on yellow paper, for example.
Add a resume introduction at the top of your resume to highlight your strengths and to show your interest in the job. Use a career summary if you have 2+ years of experience, and a career objective if this will be your first job in the field.
Make your resume work experience section solid with bullets outlining your most impressive achievements. Begin every bullet with resume action verbs like fostered, spearheaded,assisted, coordinated, designed, etc.
Be sure to include an education section. You can also add relevant coursework, Cum Laude, Dean's List, GPA or studying abroad to your resume.
Add a skills section that also includes your strengths.
List professional certifications and licenses in their own section to make them stand out and impress.
Improve your resume with additional resume sections if they further prove your strengths: language section, awards section, freelance work, projects, and hobbies and interests.
All that's left is to prepare for your interview with help from our guides on:
Thanks for reading! Would you like to see more examples of including strengths in a resume or do you have any suggestions? Let's chat in the comments!
About Zety's Editorial Process
This article has been reviewed by our editorial team to make sure it follows Zety's editorial guidelines. We're committed to sharing our expertise and giving you trustworthy career advice tailored to your needs. High-quality content is what brings over 40 million readers to our site every year. But we don't stop there. Our team conducts original research to understand the job market better, and we pride ourselves on being quoted by top universities and prime media outlets from around the world.
Frequently Asked Questions about Resume Strengths
What are good strengths to put on a resume?
Good strengths on a resume make it clear to the employer why they should hire you and correspond to the core competencies the company is looking for. The key strengths you list should feature a mix of relevant hard and soft skills for a successful resume that puts you ahead of the other candidates.
Here are some of the top strengths most employers are looking for:
Communication
Strong work ethic
Responsibility
Integrity
Ability to work under pressure
How can I make sure I'm listing the right strengths in my resume?
Aim for a tailored resume that takes the job ad into careful consideration. Follow these steps:
Remember that your work experience should also include evidence of your strength (preferably in the form of measurable achievements).
How many strengths should you list on a resume?
When you're selecting the professional skills and competencies to add to your resume, go for 5–10 resume bullet points in the Skills section (starting with hard skills for tech positions and soft skills for business/managerial positions).
Where should you put your key strengths on a resume?
Several resume sections should highlight your key strengths on a resume:
What type of resume highlights my strengths?
While each of the resume formats is supposed to bring out your strengths (if the resume is written well), the functional resume is the one that is centered around skills. This format, also known as a skills-based resume, focuses on transferable skills—and performs particularly well for career changers.
If you'd like expert tips on how to create a resume that highlights your strength well, read this guide: Proven Steps to Write a Great Resume