Our customers have been hired by:
What do typical interview questions and a zombie apocalypse have in common?
Yes, they're both terrifying. But also, you have to know your strengths and weaknesses to survive. No, literally. "What are your strengths?" is a very popular job interview question. Do you know how to answer it?
Read on, and addressing the dreaded "What are your strengths and weaknesses?" question will become your favorite part of any interview. Plus, this knowledge might eventually come in handy in case, you know, zombies.
This article will tell you:
How to answer the "what are your strengths" interview question.
What an interviewer wants to know when they ask about your greatest strengths.
Examples of strengths and the best answers for the "what are your strengths and weaknesses" question.
Start getting more job offers. See 20+ resume templates and create your resume.
Sample resume made with our builder — See more resume examples here.
Preparing for an interview? Here's a bunch of articles that will help:
Read on to learn how to talk about your greatest strengths the right way:
1
What Is the "What Are Your Strengths" Question All About?
The "what is your greatest strengths" interview question is a staple. You're going to get this question, and it's best if you prepare.
That's because most job seekers don't answer this question well. And they don't answer well because they make the mistake of thinking that this question is easy.
Okay, it is easy. But it takes some preparation to get it right. Here's what happens to candidates who don't think about how to answer the "what are your greatest strengths" question:
They are either arrogant:
What Are Your Strengths: Examples of Bad Answers
What are my strengths? Where do I begin? I'm Superman. I mean look. I take off my glasses - Superman. I put them back on - Clark Kent. You can see it. Yeah, you can! Plus, I'm so good at stuff that you'll think I'm a psychic. I'll get work done before there is work to do. I can already guarantee you that I'm better than all your other employees combined.
Or they are too humble:
What are my strengths? Well, I guess I'm pretty good at breathing? I don't know. That's what my mom said. She's usually right about stuff. So, I guess yeah. I guess I could say I'm a good breather.
The answer the interviewer is looking for is both self-aware and confident.
Here are a few other aspects of a perfect "what are your strengths" example answer:
Answering "What Are Your Strengths?" Examples
Right
Your strongest skills tailored to match those requested in the job offer.
I noticed that the job offer listed attention to detail as a desirable skill for the position. I'd say that attention to detail is, in fact, my greatest strength.
A couple of your strongest, most relevant skills backed up with success stories.
My greatest strength is my writing skills. I can also work to tight deadlines under pressure. For example, I was once asked to complete a project that fell through the cracks. My editor discovered the mistake two hours before the deadline.
It was an important piece that gave our publication a scoop on the topic in question. Not only did the piece have to go out on time, but it had to be perfect. I hunkered down and wrote. The result? The article was on time and acclaimed.
Wrong
A humble answer pointing to a weaker skill.
I guess that I'm a strong people person as long as I don't have to write emails and can talk to that person face-to-face.
A laundry list of random skills with no examples of strengths or what it looks like when you put those skills to use.
My strengths? Where do I start? I'm great at customer service, organizing stuff, writing, sales, and marketing. Oh! I almost forgot. I can also administer medication to large domestic animals.
Worried about the other portions of your big day? Check out our helpful interview advice to be sure you ace your meeting.
What Are Your Strengths—Alternative Questions
Here's a list of alternative versions of the "what are your strengths" question:
What is your greatest strength?
What is your biggest strength?
What strengths would you bring to our company?
What are three strengths that you bring to this position?
What are your greatest professional strengths?
What is your greatest accomplishment or the project you're most proud of completing?
What do you do best in your current position?
What would your co-workers say is your strongest area of expertise?
You'll want to prepare for potential follow-up questions:
Can you explain how you've used that strength to achieve results in your current position?
Notice that some of the questions asked in an interview refer to your "current position." You'll want to prepare a couple of examples of success that are recent.
You'll also want to prepare for the what is your greatest strength AND weakness question.
Interviewers often pair the "what are your strengths" interview question with weaknesses:
What are your strengths and weaknesses?
Continue reading, and you will find out how to answer the "what are your strengths" question.
Pro Tip: It's a good idea to have a few personal strengths and weaknesses tucked up your sleeve. Interviewers may ask you to come up with several strengths and weaknesses. That way they can be sure you're not giving memorized answers.
Be sure to master your answer to the opposite question: What Is Your Greatest Weakness?
2
How to Answer the Question "What Are Your Strengths"—Examples
The perfect answer begins with the perfect strength.
Common Strengths Examples
Enthusiasm
Task prioritization
Discipline
Determination
Dedication
You don't have to memorize the full list. Strengths are work-related skills that you need to do the job. So, the best place to start (as always) is your job offer. Underline or highlight all the skills and qualifications that you see listed.
Here's an example of a job offer for an Administrative Assistant: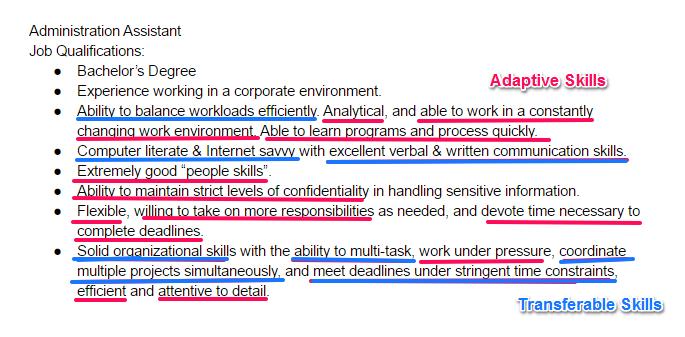 What are your skills? Are they hard skills? Soft skills? There is quite a difference between hard skills vs. soft skills. But ask yourself a more pointed question—which skills and qualifications are the most important?
You can do three things to find out:
Have a look at a few other job offers for similar positions. Are any of the skills and qualifications repeated?
Look up professionals with the same titles on LinkedIn. What do they list as skills and qualifications on their profiles?
Focus on adaptive and transferable skills.
Notice that adaptive skills are pink and transferable skills are blue.
You can also split your skills into three categories:
Job-related skills
Transferable skills
Adaptive skills
We're going to ignore mandatory job-related skills for the moment. Job-related skills are those you need to do a job.
For example, programmers need to know programming languages such as Java and Python. Truck drivers need to drive. Cooks need to cook. Dancers need to dance. You get the idea.
I can say with certainty that you're not headed off to an interview if you don't have the job-related skills.
You won't want to answer the "what are your strengths" question with a job-related skill.
A perfect answer for an administrative assistant:
What Is Your Greatest Strength: Example Answer
Right
My greatest strength is my written communication skills.
Wrong
My greatest strength is administering assistance.
See, transferable skills (those in blue) are things you can use at any job in any industry.
A good example from our job offer is excellent written communication skills or management skills.
Writing is a desirable skill for almost any job. If writing is one of your strengths, you might want to choose it as an answer for the "what are your strengths" question.
But what about the adaptive skills?
Adaptive skills are also known as "soft skills" or personal skills. Good examples include persuasion or confidence.
In our Admin Assistant offer we have:
Analytical Thinking
Flexibility and Adaptability (Changing Environments)
Ability to Learn Programs and Processes
Extremely Good People Skills
Confidentiality
Willingness to take on Responsibility
Devotion to Deadlines
Ability to Work Under Pressure
Efficient
Now, make a master list of your skills. Did you make a master list of skills for your resume? You can dig that back out and recycle it.
Look at the list of your skills versus the list of skills from the job offer. Which five are your strongest skills?
Once you've chosen your strongest skills, think of a time that you used that skill for your job.
Ask yourself:
Did your strength earn the company money?
Did your strength save the company money?
Did a supervisor ever pat you on the back because of your strengths?
Did you ever get an award outside or inside your company?
For each strength think of a success story to illustrate the impact you have when you use those skills. "What are your strengths" example answers should always include proof.
Finally, you'll want to write out each success story using the STAR method.
The STAR method helps you remember how to talk about your accomplishments.
STAR stands for Situation, Task, Action, Result:
Situation - You start by explaining a situation which required you to solve a problem, use a skill, or come up with a new idea.
Task - Next, you explain the action that your job requires in such a situation.
Action - After, you describe the action that you took. If it's different than the required task, you should also explain why you chose a different path.
Result - What happened in the end? How did the situation play out once you acted? It's best here to illustrate successes with numbers and details if you can. Numbers help reinforce the impact that your action had.
Let's take one of the adaptive skills from the Admin Assistant job offer:
What are your strengths?
Ability to multitask in a constantly changing environment.
Situation - Over a six-month period, I had to assist ABC company in two major reorganization projects. First, the company went through a merger. Next, we moved our headquarters across town.
Task - My role during the merger was to reorganize the filing system. The new filing system had to be in place before we moved. Second, I spearheaded the move to the new headquarters. My responsibilities included packing up the office and coordinating with the movers. I also had to keep everything within budget.
Action - I had to learn the new process quickly and work under pressure according to tight deadlines. So, I dedicated time after hours to learn the new system. I watched online tutorials and read the manuals front to back. I paid close attention to details. For the move, I chose a moving company that had helped other companies in our building move. The company had also worked with me in my previous role and offered a discount.
Result - The time I dedicated to learning the new filing process paid off in the end. It took me half the time expected to put the new system in place. That allowed me to focus on moving the office. I became an expert in the new filing system, and my supervisor chose me to teach the process to everyone else. My choice of moving company also made the transition to the new office smooth.
Pro Tip: Some skills and traits are considered useful across all industries. Take a look at the top skills employers look for and the top traits and qualities employers look for to find out more.
You can use resume achievements to answer the "what are your strengths" question. Read our guide: Achievements to Put on a Resume - Complete Guide (+30 Examples)
And be sure to follow up with the most comprensive guide on skills out there: Skills that Get Jobs: the Ultimate Guide
And make sure you truly know How to Put Strengths on a Resume
When making a resume in our builder, drag & drop bullet points, skills, and auto-fill the boring stuff. Spell check? Check. Start building professional resume template here for free.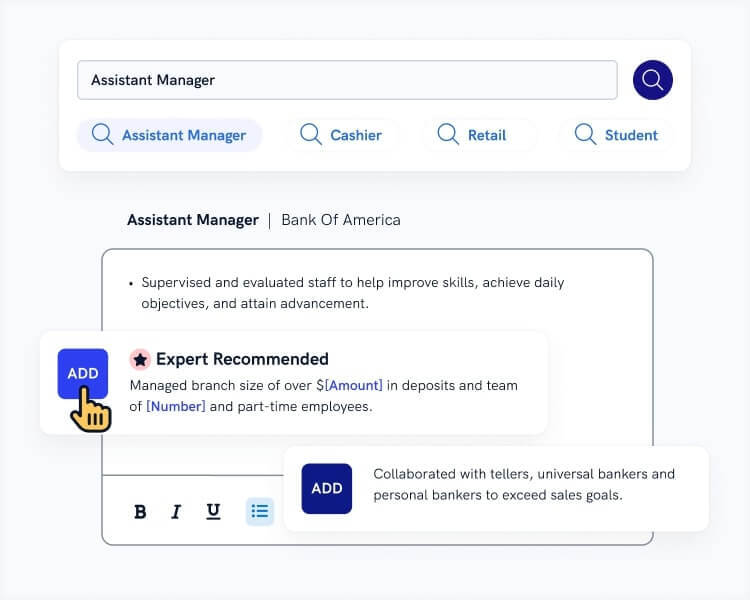 When you're done, our free resume builder will score your resume and our resume checker will tell you exactly how to make it better.
3
Examples of Best Answers for the "What Are Your Strengths" Question
You'll want to identify and have stories ready for a few personal strengths. The interview can follow up the "what are your strengths" question by asking for more examples of strengths.
They could also ask the popular combination question:
What are your greatest strengths and weaknesses?
With that in mind, our Administrative Assistant candidate will want to prepare.
Here's an example of a second strength for the same candidate.
What Are Your Greatest Strenghts: Examples
right
One of your personal strengths tailored to match a skill from the job description. Plus a success story told using the STAR method to illustrate the impact of your strength in action.
My greatest strength is my people skills. Part of that comes from my ability to maintain strict levels of confidentiality.
Here the candidate says her strength is "people skills."
She follows up with another skill from the job description. Two birds, one strength.
At my last company, we worked with several large corporate clients. For a significant industry event, my supervisor asked me to book travel arrangements.
She starts her example with a situation. She then references the work she did for large corporations.
She noticed the job offer asks for experience in a corporate environment. So, she makes a point to refer to her experience in her "what are your strengths" answer.
The task required me to form relationships with other admin assistants. I also had access to sensitive information.
The task refers to the two personal strengths mentioned in the beginning.
I earned the trust of both internal and external executives. They heard that I was the preferred point of contact for their assistants. They praised me for my discreteness and excellent written communication skills. They also noticed that I am Internet savvy. I booked the best deals without compromising on quality.
Here the candidate draws on additional skills. Don't be afraid to mention several skills from the job description if they fit.
You don't have to remember everything. Practice will help you fit in additional skills over the natural course of the conversation.
After the event, my supervisor chose me to coordinate travel arrangements. So, I continued to work from then on with our executives and our largest confidential clients.
The candidate shows the impact of her personal strengths. Her superiors chose her to work with the company's largest corporate clients.
That's how you answer the "what are your strengths" interview question.
wrong
Well, I'm not all that bad at throwing together an Excel spreadsheet. I can do a Powerpoint presentation now and then. I guess my other strengths are making coffee, stapling things, and typing. Oh yeah, and I can open emails, talk on the telephone, send emails, and use scissors.
The candidate here uses words and phrases that undermine his confidence. Words and phrases like "not all that bad," "now and then," and "I guess" show weakness and hesitation.
Also, notice the laundry list of random skills. Anyone who works in an office can staple and use scissors. Most preschool children can.
Pro Tip: Don't hedge. Use strong, confident words. Turn "not all that bad" into "my greatest strength is." Answer in a concrete and sure way.
Practice your answers with a friend so that you can find out how you're coming across before the interview.
This is just one question of many you will hear. Prepare for all of them: Common and Difficult Job Interview Questionsand Why Should We Hire You?
What do you do once the interview is over? Send a thank you email: How to Write a Thank You Email After an Interview (+10 Examples)
BONUS: Struggling with job interview anxiety? We've got you covered. Download our FREE ultimate checklist Things You Need To Do Before, During, and After Your Big Interview and make sure you come out on top.
Plus, a great cover letter that matches your resume will give you an advantage over other candidates. You can write it in our cover letter builder here. Here's what it may look like: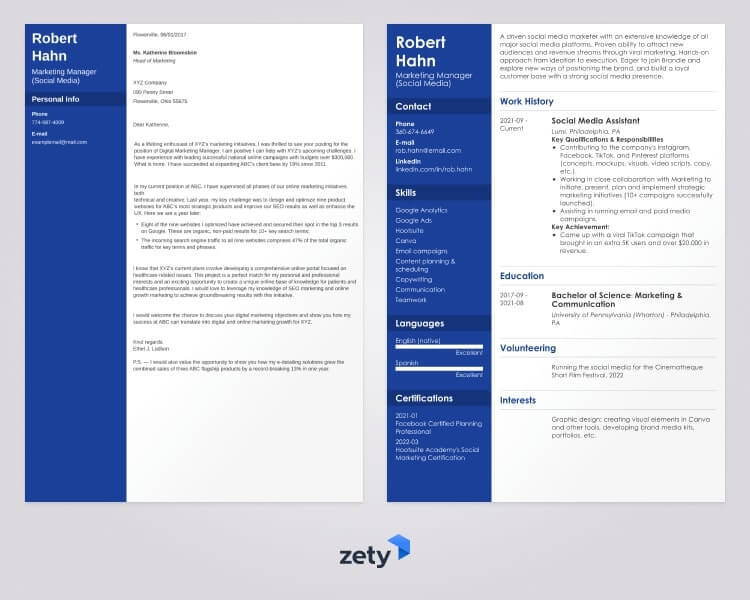 See more cover letter templates and start writing.
Key Takeaway
To properly answer this dreaded interview question, remember:
The key to answering the "what are your strengths" question is tailoring.
Choose a strength that matches the skills that you find in the job offer.
To be honest the all the best answers to interview questions require tailoring. But a perfect answer also includes a success story.
Your story needs to show the impact your strength can have on your results.
Focus on your best skills and achievements. Answer with self-awareness and confidence. Do this, and you can survive even the zombie apocalypse of job interviews.
Still not sure how to talk about your strengths during an interview? We can help! Leave us a comment and we will help you identify your best strengths before the big day.
About Zety's Editorial Process
This article has been reviewed by our editorial team to make sure it follows Zety's editorial guidelines. We're committed to sharing our expertise and giving you trustworthy career advice tailored to your needs. High-quality content is what brings over 40 million readers to our site every year. But we don't stop there. Our team conducts original research to understand the job market better, and we pride ourselves on being quoted by top universities and prime media outlets from around the world.