People tell you to dress for success. To dress for the job you want, not the job you have.
Makes sense because 55% of first impressions are determined by the way you dress and walk through the door and 65% of hiring managers say clothes are a deciding factor between two candidates.
But no one ever tells you what it is exactly you should wear to an interview.
Not us!
Like Edith Head said, you can have anything you want in life if you dress for it.
This guide will show you:
How to dress for an interview to make the right impression.
What to wear to be business-casual-friendly.
What colors are appropriate for an interview.
The dress code for business professional attire that works like magic in job interviews.
Business casual and business professional interview outfit ideas for both men and women.
Want to save time and have your resume ready in 5 minutes? Try our resume builder. It's fast and easy to use. Plus, you'll get tips and right vs. wrong examples while writing your resume. See +20 resume templates and create your resume here.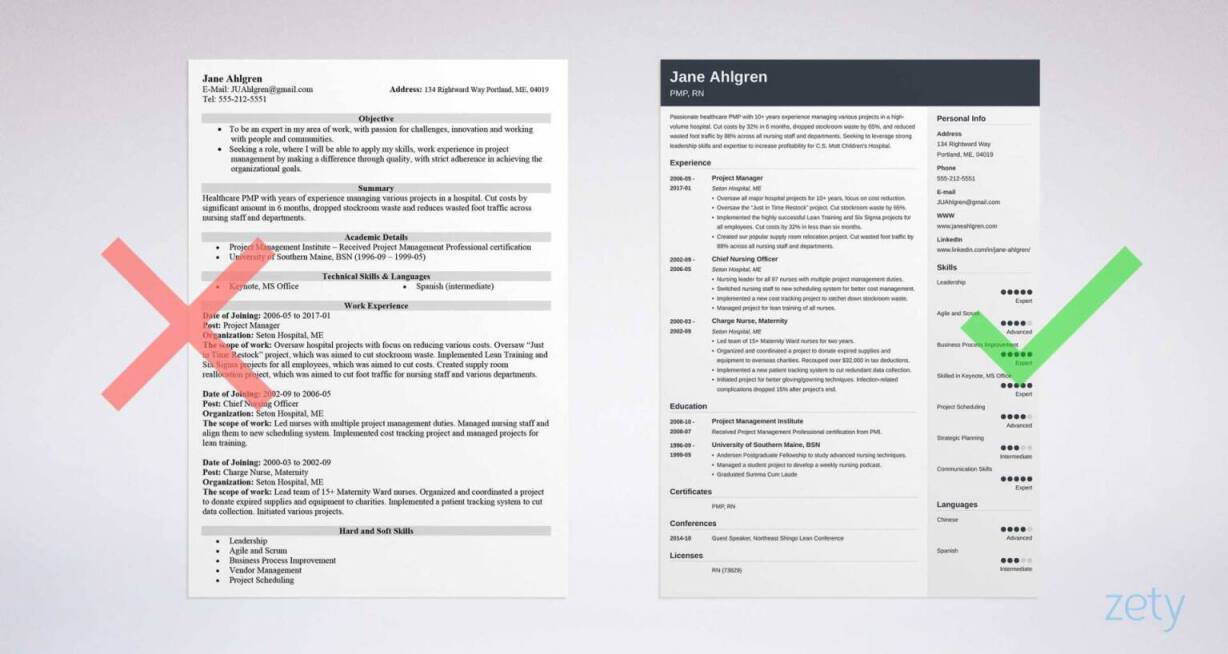 Sample Resume Templates - See more templates and create your resume here.
1
What to Wear to an Interview: The General Rules
Dressing up for an interview is all about matching their company culture.
Most offices operate in business professional attire (don't worry we'll get into that in less than 50 seconds), but some startups and companies prefer casual outfits in the office (we'll also give you the deets on this).
If you're not sure what to wear to your job interview, you could send a quick email to your recruiter to ask about the dress code.
If anything, it will demonstrate your proactive nature and your intentions to do well in your interview.
If for whatever reason you think asking is a bit too out there for you, most companies have social media profiles these days. You could check a few of their employees' profiles and see what they're wearing during office hours.
A few companies even have "A day in the life" videos. You could watch a few of those and get an insight of what the office dress code is all about there. Or simply show up during lunch break to assess what everyone wears.
Weird? Perhaps. Foolproof? Most definitely!
If the company feels corporate, then a suit and tie for men or a suit and dress for women is the way to go. If it's more a-la Zuckerberg, plain t-shirt and casual pants, you know business casual is your friend.
Here is a general guideline of what to wear to an interview according to the industry or department you're in:
How to Dress for an Interview

Conservative/

Business Professional

Business Casual

Casual

Creative/

Fashionable

Corporations

Financial institutions

Accounting Firms

Law Firms

High-level governmental institutions

Sales

Government agencies

Education

Retail

Small Business

Tech

Engineering

Real Estate

Repair

Landscaping

Plumbing

Construction

Entertainment

Fashion

Graphic Design

Travel

Music
Before we get into the good bits, let's set a few rules for you to dress to impress:
Avoid deciding what to wear on the day of the interview. You'll be stressed enough, trust me! You don't want to end up looking like a kid playing in daddy's suit or wear the wrong bra with the only professional dress you have. The right fit is as important as the outfit.
Do your laundry a day before. Hiring managers can spot a great candidate. They can also spot that meatball stain you have from your last Bumble date, because hey—that's the only shirt you wear to close the deal. If you think a stain is human, you need a reality check. Stains and dirty marks turned off 59% of executives. Mic drop.
Stay away from too much jewelry. Leave your stacking skills for Coachella. Too many chains, necklaces or bangles can clang together and end up being just pure noise and distraction.
Skype interviews don't escape any of these rules. They require the same level of thought and attention to your outfit. Also, please wear pants. You never know if you'll need to suddenly stand up to get something. Awkward...
Pro Tip: After assessing the tone of your prospective company, you should always aim to dress one notch smarter for your interview. But remember, being way too overdressed can be as bad as being underdressed. So do your research!
If you know what all this means, you're good to go. Start preparing for your interview by studying the most common interview questions:
And learn what questions you don't have to answer with help from: Illegal Interview Questions an Employer Cannot Ask [So Don't Answer!]
2
Interview Attire for Women: Business Professional Interview Clothes
Working in a conservative industry or for a big corporate company?
Choosing business professional attire is always a safe bet, even when you don't know the dress code in the company you're applying to.
But not to worry, we'll show you how to rock your business professional attire, even Anna Wintour would be impressed.
Ladies first though. If you're looking for answers on the gents side, scroll down a bit further for advice and details on business professional ties, suits and shoes for men.
What is business professional attire for women?
Sometimes you wish you were a man, only a standard pair of shoes, a dashing suit and plain shirt and voila! All ready to seal the deal during the interview. But deciding what to wear for an interview for women doesn't have to be as complicated as you might think.
Business professional attire is the most formal attire one can wear (weddings notwithstanding), it needs to reflect your personality and competence without going overboard.
Truth is, most everyday outfits women have in their closet can be tweaked and have you interview ready.
Let's start with business professional suits for women first.
How to wear a business professional suit for women
Suits are a staple of a woman's professional closet. Even Wonder Woman has one!
For women, suits are generally made of a blazer and either a pair of trousers or a skirt in a matching fabric. Here are some guidelines for interview attire to follow.
You'll feel like you're the brainchild of Carrie Bradshaw and Michelle Obama (come on, who wouldn't want to be):
Always choose a neutral color like navy blue, grey or black.
The fabric should be seasonless like wool.
The sleeves on the blazer should end right at your wrist. Don't bother with sleeves that come down to your hands.
The blazer should sit nicely on your shoulder. It should be right at the edge without hanging past.
The skirt should come at least to the top of your knees so it's not too short when you're walking or sitting down.
The trousers may need to be tailored depending on your height and the height of the shoes you're planning to wear with them. The trouser cuff should be at the midway point of your shoe or just past your ankles.
Even if you plan to wear the blazer open, you should be able to comfortably close it. But careful of too much extra room when the blazer is buttoned!
What is a business professional dress for women?
What would women be without a good old dress?
We all have that one dress, often black, that we like to wear on every occasion. But is it interview appropriate?
Let's find out.
Formal dresses for women are easy to come around. But remember that work dresses shouldn't be too tight, too short or too revealing. You can, of course, pair them with blazers but be careful that your color coordination is on point.
Avoid the steely gaze of Miranda Priestly and opt out of sleeveless. They're generally too casual for most offices.
Still hanging on to that black dress of yours? No problem.
What to wear with a black dress
A jacket always adds a professional touch to any simple black dress. Paired with a nice pair of shoes and handbag (avoid flashy colors here), it might just be what your day-to-day black dress needs to enter the business professional clan. Keep the look simple, polished and elegant.
Wait—are you more a skirt kinda girl? That works too.
What to wear with a black skirt
You can never go wrong with a lighter top and black blazer here. Black shoes work well too.
Are you more of a woman who wears the pants?
Joan of Arc would be proud. But unfortunately, it's not necessarily the easiest option. You need to make sure they're the right fit.
How should women's dress pants fit
First of all, you want to avoid pants that are too tight you can't sit comfortably or so tight you have a visible panty line. If you have a "camel toe" at the crotch or if your pants are "smiling", your pants are too tight.
A picture is worth a thousand words:
Notice the creases at the crotch, not good...
In contrast, a rise seam that is too long will create bulges at the top. You don't want that either!
If you can't pinch at leach an inch of extra fabric on your thighs, your pants might be in the "too tight" category.
Now let's tackle the shirts.
How to choose professional shirts for women
When it comes to looking for shirts to wear with skirts or professional pants, deciding on what shirt to wear to an interview can be challenging. Whether you go with a classic professional white shirt or a silky colored one, what matters here is to stick with simple.
Avoid flashy colors and logos at all cost. Certain prints can be an option, but if you're not too sure, don't risk it.
Now let's move on to the shoes and let's address the elephant in the room first.
Do I have to wear heels to an interview?
You don't have to wear heels to any interview, especially if you're not comfortable. And even if you're petite. You don't want your prospective team or boss remembering you as the wobbly candidate. Not the greatest of impressions if you ask!
When deciding what professional shoes to wear to an interview, make sure your shoes are closed toe, the heel no higher than 3 inches, and in neutral colors. Flats are perfectly acceptable for an interview too.
Leave the flip-flops, Eskimo boots, and Nike in the shoe cabinet. And the sandals are for casual Fridays, not interviews!
3
Interview Attire for Men: What to Wear and How to Pull It Off
Not all men have Tom Ford's fashion acumen and that's why we're here!
In a world where most guys wear sneakers and can barely remember how to knot a necktie, a business professional outfit is your chance to look cooler than the rest.
So, should you really wear a suit to an interview?
When men are deciding what to wear to an interview, they're often left with one choice: to suit up. If you work at the C-level of an organization, in law or in finance, the dress code pretty much has one rule only: conservative. If in doubt, always choose a suit.
But, how do you wear a suit for an interview? And what's the best suit color?
Your suit should be a two-piece, in either charcoal grey or navy blue. You can also wear navy suits or grey suits with subtle pinstripes. Lighter greys and blues can be worn in spring or summer. But very light suit colors are for garden parties and weddings, not the office.
Should you wear a black suit to an interview?
Good question! Look, wearing a well-fitted black suit won't make you miss your chance at the interview, but it's not ideal either. If you can, avoid wearing a black suit. And a black shirt for that matter. Just saying, we never know.
Speaking of shirts and colors…

What color shirt should you wear to an interview?
Solid white and light-to-medium blues would be your best choices. Pink dress shirts look nice, but they tend to be more accepted in England than they are in the United States.
Should you lose the cuffs?
You can either go with barrel or French cuffs, but you could leave the French cuffs to co-workers who have more seniority over you. A younger man wearing French cuffs may be seen as a bit arrogant. Sounds unfair, doesn't it?
Ties for Interviews
One word: simple. Solids are a preference, but you could do stripes or dots. Unless you're interviewing to impersonate Ronald McDonald, avoid electric bright colors like yellow, or a flaming red.
What shoes to wear to an interview
This is where men can have some fun when picking what to wear to an interview. The color of your shoes should be either black, brown or burgundy. The rest is up to you. Oxfords, quarter-brogues, whole cuts, Venetian loafers or cap-toes, whatever you fancy.
Pro Tip: If your budget is limited or if you want a few options of interview outfits, you could always get a first-time buyer discount with online retailers. End of stock retailers like TJ Maxx or Century 21 can also be a source of good finds for both men and women.
4
How to wear Business Casual for an Interview? [MEN and WOMEN]
First of all, let's address the question all of us had at some point: what the heck is business casual?
The easiest way to think of business casual is a hybrid of business professional and casual wear. You don't need to wear a full-on suit, but shorts and flip-flops wouldn't be appropriate.
Think button-down long-sleeved shirt or casual blouse with khakis.
When googling around to decide what to wear to an interview, both men and women end up thinking that it's perfectly okay to wear jeans. But business casual isn't meant to be a casual look, it's meant for business purposes.
When deciding what to wear to an interview, always lean towards the business side rather than the casual side.
Some companies allow jeans and you might get away with it, but ask yourself whether you want to wear clothes that you get away with or wear ones that give the most professional impression of you. Plus, you can still gauge what others are wearing once in the office.
Better to be safe, than sorry.
What's a business casual shirt for men and women?
Dress shirts are business casual must-haves for both women and men. Some offices might allow polo shirts in the summer, but once again, don't risk it for an interview. Wear a shirt when interviewing then once you have a sneak peek of the office style, go for it!
Shirts in conservative colors work for both men and women. And please, tuck it in!
An untucked shirt has no business being in a business casual outfit. Leave your top two buttons undone, unless it's showing too much chest hair or cleavage, then leave just the top one undone.
What are business casual pants?
We've already established that jeans are a no-go, but chinos, dress pants or khakis are a no-brainer. Here, conservative colors are always your best friend. We're talking navy, camel or grey for example. If you want more colored pants, make sure they're muted.
What if I want to wear a business casual dress or skirt?
That works too. Although if you're a man reading this, you might want to scroll down a bit further. The blouses or shirts you wear with your pants will most likely pair well with a skirt. Pencil, A-line or pleated skirt in a solid color always works best.
Try avoiding patterns during a first interview and leave your fashionable pieces for when you signed your contract!
Dresses are an easier choice for business casual outfits for women. It's one item and off you go to work! Here, sleeveless could work. But avoid minis, high-low, and asymmetrical hemlines and go for dresses and skirts just above the knee or below.
It's still an interview you're going for!
What are business casual shoes?
When deciding what to wear to an interview, the only business casual shoes you want to pick are sneakers. Those Stan Smith are originals after all, and you want to show them off.
But don't. Seriously, your hiring manager couldn't care less about your sneaker collection.
Men should consider loafers, oxfords, derbies, and brogues when deciding what to wear to an interview.
If you get a pair in black and another in brown, you have an appropriate pair of shoes to wear with any color of your pants. You might even forget those sneakers for a little while! (Never, you must be screaming)
Women should consider flats, wedges, heels, and boots when picking what to wear to an interview.
Only certain sandals can be worn with your business casual outfits so you might want to stick with flats or less than 3 inches heels. You can spice up the color of your shoes, but neutrals are always a good bet.
Examples of Business Casual Outfits for Men
Channel the James Bond in you and dazzle them with your effortlessly chic business casual suit. This is a smart one too.
If you end up in an office with a more business professional look, you wouldn't stick out too much. But if your interview is with laid-back colleagues, you can just lose the jacket, and you'd fit right in.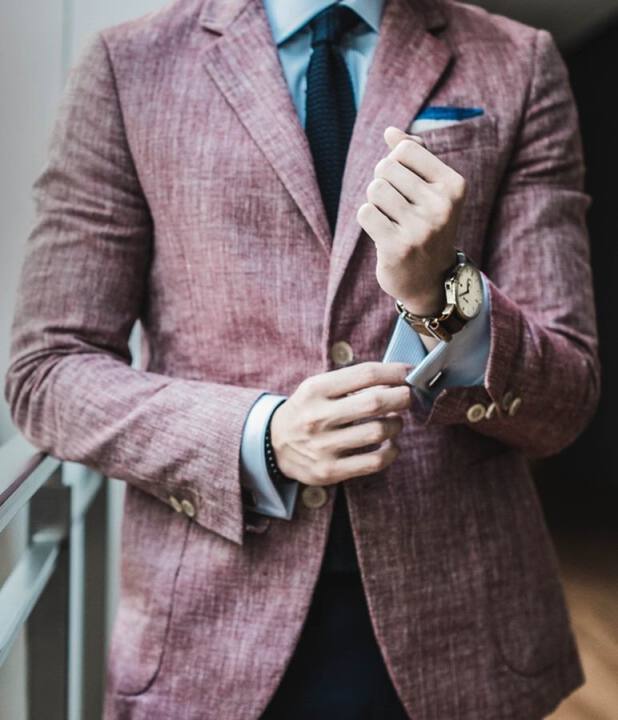 An odd jacket means a jacket that wasn't made with a matching pair of pants. So for all of you tweed lovers out there, this is your chance to show off your collection.
Dress pants or chinos work well with any odd jacket. Dress pants are a bit more on the business professional side and chinos are more casual.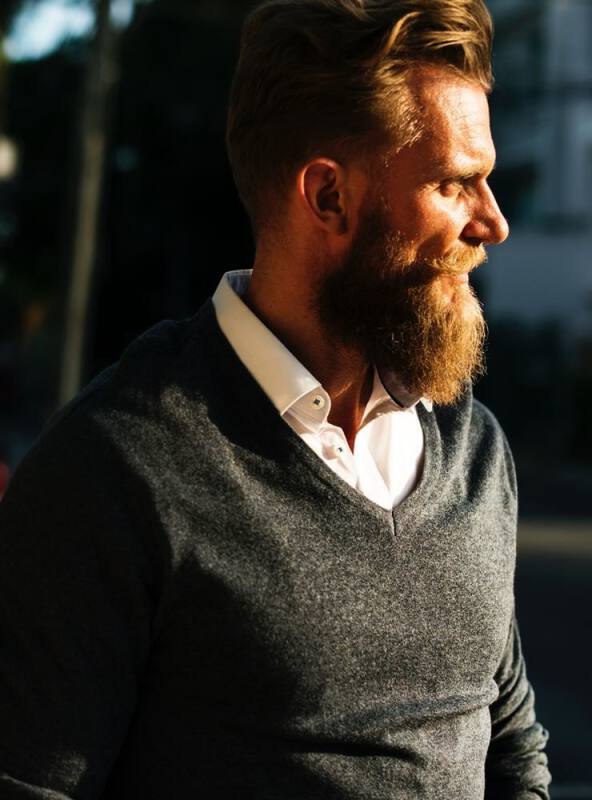 This look is for all the casual junkies out there. Yep, looking at you suit snobs!
It's not as dressed up as the two previous ones but still misleads your interviewer into thinking that you're a trustworthy professional. If only they knew!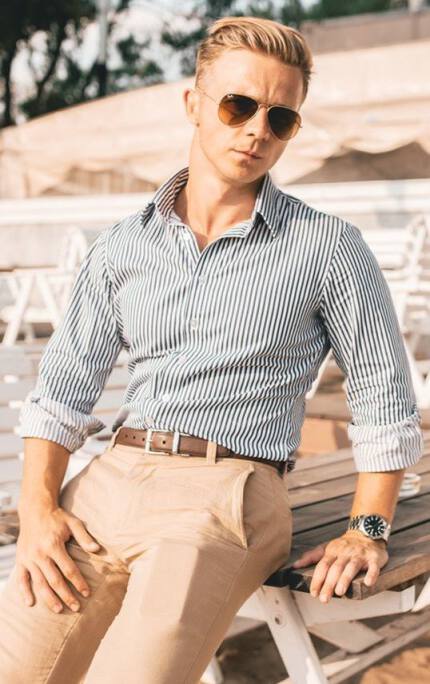 You're probably sick of seeing Ryan Gosling in every fashion (or not) related article out there, but he does a good job at picking a business casual outfit that doesn't look that casual.
Or maybe I'm just biased.
In any case, live by this rule: either wear a jacket and tie, or neither. Wearing a tie with this look will make you look boyish. Like your mother dressed you up for your aunt's wedding. Not exactly the look we want to go for here.
Examples of Business Casual Outfits for Women
A sleeveless dress might be too much on the casual side, but paired with a blazer, you're ready to butt heads with Oprah in those fancy billionaire lists.
Ok maybe you won't have billions coming through in your bank account (or not just yet), but you'll sure feel like a million bucks.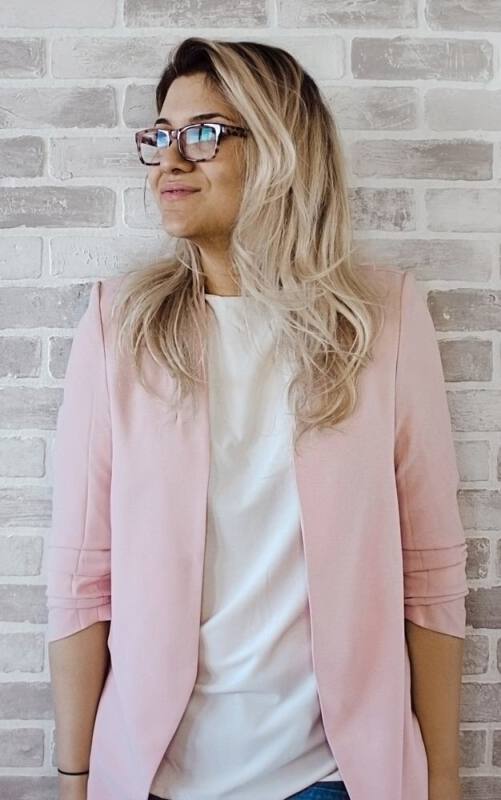 A basic cardigan is a must in any business casual outfits for women. A simple waist length cardigan or longer one works just fine.
Buttons, no buttons, it doesn't matter. We just emphasize the right fit. You don't want to show up for an interview like you've stolen your boyfriend's cardigan.
With longer cardigans, you can even use a skinny belt to add some definition and a different look to an outfit.
This one is an all-star favorite. Wearing a nice blouse with dress pants or chinos doesn't compromise comfort and is totally business casual. Seriously, men wish they could just show up to an interview like this too.
In colder months, stick with long or ¾ sleeves. For spring and summer, short or cap sleeves work well. Keep your neckline somewhat modest with a collared, boat neck, square neck, or turtleneck.
I mean how comfy and professional does this look.
Simple, professional, not too casual, not too stuck up.
Fine-gauge knits work best. Bulky sweaters not so much. You can wear well-fitted sweaters with pants, skirts, or even over a dress.
Pro Tip: When deciding what colors to wear to an interview, you should always go for colors that go with your skin tone. Nudes and solid colors are every man and woman's best friends. Leave the bold choices to when you actually know if the dress code allows it.
5
I

nterview Grooming: Hair Up or Down? (Face On or Off?)
How to wear your hair for an interview can be a bit of a daunting question.
If you're a man, then it's pretty straightforward. Err on the safe side with a clean, neat and well-maintained haircut. Also, put your best self forward and shave, it's that simple. And send a selfie to your mom, she'll be proud!
If you're a woman, it gets a bit more trickier.
If you're more "Becky with the good hair," then you can rock your long (or short) hair don't care, as long as it's combed, fresh and sleek. Controlled waves can also look elegant, so don't worry too much about wearing your hair all natural.
A bun or ponytail look also works for both short and long hair. Getting a blow out will give you that extra boost of confidence before an interview for sure!
Should you wear your hair up or down for an interview?
Whatever style you're going for, make sure it's polished and you'll sure be ready to get that interview.
And what's the verdict for men with long hair in interviews?
Mmh, tricky tricky one. The general consensus is to cut it. Don't start crying just yet though, you could get away with wearing it in a tight bun. But wearing it loose is unfortunately not acceptable in various industries. Sorry, bruh!
What makeup should you wear to an interview?
In terms of makeup, keep it simple. This isn't the time to experiment with different looks. If you usually know how to rock a red lip, then go for it. But if you're a newbie, please don't even try. Not the day of your interview.
Stick to nudes and warm colors and tone down the glamorous eyeshadow, you'll have plenty of other occasions to use that Huda beauty palette at the annual gala if you get the job.
Pro Tip: Your hair and face aren't the only ones you need to care for here. Make sure your hands are well-kept and your nails are trimmed. If you're a woman and really insist on having some colors popping, stick to sheer colors, taupe, beige or clear nail polish and ensure your nails are well-manicured.
6
What not to Wear to an Interview?
All of us, at some point in our lives, have watched an episode or two of any makeover show. Come on, you don't have to be a heavy binge watcher to know what I'm talking about.
Can you at least picture that before stage?
That's exactly how we don't want you to show up at your interview.
Here is what NOT to wear to an interview:
Flip-flops. Wear grown-up shoes, you can do it.
Shiny bright suits. Only Stanley Ipkiss (The Mask) can rock that one!
No open toe anything. True, sandals can be fine for women in some climates but stay away for beachy sandals in general.
Heavy fragrance. It's super distracting and not everyone is keen on your 100 years old cologne. Also, don't go to your interview smelling like your lunch, please!
Underwear that's visible. Bras, briefs, boxers, etc., even if your bra strap matches your top.
Blouses that are too short or too low cut. No one is interested in your chest hair, cleavage or belly for that matter.
Graphic T-shirts. Leave your "Future is Female" and "Train or Die" gems at home. It takes too much attention away from you and your interviewer might not like the message it carries.
Ill-fitting anything. Seriously, you think you'll still look cute in an oversized jacket or pants? Well, you won't. Make sure your shoes also fit, otherwise hello blisters the next morning!
Shorts and jeans. Do we really have to go over this again?
Pro Tip: Avoid wearing brand names, designer names or labels. All the attention needs to be on you and what you have to offer, not the brands you choose to wear. And making it obvious that you like fancy designers won't guarantee you the job either!
Key Takeaway
When deciding what to wear to an interview, avoid a fashion interview faux pas by sticking with simple and sleek choices. This is not the time to play around with your style or be adventurous. Let's leave that to when you start cashing on the checks of your new job!
Here are a few things to remember:
Plan ahead. If you have that one or two classic interview outfits, you'll always be prepared no matter when the interview might be.
Always do some research. You want to the hiring manager to see you in the role already. And if you're wearing a casual shirt and ripped jeans when applying to a corporate client facing role, that might be hard.
Being too formal is always the safest option. If you end up wearing a suit to a business casual interview, that's always more acceptable than wearing a t-shirt to a conservative interview.
You might want to cover your tattoos or get rid of your earings and rings. Depending on where you're interviewing, some companies have policies which limit wearing rings, piercings and tattoos.
What's your favorite job-winning outfit? Ever got in trouble because you wore something that made you stand out for all the wrong reasons? Share your experience in the comments!