Our customers have been hired by:
People tell you to dress for success: "Dress for the job you want, not the job you have!"
And it makes sense: 55% of first impressions are determined by how you dress and walk through the door, and 65% of hiring managers say clothes are a deciding factor between two candidates. But no one ever tells you what it is exactly that you should wear to an interview. We'll fix that! As Edith Head said, you can have anything you want in life if you dress for it.
This guide will show you:
What to wear to an interview to make the right impression (and what not to wear).
The formal interview attire that works like magic.
What to wear to a job interview to be business-casual-friendly.
Business casual and business professional interview outfits for women and men.
Want to save time and have your resume ready in 5 minutes? Try our resume builder. It's fast and easy to use. Plus, you'll get ready-made content to add with one click. See 20+ resume templates and create your resume here.
Sample resume made with our builder—See more resume examples here.
Taking your prep seriously? Start gearing up for your interview by studying the most common interview questions:
And learn what questions you don't have to answer: Illegal Interview Questions an Employer Cannot Ask [So Don't Answer!]
Jump right into the section of this article you're most interested in:
Now, let's get to it.
General Rules for What to Wear to an Interview
First things first: when deciding what to wear to an interview, you have to make sure you match the company culture. Most offices operate in business professional attire, but some startups and companies prefer more relaxed outfits (i.e., business casual or casual).
If the company feels corporate, then a suit and tie for men, and a suit or smart dress for women is the way to go in case of an interview.
If it's more à la Zuckerberg (plain t-shirt, jeans), you know business casual is your friend.
Don't be tricked by the "casual" part, though. It's still a slightly more relaxed version of "business," not sweatpants and a hoodie. Even if the company generally accepts jeans, you'll be on the safer side dodging them to make the right first impression.
Here are the general guidelines for what to wear to a job interview according to the industry or department you're in:
General Guidelines for What to Wear to an Interview Depending on the Industry or Department

| | | | |
| --- | --- | --- | --- |
| Conservative/Business Professional | Business Casual | Casual | Creative/Fashionable |
| Corporations | Sales | Repair | Entertainment |
| Financial institutions | Government agencies | Landscaping | Fashion |
| Accounting firms | Education | Plumbing | Graphic design |
| Law firms | Retail | Construction | Travel |
| High-level governmental institutions | Small business | | Music |
| | Tech | | |
| | Engineering | | |
| | Real estate | | |
Here's a list of interview clothing items that are usually appropriate:
Dark-colored suit
Dark-colored dress pants and jacket
Dark-colored knee-length dress or pencil skirt
Shirt or blouse
Cardigan or jacket
Oxfords, loafers, flats, classic heels
Belts, ties
Classic jewelry
What Not to Wear to an Interview (Ever)
While what you should wear to an interview varies depending on the circumstances, there are no circumstances that will call for the following:
Flip-flops. That's a hard "no." Be careful with sandals and any shoes that are too open, too.
Eskimo boots, cowboy boots, moon boots. You get the idea. Stick to the classics.
Shiny or bright suits. Only Stanley Ipkiss can nail that.
Shorts. Those are for casual Fridays (or not).
Graphic T-shirts. Leave your "Future is Female" and "Train or Die" gems at home. It takes too much attention away from you, and your interviewer might not like the message it carries.
Ill-fitting anything. Think blouses or shirts that are too short, tight, or low-cut. This includes the other end of the spectrum as well. Oversized stuff may be in right now, but it may also become the why you're out.
Visible underwear.
Heavy fragrance. It's super distracting, and not everyone's keen on your cologne of choice. Also, don't enter your interview smelling like your lunch, please!
If you want to look good at your interview:
Avoid deciding what to wear on the day of the interview. You'll be stressed enough.
Do your laundry a day before. Seeing a stain on your lucky shirt hours before the event would be a massive disappointment.
Stay away from too much jewelry. Leave your stacking skills for Coachella.
Follow the same advice for Skype or Zoom interviews.They require the same level of thought and attention to your outfit. Also, please wear pants. You never know if you'll need to suddenly stand up to get something. Awkward…
Now, we're moving on to more specific advice—naturally, ladies come first. If you're looking for answers on the gents' side, scroll down for advice and details on business professional ties, suits, and shoes for men.
Pro Tip: Not 100% sure what to wear to your job interview? Send a quick email to your recruiter and ask about the dress code. Don't worry, it'll actually demonstrate your proactive nature and your intentions to do well in your interview. You can also look the company up on social media to get an idea.
What to Wear to an Interview: Outfits for Women
If you're aiming for a conservative industry or a big corporate company, business professional attire is always a safe bet. For women, "business professional" for an interview would usually mean a suit with pants or a skirt or a formal skirt or pants combo with a blouse or a shirt.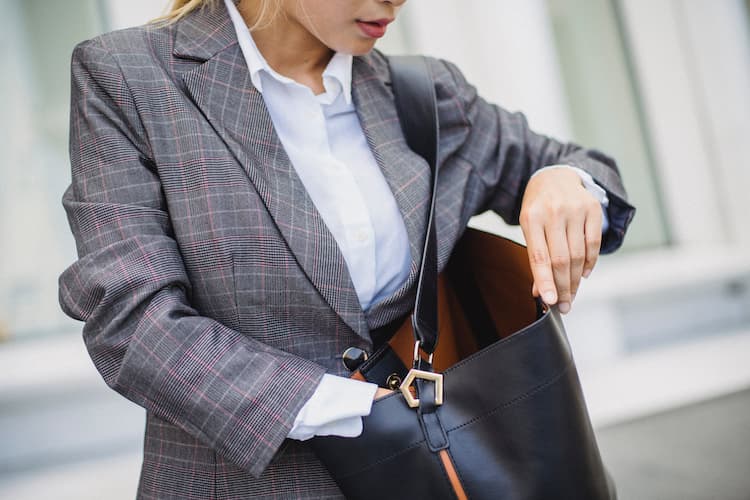 Follow these guidelines for business professional attire:
For suits, choose classic neutral colors like navy blue, gray, or black.
Make sure the sleeves of your blazer are the right length and that the piece sits well on your shoulders.
Ideally, the skirt should reach your knees, not move around a lot when walking, and not be too short when sitting down.
When selecting the pants, don't forget to see how well they work with the shoes you're planning to wear and if they're not too long or short. They also shouldn't be too tight: if you can see the lining of the pockets vividly or if the pants are creasing too much, you might need to reconsider.
A formal black dress worn with a suit jacket can work, too—just keep the look simple, polished, and elegant.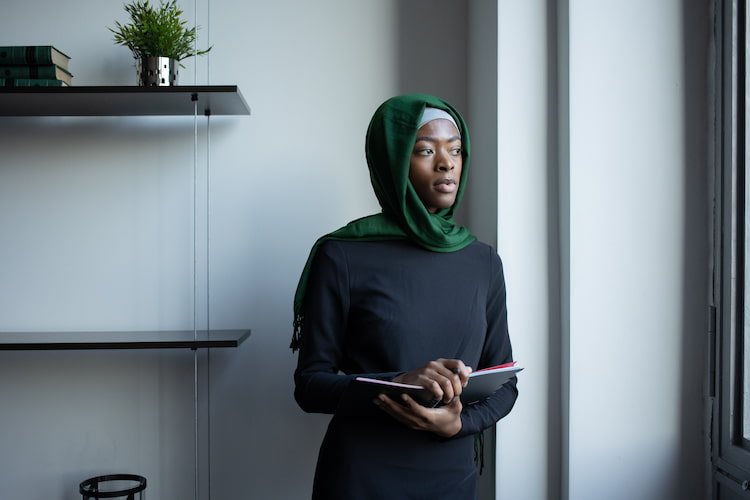 If the company allows for business casual, you can be a little less formal. Still, try to avoid patterns that are too "loud," big logos, excessive accessories, etc. A white shirt works well for every occasion, and you can never go wrong with a lighter top, a dark skirt or pants, and a blazer. Pencil, A-line, or pleated skirts in a solid color are a good choice (but do avoid minis and asymmetrical hemlines).
For a good business-casual look, follow these rules:
Consider a button-down long-sleeved shirt and chinos, a turtleneck or pullover with dress pants, a blouse with khakis, etc.
For pants, go with muted colors like navy, camel, or gray.
Dress shirts in conservative colors are business casual must-haves.
Please, tuck it in! An untucked shirt has no business in a business casual outfit. Leave 1–2 top buttons undone (just make sure it's not showing too much).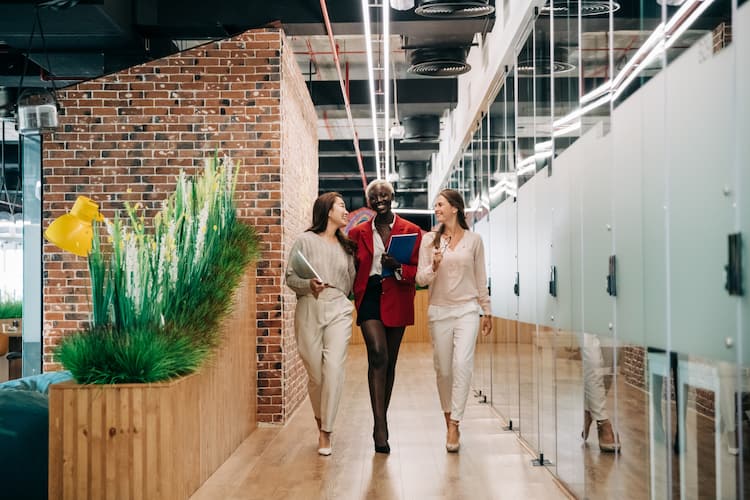 Shoes? You don't have to wear heels to an interview, especially if you're not comfortable. Flats or wedges are perfectly fine. When deciding what shoes to wear to an interview, make sure they are closed-toe, with a heel no higher than 3 inches, and in neutral colors.
In terms of makeup, keep it simple. This isn't the time to experiment with different looks. If you usually know how to rock a red lip, then go for it. Stick to nudes and warm colors, and tone down the glamorous eyeshadow.
And about the hairstyle, make sure it's polished and neat. You're not necessarily required to go with a bun or a ponytail, but the hair has to be combed, fresh, and sleek.
Pro Tip: Make sure your hands are well-kept, too. Stick to sheer colors, taupe, beige, clear nail polish—or classic red, if the context allows it.
When making a resume in our builder, drag & drop bullet points, skills, and auto-fill the boring stuff. Spell check? Check. Start building a professional resume template here for free.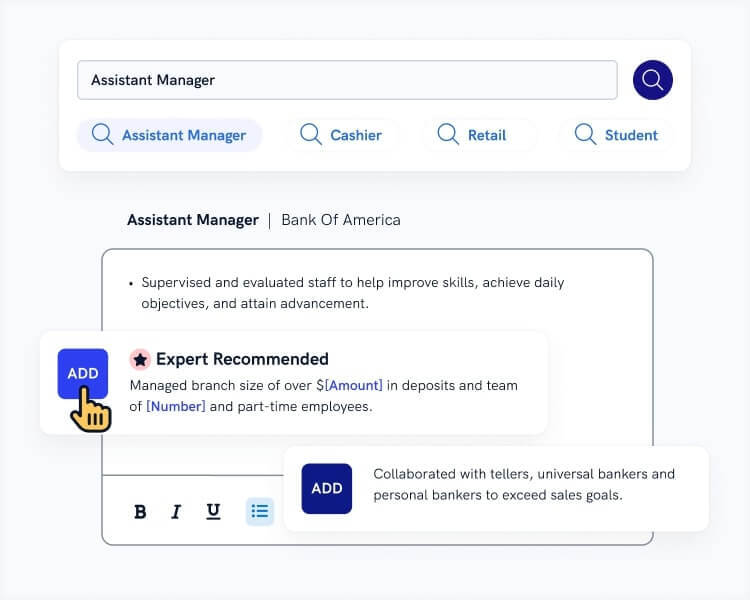 When you're done, our free resume builder will score your resume and our resume checker will tell you exactly how to make it better.
What to Wear to an Interview: Attire for Men
Not all men have Tom Ford's fashion acumen, and that's why we're here! In a world where most guys wear sneakers and can barely remember how to knot a necktie, a professional interview outfit is a challenge from a whole different league.
So, should you really wear a suit to an interview?
When men decide what to wear to an interview, they're often left with one choice: to suit up. If you work at the C-level of an organization, in law or in finance, the dress code pretty much has one rule only: conservative. If in doubt, always choose a suit.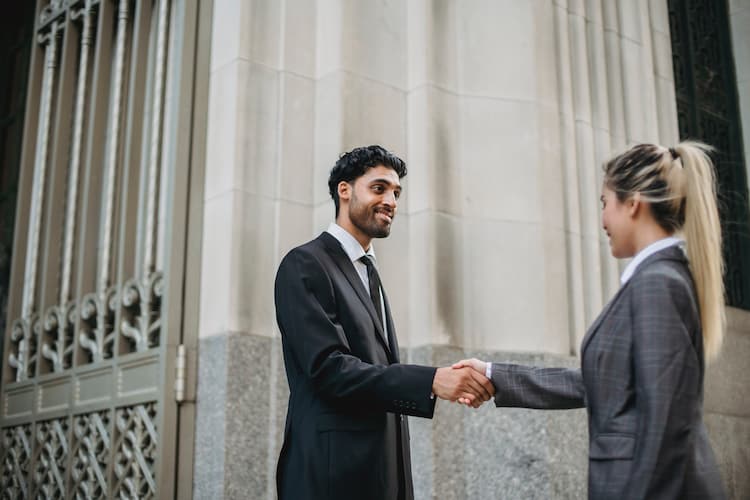 Okay, what kind of suit? And what's the best suit color?
Your suit should be a two-piece, in either charcoal gray or navy blue. You can also wear navy suits or gray suits with subtle pinstripes. With black suits, make sure you don't look like you're going to a wedding after. Lighter grays and blues can be worn in spring or summer. But very light suit colors are for garden parties, not the office.
What color shirt should you wear to an interview?
Solid white and light-to-medium blues would be your best choices.
Should you lose the cuffs?
You can either go with barrel or French cuffs, but you could leave the French cuffs to co-workers who have more seniority over you. A younger man wearing French cuffs may be seen as a bit arrogant. Sounds unfair, doesn't it?
What type of ties for interviews?
One word: simple. Solids are a preference, but you could do stripes or dots. Unless you're interviewing to impersonate Ronald McDonald, avoid bright electric colors like yellow or flaming red.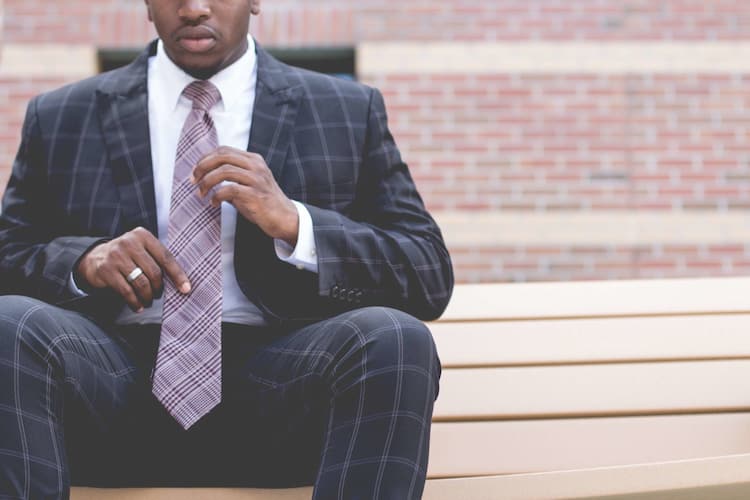 What shoes to wear to an interview?
This is where men can have fun deciding what to wear to an interview. The color of your shoes should be black, brown, or burgundy. The rest is up to you. Oxfords, derbies, quarter-brogues, whole cuts, Venetian loafers or cap-toes, whatever you fancy.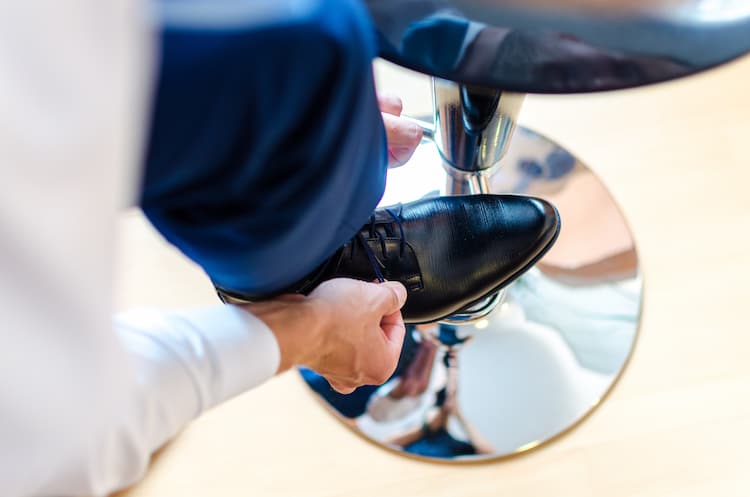 Grooming-wise, err on the safe side with a clean, well-maintained haircut. If you have long hair, consider wearing it in a tight bun if that works for you. Also, put your best self forward and shave. Keep your nails neat. It's that simple.
Pro Tip: If your budget is limited or if you want a few options of interview outfits, you could always get a first-time buyer discount with online retailers. End-of-stock retailers like TJ Maxx or Century 21 can provide good finds for both men and women.
And with all of the above, you're ready to go stun that hiring manager!
Plus, a great cover letter that matches your resume will give you an advantage over other candidates. You can write it in our cover letter builder here. Here's what it may look like: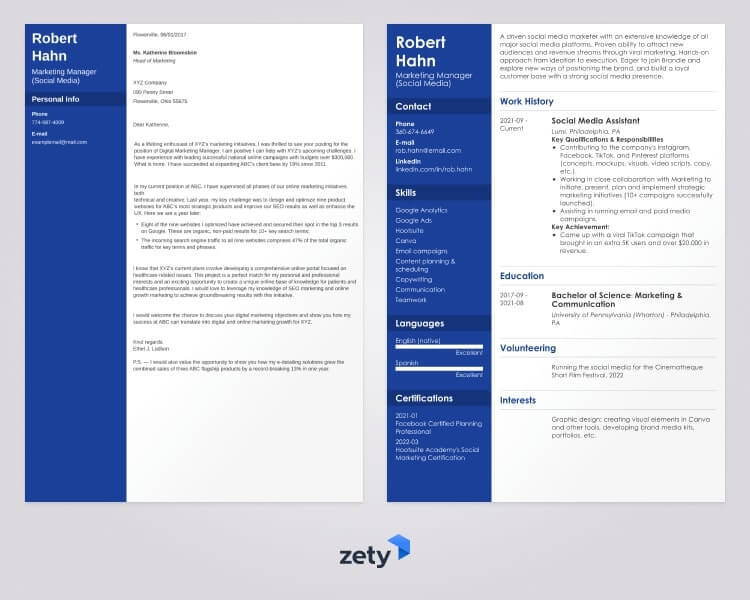 See more cover letter templates and start writing.
Key Takeaway
When deciding what to wear to an interview, avoid a fashion interview faux pas and stick with simple and sleek choices. This is not the time to play around with your style or be adventurous. Let's leave that to when you start cashing on the checks of your new job!
Here are a few things to remember when picking interview outfits:
Plan ahead. If you have that one or two classic interview outfits, you'll always be prepared, no matter when the interview might be.
Always do some research. You want the hiring manager to see you in the role already. And if you're wearing a casual shirt and ripped jeans when applying to a corporate client-facing role, that might be a bit of a challenge.
Being too formal is always the safest option for interview clothes. If you end up wearing a suit to a business casual interview, that's always more acceptable than wearing a t-shirt to a conservative interview.
What's your favorite job-winning outfit? Ever gotten in trouble because you wore something that made you stand out for all the wrong reasons? Share your experience in the comments!
About Zety's Editorial Process
This article has been reviewed by our editorial team to make sure it follows Zety's editorial guidelines. We're committed to sharing our expertise and giving you trustworthy career advice tailored to your needs. High-quality content is what brings over 40 million readers to our site every year. But we don't stop there. Our team conducts original research to understand the job market better, and we pride ourselves on being quoted by top universities and prime media outlets from around the world.