Our customers have been hired by:
Hearing "What are your salary requirements?" can be terrifying. You know what else is terrifying? More than half of the US workers didn't negotiate their last salary and left money on the table.

Asking for higher pay is perfectly normal, and you can succeed with the right salary negotiation strategies. Want to find out how to get more money out of a job offer? Hefty savings account, here we come!
This guide will show you:
How to negotiate a higher salary.
How to understand your worth and ask for more money in and after a job offer.
Tips on how to ask for more money during a job offer and get it.
What not to do when negotiating your salary.
What to do after salary negotiations.
How to make up in perks what you didn't get in the salary offer.
Want to save time and have your resume ready in 5 minutes? Try our resume builder. It's fast and easy to use. Plus, you'll get ready-made content to add with one click. See 20+ resume templates and create your resume here.
Sample resume made with our builder—See more resume examples here.
1
Salary Negotiation Facts
More than half the workers in the US didn't negotiate the salary offer on their last job.
About 52% of men surveyed said they accepted the salary they were offered and didn't negotiate.
And men aren't the only ones. Two out of three women don't negotiate pay when offered a job (but don't worry, we've got some extra advice for you later on!)
That's right. Most job seekers take what they're offered, not what they deserve.
According to recent research, failing to negotiate your salary when first accepting a job offer could be costing you over $600,000 in salary during a typical career.
If that's not enough to make you want to get out of your comfort zone, what is?
Having trouble finding a job in the first place? Fix this with help from:
2
How Much More Should You Ask for When Negotiating a Salary
Yes, there's money on the table, you just need to ask for it.
"Should I negotiate my salary, though?"
Yes, yes you should.
But before you scream show me the money!, you need to find out how much more you can ask for.
How to negotiate a salary? Here are the best salary negotiation tips and strategies:
Research how much this job pays in other companies via apps
Most employers don't disclose how much they pay.
You need to use tools like Glassdoor or PayScale.com to see what salary can be expected.
Many job openings on Glassdoor, LinkedIn, or Adzuna will reveal a salary estimate which shows you how much a role could pay before you even apply.
Include perks, bonuses, and benefits you receive
Consider additional compensation, like bonuses and perks, that have monetary value: insurance, medical coverage, and other perks. Remember to list those when you negotiate the salary on your new job.
Reach out to recruiters and headhunters
Sure, the job agent you'll be negotiating the pay with won't tell you much, but they've got competition.
You've been contacted by recruiters and headhunters but didn't like the jobs offered. You can still get back to them and ask about the expected salary. Even a salary range can be useful.
Ask colleagues, friends, and family
Asking friends, colleagues, or former employees for feedback can give you the extra edge as well. With a specific range in mind, you'll feel much more empowered going into an interview or renegotiating your current salary.
If you're more experienced, coupling research with your own performance will certainly give you a good salary estimate to target.
Ask for a raise before you leave
If you are still employed but want to leave, ask for a raise.
This way, you might not have to leave if pay was the problem.
Since you're intent on leaving, at least you'll know what the current employer will be willing to give you. That's usually a reasonable benchmark, as long as your relationship has been good.
Never sell yourself short
Give specific examples of value you've given to employers in your career. When asking for a raise, detail your accomplishments, and ,if you can, highlight the time and money saved to the company.
Created a process that saved the company thousands in unpaid invoices? Highlight this when you answer the "Why should we hire you" interview question.
Be confident in your delivery. If you don't believe your worth, no one else will.
But here's the most important salary negotiation strategy--
Employers will give you an expected salary range, and you need your own.
How to determine your salary range
Define the low point.
How much do you need to make ends meet and would accept if there was no better alternative around the corner?
Define the midpoint.
How much people like you make. Be real, consult the research you've done.
Define the high point.
That's your dream pay--one that would make you feel like you got a raise before you even started.
Forget the low point--
you don't want that. Puff, gone!
Your salary range is between your midpoint and your high point.
Use that salary range when talking to prospective employers.
These steps are crucial to learn how to negotiate a starting salary.
More on that in just a moment.
Pro Tip: Much of a successful negotiation comes down to feeling confident and comfortable. Practice your pitch at least once before you dive in. If you can find someone to listen to your case, all the better!
Find your dream job online with help from: Job Sites: 15 Best Job Search Engines and How to Use Them Perfectly
3
How to Negotiate a Salary in an Interview
Meet Jim.
He's currently applying for a job as an account executive at a high-growth startup. He answered all the technical questions and aced behavioral interview questions.
Both sides agree: he's the perfect match.
Then comes the question: "What are your salary expectations?"
Jim's heart starts pounding... "Salary isn't important to me. I'm here because I believe in your product," he mumbles.
Downplaying salary expectations to get a foot in the door is a terrible mistake.
It's like falling to your knees in desperation.
Don't be like Jim!
Here's how to answer the toughest interview question of them all:
What are your salary requirements?
Let's be honest: both sides are playing poker.
The interviewer comes in with a pre-determined salary range. They hope the lower number will be enough.
You want the higher number. Hell, you want to go off the charts!
How to answer the salary question:
Avoid giving a specific answer too early in the process.
Turn the tables on the interviewer, and get them to give you a range.
Make a strong case for your range by providing evidence of your worth.
Give yourself time to come back with a specific counter offer.
If your salary ranges overlap, you have something to work with.
Ask if the salary is negotiable.
Ask how you can get closer to the higher number.
Sample answer about salary expectations:
"I'd prefer if this discussion takes place after an offer has been made. In any case, I trust the package will be appropriate for my level of experience and the industry. In the meantime, can you tell me more about the role?"
OK, freeze frame.
Truth be told, they'll try to feel you out by first asking--
What's your current salary?
Why the question?
It's basically them trying to figure out how low they can go. Simple as that.
Here's some good news.
Several locations in the US have banned this question. According to Business Insider, since April 2018, these include: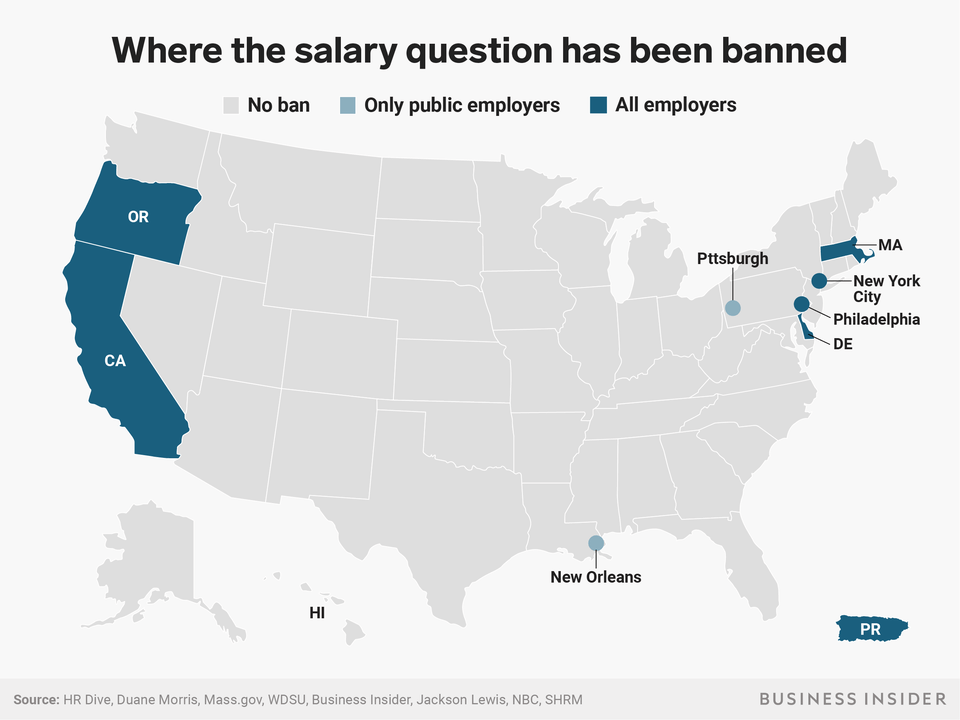 Now… Remember how you calculated how much you really made? Perks and all?
Time to list those benefits to up your base salary!
Sample answer for the "What's your current salary?" interview question
"My employer considers employee compensation to be confidential. As I'm sure you understand, access to this information is limited to inside management. So, unfortunately, I'm unable to share it with you. However, if you share the salary range for this position, I can confirm that my salary is within that range or not."
Yes, this is awkward. But it's awkward for them as well.
Embrace the awkwardness, and continue to show them why you are the perfect hire.
Never be afraid to discuss salary expectations.
The fact you're merely asking for more is not reason enough to reject you.
Especially if the job ad states salary open to negotiation.
How to negotiate the best starting salary
Remember the salary range you came up with? Use the information you've collected so far.
During an interview, you can present a range to your prospective employer, between your '"base rate" and "ideal rate." When giving this range, you can further assert:
"I'm giving you a range, because, depending on the role and the responsibilities involved, this will determine where in this range this role fits. Having said that, money isn't my only motivation, so I'm also keen to grow and be flexible on my salary, depending on the outcome of my application."
Pro Tip: As much as you need to decide what's negotiable and what's not for you, put yourself in your prospective employer's shoes. Be realistic about the size and type of company interviewing you and think about whether they can afford being flexible in the first place.
The salary question isn't the only interview question you need to get ready for. Here are all of them with expert advice: Common Job Interview Questions
4
How to Negotiate the Best Salary After a Job Offer has Been Made?
You have a job offer, which means you've successfully nailed down the interview process.
Well done!
It's true, most companies will send you a job offer via email.
And, let's be honest, you're already shivering at the idea of making a counteroffer. So doing it by email sounds like the safest option.
We get that.
But don't do that!
Wait, didn't you say salary negotiations are a must in one's career?
Yes, but there is a right and wrong way to negotiate your salary—
Salary negotiations should be done offline—case closed.
Email makes your requests (salary increase, more days off, child care, etc…) feel like a list of demands. And you want to avoid that at all costs! The last thing you want is to appear ungrateful or demanding to your future employer.
Emailing a list of demands takes the salary negotiations out of the open dialogue that should be happening between your hiring manager and yourself.
However, email has its place in the negotiation process. Sound confusing?
Let me explain.
How to negotiate a salary via email
Usually, after an offer is made via email, a follow-up call is scheduled. This is your opening, where you can send a short note (via email) conveying your enthusiasm for the role and the need to discuss further details prior to the call. Here is an example:
Hi Karl,
I'm grateful for the opportunity and excited for next steps. I was wondering when would be a good time for you to discuss a few questions I have.
I look forward to speaking with you.
Best,
Jim
This will give you some time to prepare for your call, when all the magic happens (insert money mouth face emoji here.)
How to negotiate a salary over the phone
Give yourself a tap on the back, you've made it. The games are about to begin!
Find a quiet place where you can speak without any distractions. It's important to set up your own space where you feel the most comfortable, this will without any doubt give you more confidence throughout the call.
Have some notes in front of you in case you want that extra boost during the call or just as a general safety net. Having a few notes will help you ease your nerves, too.
It's nearly impossible to predict what will go on during your conversation with your prospective employer, but here is how you can kick-off the salary negotiations:
"I'd like to discuss the salary included in the offer. In researching the cost of living in New York, the compensation for someone in a similar role, and with the same experience and level of education, I was expecting an offer of around $90-100k. Given my previous track record and my background, can you reconsider my compensation?"
This single paragraph could get you a significant raise in your salary.
But, be careful not to over ask here. In case the hiring manager doesn't bite, here is how to counter back during your call to get some sweet perks anyway.
How to negotiate a benefits package
Whether it's a job relocation package, increased stock options or the possibility to work from home, write down where you might need extra help from your employer or what your desired requirements are.
Here are the exact words you could say when negotiating your salary and benefits package:
"While I'm happy with the base salary, my only concern is the increased commute to the office from New Jersey. To save time, I'd really appreciate it if I could work from home two days per week. This arrangement will not cost the company anything and I'm confident I'll be as productive from my home office as onsite. This will help me save on transportation as well. I'm sure we can get to an agreement on this. What do you say?"
Sometimes hiring managers need to discuss salary or benefit changes with their HR teams, so you can end the call with the understanding that they'll get back to you when they have an update.
Wait—how do I respond if I get a counteroffer that I'm not happy with?
You're the fussy kind, aren't you?
Here's what to do (thank me in the comments!)
Sample counteroffer to negotiate your salary with a new employer
Dear Justin,
Thank you for the updated offer. I appreciate your hard work on this and look forward to being part of the team.
However, I do believe my contributions will be more valuable to the company. I'm confident I'll be able to achieve X, Y, and Z.
Based on the current industry standards, a competitive salary for this position is (insert your sweet counteroffer here).
How can we get to that salary level?
Thanks again,
Kurt
Pro Tip: Whether or not your salary and benefits package are negotiable, it's important to know what the future potential for a raise or promotion is. So, make sure you ask about the outlook for salary raises and added benefits before you move forward with any prospective employer.
When making a resume in our builder, drag & drop bullet points, skills, and auto-fill the boring stuff. Spell check? Check. Start building a professional resume template here for free.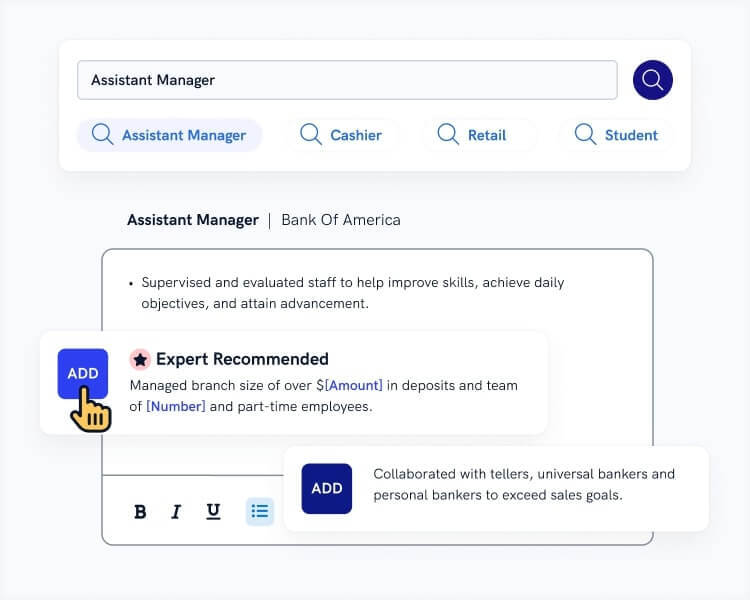 When you're done, our professional resume builder will score your resume and our resume checker will tell you exactly how to make it better.
5
How to Negotiate a Raise?
You work hard every day and you're pretty much an all-star employee, fearless when it comes to meeting expectations and targets. A beast of the cubicle life.
However, when it comes to asking for a raise, you've pretty much chickened out every time the right opportunity came along. Well, you know what the three rules of fearless negotiations are?
Wish. Want. Walk.
We might even throw a Win in this mantra. Well, if only I were the one who came up with this.
But Michael Donaldson did. In his books, Fearless Negotiating, he simplifies negotiating into three blocks: your ultimate wish, what you'd still want, and what you'd walk away from.
In your case, and as an example, you love your job and you wish your salary was $120k. But, you'd still love what you do and go every day with the same enthusiasm if your salary was $95k. However, you'd walk away from it if your salary was $80k (which it is currently.)
It's as simple as that. Before you start any conversation regarding revisiting your salary and benefits package, work out the terms of your three Ws and do your homework. Be prepared to share figures of industry benchmarks and a salary range you'd be comfortable with.
You'll be better informed, better prepared and ready to share what you exactly want.
How to negotiate a raise after a promotion?
A new role or promotion provides a great opportunity to start salary negotiations. Don't ever buy into the argument that pay growth is capped. Again, doing your homework here is mandatory.
Find out what the current pay scale of your new position is and don't even question receiving that or more.
You're worth it.
Be prepared to show your contribution to the company and what you've accomplished during your time with them. Showing some metrics won't hurt either. If your manager has been impressed by your performance lately, then this is your moment to bring up the subject. No shame!
When considering a promotion, research what it would cost the company to try and hire externally. At the very least, ask for that.
How to negotiate an increase in salary as a woman?
43% of millennial women reported compensation as their number one challenge. Women from all career levels and fields, are very often sharing stories and frustration around equal pay. If you're one of them, keep reading.
Salary inequalities may actually come from a lack of salary negotiations. Or at least the courage to jump in with both feet.
When asked "Did you attempt to negotiate when you got a job offer?", a study found that only 7% of women did, against 57% of men.
Yep, you read that right.
Women are concerned about the reputational risks of negotiating.
Any salary difference would be cut dramatically if women started negotiating in the first place. So if you're a woman, please know that it doesn't hurt to ask. You can maximize your pay while still being liked and not appearing to be too pushy.
Think about it this way: if you don't ask, the answer is always no. And if you never hear no, then you're not asking nearly enough.
Pro Tip: Researchers found that blaming someone else is a good salary negotiation tip that generated better outcomes. For example, if you're a student applicant, you could blame your career advisor "My career advisor told me there was range a of how much analysts are paid in their first placement. He thought I should be aiming at the top of the range considering my background."
Need to find a job fast? Nothing beats Google: Google for Jobs: Use This Search Engine Tool to Find Your Next Career
6
What Not to Do or Say During a Salary Negotiation?
By now, you're to salary negotiations what Reagan or Gorbachev were to the end of the Cold War.
But do you know what to avoid at all costs when it gets heated?
Here are a few sentences and reactions that no manager wants to see or hear:
Don't start the interview by launching right into salary and benefits.
It's important to show that you're interested in the organization and the role you'll play before tackling the money part of it.
Don't ever say "I'm the best person you're going to find".
When you say that, you're making it all about you and defying your employer. They won't hesitate at proving you wrong. Keep it professional no matter what. Threatening to quit your job won't help either and is extremely unprofessional.
Don't ever say "Sorry."
Apologizing for negotiating is literally the worst. Talking pay raise is uncomfortable and one's natural tendency is to try and smooth the edges by saying sorry. Avoid that if you can. Any recruiter will see it as a signal that you're willing to settle for less than what you have in mind.
Don't ever say "No."
Take it from the masters of them all: FBI hostage negotiators. When confronted with a sticky situation, they avoid negative language and instead focus on positive language.
Follow this rule and instead of saying "No, that doesn't work for me" you could say, "I'd be more comfortable with...". Negative words will only make the collaboration and cooperation difficult.
Don't make it a case of You vs. Them
Show respect and consideration for what the company needs. Never start a sentence with "I want." Instead, show that you know what your team and company wants and needs and that you're able to help meet that. Try to work things out for the benefit of both parties.
Pro Tip: Always ask for 24 hours to consider any offer that has been made to you. Past the adrenaline of the negotiation and the enthusiasm of receiving an updated offer, you might want to change your mind. Taking a step back and assessing your options are a great way to ensure your next step is the one you want to take.
7
What to Do After a Salary Negotiation?
If you were successful at negotiating a higher salary, knowing your next moves is crucial to ensuring you meet your expectations and those of the managers trusting you with new responsibilities.
Since you stepped up and showed your worth, you'll have to prove you were right about deserving more pay.
Quite often, a cushy pay raise comes with a new title. Embrace it, own it, live it.
Your boss or hiring manager expects more of you now. And going beyond whatever they had in mind is important for getting that next pay raise or promotion.
If you weren't able to negotiate a salary that you're happy with or feel you need to decline any offer that has been made, make sure you do so on the best of terms.
Be gracious and never burn bridges with potential referrals or business contacts.
In both cases, salary negotiations are never over. Always check that you're being paid fairly for the amount of work you're doing.
The grind never stops my friend!
Pro Tip: Make sure you get the details of your new salary or new role in writing (a letter or email should do it). Most importantly, make sure you know when your job changes and what exactly is expected from you.
Plus, a great cover letter that matches your resume will give you an advantage over other candidates. You can write it in our cover letter builder here. Here's what it may look like: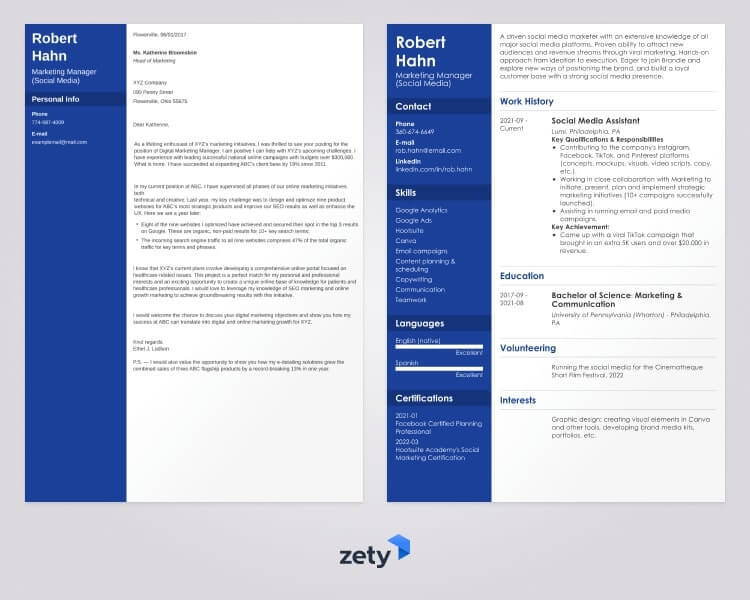 See more cover letter templates and start writing.
Key Takeaway
If you're good at negotiating, your prospective or current employer will never hold any ill will towards you. As a matter of fact, they should want to tell you how you did a good job and want you on their side.
Here's how to negotiate a salary:
Always do your research. Coming prepared and having industry knowledge will help you define your worth.
Build a business case. Focus on the return on investment you provide day-to-day and highlight relevant achievements, quantifying them as much as possible.
Timing is everything. Don't ever catch them by surprise. Schedule a meeting with them via email or in-person. That way, they'll both have a chance to reflect on your recent performance.
Consider more than money. If the company isn't able to boost your pay, then consider asking for non-financial perks or additional benefits packages. In the long run, this could be even more valuable to you and your lifestyle.
Any more questions about how to negotiate a salary to really get what you deserve? Favorite salary negotiation strategies? Share them in the comments!
About Zety's Editorial Process
This article has been reviewed by our editorial team to make sure it follows Zety's editorial guidelines. We're committed to sharing our expertise and giving you trustworthy career advice tailored to your needs. High-quality content is what brings over 40 million readers to our site every year. But we don't stop there. Our team conducts original research to understand the job market better, and we pride ourselves on being quoted by top universities and prime media outlets from around the world.
Sources