Our customers have been hired by:
You're done with your career (picture Mel Gibson yelling, "Freedom!" with blue paint on his face.) But—like Clint Eastwood in Gran Torino, you're not quite ready for the old folks' home. You'd like some income and social time, just without the pressure of a 40-year-long commitment.
The best jobs for retirees are out there, the trick is finding them! And that's exactly what we did: this guide has 110 jobs for seniors, plus expert tips to land senior jobs fast.
This guide will show you:
110 great jobs for seniors with good money, part-time hours, or low-responsibility.
Jobs for retirees with flexible hours or high pay.
Jobs for senior citizens who want to work from home or volunteer.
Job search tips for seniors to help get you hired fast.
Median salary data for our senior jobs comes from BLS.gov, Glassdoor, and Payscale.
Want to save time and have your resume ready in 5 minutes? Try our resume builder. It's fast and easy to use. Plus, you'll get ready-made content to add with one click. See 20+ resume templates and create your resume here.
Sample resume made with our builder—See more resume examples here.
1
Part-Time Jobs for Seniors
Picture this:
You're punching the clock. Making money. Having fun.
But you've still got plenty of time to enjoy retirement.
Split the difference between joy and income with part-time jobs for retirees.
The 20 part-time jobs for senior citizens below pay $10–$30+ an hour.
20 Best Part-Time Jobs for Seniors
Tutor. Tutors make $15 to $150 an hour. Solid employment for seniors who want to share their knowhow.
Brand Ambassador. Got a large social network? Companies will pay you to promote their products. These jobs for older workers pay $20/hr.
Administrative Assistant. Work for an individual or a company to keep small details in line. $20/hr.
Youth Monitor. Work in schools or libraries to oversee small groups of children. $13/hr.
Food or Product Demonstrator. You've seen people in stores offering free samples. Those jobs for older people pay about $12 an hour.
Mail Carrier. Want to get your exercise and work outdoors part time? Retirees who take these jobs make $25/hr.
UPS Driver. Full-time UPS drivers make $65,000 a year on average. These part-time jobs for seniors over 60 pay $30/hr.
Bank Teller. Trustworthy seniors can earn $12/hr with these money-handling jobs.
Fitness Instructor. Know your way around a gym? Fitness instructors earn $22/hr.
Nanny. These make great part time jobs for retirees whose grandkids have flown the coop. Nannies make $16–$30 an hour.
Phlebotomist. These second careers require an 8-month certification course and pay $16/hr.
Counselor. If you've already got a bachelor's degree, you can get a master's in therapy in one year. $21/hr.
Barista. Like your caffeine fix? Want to rub elbows with the public? Baristas make $12/hr.
Child Care. Look for senior jobs at daycare centers or in large companies. $10/hr.
Restaurant Host. Meet, greet, and seat for $10/hr.
Guest Service Representative. Hotels, spas, and other facilities offer these senior jobs. Pays $12/hr.
Shelf Stocker. Local stores need shelves filled. $10/hr.
Caretaker or House Sitter. For these jobs for seniors, live in someone's house while they're away. Pays $50/day.
Parking Attendant. Sit in a booth. Bring lots of audiobooks. $10/hr.
Retail Worker. Retiree jobs running cash registers or floorwalking pay $10/hr. Often comes with store discounts.
Interested in one of these hourly jobs for seniors over 65? Not sure where to start?
Talk to at least one person who currently holds that job. Find out exactly what's required and what the decision-maker looks for in candidates. If you're interested and qualified, ask the same person to introduce you to the decision-maker.
Orville Pierson
Pro Tip: Reach out to your network to find great employment for seniors. Let them know you're looking for part-time or low-responsibility jobs for retirees. Your connections can't help you if they don't know you need it.
If you're a senior, you've already got one big leg up on the young—a network. Want to use it to find jobs for people over 60 fast? See my article: How to Network Your Way Into a $100,000 Job [Real-Life Story]
2
Jobs for Retirees with Flexible Hours
What if you could set your own schedule?
Work when you want? Work only mornings or nights?
Earn money, but still have time to fill your bucket list?
The jobs for seniors below can get you back into life—on your terms.
20 Jobs for Seniors with Flexible Hours
Handyman. A lifetime of homeownership gave you skills others will pay $60/hr for.
Carpenter. Good with a hammer and nails? Handy with power tools? These positions can make great part-time jobs for retirees. $22/hr.
Locksmith. You can earn a certification in as little as two months. $25/hr.
Tow Truck Operator. If you like driving, these second careers pay $14/hr.
Delivery Driver. Pizzas, groceries, and other products need to find a home. $14/hr.
SAT/ACT Instructor. If you've got math, language, and communication skills, consider these senior jobs. $20/hr.
Adjunct Professor. Colleges, universities, and other schools need temporary teachers. $12/hr.
Grant Writer. Non-profits and for-profits alike love grant money but don't have time to chase it. Do it for them and make $32/hr.
Substitute Teacher. People who can fill these senior citizen jobs are in high demand. Pays $100/day.
Home Care Provider. Agile seniors can help housebound clients with cooking, cleaning, and personal care. $10/hr.
School Bus Driver. Work in the mornings and afternoons and save the rest of the day for shuffleboard and kiteboarding. Great jobs for older people with CDL licenses. $15/hr.
Security Guard. If you've got law enforcement experience, you're a shoe-in to make $12/hr in these jobs for seniors.
Medical Transcriptionist. Can you listen and type? Then you can make $15/hr.
Management Consultant. These are great senior jobs for senior citizens who've spent their careers steering the ship. $43/hr.
Business Researcher. Seniors with analytical minds and a thirst for the truth can make $33/hr.
Sales Representative. Anyone with great interpersonal skills who likes selling can do these jobs for senior citizens. $28/hr.
PR Representative. If you spent your career working with the media, a PR job is a great second act. $22/hr.
Yoga Instructor. Do you love yoga? Why not teach it? These positions make great, flexible jobs for older people. $20/hr.
Travel Agent. Help others wing away to exotic locales. Meanwhile, build up discounts for your own escapes. $16/hr.
Blogger/Journalist. Got the gift of gab, and grammar skills to boot? Blogging is no road to riches, but you can make money at it in spare hours. $12/hr.
DO NOT lower your standards. I talk to people all the time who think, 'If I start applying to lower level jobs, I will surely get hired.' Wrong! Opening up your search to lower level jobs will only hurt you and cause you to lose focus on the more senior jobs you are actually a good fit for.
Mike Podesto
CEO of FindMyProfession.com
Pro Tip: Indeed.com is the best job search engine to find jobs for seniors. Type, "jobs for retirees" in the search box. Search general jobs on Indeed also.
Need a resume for senior jobs? See our guide on making a resume that gets attention like Dame Judi Dench.
3
Low-Responsibility Jobs for Seniors
You've carried the world on your shoulders long enough.
Like the genie from Aladdin, you could use a little living space.
Step down the ladder a few rungs with these 20 low-stress jobs for senior citizens.
Let them know you're retired—looking for something with less responsibility than you had in your career. Show you're interested in a regular source of supplemental income. Finally, understate past jobs to downplay the 'overqualified' objection.
Orville Pierson
Author of
The Unwritten Rules of the Highly Effective Job Search
20 Jobs for Retirees with Low Responsibility
Dog Walker / Pet Sitter. If you love pets, you can make $20/day walking and feeding them. Can't find clients? Try Sittercity or Rover.com.
Courier. Got a driver's license? Like to get out and about? These make great jobs for seniors over 65. $15/hr.
Front Desk Reception. Meet and greet people walking into offices. $14/hr.
Data Entry. Unless you love typing, stay away from these jobs for retirees. $14/hr.
Library Assistant. Shh! Love books? Love their smell, feel, and the magical worlds they contain? $13/hr.
Cafeteria Worker. Schools and big companies often need cashier and back-of-house staff. $12/hr.
Housekeeper. If you want to stay active, these jobs for older people will do it. $11/hr.
Customer Service Representative. Like to talk on the phone? Reps can often do these jobs for senior citizens from home. $15/hr.
Food Service Cook. If you're not afraid to get out and mix it up, you can make $10/hr in these jobs for seniors.
Waiter/Waitress. Still good on your feet? On a busy night a waitress can make $120 in tips.
Phone Operator. Seniors who want very little challenge can make $7/hr rerouting calls.
Assistant Golf Professional. Do you love golf? Many clubs will hire seniors for these jobs. $13/hr.
Landscaping Assistant. Love being outdoors? Got three green thumbs? Make $12/hr with these strenuous senior jobs.
Recyclables Collector. With a valid driver's license and a love of making things new, you can clean up in these retiree jobs. $15/hr.
Dispatcher for Trucks or Taxis. Be the center of the action with a mic and a phone. $15/hr.
Hotel Front Door Greeter. Hotels will pay seniors to be the smiling face on the sidewalk out front. $10/hr.
Veterinary Assistant. These are excellent jobs for retirees who love animals. $11/hr.
Animal Shelter Worker. Poor puppies. Someone's got to feed the li'l guys. $10/hr.
Human Resources Assistant. Want to read a lot of resumes? These aren't bad jobs for people over 60. $16/hr.
Bookkeeper. Are you good with numbers and tax rules? Companies and individuals will hire you for these jobs for older people. $18/hr.
Age discrimination is real. But you can use it towards your advantage. Apply to senior positions that no 20 or 30 year old would qualify for. Young employees are discriminated for senior positions just like you are discriminated for junior positions.
Mike Podesto
CEO of FindMyProfession.com
Pro Tip: Glassdoor is a great site to find jobs for senior citizens. The added salary info can keep you from getting stuck with pay you aren't happy with.
Coming into jobs for seniors over 65 from another career? The combination resume lets you showcase your best transferable achievements. See our guide: Combination Resume Template
4
Work-from-Home Jobs for Senior Citizens
This may be no country for old men, but your home is your castle.
Want to find jobs for retirees that cut your commute to zero?
It's easier all the time to find work-from-home jobs.
The list of 10 jobs for 60 year-olds below will get you started.
10 Work-from-Home Jobs for Seniors
Social Media Assistant. Google, Facebook, and Twitter are here to stay. Help companies reach out through these networks and make $15/hr.
Editor/Proofreader. If your hackles go up when someone says, "a whole nother," you might make a champion proofreader. $25/hr.
Online Tutor. Yes, you can tutor folks through your computer screen these days. You can even find clients for these senior jobs online at Tutor.com. $20/hr.
Test Scorer. Wrong, wrong, wrong. Minus five points. This work-from-home employment for seniors pays $12/hr.
Virtual Assistant. Most companies in the U.S. are small businesses. They need people to help customers, but often can't afford full-time staff. $16/hr.
Law Enforcement Transcriptionist. One-Adam-Twelve, see the man. Transcribe legal recordings and police camera footage. $15/hr
Phone Survey Conductor. Survey researcher positions make great part-time jobs for seniors at home. Less intrusive than telemarketing. $27/hr.
Online ESL Instructor. You can get an English-as-a-Second-Language teaching certification online in 1–3 months. $19/hr.
Telework Nurse/Doctor. Were you a nurse or doctor in a past life, but glad to leave the rat race? Moonlight as an online healthcare pro. $32–$90/hr.
Content Creator. Got a flair with words? Local or remote ad agencies and other companies need articles and newsletters. $22/hr.
Don't listen to lousy recruiters or resume writers that tell you to remove dates from your resume. You aren't fooling anyone. Be upfront and proud of your age. Your future employer will value this.
Mike Podesto
CEO of FindMyProfession.com
Pro Tip: You've spent your whole career building a network. Use it! LinkedIn can help you, plus it's got its own job search feature. Read our guide to optimize your LinkedIn profile here.
You'll need a cover letter for most jobs for seniors. See our guide: How to Write a Cover Letter in 8 Simple Steps
You've worked your whole life at your career.
You're Iron Man with iron gray hair, or Wonder Woman with a few laugh lines.
If you've got skills, why not use them? Nobody says you have to do it full time.
The 20 jobs for seniors below continue your career into retirement.
20 Skilled Jobs for Retirees
Massage Therapist. Jobs for older people in massage therapy require rigorous certification. $19/hr.
Accountant. Already got the skills and the CPA license? Don't want to run a business? Sign on with a local or online firm. $33/hr.
Reiki Practitioner. An in-demand form of touch healing. In wealthy areas, you can earn an enlightened living with your own business. $19/hr.
Speech Pathologist. Already a licensed speech pathologist? Consider doing client work or filling in for a local facility. $37/hr.
Graphic Designer. Talented artists with computer skills can find great jobs for seniors. Check ad agencies and marketing firms. $21/hr.
Interior Designer. Ugh, how can they stand this decor? If that's your internal monologue, why not make money from it? License required in some states. $25/hr.
Translator. Got mad language/typing skills? Put them to work making $25/hr in these jobs for senior citizens.
Plumber. Know an adapter from a coupling? Step-down to a part-time version of your past career. $28/hr.
Electrician. If you're already certified, nobody said you had to work full-time. Find work with a local sparky. $26/hr.
Marketing Consultant. Are you highly skilled in the marketing world but glad to leave the rat race? Think about doing client work. $25/hr.
Realtor. Show, show, show, and sell, sell, sell. Licensed retirees can earn $22/hr, but the sky's the limit.
Travel Nurse. Maybe you're a nurse who's ready to explore the world. $36/hr.
Computer Programmer. These highly skilled, technical second careers pay $40/hr.
Web Developer. Are you up on HTML5 and CSS3? Consider jobs for retirees in the web dev world. You can pick up these skills in no time with help from Codecademy. $32/hr.
Medical Technician. Radiology and other imaging makes the medical world go round. Techs earn a median of $19/hr.
HVAC Technician. There's no job quite as secure as keeping people at a comfy 72 degrees. $22/hr.
Network Administrator. Retired network admins can do small client work for $36/hr.
Manufacturing Assembler. There are lots of manufacturing facilities all over the U.S. $15/hr.
Engineer. No need to be an engineering lead if you're hunting part-time jobs for senior citizens. Take the back seat and make $50/hr.
Auto Mechanic. Take on side jobs or part-time work in a shop and make $20/hr.
There are advantages to hiring older employees. You get foresight, you won't get a yes man, and you will manage less.
Mike Podesto
CEO of FindMyProfession.com
Pro Tip: There are dozens of job search sites that can help you find the best jobs for seniors over 60. Don't get overwhelmed. Just use a few, since most list the same openings.
What are the most important skills to highlight in your senior jobs search? See our guide: 30+ Best Examples of What Skills to Put on a Resume
When making a resume in our builder, drag & drop bullet points, skills, and auto-fill the boring stuff. Spell check? Check. Start building a professional resume template here for free.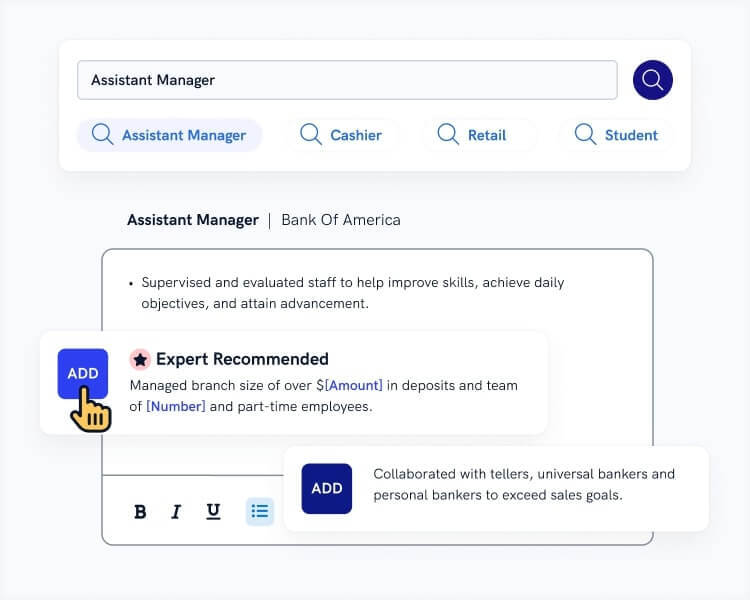 When you're done, our professional resume builder will score your resume and our resume checker will tell you exactly how to make it better.
6
Volunteer Jobs for Seniors
Just want social time?
Volunteer employment opportunities for seniors abound!
Cry some happy tears. Get out and about with volunteer jobs for seniors that rekindle your heart.
The 20 jobs for older people below will get you moving while you help your fellow beings.
20 Volunteer Jobs for Retirees
Animal Shelter Board Member. Anything but thankless. Great volunteer employment for seniors with heart.
Mentoring. Children need guidance with everything from finding work to knowing how to study. Check out Mentoring.org for opportunities.
Office Volunteer. Do you pine for the water-cooler talk but not the responsibility? Look for volunteer jobs for seniors over 65 in business offices.
Animal Shelter Volunteer. If you love pets, you can make a huge difference taking puppies out for walks or cuddling unloved kitties.
Hospital Volunteer. Touch lives daily. Bustling hospitals need volunteers. Help out with food service, providing comfort, or pharmacy assistance.
Youth Volunteer. YMCAs and schools need your assistance with everything from mentoring to administrative work.
Food Kitchen Worker. Feeding the homeless is good for your soul. You don't even have to know how to cook.
Homeless Shelter Worker. Shelters are great places to find volunteer jobs for seniors over 70.
Conservation Volunteer. Pitch in with state agencies or nonprofits to help defend your local environment. Great volunteer senior jobs.
Meals on Wheels Driver. Shut-ins need food, and you can bring it when you check on them. Visit MealsonWheelsAmerica.
Habitat for Humanity Builder. Can you swing a hammer? Would you like to do it with fun people and help the homeless? Visit Habitat.org.
Emergency Relief Worker. Go to FEMA.gov or visit the Red Cross to find volunteer jobs for retirees helping in disasters.
Red Cross Volunteer. Disasters aren't the only time the Red Cross needs your help. Assist with everything from humanitarian work to bloodmobile operation.
Community Food Project Worker. Love locally grown food? Want to spend time outside? Look for unpaid jobs for senior citizens at thefoodproject.org.
Women's Shelter Jobs. Help with women down on their luck. Google "women's shelter volunteer."
Suicide Hotline Volunteer. Talk someone out of throwing away the greatest gift of all. Check out the National Suicide Prevention Lifeline.
School Volunteer. Local schools often use senior volunteers. Walk in to see how you can help.
Community Volunteer Jobs. Search Google for "volunteer jobs." You'll find plenty of local opportunities for seniors.
Sports Volunteer. Do you love sports? High schools, colleges, and even pro stadiums can use your help.
Church Volunteer. Religious organizations are great places to find volunteer employment for seniors.
Pro Tip: Looking for off-the-books jobs for seniors? Don't cheat Uncle Sam. The last thing you need in your sunset years is a disastrous tax prosecution.
You've worn out more shoes than the U.S. military. Your accomplishments alone can help you land jobs for senior citizens. See our guide: Achievements to Put on a Resume - Complete Guide
7
Use Your Senior Superpower and Walk In
Hmmm. I'd like to find part-time jobs near me.
Want to know a secret?
You've got a huge advantage over the young.
You weren't born with tech.
You actually know how to talk to people.
Many will rely on tech to find a job. They'll find thousands of opportunities and a low success rate. The internet is 20,000 miles wide and a millimeter deep.
Use your interpersonal-skills superpower to find jobs for older people fast.
Walk In to Find Jobs for Seniors
Orville Pierson, author of The Unwritten Rules of the Highly Effective Job Search, suggests starting with a list.
"Make a list of organizations you're interested in that are convenient for you to get to," Pierson says.
Apply online first. Then stop in and tell them you want to work there. If they say, "Apply online," assure them you already have.
"Say something like, 'I wanted to stop by and tell you in person how interested I am,'" says Pierson. It's a great way to land jobs for retirees.
Stop by weekly, or on a regular schedule. You don't need to see the boss. Whoever you talk with will mention you, especially if you ask them to.
During these visits:
Express an honest interest in their products or services.
Leave something with your name and contact information.
As Pierson explains, this method of hunting senior jobs passes the screening for dress, communication skills, and general appearance.
"It also demonstrates personal qualities like proactivity and perseverance," Pierson says.
Pro Tip: If you're hunting sit-down jobs for seniors, consider getting tech trained. Tech jobs are growing. They pay well, and coding bootcamps make it easy to get qualified.
Don't rely exclusively on job websites to find jobs for senior citizens.—but use them. See our guide: Job Sites: 15 Best Job Search Engines and How to Use Them Perfectly
8
How to Overcome Unspoken Objections About Age
When hunting jobs for seniors, you face a big wall that wasn't there when you were young.
Many people just don't think you're a "good fit."
They may think you're overqualified, too old, unhealthy, or that you have "low stamina."
Address these in the interview, resume, and cover letter for senior jobs.
Overcoming "Overqualified"
Reassure them. Say, 'I don't want to become a manager.' If you've been a manager, add, 'I don't want to tell the manager how to do things. I'm happy to follow the way things are done here.
Orville Pierson
Author of The Unwritten Rules of the Highly Effective Job Search
Overcoming "Too Old"
Talk about the advantages of age. You're reliable. Trustworthy. You've got a strong work ethic and great interpersonal skills.
I don't stay out late, so I'm awake, alert, and ready to work on weekends or early shifts.
Health
It's illegal for employers to ask about your health, but you can volunteer the info.
My health is great. I've always had regular checkups and I take good care of myself. I'm on Medicare, so I don't need health insurance. I exercise regularly.
Pro Tip: Trying to figure out how to get a job at 60? Look at your passions and achievements. Then see where they intersect.
When you're hunting jobs for retirees, make your resume fly like the guy from Up! Customize it to fit the job opening. Our guide shows how: 6 Tips on How to Tailor Your Resume to a Job Description
9
Resources for Finding Jobs for Seniors
You don't have to be Matlock to track down jobs for senior citizens.
Your best resources to find jobs for seniors are the top 3 job search websites:
Indeed. Hands-down the best job site to find jobs for retirees or any job.
Glassdoor. Shows salary info—not just job listings.
LinkedIn. This job site helps you network while you hunt for jobs.
Here's a huge tip:
Type "jobs for retirees" into Indeed's job search box. You'll find hundreds of opportunities. The drawback? You should also search for more general jobs.
Other Resources to Help Find Employment for Seniors
Here's a list of other web help for finding jobs for senior citizens:
Pro Tip: Even googling "jobs for senior citizens" will turn up lots of pumpkins in your area. Google jobs search knows where you live, creepy as that is. There's no need to search "part time jobs in my area."
Does a letter of interest sound as old fashioned as Chitty-Chitty-Bang-Bang in the Indy 500? It's not. See our guide: How to Write a Letter of Interest
Plus, a great cover letter that matches your resume will give you an advantage over other candidates. You can write it in our cover letter builder here. Here's what it may look like: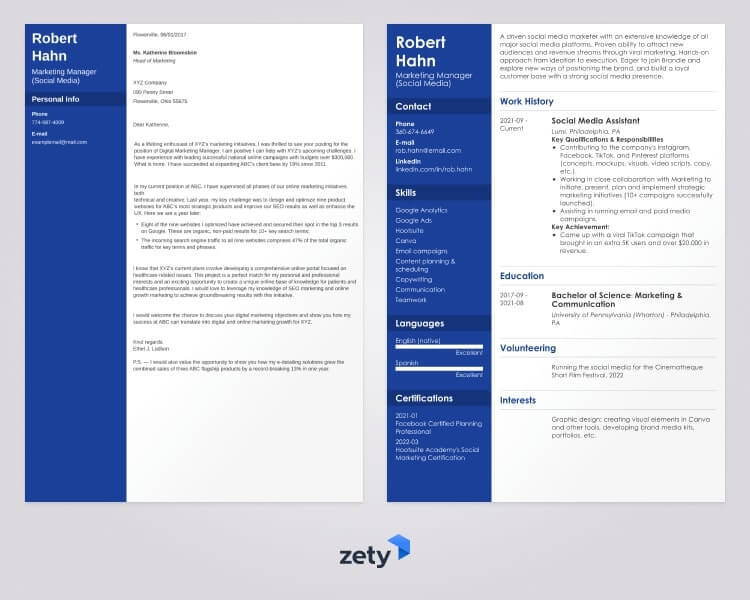 See more cover letter templates and start writing.
Whether you're looking for fun part time jobs for senior citizens, jobs with flexible hours, or just need to earn a little cash—
Here's a quick recap of how to find and land the best jobs for seniors:
Use the top job search websites. Indeed, Glassdoor, LinkedIn, and even Google jobs search can serve up great senior jobs.
Get inspiration from the lists of jobs in this article. Find a few you like, then search them on job websites.
Use your senior superpower—go in person. After you apply online, visit the place of business. You'll get the jump on younger applicants who'll stay at home behind a screen.
Overcome objections about age. All jobs are potentially jobs for older people. Use our tips to get around objections like, "You're overqualified," "too old," and "possibly unhealthy."
Do you have questions on how to find the best jobs for retirees? Not sure how to list your skills and achievements on a resume? Give us a shout in the comments! We'd be happy to reply.
About Zety's Editorial Process
This article has been reviewed by our editorial team to make sure it follows Zety's editorial guidelines. We're committed to sharing our expertise and giving you trustworthy career advice tailored to your needs. High-quality content is what brings over 40 million readers to our site every year. But we don't stop there. Our team conducts original research to understand the job market better, and we pride ourselves on being quoted by top universities and prime media outlets from around the world.
Sources