You need real work from home jobs.
News flash:
It's doable. A lot more doable than even six months ago.
Here's why—
One third of US employees are already working from home. (Scroll down for proof.)
Plus, Google just made things tons easier.
You can find remote jobs now. In many cases it's simpler than getting in-person jobs.
But don't look the usual way. Why?
Big companies hate stay-at-home jobs. (Startups love 'em.) Sadly, big firms dominate the search results.
Once you know how to look, you're in.
This guide will show you:
How to work from home without a lot of "website tester" BS.
62 great legitimate work-from-home jobs, organized by skill set.
How to find thousands of real home-based jobs that pay well.
The best job site to find online jobs and home-based jobs yourself.
Just want to know how to find work from home jobs? Type "remote" + [JOB TITLE] + "jobs" in Google. Click "search." Then click the blue jobs bar.
You'll find part-time, full-time, or side jobs just waiting for you!
Median salary info for our work-from-home jobs list comes from Glassdoor.com. Don't let it scare you. Many make less, but the committed earn lots more.
Want to save time and have your resume ready in 5 minutes? Try our resume builder. It's fast and easy to use. Plus, you'll get ready-made content to add with one click. See 20+ resume templates and create your resume here.
Sample resume made with our builder—See more resume examples here.
What is a remote job? A remote job is a work-from-home job or stay-at-home job. They're different words for not working in an office.
Looking for some more guidance on finding the job that matches your situation? See:
1
How to Work From Home—The Short Version
You'll find the best work-from-home jobs list ever in the next section.
(Trust me. I work from home.)
But—
How do you get work from home jobs?
Here's the quick and dirty:
Don't use Indeed, Monster, LinkedIn, Glassdoor, or any of the other best job sites.
I love those sites (for different reasons). But Google for Jobs is the only site to use for legit remote jobs.
Why?
Google's got the AI muscle. It knows what you're looking for. It scrapes jobs from all the other sites, and even from company pages.
And boy does it deliver.
How to Find Work at Home Jobs With Google
It's sooo easy.
Just Google:
"Remote" + [JOB TITLE] + "jobs"
Google will give its usual results. But—
At the top, you'll see a big blue bar.
Click it.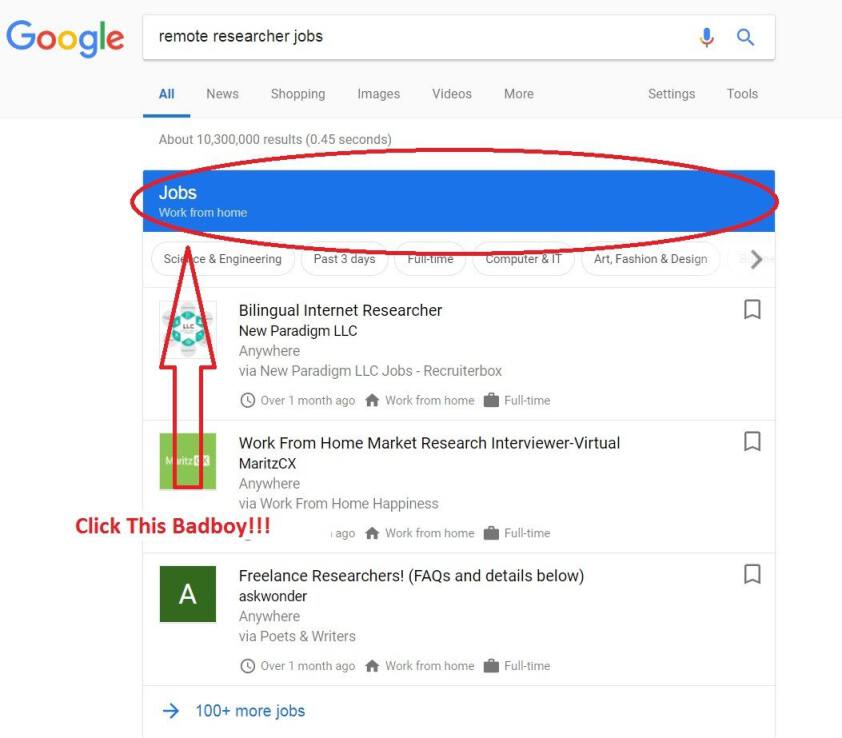 Hey, presto.
You've got hundreds—maybe thousands of legitimate work-from-home jobs, including great side jobs.
Here's the kicker:
You need to find a good one, fast, amid the zillions of results.
I'll help, after the list of stay at home jobs titles below.
***How many US workers work from home? About a third, according to a Gallup study.
Pro Tip: Don't just search "remote jobs" in Google for Jobs. Try variations like "home based jobs" and "work from home jobs" too.
Need the full walkthrough on how to use Google job search to find remote jobs? See our guide: Google for Jobs: Use This Search Engine Tool to Find Your Next Job
To get even part-time work-from-home jobs, you need a resume. See our more-popular-than-Bieber examples: Good Resume Example for 99+ Jobs: Free Resumes & Guides
2
Work from Home Jobs List (Best on the Planet)
Here they are.
The 62 best legitimate work-from-home jobs on Earth. Plus, they pay well.
But here's the problem.
When you see a list of online jobs, you think, Maybe... I don't know...
It's daunting. How do you find real remote jobs? Good ones that don't vanish when you blink?
We've got your back.
Look below our list to find great remote jobs tips to get hired fast.
Teaching Jobs from Home
Have you got teaching skills? Or can you get some? Then you can make good money in teacher work-from-home jobs.
ESL Teacher. Teach English as a second language. To find these work-from-home jobs, type "ESL teacher remote" in the Google or Indeed search box.—$54,337
Online Tutor. Search "tutor remote" in the job search sites. The median pay is low, but if you're good, you can double it.—$25,500
Test Scorer. It's not as easy to find these remote jobs in the sites. Instead, contact schools and professors directly.—$24,380
Computer Science Jobs
Computer science has the most money and fastest growing list of work-from-home jobs.
The big firms don't like employees working from home, but "small" ones love it. All InVision's 700 employees work remotely.
Scratch your head to come up with alternate job titles for these stay-at-home positions. We found jobs like "remote engineer," "Android engineer," and "application developer." (All with "remote" or "work from home" included.)
Computer Scientist. This is a catchall for any of the work-at-home jobs below. Use it in the job search websites to get more options.—$109,075
UX Designer & UI Developer. Design the user experience or interface for sites and apps. You'll need to hunt to find remote positions.—$97,460
SQL Developer. Use code to manipulate the data that drives our online world. Big money and plenty of remote openings.—$81,714
Web Designer. Make sites look nice with HTML, CSS, Javascript, and other hacky tools.—$56,143
Web Developer. Be the man (or gal) behind the curtain and make the internet go voom.—$88,488
Help Desk Worker/Desktop Support. Help non-techies jump through hoops.—$43,835
Software Engineer. Also search "software developer" and "cloud engineer" in the job sites. Add "remote" to find work-from-home jobs doing this.—$104,463
Data Entry. If you can type blazingly fast on QWERTY and 10-Key, this may be your destination.—$31,153
DevOps Engineer. Someone needs to drive the great web development wagon train westward. That could be you.—$138,378
Computer Programmer. If you can code like nobody's business, maybe coding is your business.—$64,719
Engineering Jobs
It's a lot trickier to track down work-from-home jobs as an engineer. You have to design them. But you're an engineer...
Generally, you'll need to start out in person. Then transition to working remotely. But—
You can find turnkey remote engineer jobs too.
If you're not an engineer, but you've got the DaVinci mind, consider working as an assistant. They need less schooling but can work up through the ranks.
Assistant Engineer. My brother did this with an associate's degree. The plant manager saw he understood the way things work and hired him.—$68,000
Engineer. If you type "engineer" and "home based jobs" in the Indeed search boxes, you'll get a lot of "software engineer" results. Pick a specialty to find true engineer jobs. (No offense.)—$77,182
Mechanical Engineer. I found 60 home-based mechanical engineer jobs in Indeed, and even more in Google jobs.—$73,016
Civil Engineer. It's tough to find civil engineer remote jobs. The top job sites turn up a few Yahtzees.—$68,638
Electrical Engineer. You may need to travel a bit to do these jobs as a stay-at-home employee, but they're out there.—$83,088
Pro Tip: Search lots of work-from-home jobs titles variations. Programmer, software engineer, developer, and cloud expert are all legitimate work from home jobs titles.
Artistic Work From Home Jobs
Got talent? Awesome. Use your passion to feed your heart and wallet.
Plenty of smallish companies thrive on remote teams. Join one with the work-from-home jobs search techniques shown below the list.
Graphic Designer. Can you make people ooh and ahh with a Wacom? Surprisingly, I only found ten remote graphic designer jobs on Indeed. I found hundreds on Google Jobs.—$48,256
Video Editor. Montage your way into a $40,000+ career.—$46,274
Musician. Hans Zimmer, Dave Grohl, Beethoven, and William Hung. You could be next, maybe minus the fame and fortune. Find jobs with marketing agencies and talent firms.—$40,000
Computer Animator. Don't expect to find dozens of these work-from-home jobs in jobs sites. You'll need next-level networking skills. I'll show you how in a bit.—$61,000
Photographer. You'll find tons of home-based jobs in photography in the job sites. Just add "remote" to the location box.—$32,068
Playwright. You won't see any remote playwright jobs online. Find a way to rub elbows with professional drama types instead. If you're rural, do that on LinkedIn or Twitter. —$38,000
Writing Jobs Online
Got skills with a keyboard? You can work from home and make a decent living with a little elbow grease.
I support a family of four in an economically depressed area, working from home as a writer.
My other option would be Lowe's, making a third as much for more hours.
Nope.
The catch? It's hard to find good remote writer jobs. You need to hunt.
I'll show you how to hunt successfully below the list.
Editor. You'll have no problem finding lots of remote editor jobs on Google Jobs and Indeed. The trick is finding one that treats you like a human being and pays well. (See below.)—$61,655
Proofreader. It's so easy to find stacks of work-from-home proofreader jobs in the search sites. —$36,290
Novelist/Writer. If you think anyone will hire you to do this, you're probably creative enough to do it. The short recipe? 1) Network with real writers in pro associations like MWA or SFWA. 2) Write your first book nights and weekends and sell it to a small press for peanuts. 3) Self-promote like an angry monkey and build a giant Twitter fanbase. 4) Sell your next book for real money.—$55,420
Journalist. Don't believe the median salary on this one. If you're good, you'll make a lot more, but it's a lot of work and networking to get there. You won't find work-from-home jobs as a journalist online.—$45,925
Copy Editor. This is more grammar and spelling-oriented than a full-fledged editor. Hence the lower pay.—$45,506
Content Creator. Basically a blogger. Work hard, research, write lots.—$54,455
Marketing Remote Jobs
Marketing teams like everybody in-house because they're like families. They get jazzed up, have energetic meetings, and produce results. But—
Smart teams know the best people aren't always local. Hunt for these legitimate work-from-home jobs online by typing "remote" or "home based" in the location box.
SEO Specialist. I love Indeed, but it didn't turn up a lot of SEO specialist stay-at-home jobs for me. I found a ton on Google Jobs.—$66,848
Marketing Specialist. Look for "digital" and "email" marketing specialist remote jobs too.—$42,153
Marketing Manager. Can you really lead a marketing team remotely? You bet your funnel. There are zillions of these jobs out there.—$93,125
Social Media Specialist/Manager. You'll find tons of remote social media jobs on Indeed and Google.—$54,500
Pro Tip: Networking can help you learn how to work from home online. I met a job-seeker who found a $100,000 job with a networking job search. There's no reason you can't do it too.
When making a resume in our builder, drag & drop bullet points, skills, and auto-fill the boring stuff. Spell check? Check. Start building a professional resume template here for free.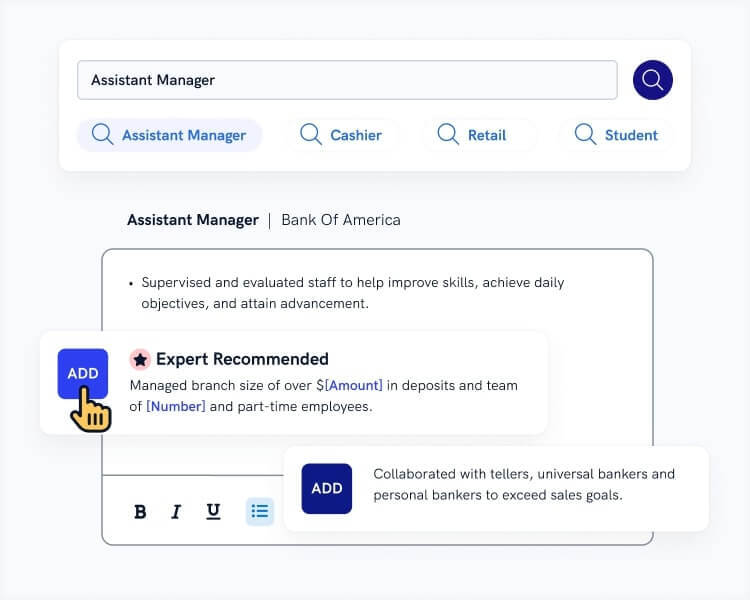 When you're done, Zety's resume builder will score your resume and tell you exactly how to make it better.
Typing At Home Jobs
You're probably selling yourself short if you go for typist online jobs. If you can type, you can probably do lots more.
Can you also write? Do research? Come up with ideas? Those kinds of stay-at-home jobs pay more than at-home typist jobs.
No? Then try these typing-only full and part-time work-from-home jobs below.
Data Entry. If you can 10-Key and Qwerty, you're on the money for these jobs from home.—$31,153
Typist. Just 40 WPM is above average. Can you do 100 without errors? That's blazing. Test yourself online at KeyHero. You can even store scores and share with employers.—$27,430
Law Enforcement Transcriptionist. You'll need to learn police codes and terminology, but that's not hard.—$28,570
Legal Transcriptionist. Same deal. Learn the terms, search Google for remote legal jobs, do the work.—$28,570
Medical Transcriptionist. Again, learn the terms to do these work-at-home jobs. (Or cheat and look 'em up as you type ;)—$28,570
Phone Jobs From Home
These are considered bottom-of-the-barrel work-from-home jobs, but—
You can actually make decent $$$ as a help desk specialist. Is it fun?
No.
But it's money, and they're stay-at-home jobs, and there's lots of them.
Telemarketer. Yuck, cold-call spamming. But it's easy to find work.—$25,969
Call Center Representative. Mmm, inbound order-taking. These work-at-home jobs ain't fun, but they hand them out like peanuts.—$32,214
Customer Service. A step-up from call center work. If you can learn the product knowledge, you can do these legitimate work-from-home jobs.—$34,780
Phone Survey Conductor. Interrupt people in the middle of their stroganoff to ask if they have 2.7 kids and a hyena.—$27,099
Help Desk. The highest paying of all phone remote jobs. Start with a CompTIA A+ certification and go from there.—$49,043
Dispatcher. Tell the trucks, cop cars, or taxis where to go, working from home. Google "remote dispatcher jobs."—$37,112
Research Work From Home Jobs
Are you a super-sleuth? Do you looove digging for the truth online? Researching burns your eyes out, but it's fun and pays pretty well.
You'll need a solid research resume to get these online jobs from home. Pick a specialty like legal research, UX research, or healthcare researcher.
Researcher. Use your hunting talents to dig in and see the big picture. —$61,085
Research Assistant. Not ready to assume the mantle yet? Google "remote research assistant jobs."—$30,647
Pro Tip: Pay close attention to median salary. But if you're really passionate about a job title, don't run from it because of low pay. You can find someone to pay you a lot more if you're good.
Accounting/Finance Stay at Home Jobs
If you've got the skills—and dare I say CPA license?—you can find good work-from-home jobs in the numbers world.
As with other searches, your best bet is googling "remote accountant jobs." Then click the big blue bar.
Accountant. You need your CPA license. That means lots of schooling, study, and a monster exam. Worth it?—$55,202
Bookkeeper. No license needed, but the pay is lower. Find work-at-home jobs as a bookkeeper on Google. Then take night classes to get your CPA.—$34,677
Analyst Work at Home Jobs
Have you got a nose for figures? Then you can find some really high-paying jobs from home.
Some of these analyst work-online jobs need a lot of schooling (like "financial analyst"). Others, hardly any.
Data Analyst. Do you understand numbers? Most don't. If you can explain them in plain English, you can do these good-paying work from home jobs.—$65,470
Business Analyst. Use your Bezos-level insight to see to the heart of business matters for these great remote jobs.—$70,170
Financial Analyst. It's hard to get a CFA certification, and it takes a long time.But—you can definitely do it working from home.—$63,829
Biostatistician. Use stats tools to ferret out the underlying truths in biology. Lots of good work-at-home jobs here.—$92,426
Actuary. Use your math wizardry to help insurance companies get rich from home. They'll cut you in for a slice.—$107,598
Healthcare Jobs Working From Home
Can you find healthcare work-from-home jobs? Absolutely. In fact, remote jobs in healthcare get more common every day.
Most of these stay-at-home jobs require licensing.
Telework Nurse/Doctor. Well, yeah, you need to be a nurse or doctor first. But if you want remote medical jobs and you're already licensed, snap.—$76,710–$300,000
Massage Therapist. The catch—your clients come to you. Start your own biz or seek remote jobs as a "massage therapy instructor."—$45,408
Mental Health Counselor. Online therapy is taking off like a well-adjusted rocket. Google "remote mental health counselor jobs."—$45,449
Addiction Counselor. You can find these counseling work online jobs easily on Google.—$37,762
Marriage Counselor. People in rural areas can't always drive to counseling. That's why God created Skype and Google Hangouts.—$53,000
Other Work From Home Jobs
Here's a few remote jobs that don't fit an easy category. Some pay better.
Virtual Assistant. This is like a secretary or executive assistant, but they're online jobs. Depending on your skills and clients, you can make a lot more than the median.—$22,000
Dog Walker / Pet Sitter. This is an "out-and-about" type job, but you still don't need an office. Try Sittercity or Rover.com.—$27,295
Recruiter. Recruiters have a bad rep because some are seedy. Be a good one.—$49,712
Locksmith. Get your certification in a couple months. You do have to leave your house for this :)—$50,000
Translator. Are you fluent? You'll find scads of work online jobs in this field. Google "remote translator jobs."—$44,190
Delivery Driver. Another "leave the house" work-from-home jobs option.—$48,013
Amazon Work From Home Jobs. The online retail giant is always hiring. Just type "Amazon work from home jobs" or "remote Amazon" jobs in the Google jobs search box.
Is That Really All the Work-From-Home Jobs?
Don't be silly.
There are tons more than just 62 legitimate work-from-home jobs.
You can do any job working from home.
(Well, not waitressing.)
Just do a Google search for "remote" + [YOUR CAREER] + jobs. Then click the big blue bar.
Pro Tip: Remote jobs pay less, especially at first. But once they learn you're a good employee, you can expect big raises. Many remote workers just aren't worth a hoot.
Want to know how to write a resume? You'll need a standout one to get the best jobs from home. See our guide: How to Make a Resume for a Job
3
How to Find GOOD, Real Work From Home Jobs (Tips Worth Gold)
Hooray!
You've got a list of 62 of the best work-from-home jobs on the planet. You're rich, right?
Well, no.
You can't even find legitimate remote jobs because all the lists online are just job titles.
Heads up—
A job title is not a job.
Even using my hack to find work-at-home jobs in Google won't get you hired.
You know what it'll get you?
A headache—unless you know how to shave down the options.
Kissing a Lot of Frogs
You've got to kiss a lot of online jobs before you find a prince.
So, kiss them fast.
Get your resume in order. Make a template you can tailor quickly to fit hundreds of remote jobs listings.
Don't apply to every job. Google the company. Check their website to see if they're legit. Do a Google news search on them. Are they cool? Go get 'em.
Be picky. There's tons of work-at-home jobs out there. Don't take one just because you can. Scrutinize the pay and workload like your life depends on it.
BE PICKY. Before I worked for Zety, I applied to 150 writing stay at home jobs. About 50 emailed me. I worked for 30, one day each. Zety was the one that really clicked.
Pro Tip: Still can't find work-from-home jobs that fit you? Consider getting trained. You can train for many online jobs—well, online. Try free Codecademy classes for tech work.
Want to fit your resume to that online job description like spandex? See our guide: 6 Tips on How to Tailor Your Resume to a Job Description
Plus, a great cover letter that matches your resume will give you an advantage over other candidates. You can write it in our cover letter builder here. Here's what it may look like: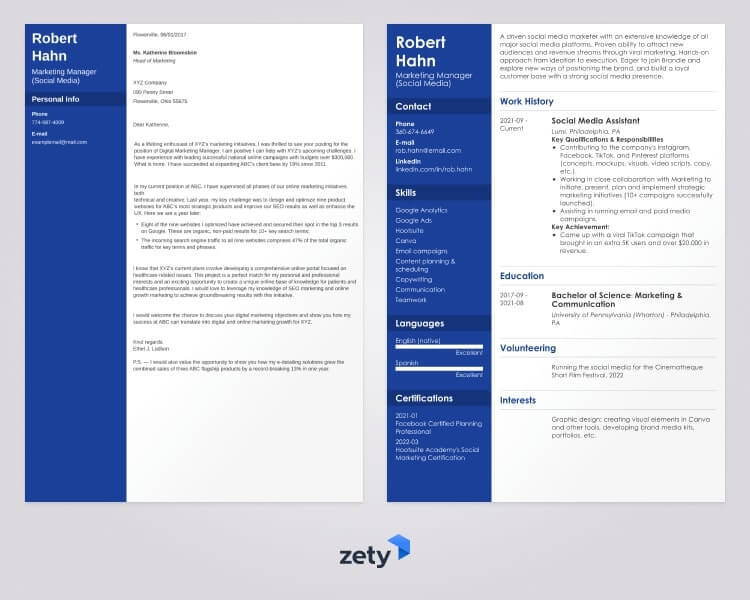 See more cover letter templates and start writing.
Here's a recap of how to find work-from-home jobs:
Use Google for Jobs to find the best work-at-home jobs. Search "remote" + [JOB TITLE] + "jobs."
Get inspiration from the list of stay-at-home jobs in this article. Then use your thesaurus skills to try plenty of variations.
Be picky. Apply to lots of work at home jobs. Then work for several of them for a short time each. Find the team you love, and stick.
Don't run from legitimate work from home jobs because of low median pay. If you're solid, you'll make more than the median.
Do you have questions on how to find the best jobs you can do from home? Not sure how to start the work online jobs search? Give us a shout in the comments! We'd be happy to reply.