Scroll down one fold and you'll see a perfect research assistant resume sample.
Better yet? Keep reading, and in 7 minutes you'll learn how to write an equally amazing research assistant resume yourself, step by step.
When applying for research assistant positions you're up against fierce competition: highly motivated, ambitious, extremely talented, and well educated scholars and scientists.
But you are going to beat them all.
How do I know?
Because I'm about to show you the most effective strategies for writing a job-winning research assistant resume.
In this guide, you'll see:
A research assistant resume sample better than 9 out of 10 other resumes.
How to write a research assistant resume even if with no experience.
Tips and examples of how to put skills and achievements on a resume for research assistant jobs.
How to describe your experience on a research assistant resume to get any job you want.
Here's a research assistant resume sample made with our resume builder.
Want to save time and have your resume ready in 5 minutes? Try our resume builder. It's fast and easy to use. Plus, you'll get tips and right vs. wrong examples while writing your resume. See 20+ resume templates and create your resume here.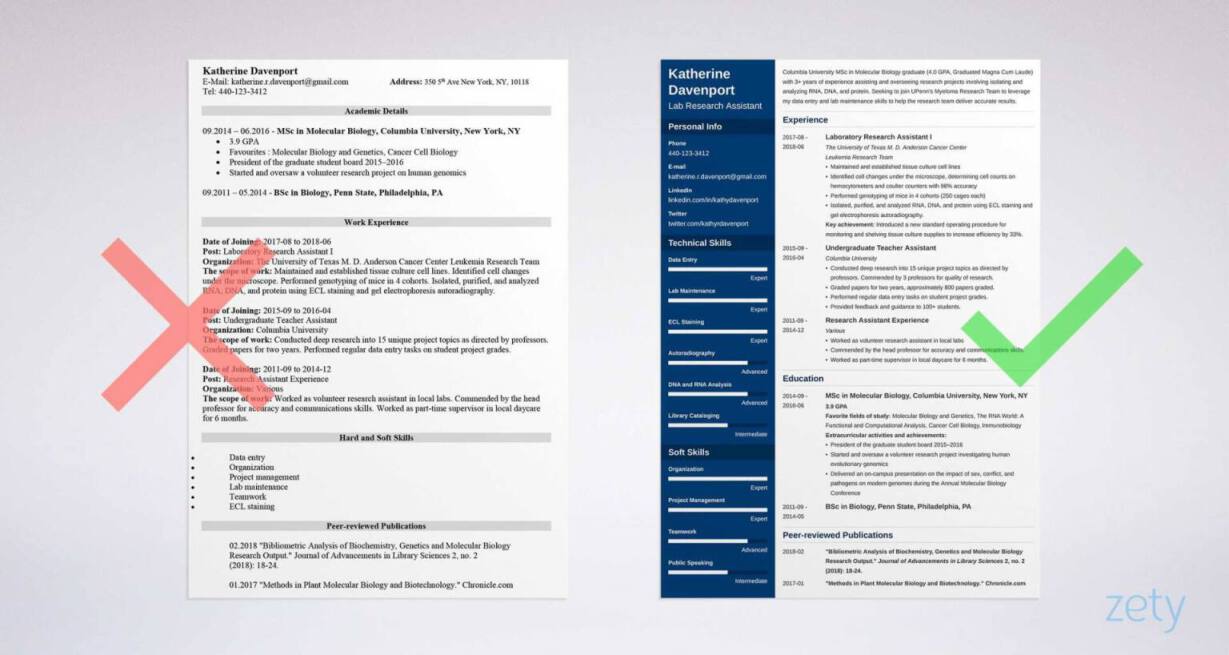 Sample Research Assistant Resume - See +20 resume templates and create your resume here
Applying for your next big research grant or a research scholarship? See: Academic CV Example and Writing Guide and Scholarship Resume Example and Writing Guide
Are you a student or a fresh graduate considering other student jobs, not only in research? Here's a must-read for you: Student Resume Example and Writing Guide
Not just research but also a teaching assistant or a tutor? Check out these dedicated resume writing guides:
1
What's the Best Research Assistant Resume Template?
Think about this—
Research team supervisors and head professors have to review hundreds of research assistant applications.
How much time do you think it would take them to read every single research assistant CV or resume, cover letter, proposal, or transcript of records?
Too much time.
That's why decision makers don't read every application document they get. They just skim them for most relevant information.
So—What should you do?
Make it easy for research recruiters to find what they're looking for in a jiff.
The best way to achieve that? Format your research assistant resume the right way and choose a clear, legible research assistant resume template.
Key thing is to divide your resume into sections and put them in the right order.
Writing an undergraduate research assistant resume or a research assistant resume with little experience? Here's the proper template:
Sample Entry-Level Research Assistant Resume Template
Contact Information
Resume Objective
Education
Skills
Awards and Honors
Work Experience/Volunteer Experience
For a postgraduate or graduate research assistant resume with relevant research experience to showcase, move your research experience above the education section:
Sample Senior (Graduate or Postgraduate) Research Assistant Resume Template
Contact Information
Resume Summary
Research Experience
Education
Skills
Awards and Honors
Additional Sections (Publications, Conferences Attended, Certifications)
In each section, list your experience in reverse chronological order, starting with your current or most recent activities.
Make the section headings in bold and slightly larger than the rest of the text. Be consistent with your headings format and with the layout of each section.
Use clear, legible fonts. Make your research assistant CV or resume look scholarly. Don't cram it with gimmicky graphics. White space is your friend—decision makers need some breathing room!
For more information on how to choose a good template and layout for your research assistant resume, read: Resume Layout Templates and Examples
Now, let's break down how to write each section of an excellent research assistant resume and see some examples.
2
Research Assistant Resume Objective or Summary?
Regardless of which one you choose, this section comes at the very top of your resume, just below your contact information.
A research assistant resume objective or summary is a short and snappy paragraph that explains why you're an ideal candidate for this job. It serves as a "trailer" for the rest of your research assistant CV.
Get it right, and every research recruiter will actually read your whole resume with interest.
Should you write a research assistant resume objective or a summary?
That depends on your research experience.
If you're writing an undergraduate, student, or entry-level resume for research assistant jobs, go for the resume objective. Mention your strong academic record, the skills you've learned so far and how you can leverage them to help the research team you'd like to join.
Got relevant research experience under your belt? Write a research assistant resume summary. Give an outline of your research career and show off your best achievements.
Either one you pick, remember about one thing—
Focus your research objective or summary on what you can offer your prospective employer, not what you want to get out of the job.
Alright, enough theory. Time for some examples.
Let's begin an objective for a research assistant resume.
Biology Research Assistant Resume Objective Sample
right
Senior year biology student at Anytown University (current GPA: 3.9), looking to join XYZ State University Department of Marine Biology Research Team. Seeking to leverage strong data entry and lab maintenance skills gained through volunteer lab experience at the campus to ensure all research databases and libraries are easily accessible to XYZ State's students.
See that? "I've learned a lot already, and I want to use this knowledge to make sure all your research projects run smoothly."
That's an offer no research recruiter could refuse.
Now, have a look at a not-so-great resume objective example to know what you should avoid.
Clinical Research Assistant Resume Objective Sample
wrong
Medicine student with strong academic record looking to join a research team to gain new skills in gathering, processing, and analyzing clinical data.
Why is it so bad?
First of all, it's not specific. What exactly does "strong academic record" mean?
Secondly, it doesn't refer to any particular research job or project. That's a red flag for research recruiters—it means this candidate probably spams identical, generic research resumes out to all research institutions and doesn't really care what job he gets. Every research team wants to recruit research assistants that are passionate about a given research position.
Finally, it makes no offer. The bottom line is "I want a research job so that I can learn more." That's what everyone else wants and it's not enough.
Now, let's review two very different research assistant resume summaries.
Graduate Psychology Research Assistant Resume Summary Example
right
Columbia University MA in Psychology graduate (3.8 GPA, Graduated Magna Cum Laude) with 3+ years of experience assisting and overseeing research projects involving 1000+ participants. Seeking to join UPenn's "Transitional Housing Problems" Research Project to leverage expertise in screening participants, administering phone surveys, and collecting and entering data to help the research team deliver accurate results and meet deadlines.
wrong
MA in Psychology graduate experienced in interviewing, reviewing literature, recruiting subjects, and safeguarding data. Other skills include organization, personal networking, bookkeeping and complex problem-solving.
See the difference?
The first example is full of details and lists hard numbers.
The second one barely mentions skills that any good research assistant must have. There's nothing exceptional in "reviewing literature" or "safeguarding data," is there?
It's pretty obvious which of these two candidates will land the interview.
Our resume builder (you can create your resume here) will give you tips and examples on how to write your resume summary or any other section. You can easily copy them straight into your resume - it will save you a ton of time.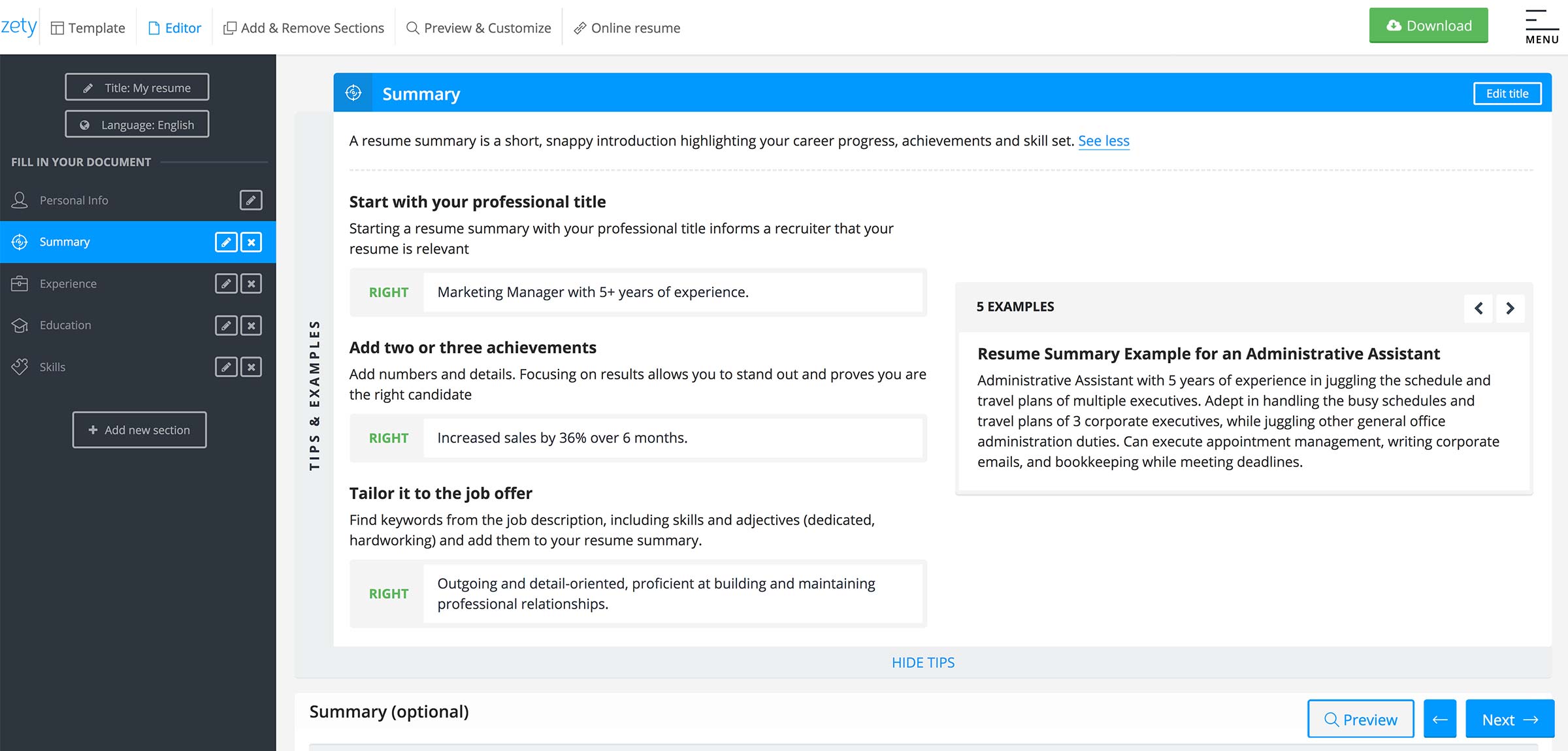 Inside Zety's resume builder you will find tips and examples for your resume.
Writing the perfect research assistant resume objective or summary can be tricky. For more expert tips and real-life examples, check out our handy guides: How to Write a Resume Summary Statement and How to Write a Resume Career Objective.
3
How to Put Education on Your Research Assistant Resume
If you've got little or no research experience, the education section of your research assistant resume has to shine.
What do you put in an undergrad research assistant resume education section?
Your major
Your minors (if applicable)
Your graduation date, or expected graduation if you're still studying
The name of your institution
Your GPA
All of the above are absolute must-haves. But you should also include the following to truly make your student research assistant resume stand out:
Favorite fields of study
Key academic achievements
Extracurricular activities
These will show that you're passionate about the area of science you're studying.
See what an excellent research assistant resume education section looks like in practice:
Sample Lab Research Assistant Resume—Education Section
right
BSc in Biology
Expected to graduate in 2019
University of Pennsylvania, Philadelphia, PA
3.9 GPA
Favorite fields of study: Molecular Biology and Genetics, The RNA World: A Functional and Computational Analysis, Cancer Cell Biology, Immunobiology
Extracurricular activities and achievements:
President of the undergraduate student board since 2017
Started and oversaw a volunteer research project investigating human evolutionary genomics
Delivered an on-campus presentation on the impact of sex, conflict, and pathogens on modern genomes during the Annual Molecular Biology Conference
"She's exactly the kind of dedicated research assistant we're looking for!"
This academic experience section is guaranteed to bring this kind of response from the research team recruiters.
If you're writing a senior research assistant resume and have oodles of relevant research experience, limit yourself only to the most important academic achievements and don't include favorite fields of study in your resume education section.
Also, put your education section below your research experience.
Read on to see how to describe your past research assistant duties and responsibilities.
If you want to learn more about listing your education on a research assistant curriculum vitae or resume, check out this piece: How to Put Education on a Resume
4
An Excellent Research Assistant Job Description on a Resume?
Got professional research experience?
If so, you need to know exactly how to write about research you've done on your resume.
This section will be critical. For senior research assistant positions, recruiters will want to know how well you handled your past research assistant duties more than anything else.
The trick?
In your research experience section, don't talk only about your duties and responsibilities. Highlight your achievements and accomplishments instead.
Take a look:
How to Put Research Experience on a Resume
Start with your current or most recent research job.
Follow it with your previous position and the one before that, and so on. In each entry, include your position name, the research institution, and the dates worked.
Add up to 5 bullet points describing your duties and, more importantly, your achievements.
Quantify whenever possible. Don't say you "significantly reduced freezer maintenance time." Say how much exactly. Numbers pop!
Use action verbs throughout your work experience section. "Coordinated," "created," "reviewed," not "responsible for coordinating, creating, and reviewing."
At the bottom, add a "Key achievement" subsection where you show off your most impressive success.
Last but not least—pick phrases from the job ad, and refer to them in your work experience section. List relevant duties, not every single task you've performed. It's called tailoring or targeting a resume.
Again, let's see some examples!
Laboratory Research Assistant Resume Example—Research Experience
right
Laboratory Research Assistant I
The University of Texas M. D. Anderson Cancer Center
Leukemia Research Team
Aug 2017–May 2018
Maintained and established tissue culture cell lines.
Identified cell changes under the microscope, determining cell counts on hemocytometers and coulter counters with 98% accuracy.
Performed genotyping of mice in 4 cohorts (250 cages each).
Isolated, purified, and analyzed RNA, DNA, and protein using ECL staining and gel electrophoresis autoradiography.
Key achievement: Introduced a new standard operating procedure for monitoring and shelving tissue culture supplies to increase efficiency by 33%.
wrong
Research Assistant
The University of Texas, 2017-2018
Responsibilities:
Performing maintenance of freezers
Manually operating the lab equipment
Assisted PIs and postdocs in mouse experiments
The contrast is clear—
The right research assistant CV sample showcases quantifiable achievements and specific duties. Plus, it's packed full of action words.
The wrong one? That reads like a re-written description of responsibilities listed in the job ad.
If you want to learn more useful tricks on how to put research duties and responsibilities on an excellent research assistant resume, see this handy guide: How to List Work Experience on Your Resume
5
Don't Have Relevant Research Experience?
That's okay.
In your student research assistant resume work experience section, list all your past professional experiences.
Think you don't have any? Think again. Even the smallest activities count.
Such as? Have a look.
Sample Student Research Assistant Resume Work Experience Section Entries
Internships
Part-time jobs
Participation in work experience programs
Volunteering
Extracurricular student activities
Even if some of the gigs you've done in the past aren't related to your area of research interest, you should still put them in the work experience section.
This way, you'll show that you're dependable, well-organized, and responsible.
For more actionable student research assistant resume samples and ideas on how to make the most of your research assistant resume when you've got little or no experience, check out our guide: First Resume with No Work Experience Samples
6
How to List Your Skills on a Research Assistant Resume?
When it comes to listing your skills, relevance is key.
What does it mean for you?
That you shouldn't cram your resume with all research assistant skills you think you have, entered in whatever order you think is right.
Check the research job description and look for skills-related keywords.
Have these skills? I bet you do! So put them on your resume.
Let's say, the professor put these skills in the job offer:
Research
Data entry
Physical strength
In your skills list, prove you've got them, like this:
Sample Research Assistant Resume Skills List
Research: conducted deep research into 15 unique project topics as directed by professors. Commended by 3 professors for quality of research.
Data entry: Performed regular data entry tasks on first-year student project grades for 400+ students.
Physical strength: Able to lift up to 70 pounds.
Want to add some additional researcher skills? Let me give you some inspiration.
This study suggests that 10 qualities essential for a prospective researcher to succeed are:
Interest,
Motivation,
Inquisitiveness,
Commitment,
Sacrifice,
Excelling,
Knowledge,
Recognition,
Scholarly approach,
Integration.
Want to dazzle every research committee? Make your skills list reflect those values.
Hungry for more examples of the best skills sets to put on your research assistant CV? Read: Examples of What Skills to Put on a Resume
7
How to Add Awards, Honors, and Additional Sections for an Effective Research Assistant Resume
Got all of the above research assistant resume sections?
Great. Almost there.
Want to outshine other candidates?
Add an additional section to your research assistant resume. Show recruiting professors that your skills and experiences have been awarded and appreciated by others.
Struggling for ideas on what's worth putting on a research assistant CV?
Here's a handy list of entries applicable for undergraduate, entry-level research assistant resumes:
Additional Sections to Include on a Junior Student Research Assistant Resume
Scholarships
Honor Rolls inclusions
Dean's Lists
Subject-related awards
Science fair awards
Publications in student journals
Perfect attendance awards
Non-academic professional awards
Volunteer-related awards
If you've already worked as a researcher for some years, your resume can also benefit from an additional section listing your best accomplishments.
Have a look at some ideas:
Additional Sections to Include on a Senior Graduate Research Assistant Resume
Publications
Fellowships
Certifications
Industry awards
Conference talks and conference participation
Professional blog
Need more examples on achievements that can enhance your research resume? Read: Achievements and Accomplishments to Put on a Resume
8
Research Assistant Cover Letter: Yes, You Do Need One
Optional cover letters aren't optional.
See, 45 out of 100 recruiters won't even be bothered to open your research assistant resume if there's no cover letter attached.
Besides, cover letters can do what even best resumes can't. They tell a story. And even researchers and scientists love stories a lot more than data sheets.
Think about applying for your first research assistant position. Daunting, isn't it?
It's your research assistant cover letter that can get you there!
In your cover letter, you can explain your passion for the science area you pursue, talk more about your skills and support them with solid evidence.
But it's not only junior research assistants who should write a cover letter.
Everyone should—Writing a cover letter basically doubles your chances of landing that interview.
There's no arguing with stats, is there?
Plus, a great cover letter that matches your resume will give you an advantage over other candidates. You can write it in our cover letter builder here. Here's what it may look like: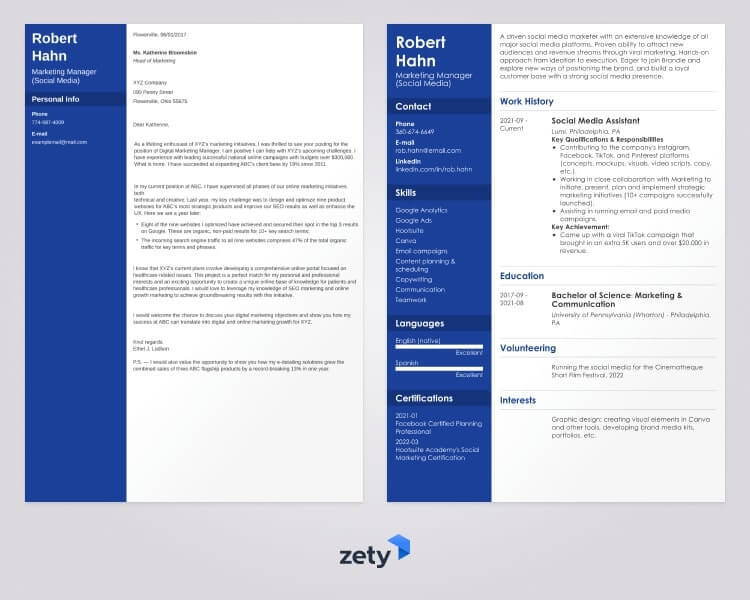 See more cover letter templates and start writing.
You can learn how to write a cover letter that gets every research professor excited to interview you from our beast of a guide: Write a Cover Letter in 8 Quick Steps
Key Takeaway
To have a truly excellent research assistant resume follow the key steps we covered:
Open your research assistant resume with a resume objective or a resume summary. Say what makes you a great candidate and make an offer.
Highlight your strong academic record, extracurricular activities, and favorite fields of study if you've got no professional research experience.
In the research experience section, focus on your achievements, not just responsibilities. Use action verbs and quantify whenever possible.
Match your skills list with the skills required in the job offer.
Include additional sections such as honors and awards that prove your value as a candidate.
Personalize every resume you send. Use the name of the research institution you're applying to and tailor the contents of your resume to the requirements in the job description.
All check? Well then—Good luck at your big interview!
Got any questions? Need further help? Want to chat about writing your resume? That's great cause I can't wait to hear from you! Drop me a line in the comments. Let's chat!