Graduate Assistant Resume: Example & Job Description
You're on your way to getting a degree and chipping off some of that student debt sounds like a great idea. But you won't get there without a perfect graduate assistant resume.
You're in a unique position, applying to become a graduate assistant and shadow a more experienced professor comes with a spectrum of perks!
And you get to enjoy lower tuition? Who wouldn't want that?
Yeah, well, that's kind of the problem—
Expect some fierce competition here.
Lucky for you, we'll explain how to beat every single one of them in just 7 easy steps to writing a graduate assistant resume.
Ready?
This guide will show you:
A graduate assistant resume example better than 9 out of 10 other resumes.
How to write a graduate assistant resume that will land you more interviews.
Tips and examples of how to put skills and achievements on a graduate assistant resume.
How to describe your experience on a resume for a graduate assistant to get any job you want.
Want to save time and have your resume ready in 5 minutes? Try our resume builder. It's fast and easy to use. Plus, you'll get ready-made content to add with one click. See 20+ resume templates and create your resume here.
Sample resume made with our builder—See more resume examples here.
Targeting another position? We've got your back:
Graduate Assistant Resume Example
Ashley M. Dale
Graduate Assistant
323-777-7293
ashleydale@zetymail.com
Objective
Talented and passionate geological sciences student at Ohio State. Maintained a 3.7 GPA in relevant subjects throughout all semesters. Turned in 100% of research papers on time. Deftly instructed 35+ undergraduate students during laboratory training. Seeking to expand knowledge of mineralogy and geophysics while leveraging lab skills to assist in driving research efforts.
Education
M.Sc. in Geological Sciences
Ohio State University, Columbus, OH
Expected Graduation: 2023
GPA: 3.5 (3.7 in relevant subjects)
Relevant Coursework: Mineralogy, Petrology, Sedimentation and Stratigraphy, Advanced Geophysics, Applied Geochemistry, Geomorphology, Oceanography
Extracurricular Activities:
Co-ran local efforts to contribute to UNESCO's geothermal energy management research project, leading a team of 24 students.
Organized a volunteer discussion club & gave 7 presentations to 300+ students.
Received the Junior Pioneer Researcher award for paper analyzing relation of seismically vulnerable regions and volcanic and atmospheric change.
B.Sc. in Geology
Auburn University, Auburn, AL
2017–2021
Work Experience
Various
September 2019–August 2022
Supervised series of 4 "Introduction to Labs" workshops and showed the ropes to 35+ students.
Worked as substitute teacher in geophysics 101 class.
Gave presentation and took questions in local high school to prospective geological sciences students interested in enrolling.
Commended 3 separate times by paleontology professor on strict and proper technique and lab etiquette.
Key Skills
Communication
Reading Comprehension
Lab Equipment
Delivering Lectures
Research
Computer Skills
Mentoring
Awards
University of Auburn Individual Leadership Award: Outstanding Graduate/Professional Student (2020)
Undergraduate Research Forum Participation Award (2020)
Language Skills
Spanish: Upper intermediate/Advanced
French: Working proficiency
This is how you can write an excellent graduate assistant resume of your own:
1. Prepare Your Graduate Assistant Resume in the Right Format
Graduate assistants help out professors while finishing their own degree. Your share of the workload may include grading, developing course materials, and sometimes running lectures. In order to hit, a graduate assistant resume needs to display organization, communication, and knowledge of academia.
As we mentioned, competition is going to be tough. Teacher assistant positions, in general, are likely to become saturated quite fast, and a position that is both paid and lowers tuition fees will go like hotcakes.
So, what can you do (other than applying as soon as a position opens)?
Well, my friend, you need a properly designed resume. Here's how:
Read more: Contact Information on a Resume: What to Include and What to Avoid
2. Write a Professional Graduate Assistant Resume Profile
So, pop quiz (don't worry, this one isn't marked):
How do you make the professor notice your graduate assistant resume?
Moreover, how do you make them pick it out, set it aside, and make a conscious effort to remember it for later?
Two words: resume profile.
It's a brief statement sitting pretty at the top of your resume, summarizing it in 3 or 4 sentences.
Typically, you've got to choose between a resume summary, and a resume objective.
However, the former requires you to have a modicum of job experience. If you don't, then write a resume objective statement.
Describe your ambitions and academic wins. Flex your transferable skills and elaborate on exactly how your skill set and knowledge could make the professor's life easier or help them in their research.
Got work experience? Read more: How to Write a Resume Summary: Tips, Guide & Examples
3. Make Your Graduate Assistant Resume Education Section Shine
This one is a no-brainer, and also probably where your boss battle music starts playing, as it's likely your most impressive, meaty section.
You see, graduate assistant positions see so much interest, only the most engaged, accomplished, and talented get in. Most colleges, like the University of Arizona, the WIU, or Georgia Southern University, expect a minimum GPA of 3.0 from graduate assistant candidates, with requirements rising to 3.25 for some roles and fields of study.
So, ready to deliver a magna cum laude worthy education section?
First, list the basic details of your degree on your resume. These are:
Attended program
Name of the school
Projected graduation year
Majors and minors (if applicable)
Then, piece by piece, add between 3 and 5 extra college "wins". These can include a wide variety of things, but just to name a few:
Times you've made the Dean's list
Your exceptional GPA score
Student club memberships
Awards or scholarships received
Articles in your university's publications
This will show your commitment both to the assistantship and to your area of study.
Read more: How to List Majors and Minors on Your Resume
4. Describe Your Experience as a Graduate Assistant
Got work experience? Perfect!
If you're worried it's not your strongest suit and you're lost on where to place it on your graduate assistant resume, don't worry. Even if the experience you have isn't strictly relevant to the professor's research field, we can still turn it into some nice eye candy.
This is how to write a convincing graduate assistant job description for your resume:
As mentioned, list your past work according to reverse chronology. State the job title, and the name and location of the company first.
List up to 6 bullet points describing your tasks and achievements.
Skirt around your irrelevant experience. If all you've ever done is a fast food joint, don't mention you know how to flip the proverbial burger. Instead, engage your reader by saying how you increased work line efficiency, avoided conflict, and were always on time.
Tailor your resume. This will be easier if you know the professor you'll be assisting, but the assistantship recruitment notice will specify some qualities of the ideal candidate—use that knowledge to your advantage.
Read more: How to Make the Perfect Resume Work History Section
When making a resume in our builder, drag & drop bullet points, skills, and auto-fill the boring stuff. Spell check? Check. Start building a professional resume template here for free.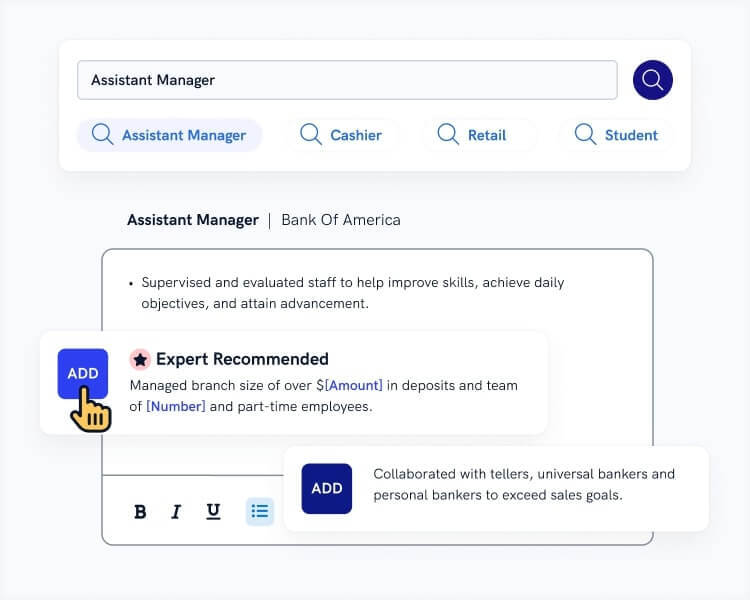 When you're done, our online resume builder will score your resume and our resume checker will tell you exactly how to make it better.
5. Highlight Your Graduate Assistant Skills
The contents of this section of your resume will vary greatly depending on your field of study.
What remains invariable, though, is the way you go about preparing it. If you do it right, it's like getting twice as much extra credit:
Create a list and write down all of your skills.
Divide them into their own categories, like soft skills, hard skills, and technical skills, and whatever else is standard for your field, like programming languages (I'm looking at you, CompSci majors).
Once again, look back at the assistantship description and analyze it for optimal resume keywords.
Cross-reference your skills with said keywords, and put what matches on your resume. If the professor doesn't know you, they'll quickly realize they need you in their department.
Here are some general skills any graduate assistant will benefit from:
Graduate Assistant Resume Skills
Scholarly Approach
Knowledge of Relevant Field of Study
Fieldwork Research
Organizing Undergraduate Events
Assisting in Teaching
Motivation
Resourcefulness
Planning Skills
Keeping & Analyzing Student Records
Conveying Knowledge
Providing Feedback
Following Procedures
Read more: What Skills to Put on Your Resume
6. Throw in Extra Sections on Your Graduate Assistant Resume
Boring, uncharacteristic lectures (and the equally uninteresting professors that give them) are the bane of each and every university student.
Similarly, unimaginative and formulaic resumes put recruiters to sleep inside and outside the academic world.
That's why, to add some pizzazz to your assistantship application, you need to add some extras.
Adding such things as relevant hobbies or interests, your volunteer work, or foreign language skills could help you more than you can imagine.
Read more: How to List Special Projects on a Resume
7. Attach a Graduate Assistant Cover Letter
In the professional world, yes they are, in spite of what you may have heard.
Here's what you need to do to write a cover letter that's at least Harvard-level:
Pick a nice cover letter format before you begin to save yourself a headache later down the line.
Addressing the cover letter is something you really don't want to screw up. Use the professor's last name and his academic title, too.
Don't open the cover letter with an "I'm writing to apply" statement. That's just horribly boring. Start with a convincing hook instead.
Elaborate in the middle what you like about the professor or topic, and what makes you the right fit for this particular assistantship.
End the cover letter with an offer you intend to deliver on.
Pro Tip: Looks like Christmas came early this year! We've got a spiffing, shiny Graduate Assistant Cover Letter Guide for you to sink your teeth into!
Plus, a great cover letter that matches your resume will give you an advantage over other candidates. You can write it in our cover letter builder here. Here's what it may look like: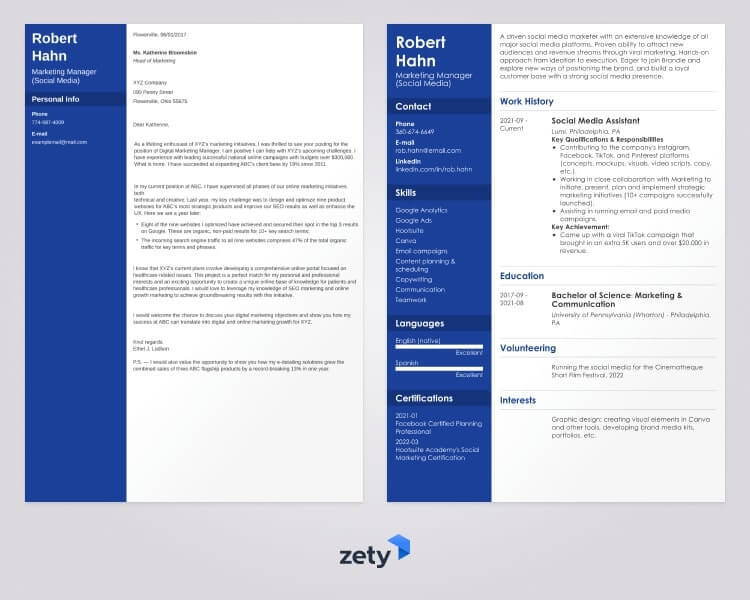 See more cover letter templates and start writing.
All set?
You're bound to be with a graduate assistant resume like that!
Got lingering questions? Need some extra help with elaborating on your education section in your graduate assistant resume? The comments section is eager to receive your queries, so you better head on over!
About Zety's Editorial Process
This article has been reviewed by our editorial team to make sure it follows Zety's editorial guidelines. We're committed to sharing our expertise and giving you trustworthy career advice tailored to your needs. High-quality content is what brings over 40 million readers to our site every year. But we don't stop there. Our team conducts original research to understand the job market better, and we pride ourselves on being quoted by top universities and prime media outlets from around the world.