You're about to see a pitch-perfect TA resume sample. But first, here's a thought:
For teaching assistants, the competition is fierce.
Like, getting-into-Harvard fierce.
There are hoards of unemployed teachers out there, banging at the gates.
How can you stand out from them and get more interviews?
How can you make life easy on yourself and get a top-tier teacher's assistant job fast?
It's simple: Write a teacher assistant resume that stands above the throng.
It doesn't take a ton of work. You just need to show your best achievements that fit the job.
This guide will show you:
A teaching assistant resume example better than 9 out of 10 other resumes.
How to write a teacher assistant resume that gets more interviews.
Tips and examples of how to put skills and achievements on a teacher's aide resume.
How to describe your experience on a resume for teaching assistants to get any job you want.
Here's a sample resume for a teaching assistant using our resume builder.
Want to save time and have your resume ready in 5 minutes? Try our resume builder. It's fast and easy to use. Plus, you'll get tips and right vs. wrong examples while writing your resume. See +20 resume templates and create your resume here.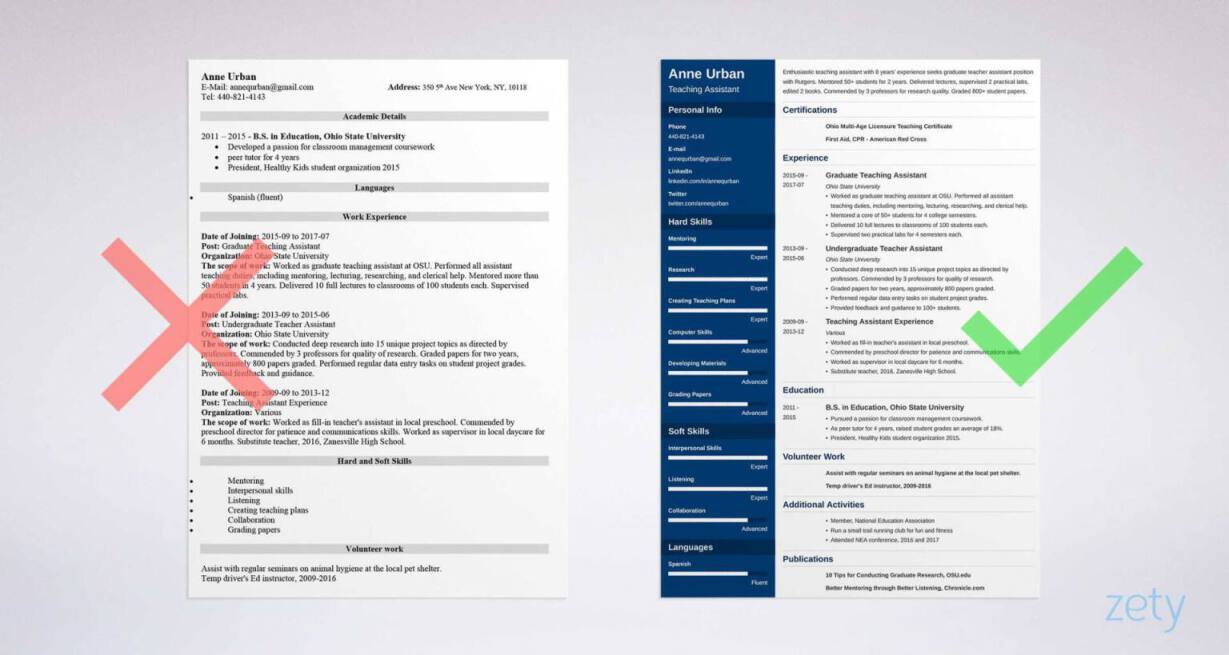 Teaching Assistant Resume Example - See 20+ resume templates and create your resume here.
1
What's the Best Format for a Teaching Assistant Resume?
Picture a principal. His name's Ed. He's got a mean combover and a coffee mug that says, "I make education in my sleep."
He's also got a bitter dislike for sloppy work.
The best teacher assistant resume format is pleasing to Ed's eye. It gives the info he needs fast, without a lot of squinting.
So, use the reverse-chronological format. It puts your most recent achievements first.
Use clear, clean resume fonts, big headings, and just the right amount of white space to give the eyes a coffee break.
Last, save your work as a PDF, so it doesn't flunk in transit. PDF resumes preserve their formatting. Word documents can change shape once you send them.
That goes for teacher's aide resumes too.
Pro Tip: Using a teaching assistant resume PDF? Check the job description first to make sure they're not off limits. Some offers play favoritism with resumes in PDF and Word.
Not sure reverse-chronological is the best assistant teacher resume format? See our guide: 3 Resume Formats: How to Choose the Best One [Examples]
2
How to Write a Resume Summary or Resume Objective
"Hm. I'd better read this carefully."
You need to make the hiring manager say the words above. That's because most managers skim resumes and then discard them.
So, kick off with a teaching assistant resume summary or resume objective.
A resume summary is for anyone with locker bays of experience.
A resume objective is for work history as empty as a classroom on a snow day.
Let's take a look at each.
First, see the senior assistant teacher resume examples below. (We'll cover teacher aide resumes in a bit.)
Teaching Assistant Resume Examples [Resume Summaries]
The first of our teacher's assistant resume samples lacks measurable achievements.
wrong
Experienced teacher assistant with 6+ years of experience. Highly skilled in mentoring, delivering lectures, supervising practical labs, and doing research. Can edit academic books and grade papers.
That's not F-minus work. But be honest: Will it impress the hiring manager, or make him skim the rest?
Now add achievements, like in the next of our teacher assistant resume summary examples:
right
Enthusiastic teaching assistant with 8 years of experience. Seeking graduate teacher assistant position at Rutgers. Mentored 50+ students for 2 years. Delivered lectures, supervised 2 practical labs, edited 2 books. Commended by 3 professors for research quality. Graded 800+ student papers. Skilled in research and materials development.
Wow. Move to the head of the class, because the professor is picking up the phone to call you for an interview.
Our resume builder (you can create your resume here) will give you tips and examples on how to write your resume summary or any other section. You can easily copy them straight into your resume - it will save you a ton of time.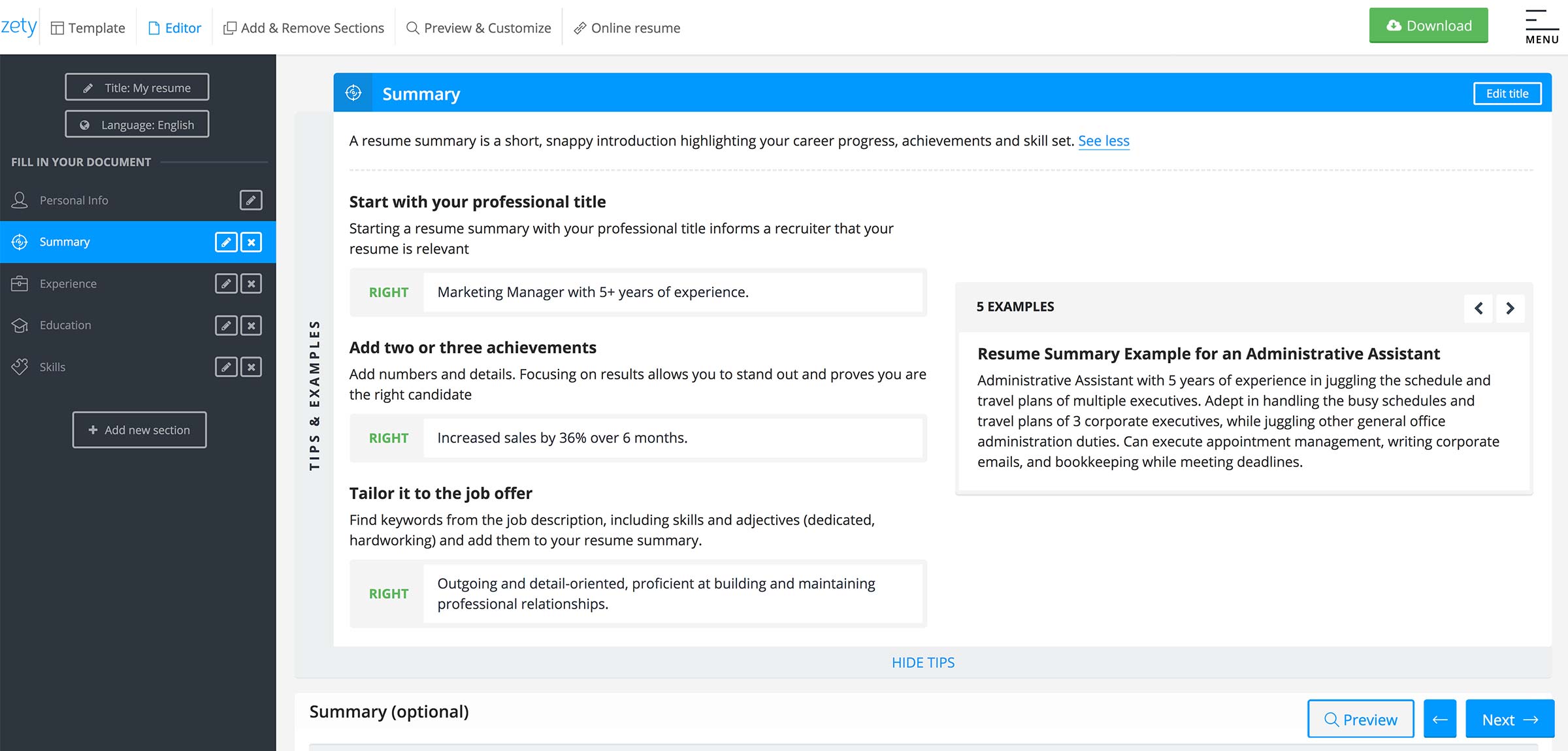 Inside Zety's resume tool you will find tips and examples for your resume.
But what if your work history looks more like a freshly-washed whiteboard?
You may be tempted to write an old-style resume objective. Before you do, see the next two TA / teacher's aide resume examples below.
Two Entry-Level Teaching Assistant Resume Objectives
Without experience, the experts used to say a resume objective was the way to go.
That basically says, "I'm passionate, hard-working, skilled, and I want you to hire me."
To quote Scotty in Star Trek IV, "How quaint."
It's a far, far better thing to convince them why they want to hire you.
Look how that happens in these two TA / teacher aide resume examples.
wrong
Entry-level teacher's aide. Haven't yet worked professionally, but I have an extremely strong work ethic!
That resume objective has "remedial" written all over it. Unless your mom is best friends with the hiring manager, you won't stand out.
Now add accomplishments to get a teacher assistant resume objective like this:
right
Energetic teaching assistant, seeking position with Sunnyside Preschool. Worked as fill-in TA at NRGLC Preschool. Commended by director for solid patience. Supervised at Cheery Faces Daycare for six months. Worked as substitute teacher at Zanesville High in 2016.
The school's hiring manager just put down her inspirational-sayings desk calendar. She's looking for your phone number.
Pro Tip: A teaching assistant resume objective for a graduate TA looks different from an undergrad, preschool, or daycare TA resume. Fit your achievements to the job offer.
For an educated resume, use the teacher's assistant resume sample up top. Plus, use our guides to get the employer's attention without raising your hand: How To Write A Resume Summary: 21 Best Examples You Will See and +20 Resume Objective Examples - Use Them on Your Resume (Tips)
3
How to Describe Your Teaching Assistant Experience
Experience? What experience?
If you had experience, you'd be writing a resume for a teacher position.
Well, not so fast.
You've almost certainly got more experience than you think, or you can get some fast.
You just need to show it right to wake the hiring manager like a fire drill.
List your most recent job first. Add 3-5 bullet points with measurable accomplishments.
Make sure they match the job requirements, like in the graduate teacher assistant resume examples below.
Teaching Assistant Resume Examples [Experience]
These sample teaching assistant resume experience sections are for a job that values mentoring, lecturing, and developing new course materials.
right
Ohio State University
Graduate Teaching Assistant
2015-2017
Worked as graduate teaching assistant at OSU.
Mentored a core of 50+ students for 4 college semesters.
Delivered 10 full lectures to classrooms of 100 students each.
Assisted in the development of new course material. Edited two books.
That stands out like a "Hang in There" kitten posters.
But lose the accomplishments, and you get the next of our senior teaching assistant resume examples.
wrong
Ohio State University
Graduate Teaching Assistant
2015-2017
Worked as graduate teaching assistant.
Assisted in mentoring students.
Taught several lectures on my own.
Eek, right? Like the school library during summer break. Deserted.
You need achievements to get noticed. But what if you don't have them?
See these next entry-level teacher aide resume examples.
How to Write a Resume for Teaching Assistant with no Experience
Don't have teaching assistant experience? That doesn't mean you don't have teaching assistant resume experience.
Does that sound like Master Sifu from Kung Fu Panda?
Get ready for the "Aha!" moment:
Lots of jobs build teacher's assistant experience.
Have you ever:
Worked as a substitute teacher?
Worked as an assistant?
Held any job in education?
Prepared a lesson plan?
Graded papers? Corrected work?
The junior teacher aide resume examples below show how to use that kind of history.
Two Teaching Assistant Resume Samples [No Experience]
This first sample teaching assistant resume basically skips class:
wrong
Teaching Assistant Experience: I haven't yet worked as a professional TA.
Other Experience:
Painting Houses
Shoveling Snow
But add some relevant accomplishments and suddenly you're the star pupil. Check out this entry-level teacher's assistant resume:
right
Teaching Assistant Experience
Various
2012-2013
Worked as fill-in teacher's assistant in preschool.
Commended by preschool director for patience and communications skills.
Worked as supervisor in local daycare for 6 months.
Substitute teacher, 2016, Zanesville High School.
You just blew the curve out. But all it takes is a little head scratching to build a teacher assistant or teacher aide resume like that.
Pro Tip: Looking for a job as an elementary school teaching assistant? Start subbing. You'll learn a ton about the different classes, and your networking will benefit.
Don't want you TA resume graded F for use of repetitive language? Build your teaching assistant resume with action words. Find some in our guide: +80 Examples of Resume Action Words for Every Profession
4
Is Your Education Section Uneducated? It Might Be
You don't need a degree to be a teacher's assistant.
But you do need relevant coursework.
Of course you'll show:
School Name and Location
Years in School
Degree
But then inform it with accomplishments.
Look at these two assistant teaching resume examples:
Teaching Assistant Resume Examples [Education]
Let's say our TA job description values classroom management, tutoring, and leadership.
These two professional teacher assistant resume examples handle that in very different ways.
right
B.S. in Education
Ohio State University, 2011-2015
Pursued a passion for classroom management coursework.
As peer tutor for 4 years, raised student grades an average of 18%.
President, Healthy Kids student organization.
The principal is nodding.
But what happens if we go generic? We get the next of our teacher's aide resume examples:
wrong
B.S. in Education
Ohio State University, 2011-2015
GPA 3.15
Received degree in education.
That's the education resume equivalent of, "I would assess the situation and act accordingly."
Pro Tip: You only need two semesters of college for most TA jobs. That said, more looks better on a resume for assistant teachers.
Make your resume for a teacher's assistant pop out like a neon Trapper Keeper. See our guide: How to Put Your Education on a Resume [Tips & Examples]
5
How to Put Skills on a Resume for a Teaching Assistant
Imagine a college professor.
She wants to know two things about your teaching assistant skills.
First, she wants to know they match the job description.
Second, she wants to know you're not just saying what she wants to hear.
So, read the job description carefully, and say you've got the skills he asked for.
Then, see our next two undergrad teaching assistant resume examples:
Teaching Assistant Resume Examples [Skills]
The professor put these skills in the job offer:
Research, grading papers, data entry
So, prove you've got them in your bullet points, like this:
Conducted deep research into 15 unique project topics as directed by professors. Commended by 3 professors for quality of research.
Graded papers for two years, approximately 800 papers graded.
Performed regular data entry tasks on student project grades for 200 students.
There. Your resume for teachers gets an A++.
Not sure what skills to list? Start with the sample teacher aide resume skills list below.
List of Skills to Put on a Teaching Assistant Resume
Don't list all the teaching resume skills below.
Just use the ones shown in the job ad, plus a couple more so you're not apple-polishing.
This isn't a complete list, so find more in teaching assistant job descriptions online.
Teaching Assistant Resume Skills

Teaching Assistant Resume Skills

Soft Skills

Hard Skills

Communication

Teaching Plans

Leadership

Mentoring

Emotional Intelligence

Computer Skills

Listening

Assessment

Speaking

Research

Reading Comprehension

Developing Materials

Writing

Learning Strategies

Grading Papers

Problem Solving

Delivering Lectures

Collaboration

Instructing
The best part of the skills above? They make great teacher assistant resume keywords. Use them, and Applicant Tracking Systems will beat a path to your door.
Pro Tip: Got skills with the SMART Learning Suite or MS Office? Those look great on a resume for an assistant teacher too.
Want your teacher's aide resume to graduate with flying colors? See our guide: +30 Best Examples of What Skills to Put on a Resume (Proven Tips)
6
How to Add Other Sections for an Effective Resume
If the hiring manager only knew you, he'd hire you in a heartbeat.
So, let him. Add targeted "other" sections to your teacher aide resume.
Do it right, and your teach assist resume will jump off the page like someone put a tack on its chair.
Check out these next examples:
Teaching Assistant Resume Examples [Other Sections]
The first of our sample teacher assistant resume "other" sections drops the ball:
wrong
Playing pool
Going for long walks
Vaping
But look at this next teaching aide resume example:
right
Certifications
Ohio Multi-Age Licensure Teaching Certificate
First Aid, CPR - American Red Cross
Volunteer Work
Assist with regular seminars on animal hygiene at the local pet shelter
Temp driver's Ed instructor, 2009-2016
Additional Activities
Member, National Education Association
Run a small trail running club for fun and fitness
Attended NEA conference, 2016 and 2017
Publications
10 Tips for Conducting Graduate Research, OSU.edu
Better Mentoring through Better Listening, Chronicle.com
Pretty hard to deduct points for that.
But with a little thought, anyone can have a teaching assistant resume like that.
Pro Tip: There's no such thing as overqualified in a resume for an assistant teacher. In fact, willingness to take a lower-tier job can show your work ethic and get you into a full-time teaching job fast.
Not sure what else to put on a graduate or preschool teacher's assistant resume to give it extra help? See our guide: What To Put On A Resume To Make It Perfect [Tips & Examples]
7
Resume Tips for Specific TAs
Are you writing a TA or teacher's aide resume for graduate school, preschool, or special education?
Each position has very different needs. Take a look at the list below for pointers.
Graduate Teaching Assistant Resumes
Academic achievements matter a lot in a graduate teacher's assistant resume. Pay close attention to the job description. You'll need to show a high grade in the class you'll be TA-ing for. Don't have one? Consider taking it again.
Undergraduate Teaching Assistant Resumes
A resume for a teacher assistant in undergraduate school is different from a grad school TA resume. Undergrads do a lot of grading, clerical work, and helping students. Include experience like tutoring, data entry, and volunteering in your college teacher's assistant resume.
Elementary School Teaching Assistant Resumes
Writing an elementary school teacher assistant or teacher's aide resume? Show when you've worked with kids. An education degree and/or a teacher certification can add a lot of value too. You may need to prove classroom management skills.
Preschool Teaching Assistant Resumes
A preschool assistant teacher resume should show work with children. Include volunteering with youth groups, daycare work, nannying, and any relevant certifications. Child education coursework is a big plus. Even babysitting can boost your interview potential.
Daycare Teaching Assistant Resume
A daycare resume for teacher assistants is similar to a preschool TA resume. Mention First Aid and CPR certifications as well as any work you've done with kids. Classroom management skills are critical.
Special Education Teaching Assistant Resumes
Special education resumes for assistant teachers should prove patience, experience working with special needs students, and related training. Certification as a special ed teacher is a plus. So is a bachelor's degree in special ed or general education.
Pro Tip: Don't just write an elementary school or college teaching assistant resume. Write a resume that targets each job you apply to.
Need help to match a resume for a teaching assistant to the job? See our guide: 6 Proven Tips on How to Tailor Your Resume to the Job Description
8
How About a Teaching Assistant Cover Letter?
Q: Do you need a teacher assistant cover letter for your resume?
A: Yes.
Q: So why do so many experts say to skip the cover letter?
A: Because most cover letters are just an extra sheet of paper.
So, don't write a "blah blah" cover letter.
Write one that makes the hiring manager say, "Interesting... I'd better pay special attention to this teacher's aide's resume."
It's not that hard.
First, make it personal. Use the manager's name and show you understand his needs.
Next, prove you can fill those needs by listing your most eye-catching, relevant achievement.
This shortened teaching assistant cover letter example shows how:
Teaching Assistant Cover Letter Example
I've wanted to work at Jerome Horwitz High School for years. My friends Shane Doherty and Keith Groves speak very highly of the focus on staff development at the school. I believe my strong work ethic and thirst for the continual development make me an ideal fit for this position.
Close with a request. "I'd welcome the chance to talk with you about providing education excellence" works great.
Pro Tip: After you send a cover letter and resume for a teacher assistant, follow up. A follow-up in three days can give your interview hopes another shot.
Plus, a great cover letter that matches your resume will give you an advantage over other candidates. You can write your cover letter in our resume builder here. Here's what it might look like: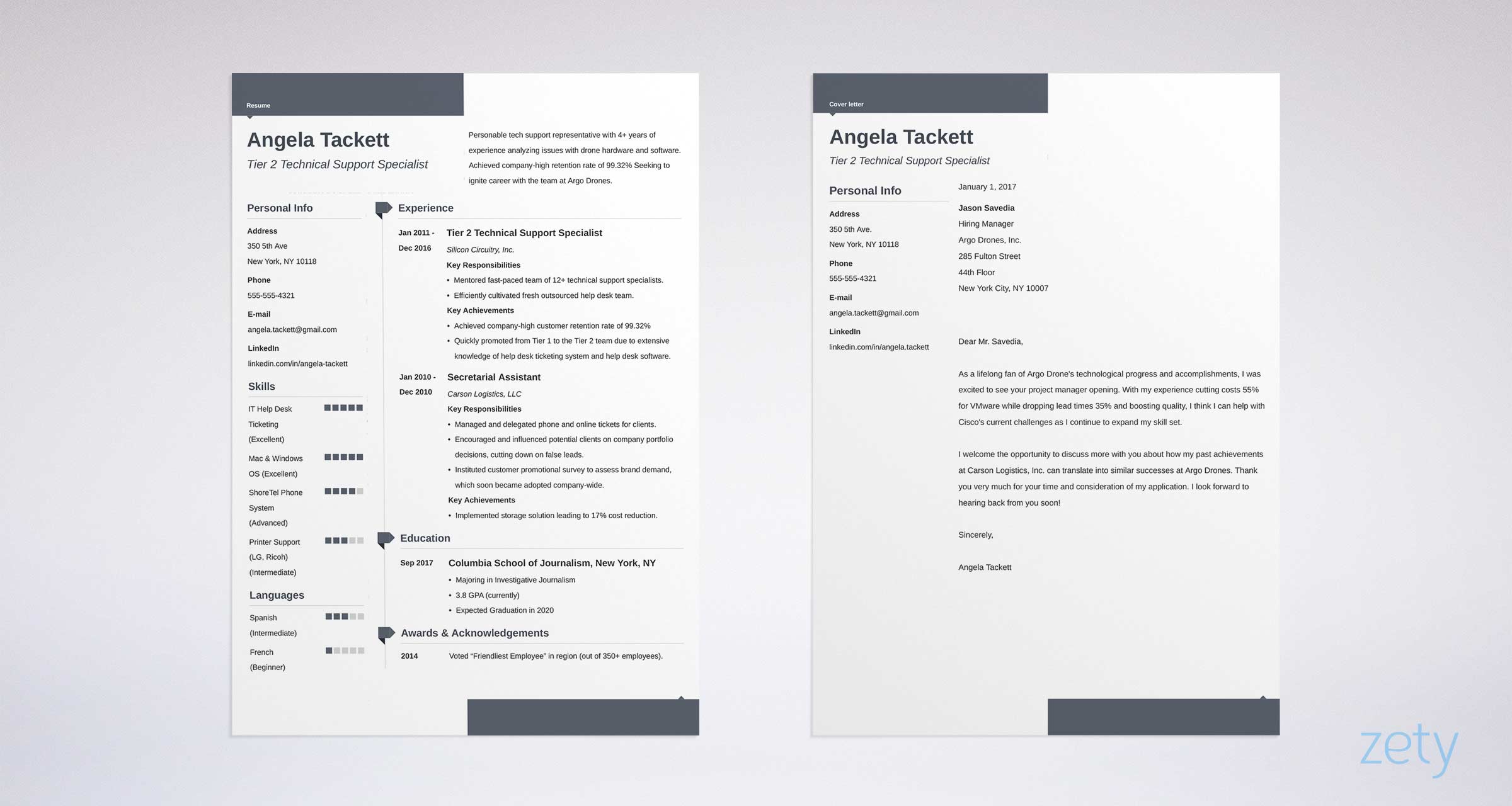 See more templates and create your resume and cover letter here.
Need a more step-by-step guide for your teaching assistant cover letter? See our guide: How To Write A Cover Letter [Complete Guide With Examples]
9
How to Add Contact Info to Your Resume
Add contact info near the top of your teacher's assistant or teacher aide resume.
Include:
Full Name
Updated Phone Number
Professional Email Address
Like so:
Anne Urban, Teaching Assistant, annequrban@gmail.com, 440-821-4143
"Professional" means no crazygonutsgirltequila85339@yahoo.com.
Also, add a LinkedIn address.
LinkedIn isn't just for marketers. Teacher's aides can benefit too. You'll need to make a great LinkedIn profile that puts your interview rate through the roof: How To Optimize Your LinkedIn Summary & Profile To Get Jobs.
Pro Tip: Don't let that three-day Facebook argument three years ago sink your career, clean up your online presence.
Need to go back to basics for your own teaching assistant resume? See our guide: How to Make a Resume: A Step-by-Step Guide (+30 Examples)
To write a great teacher assistant or teacher aide resume, focus on the goal.
Form a good idea of what a teacher's assistant is, and what they do in different schools. It helps to know how to become one too.
What is a Teaching Assistant?
A teaching assistant is just what it sounds like: someone who helps a teacher. In elementary school and high school, that often means teaching special education. In daycare and at the graduate level, TAs may teach classes.
How to Become a Teaching Assistant
You'll generally need to show two years of college coursework on a professional teaching assistant resume. Elementary school TAs can start by subbing. That creates both relevant experience and networking. Most assistants don't require a teaching assistant certification.
What Do Teachers' Assistants Do?
Teaching assistant duties and responsibilities vary with the type of school. College TAs may help with grading papers, or with teaching classes. Assisting at the elementary school level may mean teaching special education classes.
How to Put Teaching Assistant on a Resume
Writing a resume for a new career outside of the TA world? List teaching assistant accomplishments that match the new position. For a teaching job, include lesson plans and classes taught. If getting into project management, focus on school projects you've completed.
Pro Tip: Consider putting your education section first, right after your summary. That's especially true for entry-level resumes for teacher's aides.
Want your college or elementary school teacher assistant resume to ace the final? See our guide: 42 Amazing Resume Tips That You Can Use in 30 Minutes [Examples]
Key Takeaway
Follow the advice in this guide to make a high-scoring teaching assistant resume. Remember these key tips:
Match your bullet points and skills to the job description. A tailored teacher assistant resume will stand out like Albert Einstein in the staff lounge.
Add "other" sections that show you're more than just another applicant. They'll give added zip to a resume for a teaching assistant.
Put the best measurable

achievements from your resume in your resume summary. Make it a short commercial for the rest of your teacher aide resume.
Do you have questions on how to write a great resume for a teacher's aide? Not sure how to describe your skills or achievements? Give us a shout in the comments! Let's start the conversation.