If crafting the perfect tutor resume feels like solving a complex math problem, we have the solution for you. We're here to help you construct a resume that'll make hiring managers want to take a seat in your classroom.
Don't let your job application end up in detention. Prepare to transform your professional achievements into a lesson plan for success!
This guide will show you:
A tutor resume example better than 9 out of 10 other resumes.
How to write a tutor resume that lands more interviews.
Tips and examples of how to put skills and achievements on a tutoring resume.
How to describe your experience on a resume for a tutor to get any job you want.
Here's a sample resume for a tutor made using our resume builder.
Want to save time and have your resume ready in 5 minutes? Try our resume builder. It's fast and easy to use. Plus, you'll get ready-made content to add with one click. See 20+ resume templates and create your resume here.
Sample resume made with our builder—See more resume examples here.
Seeking a job in education? Check the guides below:
Tutor Resume Sample
James Anderson
Tutor
614-890-1234
james.anderson@gmail.com
linkedin.com/in/james.anderson
Summary
Highly experienced and passionate Tutor with 5+ years of experience providing personalized tutoring services to students of all ages. Passionate about helping students succeed and eager to join LearnBright Tutors to help boost learning outcomes. Helped dozens of students from KnowledgeNexus Academy excel in math by improving their test scores by an average of 20%.
Experience
Tutor
KnowledgeNexus Academy, Columbus, OH
June 2017–December 2020
Key Qualifications & Responsibilities
Developed individualized learning plans for students based on their academic needs and goals.
Conducted one-on-one tutoring sessions for math, science, foreign language, social studies, English, history, and more.
Assisted students with homework assignments and other school projects as needed.
Collaborated with teachers to provide feedback about student progress at regular intervals.
Monitored student performance over time to assess positive or negative progress toward academic goals.
Key Achievement:
Helped 30 students improve their math test scores by an average of 20% within 6 months.
Tutor
SmartMinds Tutors, Columbus OH
January 2016–April 2017
Key Qualifications & Responsibilities
Provided personalized tutoring services for students from kindergarten through 12th grade in various subjects such as Maths, Science, Social Studies, etc..
Developed detailed lesson plans tailored toward each individual student's skill level and academic goals.
Facilitated studying techniques that improved retention rates while decreasing study times per session.
Assisted with homework assignments when needed.
Monitored performance over time to evaluate improvement.
Key Achievement:
Increased student comprehension levels by an average of 30% within 3 months using engaging teaching methods.
Education
Bachelor's Degree in Education
Ohio State University - Columbus, OH
September 2015–July 2019
Relevant Extracurricular Activity
Member of volunteer group 'Math Mentors Program' organizing several online classes per year focused on mathematics education.
Academic Achievements
Awarded 'Outstanding Student' at Ohio State University 2019.
Skills
Excellent communication, organizational and problem-solving skills
Proficient in instructional techniques and assessment tools
Knowledge of classroom management principles
Ability to adapt teaching methods to individual student needs
SAT
ACT
Open to feedback
Lifelong learner
Certifications
First Aid Certification – American Red Cross - 2018
Awards
Awarded 'Top Student' at Ohio State University - 2019.
Memberships
Member of the American Association for Tutoring since 2017
Delivered lectures on effective teaching techniques at several of the association's conferences.
Organized a local tutoring group for students with learning disabilities in 2019.
Languages
English–Native
Spanish–Advanced
Interests
Photo Editing – proficient in Adobe Photoshop and Lightroom.
Yoga – Certified Yoga Instructor from the International Academy of Yoga since 2018.
1
What's the Best Format for a Tutor Resume?
Picture a well-heeled tutoring client.
She's prepared to drop $100 an hour on the right tutor.
She picks up your resume. She wants you to be the one to save her from an "F."
Then she sees your sloppy format, full of grammar errors.
She moves on to the next contestant.
Your tutor resume format needs to feel like it came straight from Princeton.
The reverse-chronological layout works best. That's because it puts your best achievements at the head of the class where everyone can see them.
Use clear fonts like Arial or Cambria and big headings. You get bonus points for adding white space.
Last, dot your i's and cross your t's by saving your work as a PDF. Private tutor resume PDFs keep their formatting intact. MS Word resumes can flunk out in transit.
Pro Tip: Go short! If a fact won't impress a client, then it doesn't belong in a resume for tutors. The best format is one that doesn't hide your powers in a wall of words.
For more ideas on how to format your tutor resume, see this guide: 3 Resume Formats: How to Choose the Best One [Examples]
Want to make sure your resume will hook every recruiter and get you that interview? Get our free checklist and learn what makes a job-winning resume: 46 Things You Need To Do Before You Send Your Resume.
2
How to Write a Resume Summary or Resume Objective
Put yourself in the hiring manager's size 10 Bostonians.
You're looking at a math tutor resume. It's got a lot of words. You've got several others to get through by lunchtime.
Do you really want to read it all?
No. So you don't. You skim.
Your tutoring resume needs to turn your first few lines to "Wow."
It can do that with a resume summary or a resume objective.
A resume summary shows all your great experience that makes you perfect for the job.
If you can fit all that experience on a mini Post-it note, use a resume objective instead. Those sell your skill and passion.
Look at these two personal tutoring resume examples:
Tutor Resume Examples [Resume Summaries]
What's the issue with the first of these English and math tutoring resume samples?
wrong
NTA Certified Tutor with 5 years' experience, seeking a tutor position. Skilled in math, English, history, interpersonal skills, SAT, and ACT tutoring.
That's about a B-minus. Not exactly offensive, but no gold star.
But look what happens when we salt in a few details:
right
Friendly, NTA Certified Tutor with 5+ years of experience, seeking a position with Chegg. Highly skilled in math, English, and ACT/SAT tutoring. Scored in the top 1% or better on the SAT, ACT, and GMAT. Maintained 95% positive feedback from clients, and raised grades one letter grade for most.
That's A+ work. The fat paycheck is practically in the mail.
When making a resume in our builder, drag & drop bullet points, skills, and auto-fill the boring stuff. Spell check? Check. Start building a professional resume template here for free.
When you're done, our free resume builder will score your resume and our resume checker will tell you exactly how to make it better.
Two Entry-Level Tutor Resume Objectives
Remember how we said to use a tutor resume objective if you lack experience?
Traditionally, those just showcase skill and passion.
But add achievements and you'll blow the curve out.
wrong
Entry-level tutor seeking clients or a new position. Little tutoring experience so far but I'm great with people and a solid teacher.
That reads like you never even cracked the book before the test.
Now let's give it a little extra credit with some tasty details:
right
Enthusiastic tutor, skilled in ACT and SAT tutoring. Raised one student's score on the SATs from 1100 combined to 1400. Graduated with a 3.9 GPA from Davidson College and led a popular peer tutoring group for three years. Scored in the top 0.06% in the nation on the SATs.
The hiring manager just sat up straight.
But wait. How did a newbie tutor get that kind of experience?
All it took was a few hours of cut-rate work and a little brainstorming about the past.
Pro Tip: Your private tutor resume summary or resume objective is just an elevator speech. Put one or two great facts in it. They should convince the reader to wake up and pay attention.
Need more pointers for your great resume for tutor jobs? See our guides: How To Write A Resume Summary: 21 Best Examples You Will See AND +20 Resume Objective Examples - Use Them on Your Resume (Tips)
3
How to Describe Your Tutoring Experience
Here are two tutors: Stan and Mary.
Mary's been doing this for 10+ years.
Stan just started. He's enthusiastic.
Which one would you rather hire?
If you're an old hand, how you show experience on a resume for tutors counts for everything.
If you're still picking the shrink wrap off your NTA Certification, you need to prove some experience without spending years.
Let's start with two sample tutoring resume examples with plenty of experience.
Math or English Tutor Resume Examples [Experience]
right
Proveo Learning
Math/English Tutor
2014-2017
Delivered premium math/English tutoring for Common Core, SAT, and ACT.
Received 95% positive feedback from clients for effectiveness and friendliness.
Raised SAT scores 40% on average for SAT re-test clients.
Raised school grades one whole grade level for most students.
Our high-roller client can almost taste her high exam score. See how those bullet points deliver yummy proof?
But strip out the measurements, and suddenly you're in a dunce cap:
wrong
Proveo Learning
Math/English Tutor
2014-2017
Tutored K-18 and SAT, ACT students.
Tutored both math and English students.
No tasty tidbits. Like a whiteboard that's been rubbed with alcohol.
But what if you don't have experience?
Just look at these two English tutor resume examples.
How to Write a Resume for Tutor with No Experience
Show me a tutor with no experience, and I'll show you someone who isn't thinking hard enough.
Exhibit A:
wrong
Tutoring Experience: I haven't worked formally as a tutor yet, but I'm a great teacher.
Other Experience:
Whitewater Raft Guide
Bartender
As generic as the mystery meat on a school lunch tray. How do you know you're a great teacher if you've never done it?
Now let's spice it up to get the perfect sample tutor resume example:
right
Freelance Tutoring Experience
2016-2017
Tutored three different students for the SATs. All final scores were higher than 1500.
Received commendations from all students praising empathy, listening, interpersonal skills, and knowledge.
One of my students was accepted to Colby College within two months of taking the SATs.
Poof. Like the paint job on a SpaceX rocket: Flying colors. That's how to put private tutoring on a resume.
Think you can't do it? Take on a few low-paying clients from sites like Fiverr, StudyPool, or SchoolSolver.
Pro Tip: Do a little volunteer work for Facebook friends. Or just think about times in the past when you've helped others study. They all count as experience on a professional tutor resume.
Don't make the manager doze off with boring words in your home tutoring resume. Use action words instead. See this guide: "+ 80 Examples of Resume Action Words for Every Profession"
4
Is Your Education Section Failing? It Might Be
You're a tutor so, yeah, education matters.
Your clients want to know you aced the subjects they need help with.
That comes down to how you show your education on a tutor resume.
Your wins must stand out like an A+ written in red ink.
Start with the basics:
School Name and Location.
Years in School.
Degree.
Then add Mr. Miyagi-type accomplishments.
Check out these two peer tutoring resume examples:
Tutor Resume Examples [Education]
These two college tutor resume samples focus on math and English.
right
BA in Liberal Arts
Davidson College, 2012-2014
Graduated Magna Cum Laude with a 3.9 GPA.
Maintained a 4.0 average in all core math and English classes.
Led a popular peer tutoring group for six semesters.
Received the William Vinson Mathematics Award for mastery.
Is that a tutor, or Albus Dumbledore with broadband? If Einstein's not available, you want this applicant.
But what if we remove those excellent accomplishments?
wrong
BA in Liberal Arts
Davidson College, 2012-2014
3.9 GPA.
Received BA degree.
Took core math and English classes.
Generic as an undefined variable. Based on that resume for tutoring example, you wouldn't hire this candidate to teach you 2+2.
But add the details, and you're irreducible again.
Pro Tip: Should you include a GPA on a resume for tutors? If it's low, you can leave it off and focus on your big accomplishments instead.
To get your tutor resume to sparkle like Yoda's lesson plan, see this guide: "How to Put Your Education on a Resume [Tips & Examples]"
5
How to Put Skills on a Resume for a Tutor
Picture a crackling fire.
Near it, on a couch, sits a high-paying client with an iPad. He's flipping through 100 tutor resumes.
His brow is furrowed like a cornfield. Why?
Because every resume has the same skills list.
Worse, nobody proves it.
Then he finds your resume. His frown vanishes like a bad ACT score after a retest.
What's your secret?
You proved your skills.
Like this:
Tutor Resume Examples [Skills]
Let's say you're a math and English tutor.
So, you list math, English, SAT help, and performance improvement on your tutoring resume.
But you don't stop there. You also prove them in your bullet points, like this:
Ran a profitable tutoring business for 2 years, helping 5 students per week with math and English.
Turned away 3 new students/month because of very strong word of mouth.
Received 20+ emails of thanks for helping clients vastly improve performance.
Raised

one student's

SAT

scores from combined 1100 to 1450.
Proving skills in your experience will show the hiring manager you can get the job done.
Need some tutor resume skills to start out with? See the list below.
List of Skills to Put on a Resume for Tutoring
Let's get you off and running with a sample tutor resume skills list.
Add to it from your own experience, and from tutor job descriptions online.
Tutor Resume Skills List

| | |
| --- | --- |
| Soft Skills | Hard Skills |
| | SAT |
| | ACT |
| Patience | Working to Learning Styles |
| Role Modeling | Assessment |
| Friendly Attitude | Math |
| Perceptiveness | English |
| Psychology | Chemistry |
| Compassion | Physics |
| Dependability | |
| | History |
Use the plan above, and your tutoring resume will come off like Gandalf's resume to Frodo.
Pro Tip: To find tutor jobs, put flyers on college bulletin boards or advertise on Facebook. Include a way for clients to request your college tutor resume.
Need to give your resume for tutor jobs a good schooling? See our guide: "+30 Best Examples of What Skills to Put on a Resume (Proven Tips)"
6
How to Show Licenses and Certifications on a Resume
In a perfect world, your tutor resume would be the only one the manager reads.
In this world, attention isn't free.
Draw the eye to your credentials like an electromagnet.
How?
First, be redundant. That's usually a no-no, but not for tutor certifications.
Put the most important one in your title.
Kelly Nores, NTA Certified Tutor
Also, put it in your freelance tutor resume summary. Last, add it to a special section, like this:
Certification
NTA Tutoring Certification
Do you need a certification? No, but they take very little time to get and look great on a resume for tutors.
Pro Tip: Word of mouth is everything for self-employed tutors. Help one child in grade 9 and watch your reputation spread throughout the school.
Want more ideas for what to put on a resume for a tutor? See this guide: "What To Put On A Resume To Make It Perfect [Tips & Examples]"
7
How to Add Other Sections for an Effective Resume
"Never trust a skinny cook."
The same goes for tutors, except the "weight" is testimonials and test scores.
How do you show them on a resume for tutors?
In special, dedicated "other" sections that get attention like Albert Einstein in a bouncy house.
To see how, look at these two private tutoring resume examples.
Tutor Resume Examples [Other Sections]
This first of these two personal tutor resume samples flunks out from the start:
wrong
Additional Activities
I love cats.
I like hanging out with my friends.
What's wrong with cats and friends? Nothing! But neither of them take any effort or show your tutoring muscle.
But look at this much stronger tutoring resume sample:
right
Test Scores
1590 SAT Score (Top 0.06%)
36 ACT Score (Highest Score Possible)
780 on the GMAT (Top 1%)
Testimonials
"Kelly has a teacher's heart. She takes the time to understand where I am coming from before she shares her rock-solid knowledge." -Dave Pecunies
"I was sunk until Kelly started tutoring me." -Roger Wharton, 1530 SAT.
"I scored a 760 on the ACT, thanks to Kelly's teaching style." -Donna Charlie
"I went from a solid C student to a solid A student in a few months. Kelly's sessions don't feel like tutoring. She makes it fun." -Chris Blouin
Additional Activities
NTA Tutor Conference, 2016-2017.
Teach weekly yoga classes at a local studio.
Home school two young children.
The hiring manger just confused you with Obi Wan Kenobe.
And all because you collected some nice compliments and scored high on a couple tests.
"Tutors should include their test scores on their resume, especially if they want to be a test prep tutor. If your SAT scores aren't great, retake the test. Clients also want to see data and testimonials from previous students." -Elissa Williams, Professional Tutor
Pro Tip: Consider joining the National Tutor's Association (NTA). Membership is cheap, and worth it for the networking alone. It also looks great on your resume.
Need more ideas to fill your college tutor resume? See this guide: "+20 Best Examples of Hobbies & Interests To Put on a Resume (5 Tips)"
8
Here's the Most Common Myth About Cover Letters
"Nobody will read your tutor cover letter."
The truth is, nobody reads bad tutor cover letters.
To write a good one for your tutor resume, make it personal and passionate.
How?
First, take the time to learn what the hiring manager wants. That's listed in the job description. If it's not clear enough, pick up the phone and ask.
Next, find the biggest fact that suits you to that need, and use it.
Dear Shane,
My 1590 SAT score puts me in the top 0.016% in the nation, but you should never choose a tutor based on score alone.
The real reason I'm the one to help you nail the test? Results. Clients invariably praise my ability to listen and communicate in a low-stress, fun way. I think it's that great interaction that lets me raise retest SAT scores an average of 300 points.
Can we set up a call to discuss getting you into your dream college?
Thank you for your time,
Kelly Nores
See how we used the client's name to make it personal? Write a tutor cover letter like that, and you're basically Master Shifu from Kung Fu Panda.
Pro Tip: Don't forget to follow up on your great tutor resume and cover letter. A follow up email will put you top-of-mind and boost your chance to land the job.
Plus, a great cover letter that matches your resume will give you an advantage over other candidates. You can write it in our cover letter builder here. Here's what it may look like: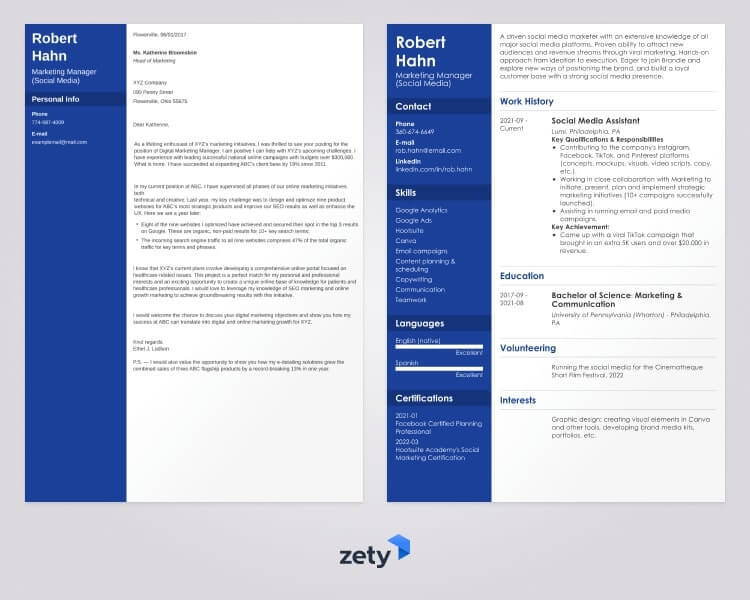 See more cover letter templates and start writing.
Need more tips to write the best tutor cover letter you can? Check out our guide: "How To Write A Cover Letter [Complete Guide With Examples]"
9
How to Add Contact Info to Your Resume
You didn't get the job.
You left your LinkedIn profile off your tutor resume. The manager got interested in another candidate, and ditched you.
Now you're boiling the label off a can of beans.
So, first add the basics:
Full Name
Updated Phone Number
Professional Email Address
Like so:
Kelly Nores, NTA Certified Tutor, kellygnores@gmail.com, 385-628-1747
We say "professional" because no one wants SallyTequilaPoppers499978Hugz@yahoo.com to teach them fractions.
Then, don't forget to add your LinkedIn address, and other social media.
Pro Tip: Having a great LinkedIn profile is as important as studying. Make yours sizzle with our guide to LinkedIn mastery.
Need more nitty gritty details to write a tutor resume that makes the grade? See our guide: "How to Make a Resume: A Step-by-Step Guide (+30 Examples)"
10
How to Put Tutoring on a Resume for Other Jobs
If you're applying for a non-tutoring job, you need to know how to make tutoring sound good on a resume.
So, look at the job description.
Tutors have great interpersonal skills. They're good at communication and client satisfaction.
You may also have strong business skills like budgeting and scheduling.
Let's say you're going for a managerial job that values communication, customer service, and coaching.
Here's how to list private tutoring on that resume:
Private Tutoring Business Owner
Communicated

complex concepts to 5-10 students per week at the college level and above.
Provided high-quality customer service, resulting in 95% positive feedback from clients.
Coached

students daily, helping clients to raise GMAT retest scores by 25% on average.
That's how to add tutoring to a resume for non-tutor jobs.
Pro Tip: Can't find a way to link your tutoring duties and responsibilities to the job offer? Think harder. Still can't find a way? Add it as a single bullet point to your "other" sections.
Want more great resume tips to nail your tutoring resume? See this guide: "42 Amazing Resume Tips That You Can Use in 30 Minutes [Examples]"
Key Takeaway
This guide slam-dunks the tutor resume process, from blank page to "hired." Follow these tips to make the most of it:
Experience is crucial on a resume for tutoring. Match your bullet points to the kind of tutoring you do.
Just below your contact info, put a resume objective or summary.
Don't just list education on a resume for a tutor. Add details that show why you're Aladdin's Genie and Rocky's "Mick" rolled into one.
Show test scores and testimonials in "other" sections on a professional tutoring resume. They provide the proof that you can do the job.
Do you have questions on how to write a great resume for a tutor? Not sure how to describe your skills or achievements? Give us a shout in the comments! We love to help!
About Zety's Editorial Process
This article has been reviewed by our editorial team to make sure it follows Zety's editorial guidelines. We're committed to sharing our expertise and giving you trustworthy career advice tailored to your needs. High-quality content is what brings over 40 million readers to our site every year. But we don't stop there. Our team conducts original research to understand the job market better, and we pride ourselves on being quoted by top universities and prime media outlets from around the world.