Our customers have been hired by:
Want to assemble a camp counselor resume that captivates hiring managers like a thrilling ropes course? Take a bit of Indiana Jones's charisma, add MacGyver's resourcefulness, and mix in Mary Poppins at her best.
And that's how you make the perfect camp counselor resume. Need more details? Then strap your boots and read on!
This guide will show you:
A camp counselor resume example better than 9 out of 10 other resumes.
How to write a camp counselor resume that will land you more interviews.
Tips and examples of how to put skills and achievements on a camp counselor resume.
How to describe your experience on a resume for a camp counselor to get any job you want.
Want to save time and have your resume ready in 5 minutes? Try our resume builder. It's fast and easy to use. Plus, you'll get ready-made content to add with one click. See 20+ resume templates and create your resume here.
Sample resume made with our builder—See more resume samples here.
Looking for a similar job? We've got it all:
Camp Counselor Resume Example
Walter Letho
Camp Counselor
(123) 456-7890
walterletho@email.com
linkedin.com/in/walter.letho
Summary
Certified Camp Counselor with over 5 years of experience in providing guidance and supervision to children at summer camps. Eager to join AdventureCamp Retreat to apply my leadership, communication, and problem-solving skills to foster a safe, fun, and engaging environment for campers. Successfully coordinated a camp-wide Olympics event with over 100 participants.
Experience
Camp Counselor
Bound Summer Camp, Paterson, NJ
June 2016–Present
Key Qualifications & Responsibilities
Developed and implemented daily activities and programs for a camp of over 50 children aged 6-12.
Promoted a positive and inclusive community that fostered friendships and mutual respect among campers.
Performed risk assessments and enforced safety rules and regulations to ensure the well-being of campers.
Trained and supervised junior camp staff, ensuring adherence to camp policies and safety procedures.
Key Achievement:
Coordinated a camp-wide Olympics event with over 100 participants, promoting teamwork and sportsmanship.
Tutor
Self-employed, Paterson, NJ
September 2015–May 2016
Key Qualifications & Responsibilities
Provided academic support to children aged 6-12 in subjects including Math, English, and Science.
Implemented personalized learning plans for each student based on individual needs and abilities.
Monitored and reported progress of students to parents and teachers.
Key Achievement:
Helped 90% of students to improve their grades by at least one level.
Education
High School Diploma
Paterson High School, Paterson, NJ
September 2012–June 2016
Relevant extracurricular activities
Volunteer, School Reading Program
Captain, School Soccer Team
Academic achievements
Honor Roll, 2012-2016
Student of the Year, 2016
Skills
Leadership
Communication
Conflict Resolution
Problem-Solving
Youth Mentoring
First Aid
Sports & Outdoor Activities
Certifications
First Aid and CPR, American Red Cross, 2015
Certified Camp Counselor, American Camp Association, 2016
Languages
English—Native
Spanish—Intermediate
Interests
Mountain biking and hiking in local parks
Volunteering at the local animal shelter
1
Use the Best Format for Your Camp Counselor Resume
Camp counselors are responsible for supervising and guiding groups of children attending summer camps. The best camp counselor resumes will highlight organizational, interpersonal, and creative thinking skils.
The good news?
You can easily demonstrate your organizational and prioritizing skills by laying out your summer camp counselor resume in the reverse-chronological format.
This good ol' trusty format will be just right in the vast majority of situations. It will help you keep your camp counselor resume nice, clean, and organized.
Make good use of white space, clean headings, and resume-friendly fonts.
One more thing. Save your camp counselor resume as a PDF, so it doesn't get scrambled when opened on a different computer. After all, you're not applying for a cryptography job.
Now, let's move on to the first section of your camp counselor resume.
2
Write a Camp Counselor Resume Objective or Summary
Say hello to Steve, the camp director.
Steve has just yawned. And that was a big yawn.
He's about to take a look at the 74th resume this afternoon.
And… whoa!
Steve has jumped out of his chair in a fit of overpowering joy!
What happened?
Scenario 1:
He's seen your camp counselor resume objective, and it hit him that you've got all it takes to be a perfect camp counselor (even if you don't have too much experience to brag about.)
Scenario 2:
He's seen your camp counselor resume summary, and he just knows you're a perfect match with bags of experience.
That's right: a resume objective or summary done right works magic.
It must be brief, but it must speak volumes.
And that's exactly why it's tricky.
Take a look at these two examples of camp counselor resume objectives:
Camp Counselor Resume Examples — Objectives
right
English Literature student with a flair for photography. Eager to enhance camp goers' experience by organizing entry-level photography and sci-fi literature courses at Camp Wolverine.
wrong
Friendly English Literature student. Wants to gain work experience. Can take photos.
See the difference?
The first candidate doesn't have too much experience, but has a lot to offer. She's full of ideas and knows how she can help.
The second aspiring counselor doesn't know how to market themselves. Not to mention they're a taker, not a giver!
To paraphrase a classic line: it's 70 percent how it looks, 20 percent how it reads, and 10 percent what it is actually about.
If you decide to go for a camp counselor resume summary, follow the same rules as with the camp counselor resume objective, but focus on your track record.
Take a look at right vs. wrong camp counselor resume examples.
Camp Counselor Resume Examples — Summaries
right
A dedicated and well-organized camp counselor. Coaching background. Mentored 3 new camp counselors last summer. Implemented programs and conducted activities for groups of 15+ campers. Won local Lifeguard Games 3 times.
wrong
A camp counselor and a coach. Likes to organize events. Worked as a lifeguard.
The difference is visible right away.
Not only does the first example offer facts and figures. It uses them to highlight impressive achievements others might have overlooked.
Here's how it works:
Coaching background = Mentored 3 new camp counselors.
Well-organized = Programs and activities for groups of 10+ camp goers.
Plus: lifeguard with credentials (three-time winner of an acclaimed competition.)
There isn't much to talk about when it comes to the wrong example, though.
It's generic. It's something anyone can say. And say it they will! Who knows, maybe their background is incredible, but it simply doesn't show.
Remember: a resume summary will be useful for you when you already have some experience, and you're preparing a senior camp counselor resume.
If your experience is limited and you're making a junior camp counselor resume, go for a resume objective instead.
When making a resume in our builder, drag & drop bullet points, skills, and auto-fill the boring stuff. Spell check? Check. Start building a professional resume template here for free.
When you're done, Zety's resume builder will score your resume and our resume checker will tell you exactly how to make it better.
Still fuzzy on how to write a professional resume summary or objective for a camp counselor resume? See the camp counselor resume template at the top of this article. Or see our guides: How to Write a Resume Summary: 30 Examples and How-To Guide and 20+ Resume Objective Examples - Use Them on Your Resume
3
Create a Camp Counselor Job Description for Your Resume
So far, so good: the camp director's eyes are glowing like campfires. He feels you're legit, but he needs to double-check. Now he'll make a beeline for the experience section. And that's where you'll seal the deal.
Here's a simple 3-step guide to do it right:
Read the job description carefully.
List all your past responsibilities and achievements that fit the position.
Select 3-5 that you're really proud of, and use them in your camp counselor resume experience section.
Here's how to describe a camp counselor on a resume:
Summer Camp Counselor Resume Description
right
Summer Camp Counselor
Camp Badger, June 2017-August 2017, Pismo Beach, CA
Kept campers active and engaged in fun and challenging activities while maintaining a safe environment
Led a group of 15+ campers ages 6–12 with a fun, positive and outgoing attitude
Reported suspicious or inappropriate behaviors or abuse relating to youth
Key Achievements:
Scored 95% in a Camper Satisfaction Survey
Planned and organized a day trip for a group of 15 ten-year-old campers
wrong
Summer Camp Counselor
Camp Badger, June 2017-August 2017, Pismo Beach, CA
Responsible for a group of young campers
Responsible for organizing activities for campers
Responsible for campers' safety
Take a good look at these two camp counselor resume examples.
The right example of a camp counselor resume has 3 basic elements that set it apart from the wrong one:
The wrong camp counselor resume sample missed all three. It reads like a laundry list of stuff that any camp counselor does.
Remember, camp directors are familiar with all camp counselor duties. They wrote the very ad you're replying to. They want to know how well you'll handle those duties.
Use the experience section of your camp counselor resume to your advantage. Always double check if it contains action words, lists achievements, and quantifies them with numbers. If you do that, you'll never go amiss!
Now, let's address the elephant in the room: "But I don't have any experience!"
1. Come up with previous gigs and projects
Did you babysit? Volunteered at a soup kitchen? Tutored? These are seriously relevant to the job of a camp counselor. Put them on your resume. And if you haven't done it yet...
2. No experience? Go and get some!
Do freelance projects, organize an event, or start a local club. Look for opportunities in your local community, or school. Be creative! Be active! Babysitting on a resume counts as experience, too!
3. Leverage your passions.
If you believe your camp counselor resume experience section is wanting, think of all the cool stuff you like doing in your spare time. How might it be interesting to the camp goers?
Do you speak French like Bradley Cooper? Paint like Van Gogh? Act like Shia LaBeouf? Love BASE jumping and spelunking like Batman?
Talents and soft skills will always boost your chances of landing that job.
"We look for people with a variety of experiences who can demonstrate a true passion for values they believe in. We also look to hire staff who can show demonstrated proficiency in their areas of expertise, are able to hold engaging conversations, and can demonstrate a desire to make impacts in people's lives."

Brad Finkel
Still trying to figure out how or what to put in your camp counselor resume experience section? Here's a guide that will ultimately clear away all your doubts: Work Experience on a Resume: Job Description Bullets that *Kill*
Moving on to a new career? Put camp counselor on a resume following the advice in this guide. Then, read Career Change Resume: Sample and Complete Guide [+20 Examples]
4
Put Relevant Skills on Your Resume for a Camp Counselor
Time to impress him with some great skills on your camp counselor resume.
Have a look at this job description for a camp counselor position:
Camp Counselor Job Description — Duties and Responsibilities
Here's a look at what a typical camp counselor's day might consist of:
Participating in a friendly game of dodgeball
Teaching kids how to rock climb
Cooling off with creative pool-based activities
Creating a macaroni art masterpiece
Supervising a fun field trip
Interacting with parents and summer camp attendees to build lasting relationships
And here comes a list of summer camp counselor duties and responsibilities:
Continually keep campers active and engaged in fun and challenging activities while maintaining a safe environment
Follow and execute activities according to pre-designed daily lesson plans
Lead a group of up to 10 campers ages 3–12 with a fun, positive and outgoing attitude
Act as a role model to all children attending camp
Understand and adhere to Standard Operating Procedures for camps
The job ad itself is a treasure-trove of valuable information. Use it right—
Camp Counselor Resume Example—Skills
Think of the skills necessary to carry out the duties of a camp counselor.
A couple of ideas:
Summer Camp Counselor Resume Skills

| | |
| --- | --- |
| General Skills | Specific Skills |
| Team building and leadership | Rock climbing |
| Activity planning and oversight | Cooking |
| Program development and administration | Archery |
| Communication (incl. negotiating and persuading) | Wilderness survival |
| Conflict management | Knitting |
| Sports coaching | Kayaking |
| Counseling | Horseshoe throwing |
| Public speaking | Tie-dying |
| Storytelling | Building bonfires |
Rule no.1 is: resist the temptation to copy-paste these skills.
This is what you should do instead:
List the skills relevant to the position
Cherry pick the ones that fit the job posting
Mix them in the experience section of your camp counselor resume.
Camp Counselor Resume Example
right
Senior Camp Counselor
Camp Teepee, July 2016-August 2016, San Francisco, CA
Designed and implemented weekly activities for campers representing different age groups, incl. team building
Supervised the realization of learning activities for 50+ campers
Organized 1-day wilderness survival training and fun real-life test as a follow-up
Communicated with 50+ parents about the campers' experiences

The right example cleverly mixes in skills, presents responsibilities in terms of achievements (by using active voice and action verbs), and adds numbers here and there to quantify what's possible.
The skills you're unable to quantify will be just perfect for your camp counselor resume key skills section. Remember not to clutter it. Pick up to 5 skills you take pride in. Here are some ideas:
Negotiating
Conflict management
Cooking
Got more skills that don't really require special treatment, but are valuable nonetheless? Include them in a separate skills section.
If you're having a hard time coming up with the skills to put on your camp counselor resume, here's something to help you out:30+ Best Examples of What Skills to Put on a Resume (Proven Tips)
5
Is Your Education Section Underperforming? It Might Be
So you've got a diploma. Or not. Does it matter?
It does, but only if you know how to use it to your advantage.
According to the Bureau of Labor Statistics, the better qualified and experienced you are, the higher your chances of finding either part-time or full-time camp counselor positions.
The more impressive your educational track-record, the better.
But don't simply plonk your school name and graduation date and move on.
Do this instead:
Camp Counselor Resume Example—Education
right
William J. Palmer High School, Colorado Springs, CO — 2014
High School Diploma
GPA: 3.5
Team Leader, English Club Grade 12
Member, Arts Club Grade 9-10
Member, Athletics team Grade 9-12
All facts, no bull.
Don't be shy: add all extracurricular activities that may set you apart from the other candidates.
The same applies to college-level education:
right
Physical Therapy Student — current
David Geffen School of Medicine at UCLA
Specialty: Pediatric
Relevant coursework: courses in gross and fine motor skills, balance and coordination, strength and endurance, as well as cognitive and sensory processing/integration
Don't limit yourself to the name of the college. Add the coursework relevant to the position — it clearly shows you know what skills might come in handy as a camp counselor.
If you're still struggling with preparing the education section of your resume, here's a guide just for you: How to Put Your Education on a Resume [Tips & Examples]
6
Attach a Cover Letter to Your Camp Counselor Resume
There we go!
It's time to grab Indiana Jones's hat and crack the whip! To fly away like Mary Poppins with her umbrella! To... grow a MacGyver mullet!
Wait.
What?
Before you click that submit button, make sure to put the icing on that resume cake of yours, and write a cover letter!
Communication skills matter a whole lot when applying for a summer camp counselor position.
Prove yours in writing.
And yes: the data is in. Cover letters still matter even though most tell you they don't.
When writing a cover letter, aim for the Goldilocks principle — it shouldn't be too long, or too short. It should be just right.
Tell them everything you want in as few words as possible. Show you're organized. Tell a story to fill in the blanks you might have left on your camp counselor resume.
A bit confused? Worry ye not! Here's our complete guide on how to write a perfect cover letter in 8 simple steps.
Plus, a great cover letter that matches your resume will give you an advantage over other candidates. You can write it in our cover letter builder here. Here's what it may look like: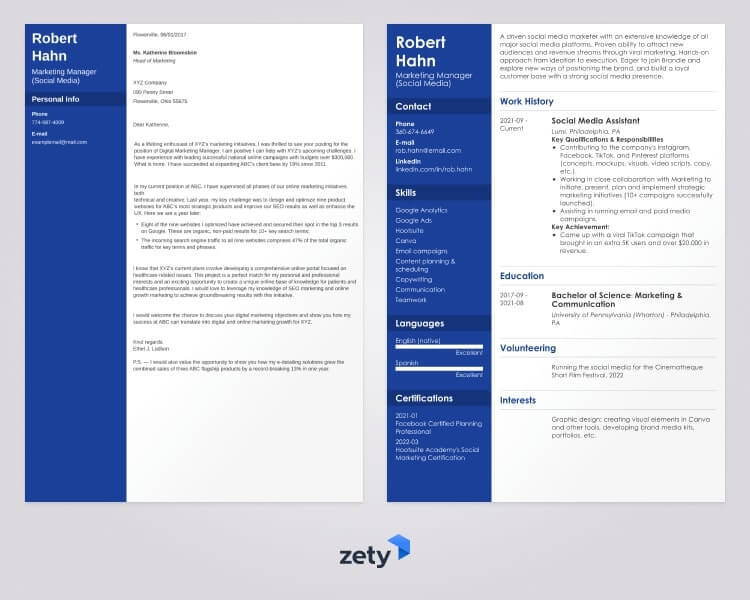 See more cover letter templates and start writing.
Key Takeaway
Craft your camp counselor resume for a particular position. A generic looking document will never grab anyone's attention.
And it most definitely won't give you a job.
To write the perfect camp counselor resume be sure to:
Start off with writing a strong opening statement (objective or summary).
Follow it with a meaty experience section (list your achievements).
Present everything in a clean, eye-catching form.
And then…
good luck with your interview!
Are you writing a resume for a summer camp counselor position for the first time? Or perhaps you're a camp veteran eager to help young guns out? Give us a shout out in the comments!
About Zety's Editorial Process
This article has been reviewed by our editorial team to make sure it follows Zety's editorial guidelines. We're committed to sharing our expertise and giving you trustworthy career advice tailored to your needs. High-quality content is what brings over 40 million readers to our site every year. But we don't stop there. Our team conducts original research to understand the job market better, and we pride ourselves on being quoted by top universities and prime media outlets from around the world.
Sources