How to Write a Nanny Resume (+ Nanny Skills for Resumes)
Looking for nanny resume examples to help you showcase your experience and the right nanny skills? Read our professional guide and write a nanny resume that's a top contender.
So you'd like to write a nanny resume that will land you that job. The one with paid time off, health insurance, lots of respect, and your own car, maybe?
Doesn't sound easy. The competition is intense. Feels like most candidates have a Mary-Poppins-level nanny resume: great references, vast experience, and excellent nannying skills. Let's make sure your resume goes above and beyond!
This guide will show you:
A nanny resume example better than 9 out of 10 other resumes.
How to write a nanny resume that will land you more interviews.
Tips and examples of how to put nanny skills on a resume.
How to write an effective nanny job description for a resume.
Want to save time and have your resume ready in 5 minutes? Try our resume builder. It's fast and easy to use. Plus, you'll get ready-made content to add with one click. See 20+ resume templates and create your resume here.
Sample resume made with our builder—See more resume examples here.
Looking for a guide relating to a similar profession? You might like:
Here's how to write a nanny resume:
Nanny Resume Example
Marta Hoffmann
Nanny
(123) 456-7890
martahoffmann@email.com
linkedin.com/in/marta.hoffmann
Summary
Compassionate and dependable Nanny with over 5 years of childcare experience. Eager to support Playful Care Childcare Services in fostering a nurturing and developmentally appropriate environment for children under care by leveraging extensive knowledge of education and ludology. Recipient of "Nanny of the Year" award at Hearts Babysitting Solutions for outstanding dedication and love for children.
Experience
Nanny
Hearts Babysitting Solutions, San Diego, CA
June 2015–Present
Key Qualifications & Responsibilities
Providing quality child care to 3 children of various ages, ranging from newborns to 5 years old.
Designing creative and educational games and activities to support children's mental and emotional development.
Assisting with light housekeeping duties, meal preparation, and driving children to various activities.
Tutoring children with difficult school subjects.
Key Achievement:
Awarded "Nanny of the Year" for exceptional care and dedication.
Nanny
Safe Harbor Childcare Services, San Diego, CA
March 2013–May 2015
Key Qualifications & Responsibilities
Cared for infants and toddlers, ensuring their safety and meeting their emotional and developmental needs.
Coordinated with parents regularly on children's progress and any concerns.
Assisted with household chores and maintained a clean, safe environment for the children.
Key Achievement:
Implemented a creative weekly crafts program, improving children's motor skills and creativity.
Education
Associate Degree in Early Childhood Education
San Diego Community College, San Diego, CA
August 2011–May 2013
Skills
Child Nutrition Knowledge
First Aid and CPR Certified
Excellent Communication
Patience
Creativity
Problem-solving
Light Housekeeping
Time Management
Certifications
First Aid and CPR, American Red Cross, 2013
Awards
2017, Nanny of the Year, Hearts Babysitting Solutions
Languages
English—Native
Spanish—Intermediate
Interests
Reading and writing children's stories.
Outdoor activities with children, such as hiking and picnics.
1. Choose the Right Format for a Nanny Resume
Parents want to know you pay attention to detail. Without it, one wouldn't even get a job working for the Bluths. The best way to reflect it on your application is to ensure the resume format is perfect.
Here's how you get the nanny resume formatting right:
Need more tips to write the best nanny resume since Jane Eyre's? See our article: How to Make a Resume: A Step-by-Step Guide (+30 Examples)
2. Add Contact Info to Your Resume
A good nanny resume starts with a comprehensive resume header that should include:
Your full name
The position you're applying for
Current phone number
Professional email address (make sure it's not KittyPlayFunJaegerBombz@yahoo.com)
Like this:
Luca Collins,
Nanny
617-756-1644
lucapcollins@email.com
That is the required contact information. But imagine the following: the McCallisters have narrowed it down to five live-in nanny resumes, including yours. But someone added a LinkedIn profile and Twitter handle. The parents checked those pages out and loved what they saw. They hired the other nanny because the application became more personal!
So feel free to add a LinkedIn/Instagram link or other relevant social media handles. That way, the families can dig deeper than your nanny resume, and there's a chance you'll "click" instantly.
Pro Tip:Clean up your online presence. Employers will most likely have a look, even if you don't add the links, and you don't want an out-of-context picture to cost you a great opportunity.
3. Write a Nanny Resume Objective or Summary
Meet Karen and Steve. They're searching for nannies for hire. The culprit is the cooing, smiling baby smashing on the laptop. They're fantastic to work for. They're also reading dozens of nanny resumes. How can you make them spend more time with yours?
Here's how: by writing a good resume summary or resume objective.
A resume summary proves you're perfect for the nanny job, with oodles of experience. A resume objective does the same by showing passion, even if you lack experience (thus being a great idea for a resume for a first job).
Look at the nanny bio examples below, and see what sets a good one apart:
Nanny Resume Summary Example
RIGHT
Compassionate, non-smoker nanny with 3+ years of experience. Seeking to enhance daily care for Jimenez's family. Served as a live-in nanny for over two years. Ensured physical activity 355 days/yr. Enhanced math scores by 35% through tutoring. Transported children daily with a 100% clean driving record. Certified Child Development Associate (CDA).
WRONG
Engaged, efficient, experienced nanny looking for work. Have handled all nanny responsibilities, including daily care, cooking, laundry, etc.
That first one? Totally Mrs. Doubtfire. Chock-full of measurable proof!
Resume Objective Example for a Nanny Resume With No Experience
RIGHT
Compassionate, hardworking nanny with an abundance of patience. Have provided nanny care for six different clients. Received four written commendations from parents for efficiency and good-naturedness. Nonsmoker. Certified in CPR and First Aid.
WRONG
Hardworking, efficient nanny applicant. No direct experience yet, but I'm very eager to become a nanny.
Big difference, right? That first nanny resume example could probably get you hired by the Huxtables. The trick is volunteer work and part-time babysitting (this is where the six clients come from). Remember that you can and should mention volunteer work on a resume if it qualifies as relevant experience.
Pro Tip: To avoid writer's block, write this section last. This way, you'll have all the information in front of you, making it easier to summarize.
4. Write a Nanny Job Description for Your Resume
Let's say you're trying to get hired by The Incredibles. Your professional nanny resume will need to show experience finding invisible girls. Adding a history of keeping up with bullet-fast boys would be good.
But, if you're applying to Hermione Granger's parents, you'll need to show resistance to magic spells. Plus, prove your knack for engaging with extremely brainy children.
See what's going on here? Only a tailored resume will get the job done.
To get the work experience section of your nanny resume right:
List your last job first.
Add 3-6 bullet points that show accomplishments (not just nanny duties and responsibilities).
Tie them to the nanny job description, and remember to use action words and power verbs to truly stand out.
Yep, that's how you put nannying on a resume.
Sample Nanny Job Description for a Resume
RIGHT
Full-Time Nanny
Peter & Kate McCallister
January 2015–January 2017
Served as a live-in nanny to two beautiful, happy children. Fulfilled a general nanny housekeeper description and performed all nanny duties.
Assisted with daily care, nurturing, and play. Played sports, including tennis and swimming. Ensured physical activity of children 330 days per year.
Coordinated daily activities and scheduling. Did light laundry. Cooked nutritious meals. Received weekly commendations for meal quality.
Drove children to and from school. Maintained perfect driving record. Tutored children in math. Children's test scores improved by 35%.
WRONG
Full-Time Nanny
Peter & Kate McCallister
2015–2017
Served as a live-in, full-time nanny for two years.
Helped with daily care.
Enforced regular exercise.
Coordinated daily activities.
Drove children to and from school.
That bottom one might get hired by Peter and Lois Griffin at best, but all it really takes to get it dancing is a few measurable achievements.
Think you can only get nanny jobs with experience? Think again.
First, you already have experience. You just don't know it yet. Have you cooked meals for others? Done budgeting? Made schedules? Taught? Communicated? Those are all nanny duties for a resume!
Second, you can get experience to build a great babysitter nanny resume fast. How? By doing short-term nanny-style jobs, including:
Babysitting
Volunteer work for youth organizations like the YMCA or preschools
Working for family, friends, neighbors
Camp counseling
You can also check online forums where people ask things like, "How much do nannies cost?" or "What's the best way to find a nanny?"—those people are on the hunt for you!
Nanny Job Description for a Resume With No Experience
RIGHT
Freelance Nanny
April 2016–September 2017
Provided short-term nanny services for six different clients.
Received four written commendations from parents for efficiency and patience.
Scheduled activities for children 4-5 times per week.
Transported children to school daily with a 100% clean driving record.
WRONG
Nanny Experience: No formal experience yet, but I'm ready to learn!
Other Experience:
Angelina Jolie would hire from that first creative nanny resume sample. But here's the trick: the same person wrote both resumes!
Want to add a babysitting description to your nanny resume? See this guide: How to List Babysitting Experience on a Professional Resume
When making a resume in our builder, drag & drop bullet points, skills, and auto-fill the boring stuff. Spell check? Check. Start building a professional resume template here for free.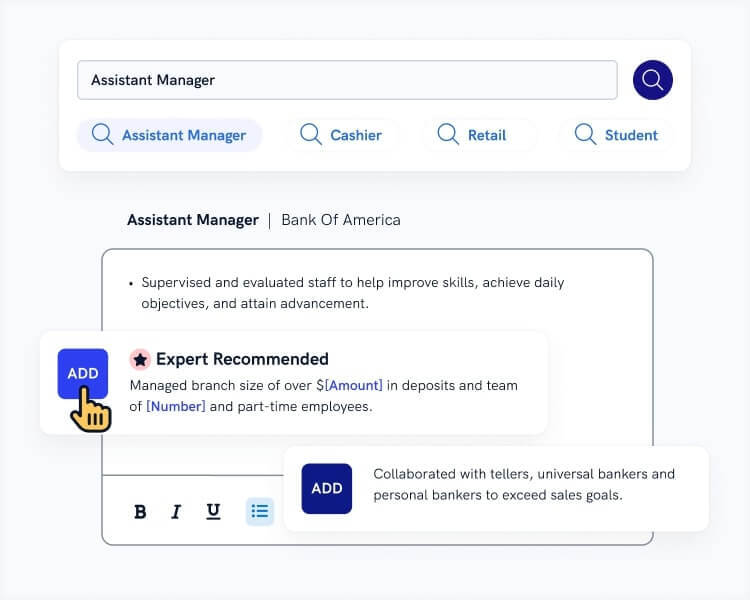 When you're done, our professional resume builder will score your resume and our resume checker will tell you exactly how to make it better.
5. Mention Your Education
It's true that formal education might not be crucial to a nanny resume. However, if you have a degree—not flaunting, it is like having an UppaBaby stroller and only using it to carry laundry—it can do so much more.
How to list education on a nanny resume:
Name your degree.
Add school name and location.
Indicate the period of studies.
If you don't have much experience, your education can double as magic: use nanny resume bullet points to prove you fit the job, just like you did in the work experience section.
Nanny Resume Examples of Education
RIGHT
BA History
Bates College, ME
September 2009–June 2013
Pursued a passion for childhood education coursework.
Excelled in special needs education classes.
Participated in student Head Start volunteer program for local children.
Wrote a monthly column in the student paper about disadvantaged children.
WRONG
Bates College, ME
2009–2013
Received a BA in History.
GPA 3.5
Wow. Suddenly, you're Maria from The Sound of Music! And remember, a GPA should go on a resume only if it's high. Otherwise, it's just going to backfire.
Want your nanny resume education section to turn heads like Pippi Longstocking? See our guide: How to Put Your Education on a Resume [Tips & Examples]
6. Choose the Right Nanny Skills for a Resume
Let's check back with our awesome parents, Steve and Karen. They're in a room with big, sunny windows, munching homemade coffee cake and poring through 300+ nanny resumes. They're looking for the right skills and qualities. Only a few nanny resumes will have them. Be one of those few.
Here's how you select the top nanny skills for a resume:
Read the nanny resume job description.
Highlight all the nannying skills you see.
List them on your nanny resume.
Add extras, so you're not just pandering.
Prove your nanny skills on a resume by showing them in your experience and education bullet points.
Let's say you're applying for an infant nanny resume position. It values the following nannying skills: newborn care, attention to detail, and prepping baby formula.
You'll put those in your skills list, plus changing diapers and doing laundry.
Then you'll prove them in your nanny resume bullet points, like this:
Newborn Nanny Skills on a Resume (Sample)
Performed duties of a nanny for four different clients, all with newborn or infant children. Changed 5+ diapers per day and fed 5-6 bottles per day.
Did laundry, including 2 loads of cloth diapers per day.
Prepared baby formula for one client 5+ times per day.
Spotted RSV symptoms in one child. The doctor said I may have saved her life.
Noticed an expired car seat and got it replaced. Commended by parents.
They're all there. Those last two resume bullet points show attention to detail. With a formula like that, the Bradys will hire you if Alice ever quits.
Here are some extra suggestions for what skills to put on your resume:
List of Top Nanny Skills for a Resume
Pediatric First Aid
Physical Stamina
CPR
Newborn Care
Love of Children
Cooking
Toddler Care
Nonsmoker
Planning Meals for Children
Young Adult Care
Reliability
Laundry
Dressing Children
Transporting Children
Clean Driving Record
Helping with Homework
Teaching
Scheduling Activities
Patience
Preparing Baby Formula
Changing Diapers
Pro Tip: Is not smoking a skill? Not exactly, but 89% of parents say they won't hire smokers. Yet most won't list it on a nanny resume! If you do, you're way ahead.
7. Add Other Sections for an Effective Resume
Remember our fantastic parents, Karen and Steve? They've narrowed down "the pile" to 30 nanny resumes. All show similar skills, experience, and education. And they all seem great at carrying out nanny duties.
Make it easy for them! Add some Supernanny extra sections that show you're more than just a sheet of paper.
Here's what you can include as additional information on your resume for a nanny:
Child Development Associate (CDA)
Pediatric First Aid & CPR
Scored a 95% on the 4NannyTraining.com Nanny Skills Assessment
Volunteer Work
Regular volunteer at YMCA as a youth mentor
Take weekly yoga classes to stay fit.
Listen to the NannyWise podcast regularly.
Pro Tip: Don't put references on a resume for a nanny. If you've got some glowing reviews, add them in your bullet points as resume accomplishments. You can still mention that you can provide letters of recommendation from parents.
8. Write a Nanny Cover Letter
Nobody reads cover letters anymore. Right?
Correction. Nobody reads boring cover letters. You know, the ones that go, "Hi, I'm Sue, I'm great, I'm looking for a job, here is my nanny resume." That letter might as well get eaten by the very hungry caterpillar.
Here's how to get your nanny cover letter right:
Make it personal. Address the parents by name.
Make it passionate. Share your excitement about the job. If you can learn a detail you like about the parents or referral agency, use it.
Make it tantalizing (in a good way). Add 1-2 accomplishments to whet the appetite.
Use a call to action. That's as simple as, "I'd love to talk with you about your needs."
Follow up. A thank-you note a few days after you submit your nanny resume can put you top-of-mind.
And with all that, you're done!
Want to see how this all works in action? Need a sample for your nanny cover letter? See our guide: How To Write A Nanny Cover Letter [Complete Guide With Examples]
Plus, a great cover letter that matches your resume will give you an advantage over other candidates. You can write it in our cover letter builder here. Here's what it may look like: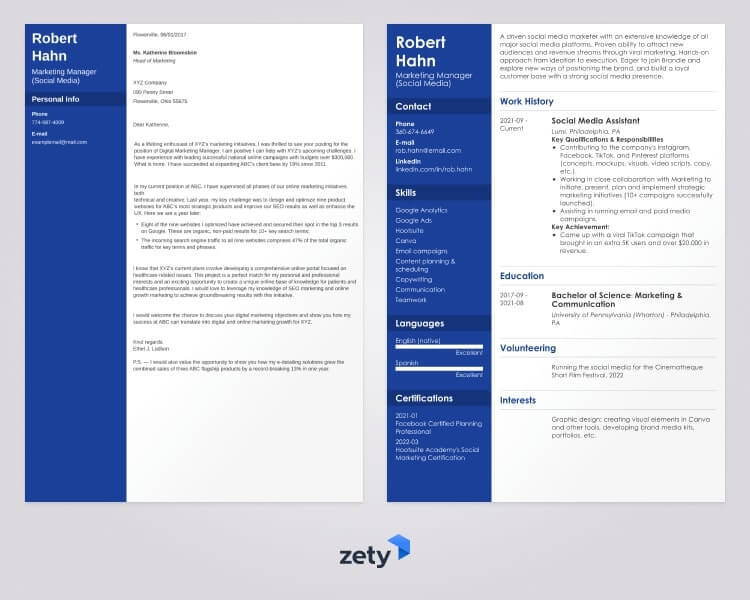 See more cover letter templates and start writing.
Key Takeaway
Even with a perfect nanny resume template in front of you, writing your own is still a challenge. So let's go over it one more time:
Start by looking at the job description.
Open your resume with an objective or summary.
Prove your cred in bullet points. Show measurable accomplishments.
Highlight all the nanny responsibilities and nanny duties in the job ad and use those keywords on your resume.
Bring out your best nannying skills.
Add other sections to show who you are as a person. In a resume for a nanny, that means interests, hobbies, and other extras.
Do you have questions on how to write a nanny resume? Not sure how to describe your nanny skills or achievements? Give us a shout in the comments! We'll answer as soon as we can!
About Zety's Editorial Process
This article has been reviewed by our editorial team to make sure it follows Zety's editorial guidelines. We're committed to sharing our expertise and giving you trustworthy career advice tailored to your needs. High-quality content is what brings over 40 million readers to our site every year. But we don't stop there. Our team conducts original research to understand the job market better, and we pride ourselves on being quoted by top universities and prime media outlets from around the world.