New Teacher Resume With No Experience [Entry Level Sample]
Want to write an amazing new teacher resume, but feel your knowledge is lacking? Take a seat for this resume lesson and leave with a gold star new teacher resume.
Where most people see a group of rowdy kids, you see hungry minds, eager to learn. The thing is, the school principal doesn't know that. They're too busy trying to find qualified teachers while running school and classes to have the time to sift through every candidate.
So how do you make sure you're not tossed away like a bad book report? With an impressive new teacher resume that's so good, it will do some schooling of its own.
The great thing is that it's not as hard as you may think. Just write a new teacher resume as great as the one below:
Want to save time and have your resume ready in 5 minutes? Try our resume builder. It's fast and easy to use. Plus, you'll get ready-made content to add with one click. See 20+ resume templates and create your resume here.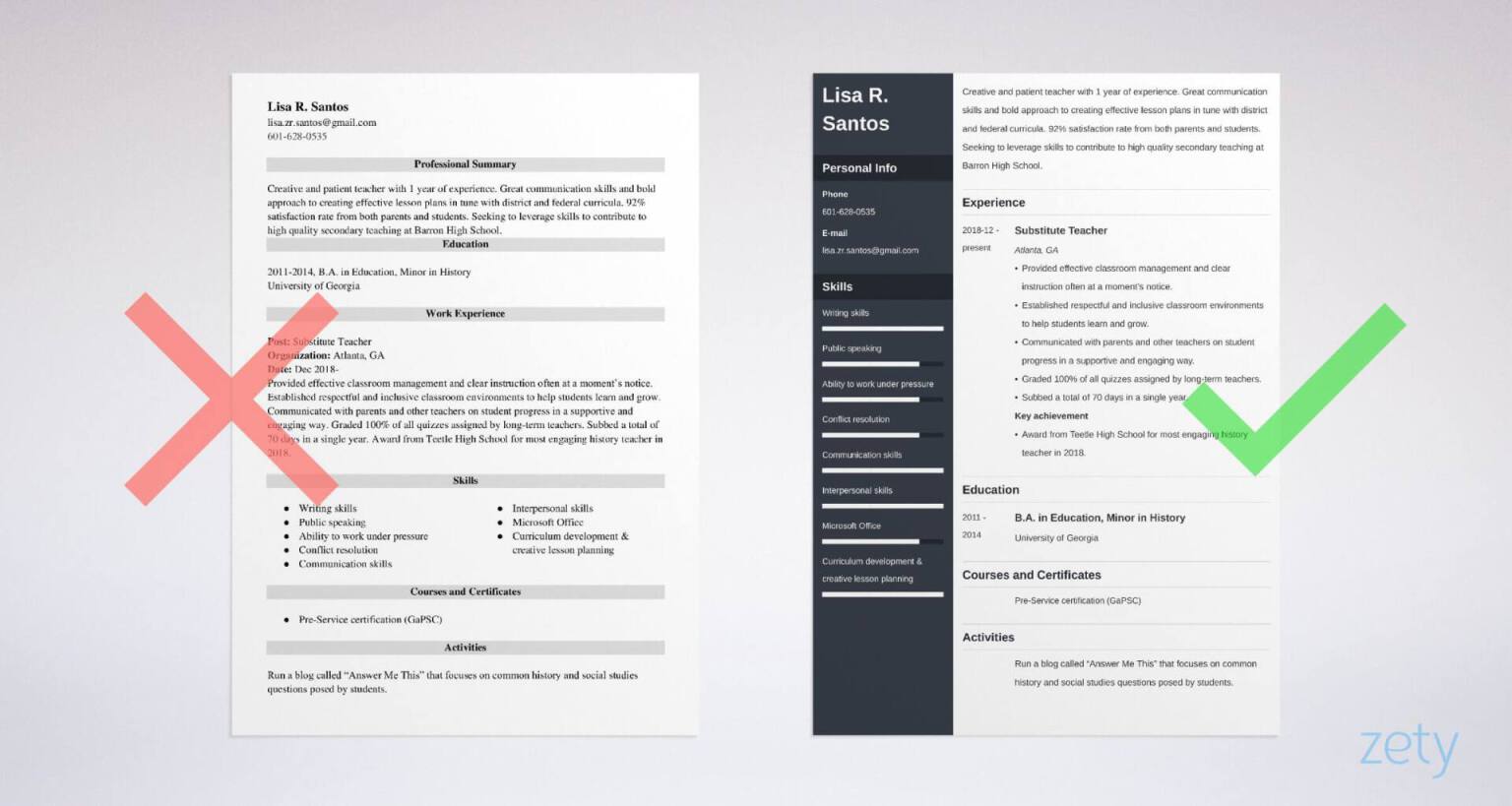 Sample resume made with our builder—See more resume examples here.
Check out our other articles centered around teaching:
New Teacher Resume Example
Lisa R. Santos
lisa.zr.santos@gmail.com
601-628-0535
Professional Summary
Creative and patient teacher with 1 year of experience. Great communication skills and bold approach to creating effective lesson plans in tune with district and federal curricula. 92% satisfaction rate from both parents and students. Seeking to leverage skills to contribute to high quality secondary teaching at Barron High School.
Work Experience
Substitute Teacher
Atlanta, GA
Dec 2018-
Provided effective classroom management and clear instruction often at a moment's notice.
Established respectful and inclusive classroom environments to help students learn and grow.
Communicated with parents and other teachers on student progress in a supportive and engaging way.
Graded 100% of all quizzes assigned by long-term teachers.
Subbed a total of 70 days in a single year.
Key achievement
Award from Teetle High School for most engaging history teacher in 2018.
Education
2011-2014, B.A. in Education, Minor in History
University of Georgia
Skills
Writing skills
Public speaking
Ability to work under pressure
Conflict resolution
Communication skills
Interpersonal skills
Microsoft Office
Curriculum development & creative lesson planning
Courses and Certificates
Pre-Service certification (GaPSC)
Activities
Run a blog called "Answer Me This" that focuses on common history and social studies questions posed by students.
This is how to write a job-winning new teacher resume:
1. Use the Best Format for Your New Teacher Resume
A new teacher is a beginning teacher entering the teaching profession directly from college or a person making the transition to teaching. The purpose of a new teacher resume is to show the school principal your education and skills make for a great teacher material.
But teaching is a wide field with lots of different requirements and specialities, some differing from state to state. And that means a lot of reasons to get overlooked. To top it off, recruiters will spend less time with your resume than it takes a recess bell to ring.
To get the recruiter following along, you need to follow these resume formatting rules:
At this point you might also be wondering how long your resume should be. Since you don't have a lot of relevant teaching experience, a one-page resume template should do the trick.
Read more on the Best Resume Formats
OK, so let's dive into your resume, chapter by chapter.
2. Write a New Teacher Resume Objective
Introduce yourself through your resume profile. It's a short and sweet paragraph at the top of your new teacher resume that lays down the groundwork of why you're the person for the job.
As an entry-level teacher writing a beginning teacher resume, opt for the career objective:
Underline the knowledge and skills you've gathered to date and how well you'd fit in.
Think of transferable skills and quantifiable achievements from other gigs you've had.
There's no need to drown your new teacher resume objective in a ton of information. Keep it 3-4 sentences long max and tailor it to the job description of the position you're applying for.
Use resume keywords to pass the ATS scan. Check: What are Resume Keywords?
3. Create the Perfect New Teacher Resume Job Description
Plain and simple, your resume experience section should have recruiters handing you out gold stars at the end:
List your most current position and then just go back in time with previous positions.
Make sure each entry includes: job titles, company/school name, dates of employment, and no more than 6 bullet points.
Limit the number of bullet points as you go back in time with your experience. Have up to 3 for positions far in the past.
Start each bullet point with an action verb.
This isn't the place for discussions. Focus on quantifiable achievements and not just a laundry list of duties.
Tailor your teaching experience section to match the position you're going for.
Pro Tip: Tutoring is a great thing to add to a first time teacher resume. Add tutoring you did back in college and/or high school to show hiring managers that teaching isn't just some job for you.
4. Make Your New Teacher Resume Education Section Shine
As a teacher, you know how valuable an education actually is. In the career world, it's no different.
Here's how to nail your education section:
If you're a graduate new kid on the block, consider putting your work experience below your education section. It'll help you start off your resume with no experience with a bang.
Active after school? Check out how that can help your resume: Extracurricular Activities for Your Resume
5. Highlight Your New Teaching Skills
There's an ever-increasing demand on raising teacher quality in schools. This means you need to highlight the teaching skills that make you excellent at what you do:
Create a master list of all the job skills you have— this means soft skills and hard skills, technical skills, and any other relevant skills you've got in your desk.
Pick the teaching skills that are most relevant by using the job ad as a guide. Include them in your entry-level teacher resume. Get a huge A+ if you can mention skills that your education and experience sections can prove.
New Teacher Resume Skills
Curriculum development
Creative lesson planning
Facilitating active learning
Patience
Pro Tip: Teaching isn't about clapping erasers and hunting down chalk anymore. You need to be up to speed with the digital world in order to both teach effectively and understand your students better. There are tons of courses you take online (e.g. Coursera, Skillshare, Udemy) about digital and social media that can help you go from "ok, boomer" to "tech-savvy" in no time.
When making a resume in our builder, drag & drop bullet points, skills, and auto-fill the boring stuff. Spell check? Check. Start building a professional resume template here for free.
When you're done, our professional resume builder will score your resume and our resume checker will tell you exactly how to make it better.
6. Add Extra Sections to Your New Teacher Resume
The hiring manager may be paying attention, but class isn't over yet. Show them that you're the teacher to learn from.
Pro Tip: If the job ad doesn't list any certifications, go to the state government website and double check what requirements the state has for teachers and list those on your resume.
7. Attach a Cover Letter to Your New Teacher Resume
If you're thinking if you should include a cover letter, then let's make it super clear—yes, you do.
Write the best new teacher cover letter with the following tips:
It's easy to, but don't go overboard and write a five-page essay. The ideal length of an effective cover letter should be 1 page.
Read more: Teacher Cover Letter Examples
Plus, a great cover letter that matches your resume will give you an advantage over other candidates. You can write it in our cover letter builder here. Here's what it may look like: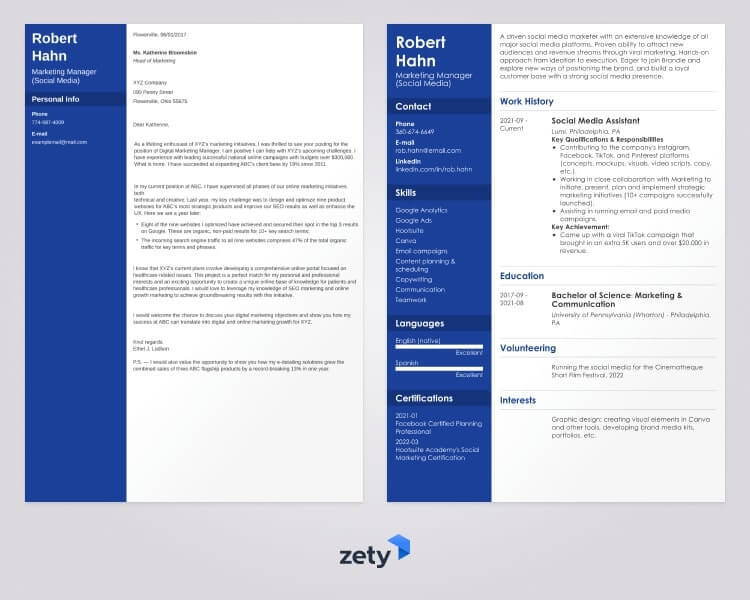 See more cover letter templates and start writing.
And once you have all that sent, remember to follow up on your job application! If you're going to just sit there and wait for things to happen then how will they believe you can teach an entire class of students?!
That's the rundown of a successful resume for teachers with no experience. Class dismissed!
Thanks for reading. Have any insider tips or tricks to share about creating the perfect new teacher resume? Share them in the comments below!
About Zety's Editorial Process
This article has been reviewed by our editorial team to make sure it follows Zety's editorial guidelines. We're committed to sharing our expertise and giving you trustworthy career advice tailored to your needs. High-quality content is what brings over 40 million readers to our site every year. But we don't stop there. Our team conducts original research to understand the job market better, and we pride ourselves on being quoted by top universities and prime media outlets from around the world.
Sources