Our customers have been hired by:
You're ready to grab your students' attention and guide them through their formative scholastic years. But, before you can do that, you've got to grab the principal's attention—with the perfect teacher cover letter. That means treating it like a crucial final exam instead of an unimportant pop quiz.
No worries! With this guide, you'll make a cover letter for teaching positions that deserve an A++ and a big smiley face at the top.
This guide will show you:
Cover letter examples for teachers better than 9 out of 10 other cover letters.
The step-by-step plan for how to write a cover letter for a teaching position.
How to sell yourself in a teacher cover letter to get the teaching job you want.
Want to write your cover letter fast? Use our cover letter builder. Choose from 20+ professional cover letter templates that match your resume. See actionable examples and get expert tips along the way.
Sample cover letter for a resume—See more cover letter examples and create your cover letter here.
If you want to see more of our guides devoted to specific teaching positions, look at the following:
Want to explore your options further? See our full selection of cover letter examples for every career: Example Cover Letters for All Positions
And learn how to keep it short and sweet here: Short Cover Letter Examples for a Speedy Job Application
Teacher Cover Letter Example
Maureen Casey
Teacher
4061 Sun Valley Road
Lewiston, WA 83501
509-780-8095
maureencasey@gmail.com
linkedin.com/in/maureencasey
Youngstown, 4/22/2023
Lisa Williams
Assistant Principal
Mount High School
1849 Owen Lane
Youngstown, OH 44503
Dear Ms. Williams,
I came across the teaching position at Mount High School and was immediately drawn to apply. As someone who is passionate about education and has a wealth of experience as a teacher, I would be an excellent addition to your team.
During my time at Bayshore Middle School, I developed strong skills in classroom management and curriculum planning. One of my proudest accomplishments was creating a new project-based learning curriculum that saw 20% improvements in both student engagement and test scores. Seeing my students thrive brought me immense joy and satisfaction. As an experienced educator, I am confident I can contribute value to your school community. My passion for creating engaging lesson plans, combined with my communication skills, will allow me to effectively collaborate with colleagues, parents, and students alike.
I am thrilled about the opportunity to join Mount High School, which has an outstanding reputation for academic excellence and innovative teaching practices. The school's commitment to providing students with an exceptional education experience while fostering their personal growth aligns perfectly with my own educational philosophy.
I would welcome the opportunity to meet with you in person or over video call to discuss how my qualifications align with the needs of Mount High School.
Sincerely,
Maureen Casey
That's how you do it. Now, let's move on and show you how to write a teacher cover letter like that.
What to Include in a Teacher Cover Letter
You've created a great teacher resume, and now it's time to write a cover letter for teaching positions to attach alongside. Remember that it is still a formal letter, so you need to follow a certain cover letter layout.
Here's what you should include in teacher cover letters:
your contact information, including the date you're writing it
the school's (addressee's) details
a cover letter greeting (e.g., Dear Principal Johnson)
an opening cover letter statement that grabs their attention
a short paragraph on why you're perfect for the school
a short paragraph on why the teaching position is perfect for you
a closing cover letter statement that seals the deal
complimentary close (e.g., Regards, Sincerely) and your name
a postscript
Here, we're following our recommended structure on the elements of the perfect cover letter for teaching jobs. To read more about the method behind our madness, see this article: What to Include in a Cover Letter
1. Address Your Teaching Cover Letter
A teaching cover letter begins at the top with the cover letter heading area. This is where you'll put your personal information. Its look and design may vary depending on the cover letter template that you use. Go for the design that you used for your resume.
Your Details
First, add and left-align your contact info at the top of the cover letter. Must-haves include:
your full name
email address
and phone number
An optional item is your mailing address.
Date
Inserting the date of writing is necessary on any formal letter, such as a teacher cover letter.
Addressee's Details
Next, add the addressee. Personalize it by adding the name of the superintendent or principal. Follow that with the school or academy you're applying to and its address.
Here's what the finished cover letter address area could look like: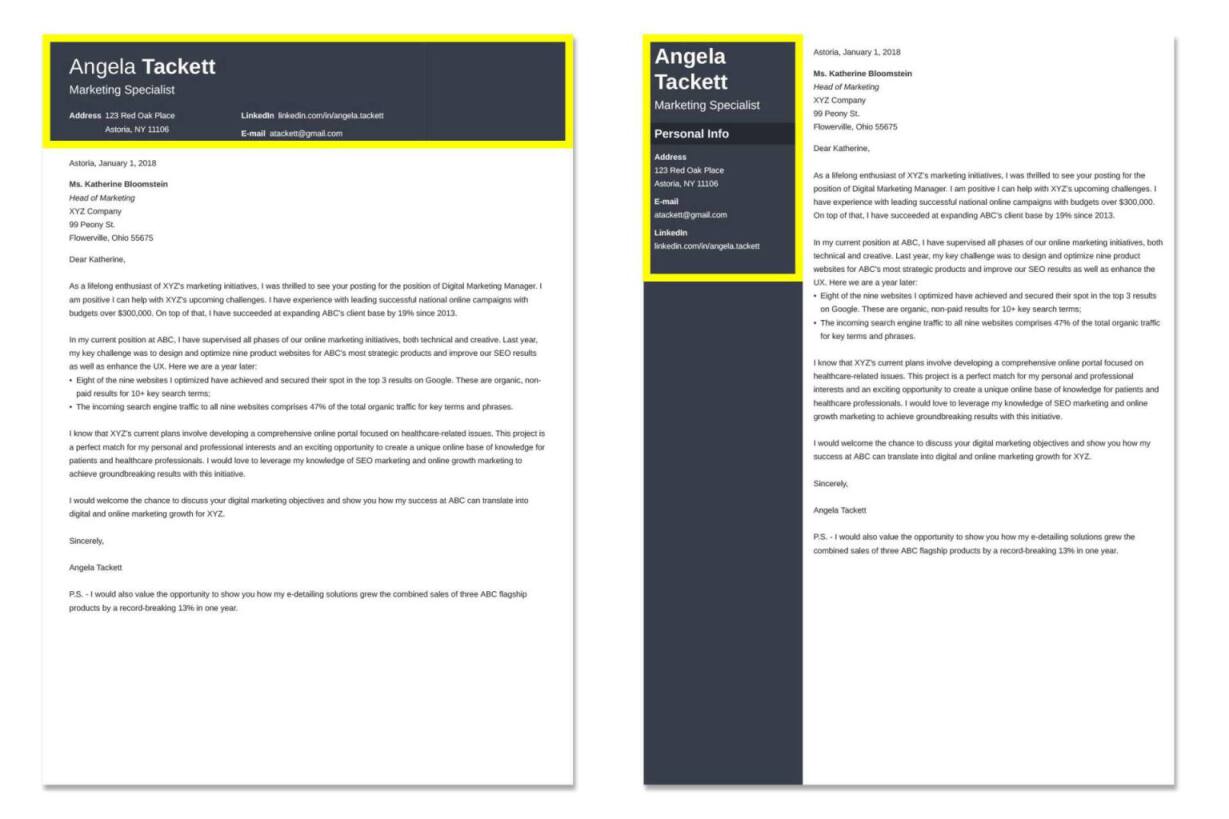 Not addressing your cover letter correctly is just as detention-worthy as not including one at all. Make sure you get yours right, whether it's a teaching assistant cover letter, substitute teacher cover letter, or other such letters of interest: How to Address a Cover Letter
2. Open Your Cover Letter for a Teacher Eloquently
Knowing how to start a cover letter for teachers is super important to get right, as its location gets the most eye time.
Greeting
On your teaching cover letter, call the principal or superintendent by name. Something like "Dear Principal Jackson" works just perfectly for a cover letter greeting, but you can also segue from the formality in the address area by calling them by their first name: "Dear Jacqueline."
Now, what about that "Dear" part? Dear is one of the best cover letter salutations, but there are alternatives. Read: How to Start a Cover Letter
Introductory Statement
Like the first line in a well-written novel, the opening paragraph should hook the principal immediately in a way that makes them want to hear more.
Let's look at an example of a great elementary teacher cover letter opening:
RIGHT
As a veteran elementary school teacher and tutor, I was excited to see the opening for a tenth-grade world history teacher at Smith High School. With my experience as a top fourth-grade instructor at Smith Elementary, I know I can use my teaching skills and knowledge to become a valuable member of the Smith HS faculty.
How's that?
The sample teacher cover letter introduction is written to the school, specifically (notice the school's name mentioned). It also works because it gives them an inkling of why you'd be the perfect teaching addition to the department.
Pro Tip: As you called out their name in the address, mention the school's name in the opening paragraph, as well. It feels more personalized and assures the principal that they're reading a dedicated cover letter.
For other ways to go about your introductory statement, see: How to Write the Perfect Cover Letter
When making a resume in our builder, drag & drop bullet points, skills, and auto-fill the boring stuff. Spell check? Check. Start building a professional resume template here for free.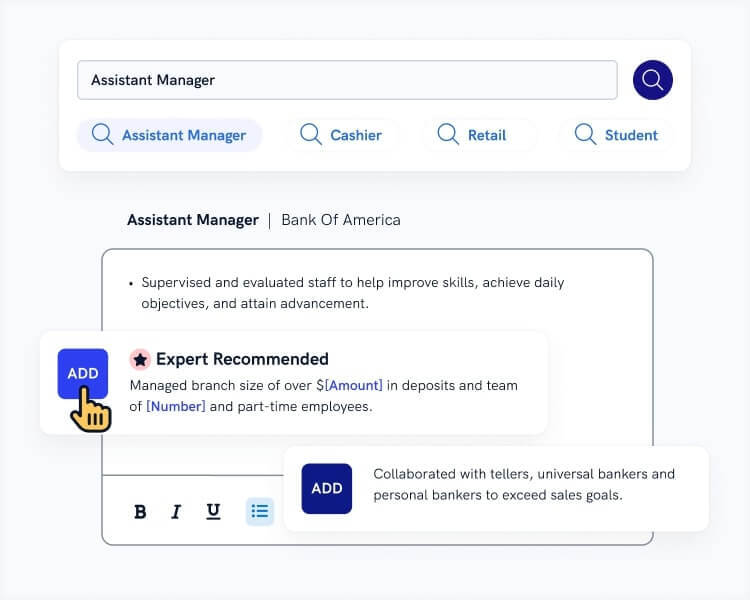 When you're done, Zety's resume builder will score your resume and our resume checker will tell you exactly how to make it better.
3. Describe the Perfect Partnership in the Teacher Cover Letter Middle Part
Time to sell them on why you're the perfect teaching candidate out of that stack of 250 others, the way your best pupils perform in the school fundraiser.
But don't worry. The next two paragraphs give you plenty of real estate to make your case. Though they're opposites, these sections have a symbiotic, yin-yang-type relationship, like a compass and protractor.
Why You're Perfect for Them
You've got them hooked. Time to reel them in with your teacher cover letter. Show them how you are the perfect fit for the school and faculty by exhibiting your most significant teaching achievements.
Here's what an applicant might say on a sample school teacher cover letter:
RIGHT
In my previous position with Smith Elementary, I've had many responsibilities and achievements that would serve me well as an educator of world history at Smith High. I created lesson plans for world history at Smith Elementary using a format similar to the one at Smith HS, and it has now been adopted by 19 out of 22 school districts in our state. On top of that, my 98.5% passing and graduation rates there were among the best in the school district, and I'm sure that I could garner similar results at Smith High School.
See that? With that paragraph, you show that your acquired skills and experience would make you the ideal new hire for the teaching job offered.
Pro Tip: Remember to use keywords on your resume to ensure that it's tailored. Add them to your teaching cover letter, as well. Oh, and make sure you use the best cover letter fonts so they can read it!
Why They're Perfect for You
You told them why you're the best possible future faculty member, so now it's time to explain why this school is the perfect choice for you:
RIGHT
Obtaining the world history teaching position at Smith High School would be my dream come true. I've long been a fan of your teaching values. In fact, several members of the Smith HS faculty were the ones who initially encouraged me to become an instructor. Though I love teaching students with all my heart, there is no other school that would make me as happy to work for. I know, should I be honored with the position, that I'd be the envy of the school board!
How about that? You praised the learning institution and explained why they are the center of your educational universe—who can resist that?
We've got a wealth of tips on these two central paragraphs and on writing a teacher cover letter that will let you stand out: 35+ Successful Cover Letter Tips, Advice & Guidelines
Pro Tip: Say you want to apply at a school, but there are no academic jobs listed. This is when you send what's called a letter of interest for teaching positions, also known as a letter of inquiry.
4. Add a Compelling & Strong Finish to Your Cover Letter for Teaching Positions
You started off strong, and you kept that momentum going. Now, don't quit just yet—it's time to summon a second wind and cross that finish line in first place with a powerful closing statement.
Closing Sentence
This is the right moment to reiterate your value as a new hire.
Use a closing paragraph in your teacher cover letter to sum up briefly:
RIGHT
I would welcome the chance to discuss your current world history syllabus and show you how my successes at Smith Elementary can translate into success at Smith High.
See that? You bring it to a satisfying end by summarizing your cover letter for teachers and then leaving the ball in their court.
Complimentary Close
Add a closing sentiment and your name, and then you can let out a sigh of contentment at your accomplishment, like one of your kids when they finally finish their homework for a three-day weekend.
Here's how easy that is:
RIGHT
Sincerely,
Jill Santos
Not much to it, right? That closing sentiment ("Sincerely" in this case) is called a complimentary close (or complimentary closing), which is then followed by your name to end the cover letter.
Closing strong on a cover letter is just as critical as an attention-grabbing beginning. Read this for more examples: How to End a Cover Letter
5. Don't Forget to Add a Postscript to Your Teacher's Cover Letter
Adding a P.S., though unnecessary, is a great hack when writing a cover letter. Every great teacher cover letter should include a postscript.
Let me show you what it is:
RIGHT
P.S. I'd love the opportunity to sit down with you and go over how I can bring similar results (45% reduced tardiness) to Smith High School, as well.
What do you think? A P.S. (postscript) at the bottom of your cover letter always draws the attention of the reader, even if they don't read the rest of it. It's a clever way to get one last word in edgewise before they finish.
Key Takeaway
After this brief lesson, you know well what everyone needs to know before they start writing their cover letters for teachers. And as you can see, writing them is certainly not as complicated as you thought—and definitely nowhere near as tough as the magic you'll perform daily on the job.
Remember to follow these key points for a successful teaching cover letter:
Start with a bang: Your opening statement on your cover letter is important because it'll determine if the principal reads on.
Show you belong together: Use the majority of the body area to show that you're a perfect fit for the school and they're the ideal workplace for you.
Finish strong: You held their attention till the final bell, but use a strong ending so they'll be sure to move on to your resume and an interview.
Now, just send your application and prepare for the interview!
Any questions on how to write a teaching cover letter? Not sure how to address, start your body paragraphs, or end your teacher cover letter in a strong way? Get at us in the comments below, and we'll answer your question. Thanks for reading!
About Zety's Editorial Process
This article has been reviewed by our editorial team to make sure it follows Zety's editorial guidelines. We're committed to sharing our expertise and giving you trustworthy career advice tailored to your needs. High-quality content is what brings over 40 million readers to our site every year. But we don't stop there. Our team conducts original research to understand the job market better, and we pride ourselves on being quoted by top universities and prime media outlets from around the world.