Substitute Teacher Cover Letter Examples for an Application
You're a master of flexibility—always there for the kids when they need you. Prove your readiness for getting this new job and write a great substitute teacher cover letter.
Looking for a subbing job can feel like a catch-22. Not only are the vacancies temporary, but they also disappear in a flash.
In most cases substitute teachers are needed—just now. So you have little time to get the principal's attention. How to do it? Add a compelling substitute teacher cover letter to your resume.
This guide will show you a sample cover letter for a substitute teacher plus a set of step-by-step instructions on how to write a great one.
Want to write your cover letter fast? Use our cover letter builder. Choose from 20+ professional cover letter templates that match your resume. See actionable examples and get expert tips along the way.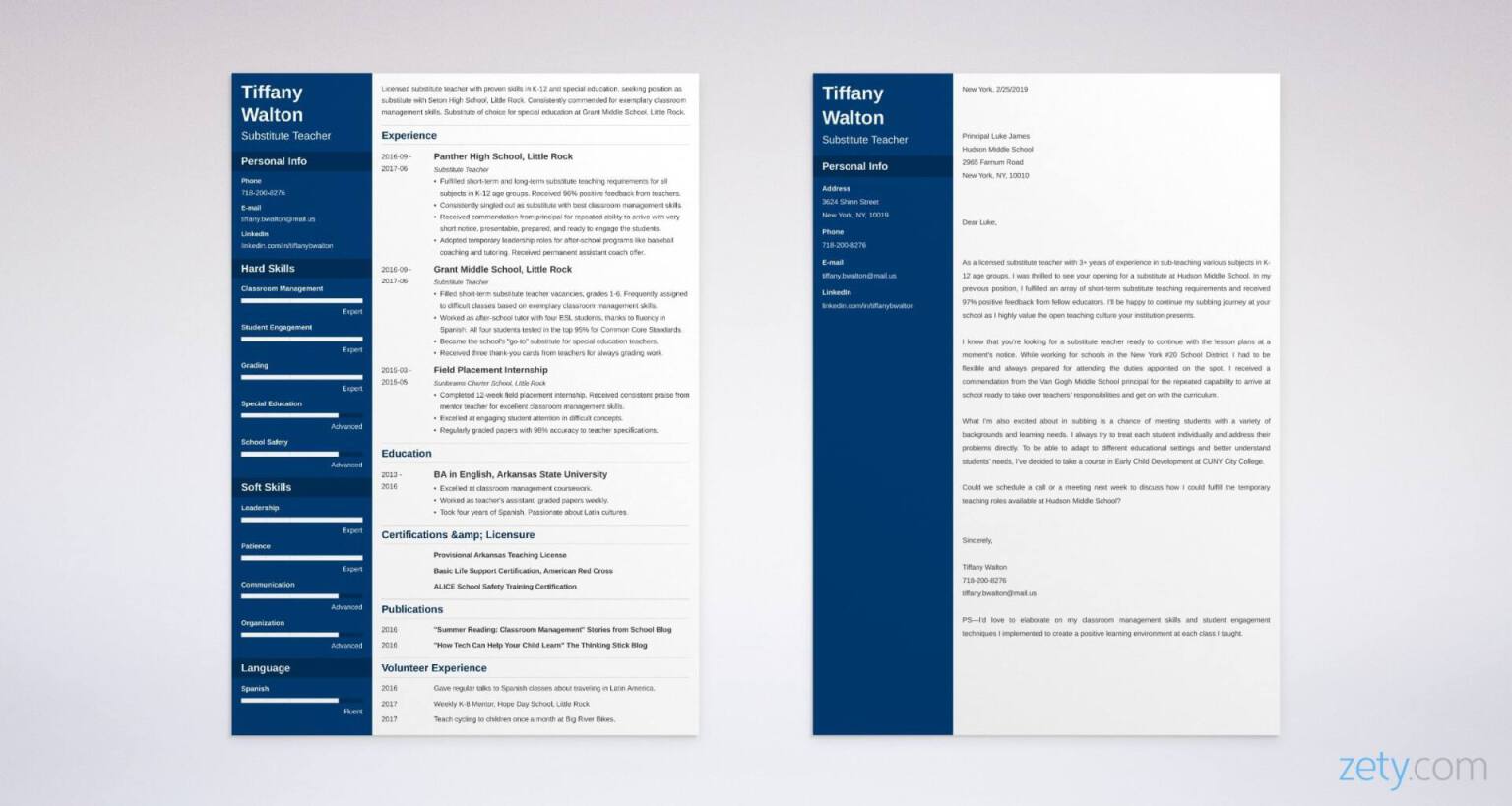 Sample cover letter for a resume—See more cover letter examples and create your cover letter here.
Even the best cover letter won't take you far on a job search journey without a well-composed substitute teaching resume. See our substitute teacher resume writing guide here: Substitute Teacher Resume: Samples and Writing Guide.
Also check out these other guides for the education sector:
Want to explore your options further? See our full selection of cover letter examples for every career: Cover Letter Examples For Job.
Substitute Teacher Cover Letter Sample
Tiffany Walton
Substitute Teacher
3624 Shinn Street
New York, NY, 10019
718-200-8276
tiffany.bwalton@mail.us
linkedin.com/in/tiffanybwalton

New York, 2/25/2019

Principal Luke James
Hudson Middle School
2965 Farnum Road
New York, NY, 10010


Dear Luke,

As a licensed substitute teacher with 3+ years of experience in sub-teaching various subjects in K-12 age groups, I was thrilled to see your opening for a substitute at Hudson Middle School. In my previous position, I fulfilled an array of short-term substitute teaching requirements and received 97% positive feedback from fellow educators. I'll be happy to continue my subbing journey at your school as I highly value the open teaching culture your institution presents.
I know that you're looking for a substitute teacher ready to continue with the lesson plans at a moment's notice. While working for schools in the New York #20 School District, I had to be flexible and always prepared for attending the duties appointed on the spot. I received a commendation from the Van Gogh Middle School principal for the repeated capability to arrive at school ready to take over teachers' responsibilities and get on with the curriculum.
What I'm also excited about in subbing is a chance of meeting students with a variety of backgrounds and learning needs. I always try to treat each student individually and address their problems directly. To be able to adapt to different educational settings and better understand students' needs, I've decided to take a course in Early Child Development at CUNY City College.
Could we schedule a call or a meeting next week to discuss how I could fulfill the temporary teaching roles available at Hudson Middle School?
Sincerely,
Tiffany Walton
718-200-8276
tiffany.bwalton@mail.us
PS—I'd love to elaborate on my classroom management skills and student engagement techniques I implemented to create a positive learning environment at each class I taught.
What you've just seen was a job-winning substitute teacher cover letter example. Now we will break down the writing process to make it easier for you. But remember—
Substitute Teaching Cover Letter Template
Here's how to write a substitute teacher cover letter for a job application:
1. Use the proper cover letter format
Leave one-inch margins on each side of the page.
Use single or 1.15 line spacing to let your cover letter breathe.
Stick to classic fonts in 11pt to 12pt size.
Read more: How to Format a Cover Letter
2. Create a professional cover letter header
Put your name and contact information in the top-left corner of the page.
List your phone number, email, and LinkedIn profile.
Add the city and date below your contact info.
Include the addressee's details below.
Can't find the name of the principal? Check the school website. If that fails, call the school receptionist and ask.
Read more: How to Address a Cover Letter
3. Open with a greeting and a catchy first paragraph
Begin with "Dear" and the school principal's name.
Say which position you're applying for.
Mention one of your substitute teaching achievements.
Read more: How to Open a Cover Letter
4. Show that you're the perfect fit for the position
Read the job description closely and address the needs of the hiring institution.
Add more accomplishments that can back you up.
Remember to make your achievements quantifiable where possible.
Also, make sure you're not making your cover letter too long: How Long Should a Cover Letter Be?
5. Explain why you want this job and no other
Endorse one of the activities the school does.
Make them now that you really want to work with them.
Prove that you're ready to stick around for longer.
6. Make an offer with a call to action
Ask for a meeting or a call at a suggested time.
Remind them of your value by offering to help them with one of the pending problems.
Read more: Cover Letter Ending Paragraph
7. Close with a professional sign-off
End your cover letter with your full name and job title.
Add a digital copy of your handwritten signature if you have one.
Leave your email address and phone number in the footer.
Finally, there's one more thing you can do to boost your chances of winning an interview. Once you've sent a cover letter, wait a bit, then follow up. Here's how: Follow-Up Email After Job Application.
See? Your substitute teacher can really make a change. Give it a thought but don't forget about writing a great resume first.
When making a resume in our builder, drag & drop bullet points, skills, and auto-fill the boring stuff. Spell check? Check. Start building a professional resume template here for free.
When you're done, our easy resume builder will score your resume and our resume checker will tell you exactly how to make it better.
Thank you for reading! Now we'd love to hear from you. What did you think of our substitute teacher cover letter example? Wondering how to write a cover letter for a substitute teacher with no experience or maybe it's one of your several tries? Let us know in the comments.
About Zety's Editorial Process
This article has been reviewed by our editorial team to make sure it follows Zety's editorial guidelines. We're committed to sharing our expertise and giving you trustworthy career advice tailored to your needs. High-quality content is what brings over 40 million readers to our site every year. But we don't stop there. Our team conducts original research to understand the job market better, and we pride ourselves on being quoted by top universities and prime media outlets from around the world.