Our customers have been hired by:
Your paraprofessional cover letter has to be head-of-the-class. It takes a special kind of person to be a paraprofessional because of the low pay. Your resume and job application can't show you are that kind of person. That has to happen in a Bill-Nye-level cover letter for paraprofessional positions.
Don't worry. It's not calculus-hard.
This guide will show you a paraprofessional cover letter example and the best tips on how to write a cover letter for paraprofessional jobs step-by-step
Ready?
Want to write your cover letter fast? Use our cover letter builder. Choose from 20+ professional cover letter templates that match your resume. See actionable examples and get expert tips along the way.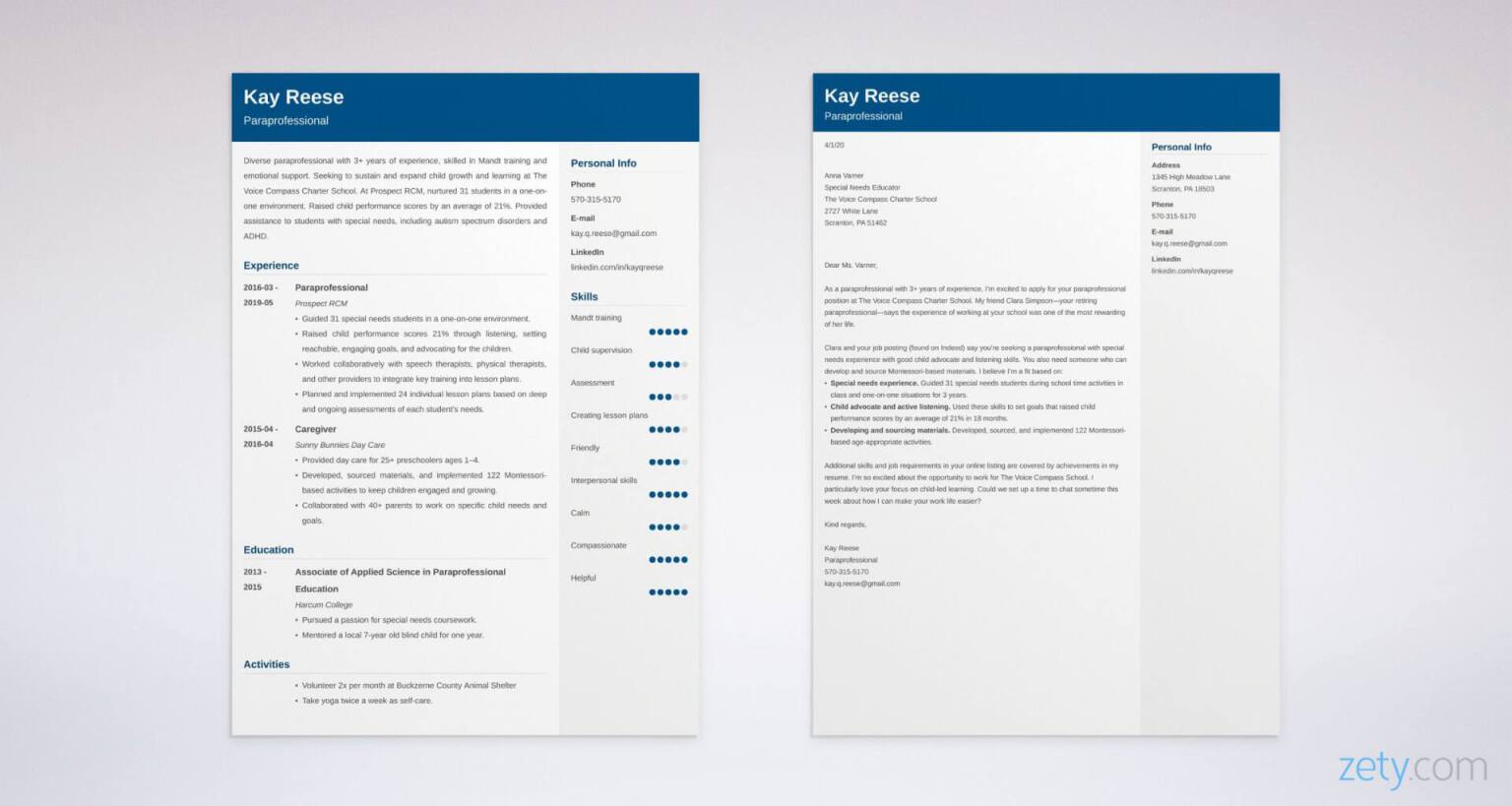 Sample cover letter for a resume—See more cover letter samples and create your cover letter here.
Paraprofessional Cover Letter Sample
Kay Reese
Paraprofessional
1345 High Meadow Lane
Scranton, PA 18503
570-315-5170
kay.q.reese@gmail.com
linkedin.com/in/kayqreese
4/1/20
Anna Varner
Special Needs Educator
The Voice Compass Charter School
2727 White Lane
Scranton, PA 51462
Dear Ms. Varner,
As a paraprofessional with 3+ years of experience, I'm excited to apply for your paraprofessional position at The Voice Compass Charter School. My friend Clara Simpson—your retiring paraprofessional—says the experience of working at your school was one of the most rewarding of her life.
Clara and your job posting (found on Indeed) say you're seeking a paraprofessional with special needs experience with good child advocate and listening skills. You also need someone who can develop and source Montessori-based materials. I believe I'm a fit based on:
Special needs experience. Guided 31 special needs students during school time activities in class and one-on-one situations for 3 years.
Child advocate and active listening. Used these skills to set goals that raised child performance scores by an average of 21% in 18 months.
Developing and sourcing materials. Developed, sourced, and implemented 122 Montessori-based age-appropriate activities.
Additional skills and job requirements in your online listing are covered by achievements in my resume. I'm so excited about the opportunity to work for The Voice Compass School. I particularly love your focus on child-led learning. Could we set up a time to chat sometime this week about how I can make your work life easier?
Kind regards,
Kay Reese
Paraprofessional
570-315-5170
kay.q.reese@gmail.com
That's a Maria-Montessori-worthy paraprofessional cover letter example.
Need a resume to match your paraprofessional cover letter? See our guide: Paraprofessional Resume Sample
Seeking a different teaching job? See these guides:
Now, here's how to write a paraprofessional cover letter that lands interviews.
Paraprofessional Cover Letter Template
Here's how to write a cover letter for a paraprofessional job application:
1. Use the right cover letter formatting and layout
Read more: Cover Letter Format
2. Create a clean paraprofessional cover letter header
Read more: How and to Whom Should I Address a Cover Letter?
3. Write a personal greeting and a standout first paragraph
Start with "Dear [Administrator or Teacher Name],"
Write an eye-catching first paragraph.
Be sure to list the job opening you're writing about.
Include an A+ reference or a big teaching accomplishment.
Read more: How to Start a Cover Letter
4. Prove you're the ideal candidate in your middle paragraph
State a few required skills shown in the paraprofessional job ad.
Display your most hirable achievements that fit.
Do these things to show you're the best paraprofessional for the position.
See our guide: What Should a Cover Letter Say?
5. Say why you want to work at the school
Spend a sentence in each paragraph reinforcing why you want this job.
Mention details you like about the school.
Doing this proves you'll work hard and stay a long time if they hire you.
There are nearly 1.4 million teacher assistant and paraprofessional jobs in the U.S., according to the U.S. Bureau of Labor Statistics. To get the best one, your paraprofessional cover letter needs to stand out.
6. End your paraprofessional cover letter with an offer
Point them to the skills your resume will prove.
Reiterate your excitement for the paraprofessional position.
Ask for a meeting to discuss how you can help.
Read more: The Best Cover Letter Closings
7. Add an Erin-Gruwell-worthy sign-off at the end
End with your name, email address, and phone number.
Add a digital signature for an extra touch of class.
Don't leave your job hunt up to chance. Send a quick follow up next week and the week after that. Learn more: Job Application Follow-Up Email Templates
When making a resume in our builder, drag & drop bullet points, skills, and auto-fill the boring stuff. Spell check? Check. Start building a professional resume template here for free.
When you're done, our free resume builder will score your resume and our resume checker will tell you exactly how to make it better.
Questions? Concerns? We're here for you. If you're still unsure how to write a job-getting cover letter for paraprofessional jobs, drop me a line in the comments.
About Zety's Editorial Process
This article has been reviewed by our editorial team to make sure it follows Zety's editorial guidelines. We're committed to sharing our expertise and giving you trustworthy career advice tailored to your needs. High-quality content is what brings over 40 million readers to our site every year. But we don't stop there. Our team conducts original research to understand the job market better, and we pride ourselves on being quoted by top universities and prime media outlets from around the world.
Sources