Coaching Cover Letter: Examples & Guide for a Coach Position
You do CrossFit or high school sports like Bill Belichick. But you won't get hired if your resume stays on the bench. A great coaching cover letter can get you on the field.
Ugh. A coaching cover letter? I know, trust me. But without a good letter, your resume won't make it to the end zone. Don't worry. There's a simple plan that starts with understanding whom they're looking for. Once you've got that, put a spotlight on the best parts of your resume to get the job.
Want to write your cover letter fast? Use our cover letter builder. Choose from 20+ professional cover letter templates that match your resume. See actionable examples and get expert tips along the way.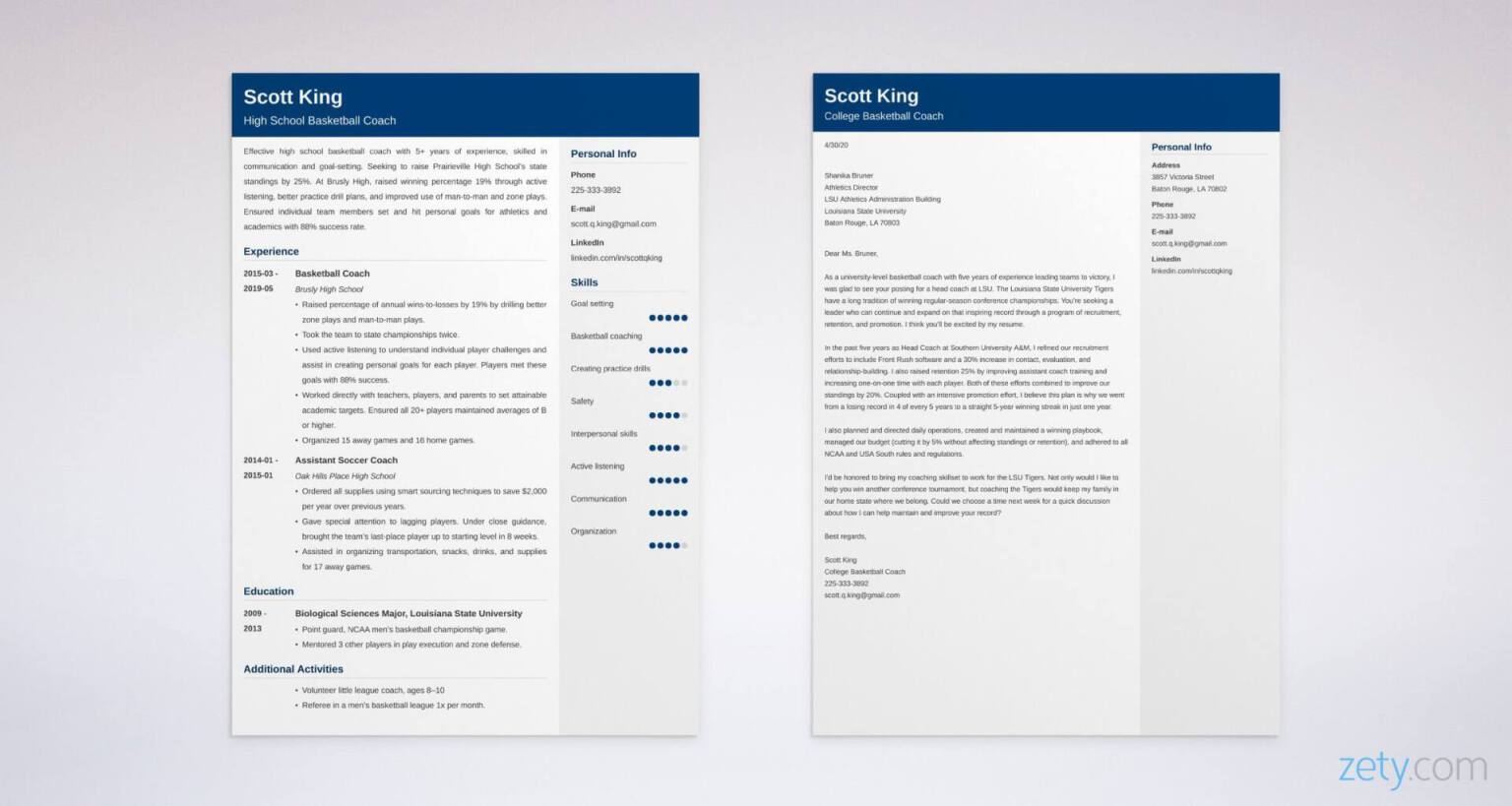 Sample cover letter for a resume—See more cover letter examples and create your cover letter here.
This guide will show you a coaching cover letter sample. Plus—the best tips on how to write a cover letter for coaching jobs step-by-step.
Coaching Cover Letter Sample
Scott King
College Basketball Coach
3857 Victoria Street
Baton Rouge, LA 70802
225-333-3892
scott.q.king@gmail.com
linkedin.com/in/scottqking
4/30/20
Shanika Bruner
Athletics Director
LSU Athletics Administration Building
Louisiana State University
Baton Rouge, LA 70803
Dear Ms. Bruner,
As a university-level basketball coach with five years of experience leading teams to victory, I was glad to see your posting for a head coach at LSU. The Louisiana State University Tigers have a long tradition of winning regular-season conference championships. You're seeking a leader who can continue and expand on that inspiring record through a program of recruitment, retention, and promotion. I think you'll be excited by my resume.
In the past five years as Head Coach at Southern University A&M, I refined our recruitment efforts to include Front Rush software and a 30% increase in contact, evaluation, and relationship-building. I also raised retention 25% by improving assistant coach training and increasing one-on-one time with each player. Both of these efforts combined to improve our standings by 20%. Coupled with an intensive promotion effort, I believe this plan is why we went from a losing record in 4 of every 5 years to a straight 5-year winning streak in just one year.
I also planned and directed daily operations, created and maintained a winning playbook, managed our budget (cutting it by 5% without affecting standings or retention), and adhered to all NCAA and USA South rules and regulations.
I'd be honored to bring my coaching skillset to work for the LSU Tigers. Not only would I like to help you win another conference tournament, but coaching the Tigers would keep my family in our home state where we belong. Could we choose a time next week for a quick discussion about how I can help maintain and improve your record?
Best regards,
Scott King
College Basketball Coach
225-333-3892
scott.q.king@gmail.com
That's a Lombardi-level cover letter sample. But—is your resume in shape? See our guide: Coaching Resume Sample
Considering other leadership jobs? See these guides:
Coaching Cover Letter Template
As a coach, you're an erudite who gives nothing but a really good talk. You're known for comprehensive knowledge and experience, so how could you not show that to recruiters?
A coaching cover letter is something that can clearly contribute to better presence when applying for a coaching job you want.
Here's how to write a cover letter for a coaching job application:
1. Choose the right coaching cover letter format and layout
As a coach, you always strive for the best for yourself and others that you take under your wings. The decency that you pursue should speak through your coaching cover letter without any doubt.
For the right cover letter design, follow these tips:
Read more: What Is a Cover Letter
2. Write a professional coach cover letter header
How to start a cover letter for a coaching position that doesn't get lost amongst other applications? Tag it with a header that provides all key information about you as a candidate.
Here's how to write a header for a coaching cover letter:
Start with your contact information.
Include your name and job title, address, phone, email, and LinkedIn.
Skip a line, add the date, then skip another line.
List the hiring official's contact info—name, title, and address.
Make your cover letter header identical to your resume header.
Read more: Right Way to Address a Cover Letter
3. Create a personal greeting with a winning first paragraph
An involving book starts with a captivating intro. If you want your cover letter to be read, you need to start off interestingly.
Here are a few tips for your coaching cover letter opening:
Start with "Dear [Hiring Official Name]," as it's the best cover letter greeting.
State the job title you want to be considered for.
Get the reader nodding by showing you like the organization.
Prove you understand the coaching job duties.
Reference your resume.
Read more: How to Start a Cover Letter
4. Show coaching achievements in your second paragraph
If they'd consider hiring you, they'd want to know your work experience in detail. The richer your working background is, the bigger chances you'll be qualified for the next stage.
But how to list work experience in a cover letter for a coaching position to make sure it provides everything they're looking for?
Check these tips:
List some ways you're perfect for the coaching job.
Single out your best resume accomplishments that match their duties.
Include metrics so they know the score.
Don't shy away from salary. See our guide: How to Add Salary to a Cover Letter
5. Say why you want this coaching job
You've got that confidence. If they ask you why you want this job, you'll answer without a second thought. But, before they do, mention that in your coaching cover letter body text.
Here's how:
Show this coaching job is important to you.
Explain how you'll help them, but also how they'll help you.
Showing skin in the game proves you'll stick around.
Good news! The U.S. Bureau of Labor Statistics says coaching jobs are growing much faster than average. But the ivy-league ones demand superior coach cover letters.
6. End your coaching cover letter with an offer
When dealing with your clients, you know how influential it is to wrap up a meeting in a professional manner. It's the same with a cover letter that needs a clear ending—usually a summary of what you've talked about earlier.
Here's how to end a cover letter for a coaching position deftly:
Request a call or an interview.
Make them look forward to the meeting.
Promise to discuss a goal they'd like to reach.
Read more: Best Way to End a Cover Letter
7. Add a professional closing to the end of your coaching cover letter
Once you're done with everything, finish off on a positive note. Keep your professionalism at an all-time high and add a sign-off that leaves no doubt who you are and how to contact you further.
End with a sign-off like, "Best regards,".
Add a digital version of your written signature (optional).
Finish by repeating your name, job title, number, and email.
And... that's it! This is what a cover letter should say to get you hired!
One more thing. Avoid the loser's limp with a follow-up call or email every week until you hear from them. If they forget you, you will never get the job. Learn more: Application Follow-Up Email Templates
When making a resume in our builder, drag & drop bullet points, skills, and auto-fill the boring stuff. Spell check? Check. Start building a professional resume template here for free.
When you're done, Zety's resume builder will score your resume and our resume checker will tell you exactly how to make it better.
Questions about cover letter coaching? Concerns regarding writing a good cover letter for a coaching position? We're here for you. If you're still unsure how to write an NCAA-level cover letter for coaching jobs, drop me a line in the comments.
About Zety's Editorial Process
This article has been reviewed by our editorial team to make sure it follows Zety's editorial guidelines. We're committed to sharing our expertise and giving you trustworthy career advice tailored to your needs. High-quality content is what brings over 40 million readers to our site every year. But we don't stop there. Our team conducts original research to understand the job market better, and we pride ourselves on being quoted by top universities and prime media outlets from around the world.
Sources