Guidance School Counselor Cover Letter Samples and Guide
You're one of the most trusted and looked-highly-upon members of any school's faculty. Show the principal they can count on you with a great school counselor cover letter.
Want to show the world you're the guidance school counselor they've been searching for? Your school counselor cover letter is the key to opening that door.
Let us be your career compass as we steer you toward crafting a cover letter, with hiring committees fighting over who gets to call you their own.
In this article, we take a page from your book and provide guidance by offering up our idea of the best school counselor cover letter example. After, we give you a cheat sheet by showing you how to write an awesome school counseling cover letter for yourself.
Want to write your cover letter fast? Use our cover letter builder. Choose from 20+ professional cover letter templates that match your resume. See actionable examples and get expert tips along the way.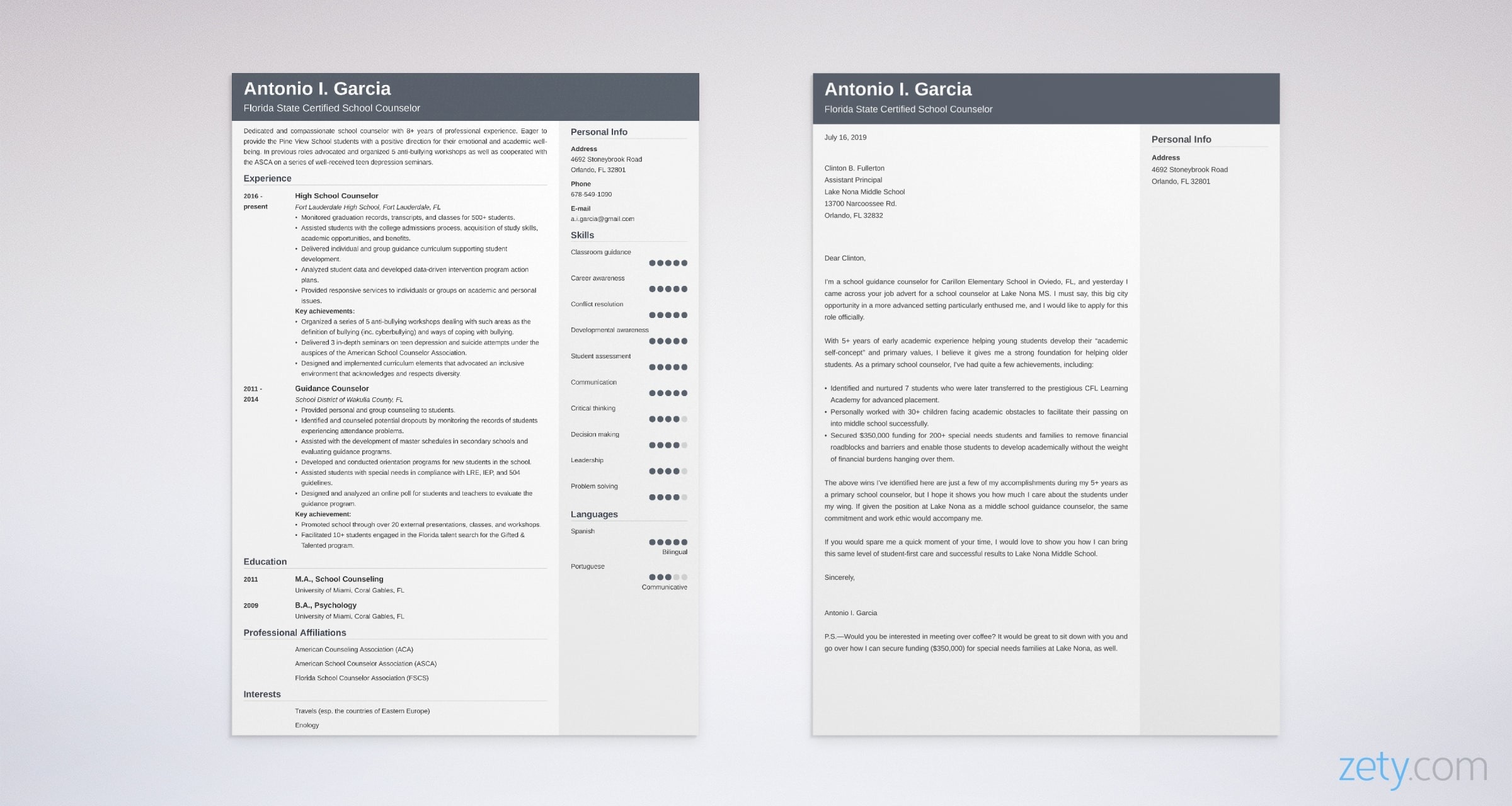 Sample cover letter for a resume—See more cover letter examples and create your cover letter here.
Here are a few other cover letter examples related to school counseling jobs:
Want to explore your options further? See our full selection of cover letter examples for every career: Best Cover Letter Examples for All Professions
Let's begin—
Here's the best school counselor cover letter sample:
School Counselor Cover Letter Sample
Antonio I. Garcia
Florida State Certified School Counselor
4692 Stoneybrook Road
Orlando, FL 32801

July 16, 2019

Clinton B. Fullerton
Assistant Principal
Lake Nona Middle School
13700 Narcoossee Rd.
Orlando, FL 32832


Dear Clinton,

I'm a school guidance counselor for Carillon Elementary School in Oviedo, FL, and yesterday I came across your job advert for a school counselor at Lake Nona MS. I must say, this big city opportunity in a more advanced setting particularly enthused me, and I would like to apply for this role officially.
With 5+ years of early academic experience helping young students develop their "academic self-concept" and primary values, I believe it gives me a strong foundation for helping older students. As a primary school counselor, I've had quite a few achievements, including:
Identified and nurtured 7 students who were later transferred to the prestigious CFL Learning Academy for advanced placement.
Personally worked with 30+ children facing academic obstacles to facilitate their passing on into middle school successfully.
Secured $350,000 funding for 200+ special needs students and families to remove financial roadblocks and barriers and enable those students to develop academically without the weight of financial burdens hanging over them.
The above wins I've identified here are just a few of my accomplishments during my 5+ years as a primary school counselor, but I hope it shows you how much I care about the students under my wing. If given the position at Lake Nona as a middle school guidance counselor, the same commitment and work ethic would accompany me.
If you would spare me a quick moment of your time, I would love to show you how I can bring this same level of student-first care and successful results to Lake Nona Middle School.
Sincerely,

Antonio I. Garcia
P.S.—Would you be interested in meeting over coffee? It would be great to sit down with you and go over how I can secure funding ($350,000) for special needs families at Lake Nona, as well.
Just one other thing—
After studying our sample cover letter for school counselor positions and reading the guide below, you'll have the valedictorian of all cover letters.
However, it won't help you win a school interview if you don't send it along with a great resume for school counseling: School Counselor Resume Sample & Writing Guide
School Counselor Cover Letter Template
Now, it's time to fix yours up to these lofty academic standards.
Here's how to write a cover letter for school counselor jobs:
1. Format the School Counselor Cover Letter Template for Readability
Choose the best cover letter font to use for easy scannability on school counselor cover letters.
On all 4 sides of school counseling cover letters, leave a neat white space in the form of a 1-inch margin.
Use left alignment from top to bottom on a school counselor cover letter.
Learn more: How to Select a Cover Letter Format That Works
2. Craft a Great School Counselor Cover Letter Header Area
Business or formal letter format is expected, so stick to this on your cover letter.
Add your name and address first, at the top-left corner.
Next, add the date you are writing the letter of interest.
Finish up the cover letter heading with the employer's name, the school's name, and the school's address.
Learn more: How to Address a Cover Letter Right
3. Start the School Counselor Cover Letter in an Attention-Grabbing Way
Use the principal's name right in the greeting of your cover letter's salutation line.
Begin by introducing yourself as an official candidate for the school counseling position.
Give the principal a basic run-through of your background and experience.
Learn more:How to Get Started on a Cover Letter
4. Show The Principal You're the Perfect School Counselor Successor
Look at the school counselor job description and the job responsibilities portion to determine the particular skills and experience this school needs.
Explain how your mixture of counseling skills and school experience meets and exceeds the job description's requirements.
Offer up a few numbered accomplishments to prove you're as great a counselor as you stated.
Are you a member of a prestigious organization, such as the American School Counselor Association (ASCA)? Add that to your guidance counselor cover letter.
But—
If you have a lot to say to convince the principal or school board that you're the best guidance counselor for their school, don't go overboard. They won't read a cover letter that's just too long: What is the Best Cover Letter Length?
5. Persuade The School Board You're the Top Guidance Counselor to Consider
Inform the principal or assistant principal that this school is the best place for you to counsel at.
Display enthusiasm and exuberance in your writing so they feel that you only have eyes for this one school.
Don't write a general cover letter and send it to the whole school district. Tailor each one to one school and job offer.
Many states, such as Florida and Massachusetts, require a state certification for school counseling. Add those on your school counseling cover letter to remove any questions the principal may have.
Are you experienced in counseling or psychology but not in the particular role of a middle or high school counselor? Read this guide to document your previous experience in the most relevant manner: How to Write a First-Time Cover Letter
6. Submit Your School Counseling Job Proposal as You End the Cover Letter
Bring guidance counselor cover letters to a close using just one or two powerful sentences.
Conclude your resume by informing them outright that you'd make the finest guidance counselor yet.
Give them a reminder that you have everything they're looking for in a school counseling job candidate.
Learn more: How to Effectively End a Cover Letter
7. Close Out the School Counseling Cover Letter With a Professional Sign-Off
End your cover letter with a standard complimentary closing, such as "sincerely."
Add one space, then place your typed name below that.
Include a few extra line spaces if you'll print it out and sign it by hand.
Finally, perhaps add a postscript, as it's a neat way to add one more tidbit about yourself and grab their attention before they move on.
Your employment tasks aren't over when you send in your school counselor resume and cover letter. After some time, here's how to follow up right: How to Follow Up on a Job Application
And remember—
A counselor cover letter without a professional resume won't land you that job.
When making a resume in our builder, drag & drop bullet points, skills, and auto-fill the boring stuff. Spell check? Check. Start building a professional resume template here for free.
When you're done, our easy resume builder will score your resume and our resume checker will tell you exactly how to make it better.
Writing a high school counselor cover letter or primary school cover letter and looking for more specific advice? Need further school counselor cover letter samples? Let's discuss below in the comments area, and thanks for reading!
About Zety's Editorial Process
This article has been reviewed by our editorial team to make sure it follows Zety's editorial guidelines. We're committed to sharing our expertise and giving you trustworthy career advice tailored to your needs. High-quality content is what brings over 40 million readers to our site every year. But we don't stop there. Our team conducts original research to understand the job market better, and we pride ourselves on being quoted by top universities and prime media outlets from around the world.
Sources