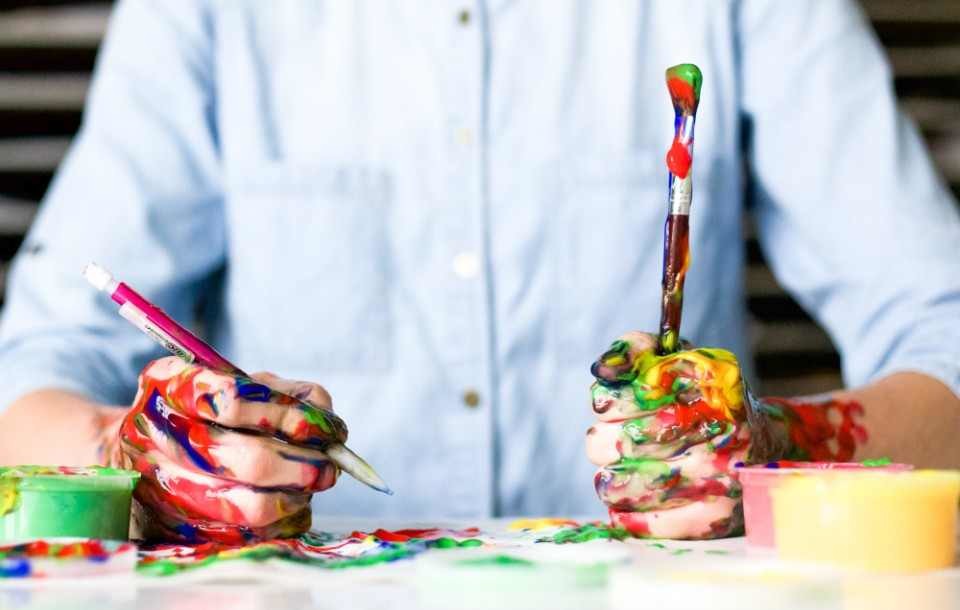 Art Teacher Cover Letter Examples (Also With No Experience)
Your passion for teaching art elevates spirits. Learn how to write an art teacher cover letter that will elevate your chances at getting hired.
Ready to paint a vivid picture of your art teacher skills with a captivating cover letter? Our guide is here to help you create a masterpiece that'll have schools eager to add you to the classroom's wall of fame.
With our expert advice, you'll write an art teacher cover letter and get to work to inspire young artists in no time!
Keep reading to learn how you can write an art teacher cover letter. Here you'll find an art teacher cover letter sample and some bonus tips and tricks to succeed.
Want to write your cover letter fast? Use our cover letter builder. Choose from 20+ professional cover letter templates that match your resume. See actionable examples and get expert tips along the way.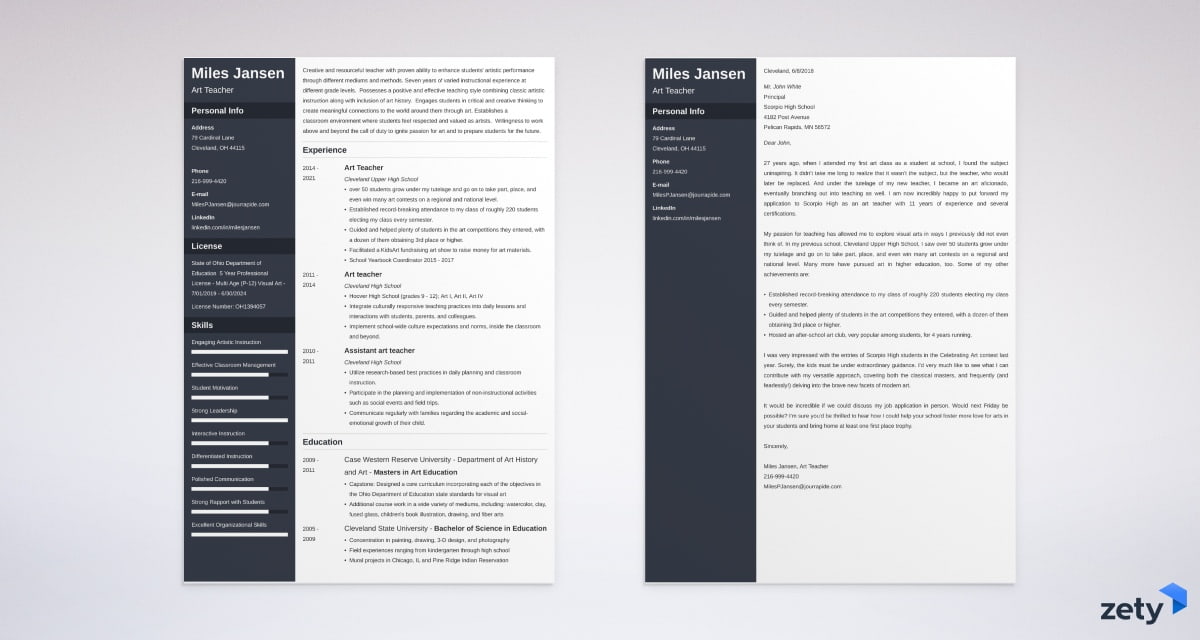 Sample cover letter for a resume—See more cover letter samples and create your cover letter here.
Feel free to check out some of our other articles to look for more cover letter writing help:
Art Teacher Cover Letter Sample
Miles Jansen
Art Teacher
79 Cardinal Lane
Cleveland, OH 44115
216-999-4420
MilesPJansen@jourrapide.com
Linkedin.com/in/milesjansen
Cleveland, 6/8/2018
Mr. John White
Principal
Scorpio High School
4182 Post Avenue
Pelican Rapids, MN 56572
Dear John,
27 years ago, when I attended my first art class as a student at school, I found the subject uninspiring. It didn't take me long to realize that it wasn't the subject, but the teacher, who would later be replaced. And under the tutelage of my new teacher, I became an art aficionado, eventually branching out into teaching as well. I am now incredibly happy to put forward my application to Scorpio High as an art teacher with 11 years of experience and several certifications.
My passion for teaching has allowed me to explore visual arts in ways I previously did not even think of. In my previous school, Cleveland Upper High School, I saw over 50 students grow under my tutelage and go on to take part, place, and even win many art contests on a regional and national level. Many more have pursued art in higher education, too. Some of my other achievements are:
Established record-breaking attendance to my class of roughly 220 students electing my class every semester.
Guided and helped plenty of students in the art competitions they entered, with a dozen of them obtaining 3rd place or higher.
Hosted an after-school art club, very popular among students, for 4 years running.
I was very impressed with the entries of Scorpio High students in the Celebrating Art contest last year. Surely, the kids must be under extraordinary guidance. I'd very much like to see what I can contribute with my versatile approach, covering both the classical masters, and frequently (and fearlessly!) delving into the brave new facets of modern art.
It would be incredible if we could discuss my job application in person. Would next Friday be possible? I'm sure you'd be thrilled to hear how I could help your school foster more love for arts in your students and bring home at least one first place trophy.
Sincerely,
Miles Jansen, Art Teacher
216-999-4420
MilesPJansen@jourrapide.com
You can take the above example as a benchmark for what an art teacher cover letter should look like. Now, swap your brush and paints for a pen and paper and come find out how to write a true masterpiece of a cover letter yourself.
Keep in mind: just like the crowd-pleasing combo of blue and orange, an art teacher cover letter works best when paired with an art teacher resume. We've got one for you right here:Art Teacher Resume Examples
Art Teacher Cover Letter Template
Here's what writing the best art teacher cover letter is all about:
1. Use a great art teacher cover letter format
Be it art or teaching, starting out with a rough sketch of what you want to do is never not a good idea.
In our case, what you need is a cover letter outline. It provides some much-needed structure and order.
Set out knowing in advance what parts you will divide your cover letter into.
Maintain proper cover letter spacing in the whole document. A 1" seam on each side is recommended.
Set the line spacing to single or 1.15. Select a sharp cover letter font. There are other ways of showing off your creativity, and using an extravagant typeface will likely give off the wrong impression.
Leaving extra white space between individual paragraphs is always a good idea. It helps ensure the text reads slowly and isn't too cramped.
Make sure your cover letter design matches your resume design. Choose a modern cover letter template, but make sure it is ATS-compliant.
Read more: How Long Should a Cover Letter be?
When making a CV in our builder, drag & drop bullet points, skills, and auto-fill the boring stuff. Spell check? Check. Start building your CV with our professional CV templates.
When you're done, Zety's resume builder will score your resume and our resume checker will tell you exactly how to make it better.
2. Write an A+ art teacher cover letter header
Put your name and address in the top-left corner. Follow with your email and phone number. A LinkedIn profile link is an optional addition to the cover letter header.
Keep one line blank.
Next, state the day you wrote the cover letter on. You can also include the city name.
Leave another blank line.
Finish off by including the contact information of your addressee.
How to address a cover letter? If you're not sure who will be reading it, i.e. who the principal is, try looking the school up on Google, it should come up easily. Alternatively, you can call the school ahead of time.
Pro Tip: Never, ever address your art teaching cover letter "To Whom It May Concern". It's impersonal and not very appealing.
3. Start your art teacher cover letter properly
Open with a great cover letter salutation. Address your recipient by name to make a good impression.
Mention the specific name of the position you're applying for. Talk about how you found out about the opportunity and what made you feel drawn to it.
Prove your confidence in your skills by being direct and showing off your strongest suits and important achievements right off the bat.
Read more: Best Cover Letter Layout
4. Impress your recipient and show what makes you the right choice
Demonstrate your value and professionalism by listing some of your past accomplishments. Look for high-impact words. You'd do well to highlight your versatility, as it's a highly sought-after quality in art teachers.
Include some of your resume achievements that you're the proudest of. If you're writing an art teacher cover letter with no experience, think school projects, volunteering, awards.
Numbers are your friends. They make it much easier to understand why what you did actually matters, so definitely use them.
Read more:What to Say on a Cover Letter
5. Show that getting this job actually really matters to you
Think about the school you're applying to. What makes them special?
Pour those thoughts out onto paper. Nobody likes a deadbeat with a generic, copy-pasted resume. The more commitment comes through in your cover letter, the better.
Make it clear this is not just a one-and-done for you, and that you're serious about the job.
Read more: Killer Cover Letter Example
6. Seal the deal with a compelling call to action
Suggest meeting up for a more in-depth talk.
Entice the recruiter by making a promise they would not want to pass up on.
Add a "PS" and mention another achievement you're proud of.
Pro Tip: Don't talk about your salary requirements on your cover letter. You're more likely to cause more harm than good.
7. Add a few finishing strokes with a proper sign-off
Towards the end, repeat the job title and your full name one more time.
An optional addition (but nice to have nonetheless) is including your digitalized, handwritten signature.
If you're required to add some cover letter enclosures, like a teaching credit/certification or an art teacher portfolio, remember to attach those as well.
Repeat your contact information so they know how to reach you.
Later on, after some time has elapsed, you can also send a follow-up email. If you're serious about this, there's no reason to double down and really show your dedication.
Plus, a great cover letter that matches your resume will give you an advantage over other candidates. You can write it in our cover letter builder here. Here's what it may look like: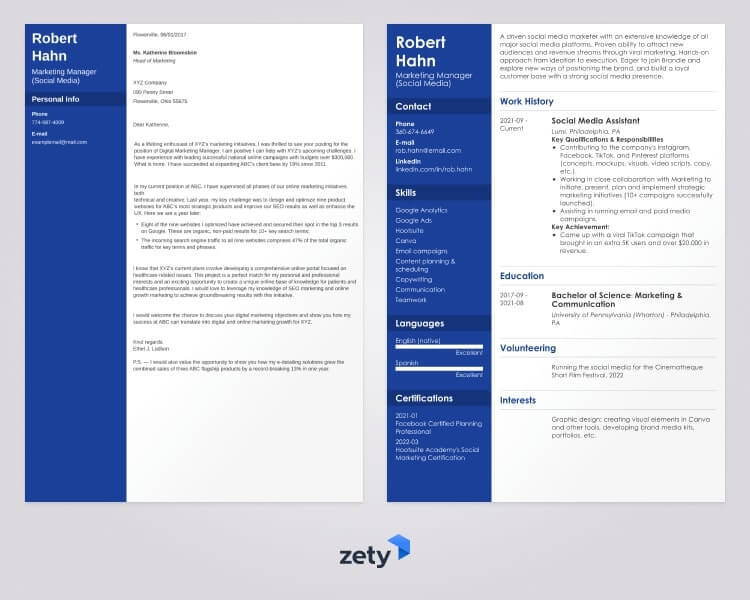 See more cover letter templates and start writing.
Voilà!
That's how you write an art gallery-worthy cover letter!
Questions? Comments? Maybe you're struggling with a particular cover letter section and need some targeted advice? Are you writing an elementary art teacher cover letter? Let us know!
About Zety's Editorial Process
This article has been reviewed by our editorial team to make sure it follows Zety's editorial guidelines. We're committed to sharing our expertise and giving you trustworthy career advice tailored to your needs. High-quality content is what brings over 40 million readers to our site every year. But we don't stop there. Our team conducts original research to understand the job market better, and we pride ourselves on being quoted by top universities and prime media outlets from around the world.
Sources