Our customers have been hired by:
You're passionate about field work, ecosystems, and biological research. But how can you beat the hundreds of other applicants who are just as qualified for the job? To stand out like a tiger in a field of kittens, write a biology cover letter that proves life science is written in your DNA.
Below, you'll see a sample cover letter for biologist jobs that get interviews, with a step-by-step process to adapt it to your needs.
Want to write your cover letter fast? Use our cover letter builder. Choose from 20+ professional cover letter templates that match your resume. See actionable examples and get expert tips along the way.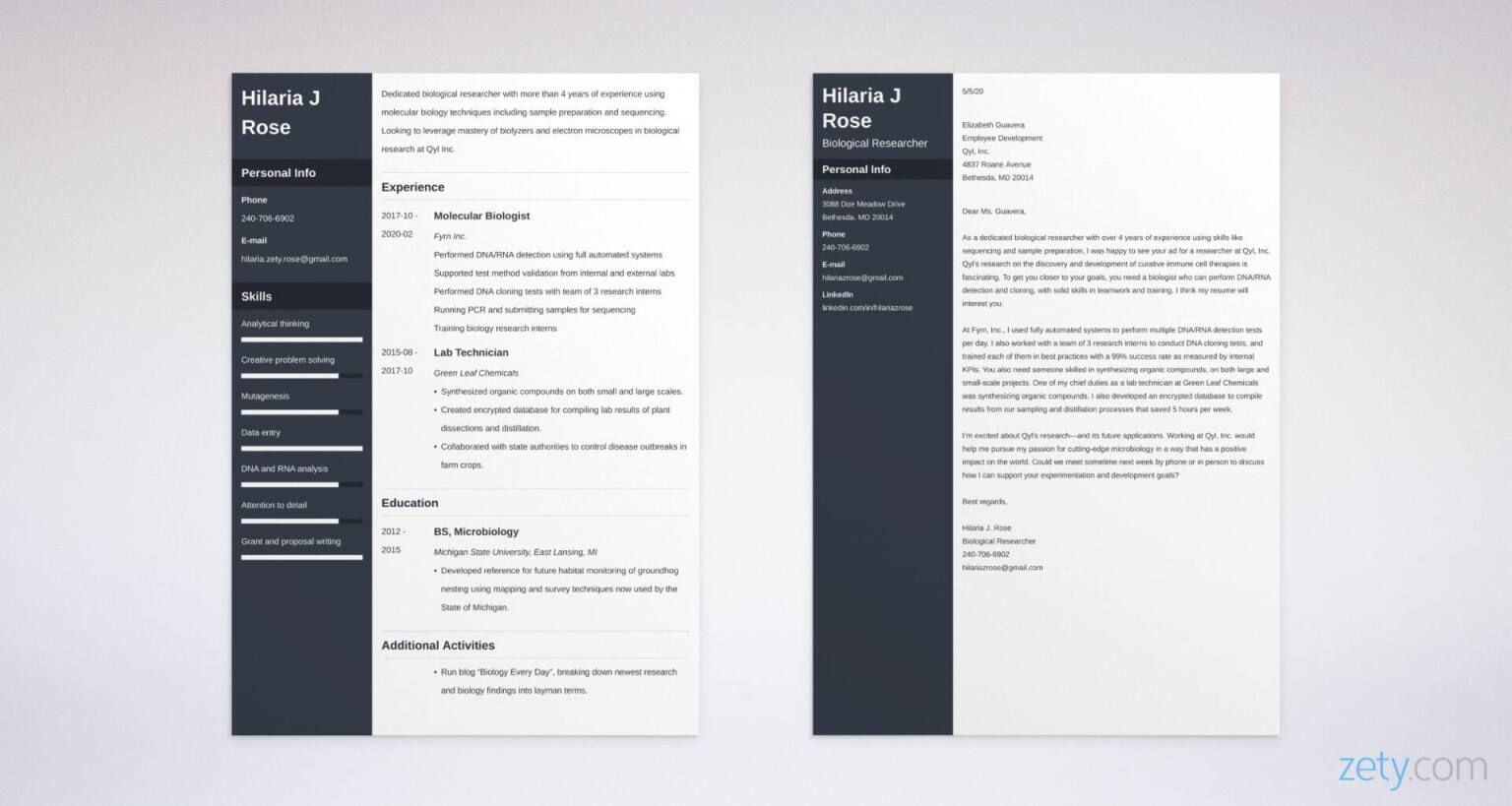 Sample cover letter for a resume—See more cover letter samples and create your cover letter here.
Biology Cover Letter Sample
Hilaria J. Rose
Biological Researcher
3088 Doe Meadow Drive
Bethesda, MD 20014
240-706-6902
hilariazrose@gmail.com
linkedin.com/in/hilariazrose
5/5/20
Elizabeth Guavera
Employee Development
Qyl, Inc.
4837 Roane Avenue
Bethesda, MD 20014
Dear Ms. Guavera,
As a dedicated biological researcher with over 4 years of experience using skills like sequencing and sample preparation, I was happy to see your ad for a researcher at Qyl, Inc. Qyl's research on the discovery and development of curative immune cell therapies is fascinating. To get you closer to your goals, you need a biologist who can perform DNA/RNA detection and cloning, with solid skills in teamwork and training. I think my resume will interest you.
At Fyrn, Inc., I used fully automated systems to perform multiple DNA/RNA detection tests per day. I also worked with a team of 3 research interns to conduct DNA cloning tests, and trained each of them in best practices with a 99% success rate as measured by internal KPIs. You also need someone skilled in synthesizing organic compounds, on both large and small-scale projects. One of my chief duties as a lab technician at Green Leaf Chemicals was synthesizing organic compounds. I also developed an encrypted database to compile results from our sampling and distillation processes that saved 5 hours per week.
I'm excited about Qyl's research—and its future applications. Working at Qyl, Inc. would help me pursue my passion for cutting-edge microbiology in a way that has a positive impact on the world. Could we meet sometime next week by phone or in person to discuss how I can support your experimentation and development goals?
Best regards,
Hilaria J. Rose
Biological Researcher
240-706-6902
hilariazrose@gmail.com
That cover letter sample shows you know a virus from a vesicle. But is your resume cyanotic? See our guide: Biology Resume Guide & Sample
Hunting for specific biology jobs? See these guides:
Biology Cover Letter Template
Here's how to write a cover letter for a biology job application:
1. Use the right biology cover letter format and layout
For the right cover letter design, follow these tips:
Read more: What Does a Good Cover Letter Look Like?
2. Make a professional biology cover letter header
List your name and job title at the top of your heading.
Add a mailing address, phone, email address, and LinkedIn handle.
Skip a line and add today's date.
Skip another line and add the hiring manager's name.
Add the manager's job title, organization name, and address.
Use the same cover letter heading for the top of your resume.
Read more: How to Address a Cover Letter
3. Write an engaging first paragraph
Start your letter with a cover letter salutation such as, "Dear [Manager Name],". Never go for "To Whom It May Concern" cover letters.
In the first sentence, share the job title you're trying for.
Show enthusiasm for the organization and its efforts.
Prove your understanding of the job by listing their top few needs.
Read more: Different Ways to Start a Cover Letter
4. Show a few biology achievements
Show some ways you fit the biologist job requirements.
Share only a few of your best resume achievements.
Add numbers when you can. Numbers convince.
Read more: How to Mention Salary in a Cover Letter
5. Explain how this biology job will help you
Brainstorm some ways this biology job will help your life or your career.
Explain one of them to reassure them you'll stay in the job.
Look to the company's mission statement to find clues. You can also skim through favorable news reports about them.
There are only 21,700 microbiologist jobs in the U.S., according to the U.S. Bureau of Labor Statistics. The more you know about the job's duties and challenges, the more your biologist cover letter can show you fit them.
6. End your biologist cover letter with an offer
Use your final cover letter element to ask for the interview.
Narrow down the time frame to this week or next week.
Promise to discuss how you'll help with a few of their key goals.
Read more: How to End a Cover Letter
7. Finish with a professional sign-off
End your cover page sheet with, "Best regards,".
If you have a digital version of your signature, include it.
Restate your name, title, phone, and email at the end.
Piece of cake! This is what a cover letter should say to get you hired!
One more thing. Each week after you apply, send an email or leave a phone message to remind them of your application. Learn more: Application Follow-Up Email Templates
When making a resume in our builder, drag & drop bullet points, skills, and auto-fill the boring stuff. Spell check? Check. Start building a professional resume template here for free.
When you're done, Zety's resume builder will score your resume and our resume checker will tell you exactly how to make it better.
Questions? Concerns? We're here for you. If you're still unsure how to write a cover letter for biology jobs that thrives, drop me a line in the comments.
About Zety's Editorial Process
This article has been reviewed by our editorial team to make sure it follows Zety's editorial guidelines. We're committed to sharing our expertise and giving you trustworthy career advice tailored to your needs. High-quality content is what brings over 40 million readers to our site every year. But we don't stop there. Our team conducts original research to understand the job market better, and we pride ourselves on being quoted by top universities and prime media outlets from around the world.
Sources